Popcaan on the Power of Positivity and The Meaning of Unruly
The spiritual Jamaican singer speaks with Red Bull Radio's Frosty on his career so far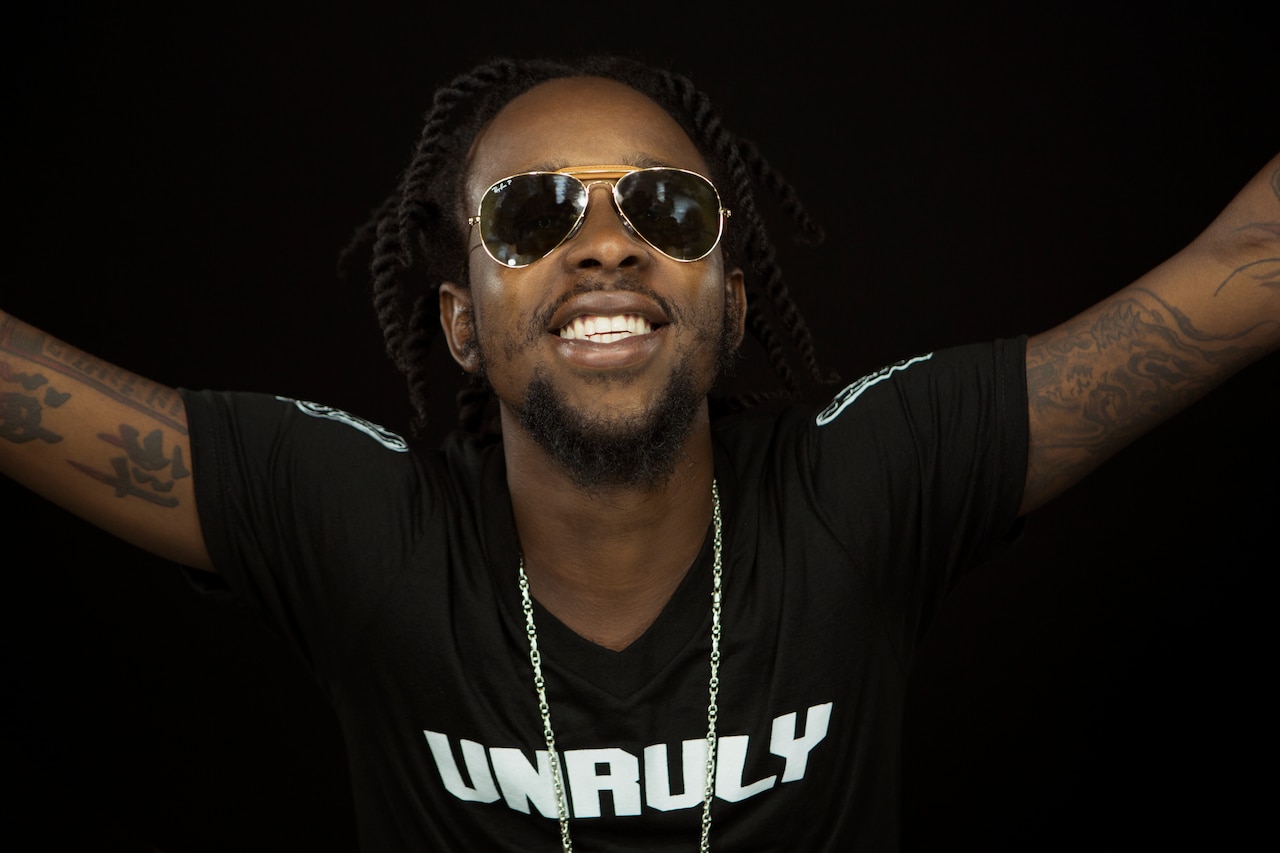 As part of his own Unruly camp and the New York-based Mixpak crew, Popcaan has risen to prominence in Jamaica and the US by parlaying his high-pitched and delicate vocal style into major pop and R&B collaborations. After being mentored by Vybz Kartel's Portmore Empire, and getting featured on the breakthrough 2010 single "Clarks," Popcaan signed with Mixpak and released his debut album, Where We Come From, in 2014. Executive produced by Dre Skull, the album helped catapult Popcaan into the US pop consciousness, and collaborations with Drake, Pusha T, AlunaGeorge, Jamie xx and Gorillaz followed. Popcaan's unruly-yet-uplifting chat has becoming his signature, establishing him as dancehall's new superstar. In this excerpt from his Fireside Chat with Frosty on Red Bull Radio, Popcaan talks about his early days writing lyrics and taking part in soundclashes at school, singing in his grandmother's church and what exactly "unruly" means to him.
What is it about music that feeds you?
Music feeds me happiness and it help me express myself sometimes where me don't want to say to somebody. Me just say it in a different language, where I sing it off. Music is the best thing. It feeds me everything. It feeds me life.
Was there a point in your life where you first realize it had that power?
I felt that power from music since I was very young, since I was with my grandma in St. Thomas, where I used to go to church and sing in church and people go crazy. Like a play, entertainment, I always dress up and act when it's comedy time, and I think it the same way. It's a thing I was born with as a gift where entertainment is concerned and where music is concerned. Even if I decide to make a movie, it'll be same thing. I'll be just as good as singing a song still. Me discover that power when I was going to high school.
I was watching the Abundant Life documentary that you made and I felt like in that you feel the spiritual power of music. Can you tell us a little more of where you came from and what the surroundings were?
I'm from St. Thomas. I was born in St. Thomas in Princess Margaret Hospital. I was with my grandmother and my grandfather, grandma mostly when I was going to primary school, high school. She grew me up in a church same way even when me no want to go to church sometime – she always forced me, roughed me up to go to church same way – but my grandmother, she's a pastor still. My grandfather, they're managing white rum, so him don't really go to church and everything still. While growing up with my grandmother and my grandfather, I learned a lot of things and it was a very humble beginning where we never did have cable and everything.
In the country was more of nature and you can count the street lights and everything where I'm from. It's supposed to stay the same way now... Well, them fix part of the road now, but that don't change much.
You have this place named Sandhills where my cousin Tyrone is from. Him grew up on that side, so while I was going to school, we spent time on Tyrone's side. We go to the river, the same river where me grew up. I've been going to that river since I was very young, and the same energy it bring then is the same energy it bring now. Me try to share that energy with as much people as me can. Me carry them to that river because me personally feel like that river bring a lot of good meditation towards even my music. They have this next river called Bath Fountain where your water come from the rock and it's hot, like boiling water. That is where I spend most of my time still, but in the night, because in daytime a lot of people is there. In the night is the best time to go, late at night.
I always try for good energy and positive energy so the universe can answer you when you ask for that.
You were talking about your grandmother's church. What was the music, and did that music resonate with you? So many professional music people had that early experience, and when people are in that space and they're having this ecstatic kind of praise, there's an energy to it.
Yeah, because those music are very spiritual. I think by listening to those music while I was growing up, I get that spiritual side, because separate from singing party songs and badness and everything, I can sing a gospel song, too. I don't remember a lot of them still, but I remember a few of them... Me used to listen to a song with Kirk Franklin, "Lovely Day." That was my song.
The lyrics, he say, "When I wake up in the morning and my heart is filled with pain." Then I missed that part, but then he'd say, "It's gonna be a lovely day, lovely day, lovely day." Me likes the happiness. My life was rough growing up too, so that song always give me something to hold onto, that it's going to be a lovely day then, a lovely day still, even though it was rough at that time. It really turned out to be a lovely day after all.
Early on you realized that there's a positivity that can not only exist in music, but it can come through music. The positivity of being optimistic even if you're having a hard time. Music can bring you through that hard time whether it's in the moment or not.
A lot of people still tell me that my music take them through a lot of rough times, because me share my experience and my friends' experience through my music with other people and them can relate to that story. It just keep them up when me tell them, say, "OK, I'll make it, make it same way." All is still my people. My family, my friends, when they even say certain words around me I'm telling them, "Don't say those things," because me no like people say negative things, especially over my life.
Even my sister, she love talking some stupid thing sometime. Me just tell her, "Yo, why you say them dumb things there? The energy where you drop on yourself is what you automatically ever get." I always try for good energy and positive energy so the universe can answer you when you ask for that, because if every day I talk foolishness, but my life rough and this and that, automatically universe will try and bring up some rough life here for that more, so just keep it positive.
What was the first moment that you thought, "This is my path. I want to become a recording artist"?
The moment when I saw that clear vision where I know that I was going to really make it is when my friend pass, police murder on my friend, and it put me through a lot of stress because he was like my idol growing up still. Him give me that leader spirit forever since where after him it was always me. When he died, me start view life different because me used to think him invincible... When him passed, it just made me check life different and me just start write more songs and me just start take music more serious until me know Vybz Kartel.
Everybody have them calling. You have to make sure you make yourself available when you're calling to reach, because I know that my calling was calling me to music and there was a next vice that was calling me to problem and jailhouse and them shit there. Me just feel like me listen to the right calling.
You have crazy unruly, you have calm unruly and you have business unruly.
Were you writing a lot of lyrics?
I was always writing lyrics. I used to write most of my songs in the bathroom because I think those times I was shy still and I never want nobody to hear my songs and everything. Me just write them and DJ them. Me write for a long, long, long, long time... Portmore is where I started moving towards stardom the real way, because all the youths, them just made me feel like a star already. They make nice for my song and supported them. They always made me feel like me can do it.
You were writing this stuff in the bathroom and you were in your own world making this. When did you feel the confidence and the necessity to share it?
I used to share my songs with some of my really close friends still. A lot of my friends know that I was singing. When I was going to school, they was always there and like, "Yo DJ man, make people hear," and I'm always say, "No man. Me no DJ."
Me go Happy Grove High School and there was some youth in this school that were saying that they're the baddest artists in the school and everything. My friend know that their songs them weak, so my friend followed and say, "Yo. Some man want clash." That was the first day where everybody tell me, "Yeah, yeah. Get there. Get there. Kill them." Me just DJing. Me surprised to see how people start reacting at the school and we would start do that everyday. We used to block the corridor and when it's lunchtime we clash everyday. There was vocal and nice, mad vibes like a street clash.
What was the first time that you felt like you were introducing yourself to the world in the proper way, or that people really understood beyond the school halls?
I think the world started to take my music serious when I sing a song called "Dream." Before that I sing "Clarks" and a few other songs, but people still wasn't convinced. I'm going in the lab again and convince them and I stay convincing them from there and I won't stop.
What was the feedback before making the video? When did you start hearing from the outer world beyond Jamaica?
Since 2010 I been hearing from the outer world, because I was traveling since then. I started traveling on the islands first: Trinidad, Tobago, Barbados, Antigua, Guyana, Hawaii. Those people made me feel like I'm a big artist already, until I get to be a big artist for real. Those people believe in Popcaan from ever since still. Sometime I don't even know how far in the world people are listening to my music still, but I know it's out there.
Now that it is even further out there, has it changed the mission? Has it emboldened and fortified what you're doing and made you think, "Now it's really time to make your message get out there"?
It doesn't change anything still. Now it just give me more confidence to work harder, because I keep on seeing more opportunity where I can be way greater than I am now staying, so I just keep working to those goals. When I accomplish one, I just move to the next one. Me never feel like me reach to the limit or to the prime. Me just keep it young, keep it humble, because I don't want to ever get carried away with anything still. We just stay focused no matter how much fame we get or how much money we earn still – we just try to keep it focused upon the mission.
You also have a long view of what you do impacting the next generation. You're putting out in the world something positive, and the next generation hopefully will pick that up and continue to do something positive. Can you talk about "System," that song, because it has the reflection of that kind of idea, it seems?
"System" is a song that I created after I started seeing how much I like music. I opened up my eyes to a lot of things, because when you're just out as a youth in the ghetto you don't really exposed to certain things. Music showed me where so much youth can get help from other people or from the government and them choose not to. Them choose not to know, you know, they choose hate themselves or them choose to rob something. "System" is about that, is about system in the ghetto where they bullied you if you do them things to dem there and peer pressure. Popcaan support no system and I don't want to be no down. You see me? Means a God in the Earth. Me deal with all of my youths then equal. All of them are family – me don't want run no system and have people do things that they don't want do.
When you need to detach and try and clear your mind, body and spirit, and be in a mode where you're away, what do you choose to do? Where do you choose to go?
When I want to get away, I choose to go in St. Thomas on the river. That's where I go. My life is there among nature. Burn a fire, cook food, play football, listen music. Since lately me get for love bike now, so sometime now me just skate up on me bike. No speeding, just modeling. Motorbike or four-wheel quads, three-wheel trikes. Banging trails. Grang grang! You know what a grang grang is? Grang grang is a small bike that make a lot of noise. They call them grang grang in Jamaican.
Tell us about Unruly. To you, what does Unruly mean?
It's me. I'm very unruly, you know. Certain times, though. I don't want to people hear me say "unruly," them feel like them can't always...be bad. Unruly represent me.
What part of you does it represent? Everything? The you total?
Everything. Otherwise I'm a businessman, so when I'm doing business, I can't be unruly. I have to put unruly aside for when it's business time. I'm not being unruly. Now, I'm not being unruly… I'm just joking. I'm being very unruly right now.
If that's your unruly, that's very easy to handle.
OK. You're a comic. Now is calm unruly. You have crazy unruly, you have calm unruly and you have business unruly. You have "fry yiy" unruly. "Fry yiy" is me again. That is one of my slang stuff, "fry yiy," "hot skull." When I was younger, I used to be very angry. They used to say my skull is steaming, so that's why I'm a hot skull and I'm a "fry yiy." You know? I have short temper, but I go counseling now, so now my temper is tall.
You're in the business of music – doing interviews, all this stuff, that's the part of the noisy part. That's not the soul of why you do music. What is the most energizing thing to you? What's the moment of all of this that you look forward to the most?
Going in the studio and making music. I think that I like to hear myself on a new record. More and more in competition with myself. Me put myself through the test to make ten song in three days and me do it all the time. I think I get my most energized and with my friends and we talking and drinking, touching the road, make nice, craziness. That's me, but next thing that gives me good energy is going around my family in the country, my grandmother, my grandfather, my Auntie Jasmine. When we all will link up, madness. One day I hope you see a visual of me and my family together. It's something to watch.
Do you listen to music with your grandmother?
I listen to a lot of songs with my grandmother, but she don't want to hear some of them.
What is a song that's something you would play with your grandmother?
I have a song called "God Alone." My grandmother love that song, and I have a next one called "My God Now Made Me So Far." She love those songs very much because it's like "God Alone" is like a gospel song. I went to my grandmother church when she was keeping a rally and I sing that song on the stage, too. A few more of my songs, too. Craziness.
What's the other, "Unruly Prayer"?
"Unruly Prayer," yeah. You know wuh gwan, man! "Unruly Prayer" is one of them that my grandmother love too, and my mother. My auntie's a Christian too, but she's not an old school Christian, so she would listen to a few of my party songs, too.