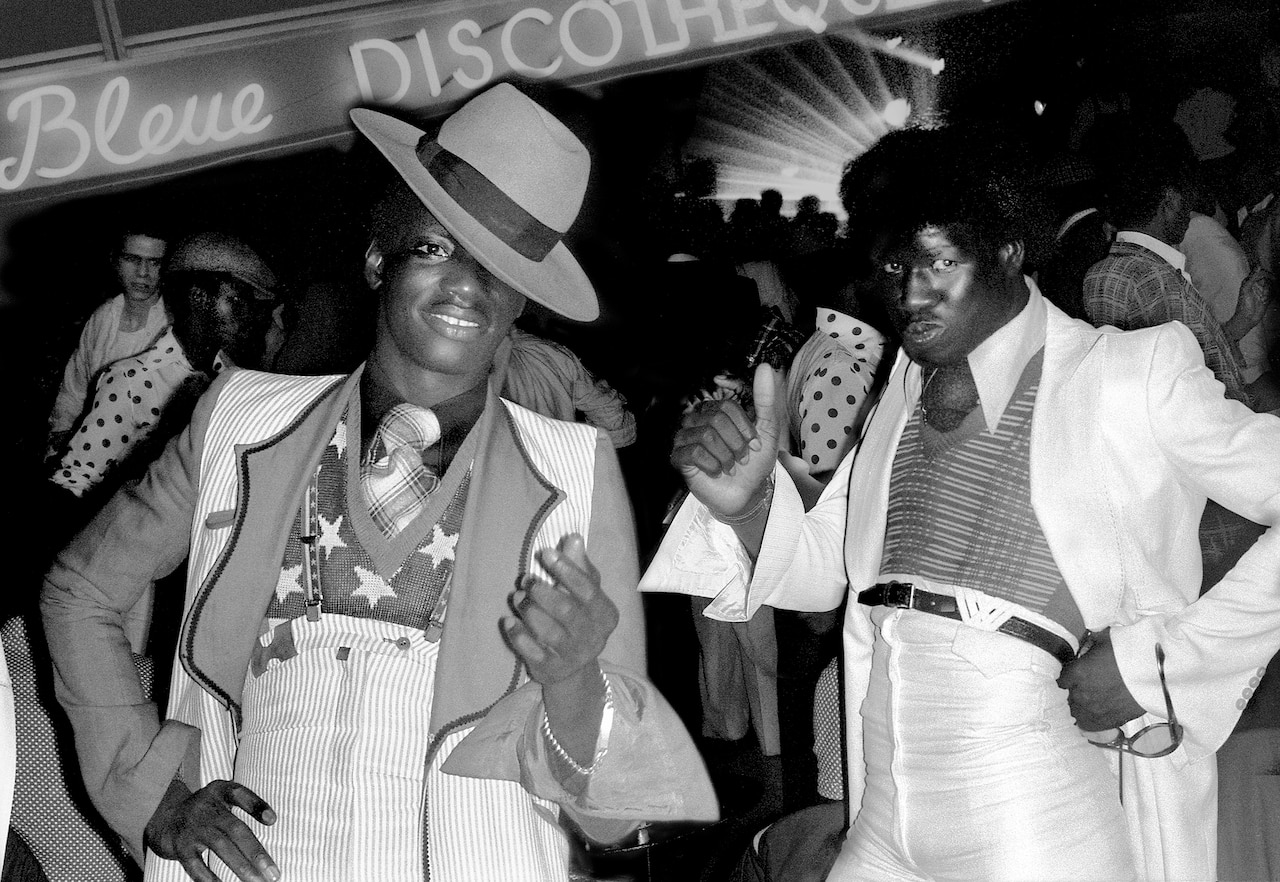 The Dark Nights At Paris's La Main Bleue
Opened in the late '70s, La Main Bleue was originally a suburban disco for dapper African youth. It soon became the place to be for a certain thrill-seeking jetset – from Thierry Ardisson and Karl Lagerfeld to Hubert de Givenchy, Fassbinder and Paloma Picasso. Alice Augustin introduces a club that was as provocative as it was legendary
Montreuil, 1977. James Brown's "Sex Machine" echoes through a vast, sinister cavern in the heart of a left-wing, working-class district, somewhere among the empty lots and metalworks. Thousands of dancers sweat it out and stomp their troubles away to the shattering bass of Motown hits and the sexy beats of the biggest funk and reggae smashes. "It's one of the rare spots in Paris where something somewhat original is going on," wrote a journalist from Paris Poche at the time. "There are a majority of Black men who would make you blanch with envy… Models who stare at you and smile. Homosexuals embracing before your eyes. The punks are there too… People at the height of chic sip their whisky at the edges of the dancefloor. No one hits on you, you hardly speak: you dance. That's what you came for, nothing else, you dance, alone and altogether at the same time, It's pretty wild, quite exclusive and absolutely unfathomable."
This illicit club was called La Main Bleue. It fascinated the media and trendsetters alike, though it shocked politicians and the tenants of moral propriety. It was truly revolutionary, but has now sunk into obscurity. Yet before Le Palace and Les Bains Douches, it was the first great stage of Parisian nightlife where "the utopia of diversity unique to the '70s" played out, according to TV personality Thierry Ardisson, who was one of its patrons. It possessed a dancefloor where different worlds collided, where the borders between bourgeois and workers, stars and nobodies, black and white, straight and gay, Parisians and suburbanites all fell away. For two intense years, the club hosted the most spectacular parties and scandalous experiments, in line with what was happening in New York clubs such as Studio 54. How did this incredible discotheque ever see the light of day? It was the brainchild of a gang of young hellraisers who, without knowing it, would rewrite the nightlife rulebook for years to come.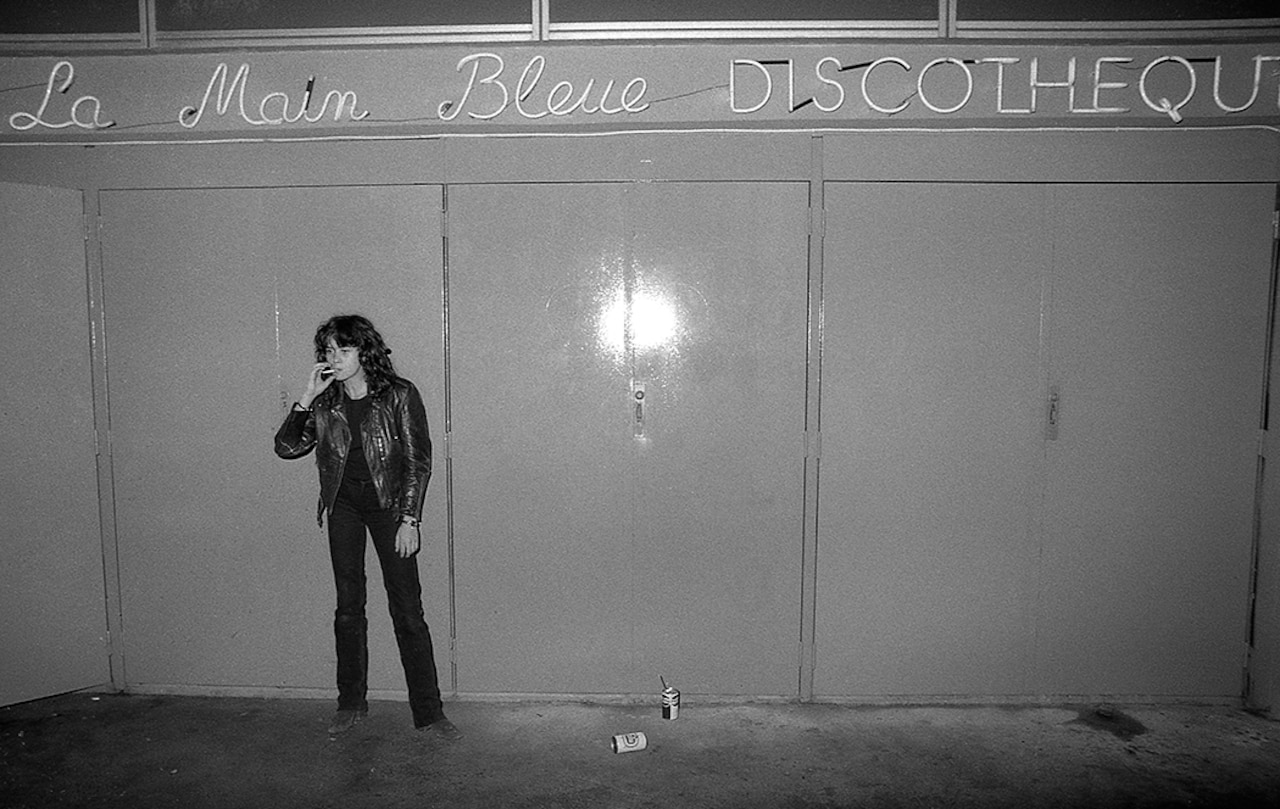 The starring role in the story of La Main Bleue was held by a young barkeeper from the Aveyron region in southwest France, Jean-Michel Moulhac, a 20-something firebrand from the dynasty that ran the mythical Chalet du Lac. This was a dancehall housed in a pavilion constructed from glass and metal located in the very heart of the Bois de Vincennes park in Saint-Mandé, next to the capital. Since the end of the war, the Chalet had been packed to the rafters, yet this son of the bourgeoisie felt constricted by the furnishings of an Art Deco palace which was beginning to show its age.
"In the early '70s, I got rid of all the orchestras," remembers Moulhac, an elegant man now in his 60s, clad in a suit and bow tie, who has invited us to the dark and cluttered offices of Chalet Du Lac, whose ownership he preserved until early 2016. "At that time, I hired this record dealer, an African. This was at the beginning of James Brown's career, and every weekend 700 to 800 black dudes came to dance at the Chalet. It happened just like that, as lots of them came from the town of Montreuil, just next door." Moulhac lights up a cigarette and sighs. "Then there was a murder in 1973. My dad had banned caps, but James Brown wore one. A bouncer threw out a punter who refused to take his off, so he went wild, uprooted a wooden picket and rammed it through the head of the first white man walking past. That was Edouard, our director. But anyway, this Edouard was a real bastard, he got the ending he deserved," he concludes, without batting an eyelash.
After this fatal blow, the patriarch was in charge of the dance club once more; the Africans became revella non grata at Saint-Mandé. They no longer had a stomping ground in a city where most of the clubs turned down this demographic, made up of immigrant workers, war veterans and students from the African middle class. However, young Moulhac was full of ambition and imagination; he was dead set on regaining the favour of those who had reignited the days and nights of the Chalet du Lac. At the same time, his friend, François Baudot – future '80s scenester and organiser of the first punk gig at the Chalet, the Sex Pistols in September 1976 – introduced Moulhac to a certain Philippe Starck, a young student who had just graduated in applied arts. "We were neighbours," remembers Moulhac. "I lived on Quai des Orfèvres and he was staying with his in-laws at Pont Neuf. He had this black Fiat transit van entirely decorated with leopard-skin fabric. He came to the Chalet, where he was holding court, so I told him I wanted to open this massive disco for these Africans."
"We created La Main Bleue like a black hole, and it instantly became the backdrop to everything the night wished to hide."
During the summer of '76, Moulhac and Starck walked the streets of Paris and its close suburbs on a quest for a venue. In the centre of town, nothing was big enough for the dreams of these young entrepreneurs, so it was in Montreuil, a communist stronghold tucked away at the end of Métro Line 9, that they found what they were looking for, on a site originally destined for three movie theatres and located under a shopping centre. "I opened the door and said, 'Right, here it is!' It was seven metres high and fifty metres long, as raw as they come, concrete, enormous pillars," remembers Moulhac. "I told Starck to come by, he was really excited and started sketching on a piece of paper. He had already imagined the aircraft carcass suspended from the ceiling."
With the help of François Baudot, the penniless duo signed the lease and borrowed money for renovation from Moulhac's parents, as well as other café owners. They performed the basic work that would allow the club to open in December 1976. Thousands of litres of matte black paint made the place look like a post-apocalyptic cathedral. There were no actual edges to the dancefloor. Instead, two yellow epoxy resin circles were traced right onto the asphalt. The two bars were covered in shiny tarp more commonly found on trucks. Starck suspended a huge metal rack six metres above the ground, upon which projectors were fixed as well as follow spotlights, a gigantic disco ball unearthed from the cellars of the Chalet du Lac and the first laser in Parisian nightlife. The ventilation ducts weren't covered and cables were left hanging due to lack of money. The industrial and sleazy mood of nights in New York floated over Montreuil.
"It all started as a bad joke between mates who didn't have a penny to rub together between them," says Philippe Starck. "We created La Main Bleue like a black hole, and it instantly became the backdrop to everything the night wished to hide. Anyone who ever descended the huge staircase to the sound of Dillinger ringing out in an exaggerated fashion will always keep a fond memory of their youth's shadier aspects." Although trendies used to get together at Saint-Germain des Près, at Castel or at Le Sept – Fabrice Emaer's boudoir club which was no bigger than a kitchen – the cold and cavernous Main Bleue left them speechless. "No one had ever seen this before in Paris," remembers Paquita Paquin, the famous door girl at Les Bains Douches. "It was enormous, dark – I don't think I ever made out the exact edges of the room. Without any reference points or decoration, it looked like a huge black hole. It felt like you were in a jungle – we went there for a taste of the exotic, to see all these incredibly handsome black men dance in their amazing outfits, their jackets with the festooned cuffs. We were experiencing something else."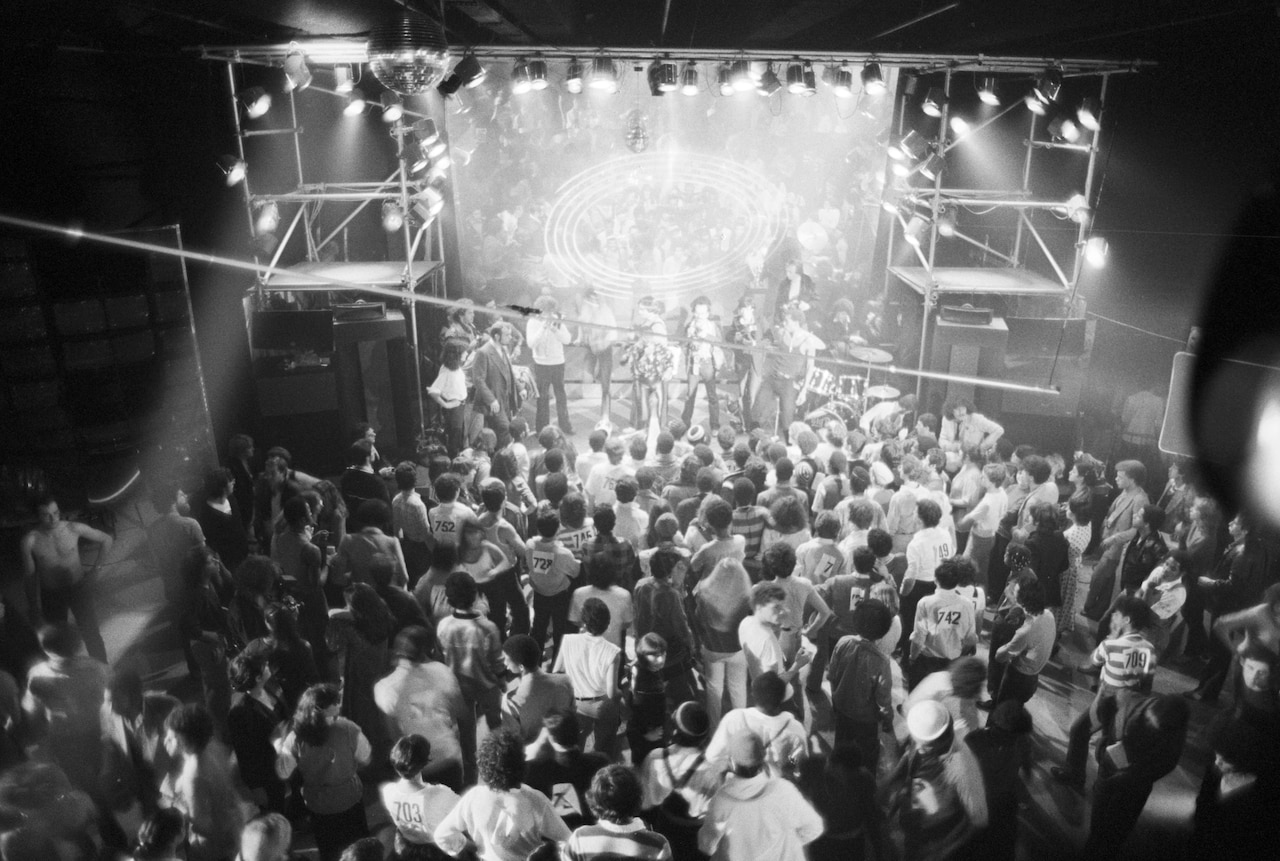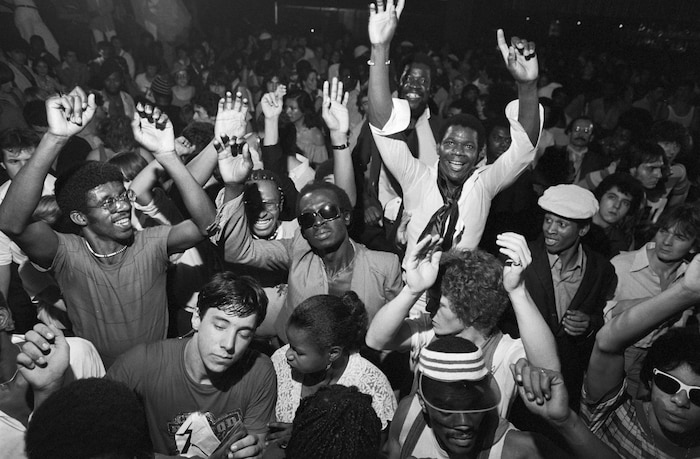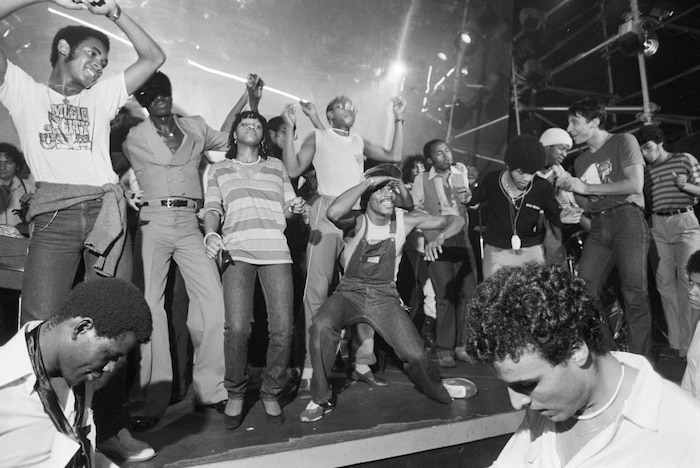 The very first stars of La Main Bleue were in fact neither Left Bank socialites nor the proto-trendies from La Bande des Halles, who quickly rushed to colonize this club described as "African" in the press. Its stars were in fact the "sapeurs," African dandies who entranced the white audience that had decided to walk on the wild side by rubbing shoulders with the groove of this funky proletariat. Playboy, who put the club on its cover with the headline "Main Bleue: la boite la plus in de Paris" (The Most 'With It' Club in Paris), published an ecstatic three-page feature on the Montreuil discotheque, "the town with its ten thousand blacks in hostels":
Impossibly tall and improbably skinny dudes stride by nonchalantly in white or pink suits, their jackets go all the way down to their knees, at least, their sleeves flap open like pagodas; the cuffs are often embroidered or made from lamé, or else they are adorned with pearls; the fingers of these hepcats are covered in rings… In the middle of the night, when the mood reaches its peak, the white manager of La Main Bleue organises a dance-off. And then, before the ecstatic crowds, they really are, for a brief instant, stars, idols. Dressed like Gods… They dance, just like we dream of becoming something we shall never be, these street sweepers of passion, intergalactic dustmen and janitors of the incredible."
The scene was set. Yet behind this flamboyant attire, often made to measure for a hefty fee by tailors on Boulevard Sébastopol, a much grimier social reality lay hidden. These African workers, who Moulhac recruited by handing out pamphlets in the Sonacotra hostels of Montreuil and other east Paris neighbourhoods, lived, or rather survived, in atrocious conditions, squashed together in tawdry and overpopulated rooms, as Pascal Blanchard reminds us in his book, L'Histoire des Noirs en France (The History of Blacks in France):
They belonged to a migration of sacrifice, they had left their village to feed their community. Most of them sometimes had to share the basement of a suburban villa with 50 other fellows. At the time, North Africans were being killed, yet these black men were an invisible population in the eyes of the French. They worked and lived among them, but remained on the edges, peripheral, you could not see them in the heart of the city. Here, we were faced with a quasi-colonial approach to human relations and this club reminded me of the Bal Nègre of the '20s, which was a community rallying point in the Montparnasse neighbourhood."
In fact, there were few journalists at the time who were interested in knowing what became of these backstreet Cinderellas. Thierry Ardisson published a long feature on these "sharp suited lords by night, wheelie bin serfs by day" for the trendy magazine, Façade. "For the article, I spent a day in immersion with them, in their hostel," he recalls, from the safety of the upscale suite at the Hôtel Meurice. "They would eat all together from giant bowls, African style, then spend hours getting ready before heading for La Main Bleue."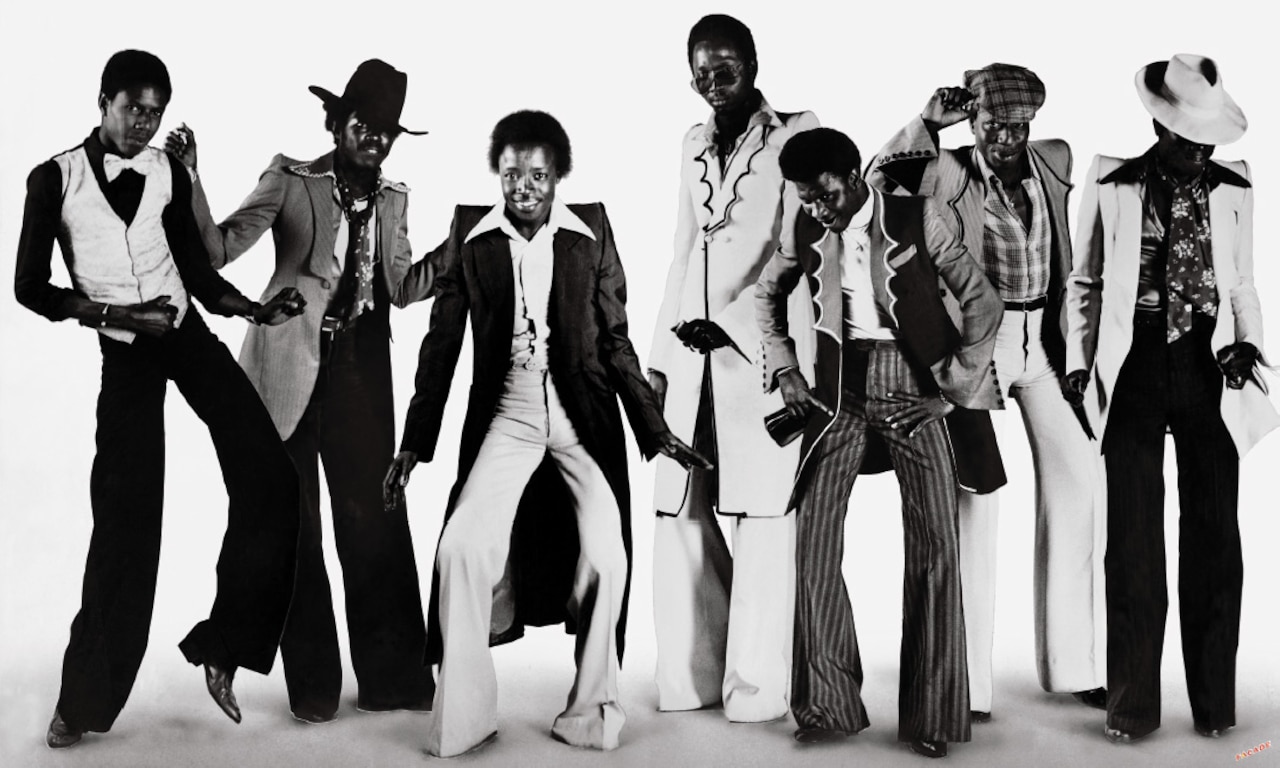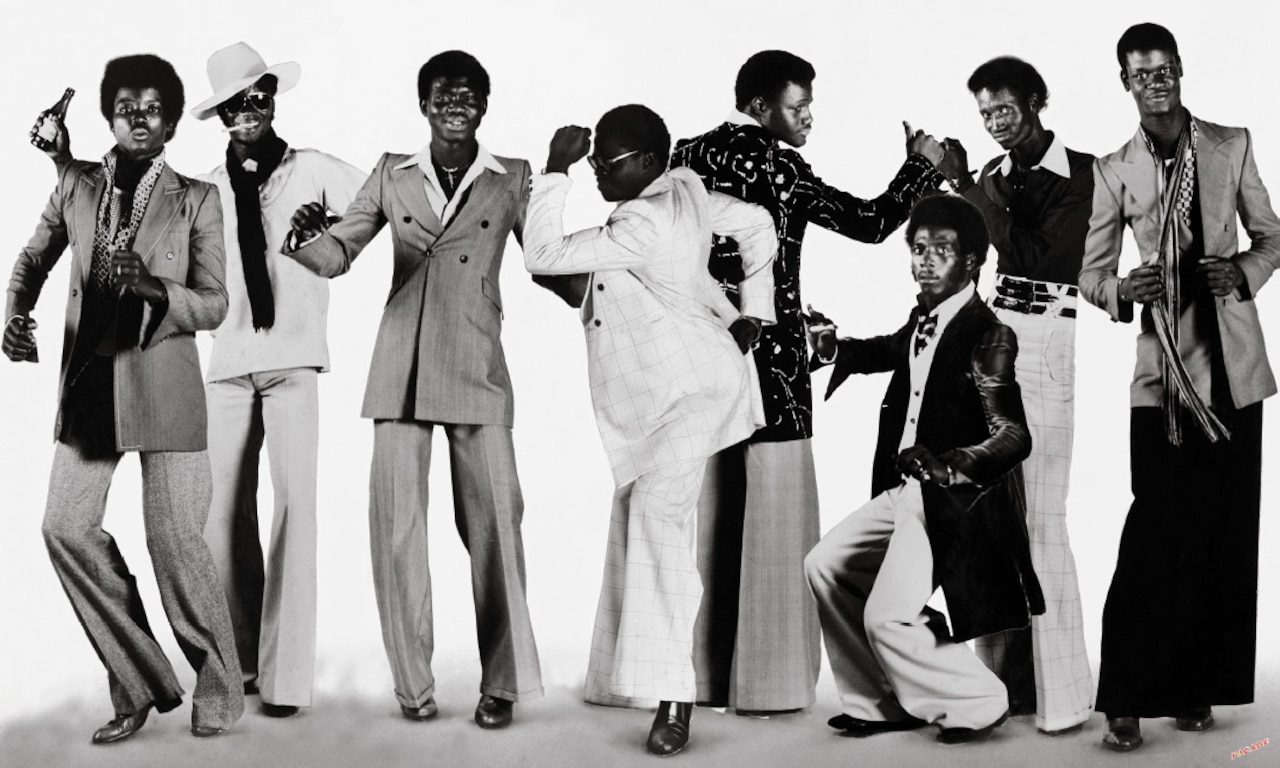 Anne Chabrol, a young journalist and future editor of Glamour in the '90s, wrote about how uncomfortable she felt when mingling with this white, bourgeois crowd, "the colonisers of La Main Bleue," who ventured out of the city centre "looking for an exotic thrill." In an unusual move for the time, she gave ample column inches to one of these uprooted individuals, a certain M. Traoré, a print shop worker from Mali. He denounced "French racism" and "the impossibility of integration." When speaking of their spectacular looks, he said, "You mustn't see them as a question of fashion; it's our way of proving we exist. Exactly like you mustn't believe we are brimming with joy, just because were born with rhythm, as they say. Our costumes, our passion for music, they are the only means we have of screaming that we are here, that we are not just made to pick up your shit and dig your trenches. So, when 'foreigners' come to see us, we go overboard! This is our rebellion! The only one, for now…"
The cooler set had already begun to migrate over the ring road through the social circles of Starck and François Baudot. Yet ironically, it was Chabrol's article on M. Traoré, the first published in the central pages of a widely distributed newspaper (Matin de Paris, in June 1977) that would trigger the club's genuine colonisation. Night after night, ad executives, journalists, young punks and more mature bourgeois ladies would come by metro or cabriolet and take a wooden footbridge across an empty lot which led to a blue neon sign, a festive beacon shining in the darkness. A few months later, the fashion world, with Karl Lagerfeld leading the way, would also set up shop there.
This club was an absolute curse.
"After this article by Anne Chabrol everyone who was anyone in Paris wanted to slum it at La Main Bleue," remembers Moulhac. "Paloma Picasso, Loulou de la Falaise, Alain Pacadis, who was nicknamed 'You-got-a-buck?' I had to get a PR, and three weeks later he suggested I organise Lagerfeld's aftershow party. He introduced me to Lagerfeld's lover, Jacques de Bascher, a man who was as charming as he was crazy, and who would take care of everything. He started off by getting 1,000 bottles of wine delivered, white wine, straight from his mother's vineyard."
On October 24th, 1977, all the fashion icons and influential persons of the capital were invited to La Main Bleue to attend the fabulous "Moratoire Noire" night held in honour of Karl Lagerfeld. Among the several hundred African sapeurs invited to maintain proper decorum, one could find Maria Schneider, Kenzo and even, according to some, Bianca Jagger and Warhol. The dress code? Black, and nothing else.
"People were really dressed to the nines," says Paquita Paquin. "All these men were striding past in leather from head to toe, only Jacques and Xavier de Castella were wearing white fencing uniforms. This was the night no one wanted to miss. I was wearing a satin apron, a necklace made from safety pins and a pair of dark glasses with one of the lenses removed."
But this glamorous soiree took an unexpected turn thanks to the efforts of de Bascher. After a few hours, the socialites left La Main Bleue, with Karl Lagerfeld leading the way, and the very first huge gay S&M party in Paris took their place, "a forerunner of one of the great gay rituals, as they would be enacted for years to come, with their plethora of leather jackets, harnesses, whips with embedded nails and chrome chains," writes François Baudot in his book, L'Art d'être Pauvre (The Art of Being Poor).
Cross-dressing striptease, masochist stage shows, group sex – La Main Bleue was transformed into a gigantic darkroom like the ones which were already popping up on the other side of the Atlantic. In his memoirs, Alain Pacadis revisits this dark bacchanalia: "In Paris, there had never been as many guys in black leather gathered in one place. It was as if we were on Christopher Street, New York. It was probably one of the best parties of the year, that and Loulou de la Falaise's wedding."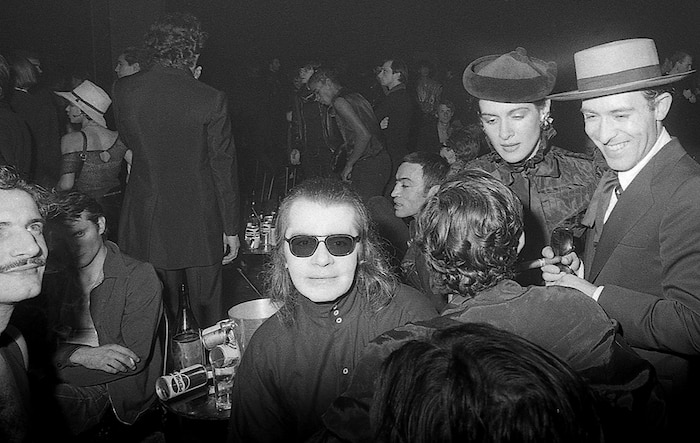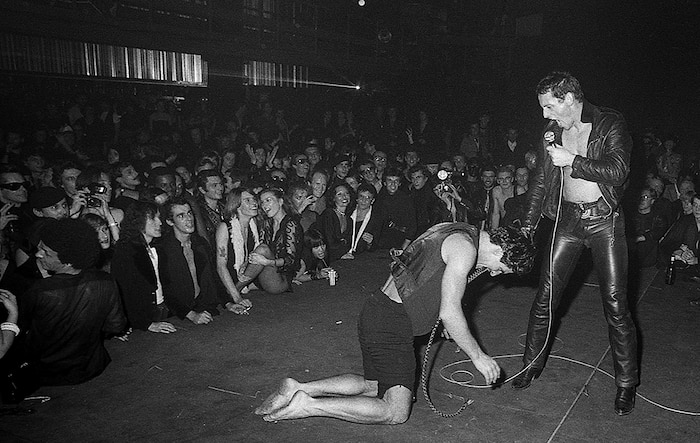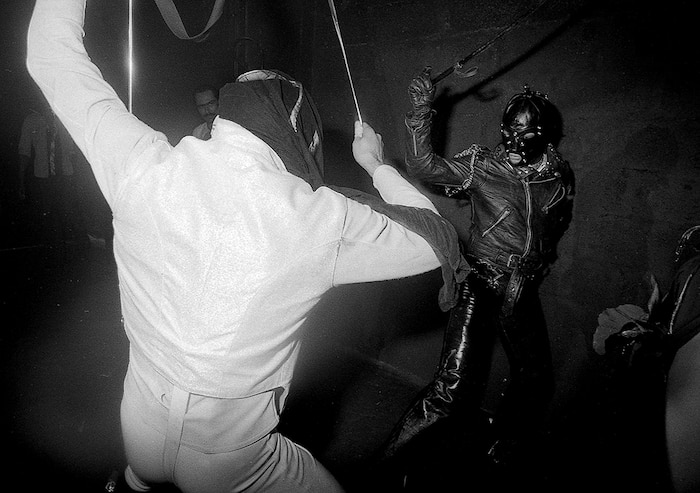 "I'd never seen anything like it," sighs Jean-Michel Moulhac. "It was totally insane! There was this fist-fucking session up on stage with Jacques Brel playing in the background, and then the night got totally wild. Guys were doing each other up the ass all over the place, and they had left bottles of poppers on the ground – people kept on walking on them, the smell wafted all the way into my offices on the floor above. Even my press officer was getting up to no good in the cloakroom! There was nothing I could do."
Over the following days, La Main Bleue tried to nurse its hangover, but the news quickly got out and a scandal was ready to explode. Who would fire the first shot? After Lagerfeld's party, Banco, which was widely read as it published the lottery results, featured an article with a truly subtle title: "Nights of public orgies bang in the middle of Paris!" It spoke of "homophiles, bisexuals, starlets and socialites attracted to dark skin," of "the new hell of sex" and even of guests disguised as "SS officers or gladiators." "It's in the papers that a lot of people realised what had happened that night," says Paquita Paquin. "It was so dark in there, you couldn't even see what was going on two metres away, but the photographer's flashes revealed everything."
The man who stood to lose the most from this wave of indignation was Jean-Michel Moulhac. The manager was already under fire from the town administration of Montreuil, whose communist leaders dreamt of eradicating this decadent thorn in the side of their working-class fortress. "This club was an absolute curse," remembers Jean-Pierre Brard, deputy mayor at the time. "As soon as it was opened, we received numerous petitions from local residents complaining they could no longer sleep and complaints from the public transport authorities who found that the Mairie de Montreuil metro station had been ransacked in the small hours of the morning." The Lagerfeld night was the last straw for these communist authorities, "who didn't necessarily take too kindly to homosexuality," adds Brard. The mayor called upon the local police chief and the communist MP of the Seine-Saint-Denis administrative region, Louis Odru. He carried the outrage all the way to France's National Assembly, where he demanded the closure of the club.
"I had to put up with a police investigation for three weeks," remembers Moulhac, still angry at the fact 40 years later. "Every day they came and took pictures in the club to see if there hadn't been any new orgies. The police interviewed me at Quai des Orfèvres; I asked Jacques de Bascher to do something as he had friends in high places. But he never lifted a finger – that's Jacques for you." Finally, the investigation ran out of steam and the National Assembly classified the file. In the meantime, faddishness had replaced suspicion – Vogue, Le Point, Le Nouvel Observateur and even the Italian edition of Vogue Homme devoted whole pages to the "Moratoire Noire" party, but this time around to extol its glamour, therefore designating La Main Bleue as the new temple of fashion and hedonism.
When you descended the staircase at La Main Bleue, it was a real show, as if you were walking down the steps at Cannes.
"The spectacle of the night really started with La Main Bleue," recalls actress and director Eva Ionesco. "People would go there to see what the others were wearing, that was new. There was an incredible variety of styles. Many fashion personalities came out to observe the partygoers, and it's obvious that designers were inspired by the looks you could see over there. La Main Bleue was a lot more spectacular than what you could see at Le Sept, which looked like a club for hairdressers by comparison."
Months before the opening of Le Palace, and thanks to the trendsetting, elegant sapeurs, the fashion world began to go wild over this club which resembled no other. In the magazine Egoïste, Hubert de Givenchy said, loud and clear, that he "adores La Main Bleue" for its New York attitude and "the mix of people which creates a wonderful mood, far from the predictable groups you meet in the usual nightclubs." The time for the great nocturnal catwalk had come, fake eyelashes and high heels taking over in a town more familiar with "hammers and sickles."
Giant bows in their hair like wrapped gifts, ties for women, Mickey Mouse alarm clocks around the neck, minidresses in rainbow plastic like chewing gum bubbles, see-through raincoats, Cleopatra hairstyles, jodhpurs, puffa anoraks, leotards and dancers' gaiters, boys wearing djellabas... The press drew up a precise list of the eccentricities of revellers parading through the backstreets of Montreuil. These stylish youth would go on to make '80s clubs shine – Christian Louboutin, Eva Ionesco, Edwige Belmore, Vincent Darré, Pierres & Gilles, the Khelfa sisters and Jean-Charles de Castelbajac were the most notable, and they all received fashion schooling at La Main Bleue.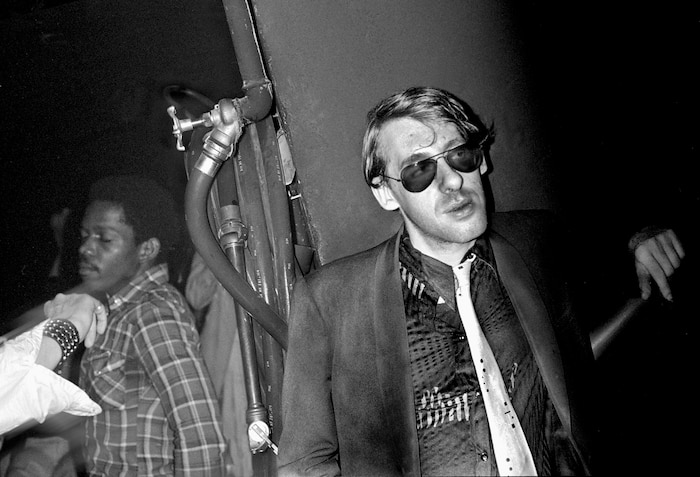 "This was a time when you would get dressed for ages before going out," recalls Djemila Khelfa, whose DJing career began in the club. "We'd spend all day at the flea market to find clothes and cobble together our party outfits. I used to wear skintight trousers and spencers [cropped jackets], all in black. When you descended the staircase at La Main Bleue, it was a real show, as if you were walking down the steps at Cannes." "It had to shine," continues Eva Ionesco. "We liked clothes made from lurex, frills and bustiers."
To cash in on this stylish demographic, Moulhac and Baudot handed out maps of how to get to their club at Régine's and Castel, then set up a chic eatery in the club. Surrounded by palm trees and deckchairs, it was a quiet haven that allowed guests some reprieve from the dancefloor, a beach bar in the middle of all the concrete serving burgers, fries and ice cream to the chic punters who were turning away from the capital's other clubs. Maxime de la Falaise, Hélène Rochas, Werner Fassbinder, Andrée Putman and Sylvie de la Rochefoucauld all made appearances. Andy Warhol spoke of La Main Bleue in an interview, upsetting the boss of Le Sept. "While we were playing it by ear, without experience, on the surface of things," writes François Baudot in his memoirs, "from the shadows, a seasoned observer was keeping tabs on all this agitation. His name was Fabrice Emaer."
Without La Main Bleue, Fabrice Emaer would have never opened Le Palace.
"There was this genuine rivalry between us," remembers Moulhac, at the mention of the boss of Le Palace, which opened in March 1978. "Fabrice Emaer was angry," confirms Eva Ionesco. "He saw his clients going off to the suburbs and that really riled him. He had always wanted to open a huge club based on Studio 54 and someone had got in before him. That just made him want to do it even more."
Though Emaer never wanted to set foot at La Main Bleue, he had, according to those involved at the time, sent emissaries – DJ Guy Cuevas and also Claude Aurensan (his future associate at Le Palace) – to perform industrial espionage. "His decorator even came to shoot a little film at my place, with my authorisation," confirms Mouhlac. "Without La Main Bleue, he would never have opened his club; the Clémençon lighting company, which helped fund his building work, they're the ones who sold me the laser. They were in charge of lighting at Le Palace when it was still a theatre, and instead of getting me in on the deal, they went to see Emaer."
There was a laser war between the two nightclub tycoons. Moulhac had discovered this psychedelic artifact at a concert by the Who in 1976: "I was fascinated, so I got in touch with Clémençon to install a green one at La Main Bleue. It was a first in a French nightclub, but when Le Palace opened, they did everything to get in my way. Clémençon installed a multicoloured laser there, but when I asked for one, they refused to supply me with the new filters."
The opening of Le Palace in the heart of Paris was a fatal blow to La Main Bleue, which was too remote. From the very first night, the beautiful people who ventured out into the suburbs were literally sucked in by the bright lights of the Faubourg Montmartre. In the fight against this new competitor, Mouhlac did what he could and asked Paquita Paquin, then a rising "it girl," to organise a huge party there for her birthday in May. "When I suggested 400 guests, Moulhac wanted double," she recalls. "We invited friends of friends to fill up La Main Bleue. I asked Serge Kruger to play records and we also had to create a show. At the time, we loved fairground striptease and I had some girls over from Pigalle; we also organised 'underage striptease' with Eva Ionesco and little Justine Roy, who probably weren't even 13."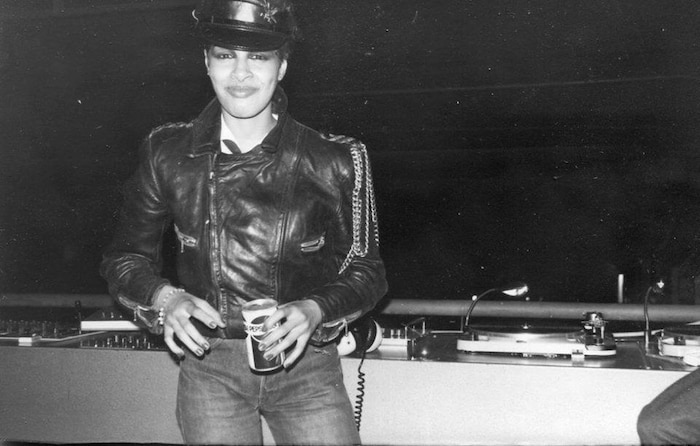 The night took off, and Paquin was hired to man the door for the first time in her life. With Serge Kruger and Djemila Khelfa on the decks, this impassioned team attempted to keep La Main Bleue afloat by innovating: Kruger got the first go-go dancers up on stage, organised karate demos and set up a shuttle bus that would drive around other Parisian clubs to whisk revellers away and bring them back to the Place des Victoires at dawn. "It was a huge playground," laughs Eva Ionesco. "We'd all go home on this coach – Christian Louboutin, Vincent Darré, Edwige and the others – completely pickled, at six in the morning. It was like summer camp."
But all these efforts could not turn things around. "My client base was being whittled away," explains Moulhac. "They were all taking up residence at Le Palace. Fashions had changed in a year and a half, the surprise created by La Main Bleue had passed. As the African revellers did not have enough money to keep the club alive, I pulled the plug on the club at the beginning of 1979." A few months later, however, Moulhac would open a new spot that also found a place in Parisian's collective memories, a roller disco called La Main Jaune.
The final curtain had fallen on La Main Bleue. It was renamed Le Marylou and converted into a rock club. Yet the first huge Parisian nightspot continued to influence the city's nightlife, especially at Le Palace, as witnessed by the huge costumed balls thrown by fashion designers inspired by "Moratoire Noire," or the "Jungle Fever" nights organised two years later for African hedonists. The trendy youth who got their first taste of nightlife at La Main Bleue were the ones who would transform '80s Paris. They included Paquita Paquin, door girl at Les Bains Douches, then first-class hostess at Le Palace; François Baudot, who suggested Fabrice Emaer open a roller disco and later, Le Privilège; Philippe Starck, who created the minimalist setting of Les Bains Douches; and Eva Ionesco's gang, who went on to become the idols of Parisian nightclubbing.
"It really was an incredible place," remembers Philippe Starck in Jacques Braunstein's documentary, Night clubbing, 50 ans de nuits parisiennes. "This was where I understood the main attraction of larger nightspots, that's to say an effect of communion… There were indeed thousands of people there feeling the same emotion, dancing. There was something really beautiful and very pure… It was that togetherness which was amazing."
Nothing remains of La Main Bleue today. The destruction of the shopping centre which housed it, in the 2000s, definitively buried this sparkling cavern. Back on the premises 40 years later, Jean-Michel Moulhac did in fact think he could spot a few relics on one of the tower blocks next to the shopping centre, blocks which are still standing and are in the process of rehabilitation: a trace of blue paint here, a rusty service door there. Yet in the memories of those who partied there until dawn, the power of nostalgia for a certain freedom and the euphoria of dancing remain intact. There is one last hope for those who seek to rekindle the spirit of those wild African nights: They could change continents and head for Brazzaville in the Congo, where another mythical club, called La Main Bleue as a tribute to the one in Montreuil, has been offering the most beautiful parades of celestial and ever stylish sapeurs for the last 30 years, and continues to do so to this day.
Header image © Philippe Morillon