Kindness and Friends Discuss Partition
Imran Perretta and Throwing Shade join, in this excerpt from Kindness' Red Bull Radio show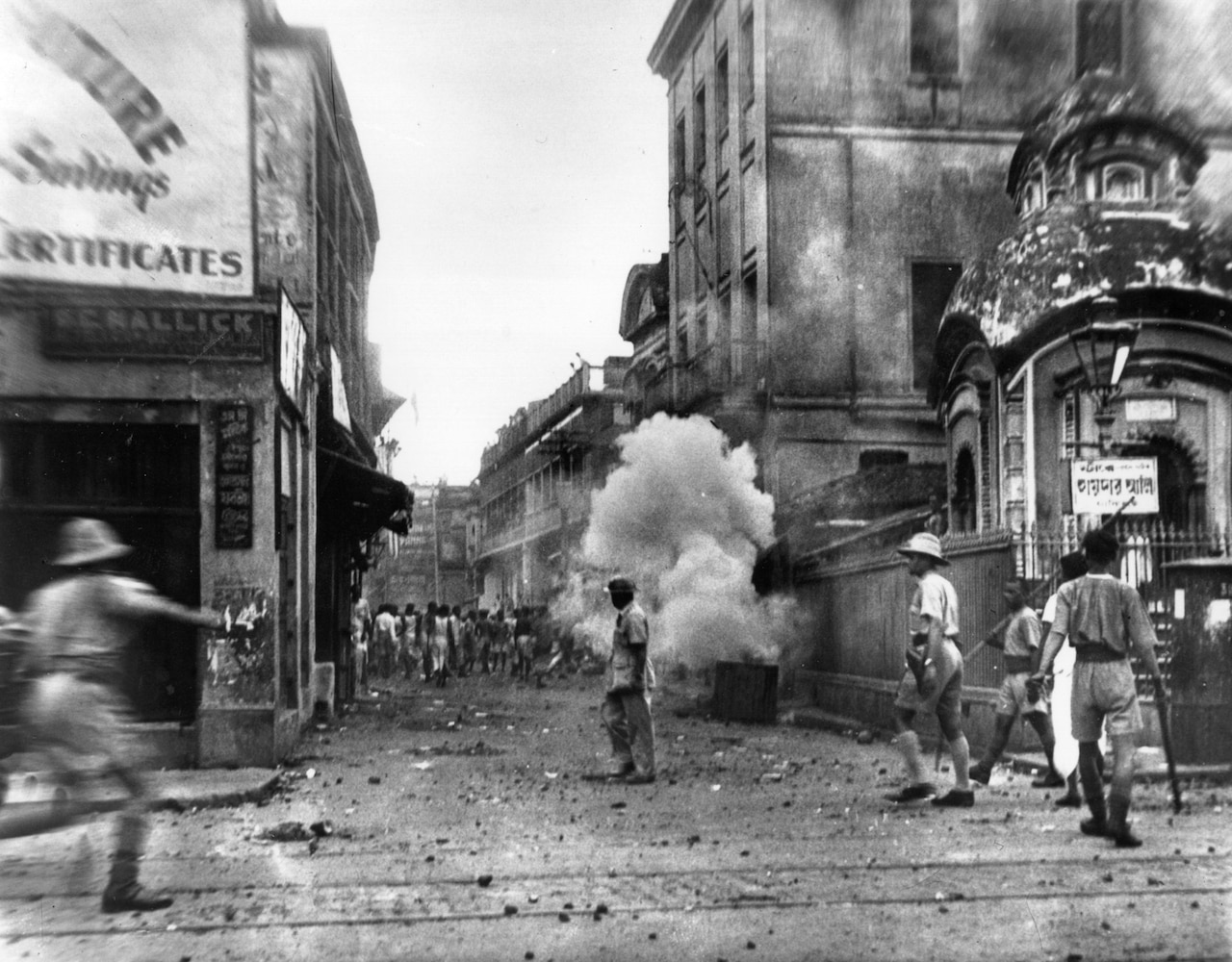 Kindness Meets is a monthly show on Red Bull Radio in which Kindness sits down with various creative people that intrigue him. Over the course of the show's history, Kindness – real name Adam Bainbridge – has explored his own history in select shows alongside special guests.
The latest edition was one such episode: Adam welcomed London-based visual artist Imran Perretta and DJ, producer and radio presenter Nabihah Iqbal, AKA Throwing Shade, to discuss the 70th Anniversary of Partition. Everyone in the room had a connection to the division of British India, an act that cut up a huge swath of land along religious lines. Partition was done quickly, leaving millions to migrate literally overnight, and it's something that Britain still has trouble reckoning with properly. In this lengthy discussion as part of the show, the trio trace how their families connect to Partition, how the media has covered it recently and the importance of educating everyone about what happened.
Kindness
I thought it would be particularly good to talk to the two of you about this because your work, be it music, be it visual arts, is not specific to 'British' culture – it kinda pulls from everywhere. Neither is it specifically South Asian. I think is something that we all three have in common is that growing up in quite a diverse British landscape, that's given us an ability to include many influences - from all over the map. But, coming from South Asian backgrounds, maybe we have a little more awareness of South Asian culture in a way that possibly other Brits don't. I'm not sure it always goes in both directions. I think that we might know about Jamaican sound systems and we might know about white south London garage culture, but those communities don't necessarily have an easy way into the cultural output that comes from South Asia.
Maybe that's a large part of the problem in all of this Partition programming, either on TV or in the arts – that most Brits don't have the first clue and how would they? It's not something that's been on the school curriculum or ever discussed. That includes South Asian families. They find it hard to talk about it, and so it's not something that's spoken about at home. Even the Wikipedia entry is extremely long and impenetrable.
So that brings me to my first question: Given this 70th anniversary, and that now there's access to more information and resources than ever before, what would a good response to Partition look like? What would be the best practice for this? Because it's a delicate topic. I don't really know how you approach it in the first place.
Imran Perretta
Well, dare I heap praise on the BBC? But I think their approach has been quite good. I might live to regret saying that... but what has been interesting watching a lot of the programing, is that it has been very critical of British involvement. The question was asked fairly recently if the British public thought colonialism was a good thing. And something like 70% of British people said yes. They believe that colonialism was a net-positive thing. This narrative of civilizing the world. What's been really different and interesting for me about the BBC programing – and let's be real, it's imperfect at best – is that it has still been very critical of British involvement. I never thought I'd live to see or hear that.
Also, to have people reflecting on it through this affective register of family, to see people returning to their villages, it's very different to a Simon Schama-led historical, ultimately socio-culturally biased view of something that's so fraught for so many people. In a way, the BBC's approach has been quite good compared to a lot of other people.
Kindness
Nabihah, I wonder with music – can it even begin to approximate all of this intensity? I looked this morning for a list of songs specifically about Partition and I found a few film songs...
Nabihah Iqbal
Yeah. I think being Asian British and being based in London and doing music, we're in an environment where there're a lot of very turned on people who are always discussing important issues. Whether it's Brexit or Trump or Grenfell Tower, you know there's spotlights on these issues that affect a lot of us living here. But at the same time I feel like in terms of the South Asian diaspora – where have we got to with talking about Partition? Specifically us as a generation?
I think the most important thing is opening up – we're doing that today on this show and it would be so great if this carries on and gathers momentum. I grew up in central London in a neighborhood where there aren't really a lot of brown people. So my experience would be really different from someone who grew up in Wembley or Tooting in a very Asian community. It would be good for us to just talk – what is their link to Partition? What is mine? Because I feel at the moment we're very disjointed compared to other ethnic minority communities in London. For me anyway – especially in music. Especially in electronic music! How many brown faces do I see? How many Muslim names or South Asian names do I see? Really not a lot.
Imran Perretta
Ultimately, if the scene doesn't exist, you've got to create it yourself! You've got to create a niche for yourself. Having seen how this 70th anniversary has been discussed, and how it has been manifest in both the art world and the music world, we know we have to take it into our own hands. Part of what this is today is us taking some agency over this narrative.
Kindness
Nabihah, how did your family come to the UK? What's your Partition background if there is any?
Nabihah Iqbal
Well, as we mentioned earlier, my family doesn't really talk about it a lot. My family on my granddad's side was based in Lahore. There were huge riots going on, people dead in the streets, and my granddad would have seen that. But he hasn't spoken to me about it, which is quite strange because me and him are so close, and he talks to me about so many different things. So I'm gonna try and ask him about it, but I feel that maybe he's not talking to me about it for a reason. I know my great-grandfather was in Delhi at the time. He actually used to teach Hindi and Urdu to British soldiers so he was very much involved with the whole colonial structure, but then he left and moved back to Lahore.
My own immediate family history... my dad came to England 50 years ago, we actually celebrated his 50th anniversary of being in Britain a few months ago. He's another example of someone who's come here and started with nothing, lived a really difficult life, and has managed to become successful. He also didn't really speak about those early days, and only recently, maybe in the last couple of years, has he started opening up about it. I think he must have been about 12 or 13 and he came by himself to Birmingham. His stories are crazy! A lot of them are memories of skinheads standing outside his school in Birmingham holding chains and just waiting for the brown kids to come in, to beat them up.
Kindness
This was '60s and '70s?
Nabihah Iqbal
Yeah, '60s and '70s. My mum has a different story because she actually lived in London as a child for a few years, because her father, my granddad was stationed here. He was a captain in the Navy, so she went to school for a few years in England. She came back again after she'd been married. So it was two very different stories on my mum and dad's side.
Kindness
After Brexit, the National Front were back doing demonstrations in Newcastle and it was such a throwback to that time you mentioned. You end up thinking: "Well, fuck, that destroys the mythology of a progressive multicultural Britain, doesn't it?"
Imran Perretta
Totally.
Nabihah Iqbal
I mean it's crazy that right now when I drive around London I have to think about rolling my windows up...
Imran Perretta
Been there.
Nabihah Iqbal
...At traffic lights because I'm thinking, "What if someone throws acid on me because I've got a brown face?" And then thinking, "Why am I even having this thought in 2017 in London?" There's an ebb and flow, but everything that's happening now is a repeat of everything that's happened like 40, 50 years ago. And it's exactly in the same fashion. Populists, populism and leaders rising to power with this sort of propaganda. Brexit as well...
Imran Perretta
There's a deep-seated anxiety about all these things that happened in the '70s coming back. The park at the bottom of Brick Lane is named after a Bangladeshi guy that was murdered by an NF. You know, this is in my parents' lifetime, this is in our parents' lifetime.
Kindness
Did you see the "The Place is Here" exhibition at south London gallery? There's a piece there, a video work, about Sikh school girls in Dartford who are deliberately targeted by white guys in a van – these guys swerve off of the street and into these girls waiting outside school and kill one of them. Watching this video work and reading the text, it seems so horrifying and so indicative of the really violent racism of that era. So I tried to look it up, to see what reports there were of this and to find out what happened next – did the guy get caught? Did he go to jail?
And there's nothing online about that case except from sites reporting about the artwork. Either this is a fictional thing that the artist has created as a way of showing what life was like – or literally so little of a shit was given that it was never reported anywhere. And I have a bad feeling it's the second one. I'd like to reach out to the artist to ask for more information about this, because this is mad. If the only thing that has ever documented this attack is an artwork, it's crazy that you have to go to a gallery to find out about it.
Nabihah Iqbal
It's just part of the whole narrative though isn't it? It's like you not hearing about that story and, well, how is Partition taught in schools...
Kindness
Or how is Partition not taught in school?
Nabihah Iqbal
Or not taught in school! So it's all part of the same thing. How's Partition even discussed now?
Kindness
Well, can you even teach something so massive? Coming back to the basic information that you can read online – you can't really understand this one huge catastrophic event in '47 unless you also read about Indian independence, about all the different groups pushing for representation. About the Partition of Bengal in the early 1900s. All the things that led to this massive fuck up that happened in '47.
Nabihah Iqbal
Coming from a history background – how is post-colonial history being taught? And colonial history? When I think about learning about empire at school on the "A" level syllabus, it's very biased, and it was only when I went to SOAS for my undergraduate degree that my mind was broadened. You're reading history written by different types of historians. Historians coming from different countries. I feel like that needs to be fed into the school system. I have this memory of a history teacher who knew the syllabus around Empire was biased. So he showed us this documentary film about the Amritsar massacre and atrocities committed by the British. None of that was touched upon in the actual school curriculum. So, as much as we're talking about movements and taking action in the cultural sphere, I think the most important thing is making changes in the education and putting pressure on that.
Imran Perretta
There's a vacuum because, on the one hand, our grandparents and parents want to change the subject and, on the other hand, in schools, British history is told in a very particular way. And that leaves so many blanks for us to fill in ourselves from our own research. That's a lot of work.
Kindness
It's work that a lot of people don't have time for as well.
Imran Perretta
Exactly. Life is hard and I always say, ideology is a privilege. If you have the time, space and money to educate yourself on these things, then you can begin to decolonize, and if you don't, you've still got to make bank. You've got to pay the rent.
Kindness
Coming from a very privileged space as a professional musician – maybe that's why it's part of our responsibility?
Nabihah Iqbal
It is part of our responsibility for sure.
Kindness
If you're some kind of prominent South Asian and, let's admit it, anyone with an Asian name doing anything is a prominent South Asian ...
Nabihah Iqbal
There's so few of us. We're the first generation of people who've been born in the west but with an Asian background – most of our parents, they would have come here as immigrants. So that makes a difference too because we've got a perspective that's new, that hasn't been talked about before. When our generation writes the history books, it will be different to everyone before us. My dad still doesn't get what I do because of his background – coming here with nothing and just working as hard as he possibly could to earn money. To have a decent life and provide for his family. So me doing this thing, which is intangible, they just relate to it in a different way.
And I can speak from my personal experience – I'm getting messages of support and also curiosity from fans all the time. Men and women who are from a south Asian background saying, "I love what you're doing. How are you doing this?" I got a message just yesterday from a guy who graduated in maths, and he's like, "My parents want me to get a job to do with maths or finance and I love music. Can you give me some advice?" I don't really know how to answer that but...
Kindness
You could tell him Aphex Twin made a living out of algorithms?
Nabihah Iqbal
Yeah, combine the two. But it's an example of how people are regarding us. So how are we gonna respond to that?
Kindness
This is also acknowledging all of the many thousands of amazing musicians and artists of south Asian heritage that we can't get in the room with us today. People who do way more than I ever have and people that have been bearing the flag for decades now.
Imran Perretta
It's true.
Kindness
Imran, tell us a little bit about your family history please.
Imran Perretta
Mine's crazy in a way. Because I'm half-Italian half-Bangladeshi. The way both sides of the family came to England is interesting, but I'll focus on the Bangladeshi side.
What's useful is that this also contextualizes the longer timeline of Partition because I would say that it lasts until 1971, which was when Bangladesh became independent from Pakistan. At that time, my grandparents were in Tooting. My granddad was an accountant, he came over, in '58 to work. But of course when he got to England he didn't get the work that he was qualified to get, so he ended up stocking shelves. My granddad had always planned to go back. He was never planning to stay in London.
But my auntie was born with problems with her legs. At that time for a lot of people from decolonized parts of the world, healthcare wasn't necessarily so well invested in as it was in the UK. So they took their opportunity to come over to get health care. My grandma came over with my auntie and my mum. My auntie got her legs fixed. The plan was never to stay – they always thought they would go back. I feel like this is a recurring narrative for a lot of people who are first, second, third generation, whatever. Their grandparents or their parents always envisioned at some point they would end up going back and they never did.
My grandparents still live in Streatham. They've been there for years and years now. All my South Asian family is around Streatham and Tooting. The Italians moved to Lewisham, and they've been in Lewisham for like 50 odd years. So if I could identify where I'm from, it would always be south London before it was Bangladesh or Italy or anywhere else. It's very much a sort of life between southwest and southeast.
I think in relation to Partition, my family that stayed in Bangladesh were really heavily involved in the language movement, which was after Partition. Pakistan tried to impose Urdu on Bengalis. And Bengalis wanted to keep their language. They wanted to keep their culture alive and so riots broke out over the language. That was the straw that broke the camel's back. My great-uncle is a guy called Oli Ahad – he was kind of an instrumental freedom fighter at that time. At this point my family was doing their thing, grinding in London. And the other part of the family were fighting for freedom through the '70s. A lot of them have passed away now, but they were very heavily involved and invested in Bangladeshi independence, which to me is a kind of elongation of the Partition narrative that doesn't really get spoken about. The idea that Bangladesh essentially had to come into being twice.
There was a huge amount of bloodshed and a huge amount of enmity between Pakistanis and what eventually became Bangladeshis because the Indian armed forces came to help the Bangladeshis. It ultimately comes back to the same thing. It comes back to these arbitrary lines drawn by the British in 1947.
Kindness
In the space of five weeks as well! In the recent BBC documentaries they did some historical recreation of Radcliffe, the bureaucrat that had to decide the line, sat sweating at his desk, mopping his brow…
Imran Perretta
He'd never been to India had he?
Kindness
No. And there was the implication that, you know, he did the best job he could under the circumstances. I mean, fuck that. Say no if there's not enough time. We're talking about something that was set up to fail by historical precedent from the minute the British arrived. In any case, we've got a lot of different perspectives coming from different South Asian migration stories here. I could talk about mine in a moment.
Nabihah Iqbal
You should because yours is different –
Imran Perretta
Yours is really interesting.
Kindness
My dad happens to be northern British, so I got his very northern family name. My mum's family are Muslims from Gujarat. They migrated to South Africa after the famines in the early 1900s. My Partition story is more of a "what if?" I wonder if our Gujarati village would have made the migration to Pakistan. As it was, they moved out of the frying pan and into a different fire, which was living under Apartheid. My grandmother actually went to jail for five years and was under house arrest for another five after that. One of our family friends was killed in detention by the apartheid state police.
I think that whenever people look at mixed kids, and especially ones with really English names, there can be an assumption they don't know too much, or are out of touch with their Asian-ness, but I only see my Asian family. That's probably why I care so much about this. I think this is my community – especially other cultural creators, people doing stuff. I feel an intrinsic connection to all of you. We have to take some responsibility for having gotten somewhere. Now you've got to stand up and be counted.
Nabihah Iqbal
It also is a testament to this idea that there's no black and white when you discuss an issue like Partition because it's taken you, a mixed race, Asian British guy to actually be the one to organize this discussion and bring us all together and we're grateful for it. And I'm sure everybody who listens to this show as well. It will give them positive feelings for sure.
Kindness
I hope so. The only ones who might not feel as positive are our friends who commissioned the Different Trains 1947 project... but, as I say, it comes from a place of love and constructive criticism. To give you some backstory on that. I was emailed by several brown friends when this project was announced through Resident Advisor and the Indian music website Wild City, that the Barbican, Warp Records, British Council, The Arts Council, and the Liverpool based arts group Metal, had announced a project called Different Trains 1947, which was going look at the British-Indian relationship and 1947 through the lens of trains. (Metal had a relationship with Edge Hill train station in Liverpool and having previously staged "Different Trains," the Steve Reich piece.)
So this was an iteration of the Steve Reich concept, which takes audio testimony and music and looks to make a mixed media presentation of migration in Europe, which also featured some Holocaust narratives. I guess there's a point to be made that it wasn't a total reach to see that this could be applied to the enormity and the delicacy of Partition and Independence. But...! And here's the big but...
In commissioning this project, no British South Asian artists on a musical or visual arts side were asked to participate. And we're not gonna talk about the artists that were asked to participate because we have full respect and support for every one of them – and there's a place for all to be part of that story telling. Of course there is. But it seems like a missed opportunity. An opportunity to include people in both musical and visual arts who would have family awareness of the emotional impact of this. Who might have known a bit of the history because, as we keep saying, it wasn't taught in British schools. No one coming at this without doing masses of research would likely know that Partition was even a thing. I don't know why it would be a common thing to be thinking about outside of South Asian circles.
So there's been a missed opportunity already for people that have a personal involvement in these stories to have been included in the process, and that was our number one criticism. After that, there's this aspect where people are apparently pulling from British institutional narratives of what had happened. I know that the visual artists were looking to the BFI and British Film archives for documentation of these events. What's upsetting is that the British deliberately destroyed so much documentation of both Partition and the moves they were making leading up to it. To rely on British documentation of the event is like asking criminals for witness testimony.
For some background, the British army who were still there in India were told only to intervene in the violence and genocide that was happening if a British subject's life was in danger. So if any Indian communities were fighting amongst themselves, that was something the British were told they had to stay out of. They were basically getting on their ships and leaving.
Nabihah, what was your immediate response when you heard about the project? Should the British even being doing something like this?
Nabihah Iqbal
Well I wanted to come and be part of this today because I felt that if we didn't talk about it, who was going to talk about it? My first reaction when I heard about the project – without hearing about the details – was that this is good. Because it's an opportunity to spotlight something that's been such a huge factor of South Asian history and of British colonial history and it's something that's not talked about. With this huge diasporic community here in the UK, what are their feelings and response?
And as I mentioned earlier, being an Asian British female working in the music industry – we are really underrepresented. Even if we just look at Asian people in general – within mainstream British culture I'd say we're very underrepresented. So my first reaction was, "Okay, maybe this is a chance for the project to spotlight some key Asian artists." But obviously once you looked into it, you saw the list of people involved and the way they were going about it... then there's this feeling of, I don't know – I just felt quite disheartened and disappointed. The whole project is completely undermined by the fact that no one British has any personal connection to the historical story.
Kindness
We don't want to erase the participation of South Asian artists. There are artists working on the project who were, happily, added after the British element was commissioned. But there is also a unique perspective that comes from being British Asian – we would have pointed to the greatest erasure of all – that none of this shit is ever discussed here.
Imran Perretta
You know, I wasn't surprised because we're never surprised, are we. Let's be real.
Kindness
Well, you can be happily surprised which happens less often.
Imran Perretta
I wasn't surprised but I was extremely disappointed. Speaking from a contemporary art point of view, there's a lot of POC at the moment that are really doing it. Particularly a few South Asian ones. And it felt to me an extension to this erasure.
Kindness
I know you told me a little bit about a visual arts project that is touring the U.K.?
Imran Perretta
There's a commissioning body called Film and Video Umbrella who do a lot of great work. One of the events that they've come up with this year is a show called Changing Places. It's a traveling show of six South Asian artists who all make moving image work and all the work is centered around narratives of independence and partition.
And look, there are many South Asian artists who primarily work with the moving image or performance. They've had big institutional shows, some are repped by large commercial galleries – there is no excuse to not know who they are if you put in 30 seconds of research.
Kindness
Similarly on the musical side. It's enough to google "British Asian musicians" – it will bring up a list. Of course some artists would be more of a curveball, but it could have been really interesting they would have agreed or even got to the point of discussing it. I mean –
Imran Perretta
You have to take risks with this stuff.
Kindness
There aren't many opportunities that are inherently applicable to British South Asians. Here finally comes one project which has full relevance to who we are in our community and we're specifically not asked. It's hurtful – because you start to think, "How do we succeed? How do we get a place where our voices are heard?" Where we're seen as cultural creators on the same level as bigger and more influential British artists.
You can't really get there if you're not getting those opportunities, and it's worth noting that Arts Council and British Council paid for a team of people to go out to India to make recordings and to visit sites. I also don't really know how you can do a project about Partition and only go to Mumbai, but that's another discussion...
Nabihah Iqbal
There's different levels of erasure going on.
Kindness
I don't think you can talk about migration in this way. You can't talk about Windrush, or about the former West Indian colonies and movement to the U.K. without involving British Caribbean artists. Who knows that topic better than British West Indians? Who's versed in the sound and the music and the artistry to back up a project like that better than British West Indians? So why did that not happen in this case? I think it's an uncomfortable question, but it's one that we ought to look at.
Imran Perretta
In terms of Different Trains, on the visual side of things. I think that a team was chosen who are great filmmakers, who have made very interesting films and I think I can understand therefore that instills confidence in production values and quality – the security that people have worked at the highest levels.
Kindness
Tried and tested –
Imran Perretta
Yes, exactly. There's no risks there. I guess my point is people that occupy a certain position where there are extremely high production values have people around them that are used to doing things that are very high level, that are used to working with big budgets. I could understand in that case that they wouldn't want to take a risk on someone who's doing something extremely experimental. But the fact that they didn't even reach out to those people – it seems like such a missed opportunity.
Nabihah Iqbal
Yeah, it's inexcusable.
Imran Perretta
It's painful.
Nabihah Iqbal
Because for every reason you might put forward: that we needed someone with this much experience or this much exposure or this much of a following – there are actually counterparts to the people you've chosen who are more closely associated with the community, that have an Asian background. Whether it's Partition and British India or whether its Transatlantic slavery it's frustrating that every part of history ends up being re-told in a very Eurocentric way.
It's not something that's just relative to British India, it's the history of the whole entire world outside of Europe. We're in 2017 now and we've got organizations involved in this – and all of us know people who are connected with those organizations. On a personal level, you think people are open-minded, they're gonna make an effort to try to educate themselves about this subject, but then what we're left with is just more of the same.
Kindness
I want to shout out all of the people... I know people that are working on this or have gotten involved with it after the fact – and I see the loneliness sometimes of being the only brown face in the room. Especially in big institutions – to go out on a limb and say, "Hang on, could we have not got more South Asians involved in this?" Especially when it's the Titanic heading for the iceberg and you're not going to turn it around at any point. We've got your back. You know, just reach out. We'll make sure that it's not just you and your white colleagues having an argument about something that they may not intrinsically understand.
One last point I'd like to make about the tried and tested route – it's inherently unfair. There's only so much amount of arts funding in the world. The arts shouldn't be capitalism. It's not about getting results for shareholders, it's not about making profits. There ought to be room for experimentation and there ought to be room to let people fuck up. People aren't ever going to improve or scale up their ambition if they're only asked to do things that are in safe margins for what they've previously done. So there has to be encouragement and investment in untried artists and it has to come from those institutional bodies.