DJ Soul Sister: New Orleans' Rare Groove Royalty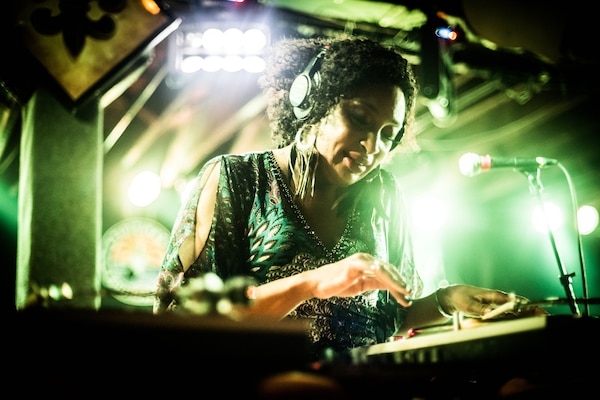 Meet the esteemed radio host, DJ, party promoter and musicologist keeping rare groove alive in the city's fickle nightlife scene
Just after midnight on a steamy Saturday in July, the French Quarter street outside One Eyed Jacks is damp with rainwater and spilled beer, reflecting the dim red light leaking out of the club in glossy puddles. Inside, a few hundred bodies moving on the dancefloor make the indoor air nearly as slick and humid as the tropical city night. The room is thumping at gut level with the heavy beats of classic hip-hop: Eric B. and Rakim, the Sequence, Doug E. Fresh. On a big screen behind DJ Soul Sister, '70s vocal groups step in time, the fringe on their coordinated outfits swaying as they twirl and dip. And it's a good crowd, especially for the traditionally slow summer season in New Orleans. That's likely because Soul Sister's Hustle party, a mainstay for fans of funk, soul, disco and vintage rap for nearly fifteen years, has recently been downgraded from a weekly to a periodic special event. The DJ – whose sounds have made her Mardi Gras royalty and earned her a spot on the Essence Fest mainstage in the massive Mercedes-Benz Superdome, which can seat nearly 50,000 during the festival – is taking a breather to finish a master's degree in musicology at Tulane University. Hustle's absence is a big gap in the town's party calendar, and folks are here to get their hip-shaking in while they can.
In New Orleans during the '80s and '90s, Soul Sister, whose given name is Melissa Weber, grew up alongside hip-hop, which she loved both for its own sound and for the hidden nuggets of information it contained. "I loved to take the opportunity to point out samples, to find out where stuff came from," she says. In homeroom at Cabrini High, the all-girls Catholic high school she attended, students had to watch a daily broadcast of school news on classroom TVs, which included some current pop music. Weber was the kid who would hear Digable Planets come through the TV, recognize a sample and turn to her friend to say, "You know, that's really KC and the Sunshine Band."
"By senior year, I was knee-deep in funk," she says. One year, she dressed as George Clinton for Halloween; for a school talent show, she wrote a sketch where she channeled Parliament-Funkadelic's groovy magic. (Dashiki-clad, she approached a group of classmates listening to Top 40 rap and, with a wave, changed the song to Zapp & Roger's "More Bounce To The Ounce." "I funkified them," she says.)
Part of her love for old music came from listening at home, where her parents had a small but solid record collection that she can, years later, catalog from memory. "Lionel Richie, Teddy Pendergrass, Lou Rawls, George Benson," she says. If her father left a record unshelved, she'd take it into her room and listen on her Fisher-Price record player. In the early '90s, New Orleans was a notoriously unsafe city – its homicide rate in 1993, Weber's senior year in high school, was the highest in the country – and her protective parents were not thrilled about letting their daughter venture out at night to go to clubs or concerts. She did manage to see Run-D.M.C., her first concert, plus DJ Jazzy Jeff & The Fresh Prince and Stetsasonic, but not the Beastie Boys – her mother had read a preview saying that the show included go-go dancers. "She said, 'You are not going to that,'" Weber remembers.
The teenage Soul Sister did manage to get out to a few shows – memorably, her first George Clinton concert, with Bootsy Collins and the P-Funk All Stars, at the elegant Saenger Theater. "I thought, 'This is what I've been waiting for,'" she says. "I went to the show and the show just changed my life." Clinton was coming back a few months later, but to play the rock club Tipitina's – a venue with an 18-and-over policy. She was still 17. During religion class at Cabrini, she asked her fellow students to pray for her to get in. (She did – by dressing so dramatically, in full-on black lipstick and goth gear, that the doorman didn't check her ID.) "I went right to the front of the stage, and I've been front of stage for P-Funk ever since," she says.
Even without free rein to see live shows, there was plenty of MTV to watch. She saw Spinderella, DJ Jazzy Jeff and Mannie Fresh, plus New Orleans club star Slick Leo, on his locally-broadcast show, Live from the Famous Disco. Slick Leo also DJed on the New Orleans station WAIL 105.3 FM, another inspiration for Soul Sister. Attending Loyola University in New Orleans, she trained at the college radio station and volunteered at WWOZ 90.7 FM, the award-winning community station. Soon, she remembers, WWOZ offered her an empty slot doing a jazz show, but she held out – she wanted to play funk. Serendipitously, in 1994, another DJ left and she got her wish: the Saturday night slot from 8 to 10 PM. She called it Soul Power, and soon she had plenty of fans. A bartender friend convinced her to spin live at a birthday party a few years after she hit the airwaves, and it was a success. Since then, there have been few Saturday nights on which she doesn't take her crate of records straight from the station to the dancefloor.
Both Soul Power and Hustle have an eclectic format that Soul Sister likes to call – when pressed – rare groove. Not all her selections are the most obscure crate-digger's delights, but it keeps things flexible enough for her to play what pleases her without having to hew to a narrow prescription, as well as giving her the chance to broaden some minds the direct way: right through the ear.
If I go on WWOZ and call it a funk show, everyone will call and say, "I want 'Brick House.'" Rare groove can be soul, funk, disco, Afrobeat, Brazilian, rap, jazz.
Disco is a prime example. "I like happy keys and chords, sexy keys and chords," she says. "And there's a stigma about disco, because people don't actually know what it is. For one, it's short for discotheque, a place where people dance to records instead of bands. You get into the origins of disco and it's people gathering in underground spaces dancing to black music, Hispanic music. It's not Travolta. The first disco hit was by an African saxophonist, 'Soul Makossa.' Without disco, you wouldn't have hip-hop – 'disco' is a word of pride. MCs used it for stage names."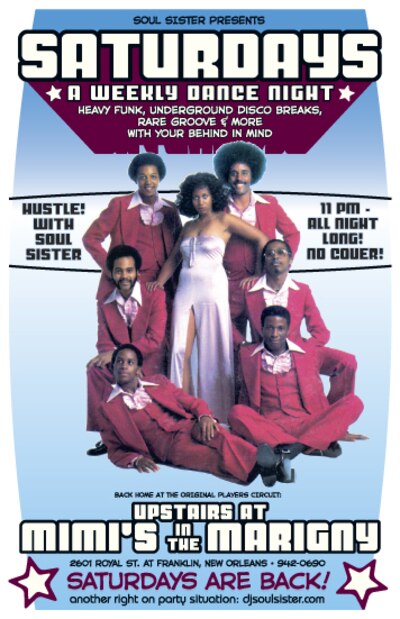 "So I call the party 'rare groove,'" she says. "If I go on WWOZ and call it a funk show, everyone will call and say, 'I want 'Brick House.'' Rare groove can be soul, funk, disco, Afrobeat, Brazilian, rap, jazz." She also changes with the times: "When I started," she says, "we had really good old-school stations, and now we have less. I would say, if I play 'Back In Love Again' by LTD – everybody knows that! Well, now, no they don't. There used to be 900 people doing that, but now it's not the case."
One Eyed Jacks, a 400-capacity rock & roll venue, might be the nightclubbiest place that DJ Soul Sister regularly plays. Hustle was actually born at Leo's, a now-defunct corner dive bar in the Bywater neighborhood, and had the bulk of its weekly run (and got its official name) at Mimi's In The Marigny, a tall, narrow lounge inside a big brick townhouse with a wraparound wrought-iron balcony in classic New Orleans architectural style. The cozy upstairs room where Hustle took place had no DJ booth or stage; Weber set up on a couple of the two-top tables where customers would normally snack on tapas from the lounge's Spanish menu during regular hours, pushed together in a corner. To protect her turntables at their makeshift station from the vibrations and wobbling caused by dancers on the creaky old wood floor, she set them up on stabilizing inflatable cushions that looked like bright orange X's, with weird, fat, bulbous tips.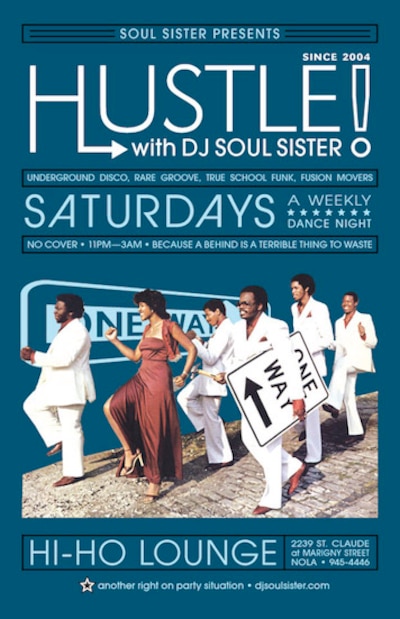 "It was the only consistent dance party that I knew of that had a sound and a vibe that I was familiar with, while I was looking for a new home," says Jocelyne Ninneman, who moved to New Orleans from Detroit in 2006. "EDM was starting to take over, and vinyl was something separate. The first version of Serato had come out, and everyone was geeking out over that." She appreciated Soul Sister's insistence on sticking to her vintage vinyl, and the chill atmosphere of the party.
"I mean, house music in Detroit wasn't a bottle-service, see-and-be-seen kind of scene," she says. "There was a party I threw on Sunday nights for years in the back of an operating restaurant." Ninneman, now the music programmer at Three Keys, the nightclub in New Orleans' branch of the Ace Hotel, made Hustle her Saturday night go-to. When she met the DJ afterhours one night at a bar, they quickly bonded over records; she became one of Soul Sister's Booty Patrol go-go dancers.
Ninneman, at the time part of a team that had recently launched the music marketing and networking site Fusicology, remembers being amused by Soul Sister's lack of interest in self-promotion on the larger DJ scene. She kept a full-time job in marketing and communications; she was more concerned with keeping every aspect of her show to her liking, and her own standards, doing all tasks herself if that was what it took; she wasn't particularly driven to hustle connections with big names out in the DJ world.
"It's been entirely her own party machine the entire time," Ninneman says. "She may not own a bar, but she owns her whole situation: the gear, the promotion, even the drink specials. And she's humbled a lot of people. She's not impressed by guests or gigs."
"She's such a pillar of New Orleans, and she's done the DJ thing her own way, the New Orleans way."
She just cultivated a one-woman show, a unique experience in New Orleans and maybe even in the country.
Soul Sister and Hustle's reputation grew on her own terms, making fans of her one-time influences – she's performed with Mannie Fresh, Jazzy Jeff and Questlove – and of fellow DJs both rising and established. Not to mention other stars: One memorable Saturday night, Soul Sister looked up from her decks to see Solange Knowles smiling at her from down front. It was the weekend of the R&B artist's wedding in New Orleans; her in-laws, Beyonce and Jay Z, were on the Hustle dancefloor, too.
Natasha Diggs, a New York-based DJ who remembers listening to Soul Power streaming online as a teenager, says: "She just cultivated a one-woman show, a unique experience in New Orleans and maybe even in the country, really setting the vibe, making sure every part of the party is the way it needs to be – lugging her own equipment, doing all her own promo, making sure it's right and preserves the vision that she has."
"The testimony," she continues, "is how long it's been a staple in New Orleans, and how much respect she has, in a city like that with such a vibrant music culture. And hearing her on the radio, playing this soulful music, gave me the feeling that I could do it as well, and do it on my own terms." What Diggs heard was a passionate listener interested in entertaining her own ears first, and though it sounds romantic, it clearly worked. Coming from radio, Soul Sister was used to playing for thousands while alone in a room – she didn't automatically watch the dancefloor for ripples of pleasure or discontent – and she worked an eclectic set, weaving together sounds across genre and time. Her faith in the groove, as it were, came across over the airwaves and from the stage.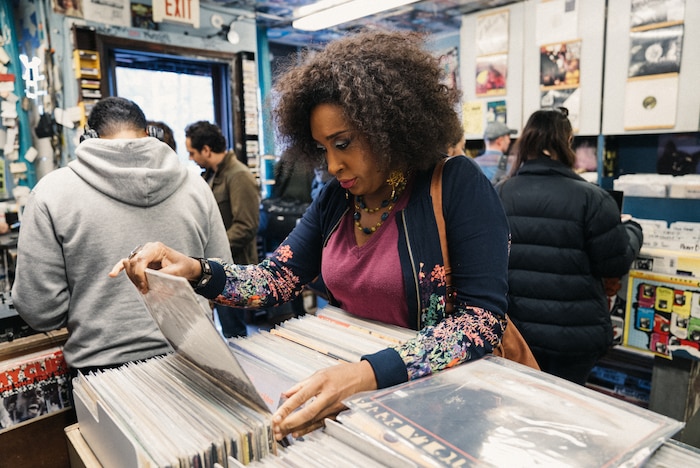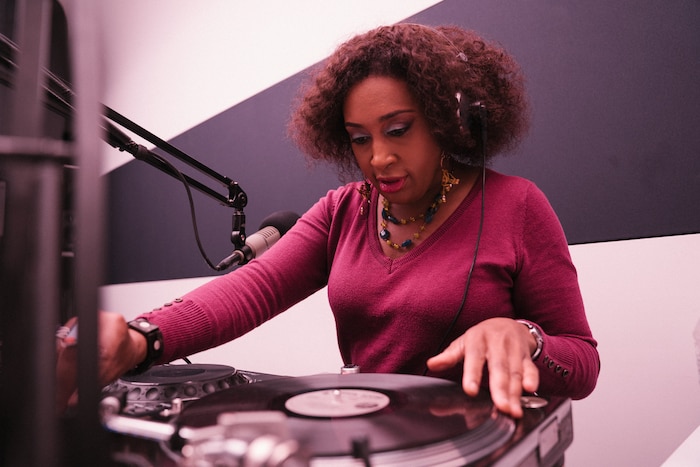 In the years after Hurricane Katrina, Hustle at Mimi's – and Soul Sister – became a local institution. The city, shaky and uncertain in its slow recovery, needed places to let off steam and dance, and the relatively undamaged Marigny and adjacent Bywater neighborhoods burgeoned with new nightlife. Just beside the French Quarter, the area had been a working-class Irish and Italian neighborhood during the first part of the 20th century; after the "white flight" of the '60s and '70s, it became home to mostly African-American families, similar to the Katrina-ravaged Lower Ninth Ward further downriver. Bohemian artist types, priced out of the Quarter, had slowly been moving downtown in a recognizable process of urban transition and gentrification. There was a small art gallery or two, a few speakeasies in artists' and musicians' private homes, a mostly-gay clothing-optional swimming club. After the storm, though, the process accelerated: Rents rose, restaurants and bars opened and endless national publications – including the New York Times – referred to it as the city's version of Williamsburg, Brooklyn, that catchall scapegoat for all things hipster.
The soulful, unpretentious Hustle, with its roots in that old Bywater watering hole, got caught in the neighborhood's new growing pains. Entertainment in the mostly-residential Marigny and Bywater had previously operated in a fairly laissez-faire way. In 2012, though, eight years into Hustle's run upstairs at Mimi's, it came to light – via the complaints of some neighbors displeased that their sleepy, picturesque neighborhood was no longer quite so sleepy – that the bar had never acquired a city permit to host live entertainment. It wasn't just Mimi's. Other venues throughout the neighborhood, and New Orleans in general, found themselves having to get their own paperwork in order as the city, seven years after the floods, found the bandwidth to enforce non–emergency issues like zoning and permitting for live music. Mimi's eventually secured a permit, in 2013. But Soul Sister, who didn't relish being at the center of the battle between the bar and its angry neighbors, decided to move her party. (In 2015, after years of litigation and acrimony, Mimi's finally gave up its live music permit in exchange for the neighbors' consent to the bar hosting up to nine events each year, with at least three weeks' notice given for each.)
She works two turntables and runs the most happening dance party in our city. I don't know when she sleeps.
Hustle moved to the Hi Ho Lounge, a formerly black-walled, low-ceilinged punk rock bar less than a mile away. The Hi Ho was on busy, mostly-commercial St. Claude Avenue, a strip that had itself transformed a lot since Katrina. Down at one end, close to the canal that demarcated Bywater from the Lower Ninth Ward, there was a cluster of edgy, raw art spaces that hosted a monthly coordinated open gallery night. The Hi Ho shared its intersection with three other venues: an eccentric theater, a loud, 24-hour karaoke bar and a new punk and heavy metal club called Siberia. The Hi Ho itself had been renovated and slicked up after Katrina, with a raised ceiling, an expensive sound and lighting system and a new courtyard with a late-night restaurant in back. Other neighbors were a daiquiri and po-boy shop; a Walgreens; a closed supermarket and several fast-food restaurants and discount furniture stores. There weren't a lot of neighbors trying to sleep. And the relocated Hustle kept its momentum, moving its energy and its crowd to the new spot as seamlessly as one of Soul Sister's transitions between songs. If anything, the groundswell of support for the threatened party amplified Soul Sister's profile in the local music community, confirming that Hustle had grown to represent something truly special.
When Soul Sister decided to downsize her party calendar in 2017, it had little to do with the changing nightlife scene in New Orleans. In recent years, the inveterate collector and info hound had gotten interested in the community of scholarship in popular music, particularly the Experience Music Project Pop Conference, which brings together academics, journalists and musicians to present in-depth research on the topic. So she enrolled in a new graduate course in Tulane University's Department of Music, a master's program in musicology.
The new program benefits tremendously from the many students – like Soul Sister – already working on some level in the local music industry, from journalists to musicians, says Dr. Matt Sakakeeny, who is an associate professor in the music department and the director of graduate studies for the musicology master's program.
"Melissa is an incomparable person," he says. "She's a dedicated, intellectually curious and inquisitive returning student, who's also keeping up a full-time career. And then she's also this world-renowned DJ – and I don't mean just a curator of hidden gems, but she works two turntables and runs the most happening dance party in our city. I don't know when she sleeps."
Sakakeeny has sprung his student's secret identity on her classmates before, he admits. "I'll be teaching an undergraduate class that Melissa is taking, like History of African-American Music," he says. "So we'll be talking about house music in Detroit, and I'll ask her, 'Do you have any insight into that as DJ Soul Sister?' And three-quarters of the heads in class will turn around and recognize her."
As the fall semester gears up to start, Soul Sister is planning both a holiday-weekend bash with Mannie Fresh sharing the bill, and a thesis project on D.C. go-go. Initially, she thought she'd write her final text in the program on destigmatizing disco, examining the not-so-subtle race and gender bias that fueled the "Disco Sucks" movement and the violent Disco Demolition Night baseball promotion in Chicago, in 1979.
"But I would wind up getting very angry," she laughs. "And that's not going to help. Go-go makes me happy."
Header image © Avery White