An Unseen History of '90s Hip-Hop
Prolific hip-hop photographer T. Eric Monroe opens up his treasure trove
Between 1992 and 1997, T. Eric Monroe was one of the most prolific documentarians of hip-hop culture. After getting his start as a skateboarding photographer, shooting for magazines like TransWorld SKATEboarding and Thrasher, Monroe got his foot in the door at The Source – gravitating more towards hip-hop during one of the most exciting times for rap music in New York City.
"It was literally a nonstop grind," Monroe says of his time commuting daily back and forth from his home in New Jersey, but it brought him in touch with such momentous artists as Nas, the Fugees, Ol' Dirty Bastard and 2Pac at crucial stages in their career. Equipped with his camera, a gift for identifying compelling moments and a gentle and kind spirit, Monroe caught many artists at their most personable, offering a glimpse behind their public personae.
Monroe's photo archive is full of undiscovered gems, and he recently offered us a peek into the treasure trove, sharing some stories along the way.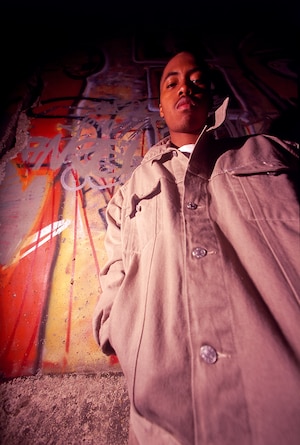 Nas
I like capturing atypical moments, when people are unguarded and showing a different side of themselves. There are moments with Nas where you can really see into him. It becomes more personal. You have a more personable feel of the person rather than the typical press shot or what you think the person should look like or be like.
It was a month after Illmatic came out. I remember the buzz on Nas was strong and the guys at The Source were very hyped on him. I definitely took my time to get those shots of him. I think we might have had an hour or an hour and a half to shoot. We walked around Manhattan to a couple of different areas. One shot of him is in front of a piece of the Berlin Wall that was brought to New York as an art piece. It's a shot of him in front of this graffiti and you get this very "kind soul" kind of look from him. I haven't really put it out there yet.
Was that your idea to do it in front of the wall?
No, it was random. We were just walking around. We started at Columbia Records, which at the time was on 55th [Street] and Madison [Avenue], so we might have walked around two blocks, circumference-wise, from where the record label was. We just happened to make a right on the street and then there was this opening in this one giant area where the piece of the wall was. I didn't know what it was. I was like, "Oh, let's just walk over there."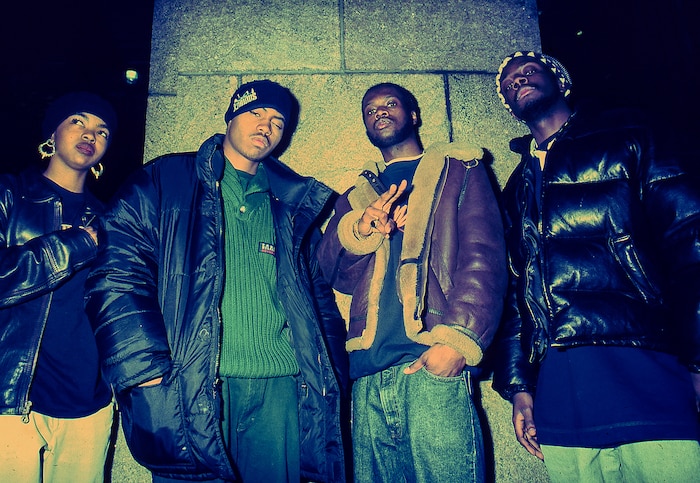 Nas and the Fugees
That was a press day for Columbia Records in 1994, where they had their new artists at the label. They made time for the artists to talk to the press or walk around with some of the photographers and take pictures with them. I had them all outside and I just happened to photograph them together, because they were Columbia Records' new artists that they were pushing. At the time no one knew who the Fugees were, and other than Nas's buzz, he was still a new artist to me. I just captured them together in about four different frames.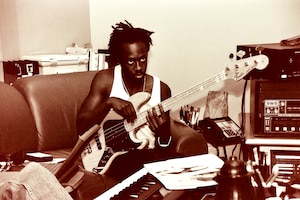 I definitely photographed [the Fugees] quite a bit. By the first album I might have photographed them a couple of times, and I created a relationship with Wyclef. He liked some of the weird ways that I photographed, like using cross-processing, which is taking slide film and getting it developed as print film – it gives it a different hue, depending on the type of film that you use. He ended up asking me to photograph his wedding. I shot it in a very traditional sense, but it was one of those interesting moments. I remember we left the wedding on the way to the reception and three different radio stations were blasting their song "Nappy Heads," which was like their first big hit. It was just wild. Three different radio stations were blasting the same song, literally right after his wedding as we were driving to the reception.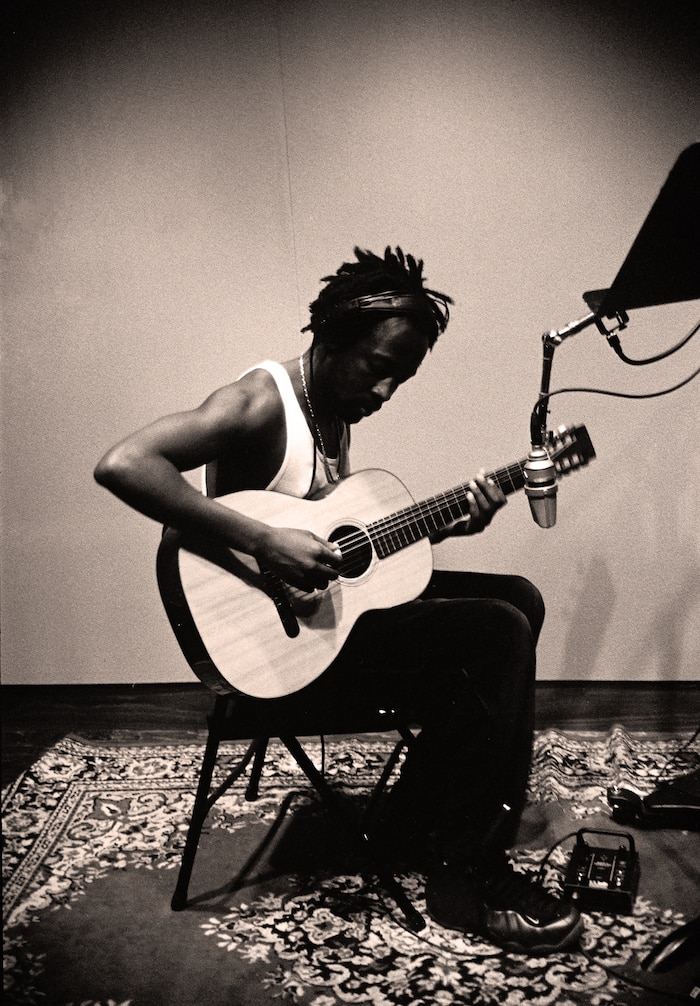 You also have this great shot of Wycelf in the studio, this black-and-white, very candid shot. Can you remember what session that was? Was he alone there in the studio?
Yes, that was when he was working on the Wyclef Jean Presents the Carnival album. I don't know what songs specifically he was working on that day, but I have a few shots from that studio session... I have shots of him doing stuff on the bass, the keyboard and then also playing acoustic guitar. One thing about 'Clef is that he's super talented. It's kind of ridiculous, because he speaks a lot of languages – I know he speaks Spanish fluently, English, French, Creole, and I wouldn't be surprised if he spoke German – and he plays a bunch of instruments. He's a super, super talented guy. So to watch him do anything... you're never surprised about what he can do.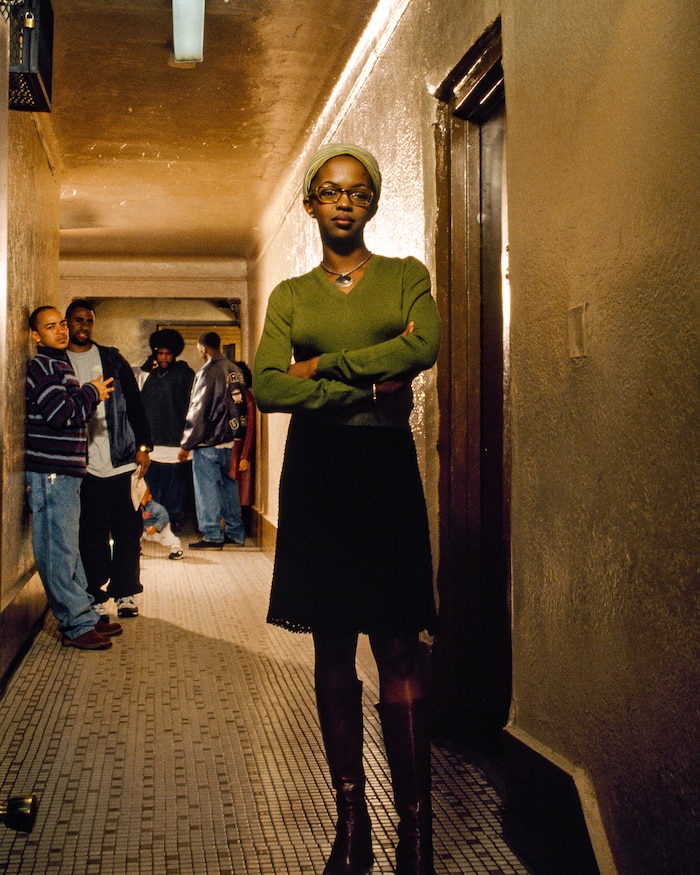 Lauryn Hill
She was directing the music video for Common's "Retrospect For Life" in Fort Greene, Brooklyn, and she was also featured on the song. It was a random moment in between shots where she was just hanging out in the hallway. In the background there's Questlove, and Pete Rock and Tariq [Black Thought] from the Roots were also there. It was just a typical moment of being on a music video set and being comfortable with the artists. I was always floating in and out and just trying to capture a moment in between moments. I caught some moments of Quest and Pete Rock and a couple of the guys outside just goofing off, hanging out as friends. Which is definitely different from Lauryn, just capturing her thoughts, if you would, in the hallway. That moment... Being able to capture the beauty of Lauryn hanging out and thinking, that just resonates.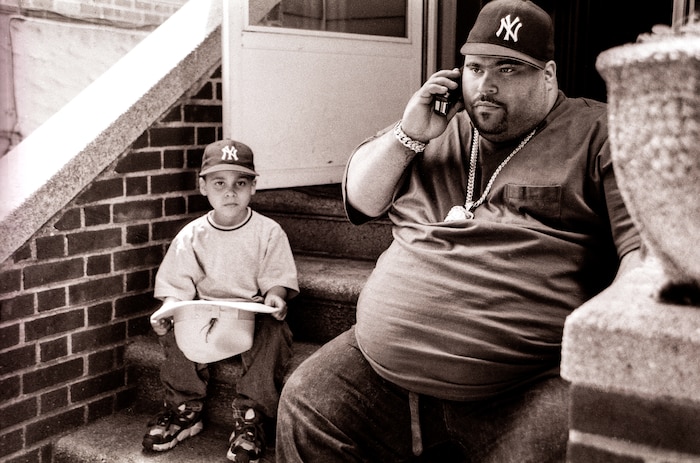 Big Pun
That was at Pun's house in the Bronx. I hit it off with Fat Joe some time before and every so often he'd call me up and say, "Hey, we're doing this," or "Hey, we're doing that." So we had a few random moments and then that particular day we were going up to the Bronx, because I think Fat Joe was doing some sort of interview or Pun was doing an interview with a music video station called the Box. They did a video interview with Pun at a different location, I took some shots of the interview and then went back to Pun's house afterwards. That's when I photographed Pun and his son sitting on the stairs in front of their house, on their porch.
What impression did you get of Pun and the relationship with his son? They look so close in that picture.
It was one of those loving moments, where the son was happy to see the father. He's holding that sort of don hat, you know, ready to give it to his father. There's another picture that goes right after the one where they're sitting on the porch where Pun leans over to his son to give him a kiss. It's the moment of them sitting away from each other, and once Pun gets off the phone, he leans over to his son and gives him a kiss. It was definitely love. The son obviously looked up to his father. He was just happy to be around his father, because Pun was obviously busy recording an album, doing press... He's finally getting a moment with his father.
I've sent his son and also his wife some of these pictures online and they loved them. I have a shot on the same porch where it's Pun's wife on one side, Pun on the other side of the porch, and their son's standing in the doorway behind them. It's a very personable family moment. You can feel the love, but you can also see the stress that's taking the toll on things.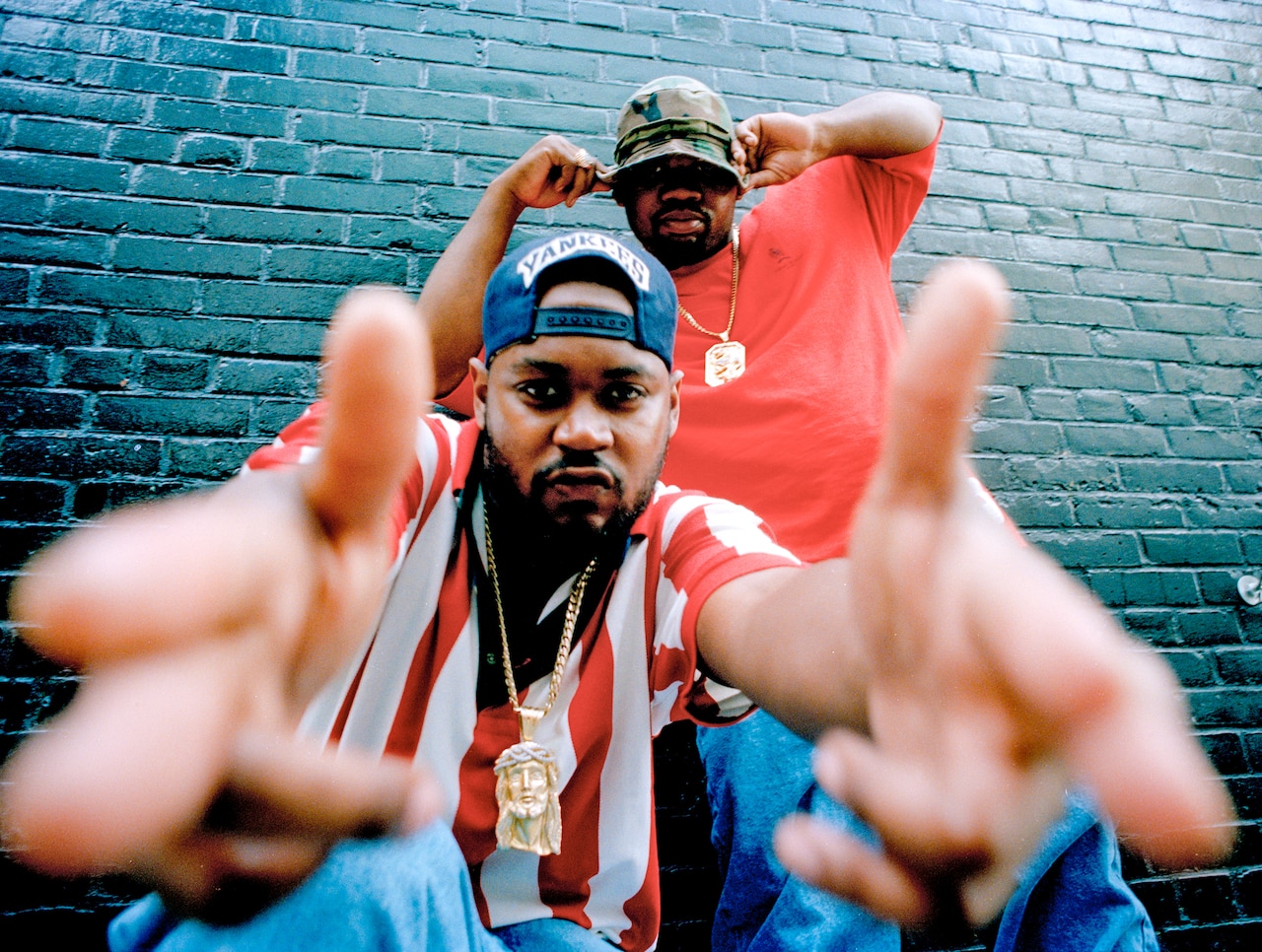 Ghostface Killah and Raekwon
I met them at the record label, at RCA. We ended up going downstairs, walking around a few blocks. I was just trying to find a simple area to photograph them and we found that one particular wall. You could see that they were still young, super hungry, super nice. They work well with each other. That's why you can see the chemistry in the picture. In between the typical moments – the crossing of the arms, the gun fingers – you catch them when they're just them and very calm. A perfect example of that is the one picture of Ghostface looking directly into the camera, holding his Jesus gold medallion piece. You see a very calm, personable dude in there. You capture the moment of him just being him, not animated him. Even when they're goofing around and you catch that moment in between moments and really capture the essence of them, that makes it sort of timeless. I'm happy I was able to catch things like that. Back then you could really still see the hunger and drive in them.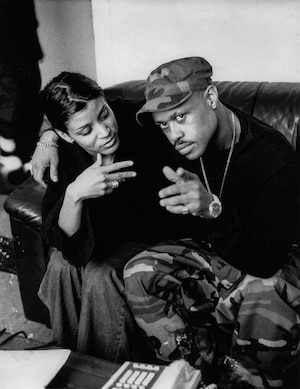 Guru and Ladybug Mecca
That picture was one of those moments where I got to spend time with the artists, that being Digable Planets when they were working on their second album, Blowout Comb. I spent, let's say, a month's time on and off, popping in for an hour or two hours and then a couple of days later, I would pop back in the studio. It was a very come-and-go-as-you-please kind of situation with Digable Planets. That particular day, I don't think they told me that Guru was gonna be there, but he happened to be there when I popped in. I knew Guru from the early Jazzmatazz sessions, but I also used to bump into him all the time and he was just a very cool dude. So when I walked in there, Guru was like, "Oh, that's my man," and the Digable Planets guys were surprised that I knew him, but it was all just a cool circle of people. So during the session where he was recording "Borough Check," I got pictures of him in the studio talking to Butterfly, writing lyrics, going over the sounds.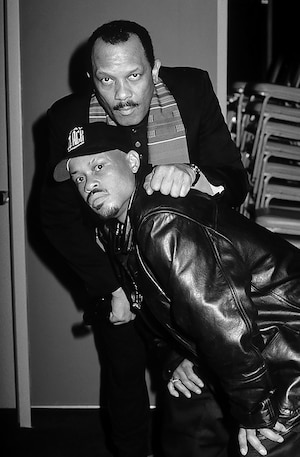 The moment of shooting Ladybug and Guru, that was in a side room of the music studio, them just sitting there chatting, hanging out, and I pick up the camera to get a shot of them together. I got a couple frames, but it was either the first or the second frame that made that black-and-white picture where Ladybug is looking at Guru and Guru's looking at me. It was just one of those comfortable moments of them just hanging out. You can see the love, the friendship and the respect for each other. It really gives you an inside view and perspective of the camaraderie.
Obviously everyone looked up to Guru and he's a super nice guy. Digable Planets had phenomenal success with their first album, commercially. They were a part of popular culture because of the song "Rebirth of Slick (Cool Like Dat)," and when they were working on the second album it also gave Guru an opportunity to connect with a wider fanbase as a result of it. But by no means was the song about to be a commercial pop song. It was a very Brooklyn, a very culturally relevant song – the way that it came out, the way that it sampled Roy Ayers. It was a good connection all around, how it was formatted. They were very methodical in the direction they were going with the second album.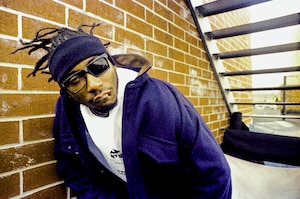 Ol' Dirty Bastard
It was a one-day session that I had with him. It was an actual assignment, believe it or not. It wasn't just "OK, let me make this moment happen." It was for The Source for ODB's feature in the magazine. We ended up first driving to Harlem so he could get his beard trimmed and his hair right and then we came all the way back to the Lower East Side. We were at 2nd [Street] and Avenue B. My friend lived in that building, so she gave us access to the roof to shoot there. She had the perfect angle on the roof where the World Trade Center was in the background. Just the New York cityscape alone always makes for a decent background if you can get the right tones in the sky.
Shooting ODB on the ledge of a roof with the World Trade Center in the background, it was easy because he was just an easy subject to work with. Obviously, ODB being ODB, he has a lot of character to him, and some of the pictures caught the ultimate ODB character with the broken sunglasses and the brick wall shot. But also the calm moments that you're not expecting, like the one where he's just sitting there and he's very calm, just a very peaceful and colorful moment of him not being "ODB." The World Trade Center in the corner, the sky tones - it was just a very peaceful moment that you don't normally get to see of ODB, whereas some of the other shots were definitely pure ODB, looking crazy, and that's what he wanted to come off as, this crazy-looking guy. It was a fun experience catching him.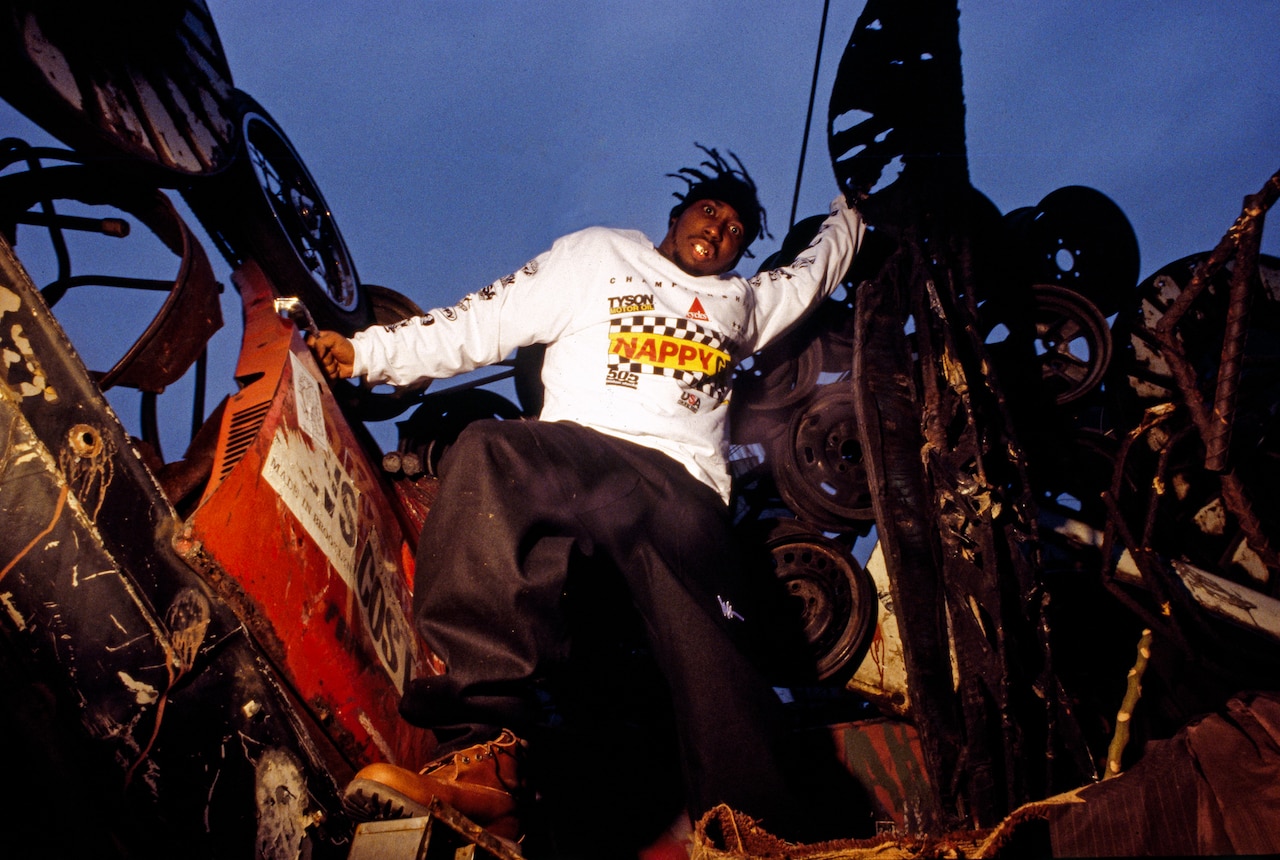 That same day, we got some more traditional ODB images. There was a scrap junkyard across the street from where we were on Avenue B and 2nd and they let us go in there and photograph. I got that one picture of him climbing up with his arms on the old door of a car, looking super crazy and super wild, like typical ODB. I think that's one of the shots that ran in The Source. When he passed, The Source used one of my pictures for the cover. It was a tight face shot of him with the sunglasses with one of the lenses missing, up against a brick wall.
ODB was an interesting character. His album took off, his success and fame took off and then he ended up going to jail. The day he got out of jail, I ran into him at Irving Plaza when the Roots were performing. That was a whole other story about his craziness, but I saw both sides of him.
So he had some sort of on and off switch?
Absolutely. When he came back from jail, you could look into his eyes and see the craziness. So when I first got to Irving Plaza, I was walking around pre-show just shooting random things, and then the show starts and I was sidestage or backstage. The whole day, ODB was the crazy Osiris, Big Baby Jesus. That whole new persona was coming out. So I'm standing sidestage and then ODB ends up coming up in his crazy mode, and then he stops next to me and he just goes back to normal Russell. He starts asking me about the day when we shot the stuff on the Lower East Side and I look over at him like, "Wait, he's normal again." We're talking and he's asking about my friend whose building we shot on and we just started reminiscing, and then someone walks up and he clicks back to Osiris, Big Baby Jesus mode. Later on in that show – I forgot exactly what happened – but he somehow started a fight that got the Roots kicked out of Irving Plaza and banned for quite a few years as a result of it, even though they had nothing to do with the fight. So that was a crazy night in itself, all because of ODB. You could tell that he was in a whole different place.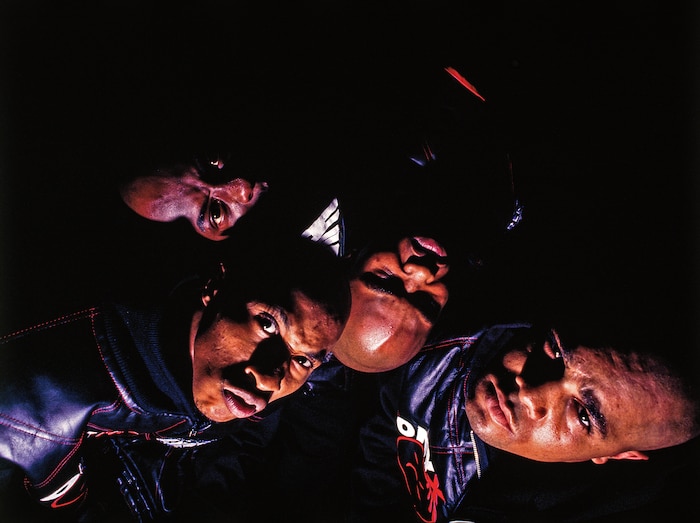 Onyx
That was the day when they shot the video for "Slam" with Biohazard. Those guys were super easy to deal with, just some really nice guys despite their hardcore image. They were always cordial, super friendly, but they knew how to put on this ultra-hardcore image, as if you were at a punk show about to go in the pit. That's how their energy was. But as you know, most hardcore musicians, once they get off stage they're the nicest people in the world. But get in the pit and they're gonna fuck you up. [Laughs]
I relate to that energy, because at the same time while I was doing all this photography stuff and all this hip-hop stuff, my background was in punk rock. All my friends were in punk rock bands and I still went to punk shows. So there was no differentiation for me between dealing with hip-hop or dealing with hardcore: They were one and the same. Where I grew up in Jersey, everyone was into everything. Skateboarding, BMX, hip-hop: It was all part of the same thing. There were segments, but the group of people I hung out with, everyone was part of everything and accepted everyone's cultures or whatever they were into and just supported it. To me, punk and hip-hop always had a similar energy. You feel the energy and you understand the story behind it. They were similar worlds to me. So that's why with a group like Onyx, they made sense to me, and it felt very honest what they were doing.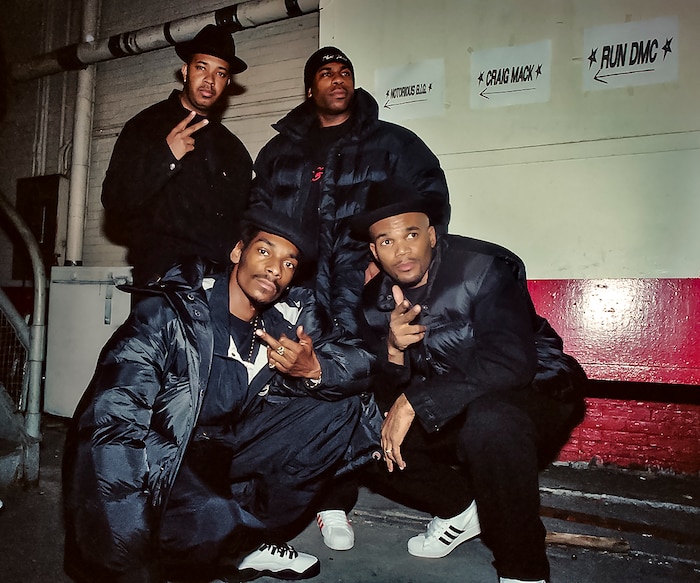 Snoop Dogg and Run-D.M.C.
That was in Philadelphia. There's a movie called The Show – it never blew up, but the movie is about an actual show where they had different artists perform within the movie. So that was a backstage shot where the artists, when they got off, went into their dressing room, and it was also not too far from the stage. I remember Snoop came in, he was interviewed by a couple of different television programs, and once he finished his interviews he was still walking over and Run-D.M.C. happened to be there, too. I timed it so that I asked them both at the same time if I could get a shot of them together and they were like, "Yeah, sure."
They greeted each other, did one or two shots initially and then I remember Snoop specifically asked me, "Who are you photographing this for?" Something told me not to say it, but me being an honest kid... I said, "The Source" and his eyes lit up. He was like, "Fuck The Source!" With such anger and hate. I maybe got two more shots off after that and then Snoop just bolted. He hated The Source.
That was at the time right after the Source Awards where Snoop did his "The East Coast ain't got love for Dr. Dre and Snoop Dogg" speech. I was like, "Fuck, I shouldn't have said anything." As soon as I said it, Snoop was pissed the fuck off. But I didn't wanna lie to him, because it's a small world, you know?
Snoop obviously adored Run-D.M.C., because they were the godfathers, they laid down the foundation for the new generation of mass appeal hip-hop. They were the first group from that generation to get worldwide attention. It was pure love and respect between them in that moment.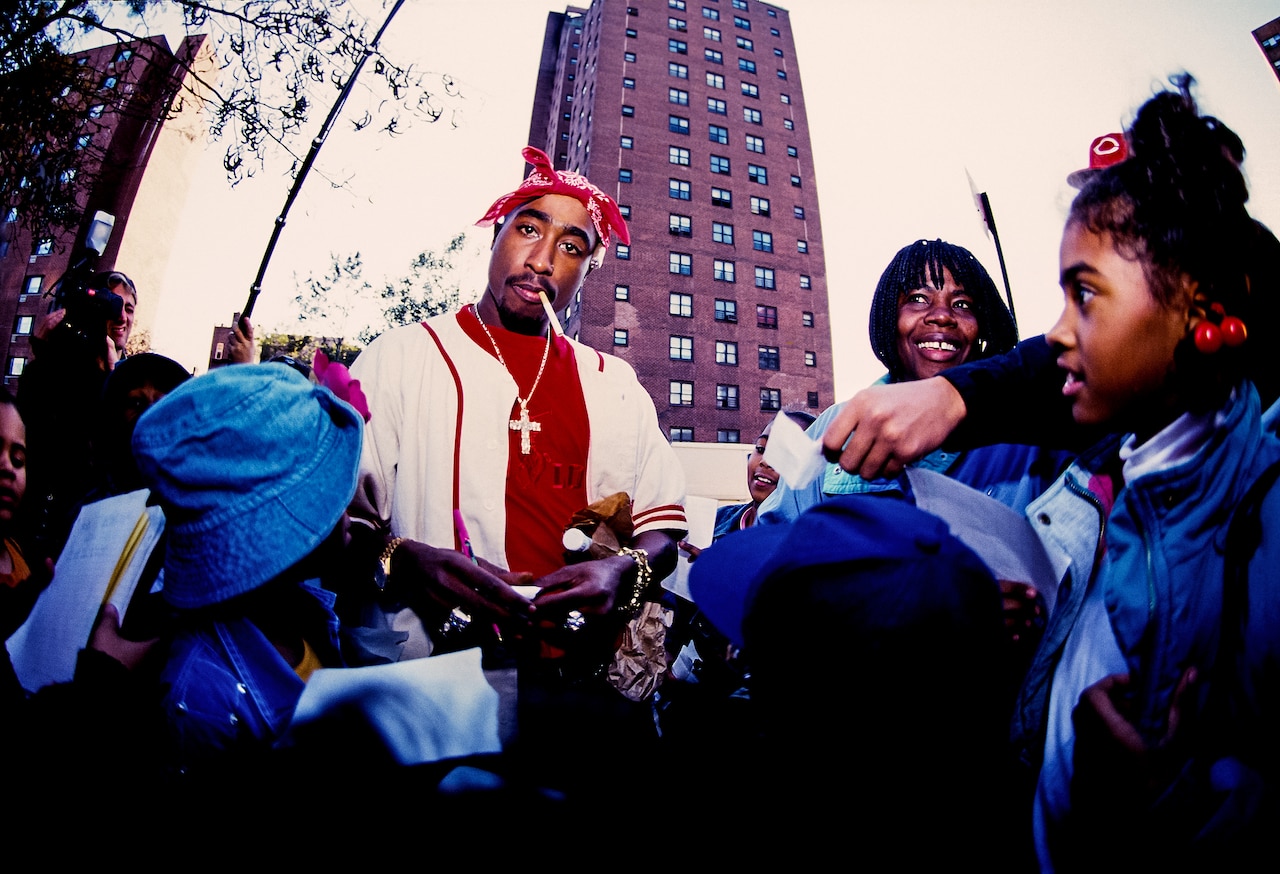 2Pac
All this stuff was probably shot in a matter of an hour or an hour and a half. He was doing an interview with this television music channel called the Box and they were doing a feature on 2Pac and Thug Life. It was in Harlem, right in front of the school where he went to when he lived in New York. That's why they chose that location.
When I was photographing him, I was catching him in moments in between filming. Him just being him, hanging out with his boys, rolling up a blunt, very simple moments compared to when the cameras came out and he went to the crowd and was doing his video interview. It was two completely different moments of catching 2Pac: him chilling, and then when the crowd comes out, talking to the crowd, signing autographs and being 2Pac. [But] there was no difference in the persona.
2Pac and Notorious B.I.G.
There was a show that night when the photo was taken. It must have been '93-ish. I think it was Onyx and Public Enemy that were performing. I was at the venue and as I was walking towards the stage, someone saw me with the camera and just said, "Yo, take our picture." So I said, "OK," but I wasn't really paying attention. I just saw a bunch of guys there and made sure they were all in line to take a picture. So I looked, everything was cool. Pac threw up his middle finger. I shot the shot and just kept it going. I didn't think twice about it.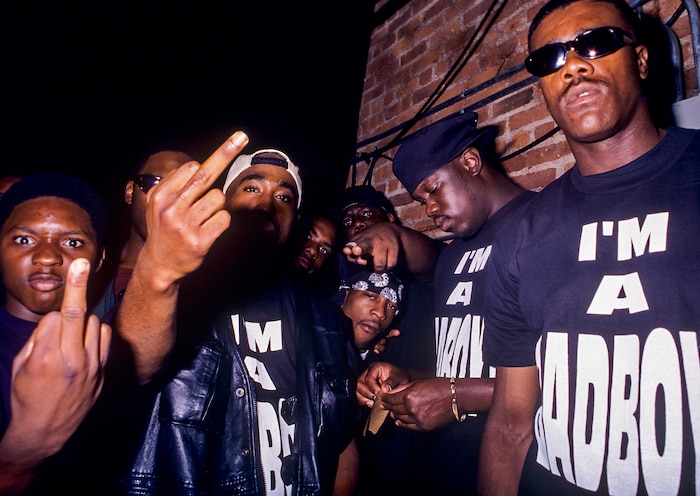 For years, the slide was sitting in a folder, because anytime I went through these particular slides I didn't look at the picture closely, because in photos you don't want a shadow in someone's face and certain things like that. So that shadow that came across and you couldn't really see the dude's face well... It was just one of those things where I would just keep it moving, because no one's gonna publish it because of that shadow. But years later, as I'm going to clean up files and whatever, something made me stop and look at this picture and I was like, "Fuck! Biggie and 2Pac together? And they're wearing that 'I'm a Bad Boy' t-shirt?" The first thing I thought was, "Do you know how much money I missed out on as a result of not looking at this picture?" [Laughs] So yeah, it was just a chance moment.
Header image © T. Eric Monroe