Vin Sol's Bay Area Allegiance
Low-riders, Ted Shred and Honey Soundsystem: the DJ/producer on growing up (and going out) San Franciscan
San Francisco's Vin Sol often whips off his shirt early in his DJ sets, revealing a torso as intricately tattooed as a Delftware vase. This is no fragile posturing, however. He genuinely looks like he's overheating as he jacks to the quick-changing tracks he's throwing out, ranging from deep acid cuts and wall-melting techno to snippets of new wave and Hi-NRG diva jams. It's a manic approach to mixing dance music that he copped from Ron Hardy's WBMX radio days. "The first time I heard those shows, I was floored," Sol said of the legendary Chicago DJ's mixes. "There was an energy, freedom, even a kind of aggressive approach he was doing that made me think of punk as much as disco and house."
A gregarious straight man equally at home playing queer and not-so-queer underground parties, Vin Sol is known beyond his steamy sets for a steady string of viscerally effective, classic-sounding house tracks like "House Freaks," "Off The Chain" and "It's House" (with Tyree Cooper) that use a limited number of carefully cultivated signature sounds to maximum effect. As a third-generation San Franciscan of Salvadorean descent, now in his 30s, Sol draws on his long history with hip-hop, electro and freestyle nightlife to layer his sets and tracks with local signifiers. He's also a musical partner to Matrixxman, AKA Charlie Duff, with whom he started the short-lived but impressive Soo Wavey label, which produced several zingy tracks before it went on "permanent vacation." Now, besides touring, Sol focuses on his label and wild monthly party Club Lonely, which he runs with Primo Pitino and Jeremy Castillo. Club Lonely has so far chalked up six releases in its three years, and Sol still releases on other labels, with his latest, the four-track Moonchild EP, coming out on SF collective Honey Soundsystem's eponymous label.
Sol took a break from painting his buddy's barn in Rupert, Vermont – where he was "on the most wholesome trip of all time, picking apples, canning tomato sauce, getting out of the city to do nice stuff" – to talk about his history, his process and the importance of being a queer ally in the dance music scene.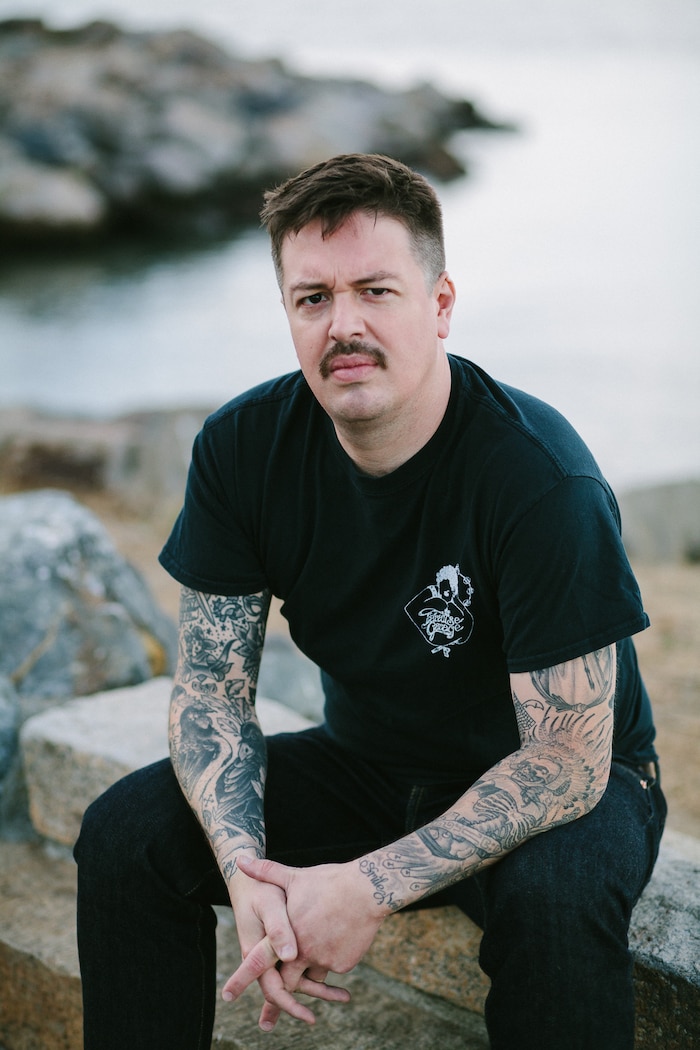 Growing up in San Francisco and being part of the scene from such an early age, I feel like you embody a lot of SF's cultural, as well as musical and nightlife, history. Have you always lived here?
My family moved around a bit, but we were always in San Francisco, mostly in the West Portal and Forest Hill area. I got kicked out of high school, a private school, and was sent off to Colorado to finish, but other than some time at University of Oregon and trying to make it as a DJ in New York City, I've always been in the Bay Area.
My sister is nine years older than me, and she got married to this tattoo artist who had three low-riders, so they would take me to these low-rider parties. I'm 13 years old and riding down the street in this seafoam green Impala with hydraulics, bumping Nas's Illmatic for the frst time, thinkin', "How is this even real?" And the parties would be bumping freestyle, like "Release Me", but still there was a lot of hip-hop, so that introduced me to a lot.
We lived near Lake Merced around that time, and there was this kid down the street named Marvin I used to hang out with who taught me a lot about records. His older brother was one of the Filipino mobile DJs that were everywhere back then. Marvin used to take me to his brother's gigs, which were crazy hype. They were cutting up Rob Base's "It Takes Two." I thought, in my teenage mind, "Oh my fucking God, this is something, this is it."
Is that when you started to want to DJ?
Not quite yet. I went to Colorado to finish high school. On a trip back, around 1995-96, I went to this store Behind the Post Office and bought a couple of my first mixtapes. One of them was an Ed UFO tape which blended Wu-Tang freestyle and beatbox into hard drum & bass. And the one that really got me was a Hieroglyphics mixtape, and that was the first time I heard a three-turntable mix. I thought, "That's what I want to do." A kid I knew got a DUI in 1998 and had to sell all his stuff to make bail, so he sold me his mixer, his turntables, all his equipment and I started playing house parties.
I was studying at California College of the Arts for a degree in furniture design, and once I got that I opened a shop with my buddy in the Bayview district. I got cited in a SF MoMA show. But it turns out that having a furniture shop in your early 20s isn't very easy, and so once my DJ career took off a little I was out.
When it comes to dance music and club culture, it's time for the Bay Area to take center stage.
Back then it was a big deal to be a professional hip-hop DJ though, right? The golden age of hyphy was still happening, and the backpack rap fans were lurking everywhere.
I had, let's say, a difficult apprenticeship. I fell in with Ted Shred – a larger-than-life guy, professional skater and total asshole. He DJed at the I-Beam for the Beastie Boys one night. I met him when I was record shopping at this old spot in the Haight called Persimmon. Ted took me under his wing and let me carry his records on the bus and hazed the living fuck out of me, like the worst older brother you could ever have. But he taught me how to play in the club, and also that you didn't have to stick with one genre, that you could play other stuff and it would work. Ted would play the worst stuff. He would play Nancy Sinatra with Cypress Hill beats underneath, Van Halen's "Running With The Devil" and an Eric B. & Rakim track behind it. He was doing this kind of prototype of mashups, but more sarcastic. It was part of his punk aesthetic. It was disastrous – to me, sonically it didn't work, but when he would be playing Debbie Deb and faster stuff, it made more sense. I was always drawn to faster tempos.
When I first started DJing I wasn't Vin Sol – Toph One named me Vin Sol; he used to hang out with my sister, and back then I was known as Vin Dog. Vin Dog's first official gig was at the club Storyville with Ted, and I screwed the pooch so bad, these dudes were going to beat my ass because I didn't play 2Pac. And Ted said, "You don't get to DJ for three months at a club." I got put on ice. And Vin Dog was no more.
But Ted had Wednesdays at the Beauty Bar where he would play those awful mashups, and a whole cast of characters around the Storyville scene, too, and those were the DJs who really taught me how to DJ: Ted, Jah Yzer, Coop D'Ville and Slopoke. Jah and Coop came from Miami – they knew DJ Craze and all those guys – and they introduced me to Miami bass. Slopoke would come by my house every Tuesday at seven in the morning to hit up the Oakland Coliseum swap meet, and that's where I'd get most of my records. Those blunt-smoked missions across the Bay Bridge… I don't know how we did it. Ted burnt every bridge in town and eventually left.
Were you beginning to be drawn toward other genres then?
I was definitely into hip-hop-style electro and freestyle, and Miami bass was dope. But I still wasn't into house yet. There was this huge divide. But I was moving on. Around 2004 I got this weird gig opening for Prince Paul and Dan the Automator, I think at that club Justice League or club Mighty. And in true Dan the Automator fashion, he was two hours late. I was playing vinyl, so I was really stretching things, flipping records over, playing alternative mixes. It was terrifying, but I somehow smashed it and was invited to play for Prince Paul the next night at another club, Milk. That's when I started the Superfriends hip-hop party there. This was the Diplo, Hollertronix era, and I started getting into freakier music, like Baltimore club and all that.
I had been dabbling in making hip-hop beats with limited success. Then I started making Baltimore club tracks because they were pretty easy for me to make, just banging them out on the MPC and throwing them up on the internet, on the Hollerboard. These mixes were so trite – like "Don't Give Me No Bammer Weed," the Baltimore version. Just things that were so specific to what I was doing and where I was from, but to anyone outside the scope of that it didn't make a shred of sense.
Meanwhile, it was the mid-2000s and I saw these parties like Blow Up and Frisco Disco that Richie Panic and Jeffrodesiac were doing, Rchrd Oh's Hold Yr Horses at Aunt Charlie's – with that hardcore electro, French touch sound – and these were the hot parties. I got into that scene and made a fool of myself. If you look at the pictures from that time, they're really something. But I had a lot of fun, and that helped lead me into house and techno. I've never openly shared that part of my career in an interview, but I think I'm at a place where I feel comfortable about it.
I'm so pissed off I wasn't born ten years earlier so I could be a teenager in the '80s.
How did your partnership with Matrixxman form? I heard it was over pizza.
I did meet Charlie in New York right outside the Chelsea Hotel, at a pizza place. After a few years of the hardcore electro scene, I needed a break and I moved to New York. But New York is pretty hard. When you're not from there, everyone wants to give you gigs. But once you're there, every other DJ is, like, "You're fucking with my money." So things were a little down.
Pat Brown of Different Fur Studios was doing some sessions out there, and we all knew Paavo Steinkamp, who was one-half of the 5kinandBone5 production team with Charlie. Even then Charlie struck me as one of the most talented people I ever met. He was living in Harlem, but we both ended up moving back to San Francisco to collaborate.
I said, "You know, Charlie, I've been around all these guys in New York and now I have a vision and a game plan if you want to stick around," and the first thing we did was that Sade remix. People went crazy for it, it was repressed three times and for a while was everywhere. That inspired us to start our Soo Wavey label, which put out about nine releases, but then Charlie decided to be a big techno guy and travel the world.
Soo Wavey is on permanent vacation now; I'm concentrating on running the Club Lonely label and party with Primo Pitino and Jeremy Castillo. Next year we'll have been at it three years, and we're up to six releases on that. Strangely enough, our next Club Lonely release is something Charlie and I did, a compilation of hip-hop beats that uses a lot of soul samples. Yes, we're putting out an instrumental hip-hop record. It's like, "This is where we come from, why hide it?"
The music you make is an interesting approach to the boundaries between techno, house and classic electro. It seems to strip everything down to get at the root of all three genres, and build things back up into something familiar, yet new.
A big part of it is the studio and the gear I have. It dictates the direction I go in, no matter how many influences I have or how many different kinds of music I like. You start with the gear, and then as your proficiency builds up you can take more risks. I think a few years ago I could have made a really good electro record, And now that I'm more proficient I feel totally comfortable doing that, and my sonic palette will always make it mine. A lot of people can listen to my records and they can say, "Vin made that." There are just some things that I do, like the classic Dance Mania claps on the one, and I always automate my pitch on the ride... and I don't think these things are cliché either, they're just the specific tools I use.
You continue to develop that sound on the Honey Soundsystem release. There's the ethereal chug of the title track "Moonchild," the pulsing landscape of "Electrical Storms." (The titles are very descriptive.) I was really struck by the track "Bondage Taped." There's a cool, latex-like layer of sensuality that comes through – I hear not only some trance in there, but also echoes of new wave classics like "Warm Leatherette."
I'm obsessed with rhythm tracks, and like so much of what I do, "Bondage Taped" started with the rhythm. This was after Folsom Steet Fair, and I had been partying for a while. It came to me that I wanted to make something really aggressive but trippy too, with a limited palette of just drums. So I started stacking drums up on one another and effecting them all fucked up and making them crazy, just like partying can make you a little crazy.
As someone who's been rooted in hip-hop, drums are the obvious go-to, but I like to explore the sides of them that can get more trance-y, maybe even psychedelic. I'm not a trained musician, so I'm coming at the melody of a track mostly through the drums and then the technical side. One of the reasons I love this Honey record so much is that it's probably the most "musical" record I've ever made.
I'm also obsessed with '80s, that is my shit. I get in trouble for playing too much '80s at Club Lonely. Devo's "Gates Of Steel," Eurythmics' "Here Comes the Rain Again" ... I'm so pissed off I wasn't born ten years earlier so I could be a teenager in the '80s. I love that some of that comes through in production.
You're incredibly involved in the queer scene in the Bay Area as an ally, a straight person who's a regular DJ at underground gay dance parties. And now you're putting out a record on a queer label. How did that come about?
Well, first, when I decided I would make dance music, I was completely shunned by the hip-hop community. They wouldn't touch me with a ten-foot pole. And after playing queer parties it was definitely, "Bye-bye." So I had nowhere to go, really, no one to hang out with who had known me for long. Then I discovered Honey Soundsystem's parties on Sunday nights – Charlie was working at Paradise Lounge when the Honey parties were there, in the beginning, and he introduced me. From there, we found out about Stanley Frank and Robert Jeffrey's Monday night Viennetta Discotheque parties. Charlie and I became staples at these parties, and developed real friendships there. A lot of the people we met wanted to make music, and no one else at that time wanted to make music with me, so I felt like I was helping and at the same time grateful to have these interactions. Pretty much all my friends are queer now, and I think it's the same with my girlfriend.
Bay Area nightlife has really gone through a hard year, from the Ghost Ship tragedy in December to just this past month losing Bubbles, a beloved club fixture who was shot to death in the Tenderloin neighborhood.
This has been one of the hardest years of my life, with everything happening. You see how fragile everything is, and if you don't take care of it, it can get fucked up. For me, it's very important that people are OK and can continue to do their thing.
It's always been sad to me how little attention Bay Area artists get, and how so many of us only get recognized in a time of tragedy. It's only been recently that someone like Solar has been able to play all over the place, and I think Solar is one of the best DJs in the world. Charlie moved away and he blew up. Is that something that we can change in the Bay Area? It's pretty frustrating. I think Honey is being really successful at providing a model for how we can start to be recognized outside our little bubble, especially by building the queer scene up, but also joining forces with other producers, DJs and promoters. My family is here, my friends are all here. We have some really talented people who need to get some shine.
When it comes to dance music and club culture, it's time for the Bay Area to take center stage. I think a huge part of being an ally is helping all of that along.