Ghostnotes: Music of the Unplayed
In his latest book, B+ shares outstanding images and stories from two decades of shooting hip-hop icons
Picture a hip-hop head flipping through stacks of records, encountering the story of the genre and its influences one alphabetized name at a time: big-hitters and long-lost contributors, unheralded drummers and the producers who capitalized off their grooves, artists from the Bronx and Compton and everywhere in-between and beyond. From originators to contemporary stars, there is one unexpected thread linking practically every name in this history of hip-hop: They've all been photographed by Brian Cross.
Cross, AKA B+, is a photographer, director and DJ who was born in Ireland but had his musical and artistic awakening in Los Angeles. After studying at the California Institute of the Arts, in 1993 Cross published an acclaimed book on the LA hip-hop scene, It's Not About A Salary: Rap, Race & Resistance in Los Angeles. He has since established himself as one of hip-hop's pre-eminent photographers, shooting an extraordinary range of artists at their most intimate. In addition to dozens of album covers – his best-known is DJ Shadow's Endtroducing – B+'s catalog has ballooned to include far-reaching inquiries into hip-hop's roots and global connections, the subject at the center of his new book, Ghostnotes.
Released on December 5th, 2017 via the University of Texas Press, Ghostnotes: Music of the Unplayed serves as an entrancing mid-career retrospective. The featured photos swerve from the journalistic to the impressionistic, capturing expansive stories in a single frame and combining unlikely source material to blur personal and political histories together in unexpected ways. The book, which includes an introduction by Jeff Chang and essays from Greg Tate and Dave Tompkins, asserts Cross's unassailable skill as a storyteller par excellence. In Cross's own words: "Ultimately, the construction of national styles has never been the function of music in the Americas. I think this work may in fact make a counter argument that music has always sought to see beyond the nation, while often creating or sustaining the national… This work seeks to make these links in ways that a record digger might understand."
To mark the widespread release of Ghostnotes, we asked B+ to reflect on a small sampling of the memorable moments that make up the book – from shooting Lauryn Hill while pregnant, to riding camels with Jay Electronica in front of the Pyramids of Giza.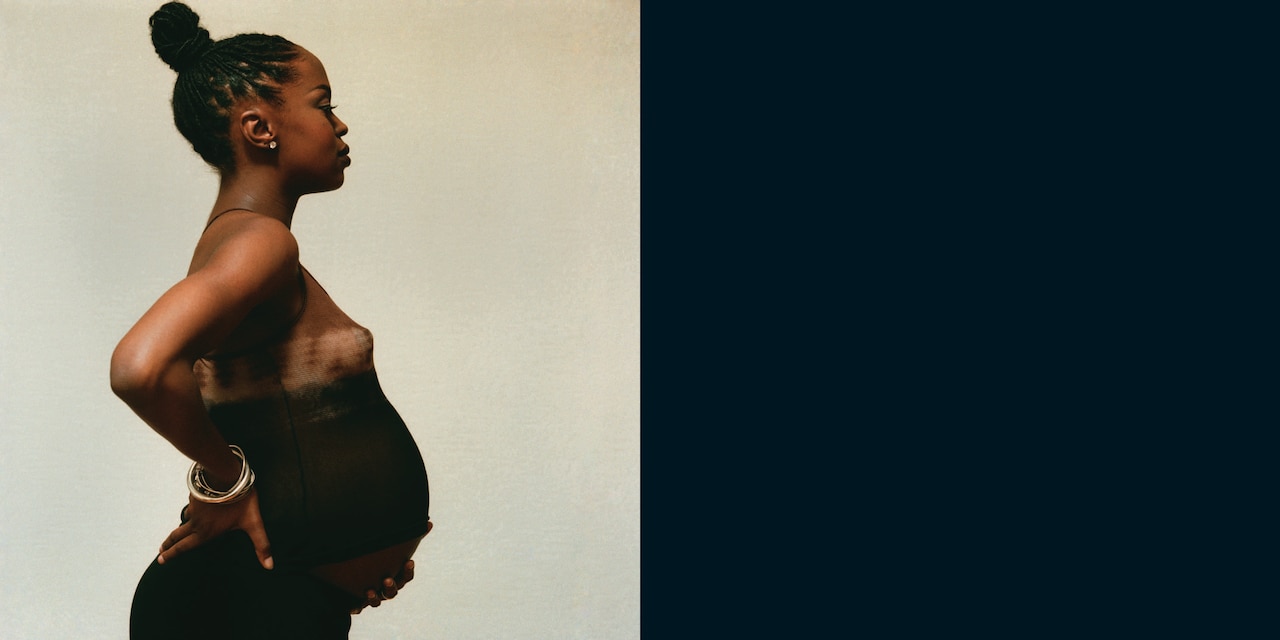 Miss Lauryn Hill, pregnant with Zion, Orange, New Jersey, US. August 1997
This was an idea I had that I suggested to Lauryn through her publicist, Miguel Baguerre. I had photographed her a number of times and we became close in this period. She was finishing The Miseducation and living in her family home in New Jersey. We spent the whole day there with her and her mom and dad. In the evening, Lauryn got dressed and set this up with a simple light. I'm not sure if we fully understood just how iconic this image would become in some respects, but it seemed obvious that she would become a big star. The Miseducation is one of the most important records of this period, and the birth of her first child I'm sure was a huge experience for her. Zion was born less than a week after this photo.
I ran into Lauryn in the last few years and asked her permission to publish this photo. She was very gracious, and it was wonderful to see her again.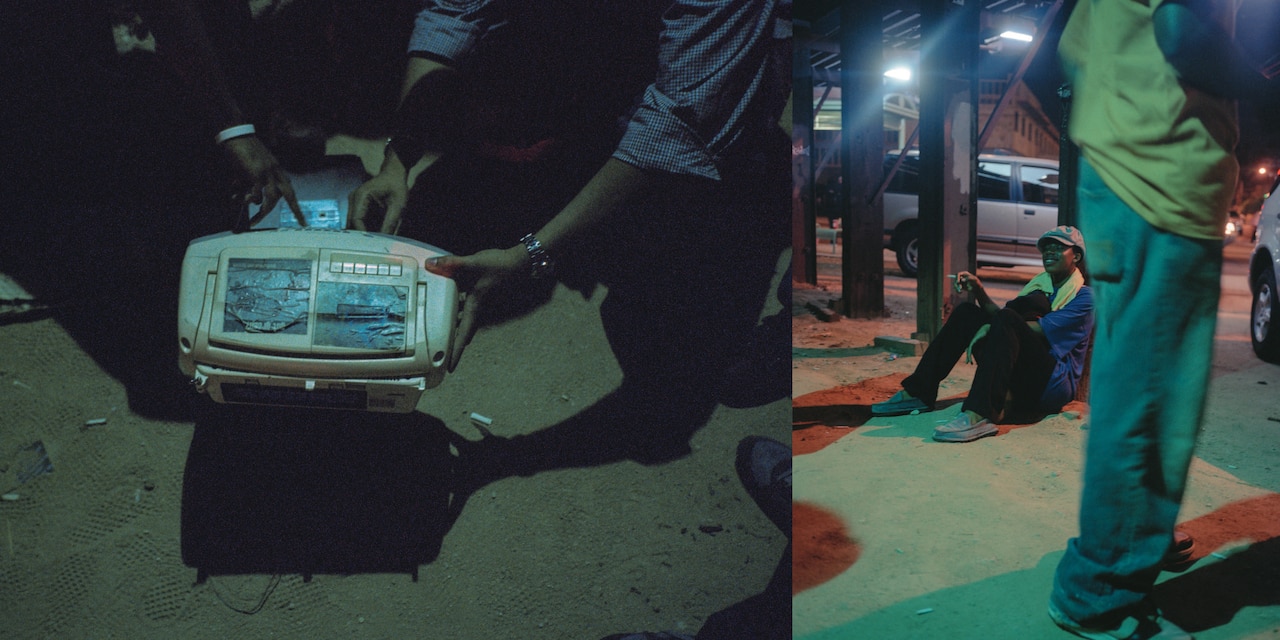 Dibiase's boombox, outside Sketchbook, East Hollywood, California, US. 2004 / Georgia Anne Muldrow, outside Sketchbook, East Hollywood, California, US. 2004
These pair of photos mean a lot to me, and are important in the ongoing documentation of our scene in Los Angeles. Sketchbook was a club started by Kutmah at the Room, a club in Hollywood. The basic idea was that he would leave sketchbooks out along the bar and then play music that was beat-oriented, but that wasn't necessarily dancefloor oriented. It was a moderate success and we had many good nights there – I remember once coming back from Ethiopia with a box of 45s and going there to play them for Kutmah, and who shows up but Dilla, Madlib and J-Rocc. I didn't even know the records well enough to play them, never mind their condition, but fuck it.
Kutmah then moved the club to the Little Temple, later to become the Virgil, a music-friendly venue more on the east of Hollywood. The interesting development that happened there was that Dibia$e started to bring his boombox to play beats outside in the smoking area, which is where these photos are taken. When folks started to realise that he would be there every week, all kinds of heads would bring a cassette or a CD. Within a few weeks the music being played outside was better than what was being played inside.
Nobody was rocking files yet – we were still on vinyl. For me, this is beginning of Low End in that eureka moment – that crew, that space, that system, emerged as an answer to Dibia$e in the yard outside Little Temple. It's a different version than you may hear from Lotus or Daddy Kev or Nobody, but all those folks were regulars at Sketchbook: Ras G, Gaslamp Killer, Eric Coleman, Take One, Carlos Niño and Georgia Anne. Georgia Anne is really a savant. In this period she had all those EPs that later became the core of the music she released on Stones Throw. (Which, in all honesty, is the template for a lot of Los Angeles music from Sa-Ra to Thundercat.) Georgia is a unique and huge talent. She has excercised influence over many, many musicians and is largely underappreciated. I was happy to find this neg and place her there – that's part of the job of this book, is to correct the historical narrative that leaves these folks out.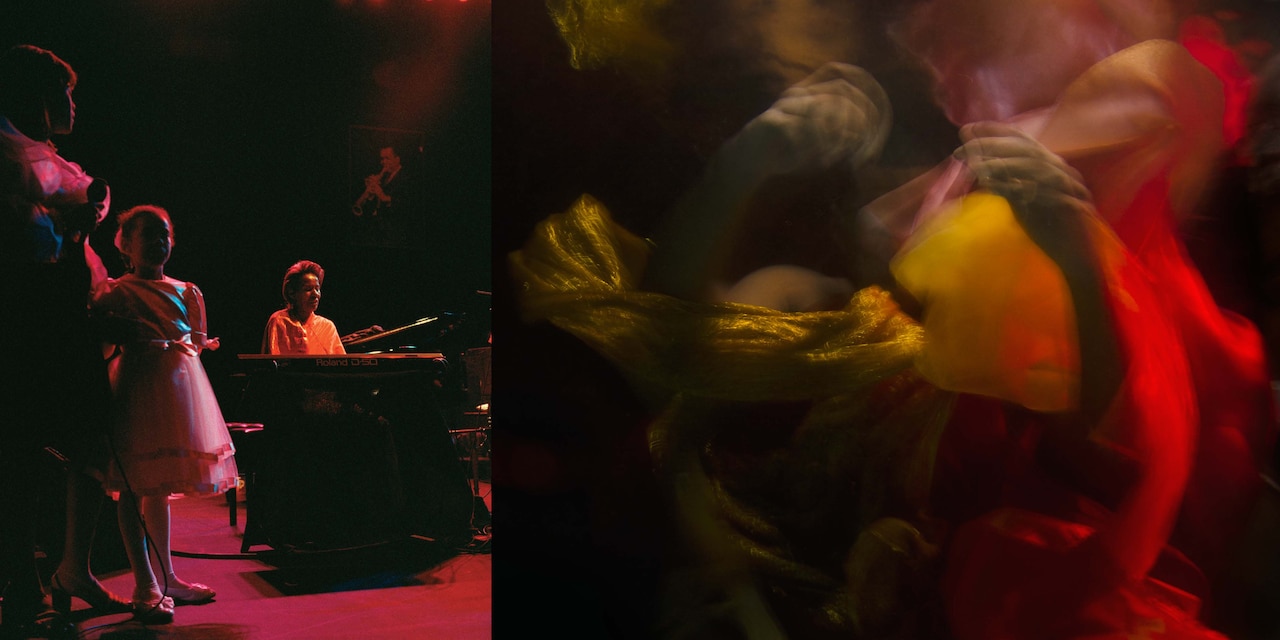 Michelle Coltrane, Turiya, Alice Coltrane, the Wiltern Theatre, Los Angeles, California, US. September 23, 1996 / Flying Lotus, Mount Washington, California, US. August 2012
Not much to say here except [it's] several generations of the Coltrane family. They have exerted a huge influence in music and in Los Angeles, which was where Alice led her ashram. She is also the gran-aunt of Flying Lotus, needless to say. She also marks the Detroit–to–Los Angeles narrative which is a thread throughout the book.
On the right is the cover of Until The Quiet Comes by Flying Lotus. I have known Steve a long time – when I first met him he was in the process of making a documentary about Alice. I also remember the first time Daedelus told me, "Man, watch out for Steve – he has music for days." I also remember the live Cosmogramma Experience and thinking, "OK, this is what we have been waiting for since the days of the Freestyle Fellowship." I couldn't believe that he filled the Echoplex (an LA venue with a capacity of approx. 1,000) two nights in a row and basically played fusion jazz to an audience that was 90% under 25. But little did we know.
Steve approached long-time collaborator Stephen Serrato to do the art for Until The Quiet Comes and he suggested me. Serrato and I came up with the pool and then enlisted Dan Kitchens to help with the technicals. We spent about three hours in the pool and damn, there was a lot of magic. We had a lot of great parties around that pool, too – I spent a great night once talking to Austin Peralta and Erykah Badu in it.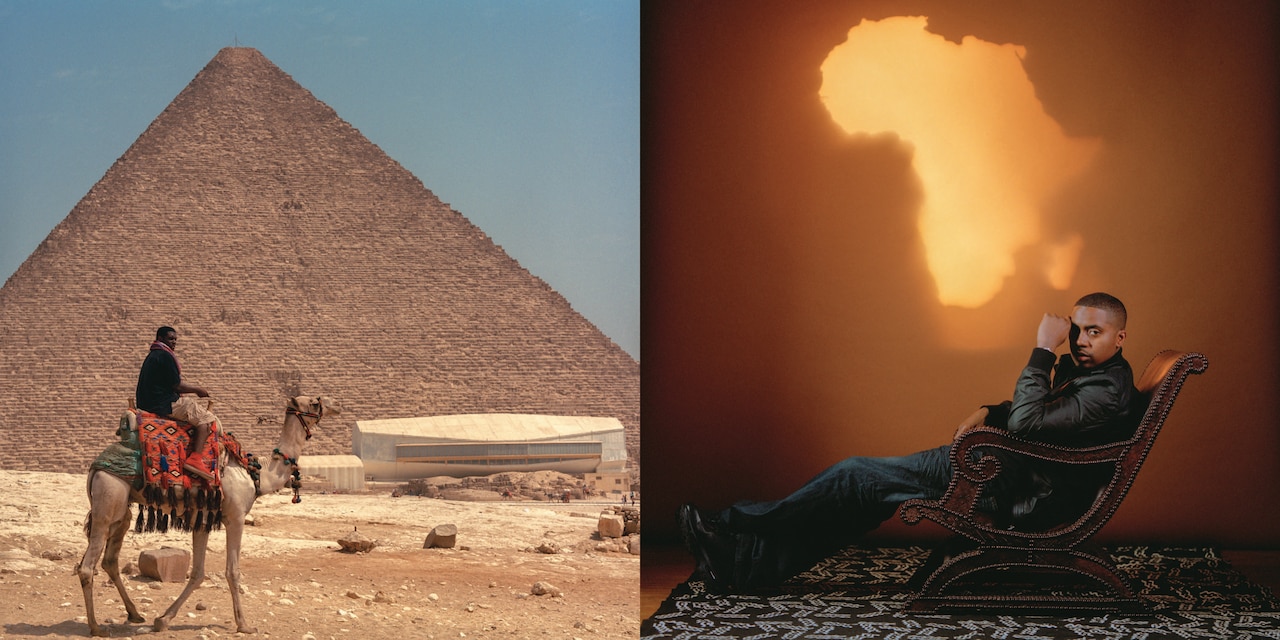 Jay Electronica, Pyramids of Giza, Cairo, Egypt. August 2011 / Nas, Los Angeles, California, US. November 2010
Jay Elec is a enigmatic character. We need more like him in music. His gestures are always big, often un-understandable and invariably iconoclastic. I was on tour with Damian Marley and had plans at the end to visit my friends from Immortal Entertainment in Amman, Jordan. While on tour, Jay Elec starting tweeting that he had bought a Canon 5D Mark II and was asking for advice, and my friends Laith and Nasser began communicating with Jay Elec on Twitter about lens choices and presets – they are both great photographers in their own right. At some point they explained that Jay should come to Jordan with myself and Eric. And he agreed! So when he came we plotted a trip to Cairo to get him to the pyramids.
It was a wild trip. We shot video and film, but we are still sitting on the video. When we went to the pyramids Jay told Laith and I that he wanted to go "out there," pointing to the far desert, so Laith managed to locate one camel and two ponies. Jay rode the camel and Laith and myself rode the ponies. But to quote Mel Brooks in Blazing Saddles, the horse didn't fit! So I had a broken skin laceration on my arse for a month after that – but to get to shoot Jay on a camel by the pyramids with a Hasselblad is truly a highlight. Love Jay Elec, man, and of course the great and proud Jordanians that made this possible.
On the right is Nas, shot for the Distant Relatives project with Damian Marley. I'm very happy to have been involved in that project – it was so ambitious, so broad but also really pertinent. We had a lot of special times in the Henson Studios listening to stories, with crazy visitors from Yasiin Bey to Oliver Stone.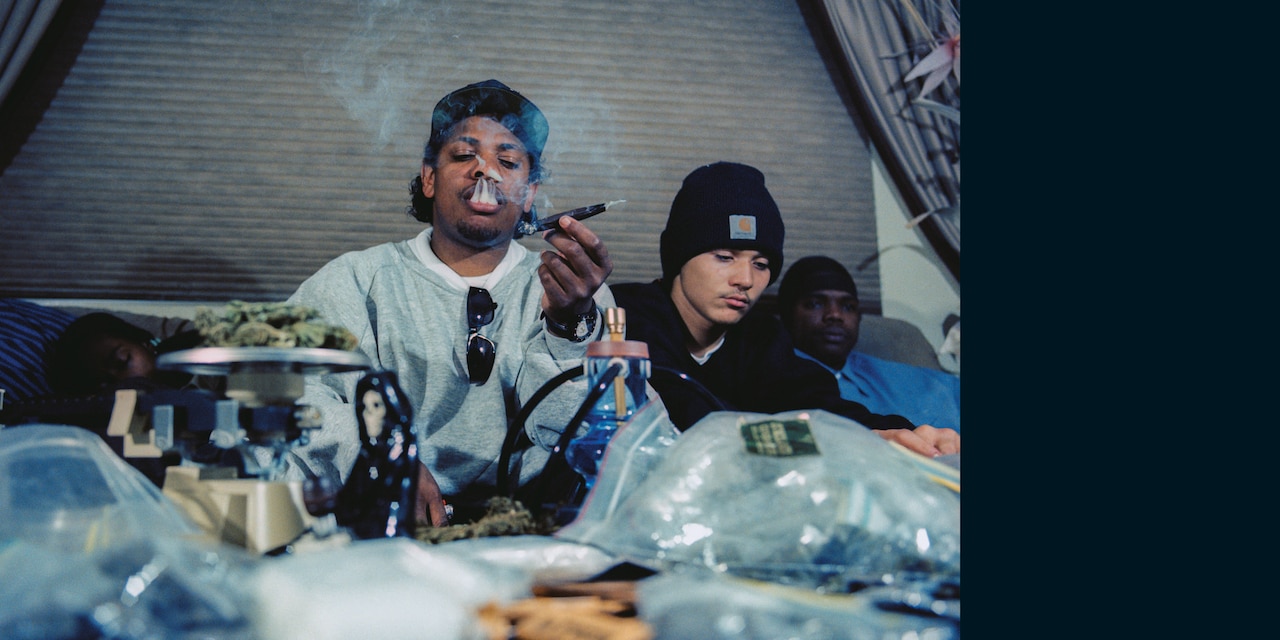 Eazy-E with Bone Thugs-N-Harmony, Norwalk, California, US. April 1994
Before he died Eazy-E wanted to be a photographer! He asked me to help him learn the basics. Our subject was to be his new signing Bone Thugs-N-Harmony. This was after one of those days that we shot them together back at Eazy's mothers house in Norwalk. Eazy was a little annoyed by The Chronic, basically because Dre didn't really smoke weed – Eazy was the stoner of N.W.A. He always smoked perfectly-rolled (using a rolling machine) joints of impeccable weed in licorice paper. So at the end of the Bone shoot he asked if I would shoot something at his house that we could pitch to High Times, and that's when he busted out the pounds. We did a lot of crazy stuff like rolling a huge bud up in a $100 bill and whatnot, but everyone there got beyond lit including my Irish assistant Derek, except Eazy and I. I didn't smoke that day and it saved me.
Eazy was a great man. He gave me my first real break in the scene in Los Angeles as an album-cover shooter, I am forever grateful for that.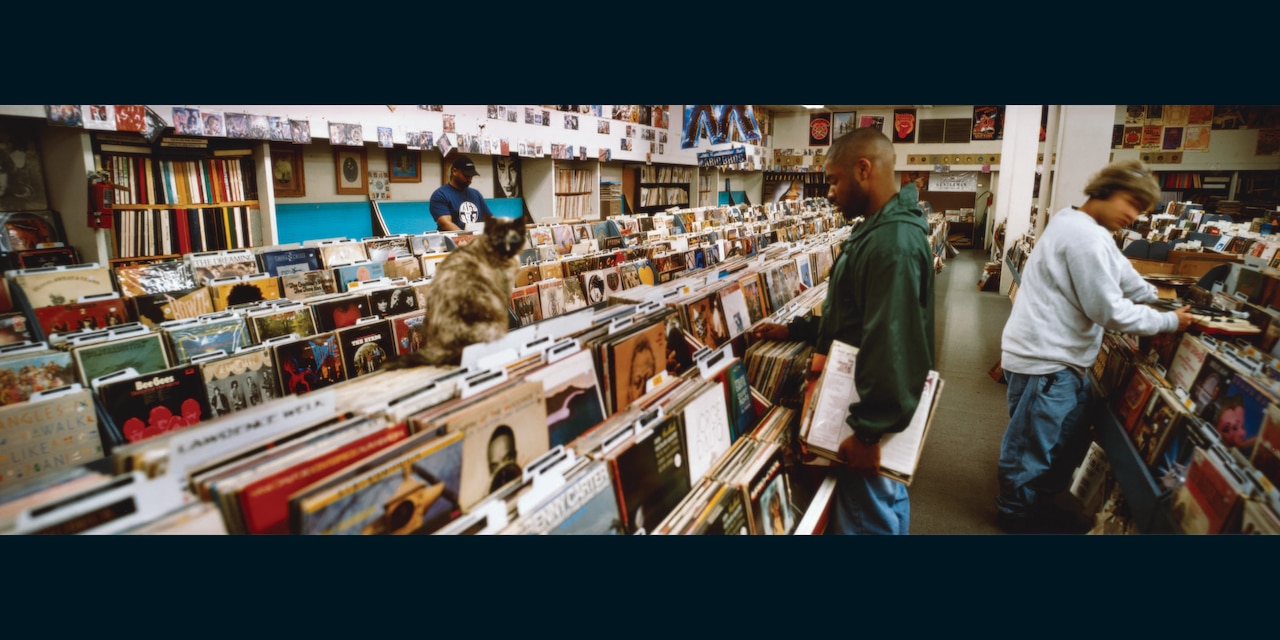 From left to right, Beni B, Chief Xcel, and Lyrics Born at Records, downtown Sacramento, California, US. May 1995. This is the cover of Endtroducing by DJ Shadow
Well, this story I've told many times, but basically this was all Josh [DJ Shadow]. He had stick-figure drawings that placed us all in that store. At the end of the day, after many hours of bagging and digging, I thought we should shoot down the aisles and take advantage of the perspective. The cat showed up, blind, and the rest is history. The foreground is out of focus because of a miscommunication between my assistant and I. But when we saw the proofs there was only one choice.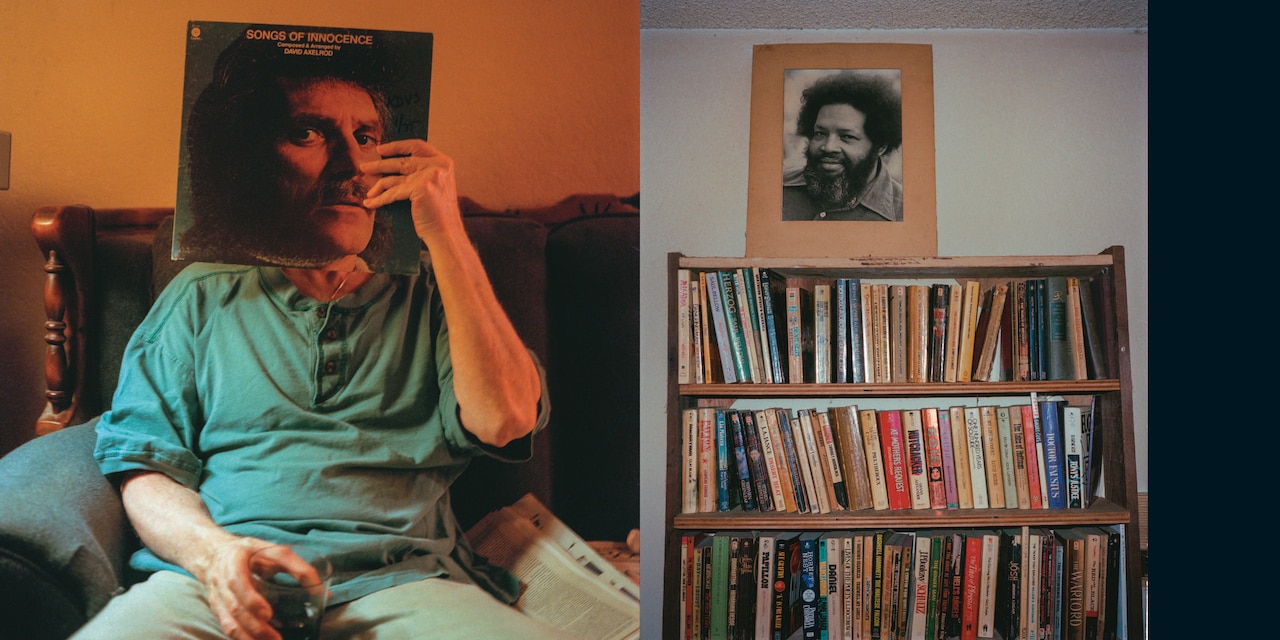 David Axelrod, North Hollywood, California, US. October 1999 / Axelrod home, North Hollywood, California, US. October 1999
Wow, these photos were made on the day I met David Axelrod. He had avoided me for several weeks and I finally got to go there. It was a Saturday, I remember. James Lavelle had suggested David as a hero for an issue of Dazed magazine where folks wrote about their heroes. David had done the UNKLE remix for James but no one had met him. I got the call. Man, we clicked almost immediately. We started drinking immediately [once] I got there – within a few shots David wanted to fight me. I stood up and said, "Let's go." Of course David was like 5' 7" or something and I'm 6'4" and we weren't going to fight, but he liked that I wasn't afraid and we became friends. Later it was through conversation that we discovered the unfinished record from February '68 that James Lavelle paid to have David finish. I was David's running buddy for more than ten years. Many doctor, dentist, record store visits. he even had a heart attack in my car once. I loved him – he represented the best of Southern California to me. A wobblie to the end. His best friend Cannonball Adderley is on the right.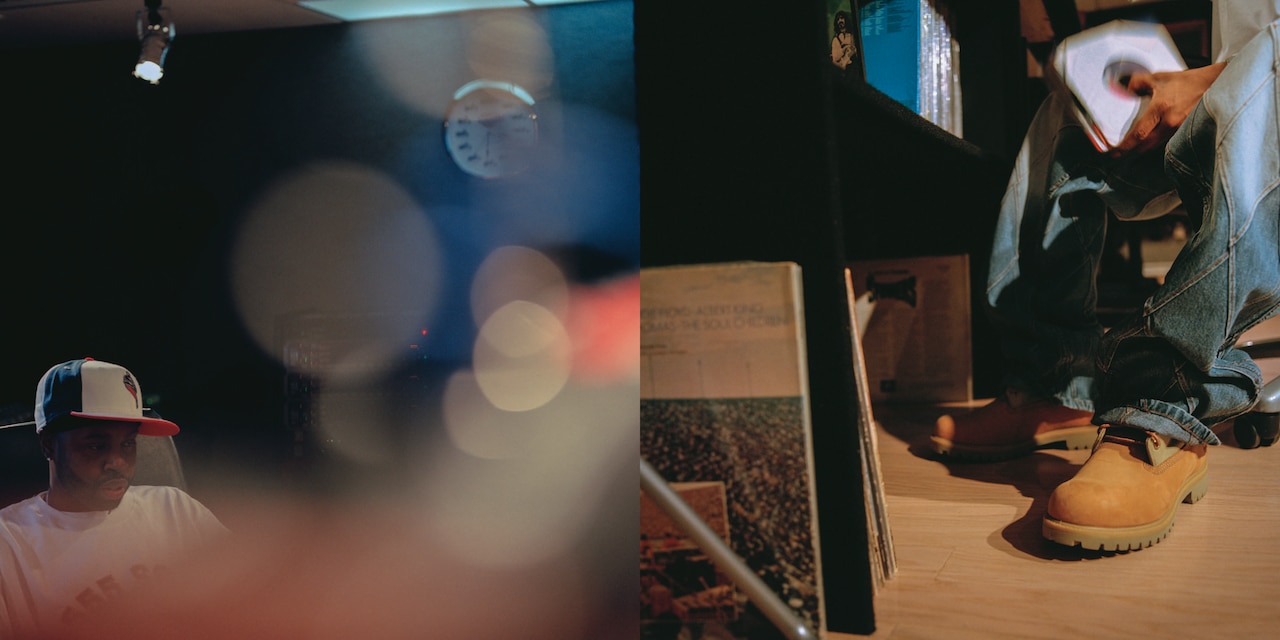 J Dilla, Clinton Township, Detroit, Michigan, US. 2002
Jaylib sessions in Detroit. Never thought this man would pass right in front of us, but he did. The house was immaculate – you could eat your dinner off the floor, as my mother would say. He was sick then, even. I remember Eric and I talking to him that he had a big following in Los Angeles and he seemed surprised. I'd like to think that's part of the reason he came out to live here afterwards.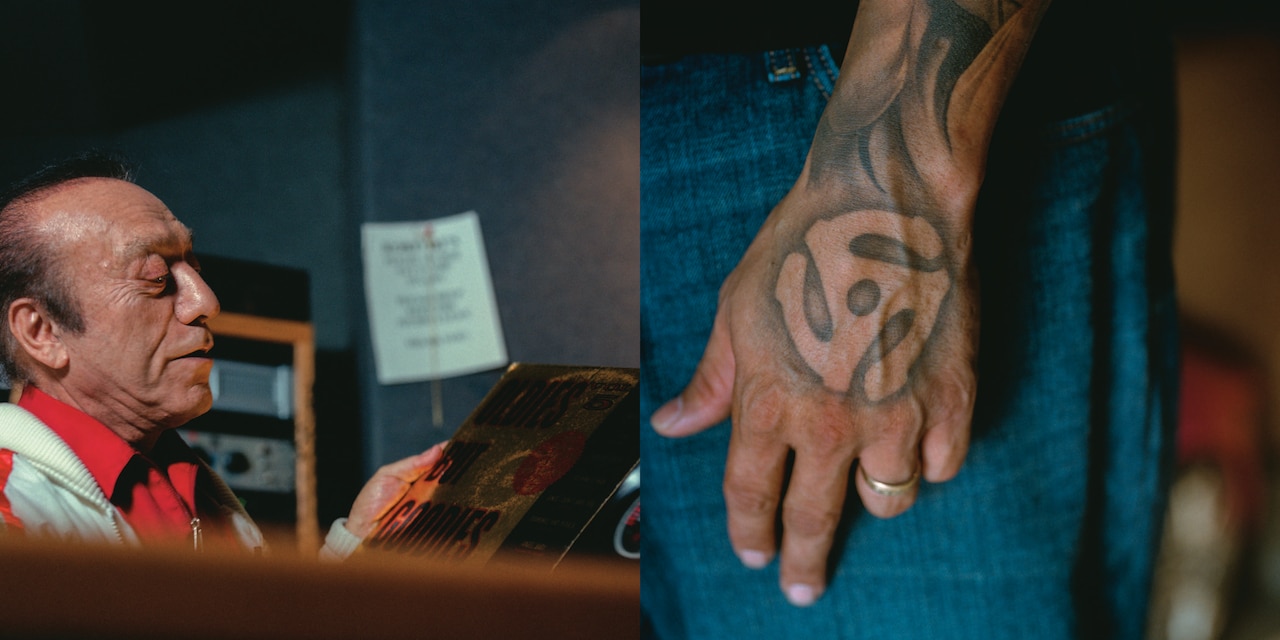 Art Laboe, Original Sound Studios, Hollywood, California, US. April 2010. Laboe is credited with coining the term "Oldies But Goodies" and recorded Dyke and the Blazers in the late '60s
Art Laboe is a legend. He invented oldies. Let's just think about that for a second. In the '50s he was making compilations of old music. He still has a syndicated radio show today that mainly is listened to by Chicanos, and his requests are legendary. A lot of times it was from folks inside the prison system reaching out to friends and lovers at home. I visited him at his studio on Sunset Boulevard and hung out there while he recorded a show with my friend Ganas in tow.
Art is an institution. He is as important for Southern Californian culture as the Getty or Disney Hall. On the right is the hand of amazing soul collector, producer and all-around good dude George Miller.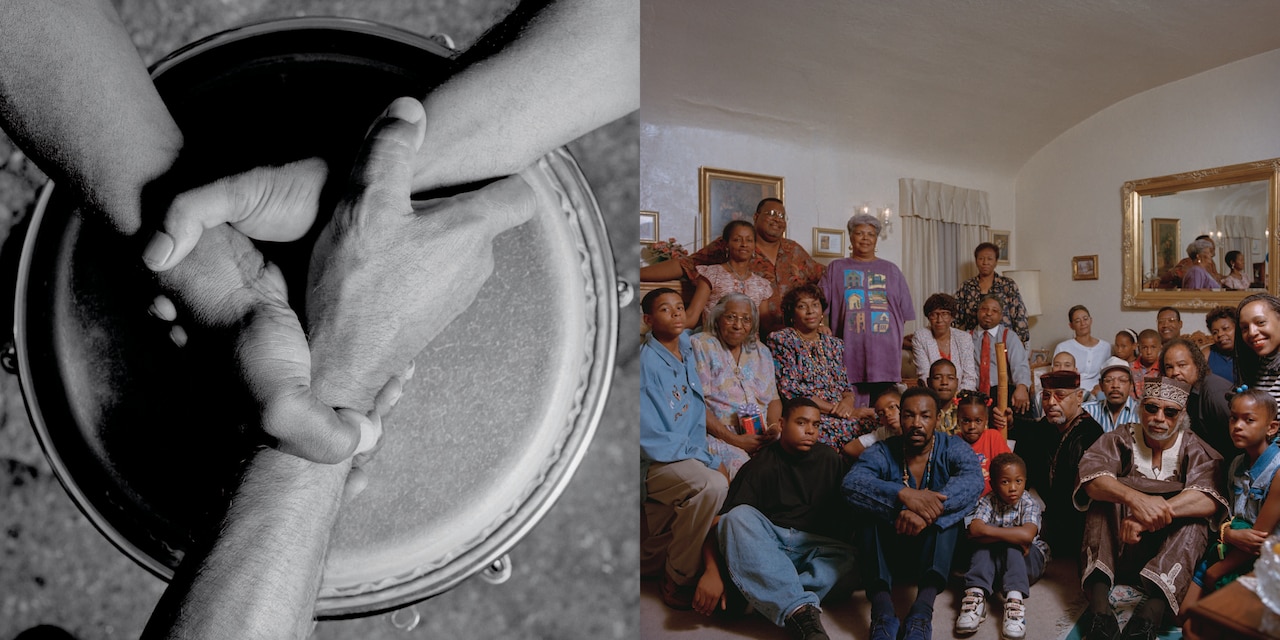 The Watts Prophets, Watts, California, US. October 1996 / The Watts Prophets with Father Amde Hamilton's family, Los Angeles, California, US. October 1996
Amde was the first real clue to what was about to be a big life change for me back in 1991. I met him and just lost myself in the story of the Watts Prophets, an amazing poetry performance group that emerged from the Watts Writers Workshop in the late '60s. There could be a book written about Amde indeed – I think that is happening as his life is incredibly storied, from bringing Bob Marley to South Central to meet the Crips in the late '70s, to working with Tupac, DJ Quik and Digable Planets and being sampled by everyone from Madlib to Kendrick. When you hear that "Listen, listen – hear us now..." on records, that's him. An amazing, inspiring figure of immense character and strength. This is his family. The group is in front and everyone else is his family. When you think of Watts you must think of Amde.

Ghostnotes: Music of the Unplayed is out now on the University of Texas Press and available via Stones Throw and Fat Beats.