Derrick Carter on the Rise and Fall of Early Chicago House
From the DJ History archives: The long-serving DJ reminisces about the Music Box, Importes, Etc. and the impact of hip-house on the Windy City scene
While Chicago's original house movement was gathering momentum, Derrick Carter was just a young DJ from the western suburbs learning his trade. Soon enough, though, in 1987, with the first wave of house artists gaining popularity in Europe, Carter secured a job at leading local record store Importes, Etc. (He later worked behind the counter at another Windy City institution, Gramaphone.)
During his time as a record buyer and shop clerk, Carter witnessed the fall of Chicago's first house wave and the growing influence of the UK dance scene. Away from work, he released his first record, under the name Conception, in 1988, following it up with releases under a variety of pseudonyms – both solo and with long-time studio partner Chris Nazuka – for such labels as KMS, Rhythm Vision, Housetime and Network.

As Chicago's house scene faded, Carter became one of the city's most popular local DJs, securing residencies at Shelter, Foxy's and smartbar. Along with Cajmere, Felix Da Housecat, Chez Damier and Ron Trent, he went on to play a vital role in Chicago house's "second wave" from the mid-1990s onwards. Carter began spending more time in Europe, founding the Classic Music Company with Luke Solomon in 1995. Two decades on, he remains house music royalty, indulging his twin passions of DJing and music production.
In this interview, conducted by DJ History's Frank Broughton in 1995, Carter reflects on his story to date, reminiscing about the rise and fall of original Chicago house, his experiences visiting the Music Box and his earliest studio productions.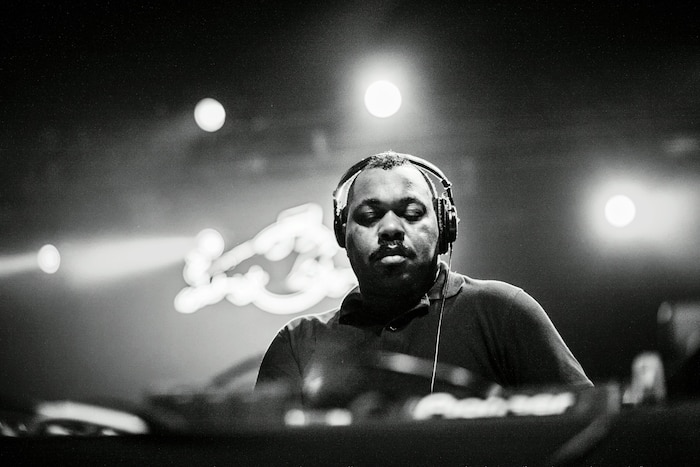 Suburban Dreams
My first inspiration as a DJ was a family friend known as Good Time Charlie. He would DJ at all of our family reunions. I was inspired enough to try DJing myself at the age of nine, playing at family reunion. I just showed up and said, "I wanna play records." From then on I was smitten.
The first time I played out in front of other people was at a very good friend's birthday party. I was in seventh grade, so it must have been around '81 or '82. Two or three years later, aged 15, I played to a club crowd for the first time. I also played at a lot of loft parties and some events in warehouses. In Chicago, that was where you cut your teeth.
Playing to a Chicago party crowd at a warehouse or loft at six in the morning is where you get your skills. Moving some kids that have already been dancing all night or just got off work, that's another episode. That has nothing to do with, "We're here, we're high, we want to have some fun." It's more like, "I'm here, spook me. I dare you!" When I get issued a challenge, I like to rise.
When I was a teenager, there was always some party to go to. Like a battle of the DJs, something at the Rainbo club, parties at hotels such as the Bismarck and the Congress or this shit where they were trying to pick the fifth member of the Hot Mix 5. Members would get kicked out regularly for being so damn shady and stabbing one another in the back. It was like a coup: four of them would get together and kick the fifth member out. There was a time when the Hot Mix 5 had seven people in it. Farley [Keith] and Mickey [Oliver] were pretty much running it. Mickey came up with the name and Farley had the hook-ups at the radio station.
Radio was important for me. There were mixes on the radio, from the Hot Mix 5 and others, from 1981 onwards. Around the time I was DJing out for the first time, there were some great shows. I wasn't into the club thing at the time as I was a bit too young. As a music junkie, the radio helped feed my addiction.
When I started to go to parties more, it was noticeable that there was no division to speak of. You would hear all sorts of music and see different types of people there. You'd hear disco, wild obscure British stuff and ESG. The more manic the music, the better – just as long as it didn't include guitars.
There was really an alternative scene before it grew or congealed into this house thing. It was based more on alternative music. There was a lot of German electronic music that kids used to play. Then you'd start hearing some wild, homemade track that was really heavily disco-influenced. You'd hear loads of disco and then someone would play their rinky-dink jump track they made on a drum machine with the bassline from this one disco track that everyone knew. Then they would play some more disco and then something weird. The whole emerging house sound grew from that.
Change The Beat
I first heard of house in '85 or '86. One day I was sitting on my porch at home in Broadview and my friend Shawn came by. I was listening to some crossover dance records and he said, "Man, that shit's house music." I was like, "What's house music?"
In those days there was "house" and there was "beat." House was related to what they were playing at the Warehouse, like real underground classic disco. Stuff like Corey Daye, Kid Creole, Loleatta Holloway and Machine. People had never heard of Donna McGhee, Pam Todd and Love Exchange – weird, out-of-the-way classics. That was what people thought of as "house." When what we now consider house records were beginning to appear, they were "beat." Kids would say, "I'm going deep house and only play classics."
That scene was really cliquey though. Ralphi [Rosario] started on the radio when he was 17. You had a bunch of 17 to 23 year olds running around the city trying to dictate a music scene – kids who had just got out of high school with teenybopper attitude and mentality.
When I was in junior year at high school there was a lot of parties being run by other high schoolers. They would hand out flyers that said "the down house kids" and list the names of high schools on the back. We were the house kids from our high school. There were plenty of serious things going on with Frankie Knuckles and Ron Hardy playing for the whole gay black crowd, but we were separate from that because we were younger.
People would be crying, freak out and get so charged, just like junkies getting a fix.
It was around that time that I started to make music. I'd always wanted to make records, so when I finally got a job, at the end of my junior year at high school, I was able to do something about it. My friend had a little studio and he charged me $100 for every track I wanted to do – $50 upfront and $50 when I was finished. I had a reel-to-reel [tape] of all my little exploits.
I went to the Music Box one time and it weirded me out. It was more because I was a little brat, a spoiled 17-year-old kid. There were speakers hanging from the ceiling, Mars lights spinning. I found out later that they put MDA [3,4-Methylenedioxyamphetamine] in the punch. So everybody was having this religious experience and they didn't know that it was being forced on them. I didn't know anything about the drugs. I was an innocent honor-roll student, all smiley with bowtie glasses and a Poindexter hairdo.
For some reason, it made me think of junkies. It was a mixed crowd, but you'd get people dancing on just... air. If Ronnie would play something like Eddie Kendricks' "Goin' Up In Smoke," it would just lift everybody off the ground. People would be crying, freak out and get so charged. You know, just like junkies getting a fix. Then they'd settle down, the next track would come on and there would be more people freaking out. It was very, very wild.
The Power Plant was very wild, too, but it was a much bigger space. It seemed much more emotionally driven. People were there because they wanted to be there, not because it was cool to be house. It really wasn't cool [at that point] to be house. There wasn't this super elitist thing about being a club person. People weren't as jaded then, plus having MDA in the punch kind of puts you in a good mood.
I do remember going to the Power Plant to hear Loleatta Holloway perform on Memorial Day weekend. I guess it would have been 1986 or '87. Ron Hardy came in with a friend of a friend of mine. I'll never forget it because it really freaked me out. This little suburban kid had long hair and a bandana tied 'round his neck like a scarf. He sat down next to Ronnie and just sat there brushing his hair for like half an hour while we all talked.
Counter Intelligence
I worked at Importes, Etc. from 1987 to 1989, which was when house music was really starting to explode. That shop was the center of Chicago dance music. You'd see everyone. Lil Louis used to come in all the time. He was a very cordial, dapper guy. Marshall Jefferson used to come in and Chip E used to work there. You never really realized that halfway around the world there were people who would pay money for that opportunity. It was just what you did during the day.
Around 1988 was when I got a hook-up with a label called SRO. DJ Pierre used to do things on it, such as "Fantasy Girl." My single was credited to Conception and it was called "Love Me Right." I made it with my friend Georgie Andros, who recorded as Georgie Porgie. We sold 900 of them, which is cool for your first record. I was a very happy 18 year old. I didn't get paid, which is the story of my whole career. By the time I did the Symbols & Instruments stuff [with Chris Nazuka and Mark Farina] on KMS and Network in the UK, it was 1989.
Things started changing in Chicago in 1988. Because of the "summer of love" in the UK, they were exporting acid house back to us. Everybody here has a local focus, so we were like, "Really? They make acid music in London?" Kids weren't reading English magazines and there weren't any dance music scene mags back then. I was the buyer at Importes, Etc. and I'd read these sheets that came with imports from the UK. They'd say things like, "this has hard, driving acid." I didn't understand how it could be acid. Around that time Genesis P-Orridge came over and we hung out for the whole day at Importes. I hooked him up with all these Chicago acid records.
The local kids who had tried to run the house scene started getting their comeuppance once Larry Sherman and Lewis Pitzele started engineering those psycho deals with Phonogram and London Records in the UK. They sold off tracks that they'd bought from these kids for like $500 and ended up making $30-40,000 from these deals.
Changing Times
Tyree will hate me for saying it, but hip-house killed Chicago. There was a lot of fucked-up music that came out of here during that period. After being screwed by Larry and Rocky [Jones], everybody just thought, "I'm gonna get mine." It put them into high gear and charged everybody up. Some guys were getting noticed in England and that made it libido and serotonin time in Chicago.
As hip-hop was ascending they were trying to meet it with the house thing. Hip-hop took kids out of the house scene when the radio stations went off air in February and March of 1989.
I was working at Importes, Etc. and someone ran into the store and said, "I was just listening to the radio and WBMX is off the air!" The whole store went quiet. We knew we were making money off house being big on the radio. Out of the store alone, we could sell 1,500 to 2,000 copies of a big local record. In those days you could sell 5,000 locally. Now kids are happy to sell 1,500 to 2,000 in total. The sales plummeted when the radio stations closed.
Hip-hop also stole house's image. There was a whole way of dressing: Riding boots, 1940s director pants and double-breasted shirts. Everyone wanted a pair of big-ass, knee-length polo riding boots. Some motherfuckers would actually carry a riding crop too, to get the whole look. I don't know where that shit came from. You'd be surprised at how many pairs of riding boots you'd see at the Congress on a Saturday night in 1988. Maurice was big on riding boots.
Now house music isn't even our own any more. It is not even worth being in it for the money.
If you hadn't seen your boy for six months and then you saw him at a party, you could tell that he'd "gone house." That's what it was: people went house. You'd dress house, listen to house and you was house. It was always the latest, newest everything. These kids would be getting their groove on for the one essential party a month. It would be a total gas. We used to throw parties out in the suburbs at a retirement complex called the Northbrook. The main DJs would be Ricky Lenoir and his crew. Everybody would come out in their house finest and jack the night away.
As for Chicago now, it's hard to care. The city doesn't have a club scene. They have these big, rave-style warehouse parties. The optimist in me would like to see the radio and club scene support Chicago music. Now it's much bigger than it was back then, when you had the radio stations and the clubs all working together. But it wasn't so much of a monster. Now house music isn't even our own any more. You get all these people approximating the sound so it's no longer a special thing. The successful DJs out of Chicago are playing more and more for the kids – you know, that crossover market.
Now there's nowhere to go to hear new music. There's no club where you can hang out and get educated about the new cuts or anything. It is not even worth being in it for the money any more. You get people who are in it for other reasons, whatever they may be. Fame or glory, mainly, or they want to go to England. Some think of that as the "promised land" or something.
This interview took place in February 1995. © DJ History