Give The Drummer Some: Robin Russell
The LA native who played with Little Richard, New Birth and more on his musical journey
When heavyweights like Steve Jordan and Dennis Chambers use your work as a funk measuring stick, you've clearly made an impact on the world of drumming. When you emerge from your parents' garage after one year of practicing to lay down grooves for Little Richard and Johnny "Guitar" Watson, your dedication to craft is irrefutable. When you've been sampled on countless hip-hop hits, your groove is undeniable. And when you're all of the above and can feel equally at home drumming '70s mega-band New Birth to the top of the charts, or performing alone for Mother Nature in LA's Griffith Park, you're Robin Russell. In this interview, the Crenshaw native expounds on a long musical journey, including his tenure with New Birth that brought the world timeless soul hits like "Wildflower" and funk drumming high-water marks like "Got To Get A Knutt."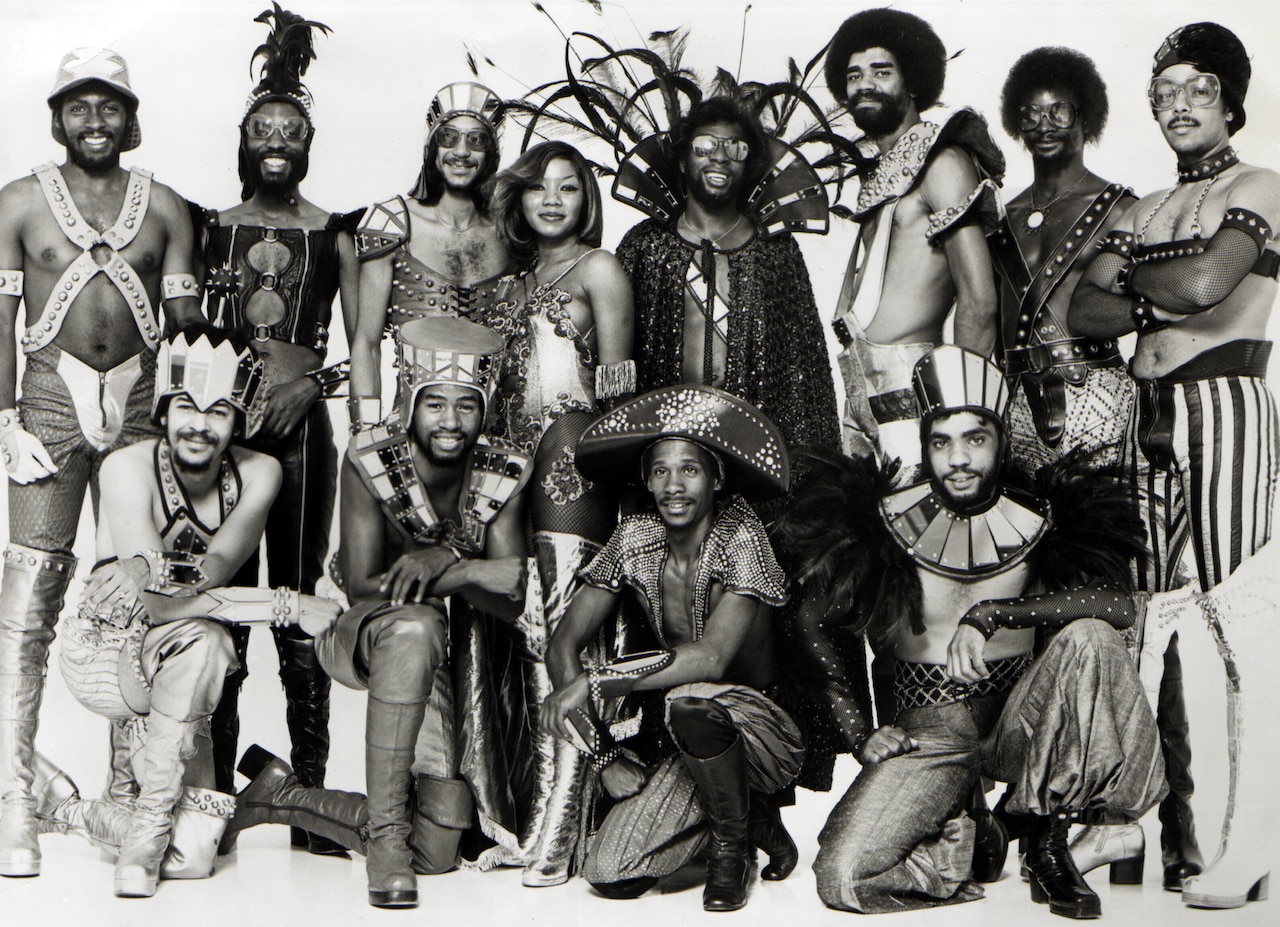 As a very late bloomer, I was kind of relieved to find out you haven't been playing since early childhood. For being such a technically sharp drummer, I find it hard to believe you started playing at 16.
I started out playing tenor sax in junior high and high school. I loved the horn and started doing club gigs and parties with friends, but I was real shy. I was never really comfortable standing at the front of the stage. Then one day at a rehearsal I sat down behind the drums and picked up the sticks. I could play a simple beat – the coordination was there. This light went off in my head and said, "If you play [drums], you won't have to stand in the front of the stage anymore." [laughs] By my senior year of high school, I had my first drum kit.
Where exactly in Los Angeles did you grow up and what was playing around the house? What caught your ear musically?
I grew up in Crenshaw. I went to Horace Mann Junior High and Crenshaw High. Neither one of my parents was a musician, but they loved music. My mother would be cooking listening to Cannonball Adderley, Miles Davis and Coltrane. She also loved blues and R&B, so I'd hear Albert King, Howlin' Wolf, James Brown and Joe Tex. From a young age, I was exposed to all this different music and I loved all of it. But by the time I got to high school, I got more into rock: Led Zeppelin, Jimi Hendrix, Cream and Steppenwolf. Jimi Hendrix was my ultimate idol. By the time I started playing drums, my goal was to play with Jimi.
The Watts riots in 1965 were a local reflection of some of the turmoil that was exploding in different cities nationwide. Did that impact you personally or steer you more towards music?
At that point you had a choice of which way you want to go – the Black Panther movement or the peace and love, hippie movement. I chose [the latter] – I was a young, black hippie [laughs]. Looking back, I loved it because there was no [major] gang activity. I was fortunate to grow up during that period, before all this craziness started happening.
Did you learn to read and take lessons, or did you just dive in head first as a self-taught player?
The first year I was self-taught. Once I got my kit, I'd come home from school, do my homework and sit down behind the drums in the garage for hours. I would play along with records. After about a year I started studying at Los Angeles City College as a music major because I didn't know the rudiments, but I had chops. That really turned things around for me. Even before I went to school for music, I was playing with Johnny "Guitar" Watson.
I gave him my number and thought, "He's not gonna call me, that's Little Richard!"
How did you meet Johnny "Guitar" Watson? Did you land that gig within a year of learning how to play?
I got good because I'd practice so much. I was in a band with friends; we were the house band for a club called P.J.'s.
The famous P.J.'s on Santa Monica Boulevard?
Yup! One night the manager told me he got a lot of compliments on my drumming and a friend of his, Johnny "Guitar" Watson, was looking for a drummer. So I took my drums to Johnny's house, we played an hour and he was thrilled. He used to tell me, "You're only 18 years old, but you play like you've been on this earth for 50 years." To this day I consider him my musical godfather because he taught me so much.
The fact you got that gig after only a year playing with no formal training is a testament to what a lot of woodshedding can do.
After a few months of me being in school Johnny noticed a difference with me learning the rudiments and applying them to the kit. One day in school my instructor told the big drummer on campus about me, so we met and he told me to take a paradiddle and divide it around the kit [instead of] just the snare drum. That opened up the door for me. I used to hear Mitch Mitchell in particular doing that stuff. That was the big turnaround [in my development].
Mitch Mitchell influenced a lot of drummers. Was he one of the main drummers you were listening to?
Absolutely. In each category I had my favorites. Big band was Buddy Rich and Louie Bellson. I could listen to them all day long. My jazz drummers were Elvin Jones and Art Blakey. My rock drummers were Mitch Mitchell, [John] Bonzo [Bonham], Buddy Miles and Ginger Baker. I'd listen to all of that, Ginger Baker in particular. His rolls around the kit are where I got my feel for rolls. You can hear his rolls in my style.
Where did playing with Johnny "Guitar" Watson take you?
In 1972 I was working with Johnny and he and Little Richard were good friends. Richard came to one of the shows, came to the dressing room, introduced himself and said he wanted me to go on tour with him and he wanted Johnny as well. I gave him my number and thought, "He's not gonna call me, that's Little Richard!" He called the next day and had me meet with his musical director, Bumps Blackwell. My jaw was on the floor; I was in shock! [Blackwell] came by my house and there's a long black limousine outside. We did Madison Square Garden and a European tour with Richard. On the flight back from the tour he told us he was going into religion, so when we got home we were on our own.
Little Richard and Johnny "Guitar" Watson after a year of playing is a wild ride. How did you go from those situations to the New Birth/Nite-Liters organization? Weren't they were based in Kentucky?
They had a house near the Hollywood sign where the whole band stayed. When I got back from the tour [with Richard], the first thing I did was play in an acid-rock trio called Magic Mushroom. We did nothing but originals, Jimi Hendrix and Cream. We played the Watts Festival – three young black guys in the middle of Watts playing acid rock – and the crowd loved it. When I got offstage this brother named Matthew Watson wanted to meet me – he was a drummer for this group called Ebony Rhythm Funk Campaign.
Right! They recorded a sought-after 45 as Ebony Rhythm Band. He was a great drummer.
He was a technical whiz on drums. I loved his playing and he loved mine. One day he said some friends of his were looking for a drummer, New Birth and the Nite-Liters. I told him I didn't think I was good enough to play with them; the Nite-Liters were like the black version of Chicago. He told me to take the number, call them and go audition. At the audition, the bandleader, James Baker, played the whole set and I had to listen and [repeat] it. It had all these tricky accents, but somehow I played it and didn't make any mistakes. He told me, "The gig is yours if you want it."
So were "Afro Strut," "Honey Bee" and the first albums from each band already out by the time you joined the fold?
Yes. Nate [Nesbitt] was the original drummer, and then it was Jimmy Hill.
Was that Nate on the first Nite-Liters album? That's a clinic in funk drumming.
Yeah, Nate was bad. We became very good friends. He passed away recently. I never got a chance to meet Jimmy.
Some are confused by the configuration of the Nite-Liters and New Birth. Were the Nite-Liters the backing band and New Birth the vocal group, and they recorded separate albums but toured as one? There was also the Moonglows, who used to be part of your live revue.
You have it exactly right. The Nite-Liters and New Birth would travel together. Just like Parliament-Funkadelic. The Moonglows was [producer and manager] Harvey Fuqua's group; we weren't a part of that. New Birth took off on the charts and got us from club dates to the concert circuit. When we were [on the road], RCA Records contacted us and said they wanted to concentrate on New Birth and forget about the Nite-Liters. I kind of regret that, because the Nite-Liters was an instrumental avenue for the musicians to write songs. It was another voice for us that was gone, but New Birth just took off.
There's a 1973 appearance from Ellis Haizlip's Soul! TV show on YouTube. You guys are rolling about 16 deep! It was normal for bands to have eight to ten people at the time, but what were some of the challenges and advantages of traveling with such a large ensemble on the road?
The advantage was being so close-knit, so there was a bond. The only disadvantage was the cost of housing us and moving us around, but that was just part of survival and it kept us tight as a group.
You joined the fold during the making of new albums for both New Birth and the Nite-Liters – Birth Day by the former and A-Nal-Y-Sis by the latter. What was the process like recording both of those albums right after the audition?
I got with them in September 1972 and in December they cut both albums at RCA Studios in New York. The material, especially the Birth Day album, we had been doing on stage. We worked our way to New York [doing gigs], so material like "I Can Understand It" and "Got To Get A Knutt" we had already been doing on stage. Those were probably done in the first take because they were road-tight. With the Nite-Liters album, some of that stuff we did right on the spot. That's how tight we were.
"Drumology" is essentially a five-minute display for your drumming on the A-Nal-Y-Sis LP. Was there some kind of consensus like, "We have to give our new drummer a chance to shine," or was that song just a jam that ended up stripped down to just drums, bass and percussion?
It was Harvey Fuqua's idea. He wanted to do something featuring [bassist] Leroy Taylor and myself.
All the fast rolls, hi-hat accents and complex footwork could easily sound too busy if they weren't done right, but you were able to pull off some dazzling stuff really smoothly, stay in the pocket and blend in with a large ensemble. Were you just playing by instinct in the studio or did Harvey Fuqua give you charts or direction?
No charts. For the most part, [Fuqua] let me do what I wanted to do. The biggest example is "Got To Get A Knutt." He said nothing about that. He let me have my freedom. When we cut that tune, I had no idea it would have the have the impact it's had over the years.
I have to spend some time on "Got To Get A Knutt." All drummers have a story about that song, but even people who aren't drummers mention the drumming on it. It's probably one of the funkiest things ever recorded from a drumming standpoint. Steve Jordan once said in an interview that if you couldn't play "Got To Get A Knutt" as a drummer around that time, you didn't get any gigs in the hood!
One of the biggest compliments I ever got in my life, I was in the elevator at the recording studio. There were two session players in there with me and we started talking; I was telling them about New Birth. They told me [recording engineer] Jim Brown let them hear a bit of "Got To Get A Knutt" and they asked me, "Is that Billy Cobham on there?" [laughs] I could not receive a bigger compliment that.
One of New Birth's biggest hits was the cover of Skylark's "Wildflower" in 1973. It's this sweet ballad, and drummers are usually very restrained for ballads. But if you listen closely, you're doing a lot of subtle fills and moves around the kit and somehow never disrupting the sensitivity of the song. I feel if just about any other drummer tried that the wheels would fall off.
It was a combination of the tightness of the group and me wanting to blend, but make it exciting. I just never wanted anything to be boring. Make it exciting without overdoing. We had been doing that one onstage also, so it was tweaked from the stage. We'd try to capture the same [energy] in the studio.
What kind of music and which drummers were inspiring you around this time? I hear a lot of fusion jazz and rock in your playing from that era; it wasn't just random funk grooves.
At that point it was more Billy Cobham and Tony Williams. One time New Birth was at an arena that had two venues in one building. It was split in half, and in the other half was Billy Cobham and George Duke. I got to stand backstage and watch Billy and I was completely spellbound. He was doing stuff… I still can't figure out what he did. [laughs] He changed the face of drumming. Every so many years somebody comes along: Buddy Rich, Cobham and then my good friend, Dennis Chambers. I used to see Dennis and tell him he was getting better and better. One time he told me it was just payback for "Got To Get A Knutt." [laughs]
What about practice routines? You were presumably on the road and in the studio a lot, but were you still shedding [practicing] by yourself sometimes? Were you still working on rudiments, metronome exercises, or was all your time spent in playing situations?
I'd have a little Remo practice kit that I'd set up in my hotel room and practice. I was also the kind of person who'd go somewhere and jam with somebody after a gig. When we'd come off the road, I'd be playing with somebody else. There's no time off. I loved playing [in New Birth], but I was still missing my rock avenue, so I'd go hook up with my acid-rock buddies.
Your studded Pearl drum set of recent years is your trademark, but what type of drums were you playing in the early days with New Birth and the Nite-Liters?
That was my first drum kit [from high school]! It was a very inexpensive kit that I got from Sears-Roebuck.
We had this manager that had the best contacts in Hollywood. The people that manufactured the Smurfs made my drum riser!
Wow. One of those Japanese stencil sets. They have a reputation for being cheap, but some of them sound amazing.
It was in the catalog, but I got all Zildjian cymbals and put Remo heads and Ludwig hardware on it. I still have that kit in storage. That kit fooled a lot of people. Gladys Knight's drummer, Al Thompson, asked me if he could play it one night at a show. I played that kit on the A-Nal-Y-Sis and Birth Day albums.
Were those the beige drums with the concert toms you were playing in the YouTube clip from the Soul! TV show?
Yep. They weren't as fat as the monster Gretsch kit that I got later on, but they had a rich tone. I also played a Ludwig Super Sensitive snare I paid $5 for [laughs]. If you listen to the It's Been A Long Time album, "Keep On Doin' It" sounds different from "Wildflower." In the middle of that album we got new equipment, so you can hear the difference in the kits. "Keep On Doin' It" was the first song I did with the Gretsch kit. But that Sears drum kit is the one I learned how to play on and it took me a long way.
What was your most memorable experience on the road with New Birth?
The high point was when we were at our peak and headlining. We had this manager that had the best contacts in Hollywood. The people that manufactured the Smurfs made my drum riser! It had lights and a fog machine on it – it was a show in itself. We had these uniforms made… We looked so unique we didn't even have to play. We could just stand there [laughs]. Everybody's outfit was different. Spaced-out stuff! We did Don Kirshner's Rock Concert a couple of times. Those were the golden moments. That was the peak and I thought it would last forever. But then things started affecting people and it started going downhill.
When did things finally fizzle out?
I'd say around 1977.
With the sound changing, bands getting smaller and technology fast approaching, the 1980s were pretty barren for a lot of musicians coming out of funk and soul. What did you get into after the demise of New Birth?
[In 1979] got a call from Harvey Fuqua; he was managing Sylvester. He said the drummer was screwing up and asked if I was interested. At that time there was no New Birth and I was just playing [locally]. They flew me out to Florida for a three-night engagement, with the other drummer thinking there was going to be two drummers on the show. They had me watch the show the first two nights and the third night, they sent the other drummer home [laughs]. We did a European tour, a tour here and then [it ended]. [P-Funk guitarist] Blackbyrd McKnight and I used to play together; we've been playing together since high school. We had a group right after New Birth went down the tubes and before he got with P-Funk.
In the '80s, I started working locally, with Richard Berry, who wrote [the Kingsmen's] "Louie Louie." I also worked with Danny Flores, who wrote "Tequila." As a kid, those two songs were my favorites, and I got to work with those guys in the '80s, but I wasn't traveling much. Then I went back with Johnny "Guitar" Watson for a while.
By the end of the 1980s, hip-hop had developed into a major force as a genre and sampling was a major tool in the production aspect. Your drumming ended up on a lot of hip-hop records because of it. "Got To Get A Knutt," obviously, but "Keep On Doin' It" was the backbone for some major hip-hop records, and "Comin' From All Ends" and "I Wash My Hands Of The Whole Damn Deal" were used for the drum breaks a few times as well. When did you first realize you were being sampled? How did you feel about it and did you ever see any compensation?
It made me feel very good. I felt honored that the next generation had picked up on things I had done. Someone had told me my drums were on a [hip-hop] track. I got real excited. From a legal aspect, some of them would try to bury the sound and not pay us, but we caught up with a lot of those. Some of them did it legitimately and we got paid for it. But I'm thrilled about it. It's an extension of me into the next generation. I love when they do it. Do more of them! [laughs]
The backwards thing about sample clearance is it has so many loopholes when it comes to compensating the original musicians. Most drummers were hired guns. The drummer may have technically written the drum parts that were sampled, but the writer and publisher credits were usually assigned to the people who wrote the melody and words. So basically, when clearing drum samples, everyone gets paid but the drummer.
Anything under New Birth, I'm covered because I was under contract.
That's good news. At some point, you started playing your drums live in LA's Griffith Park in the wee hours of the morning. You're a legend in that park at this point. When did that start and what inspired you to bring the drums into nature?
When I was a kid, my parents would take me to Griffith Park. They used to have hippies out there playing rock music. I always said, "When I grow up, I want to come out here and play." Then when I was with New Birth and [when] we came back to LA, I'd take my drums out there on Sundays and play in a drum circle. I stopped during the '80s, then [in 2001] I got the urge to do it again, but I wanted to find a spot to play by myself. I'd set up my drums and play. Then I started coming earlier and earlier until I started coming at 5 AM. I'll pull up and it's completely dark, the moon is shining and there's nobody out there. That's when I love it. I get there at 4:30 AM, set up in the darkness and start playing. As the day goes on, people come, kids crowd around and they're fascinated. I'll let the kids play a little bit, and then the parents come over and bring me a plate of hot food. They love it. The biggest reward is when people come up and say, "Thank you for your music." That floors me. It's just me and my drums and they appreciate it.