Interview: Baker Bigsby
Meet the man who worked on seminal albums by Alice Coltrane, Stevie Wonder, Sun Ra, Sly & The Family Stone and more
You'd be hard-pressed to find a recording and engineering discography as impressive as Baker Bigsby's. A fixture on the LA studio scene throughout the '70s and '80s, Baker's credits include everything from Sun Ra's outer-galactic classic Space Is The Place and the Band's storied farewell concert The Last Waltz to quad-mixing Stevie Wonder's finest albums and covert studio operations with the Rolling Stones, not to mention time in Sly Stone's infamous There's a Riot Goin' On sessions.
One of the most personally rewarding periods of Baker's career, though, was his tenure with Impulse! Records, the famed progressive jazz label for whom he recorded and mixed the works of such greats as Pharoah Sanders, Michael White and Alice Coltrane, amongst many others. It was with Coltrane, in fact, that Baker would forge his most lasting professional relationship, working into the '80s and '90s on the pianist/harpist's once-obscure, now-celebrated spiritual recordings in the years she operated the Shanti Anantam Ashram in Agoura, California. These stunning mergers of Vedic chants, synthesizer textures and Alice's own first-ever recorded vocals were collected on Luaka Bop Records' 2017 release, The Ecstatic Music of Alice Coltrane Turiyasangitananda, for which Baker re-mastered the original tapes.
In this edited excerpt from his interview with Jeff "Chairman" Mao on Red Bull Radio's Across 135th Street, Baker spoke about his experiences working with Alice and other memories from his many years in the studio.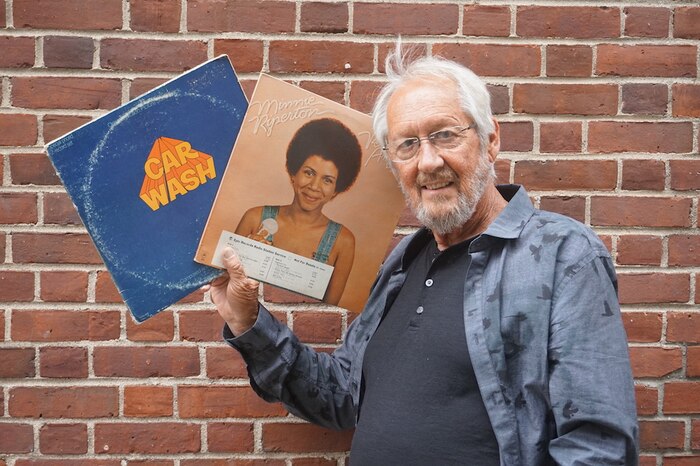 For those who might just be getting familiar with it, what can you tell us about this album, this Ecstatic Music of Alice Coltrane?
I started working with Alice Coltrane in 1970 or '71. She's an extraordinary lady. Luaka Bop has come out with the definitive collection of the songs from mid-'80s to the early '90s, and it's pretty special. There's a lot of interest in Alice Coltrane just coming up now, ten years after her death, which is a little bizarre, but I think it's well-earned. She's an extraordinary lady and everyone should know more about her.
What can you tell us about the original sessions? You were in charge of putting this together and overseeing the remastering, but you were also a part of the original recordings. What stands out to you from that time?
Those recordings on Luaka Bop were done between '85 and the early '90s, maybe '92. She didn't have a record contract at the time, so she just made her music primarily for her ashram and for her students – or for the world, for that matter. There was a point of view that maybe she was free, from the commercial point of view, to do whatever she wanted, but I never saw it that way. She never compromised her music in any way, shape or form, ever, so I don't think that theory holds up very good.
What happened in that period, though, was she started singing for the first time ever, about 1985 or '86. We went in, she told me she wanted to just play organ and sing, so we started there. In some instances, she added more parts as we went along, but it was a new and distinctive point of view from her that you can hear on this new record. Although it sounds like Hare Krishna music, on some level you also hear her old Detroit background with the church voices. She had some great singers in her group, so that was a fascinating part about it and made me interested.
I've been audio engineering for over 40 years, but I think one of the most important things I did in those 40 years is that period in the early '70s of revolutionary, avant-garde jazz.
As someone who was close to her, in terms of the recording process, what do you think these different elements – her voice, the synthesizer, maybe these types of compositions she was coming up with during this period – what strikes you about this mix? Is there anything that stands out to you?
Well, Alice Coltrane's music was unique and different from anybody else's, and it had to be approached differently. She wanted a different sonic curve that I wouldn't put in more of a pop format. She liked her low-end, and a lot of the tracks started out as a cassette recorded at her ashram and parts were added later, so you can hear a little bit of that rawness in some of the tracks.
And where did you guys record these sessions? Were they just various studios in LA?
We started at the Village Recorder, which was my old alma mater where I started. Westlake Audio, Rumbo, Kendun Recorders. We recorded at Red Wing. That's where we started with her vocal sessions, so that's quite a mix. I worked with her for over 30 years, so we saw a lot of studios.
I can imagine. How many people would be in the studio for, say, one of these tracks where there was a large ensemble of vocalists?
The vocal sessions I did with her was just her and organ. That's where we started. At other instances, on some of the Warner tapes and also on the Impulse! tapes, we did large string sections. It started with large string sections and horn sections and reeds and the whole works.
You had said earlier that ten years after her passing, there seems to be this resurgence. Why do you think it is that, at this moment now, that people are rediscovering her music?
She might have been overshadowed by her late husband at some point. But beyond that, she was an extraordinary woman in her own respect and people are starting to look at that side of it. She was unique from John Coltrane and great in her own right, as well as her kids. She had four kids, and they're all musicians and all great, also.
How did you get involved in the Impulse! Records family? I guess in the early '70s is really when you started to work with them, correct?
It was through Ed Michel. Ed Michel was the chief of A&R for Impulse! Records. He came in and actually got me from rock & roll into the jazz world, which I thought was extraordinary, because of the avant-garde, revolutionary style of free jazz that Impulse! was doing at the time. No other major record labels were doing anything like that. It was exciting.
Was it a similar energy that you found, compared with rock & roll? Was there a difference in terms of how you had to approach it as an engineer, a mixer?
Well, you can take a month or six months to make a rock & roll record, a long time. And with jazz artists, they are the best in the world and you have to be ready when they're ready. Everything they play is worth recording and saving. You had to really be on your toes. In pop, you have kind of a standard format, and in jazz… It's extraordinarily interesting to be an audio engineer, because you work with live sounds, organic sounds like oboe, bassoon, and audio engineers don't get that much chance to work with those kind of organic sounds. It's fascinating to an audio engineer.
You mentioned Ed Michel not only as being part of the label as an executive, but also as a producer. How would you describe him as a producer? You guys worked together on numerous sessions and albums.
He was a fantastic man. Still is, and lives in the desert in California. He changed my life.
Did you feel as though, working with these artists – Sun Ra, Pharaoh Sanders, Michael White, Alice Coltrane – that you were in the midst of something that was going to be really special as an era of music?
I've been audio engineering for over 40 years, and looking back on that career, I could say, "Well, there were highlights in the pop world or in commercial successes," but I think one of the most important things I did in those 40 years is that period in the early '70s of revolutionary, avant-garde jazz.
Sun Ra's Space Is The Place is not an Impulse! record, but it is a Blue Thumb record that you did work on. Can you tell us something about your experiences working on that project?
We went to Chicago to do that record, me and Ed Michel. Coming from Southern California, I almost froze to death walking two blocks to the studio. But beyond that, when we got there, Sun Ra showed up with seven of everything. That's seven keyboards, seven drummers, seven dancers, seven bass players and on and on and on. Seven of everything.
We had not nearly enough inputs for all of that instrumentation so, in a panic, we went out for more mic mixers and more mic mixers and finally got it all put together and recorded Space Is The Place for Blue Thumb Records. The president at that time was Tommy LiPuma. We made the record and he walked in to hear the mix, said, "So, that's a Sun Ra record?" I said, "Yup," and he said, "OK. That's it." That's how it was released.
Impulse! later bought the entire Saturn catalog, which was all of his recordings. It was put out in some form, briefly. Certainly so. I also got a chance to hear all of Sun Ra's recordings and do a quick transfer mix.
I want to think that nothing is quick with Sun Ra, though, right? That is a massive amount of material right there.
Interesting guy. Ed and I had a female assistant engineer that was working with us, who later became a music producer in her own right and is making films now. But Sun Ra said, "She's got to go." We said, "Why?" He said, "Well, I was recording on the banks in Egypt, on the banks of the Nile, and this lady jumped in the river and drowned herself. So after that, I don't want women around during the creative process." Which didn't make entire sense, because a lot of his players and dancers were, in fact, ladies, and they lived in the same house and recorded from sun-up to sundown, every single day of their lives.
Right. June Tyson was the vocalist as well.
A lot of great players came out of that band.
But that was just his explanation?
It was his thing at the moment. I can't explain it, but that's [the kind of] interesting thing that came up with Sun Ra.
You've mentioned staying alert, sort of just being ready to react, in terms of recording jazz. This has also got to be the case with all these live recordings you've done as well, with various artists. The Band with The Last Waltz is a huge project. But I'm curious, what other things, as far as your forays into the rock world, stand out? I know there's a Rolling Stones story in here, and that's basically my way of trying to coax that out of you.
The Rolling Stones, it was the Goats Head Soup project. They were on tour, but they were doing the record at the same time that they were on tour that summer. They came in the studio at Village Recorders. (Snuck in, I should say.) Their project was called "The Muddy Waters Project," so nobody'd know that they were in town, let alone in the studio. And so, I got a chance to work with the Rolling Stones on their project. I got to mix "Angie." I did all the horns and some of the vocals and other overdub parts on the project. I was fascinated by the Rolling Stones because they had their reputation of being the world's greatest party guys. But when they were in the studio, they were all business. Very professional. Maybe that has something to do with their long-term success, because they didn't play around at all when they were in the studio. They were there to make music and that was it, so that was pretty impressive. No drugs, no ladies, no partying. Just music. Just working.
We recorded a song called "Time" while Sly Stone was flat on his back, in a very relaxed state.
How was Sly Stone to work with? Was he also very professional?
That's another story altogether different. You know, I think he spent two years making that record called Riot Goin' On. It was his last recording ever and he did it, primarily, without the Family Stone. I stayed on that project for six months, maybe. We got it finished, but I think it was his last productive music ever. So in that respect, it was important.
Right. It's an outstanding, landmark recording. The stories have been out there for years and years, but I'm curious, from your perspective, what moments stand out to you in terms of being in the studio with Sly?
My 14 year old likes the story about recording Sly Stone with what they call a banquet stand, which is a microphone stand about 12 inches high. He was so relaxed, he was flat on the floor, so I used the banquet stand with a mic sticking over his mouth. We recorded a song called "Time" while he was flat on his back, in a very relaxed state. That is one of many stories, but... Yeah. There are a lot of stories about that period. Luckily, we all survived. Sly's still alive and so am I.
Exactly, and still doing it. That has to be such an amazing period to have been working in, in the '70s and '80s in Los Angeles, when there were all of these studios and the recording industry was in great shape, with good budgets, you know?
I think the music industry was pretty regimented up until the '60s, and with the hippie revolution came a flood of money and music formats just opened up tremendously. By the '70s, that was the aftermath of the music revolution. There were a lot of new boutique studios. Those old record companies, their studios looked like factories. In the '70s, they had boutique studios, which were nice places to hang out and were built, primarily, for the comfort of the musicians.
What were some of the places that you spent a lot of time at? Was it Village Recorder?
Village Recorder was my alma mater. That was the first half of the '70s, then I moved to Westlake Audio and started that with Tom Hidley. He had come from the Record Plant. We started Westlake Audio together, and it grew through the years. After he left for Europe to start Eastlake Audio and build recording studios all over the world, I moved over to Kendun Recorders, which is in Burbank. A friend of mine, Kent Duncan, ran it.
Did you guys all co-mingle, even if you worked at different studios? You're working crazy hours, obviously. But was there a watering hole that people used to congregate at? Where did people go to talk shop and stuff like that?
I don't remember specifically a watering hole, although we did have a few card games at Westlake Audio, I remember, when studio owners came together, and some other bizarre meetings… We'd get together, but for the most part it was just work. 80 hours a week was standard and you worked as hard as you could on that record project. As soon as it was over, you walked out the door into the next studio and started over. It was a lot of music and, regretfully, I wanted to make it all and couldn't. But I did the best I could. I remember one week specifically was a 120-hour week, which is too much. You can't do great work when you work those type of hours, although 80 hours a week is OK. You can get by on that.
You did the quad mix on the Stevie Wonder projects and you worked with Stevie a lot: Innervisions, Superstition, Talking Book, Fulfillingness' First Finale.
Those four I got to mix in quadraphonic, because I was a quadraphonic expert at the time. I also got to work with Stevie Wonder on a Minnie Riperton record and a Syreeta Wright record. He is a fascinating guy. In private he was a mischievous little boy, and in public he was a holy man, so that was quite a contrast.
It's the yin and yang though, you know? Don't you need both to be a musical genius? What were some of the hijinks, then, that you can share with us?
One night, the electricity went out on the whole block in LA. So we were sitting there in the dark, which didn't affect anybody... Well, it didn't affect Stevie. It affected me tremendously, because I was in pitch black. There's not a whole lot of studio windows, so there's not even light from the stars coming in there. When I had to go to the bathroom, he taught me how to pee in the dark by tuning the sound to the lowest pitch. Then, you knew you were right in the middle.
I think that sums up the brilliance of Stevie Wonder as much as his music right there. Thank you for sharing that very special moment. Stevie Wonder did, as you state, produce the Minnie Riperton project, which you also worked on. Do you have any just memories of that process?
I remember Minnie Riperton was a sweetheart, and unfortunately that was the last thing she recorded. Just an absolutely wonderful lady, and what a voice, you know? It was amazing. Stevie Wonder produced that record, although I think it's accredited to Black Bull, because he was a Taurus. I think it was a contractual thing with Motown, but Motown also put out a record that we were mixing at the same time, called Stevie Wonder Presents: Syreeta, which I thought was a fantastic record. It was amazing.
One thing I asked you before, which I want to ask you again, is when you go back and listen to some of this material, what strikes you about where your ear was then versus now?
I seldom ever get to hear my music. Just as soon as you finish something, you start the next thing, so I seldom went back to look. But just recently, because of Luaka Bop, I opened my record cases up and looked at it. I was interested in how my perspective shifted through the years, as far as making music. But I think it all comes to the same thing: It's just getting it on tape. It's a science, probably, but not art. The art is always in the music and with the musician.