We visit the RBMA alumnus in his hometown of Montréal as he prepares to release his debut album
It's 2 PM on a Saturday afternoon in Montréal, and Lunice can't find a parking spot. The DJ and producer is attempting to take us from his two-story apartment in Old Port to his studio – only a five-minute drive away, according to Google Maps – but the city's downtown construction and traffic has other plans. As he navigates through the cobblestone alleyways and one-way streets, it quickly becomes clear that walking would have been the fastest route, but he's unfazed by the congestion. With the satellite radio tuned to a jazz station playing Dizzy Gillespie, Ornette Coleman and his personal favourite, Miles Davis, the producer makes idle conversation with photographer Mathieu Fortin, a fellow Montréaler who's worked with several LuckyMe artists.
25 minutes later, we pull around the Palais des Congrès' rainbow glass facade, into an underground parking garage which appears to be near capacity. Nonplussed, the producer circles the building before finally navigating into a free space several levels down. After Fortin grabs a quick snap of him sitting in the driver's seat, looking effortlessly cool and collected in a multi-paneled grey jacket and black ballcap, Lunice pulls out his phone to take a picture of the space's number so that he won't forget.
"If there's one thing I know I have, 150 thousand percent, is patience," he says later at the studio. Spend a few hours hanging out with the man born Lunice Fermin Pierre II, and you'll quickly learn that this personality trait applies to all aspects of his life. Whether it be driving down De Maisonneuve Boulevard or crafting some of the most forward-thinking, hardest-hitting electronic beats to ever come out of Montréal, the producer maintains a Zen calm. Lately, the 29 year old has been looking into meditation to further focus his creative energy, which he's done on tour but is yet to practice in an everyday setting. If patience is indeed a virtue, then Lunice might be one of modern music's most virtuous artists.
I'm the kind of guy that just wants to find longevity with anything I do.
Hearing the producer describe his whirlwind last five years, you can't fault him for wanting to hit the reset button. In 2012, he teamed up Glaswegian beatmaker Hudson Mohawke to form TNGHT, and the duo put out their eponymous debut EP on LuckyMe. Consisting of five blitzkrieg instrumentals, the release cemented the pair as the new torchbearers of trap, combining glass-shattering synth bursts, looped handclaps and thunderous 808s. Following up with redlined remixes of Waka Flocka Flame's "Rooster On My Rari" and Kanye West's "Mercy," TNGHT would be festival circuit regulars for the next year, with West making an onstage appearance at a Brooklyn show. Another one-off by the duo, the horn-heavy "R U Ready," became the warped backbone of Nina Simone-interpolating Yeezus highlight "Blood On The Leaves."
Praised by everybody from Twin Peaks creator David Lynch to Lou Reed, the Auto-Tune-drenched, moshpit-instigating track was exactly the kind of career-defining placement that could be a double-edged sword for a young producer. While it flung open doors for the duo to high-profile collaborations with the likes of Lil Wayne, Nicki Minaj, Rick Ross and others, they were wary of being pigeonholed in the sound they had come to define. "I was well aware of how big TNGHT was starting to become and I was well aware of where I could go. And it was a choice at this point," Lunice recalls. "It was either go full in and nurture the whole hype behind it, or go deeper and try to find longevity within it. I'm the kind of guy that just wants to find longevity with anything I do."
Lunice's first musical mentor was his older sister, who introduced him to '90s pop and hip-hop including Missy Elliott, Timbaland and TLC, dragging him into her room to practice dance routines. At the time, he was drawing ("Drawing to me is one of the most non-biased things to do," he says) and doing graffiti, frequenting a shop in Montréal's Lachine neighbourhood. Its owners ran a yearly block party called Do It Jam, featuring rappers, DJs, breakdancers and graffiti artists, where a teenage Lunice fell in love with hip-hop culture. Inspired by veteran producer 9th Wonder, he started making beats using Fruity Loops and uploading them to MySpace, as well as homemade videos of him popping and locking to songs by Nosaj Thing, Mike Slott and others. After hooking up with local crew Turbo Crunk, he'd sign to LuckyMe for two EPs, 2010's Stacker Upper and 2011's One Hunned, and it was at Turbo Crunk where Lunice and Hudson Mohawke had first met.
Towards the end of 2013, TNGHT announced the project would be going on hiatus while both producers worked on their solo albums. For Lunice, that meant logging studio hours from Los Angeles to New Zealand to London, learning from non-artists and artists alike and, most importantly, taking the time to craft a wholly immersive project that captures the full circle of his journey. "I was basically for the last five years building a prototype," he says. "You build a prototype, you use it everywhere, you get feedback from everybody and then you know it's ready and you release it." With CCCLX – 360 in Roman numerals – he set out to make a debut record showing not only where he's been, but where he hopes to go.
When I'm making music, I'm thinking of different dance moves.
"When you clean and clear things out, you just tend to de-stress a lot more. The first step for me was making sure that my space was completely clean, and I love using aromatherapy," Lunice states matter-of-factly. "I do it onstage too – I use incense as my intro. The first thing you get is a loop and a smell." Like his plant-filled, diffuser-lined apartment, the producer's brick-walled studio, with its white arched windows, is immaculately tidy. From the two keyboards surrounding a computer console and a handful of speakers, to the shelves neatly displaying various tchotchkes from his travels – including a Polaroid camera, a set of Russian nesting dolls and a retired brass thurible (he recently purchased a new one off Craigslist from a Montréal antiques collector) – the space is designed for maximum productivity.
After spending the majority of the last few years on the road, including opening for Madonna during her North American and European Rebel Heart tour, Lunice knew from the beginning that the album would be designed around his energetic live shows. "When I'm making music, I'm thinking of different dance moves," he explains. "When I'm thinking of a certain part, if there's silence in my music, it's for a reason. It's for the dance troupe to freeze at this part, and then pop-pop and just continue." With this guiding principle, the former b-boy threw himself into researching different creative fields, from architecture and fashion to films and theatre.
In one corner of the studio sits three whiteboards with Sharpie drawings of prospective stage designs, lighting set-ups and what he calls "low involvement items" – collectible fan souvenirs like figurines or lighters that require little maintenance. One board serves as Lunice's IRL Pinterest, with pages torn out of architecture magazines, a Montréal city logo and other assorted scraps which might lead him to a lightbulb moment of discovery. He attributes this visual approach to processing ideas as a habit he picked up from doing soundchecks. "I would go to the dancefloor, and I would look at every single angle of the stage, and see what it would look like and what it might look like to the spectator," he says.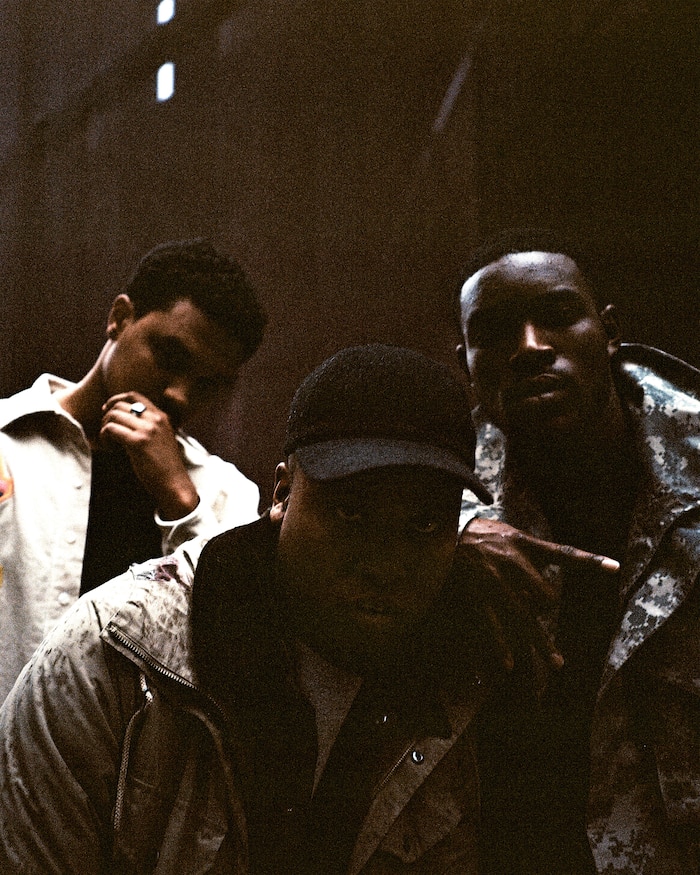 The first voice you hear on CCCLX isn't Kanye's or Lil Wayne's or even Lunice himself. Rather, it's CJ Flemings, a 20-something Montréal rapper who the producer first met a few years ago, and has since collaborated with on numerous songs. Through Flemings, he also met Speng Squire, both of whom trade braggadocious punchlines on the riotous "Freeman." Upon arriving at the studio, they greet Lunice like younger brothers with enthusiastic daps. Though the album features higher-profile guest spots from the likes of Denzel Curry ("Distrust"), Le1f and SOPHIE (who both appear on the vogue-influenced "Drop Down"), it's the Montréal natives – including R&B singer Syv De Blare, who lends siren-like vocals to orchestral closer "CCCLX IV (Black Out)" – that pushed the producer the most creatively. "Working with local artists is the biggest thing to me, because it's always great to see all the creatives from my city perform at the highest level," he says. "When I see them go in, that just motivates me to just come up with new ideas and vice-versa."
"He's always open-minded about a lot of things," says Flemings, who's played multiple shows with the producer and collaborated on a handful of one-offs, including the fiery "All Clear" remix. "Working with him doesn't necessarily mean that you're always going to be dealing with music. We might just link up like, 'We need to figure out life right now,' and that kind of stuff. That's more what we get inspired off to then craft our music, because it's very important to understand what we're writing down sometimes, and the directions that we want to go. Lunice is very keen on that." Adds Speng, "He's the most relaxed, calm dude there is. We'll talk about the smallest thing, we'll talk about the biggest subject – there's no stress with him." The latter met Lunice while he was in the studio with Flemings, who after hearing his music, asked Squire if he wanted to record a verse for "Freeman." "I remember just going out for a quick smoke up and I came back and the verse was done," recalls Lunice with a laugh. "I'm like, 'When did you record this shit, what?'"
At one point, he cues up the track on the studio's speakers and the duo form a football huddle around him, rapping their verses overtop. Their camaraderie is evident, and while the producer says they set out to create some "hype shit," the two young MCs have also benefited from his calming presence and tales of navigating the music industry. "The best advice Lunice has ever given me was to just stay patient," offers Flemings. "That's great advice I feel like any artist needs to hear. You really do have your time, it doesn't just happen overnight, that's what got us to becoming the artists we are today." After the rappers' manager, an amiable man who goes by DRTWRK, mixes up a carton of watermelon-apple juice and rum, someone suggests that Fortin takes some group photos outside. As dusk approaches and a cold February rain begins to fall, Lunice huddles in the middle, flanked by Flemings on his left and Squire on his right. The fading light leaves the producer's profile more in the shadows than his up-and-coming charges – exactly the way he wants it to be.
There's more emotions to the human being than just the drop. I want to get those emotions.
The headquarters of White Walls Worldwide are located in a nondescript industrial building in Montréal's Garment District. After passing rows of fluorescent-lit sewing machines, shelves of various fabrics and a group of men sitting around while a Gucci Mane album plays, Lunice is greeted by the fashion house's co-founder, Samir Ayachi. A tall, skinny man with a pencil moustache, Ayachi is wearing a white lab coat with safety pins in the back, and leads the producer to a rack that's been set aside with garments for him to try on. "I wanted to wear a certain outfit that makes it to the point where the viewers, when they see me come up on stage, they recognize it immediately," says the producer. "Daft Punk, when they see the robots, that's Daft Punk. So when they see me with the theatrical black outfit that flows a lot, that's Lunice."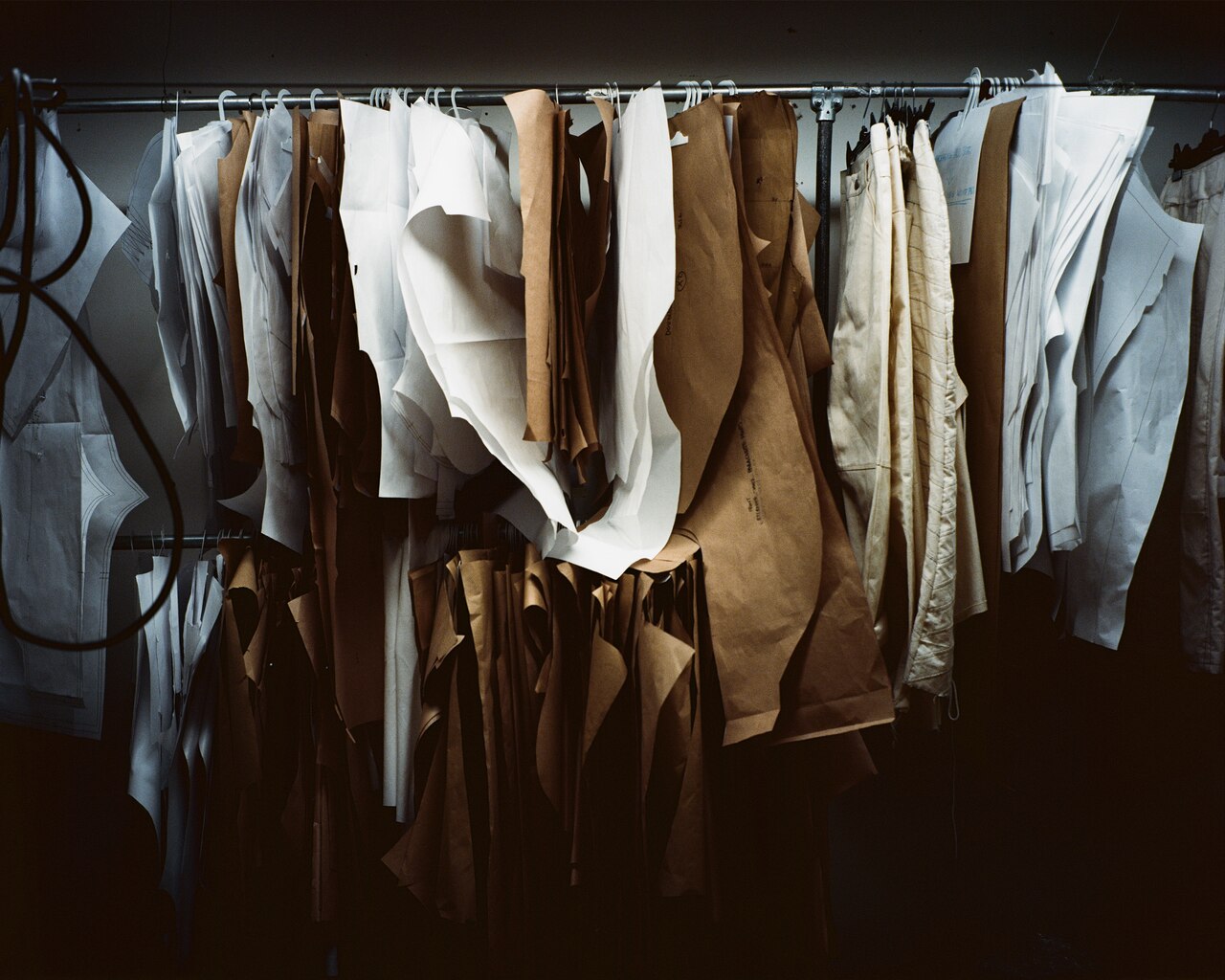 He tries on two monotone cape-like pieces in front of a full-length mirror, eagerly swishing them around as if to test their durability. As anyone who's caught one of Lunice's highly physical sets can attest – he typically spends more time wildly dancing before the crowd than behind his podium – he's constantly striving to make his performances more interactive. "I just want to bring the feeling of wonder," he says of his live shows. "There's a lot of people waiting for the drop – it's like a roller-coaster ride of a structure – but there's more emotions to the human being than just the drop. I want to get those emotions. I want to get that emotion of fear, I want to get that emotion of certainty, the emotion of happiness, the emotion of confusion. All these little things that are just as intense as feeling a drop."
To achieve this, CCCLX is structured like an opera, with the album divided into four acts (including interludes subtitled "Curtain," "Intermission," "Costume" and "Black Out") and Lunice playing the role of benevolent composer. While he cites attending a performance of Madame Butterfly at London's Royal Opera House as a key inspiration, time spent with a certain Queen of Pop gave the producer a renewed sense of confidence. "Madonna let me do the same exact set-up with the same exact set, which I was afraid at first, because I wasn't sure," he says of the 2015-2016 arena tour. "I asked her, 'Hey, I have swear words in some of my set, is that fine?' And she was like, 'Play whatever the fuck you want.'" After his first night opening, he was summoned to the singer's green room, where she shook his hand and told him she'd "never seen anything like it." Not too shabby praise for "some black kid just going apeshit in front of a DJ booth," as Lunice jokingly describes himself.
Besides reminding him of the importance of old-school showmanship – which is present in everything from his theatrical stage outfits to Montréal director duo Mauriès Matos' dance-centric visuals – Madonna also impressed on the producer how keeping a tight circle is key to career longevity. "The people that work with Madonna have done a minimum five world tours with her, and throughout the tour there was zero drama," says Lunice, comparing her operation to the LuckyMe team (albeit on a significantly smaller scale). CCCLX follows several 2016 debut albums by longtime signees of the Glasgow-bred label, including fellow Montréal producer and Turbo Crunk co-founder Jacques Greene. "We are quite slow at putting out records. Part of that is because we sign artists, not records," LuckyMe co-founder Dominic Flannigan told Resident Advisor in 2016. "If you pitch us a complete, fully-formed record, we're very unlikely to go near it. I think it needs to have a longer commitment than that." (Or as Lunice succinctly puts it, "We just like crafting good work that speaks for itself.")
Referring to Montreal as a city of "behind-the-scenes creatives," he cites people like blogger/designer Justin Saunders (the art director of Kanye West's DONDA), and DJ duo A-Rock and Shaydakiss (who worked on the visuals for Beyoncé's Formation tour) as examples of locals who have quietly been enlisted by music's biggest names. For Lunice, discovering similar like-minded individuals and figuring out how best to use their talents is one of his biggest joys in life. Though he was instantly captivated by Ayachi's "performative" clothing after being introduced through Flemings, it wasn't until he was finishing up the album that they decided to work together. In a prior interview, the designer describes White Walls' modus operandi using a phrase that feels familiar: "It's the new fashion house system we wish to implant in North America," he explained. "In other words, designers come to us with their sketches and we take care of the rest. It's a 360-degree approach missing in Montréal, Canada and the United States."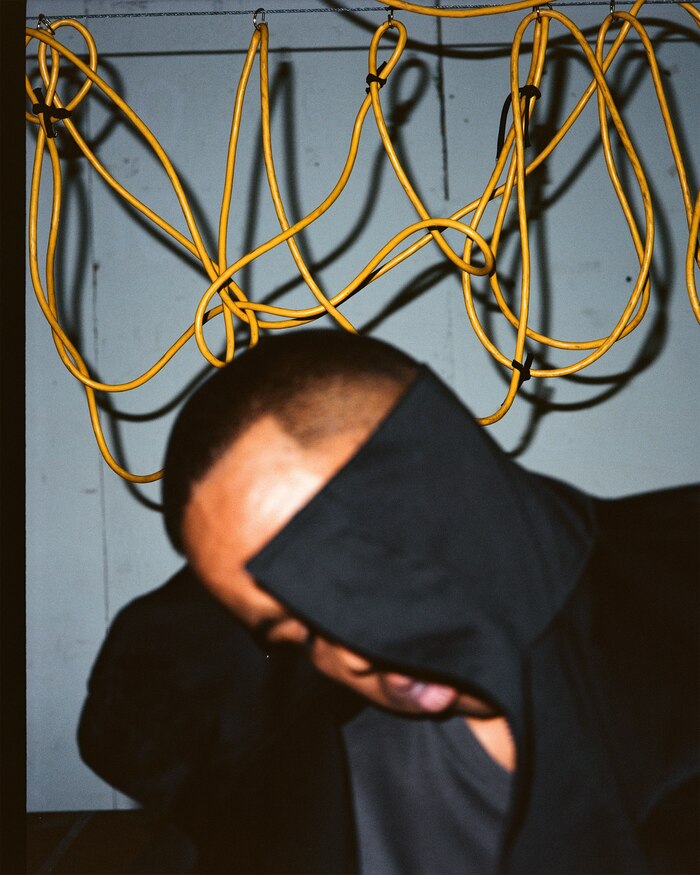 Which brings us back to the meditation. "I've always had this lifestyle orientation towards efficiency," says Lunice. "It's always about what will work for me long-term musically, mentally, physically, all that stuff." During his research process for CCCLX, the producer read about human behaviour and health sciences ("I need a scientist in my crew," he says at one point with a laugh), resulting in him rethinking his conditioning and dietary habits. "I discovered that exercising directly influences your executive functions, which is your decision-making [abililty], so you're able to decide shit so much more efficiently after you've exercised," he points out. This thinking extends to Lunice's decision to practice meditation, which he says has positively improved his focus and, as if by sheer proximity, the energies of those creatives in his surrounding orbit. "In high school, I used to snap, I'd go ham," he reminisces. "But now I calmed down, because I didn't like it – it's a bad vibe, you know? I'm done with that vibe."
Though the producer admits he's still learning the practice, it's allowed him to shut out unwelcome distractions, and he's excited about the music he could potentially create in his most serene state. In the meantime, he's been waking up at 6 AM daily, listening to podcasts including NPR's Fresh Air and How Stuff Works, and constantly adding new pins to his inspiration board. One of his favourite hobbies is going fishing on the banks of Montréal's Lachine Canal, with his energetic four-year-old whippet Winston for company. In a photo posted to his Instagram with the caption "This is what I do while I wait for my Album to be mastered…," the producer proudly displays one of his catches. He mentions reading Catching the Big Fish: Meditation, Consciousness, and Creativity, David Lynch's 2006 autobiography and self-help guide, which delves into the director's advocation of Transcendental Meditation. It's easy to see why Lunice identifies with his viewpoints on expanding one's artistic capacities, and before he parts ways, he recites a passage:
"Ideas are like fish. If you want to catch little fish, you can stay in the shallow water. But if you want to catch the big fish, you've got to go deeper. Down deep, the fish are more powerful and more pure. They're huge and abstract. And they're very beautiful."
Header image © Mathieu Fortin