Macola Records: An Oral History
The Los Angeles pressing plant and label was a key player in the birth of gangsta rap
Macola Records was the unlikely launchpad for Los Angeles gangsta rap. Before the pressing plant/record label kicked off in the early '80s, the city's nascent rap scene featured a soft electro sound that was closer to techno than what we think of today as hip-hop. It was populated by funk and disco enthusiasts, pop-lockers, crossover comedy artists and rappers who imitated their New York counterparts in both sound and fashion. LA rappers, considered as foreign and unsophisticated as artists from the Deep South, were sometimes called "'Bamas." The city barely had a rap industry at all, much less one that would go on to redefine the genre.
Run by a 50-something Canadian named Don Macmillan who played golf and lived in the distant suburbs, Macola pressed up vinyl records and served as label and/or distributor for many of the biggest names in '80s West Coast hip-hop before they became famous, including Ice-T, Too Short and MC Hammer. The plant would press up records for virtually any aspiring rapper who walked in the door, and if Macmillan found there was interest in their sound, he'd quickly sign them to a label deal.
Macola didn't censor their artists, releasing hard-edged early music from Eazy-E and N.W.A at a time when no one else would take them seriously. But just as these artists were becoming household names and gangsta rap was taking off worldwide, Macola disappeared completely.
Macola was a whimsical, disorganized dream factory, one that sold millions of records, launched dozens of careers and propelled one of the most influential and enduring movements in music history: hardcore hip-hop. The following is an oral history of Macola, told by its employees and artists.
Don Macmillan
Macola founder
Don Macmillan
I was born up in Canada, in Victoria. When I was younger I worked as a tugboat operator on the Pacific, servicing logging camps and villages, tugging boats carrying oil and gas. My dad was a record distributor in Vancouver. I never was much into music. I moved to LA, and then to Palos Verdes Estates. Lived there ever since.
Doug Young
Macola promoter
Doug Young
Don was a really nice man.
Don Macmillan
Before Macola I was running a company called Cadet Records in [South Central] LA. We had B.B. King, Ike & Tina Turner and Big Joe Turner. This pressing plant on Santa Monica Boulevard went broke, so we purchased it. That was back in 1982. [Cadet's] owner had gotten old and so he had to close it down. So I was able to take some of those accounts and started a plant.
Doug Young
Macola was a company that pressed records on site.
Don Macmillan
The name comes about from my wife's name, Olaug, and Mac[millan].
Doug Young
In the reception area, it looked like a record company, but in the gut of it, it was messy: returns everywhere, cardboard everywhere, records everywhere.
Don Macmillan
We had four or five automatic presses running. We had boilers and shrink-wrapping machines and store rooms. It was strictly businesslike. No fancy waiting room.
Doug Young
He smoked. There were ashtrays everywhere.
Don Macmillan
The neighborhood wasn't that great. But it wasn't all that bad really. There were getting to be more and more Latino gangs around there.
Ray Kennedy
Macola marketing and distribution agent
Ray Kennedy
There was a lot of strange stuff. Like that kid getting shot outside the building. That scared the pee out of me.
Don Macmillan
When I came down from Canada, I was very blue-eyed. I trusted everybody. I got along with everybody, no discriminations at all. I enjoyed working with these people.
Cli-N-Tel
Rapper and Macola artist
Cli-N-Tel
Macola was like this one-stop-shop type label where people could go with a mastered recording of just about anything, and put it out. It was really the only game in town other than this other guy over in San Pedro, Bill Smith. We'd go to Macola, press up some records and sell some out the back of our trunk, sell them at the swap meets.
Don Macmillan
We had the black artists come in from South Central LA and Compton. And they were taking them down to the corner and selling them out of the back of the cars.
Chuck Fassert
Macola marketing and sales manager
Chuck Fassert
The major labels weren't putting out the rap records. They didn't want to go near it. Don started putting out 12" rap records and they started selling a lot.
Don Macmillan
[Artists would pay] about $1,000 for 500 records, which would be our normal pressing cost. I would go to about 300 different distributors, stores and store managers, and then I would get the feedback.
DJ Slip
Producer and Macola artist
DJ Slip
Don was getting everybody a lot of exposure as far as getting the records through to the right places, getting them in the right record pools and all that kind of stuff.
Don Macmillan [Billboard – November 22, 1986]:
Our break-even point is 1,000 units, whereas a major is 100,000. So if we only sell 1,500 pieces, we're making a profit… Distributors buy what they need. There's no reason to stock up because our turnaround time is so fast.
Ray Kennedy
I worked closely with distributor Select-O-Hits and its [co-owner] John Phillips down there in Memphis. His uncle Sam Phillips [discovered] Elvis.
Gerald Weiner
Macola's lawyer
Gerald Weiner
Don wasn't capable of A&Ring. He couldn't tell a good record from a bad record, at least as far as rap goes.
Chuck Fassert
He was lucky. These kids came in with a sound and he started putting them out. Then the sound just started catching.
The Freaks Come Out
One of Macola's first pressings was 1983's "Dial-A-Freak," from mobile DJ crew Uncle Jamm's Army, who performed hugely-popular electro rap concerts all over Southern California.
Ray Kennedy
Uncle Jamm's Army was doing real well in shows, and Don thought they would sell [records].
Egyptian Lover
DJ and Uncle Jamm's Army member
Egyptian Lover
I used to do mixtapes when I was in school. I'd buy 20 blank tapes, make them at home. I was selling more than I could buy. I knew that I had to make a real record eventually. When I got with Uncle Jamm's Army that was my first thing: "Hey man, let's make a record."
Arabian Prince
DJ, Uncle Jamm's Army affiliate and original N.W.A member
Arabian Prince
We put out "Dial-A-Freak." As soon as that came out everybody knew it was possible to make a record. So they're like, "Well, where did you get it pressed at?" "I got it pressed at Macola."
Don Macmillan
At first I thought "Egypt, Egypt" was a little strange. And then I put it out and the response was [great]. I said, "Oh, really! What do I know?"
Egyptian Lover
When I made "Egypt, Egypt" [for Macola] I made it as a DJ, so when you listen to the record it's cut like a DJ would cut it. DJs buying two vinyls instead of one actually doubled my sales and helped my record take off.
Arabian Prince
You had to play just a certain part of a song long enough so the breakdancers could break to it. So [DJs needed two copies] to just keep it going.
Egyptian Lover
"Egypt, Egypt" kind of outsold all the records that was out there already.
Chuck Fassert
Don had so many rap groups it was unbelievable.
Ray Kennedy
Unknown DJ had a whole group of guys that he was promoting on his [Macola sub-label] Techno Hop, and they were all really good. And Don had a kid come in from a group called L.A. Dream Team, Rudy Pardee. Rudy promoted his own record, "The Dream Team Is In The House!" Great record. It worked really, really well.
Chuck Fassert
Ice-T was around then, too.
Ray Kennedy
Ice is a really nice guy. You'll be amazed how nice these people are, because their personas were "gangsters," "shoot your ass off," "hey bitch, fuck you." I go, "Woah man, that ain't going to get on the air! You got to do a radio edit."
Chuck Fassert
I remember when MC Hammer came in with a limousine and a bunch of people and he said, "I'm going to be the biggest star. I'm going to be so big." He brought his single ["Stupid Def Yal / Ring 'Em"] and said, "Would you put this out for me?" Don said, "Yeah, yeah, yeah. We'll put out your record."
Ray Kennedy
He sold more copies out the trunk of his car than we ever did. I couldn't get that thing to fly anywhere, swear to God. But his next one [on Capitol] of course was huge.
Don Macmillan
We had Too Short, Toddy Tee and Rudy Ray Moore. And then we had the 2 Live Crew. With the 2 Live Crew then we actually got into signing the artist [to a label deal].
Probably Gold or Platinum
2 Live Crew's 1984 debut, known as "Beat Box" made it all the way to Miami. There, it found a fan in a DJ named Luke Campbell, who brought the group down and helped it find fame as its hype man. Meanwhile, Macola had its first major smash with Timex Social Club's 1986 hit "Rumors."
Ray Kennedy
"Rumors" was an amazing record. Two guys I met out of that, Randy Rand and John Brown, we just clicked. They would ship a couple of thousand [records] to the distributor and take the money from the distributor in cash and go out on the road. That's the only way they could stay in motels, eat, transportation, and see these people and high-five them. They went across the country and we built this record.
Don Macmillan
"Rumors" probably went over a million. At that time we couldn't get gold or platinum. We had the sales but we couldn't get them because RIAA didn't recognize any independent labels.
Ray Kennedy
Russ Parr was the morning man on [pioneering LA hip-hop station] KDAY. He was also Bobby Jimmy, of Bobby Jimmy & the Critters. Oh man, I loved his stuff. He came out with "Roaches," which was a takeoff on "Rumors." We even tried to sell that to Johnson & Johnson for a Raid commercial. In fact, "Roaches" was one of the first videos we ever did. At one time here in Los Angeles we had the three best-selling 12"s, and that was against everybody. We had "Rumors," Stacey Q ["Shy Girl"] and "Roaches." They were one, two and three.
Arabian Prince
I met [Parr] at KDAY. Before I started producing for him, I would do crazy voices for the radio show. He'd do Ronald Reagan, and I'd pretend I was Prince. I did the "Thought of the Day" from Prince, make up the craziest thing I could think of.
Don Macmillan
We had an extremely good relationship with KDAY. They use to play everything of ours that came out.
Egyptian Lover
[KDAY DJ] Greg Mack, he was the man. We became friends as soon as we met and he started playing my records on the radio. And when he started charting it, other radio stations was like, "What are these records he's charting?" And they would start playing them on their radio stations and that's how it spread everywhere.
Pretty Boys
Alonzo Williams is a South Central impresario, artist and label owner who worked closely with Macola. His Macola sub-label Kru-Cut released the first album from his group World Class Wreckin' Cru – 1985's World Class – which featured him, Cli-N-Tel and future N.W.A members Dr. Dre and DJ Yella.
Alonzo Williams
I had a club called Eve's After Dark, in an unincorporated part of LA. One night Dr. Dre came up and started performing – I don't know how he got up there. One mix he did got my attention: "Planet Rock" combined with "Mr. Postman." That was a masterpiece to pull off.
Cli-N-Tel
World Class Wreckin' Cru, we knew we had to have a stage show. And the women loved it. We didn't give a fuck about dudes. All that mattered to us was the women.
Alonzo Williams
We wanted to be pretty boys. I had a jheri curl. We had the slick suits. Yella and Dre got into the eyeliner and shit, they tried to be like Prince.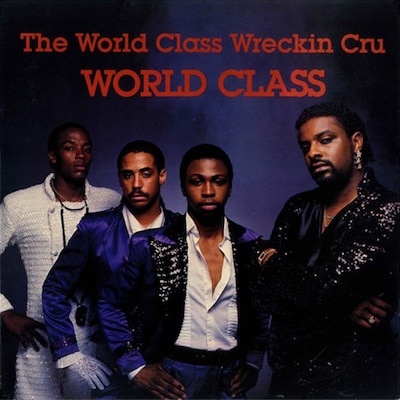 Cli-N-Tel
The cover for our first album World Class was shot at Macola. There was a purple light there, and we had the purple suits on and there was smoke going, so the reflection on our lips makes it look like purple lipstick.
Dr. Dre [The Source, November 1992]
I'll tell you what. I never had no motherfucking lace on – that was Yella.
Ray Kennedy
Meanwhile, I was working J.J. Fad. They were a trip.
Arabian Prince
J.J. Fad was the homegirls. Me and Dre used to date a couple girls in the group – they lived way out in Rialto, San Bernardino.
MC JB
He and Dr. Dre would come back and forth from Rialto. We talked about forming this group.
Arabian Prince
They said, "We wanna make a record," and Dre wasn't hearing it. I was in the studio one day and they came over to hang out. I whipped something up, we did "Supersonic."
Ray Kennedy
Man, that record took off like crazy. Eazy-E [real name: Eric Wright] ended up making a deal for the record.
MC JB
When we came to Ruthless, we did the whole song over again; we re-rapped it and re-released it, with new [group members]. Dre added the bassline, he put on sound effects. It sounded so much better technically.
Eric was the cutest thing ever. He treated us like princesses from the moment we met him. He was like, "Do you need anything, do you need any money?" Our album and N.W.A's album we did simultaneously. [N.W.A manager] Jerry [Heller] and Eric were like, "We need to come out as a legitimate record label, so let's put out the girls first." So they kind of piggybacked off of us.
Doug Young
N.W.A really broke at Macola.
Chuck Fassert
The guys just used to wear clocks around their necks and they didn't have any cars, they didn't have anything.
Alonzo Williams
At any given time, everyone would be at my studio, working on a project. They had a name for the group; I thought they were crazy. Dre came in the room, all excited: "N----z With Attitudes! We're gonna call it N.W.A." I was like, "OK."
Don Macmillan
Eazy-E knew nothing outside of Compton; I mean absolutely nothing. He didn't know even where San Fernando Valley was, really. Compton was his whole area. Anyhow, I got his record and he said that he wanted to get it pressed. I said, "Fine, it's going to cost you $500." So he reached in his sock, pulled it out and gave it to me.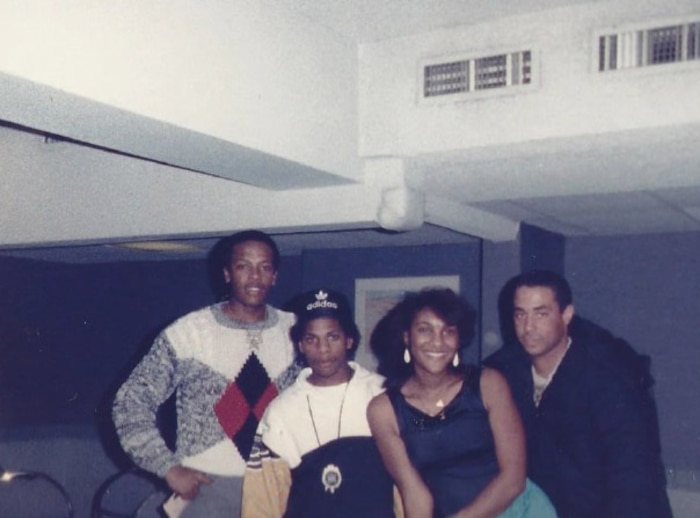 A Sweetheart Deal
Music industry veteran Jerry Heller had been an agent for acts like Pink Floyd, Marvin Gaye and Elton John. By the mid-'80s, however, his career had stalled. His friend, the music manager Morey Alexander, told him Macola was brimming with talent. Heller and Eazy-E agreed to work together, and Eazy scored a big hit with his Macola-pressed single "Boyz-N-The-Hood," produced by Dr. Dre.
Don Macmillan
Jerry Heller use to come in, sit in the lobby and try to pick up artists.
Ray Kennedy
Jerry and Morey had a management partnership. All the acts that Don had went over to Jerry, so they were referrals. Heller had everybody [at Macola]… There seemed to be a sweetheart deal between Don, Jerry Heller and Morey.
Alonzo Williams
Eazy gave me $750 to meet Jerry, but he already owed me $500 of that for studio time.
Jonathan Gold
Food critic and former gangsta rap journalist
Jerry Heller [From his memoir Ruthless]
"I want to start my own label," [Eazy] said. A place where an artist could work without anyone looking over his shoulder, telling him what he could and could not do.
Jonathan Gold [Los Angeles Times – September 5, 2015]
What Dre wanted to do was to create a signature, a sound so distinctive that he'd always know when people were bumping one of his tracks in their cars.
Violet Brown
Director of urban music at Wherehouse Records
Violet Brown
You knew by listening to it what would happen with the record ["Boyz"]. It caught fire very quick.
Ray Kennedy
"Boyz-N-The-Hood" and "Dopeman" were number one club records in New York.
Chuck Fassert
[After that] I talked Don into putting out the first album with N.W.A, N.W.A & The Posse.
MC Ren [ThaFormula.com, 2004]
That shit was like some whack shit.
Sir Jinx
The picture on the album cover, it's across the street [from Macola] in the alley behind an apartment building… Eric knew that I knew how to draw. Eric stopped and got some neon paint and just told me to go to work.
Sir Jinx
Producer and "Posse" member
Chuck Fassert
N.W.A then only had five or six songs. We took all the N.W.A songs, with Eazy-E, Dre, Ice Cube and all that, and we took some other hits that Don had on the label and we put it together and we named it N.W.A & The Posse. The album took off like crazy… Mostly white kids were buying it.
Arabian Prince
The original album was an EP and it just said N.W.A on it. We never came up with that. Don Macmillan came up with it after we left, and he just threw a bunch of other stuff on there.
Sir Jinx
It was a fraudulent album. Macola made their own record.
Don Macmillan
Nah. Eric was the one I was dealing with – it was his record.
Everybody Gets Screwed
At the behest of Eazy-E and Jerry Heller, N.W.A. left Macola to record for Ruthless Records. Soon, the pressing plant-cum-label's fortunes began to flag. Don Macmillan denies all charges of impropriety.
Ray Kennedy
Digital Underground was one of the last acts I did. When I left the company and I knew Don was going under, Don asked me to try to sell some of these acts around.
Alonzo Williams
"Turn off the Lights" was one of Don's last hits.
Ray Kennedy
World Class Wreckin' Cru [were briefly signed to Epic Records] and then came back to Macola. Their first release for us was "Turn off the Lights." I went, "Dammmmn!" It was great. It had Michel'le, and Dre produced it. It's funny because the group had actually broken up at that point. There were money problems and a lot of it was caused because of delays in royalties. And then Don got into... No, I won't get into all that trash from New York that came in.
Chuck Fassert
There were a few guys who tried to get involved. They found out that the music was doing really good. They wanted to give Don some big money. They came in. They tried to take over the place.
Ray Kennedy
These people came in and took over the record, and Don got screwed, Alonzo got screwed, World Class Wreckin' Cru got screwed, everybody got screwed.
Alonzo Williams
I got a call at six in the morning, LA time. I was still in bed. The guy introduced himself, said we had a problem. He said, "Apparently you've licensed a song we own, 'Turn off the Lights.'" He said, "If you were in New York, they'd find you in the Hudson River."
Don Macmillan
If the guys could have been mob, who knows? I don't know.
Alonzo Williams
After that, I didn't feel comfortable going to Macola without my pistol.
DJ Slip
Everybody left Macola. That's when Lonzo, Egypt, Unknown and Rudy Pardee went together and formed West Coast Distributors.
Don Macmillan
We never had any complaints because our books were wide open to the artists.
Gerald Weiner
I will say, I think his accounting department was abysmal. I think if you asked Don at any one moment how many records he'd sold, he wouldn't know.
Don Macmillan
The CD business had come in and I couldn't afford to get into CD manufacturing, so we just split up. We had an office up in Hollywood off of Sunset Boulevard and we were still doing a lot of work. We were just having them pressed somewhere else. Macola went out of business in [1997].
Chuck Fassert
And then the majors started coming into the rap business. They started paying big money for the rappers in the streets and they started doing bigger things… All the acts that Don had, Don didn't sign. With N.W.A, Dre and all those guys, I remember saying, "Don, you should sign up these guys." If he had, the empire he could have built would have been unbelievable.
Gerald Weiner
He never had any long-term contracts with the artists, which turned out in the end to be a mistake.
Doug Young
He was a really nice guy that I think was in over his head.
Gerald Weiner
The idea that Don somehow didn't treat people fairly, it's just BS in my opinion. No one else would have put out N.W.A. He asked for no commitment. He didn't even own the masters. As soon as someone sold a lot of records, they would go to a regular record company and get a big advance.
Cli-N-Tel
Don didn't hinder in terms of the creative process. He let it happen. He didn't really say "no" to anything. When you let a lot of creative stuff get through, it enhances everything.
Header image © Arabian Prince, Dr. Dre, Eazy E, courtesy of Sir Jinx