Celebrating Ten Years of Mustache Mondays, LA's Iconoclastic Party
Marke B. on how a small weekly party expanded queer nightlife vernacular and brought LA's scene downtown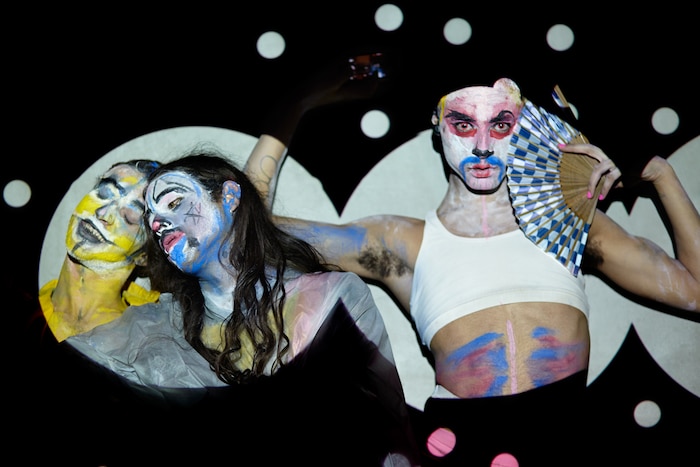 If you had been one of the few full-time residents of downtown Los Angeles in 2007, you may have been approached by a group of unexpectedly friendly, quietly fashionable queers handing out handmade flyers, talking you up about their new weekly Mustache Mondays party at the recently opened Crash Mansion. Formerly known as Myron's Ballroom, a hub of West Coast swing opened by showgirl Myrna Myron in 1946, Crash Mansion was the latest player in the nascent nightlife scene unfolding near South Park and the Fashion District.
"This was before the developers really started coming in for the lofts, and it was mostly artists and people living cheaply," says Mustache co-founder and programmer Nacho Nava. "Nobody else wanted to set foot downtown."
"As far as nightlife went there really wasn't anything. Score, downtown's oldest gay bar, closed in 2005. There was the New Jalisco bar and a couple other small, Latino-oriented bars like the Silver Platter, but that was it," adds DJ and co-founder Josh Peace. "My friend Danny Gonzales and I had just moved downtown into Nacho's loft, and when Crash Mansion offered us a queer Monday night party, we jumped. It seemed like something totally unique and, honestly, crazy. And it was a chance to help build the small queer community downtown. So if you came out looking for a coffee or a market, there we were handing you a flyer."
Nava, Peace, Gonzales and DJ/artist Dino Dinco jumpstarted the weekly event in late 2007, hoping to, as Nacho says, "bring back some of the excitement of the great punk and arts institutions that had disappeared from downtown." A decade and more than 500 parties later, Mustache Mondays has become known as both an incubator of famous talents and host of intimate spectacles, as well as a necessary antidote to West Hollywood's buffed and polished gay bar scene. Kelela, Kingdom, Maluca and Total Freedom developed followings at the party. The House of Xtravaganza has vogued across its floors. Yoko Ono, Robyn and Florence Welch pop in for a song or dance on occasion. Artists as wide-ranging as Arca, DJ Rashad, Bonde do Rolé, Venus X, Spank Rock, Le1f and Diplo have headlined.
The party was driven from the beginning by an iconoclastic approach to the typical gay scene. "We wanted to expand nightlife vernacular," Peace says. "Nacho was very anti-mainstream gay nightlife, and as a DJ, I went where the good music was. We chose the name Mustache because it had a playfulness, kind of sending up camp masculinity."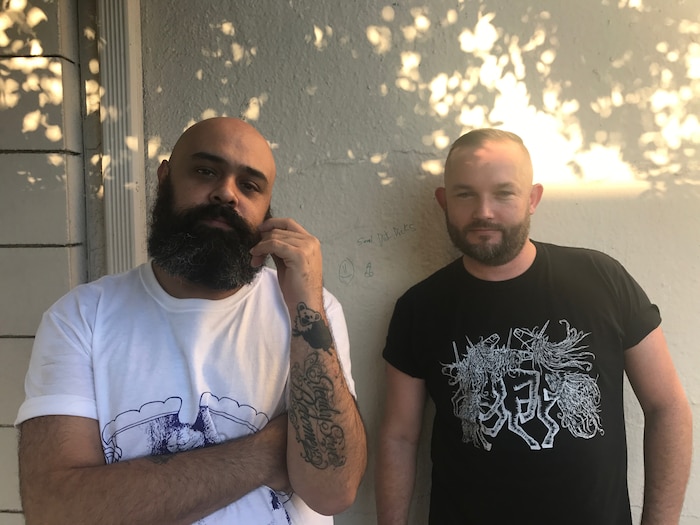 Mustache launched during a moment of creative ferment in American queer nightlife, when a growing population of clubgoers was reacting against the homogenized pop-house sounds and cookie-cutter corporate feel of the clubs and culture at large. DIY parties were beginning to beat back the tackiness and open the back door to fresh ideas. And unlike a similar moment in the early 1990s which fueled the homocore and queer punk movement, this one was reaching backward, to once-reviled disco, and outward, to other, global forms of dance music. The party embraced the unfettered sensuality of the pre-AIDS bathhouse days and the diasporic sounds of a gay culture that was growing more visible, and politically potent, worldwide.
In LA, Mustache was soon joined in its mission to diversify gay nightlife by parties like Shits & Giggles, which was run by Victor Rodriguez and Chris Bowen and gave disco-fied nods to classic '90s club kid culture, and A Club Called Rhonda, which reignited the underground house scene with a polysexual rave vibe. Fellow local promoter Mario Diaz had also previously injected some scruffy energy into the scene with his Hot Dog party.
"Nacho and I were listening to music that you couldn't hear at gay bars at the time," says Peace, a self-described vinyl hoarder who grew up in nearby Norwalk, California. "Early Bmore, Diplo and Mad Decent, electro, bassier world vibe elements. We didn't even know what it was called – I think we still don't – but there was a lot of genre-blending and emerging awareness of different scenes that went beyond four-on-the-floor, linear house music cuts. And then there were things like Glass Candy, Róisín Murphy, M.I.A. Hercules & Love Affair was coming out. Nacho was obsessed with the Knife. All this stuff you couldn't really hear out. Even Silverlake at that time was much more on the rock & roll tip, alternative stuff that was older. But in the beginning of Mustache we were tapping into the newer indie underground and hip-hop stuff."
"I'm a Los Angeles native, and I wanted to hear music I grew up with," Nava says. "Cumbia, soul, R&B. But we wanted to go beyond music, too. We've had performance artists coming in to do shows, visual artists to express their vision. I've always been inspired by dancers, and we were an early home for choreographers who are huge now, like Nina McNeely, who just choreographed Björk and Rihanna's videos, and Ryan Heffington, who did Sia and FKA twigs."
There's so much incredible shit out in the world to discover. It's baffling why you wouldn't want to support and feature that.
The party outgrew its Crash Mansion digs within a year, and moved to Charlie O's. (It later moved to Club 740, then La Cita, and finally to its current home at the Lash.) It was attracting new audiences downtown, but a real musical turning point for the party was when Nacho discovered the complex, disjunctive sounds of Ashland Mines, AKA Total Freedom. "When Nacho first heard Total Freedom play, he said, 'You've got to hear this kid because he is what's next, he's doing all this crazy shit that I've never heard anyone do before,'" says Peace. "'His mixing isn't what you're used to, but you've got to hear his selections.' At that time, Ashland was handing out cassette tapes of his mixes, and Nacho brought me a tape. So first I found a player to play it on, and then it really impressed me. It was the opposite of clean blends – he would jump through these jarring tempo changes, but I could see what he was doing and it was really exciting."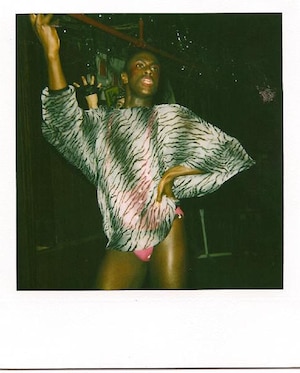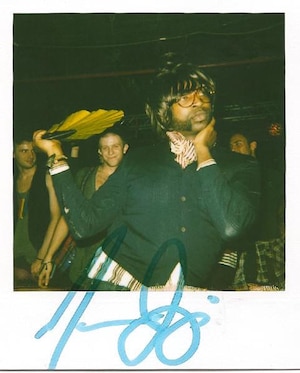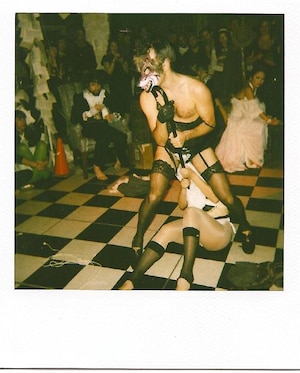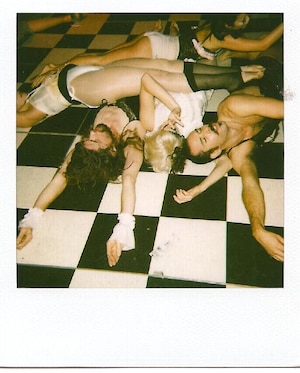 Total Freedom joined as a resident (Gonzales and Dinco went on to other activities), and his bass-heavy, multi-tempo decontextualizations began to give Mustache a signature sound. Flipping from vogue beats and apocalyptic dub to remixes of chart hip-hop on a dime, Total Freedom laid down the blueprint a new kind of dancefloor experience. "Total Freedom, Wu Tsang and the Nguzunguzu kids ran a party called Wildness on Tuesdays in Koreatown, which ran concurrently with Mustache for a couple years, so there was a symbiotic connection between our two parties," Peace says. Wildness, held at Latinx transgender bar Silver Platter, was also musically influential, and successful at luring people downtown. Together, the two parties helped break the ground that led to the formation of the Fade to Mind label, especially when Mustache Mondays flew future label head Kingdom out from New York to perform.
"Kingdom was actually rapping at the time and when he first came out to Mustache," Peace says. "He came to perform for us, with a back-up dancer and four tracks. And later he moved out here, hooked up with Nguzunguzu and Ashland and Prince William, and Fade to Mind came into being and took off almost right after that. Kingdom has been one of our biggest supporters through the years."
"It's been amazing to see us keep breaking talent over the years," Nava says. "To watch Kelela, who has been coming to the party for so long, break out with that bomb album she just released, is huge. Maluca grabbed the mic at one of our early parties in a jumpsuit, and we were just floored." The club has had its own breakout music, too, with Peace producing "Mustache" mixes of Azealia Banks, Jody Watley and the Ones.
Besides breaking new talent, Mustache continues to provide a platform for underground queer artists, especially queer artists of color. In October, they hosted the electro-reggaeton party Traición with the Mexico City-based NAAFI crew. (Different editions of Traición all celebrate Polencho, an imaginary, pre-Hispanic trans deity of anal sex.) Their ethos of inclusivity also ensures women of color are well-represented: Mustache's current roster of residents includes Kita, Suga Shay and Nguzunguzu's Asmara.
We always look for what can transcend labels.
"I want to hire nothing but brown-skinned folks," Nava says. "Other clubs you have these white, shiny go-go boys, and these representations of gay culture that just aren't what our world is about. Why should I go after what you can get at any gas station on the corner? A lot of people like to say how diverse LA is, but it's so segregated, especially among gays. There's so many divisions. Your zip code depicts who and what you're about, and who you hang out with, even how you identify. There's so much incredible shit out in the world to discover. It's baffling why you wouldn't want to support and feature that. The dumbing down of gay culture really disgusts me."
Peace added that the party also seeks to nurture authentic talent in its bookings. "You can certainly have performers come in who are queer, but they don't necessarily carry that as a label for what they do. We always look for what can transcend labels. And at this point you've got certain artists who are like, 'I'm a gay rapper.' Well, are you an actual gay rapper? Do you actually have something to say, or are you a novelty? Are you doing comedy? Because we want people to be serious and have integrity, really own what they do. Not just throw something to the masses and see if it sticks."
Has this strong sense of discernment led to Mustache's longevity? "It's weird to hear people reminisce or say we're influential," Nava says. "There are a lot of new bars downtown now, and I wish I could say they have a radical spirit. We're trying to maintain that for as long as we can.
"I also don't think of what we're doing as legendary or a legacy thing, because it's still going," he adds. "Jay Boogie just came in and burned down the house a few days ago. I'm thinking about the next five weeks coming up. We are very much still pumping."