The Diasporic Sounds of Los Angeles's Rail Up
Muñeka, Foreigner and Kelman on the gradual maturation of their community-focused musical project
The best parties are collisions of diverse personalities, philosophies and musical styles that shape and shake the dancefloor, and LA's Rail Up has found transcendence in such unexpected connections ever since their first edition in August 2015. However, "party" is perhaps too limiting a term to describe the efforts of Muñeka, Kelman and Foreigner, the artists leading the project. Rail Up functions first and foremost as a community, eschewing traditional branding – they have no website or even an official logo – in favor of focusing on the singular scene that can be witnessed when the trio perform. Pulling in all manner of diverse sounds from the sprawling African and Latinx musical diaspora, their DJ sets and live performances have earned the trio wider acclaim, even as they remain committed to spaces off the beaten path of LA's DIY scenes. Speaking to journalist Tasbeeh Herwees at Rail Up's headquarters in Lincoln Heights, the three creative forces discussed Rail Up's gradual maturation, balancing increased popularity with their ideals of community and the freedom they find in this specific musical space.
Tasbeeh Herwees
We're at Foreigner Studios, which is also the location of the first official, or the first collaborative, Rail Up. Tell me a little bit about the origins of Rail Up.
Muñeka
Rail Up started from a birthday party that I threw at this little spot called the Mid City Yacht Club that no longer exists, in West Adams, but it was a gem. [I] threw a birthday party, got all my friends together, everyone danced, had fun, and then after everyone was like, "You should throw a party," and I said "No way." And then five, six months later I was like, "I should throw a party."
Foreigner
August 2015. That was the first one.
Muñeka
I wanted to hone in a little bit more on the genres of music. I'm from LA, I lived in Puerto Rico, I lived in Brazil. My grandma was Puerto Rican. After living in those places, I just really missed having those sounds and that flavor in LA, and there wasn't really a place where I felt I could go dance. I'm a dancer and choreographer, so obviously, like my favorite thing to do is dance.
I just wanted to be specific about those sounds, so dancehall, baile funk, reggaeton, dembow... I invited Kelman to come play, and then for the next one I wanted some kuduro and Afro-house sounds, so I asked my friend Bobby if he knew of anyone. He connected me with Foreigner, who I had actually met months before at a party at his house in passing. So I invited him to come play. I was blown away by his sound. He was killing it with the kudur0, the Afro-house, dancehall, some soca stuff.
There's definitely some Rail Up's where I'm like "Damn, that was like my ultimate self for that one hour."
Foreigner
After the first two Rail Up's, where Kelman and I DJed – Kelman plays live music, I DJed – Samantha approached me and asked me, "Look, let's try and make this shit work. Let's partner up and see if we could produce this and make it work." The conversation was so weird. It was like, "Alright, who's going to pay for it?" We kind of just walked away, like "Yeah, yeah, let's do it." We had no idea how it was going to work. The first one, weeks had passed after that conversation. We were like, "Are we going to do this or are we not?" December 2015 we decided [to] just use my space, which is where we are right now. I moved my stuff, my fianceé – she was my girlfriend at the time – she was like, "What are you doing, screwing up your place?" I was like, "Look, it's for the culture."
We packed up the crib. You can't see it right now, but behind us there's a big roll-up door. We had Riotboooy come through. We had Senay Kenfe come out, do his thing. We went crazy. It was weird. It didn't go as well as we had planned, Rail Up #3. Then Rail Up #4 came around and that was really evidence that we had something going.
Muñeka
Mundial will be our 17th edition of Rail Up.
Tasbeeh Herwees
You guys are, if not the only, definitely one of the very few places that people in LA could come to find Afrodiasporic music. You don't like referring to it as a party – you like referring it to a community. Why do you think Rail Up is a community and not just a party?
Kelman
I guess things always start off ambiguous and then slowly you find the content and the form. I think it became a community when we figured out that people were coming for specific reasons, whether it was for baile, whether it was to see me do live edits or whether it was for Adam. Of course, now you expect the three of us. Everyone knows what we're going to play and everyone expects that every month. It's also a tolerant community, because I can get away with playing ambient and political speeches. Once in a while somebody will come curse me out. I don't care about the audience or that. I leave the beat out for too long and stuff like that. For most of the time people are pretty tolerant. This space is how we grow. My club sound happened because I had a space to practice in, basically, every night. That's why I think I call it a community. That formed out of the politics that people are worried about in Los Angeles. Especially during these times.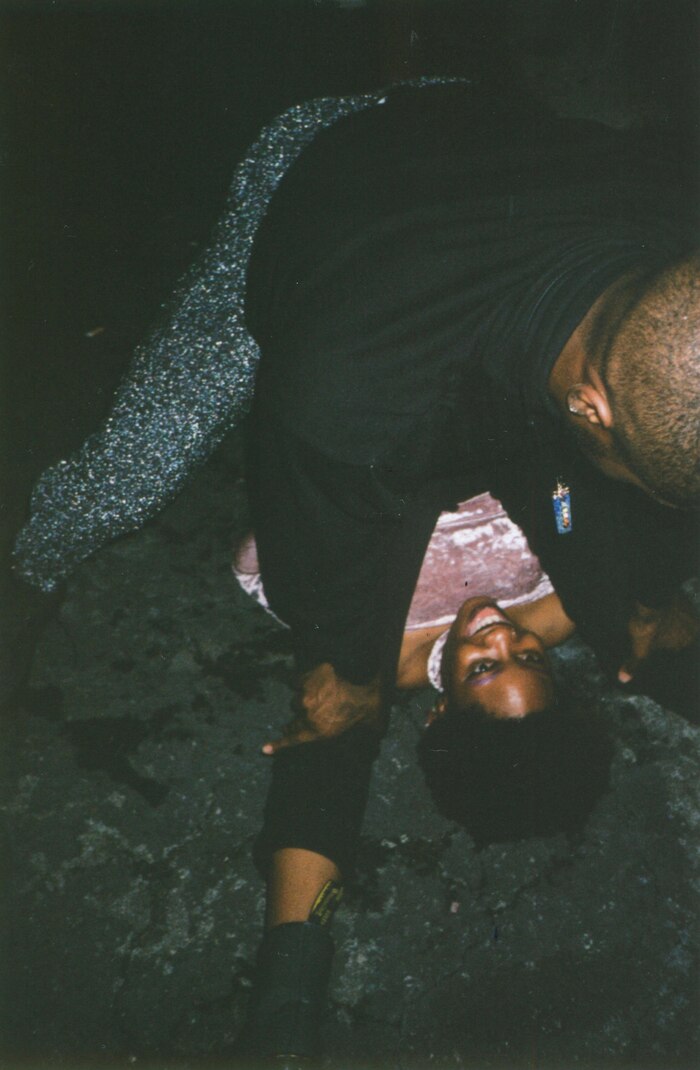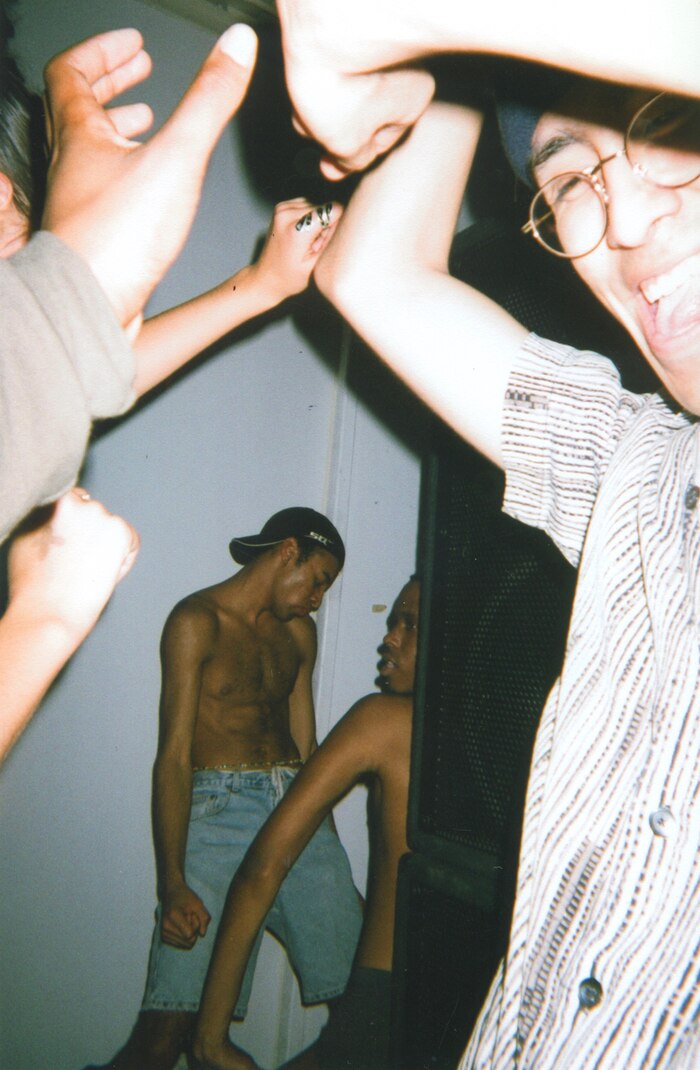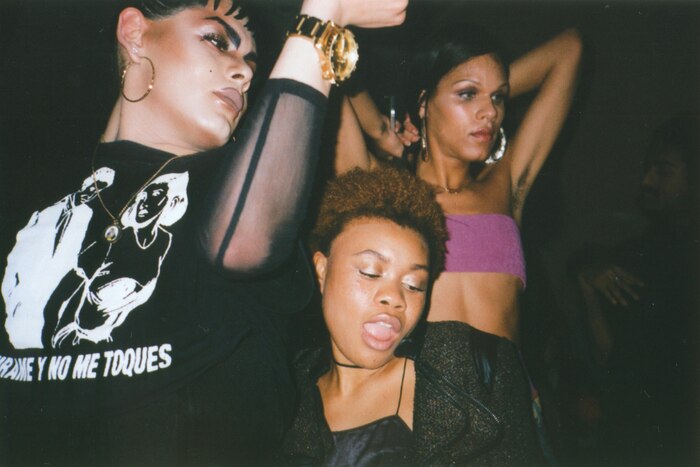 Tasbeeh Herwees
It seems like you know everyone who comes to a Rail Up party – there's the same faces over and over again. You've clearly helmed a community here. What are the key components to a Rail Up party? What makes it distinct?
Foreigner
Logistically speaking, small dancefloors. A lot of times in DIY spaces, a lot of folks aim to get this massive hall and they just imagine this movie scene, crowd surfing and shit. With us it's really just a small space; people could feel intimate. It's dark, so nobody's watching nobody like "Oh look, they can't dance." Forget that.
It's overkill with the soundsystem, so that people could actually feel the music. Of course, the sound that has come to be known as the Rail Up sound, a combination of Muñeka's sound – that heavy, bouncy, strong body funk – to Kelman's sound, to my sound: People expect to hear music that you don't necessarily hear in the city. Then lastly, just the diversity of it all. It's such an open environment where all sorts of people come out and move and dance and have a great time. Loosely speaking, that's kind of like what the Rail Up experience is. It's not by any means this massive, crazy party. It's really just a concentration of vibes that is this monthly or semi-monthly thing that we do.
Muñeka
People know that they're going to come and dance. They know that they're going to see each other. They know that they're going to come in their best outfit or what feels bomb to them and their personal style or their personal creativity. It's definitely a meeting place. It's definitely a place of affirmation and celebration through these sounds. We all play very different styles, all based, obviously, within the Afrodiaspora. Adam is every now and then playing a baile funk song, or he'll mix it in. I mainly play the style I play, he plays his style, Kelman plays his style. It's become a collective sound that people, I think, find themselves within this sound, find a place to express themselves and enjoy and see people and just let go and release.
Tasbeeh Herwees
I've heard y'all describe Rail Up as a safe place, or safe space, in different ways. What do you think makes it a safe place for people of color or queer folks, or gender-nonconforming folks, to come out and dance and feel free with their bodies and express themselves?
Kelman
It definitely has become that, but it wasn't that from the beginning. Sometimes people would come and be like, "There's too many heteronormative cis dudes here. There's too many white model girls here." They'll let us know when it's right. I think eventually, at some point we got it. The community became that community and a lot of that other extra stuff the more we understood what the party was. We didn't talk about it, we didn't package it in a certain way. None of us told each other what to play. As we did the parties, it happened, and once we started using locations where we're like, "This is the community we want to work with and all that other side noise." Not that they don't come – they still come. It became more concentrated, like Adam was saying. It's not like a complete utopia. There's problems with it. I'm sure there's racist people who come. I'm sure there's people causing a problem who come.
You can kind of let loose in a different way. I don't really know what that means – I'm still figuring it out. I can be very narrow and kind of socially anxious sometimes. There's definitely some Rail Up's where I'm like "Damn, that was like my ultimate self for that one hour."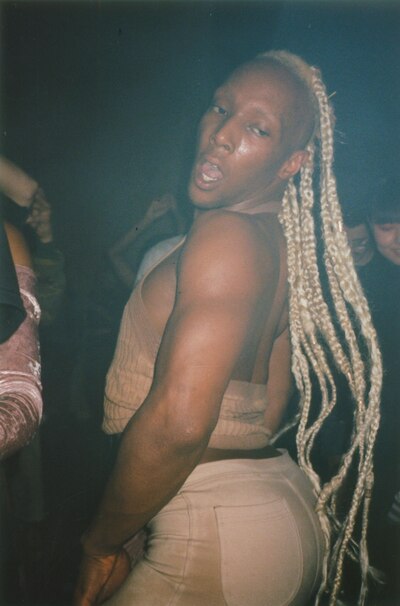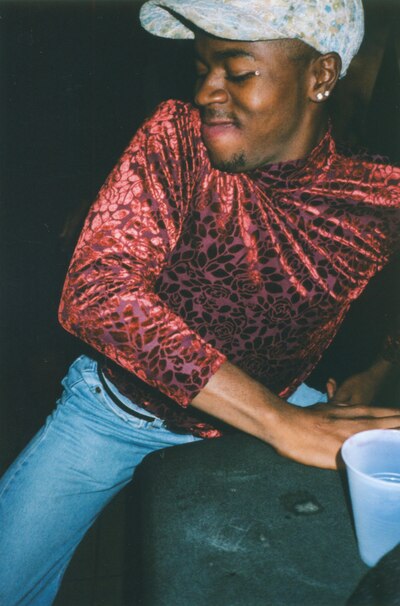 Muñeka
We are specific in terms of it being about an experience. In that experience, as you know already, we don't have a website, we don't have an Instagram, we don't have a logo. We have these photos that I've been taking and you see them if you come to my house, or little stories you posted. As people are coming more and more people are taking their own photographs and stuff, but the first time we ever had some type of broadcast was with Boiler Room. People know that it's not all eyes on them. It's about how you're feeling. It's about what you're showing up with.
I think we've grown through word of mouth. We've created a mailing list and a following that oftentimes we're kind of surprised of, because it is a large following. We have nothing that we're promoting ourselves. It's through friends. This started from throwing a birthday party. I'm from LA and I'm very involved in all different groups across the city. My intention also is to bring all my friends together that aren't always necessarily together. I think that just kept building and we keep cultivating that with all of our different groups of friends and all the people who are beginning to identify with this experience that we're creating for people.
In terms of feeling safe or it feeling like a community for people, I think it's that way because people are including themselves and coming out of their own will because they feel a certain way when they're there, being able to express themselves a certain way through the music.
Going to places like Leimert Park, South LA and West Adams allows us to put our money in circuits that don't necessarily see money from the DIY scene.
Foreigner
The music has a huge role to play. The rhythms are familiar, but there's just a rawness to the stuff that we play, whether it's the edits that Kelman's playing or the baile funk stuff. The lyrics of the baile funk tracks that Samantha plays are crazy. Anytime I run into a Brazilian person traveling and I'll even just mention the term "funk" they just start to cringe. Like "Oh my God, that's so gross." It's just that music and the stuff that he plays and the stuff that I play is... there's a certain blackness to it that kind of speaks to the way people feel they should move to it. But also, it's party music. You can't really find that curation of music. There are places that play dancehall and reggaeton and so on, but in a DIY space, that music combined with that is, people come in, they feel like they need to free up, they feel like no one's going to tell them what to do or how to do it. We make it very accessible as well. Entry, the refreshments at the party and whatnot. It's highly accessible, you know what I mean?
Tasbeeh Herwees
Location is a huge part of that too, right? You've mentioned that you've had parties here, which means that it's such an intimate gathering, it's in your home. Rail Up is very much involved in a kind of geography of Los Angeles. You've been in Leimert Park, you've been in that warehouse in South LA. What do you look for in a location? What is important about the location of a Rail Up party?
Foreigner
As far as the locations are concerned, we really try to host the event in areas of the city that people, as far as we know, aren't necessarily accustomed going to. Or it's not necessarily as popular as, let's say, downtown LA. That really comes from the origins of Rail Up, when Samantha kicked it off at Mid City Yacht Club in West Adams. That area is kind of crazy right now. It's pretty popular, but just a year ago, two years ago, people [would be like], "West Adams? Where?" Having it there really helped us expose people to the new parts of the city. Going to places like Leimert, going to places like South LA and going to places like West Adams also allows us to put our money in circuits that don't necessarily see money from the DIY scene. A lot of that stuff is typically confined to a fraternity of people who have venues, or DJs and promoters. Whereas for us, connecting with people of color down on Leimert, down in South LA, West Adams or wherever, over here in Lincoln Heights and so on, that becomes a priority as far as where the space is going to be.
Watch the full interview with the Rail Up crew here.
Kelman
I think the Eastside, or at least the Eastside where people think it's the end of Highland Park for a lot of privileged people, is accessible to them. It wasn't accessible when I first got to LA, because Highland Park didn't look anything like that. Even parts of Lincoln Heights, there's parts of Lincoln Heights people don't go to. We did have a party here where it was like, people were complaining that it was a different crowd: "Now that Rail Up is so big this privileged art crowd came in," or what people generalize as "privileged people." We had another Rail Up where it was in Leimert Park where we didn't see that. I was kind of like "Oh, OK." It's not to disassociate ourselves with certain people or to keep certain people out, but the reason why Sam started this was for a group of people, and for a group of people to be able to dance and feel free, they don't necessarily want to be around a crowd that they think might judge them.
I think that was important for me to see. I can't speak for anybody else. I was like, "If they didn't come to this party that says something [about] what they think is a sick space." They obviously didn't think Leimert Park was safe enough for them. I didn't feel any way about it – I thought it was actually a step in the right direction.