Sylvia Massy on Working With Prince and Rick Rubin
The storied producer and recording engineer talks in depth about her career and unusual recording methods
As an engineer, mixer and record producer, Sylvia Massy has left her mark on three decades of music. After moving to Los Angeles in the late 1980s, she bagged a job at Larrabee Sound, initially working on albums by Green Jellÿ, metal icons Tool and all-around musical genius Prince.
It was there that she also met Rick Rubin, who later recruited her to work on a string of projects at Sound City's Studio B. It was at Sound City that Massy became known for creating a signature sound, with special equipment, unusual recording methods and a vintage Neve 8038 mixing console.
At the turn of the century, Massy built her own studio, RadioStar, in the northern Californian town of Weed, before moving further up the coast to Ashland, Oregon, where she continues to apply the atypical techniques that have earned her global recognition. In 2016, she released an acclaimed book on inventive recording techniques, Recording Unhinged.
In this edited extract from her Fireside Chat with Red Bull Radio interviewer Hanna Bächer, Massy reflects on her career, telling tales of working with Prince, Johnny Cash and Rick Rubin while revealing some of her most unusual recording techniques.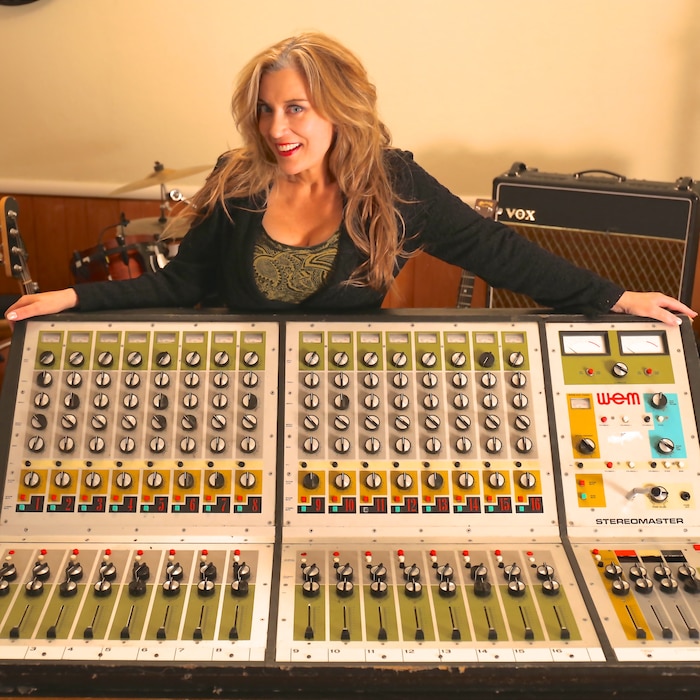 When you were a teenager, did you do anything in your spare time that retrospectively may have set you on a path towards music production and mixing?
I'll have to say that my teenage self would be really excited to know what I do today. When I was a kid, I used to have a cassette recorder. I used to get the neighborhood kids together and we would do radio plays. I would direct it and give everyone an acting role. Then I would stop the tape, put on a song on the turntable and then start the tape up again.
So, I was doing a radio show and including music and everything. Sometimes I'd have to do it five or six times to get everything just right. It's amazing to know that those things that you do when you're young actually shape the direction that you go when you're older, and you can do things that you can't even imagine doing if you just put your mind to it and stick with it.
I realized that when I'm working with bands, they actually need me. They will flounder a little bit, and I can help.
I understand that you began playing in bands in San Francisco as a teenager. Did you grow up there?
In my late teens, I was shipped out to San Francisco because I was a delinquent in Denver, Colorado, where I grew up. My mother said, "Hey, go live with your dad for a while." So, I spent my later teen years in Concord, Oakland and Berkeley, California, and then, finally, across the bridge in San Francisco.
The San Francisco days were really great music days. The type of music that was real hot in San Francisco was the first generation of punk rock. It was all about a raw, garage-made kind of vibe. We were dancing like crazy nuts and had our hair all sticking out everywhere.
That's where I connected with several musicians and I started playing in a band. First I was a singer and then I learned how to play guitar. More recently, I've learned how to play drums, too. I've tried to keep my connections to the punk roots that I had in San Francisco, even to the point where this year, I mixed an album by Fang, which is an old San Francisco band from that era. It's called Rise Up! and features one of my favorite songs by the band, "This Machine Kills Rats."
There are some recordings floating around of my first bands. One of my first bands was called the Hats. We were new wave at the beginning, right around 1980. We did ska music. I love reggae and ska and, in fact, I think it was my connection to reggae and my love of the genre that got me into recording.
When my band went into the studio, I discovered how important the engineer is. When they're working on a reggae record, sometimes they'll do a dub remix. For that the engineer will set up a delay and a reverb on a channel. You can add that to any of the tracks that were recorded, so it's like the engineer is actually part of the band. The best part about dub reggae is what the engineer does, so I wanted to do that.
How did you make the step from band member to producer and mixer?
I found that as I learned how to use the equipment for recording my own music, I could also help other bands to record their music. That's what got me into production, because I realized that other people's music was better than my own. People would say, "Hey, you do a good job with your own music, can you help me with mine?" So I started spending more time working on other people's music than my own.
Can you think of an early production that played an important role in your professional development?
Definitely Green Jellÿ's debut album, Triple Live Möther Gööse at Budokan, which featured a hit song called "Three Little Pigs." The great thing about that song was that the durmmer, Danny Carey, had another band named Tool. The vocalist from Tool was called Maynard James Keenan, and if you listen to the song "Three Little Pigs," you hear Maynard singing the part that goes, "Not by the hair on my chinny chin chin." When we were recording that song, the drums and all the equipment was set up to record, so we decided, "Let's record Tool at the same time." That's how I got connected with Tool.
When it came to the second record I produced, Tool's debut album Undertow, we spent a lot more time in pre-production. I sat in on their rehearsals but I wouldn't really participate in the crafting of the songs. For the most part, I let them just do their thing. But at one point, there was a shift in my thinking. I realized that when I'm working with bands, they actually need me. They will flounder a little bit, and I can help. So, I started voicing my opinions about song arrangement and parts. I decided, "I can help and so I'm going to speak up and be a part of this process." Even if artists don't think they want my help, I think for the most part they do secretly want it.
That Tool album was recorded at Larrabee Sound Studios in Los Angeles. Did you move from San Francisco to take that job?
Actually, when I first moved to Los Angeles, I couldn't get a studio job anywhere. I was really surprised at this, too, because I had plenty of experience working in San Francisco – even with some well-known artists, like Kirk Hammett – and I co-produced a project with the Sea Hags.
When I went to LA, I couldn't get a job anywhere, so I wound up working at Tower Records on Sunset [Boulevard]. That was the best thing I could've done, because everyone in Los Angeles, at least at that time, was trying to get into the music industry or trying to be an actor. The people working at Tower Records were really networking and going to auditions and doing as much as they could to break into the business.
So, that's where I met the Green Jellÿ people and the Tool people and got connected with my first label jobs through that. But my big break came when I got a gig at a studio called Lion Share on Beverly Boulevard. I went from working at the customer service desk at Tower Records one day to being in the studio with Phil Ramone and Barbra Streisand the next day. It was that much of a shocker. From that point on, I was a studio rat in Los Angeles.
There's so much music in Prince's archive that we could hear new songs every week for the rest of our lives.
How did your career in studios progress from there?
Immediately after I worked with Phil Ramone and Barbara Streisand, I got a gig at Larrabee Sound and that's where I was an assistant on the Prince projects. At that time, Prince was working several rooms at the same time. He would write, play, sing and perform everything on a song. He'd work on two songs per room, and have three or four rooms going at the same time.
His productivity was just off the charts. He was writing so much music. I think that there's so much music in his archive that we could hear new Prince songs every week for the rest of our lives. Hopefully, we'll be able to hear some of the things that were never released, because there's some fantastic music. I worked with Prince through Larrabee for about three years. And that's also where I met Rick Rubin.
What was it like working with Prince?
I've got so many Prince stories. When Prince was coming to Larrabee [for the first time], we were all very nervous about him coming. He'd never worked at Larrabee before, and my boss said, "You've got to make him happy. No matter what you do, make him happy." When he first showed up and looked around the room, he said, "Do you have a big, overstuffed chair, like a grandma's chair, that I could sit in?"
In the back of my mind, I knew that the studio had nothing like that. But instead, I said, "Yeah, of course we do. Let me go and get it." I ran out the door and immediately went to the office. I said, "Someone give me a key to their truck." I got in someone's truck, drove to the first antique store I could find, bought a chair, threw it in the back and made it back there about twenty minutes later, while the session was being set up. I just walked in with this big chair. Prince looked at it, sat down in it and he nodded his head. It was a four-day session that turned into four months and then, almost four years. He was happy and he stayed a long time there at Larrabee.
What was your role while working for Prince at Larrabee?
I played different roles. I was an assistant engineer for Keith Cohen and any other engineer that would come in that Prince was working with. Prince would also give me jobs, too. I was able to mix some artists he was working with, such as Ingrid Chavez.
Prince was so prolific that the record company could not keep up with him. He would write and record a new record in a month, and the label was like, "Look, we can't release this new record, because we just put out a record by you, so you're going to have to wait." So, when he was recording Diamonds and Pearls, he finished the record three or four times. Since the label was not ready to put out a new record, he would still be writing, and then he'd like his new song better, so he'd knock off one of the songs off of Diamonds and Pearls and replace it with the new song.
He did that with a song called "Gett Off." This was a song I wasn't really so excited about – as far as I was concerned, Diamonds and Pearls was finished and mastered, even, and Prince wanted to keep fooling around with it. Keith Cohen was engineering and I was in the studio assisting him with the mix of "Gett Off." I wasn't able to speak my mind or give an opinion, because when you're assistant engineer you mind your own business and don't get in the way.
I would often carry a journal into the sessions with me. So I was sat at the back of the room, and I was writing in my journal. "There's Prince. He's sitting on his purple throne, taking a perfectly good record and ruining it with this song." I was just speaking my mind to the page because I couldn't say it out loud.
So then Keith says, "Sylvia, can you come over here and make a patch for me in the patch bay?" So, I set down my journal and I went over to the patch bay on the other side of the room. Then, I heard Prince saying out loud, "There's Prince sitting on his purple throne." I was like, "Oh my God!" He was reading from my journal, what I had just written, and I couldn't believe it.
I dived across the room and grabbed it out of his hand. I was shaking and trembling. He was laughing. He actually really liked that. After that, he gave me more opportunities and, in fact, offered me a job to move to Paisley Park, which is his studio in Minneapolis. So I did spend a lot of time with Prince for a while, but that was a scary moment. Maybe because there are so many yes people around him, he liked it when someone had an opinion. I was also wrong about "Gett Off," because it made it onto the record and was a big hit.
Did you end up working at Paisley Park?
I never actually moved to Paisley Park, because I just got the offer to do the Undertow record with Tool. I really wanted to be a producer more than I wanted to engineer for Prince. He was a tough one to work for. He would work all day and all night [with] no sleep. It was also hard to know when he was actually in the country. We would be waiting for him at the studio and then his management would call us and say, "Oh yeah, he's in Paris now, so you can go home."
There were a few times when Prince had me mix a song for him. One time it was a kind of a slow and sultry song, and I can't remember the name of it. Very slow and sexy: "Girl, I'm gonna do this to you" kind of thing. I spent all day mixing it, because I wanted him to be so impressed with my mixing abilities. I really worked on it. I knew there was a point in a mix when you're not supposed to go any further, because it'll only get worse. So at that point I said, "Well, I'll just wait for Prince. I'm going to sit down in this chair and leave the mix just the way it is."
A couple hours later, Prince comes busting through the front door of the studio and he goes straight into the room where I had this mix set up. He had a girl with him. I followed him in there, and I said, "Are you ready for me to play you the mix?" And he says, "I won't need you. You can just sit outside." So he and the girl listened to the song. I listened through the door. It was about seven minutes long. After the song ended it was quiet for a while, and I was like, "What's going on?" Prince then comes busting out the door, straight out the front door – no explanation, no nothing. You could tell they were a little messed up. So, I think I just spent all day working on a mix just so he could get it on with a girl!
Rick Rubin will find a location to record and put the right people in it. It's like a special recipe and he knows how to cook it up.
You mentioned earlier that you met Rick Rubin while at Larrabee. He's something of a mythical figure. How did your relationship develop?
Rick Rubin and I had a connection because he was interested in a band that I co-produced with Kirk Hammett while in San Francisco, the Sea Hags. We had that in common. Rick would come into Larrabee every once in a while. He was working on an artist named Trouble and then he brought in Danzig, while they were working on Danzig II: Lucifuge. Because of this connection, he had me do some additional engineering for him on the Danzig record and some other things. Donovan was another one we worked on together at Larrabee. Then he asked me if I was interested in working on a Tom Petty project.
This was kind of a bit of a sad story. When I got called to work on Tom Petty for Rick Rubin, I was so excited. We were going to record at Sound City, so I set up the drums and got all the drum sounds sorted. By the time Tom and everyone came in, I was getting more and more sick with flu. Pretty soon my fever was at a point where I could not work, even though this was the most important thing in the whole world to me at the time. I really didn't want to ruin my chances of continuing to work with Rick. But as I was so sick, I was sent home. David Bianco continued with the record as engineer. That was the Wildflowers album.
I respect the work that David did on Wildflowers. It just came out fantastic. It really has the Rick Rubin sound on it, too. Later on Rick and I worked on other projects, including the Johnny Cash album, Unchained.
I was so glad that Rick called me when the Johnny Cash project came around, because I was wondering if I'd blown it, but apparently everything was fine and we worked on the record together. It was the second-to-last record that Johnny did and there's some great songs on that.
One of my favorites is a song called "The One Rose (That's Left In My Heart)." Because it's an old song, we recorded it in an old-timey way with acoustic instruments and old microphones. I used some special equipment. I used these broadcast limiters from the '50s on Johnny's voice to give it kind of a grainy sound, like it was recorded, maybe, in an earlier time.
When you worked on the Johnny Cash record, were you a producer?
No. I was working as an engineer for Rick Rubin on the Johnny Cash stuff. Rick has a very specific style of recording. I could describe it in a way that he is a "fan producer," because he's not a musician and he's not a technician. So he's not engineering and he's not writing the parts, but he knows when it's a good song. He also knows when it's a good combination of people in a room. That's his magic. He'll find a location to record and then he'll put the right people in it. It's kind of like a special recipe. He's the chef and he knows how to cook it up.
How did working with Prince and Rick Rubin shape your approach to music production?
There are things that I've taken from working with both that I use in my productions. One is the idea that it starts with a good song. You really need to have that before you start recording, because you're not going to make something that much better by adding more strings or guitar parts.
I concentrate initially on having an artist present for me as many songs as they have written, and I might push them to write more. So when we start a project, sometimes I'll have a hundred songs to choose from. You can imagine that if you have a hundred songs to choose from, at least twelve of those songs are going to be pretty good. Our chances are better.
You branched out on your own by setting up the RadioStar Studio in northern California. That was a big step, especially moving away from LA. Did you initially find it difficult to maintain relationships with artists and labels in Los Angeles?
Yeah. When I started RadioStar Studios, it was around 2000, and I used email to keep up with my Los Angeles connections. As time went on, I found it was easier for me to connect directly with the artist. As technology got better, we were able to share files over the Internet much faster than ever, which meant that I could work long distance with artists.
I wound up getting a clientele that would come to me from all over the world. I had accommodation at the facility in Northern California so that the musicians would stay over for up to a year. In fact, there was an Australian band, Cog, who stayed for a year while we produced their debut album, The New Normal. It has several great songs on it and there's a really unique sound to the whole thing. It really showcases the drummer's fantastic style.
When I visit a new studio, the owners hide all the good instruments, because they know that I have a tendency to break things on purpose.
I've previously heard you talk about working with drummers. Aside from Cog's drummer, are there any others that you particularly enjoyed working with?
The foundation of any great rock recording is the rhythm section, and the drummer in particular. And there's a reason why certain drummers get called back to sessions time and time again. One of them is Josh Freese. He locks into a groove and he has a really strong style, but he doesn't get in the way of the song. He's a quick learner, so you can have him come into the session, play him a rough of the song, and he'll make notes. Then he'll just go out and play it perfectly. He's also capable of surprising you. He certainly surprised me with his drums on Acroma's "Don't Think Just Move." I had him come and play on that album while I was working with the band in the early 2000s.
Your current studio in Oregon is based in an old church, which I'm assuming offers a lot of natural reverb due to the size of the live room. Do you prefer getting that natural sound, or getting more of a dry recording that you can add your own effects to?
Depending on what the song needs, I'll sometimes use the big drum room [in the studio] and add a lot of compression to give it this pumping sound. It's very exciting. However, sometimes it's more important to just dry up the drums and add fake reverb on it, or just have no live drums at all on a song. Depending on what the song needs is the direction I'll go.
Two weeks ago, I worked with a Norwegian band called Turbonegro in Oslo and we mixed a song called "Powder Ballad." This is a kind of a tongue-in-cheek acknowledgment of the sound of the '80s. So we added a really artificial-sounding gated reverb on the snare, and it is hilarious. I can't even believe that the music sounded like that in the '80s. It's so funny.
You're known for trying crazy things in the studio from time to time. What's the oddest thing you've done to an instrument or using the studio in order to get exactly the sound you want to hear?
I think that when I visit a new studio, the owners hide all the good instruments, because they know that I have a tendency to break things on purpose. I value other people's instruments, so I won't be breaking instruments that I don't own. But I do like to push boundaries when I record.
That means sometimes I'll shoot a piano or I'll hang a singer upside down, like I did with Serj [Tankian] from System Of A Down. I think it's all part of getting the creative juices going on a session. Maybe we will try something, and maybe it'll work or not. Once I threw a guitar off a cliff and recorded it as it fell down the side of the cliff into the ocean. In fact, that recording didn't make it onto the final mix, because it wasn't really as good as we were hoping it would be. However, there are times when some of these ideas really turn into something or they spur new ideas that bring us the magic that we're looking for.
I'm not alone in this – plenty of musicians and producers try weird and wonderful things to get interesting and different sounds. You'd be surprised at some of the techniques that have been used in the recording of popular music. For instance, like how Bruce Springsteen's vocals were recorded and then mixed through a reverb in a bathroom, or how Peter Gabriel was taped on a wall while he was doing vocals for one of his solo records.
These are things that I'd heard stories about, plus I have my own way of recording, which is sometimes unusual. So I collected all these stories and put them in a book, because there was no book about unusual recording techniques. I wrote this book called Recording Unhinged and illustrated it myself. There are some special diagrams in there about how to mic up a chicken correctly and how to shoot a piano. You can really learn techniques from the people who know plus have some fun with it. Hopefully, you'll be inspired to do a little adventurous recording for yourself.