Zed Records and the Birth of SoCal Punk
The first store in Southern California to solely stock punk and hardcore, Zed Records became a beloved epicenter of the emerging scene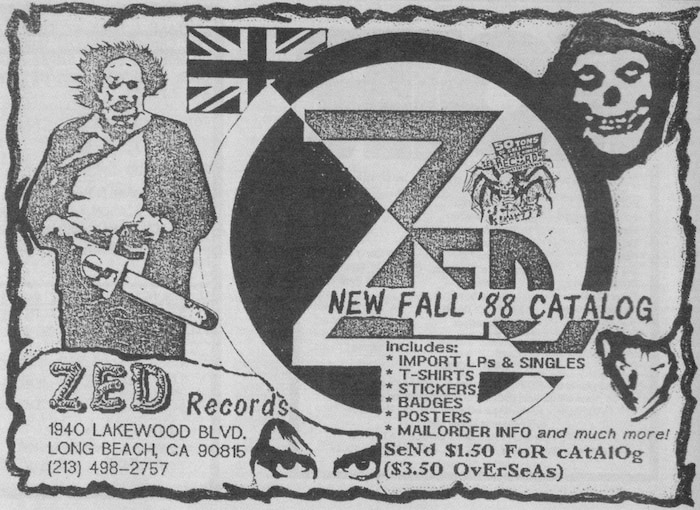 For brothers Mike and Danny Zampelli, being musically adventurous in the seaside town of Long Beach, California during the early 1970s was no easy task. Located 25 miles south of Los Angeles, the city was a hippie community still running on countercultural fumes lingering from the '60s, but it lacked a decent record store which stocked the obscure progressive rock the two loved from such acts as Germany's Tangerine Dream, France's Ange, Premiata Forneria Marconi from Italy and the UK's Van der Graaf Generator. "We either had to drive an hour to Hollywood to a store that was catty-corner from the Whisky A Go Go called Sound Spectrum, or down to a place in Laguna Beach to get the import records we wanted back then," says Mike, reminiscing on his vinyl-buying woes. In time, the brothers' feverish pursuit of the arcane and unusual would lead to the opening of Zed Records, the first record store in Southern California to solely stock punk rock.
Sometime in 1973, the lack of suitable record shops and aural stimulation in the area became too stifling for Danny, so he set out across the Atlantic to witness the British rock scene first hand. "When he got there, he told a few fibs about working for Rolling Stone on his résumé," remembers Mike. "He ended up writing for the New Musical Express and then working for Island Records. He got pretty tight with the label owner Chris Blackwell, whose house in Jamaica he stayed at while interviewing the Rolling Stones." In an effort to keep Mike's vinyl habit in motion back home, Danny mailed stacks of records stateside; some that he was given to review as well as the promotional albums he pilfered from the Island offices. The amount of vinyl he was sending got so staggering that Mike convinced his mother Marlene (also known as Mama Z) that they could finally open the kind of record store her son felt the area so sorely needed.
Mama Z thought the one thing she could do to keep her son from slipping into the abyss was to help him open a record store.
"Marlene was a very resourceful woman," states long-time Zed employee Billy Rubin. "She saw her son heading down a bad path in life and thought the one thing she could do to keep her son from slipping into the abyss was to help him open a record store, because he was so into music."
"She was the driving force behind the business side," says Mike on his mother's importance to Zed. "My knowledge of music was what honed us in on what to sell, order and pursue, but her business acumen and skills at artwork, marketing, socializing and bookkeeping were the things that made us so successful." And so, with their clutch of ill-gotten gains, Mike and Marlene opened Zed Records in the summer of 1974.
During their first months of existence, the store sold promotional import copies of such albums as Brian Eno's Here Come The Warm Jets, Roxy Music's Country Life and Sparks' Kimono My House, all at domestic prices and months prior to them being available from US subsidiaries. Eventually, the stash of albums Danny sent dried up, leading Mike to bust his hump to meet the demand of customers now accustomed to Zed stocking the obscure imported gems they were pining for. "I used to stay up until 3 AM to order the records from a distributor in Croydon, UK called Bonaparte. Then I had to go to LAX and retrieve them from customs. It seemed like there was always something that held them up in customs and time was of the essence," says Zampelli with slight annoyance. "Then, I would also make the rounds to the record distributors every Friday morning, which meant going to the Valley to Jem Records, then Torrance to Greenworld Records. By the time I got back, there were avid collectors who knew the new vinyl came on Friday, so they would be waiting outside the store for their next fix."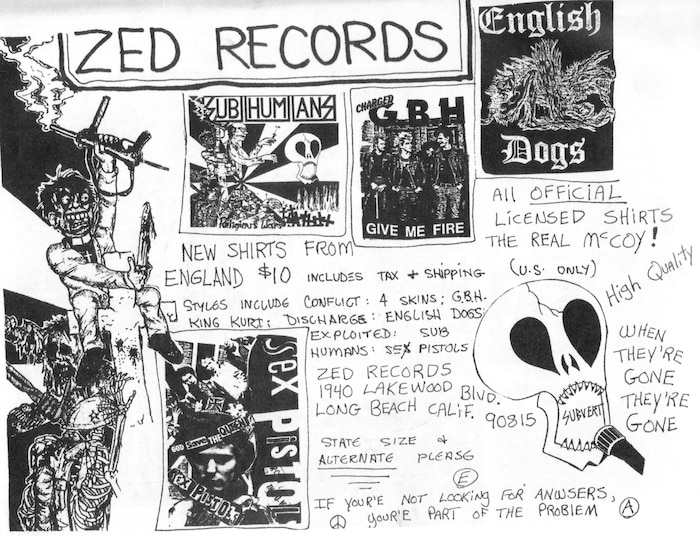 Somewhere in the mix of records Mike was ordering from across the pond were the first punk records by the Damned, Sex Pistols and the Clash. The demand for such titles exploded almost instantly, mostly due to the fact local radio stations such as KNAC and Pasadena's KROQ were blasting them out onto the airwaves and Zed was the only store in the area stocking them. "It was overwhelming," Mike recounts. The rush of recently anointed punks into the store made Mike and Marlene quickly decide to devote the entire space to this new genre. "It was a matter of changing with what was going on," states Mike matter-of-factly. "Most people listen to the same music they listened to in high school for their entire lives. I was constantly looking for a new aural fix and I try and stay on the cutting edge to this day. Once a record was actually released back then, it was over by our standards, because we were on to the next one. So, it was natural to go from listening to Can and King Crimson to bands like the Cure and Psychedelic Furs."
As the '70s abruptly collided into the '80s, the Southern California punk scene received an injection of young blood courtesy of surfers from the affluent suburbs of Orange County who were attracted to the music's fury and vitriol. When these kids went to pick up instruments and start their own bands, they ratcheted up the speed and anger in the music to suit their youthful energy and with that came a new incarnation: hardcore. Just as when the first wave of punk came through the area a few years prior, Zed was integral to hardcore's growth in the area by stocking and selling startling amounts of records by local bands like Black Flag, the Adolescents, T.S.O.L and China White. "We became very tight with many of the people who worked at and ran the local punk labels because we sold a good portion of their vinyl." says Mike. "Robbie Fields who ran Posh Boy actually pressed up two gold records of the compilation album he released, Beach Blvd, and gave one to Zed and the other one to KROQ DJ Rodney Bingenheimer. We bought a lot from Greg Ginn of Black Flag's label SST. Minutemen bass player Mike Watt would deliver the SST goods and buy a lot of records from his favorite UK bands like Buzzcocks and Wire."
But their alliance with this brutish yet earnest style of music didn't really solidify until a local legend in the hardcore scene known as "Big" Frank Harrison found employment at the shop, after being spotted at a show in Reseda in the spring of 1982 headlined by England's U.K Subs. "I went up on stage to sing the song 'Stranglehold' with the U.K. Subs' singer, Charlie Harper," recounts Harrison. "Mama Z saw me and I guess she thought I would be a good addition to the Zed crew. I quit a factory job and never looked back."
Future Zed employee and fanzine editor Drew Traulsen's first impression of Frank seemed to echo that of many others. "He was a pretty intimidating dude. Six foot plus, built like a Mack truck and covered in tattoos." But this same physically frightening man would be the first employee at the store who could enthusiastically and almost telepathically guide a young punk towards the records that would define their teenaged existence. "I got some older dudes to drive me to Zed Records in Long Beach from Orange County," recounts Pat Dubar. "The first time I went in there, I was so overwhelmed by a store that was pretty much all punk rock, so I asked the guy behind the counter, Big Frank Harrison, if there was something he would recommend." Harrison handed Pat the blindingly curt debut 7" from Washington D.C hardcore pioneers, Minor Threat. A couple years later, Dubar would help form Uniform Choice, a band that not only owed a huge aesthetic debt to Minor Threat, but would be crucial to the formation of the hardcore punk scene in Orange County.
As the '80s advanced, a staff formed behind Harrison which represented the area's fanzine editors, band members and general scenesters, solidifying Zed as the hub for the local punk scene. Employees included Flipside Fanzine staff member Kirk Dominguez; Katon DePena, vocalist for the hardcore and heavy metal hybrid band Hirax; Vandals bass player Steve Pfauter and Think fanzine editor and vocalist for the band Half Off, Billy Rubin. "You'd walk into Zed on any given day and it's likely you'd run into members from local hardcore bands just hanging out," declares Rubin. "Ron Martinez, the vocalist from Final Conflict, would be there, or the guys from Visual Discrimination. You might even run into the scary gang members you'd usually see beating up kids at shows hanging out and being surprisingly docile. Anyone and everyone would be there. You could find out about upcoming shows from the little table by the door filled with show flyers. You could buy local zines. It was the epicenter."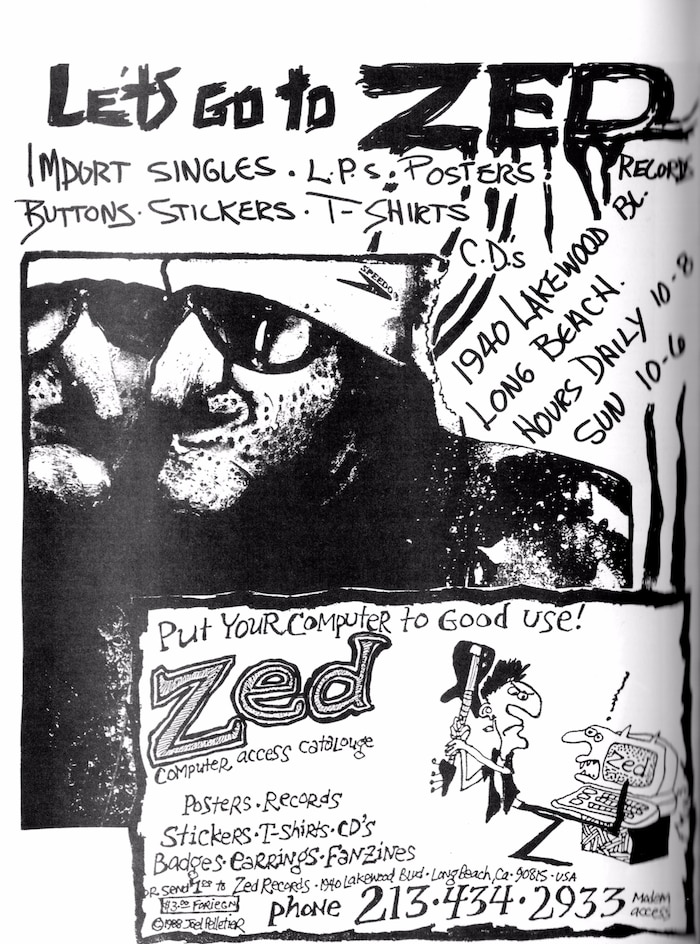 As the store built itself into the clubhouse for the local hardcore scene, the sale of demo tapes from up-and-coming local bands started to surpass the sales of vinyl from larger punk acts, both local and national. Rubin traces the demo boom in the store back to the Anaheim-based band Insted and their 1986 demo, Be Someone. "They had the smart idea of putting their demo tape in a four-by-eight inch-sized manila folder. Those envelopes fit perfectly in the bins we had for 7" records, which made people more open to buying a tape for some reason. We sold hundred and hundreds of those demos to the point Insted was outselling Black Flag records at the store." Insted drummer Steve Larson confirms Rubin's statement: "We couldn't dub the tapes off fast enough on our friends' dual cassette deck. Every two days, Frank would call from Zed, saying 'We need more demos.' It was nuts, thinking about it today."
Towards the end of the decade, Big Frank would release a 7" EP by Insted titled We'll Make The Difference on Nemesis, a label he founded in 1989 and ran out of the back room of Zed. Although Nemesis only existed for a scant two years, Harrison managed to put out over fifty records on the label, with each one strikingly different from the last. Everything from the snaky and jagged art-punk of San Diego's Pitchfork to the militant straight-edge mosh of Orange County's A Chorus Of Disapproval were represented on the label, showcasing not only the vast pool of creativity and variety which was available in the Southern California punk scene at the time, but Harrison's eclectic tastes. "I don't think Nemesis changed much for anyone at the time except for me," says Frank modestly. "But it was nice to have a great, built-in place to push my product." (Earlier in 2017, a detailed and thoroughly enjoyable history of the label was compiled with Big Frank's help by author Patrick Kitzel, in a book appropriately titled The History of Nemesis Records and Big Frank Harrison, released on Kitzel's own Reaper publishing imprint.)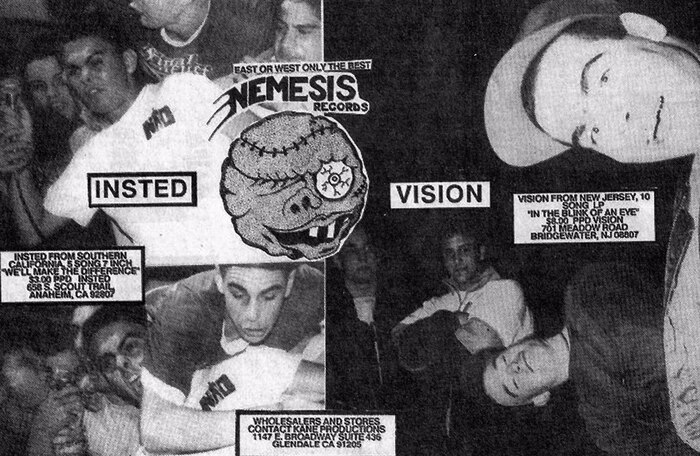 When punk uploaded itself into the mainstream during the '90s with Nirvana, Green Day and even former Nemesis recording artists the Offspring, you'd have thought Zed would garner a whole new generation of customers looking to get a grasp on the history of this now inescapable music form. But ironically, it was one of the biggest reasons the store started to flounder. Andrew Reizuch, '90s-era Zed employee and former member of electro punk band Le Shok, has a theory. "If you go back to when Zed was at its peak in the '80s, there was this happy coexistence where they would sell local hardcore bands' records and demos, but you'd still have people coming in to buy records by Blondie or the Clash," he states. "But in the '90s, people were just going to mainstream record shops to buy CDs by Green Day or No Doubt or whatever you would consider the equivalent of Blondie and the Clash at the time. So if we would sell a record by a local band at the time like the Locust, that was great, but there was no way Zed was going to stay in business just selling those records."
Other factors contributing to the store's slow demise were both the death of co-owner Marlene Zampelli to cancer as well as Big Frank leaving the store to pursue a career in tattooing. "When Mama Z passed away, a lot of the momentum that drove the shop was gone," recalls Frank. "I probably would have stayed on longer after her death, but at one point the person teaching me tattooing said I had to either shit or get off the pot and quit the record store, so that was that. There was this one time when I was visiting Long Beach after I had quit and ran into Mike. He asked me to come back and help him, telling me he lost control of the shop and felt the people working there were out of control."
You can buy punk shirts at Target and Walmart. You can buy a $400 Black Flag shirt on Rodeo Drive.
Ron Martinez, a former Zed employee as well as vocalist for local political punk band Final Conflict, worked at the store when it was a hardcore hangout in the '80s, and he remembers going into the store in the late '90s and being amused at how the store was run. "It was a cross between that typical record store employee snob attitude you would see in a movie like High Fidelity and the pranks you'd see on the TV show Jackass." One popular prank among the employees at that time was to defecate on a dollar bill, place it outside the store and wait to see if anyone would attempt to pick it up. "It turned a lot of the earliest customers off from going there." says Martinez. "I had a lot of people asking me, "Hey! What happened to Zed?" Big Frank would still stop in from time to time when he was in the area, but it was clear to him the store was not the same as it was in the '80s. "There were still good people who worked there like Andrew Reizuch, but there were also a bunch of people who did not have Zed or Mike's best interests at heart, and I think by the time he realized this, it may have been too late. The way things ended with Zed makes me sad. I wish I could have helped him, but I was well into my tattoo career by then and could not." Eventually, after almost thirty years in business, Zed Records eventually skidded to a halt in the start of the new millennium.
Despite the accusations of pranks and snobbery being the factors, in a faux-obituary published in the Orange County Weekly on the week of the store's closure in June 2001, Mike Zampelli stated, "What killed Zed is that now there's a Zed everywhere. When punk hit, during that heyday, that's what made us. But now punk is everywhere, though it's nothing but nostalgia; like what the '50s used to feel like when we first opened. Now, bands have t-shirt deals before they have record deals. Everything's gone corporate." I asked Mike if he still agrees with this statement sixteen years later, especially since we are now in the throes of a vinyl-collecting boom. "Yes! Probably even more so!" he spits as he articulates further on his point. "You can buy punk shirts at Target and Walmart. You can get MP3s for free. You can buy a $400 Black Flag shirt on Rodeo Drive. The funniest part is that these days when you see someone wearing a Black Flag or Nirvana or Misfits shirt and ask them what their favorite LP is, they can't name one or even a song. It's more about looking cute and playing the part."
Although it might sound like Zampelli is bitter over the sweat and passion he poured into the store he shifted from a prog rock paradise to a punk institution, it couldn't be further from the truth. "We were the center of the action," says Mike wistfully. "Zed was accepted by the locals and drew folks from all over the Los Angeles area. Some of our best customers were the buyers at larger record stores in the area like Tower, Licorice Pizza or Music Plus. I'm constantly receiving testimonials from people who tell me how they would take three buses to get there or ride their bike 20 miles from Whittier so they wouldn't miss out on the latest vinyl. We had an impact, there's no doubt about that."