Don Bolles: Strange Notes
Acid and the avant-garde in Arizona: The remarkable pre-Germs history of the infamous punk drummer
Over the course of a nearly 40-year career, Don Bolles has proved to be one of the LA punk scene's true greats. Some four decades after he relocated to Los Angeles to become drummer in the Germs, he continues to combine recording and performance with stints as a DJ on various Los Angeles radio stations, often broadcasting experimental sound collages inspired by his love of the avant-garde.
Bolles was born Jimmy Michael Giorsetti in Phoenix, Arizona, in the summer of 1956. He discovered experimental music at an early age, becoming obsessed with leading counter-culture figures such as William Burroughs, Frank Zappa and Karlheinz Stockhausen. As a teenager, he spent time behind the desk of acid-fuelled Arizona pirate station KDIL and briefly fell head over heels with glam rock.
An early convert to punk, Bolles spent time playing with a number of early Arizona noiseniks, including Exterminators, Liars and Krazy Homicide. It was around this time that he adopted the Don Bolles name in tribute to a deceased investigative journalist and spent time investigating the early punk scenes in San Francisco and Los Angeles. He returned to the latter in 1977 to try his hand as a drummer for the Germs.
He was duly hired and the band burned brightly during LA punk's formative years. Germs released a handful of singles and a sole album, 1979's (GI), before disbanding following the suicide of lead singer Darby Crash. In recent years, the remaining members, including Bolles, have reunited and extensively toured the United States, while Bolles has also spent time touring with Ariel Pink.
In this excerpt from the drummer's Fireside Chat with Red Bull Radio regular Frosty, Bolles talks at length about his formative years, early radio experiences, teenage musical passions and how he became one of LA punk's most enthusiastic participants.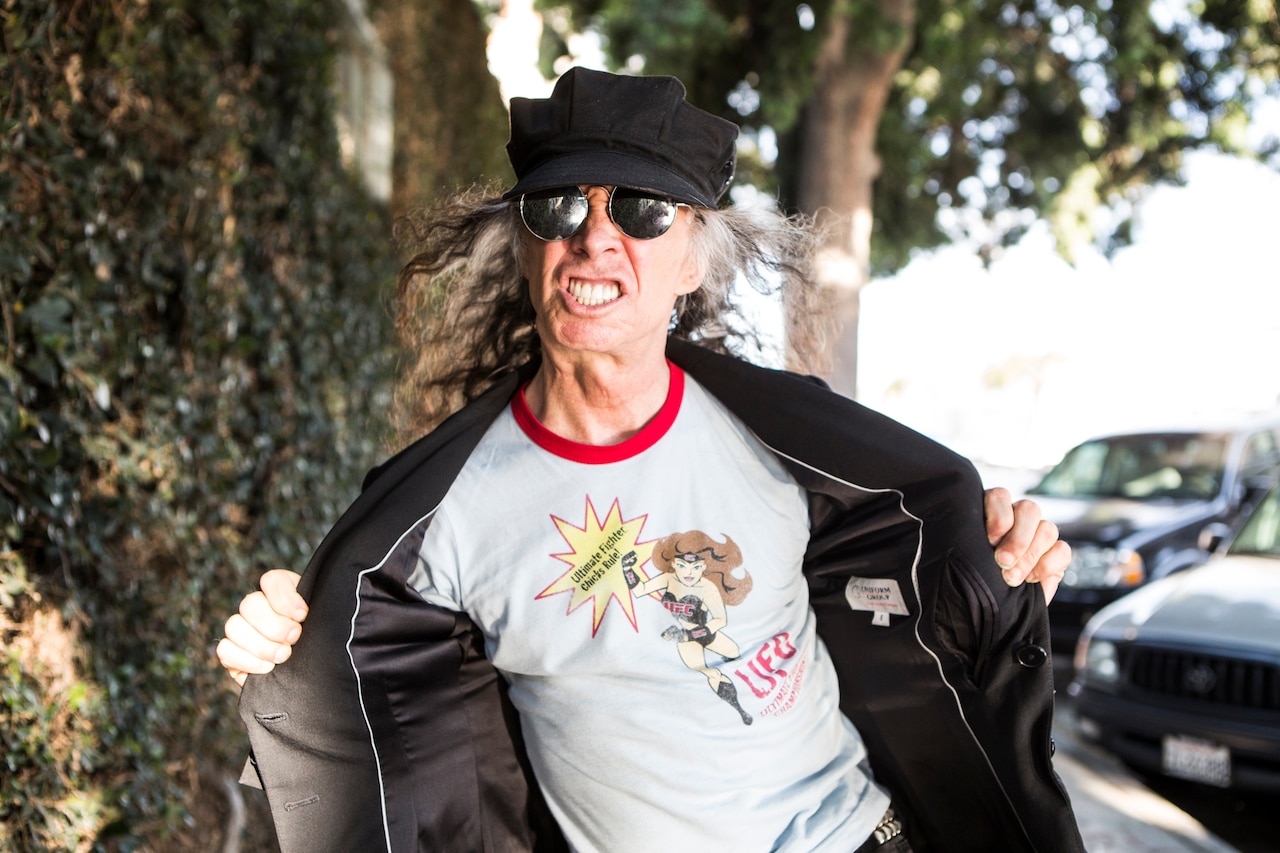 Becoming Don Bolles
In 1977, a punk band I was in got interviewed on the local hippie radio station. The presenter turned to me and said, "So what's your name, sir?" That would just be a straightforward question to most people, but I was hanging out with a group of people that had a pirate station called KDIL, which was run by a guy called Freddy Snakeskin.
Everyone in my punk band was a jock on KDIL. We would change our names all the time. One day we would be Bill Octopus Junior, another day we'd be Richard Nixon, Anton LaVey or the Yeti. Some of these names have stuck with people, but we changed our names all the time. In fact, the punk group was tentatively called the Liars because we always lied. Everything we said we just made up. There were no actual facts.
At that time, everybody in Arizona was still talking about a hard-boiled reporter called Don Bolles. He was a reporter for the Arizona Republic who had been trying to expose this organized crime racket that was screwing Arizonans pretty hard. He lived long enough to name names and then was murdered in 1976. He died in pursuit of doing this cool thing for the people. I think what he was doing was pretty important. He was an amazing dude and kind of a hero of mine in a weird way.
So when the guy from the hippie station called and wanted to know my name, I replied, "Don Bolles." I could seize his ubiquity for my own cheap, promotional ends. It also seemed like a cool thing. He was a heroic figure even in his martyrdom, so it stuck. I kept it when I moved out to LA a few months after that interview. That's when I got a signed photo of the real Don Bolles from Joey Ramone. In the photo, Don and the band are in front of a root beer stand in Arizona and they're all wearing leather jackets in 90-degree heat. I had great respect for them at that point.
I'd go to school on heroic doses of acid and I could do advanced math. I didn't have the heart to tell my teachers that I was frying my brains out.
Don Bolles was also a connection with Arizona, the state I grew up in. I was born in 1956 in Phoenix. I liked dinosaurs, then monsters, then monster movies and then sci-fi monster movies. I loved reading and would read anything I could get my hands on: Mad Magazine, DC comics, even the entire Bible. Every time I went to the bathroom, I would just sit there and read the dictionary. My mom had to coax me out of the bathroom. Eventually, I got through two whole thick volumes.
I loved music, too. I'd jump on the table and sing Elvis, Everly Brothers and Four Seasons' songs. Then my cousin turned me on to the Beatles. She got a record from a pen pal in England – "Please Please Me" or something. Man, it kicked everything's ass because these guys were cool and they were feminine. They kicked the ass of all these macho, manufactured Italian stallions that were the rage at the time. I hated that stuff. I thought the Beatles were the future. They were smart, good-looking and they sang androgynously. After reading those dictionaries I knew a lot of words. Don't worry – I've forgotten them all now.
I also loved pop music, the Beach Boys and instrumental surf. Then, when I was a little older, I got into the Mothers of Invention, Frank Zappa and LSD. I had a friend whose brother worked with Owsley Stanley in San Francisco and he would mail us vials of liquid LSD and tabs of Orange Sunshine. We really got into it a little before it was illegal and then it almost instantly went illegal. But there was a glorious, shining moment when it was perfectly fine.
I'd go to school on heroic doses of acid and whoa, I could do advanced math. I could do crazy, weird theoretical math stuff. My teachers were blown away and I didn't have the heart to tell then I was frying my brains out. And I could type. Now I can't type, but when I was on acid I could type my ass off.
I first got into weird music because I was bored in grade school. It was Scottsdale, Arizona and I read everything, so of course I went to the library and checked out all the weird art books. My parents had weird art books, too – big, giant ones with naked fat ladies all over the place. There was some crazy stuff in those, and I loved Hieronymus Bosch. You never knew what was real and what wasn't. Sometimes I guess that's a good thing.
Through looking for Hieronymus Bosch and stuff like that I discovered Dada and Surrealism. I'm like, "Why didn't they teach me about this in fourth grade art?" I was blown away by Dada and Surrealism and voraciously devoured everything I could about these things. It was mind-blowing and I thought, "Where's the musical equivalent of this?"
Mothers Gonna Work It Out
A friend of mine who was older introduced me to Frank Zappa and the Mothers of Invention. His big brother turned him on to the Freak Out! album in 1966. I was ten years old. I took that album to my seventh grade dance. People literally got freaked out and I got in trouble.
When I got that Freak Out! album, I started exploring more. I found books all about the American version of who the electronic music greats were. That's all you could get. The European version was not told to the kids here. I had to find all that stuff out myself. Then it's like, "Oh my God, all the good stuff was kept hidden!"
What was really important for me was what I call the Freak Out! list. It was a list of people who had in some way inspired or influenced their music. It included songwriters, musicians, producers, writers, artists and avant-garde composers. It blew my mind.
So I found John Cage, Vladimir Ussachevsky, Pierre Henry, Pierre Schaeffer and Steve Reich – all the greats. I found out about these guys through the library at my grade school. There were, like, two books. I had to go to a bookstore to find one on John Cage. I also got one on Stockhausen, but it was like math. I wasn't on enough acid to read that stuff.
I had to go to the library to hear this stuff. They had the standard stuff, such as The New Music, which featured compositions by Karlheinz Stockhausen, Krysztof Penderecki, Earle Brown and Henri Pousseur. It had that track for the victims of Hiroshima on it. Some of the music on that album is really good.
Record labels were trying to push this stuff right around then. CBS Records was trying to push it and Deutsche Grammophon was making a big deal of their avant-garde series. They put out a lot of avant-garde music around that time. I could find some of the releases at my [local] library, then I started going to the Arizona State University library. That's where I first found copies of Source: Music of the Avant Garde. That magazine kicked it all off. Some issues came with records. It was amazing stuff.
It also had conceptual art in it, which I loved. One piece was by a guy called Nelson Howe and it was called Fur Music. You opened the magazine and it was there. It's a musical staff that goes across the page for five whole lines, except you can't really see them because it was covered in pieces of fur glued onto the musical paper. The instructions said you were supposed to touch the fur and just listen to the sounds around you or something. I was like, "Yeah." It was around that time that I claimed the entire universe as my art piece, as a sort of appropriated ready-made. I was serious about this Dada stuff. I was like, "If he can use a toilet, I can do the universe." Why not?
When I was getting into this stuff, I didn't have peers. There was nobody around who cared. You could get the records very easily in the classical stores because nobody wanted them there. It wasn't like now, when you could have ten people in a room and at least two of them are going to at least be interested in some noise thing. It's really come a long way.
The avant-garde blew my ten, 11, 12, 13-year-old mind. By then I had amassed a small collection of these things. Then I got a reel-to-reel tape recorder from my mom in the late 1960s. I also had a shortwave radio. Stockhausen used shortwave radios a lot and he was my hero. There were other heroes: William Burroughs, Frank Zappa, Captain Beefheart and Alice Cooper.
I heard the first Alice Cooper album Pretties For You album wafting across the alley one day. I had to run across the alley over the fence and ask the kid across there, through his bedroom window, what the hell it was. It was the best thing I'd ever heard. He said, "This is Alice Cooper. They're from here and it's on Frank Zappa's label." I literally freaked out. Still, to this day, that album haunts me. I have a band called the Earwigs and we're an early Alice Cooper tribute band. I do the Alice Cooper business. I'm a little older than he was then, so like, Alice Cougar.
Tape Recorder Music
I was well aware that magnetic tape was the medium that these electronic music geniuses were using. I was like, "I got a tape, so I can do overdubs." I could just record on one channel then record on the other channel. I would record weird television snippets, static, shortwave radio and weird sounds. There were also the numbers stations, but those got old real quick. I was pretty fascinated by that, but then I was like, "I'd rather hear the cool sounds and this is the same thing all the time."
My world was a lot bigger than Arizona. I would get conceptual art magazines, especially Dada zines and genuinely underground stuff. My friend's brother who would send us the acid could also get us the weird underground papers. And of course I read underground comics. I also got into the Firesign Theatre a lot. In the early '70s, as a teenager, I'd hitchhike across town to do the pirate radio station with Stockhausen, Velvet Underground and Firesign Theatre records.
It was kind of like SCTV, except everybody was on LSD. It was just nuts. I was in awe of these people.
I'd get to Freddy Snakeskin's place and they had cobbled together a real radio station because him and a bunch of other people had first class radio operator's licenses. KDIL is a legendary pirate station. A lot of the people worked at real radio stations [when they weren't at KDIL] and they were kind of freaks. Not hippies – closer to weird, like John Waters, Firesign Theatre, Burroughsian geniuses, except they were space rockers. They were like Captain Beefheart meets The Piper at the Gates of Dawn.
When I got to the station it would be 10 PM or midnight. There would be a tape ready to go so I could aircheck. They had one of those old mono boards with all the big knobs and VU meters. There were also these turntables that weighed a ton and were built into the desk. We had real engineers who were super-funny geniuses – like Firesign Theatre-level improv funny.
It was a good place for me to be. I just kept my mouth shut and listened. I was terrible on the radio back then, too. I did not know what to do or say and these guys were all geniuses. When you got there, there would be two joints of amazing weed that would be just like LSD and a hit of LSD for you, too. We would definitely do that. I tried to always be on acid when any KDIL function was going on.
We said we were the local Satanic station and that we were broadcasting live from the Satanic Tabernacle in Wickenburg, Arizona. "KDIL, getting it said for Satan!" We had these contests where we asked people to bring back a pig's carcass with a badge in order to win an all-expenses-paid trip to New York City on a dream date with David Cassidy and $160 in spending money. "KDIL cares and we'll pay big money to prove it!" The thing is, it sounded like a real radio station because these guys produced radio spots all day long.
It was kind of like SCTV, except everybody was fucked on LSD. Everyone was crying all the time. It was just nuts. Everyone was a radio surrealist. I was in awe of these people. I just sat there and I learned everything I could. I would do shows under the names of the Amazing Thor, the Yeti, Jesus Christ, Adolph Hitler. "Now ladies and gentlemen, from KDIL in Wickenburg, the dude ranch capital of the world, here's more music and the parade of Satan weekend!"
Those guys knew nothing about the avant-garde stuff I was into. They liked fusion and Steely Dan records. I'd play "It's Gonna Rain" by Steve Reich and Hymnen by Stockhausen, which was my favorite record by then. I'd bring the first Faust record as I bought a lot of early krautrock stuff and avant-garde noise. Then I'd play the weird, fucked-up country records that should never have existed. Snakeskin collected them, so after he left for the night there would be these KDIL "hits" lying around in boxes. There was a whole record collection featuring the most insane stuff.
Escape From Arizona
I always knew I was going to get out of Phoenix as soon as I could. I didn't know what to do. I was going to be an avant-garde guy and then I discovered glam when I was 14. I wanted to come to LA for Rodney Bingenheimer's English Disco so I could meet all those cool groupie chicks like Lori Mattix and Pamela Des Barres. I would just have been friends with them as they wouldn't have really wanted anything to do with me. But that was fine – it would have been someone to dress up with. I didn't have many of those people in Phoenix.
I don't really know what it was that turned me on to glam. I just saw the style and wanted to dress up. There wasn't really that much music at that point – early Bowie, T. Rex and the Sweet. I started dressing so weird that I couldn't go to any normal places in Phoenix anymore. I was pretty much in drag.
I figured, "I'm terrible, so I'm just going to have to find other people who are terrible and then it'll be the best punk band ever."
By the time I got out [to LA], Rodney's was long gone. Freddy Snakeskin had already moved here, so KDIL had kind of gone away when he moved to LA. The weird space-rock people and the KDIL people were getting jobs and having to have Top 40 bands to survive. It wasn't looking good.
I was more than happy to leave Phoenix. I wasn't going to live there without KDIL. That was like the only thing I was doing that was cool. I couldn't really get a band together and I didn't know how to play anything. Later I had a punk band, which was called the Liars at first, but I still didn't know how to play anything. I had the band because I stayed there a long time. This is 12, 13 years of my life we're talking about since I'd discovered the Beatles. Actually, it was more like 15 by the time I had the punk band and got out of there. That would have been 1978. It wasn't LA that I originally wanted to move to, but San Francisco.
Kick Out The Jams
A lot of the late '60s records I liked were punk – things like the first three Stooges albums and Kick Out The Jams by MC5. They were pretty punk. What really kicked punk into gear was that 1972 compilation called Nuggets: Original Artyfacts From The First Psychedelic Era. That's what made people go and start bands. We were like, "Oh my God!"
What's hilarious is that a lot of the music on that was six years old when the collection came out. They were already treating it like it was ancient archeology. The album had deficiencies, but Lenny Kaye did a pretty good job of putting that together, calling it punk rock and showing people the way.
Punk was already there and we wanted to take it further. We heard about people doing just that, such as the Residents. There were just a few of us [in Phoenix] who would talk about this music – David Wiley, Paul Cutler and me. I hardly ever saw those guys because they were living across town. When we did get together we'd talk about punk stuff, so I got to be friends with them. After I left Phoenix they started this band called the Consumers.
Just before I moved out of Arizona, I got a new girlfriend. I met her in a Chinese restaurant near my house in Tempe. I was a vegetarian and she said she could cook vegetarian stuff, which was hard to get in Arizona at that time. I was 19 and she was 24. She was a dancer and got a job in San Francisco. So while she's down there, I'm just sitting around with my great stereo, Stooges and Stockhausen records in a weird apartment in Tempe that I hated. I'm like, "I gotta get outta here!"
On my way to San Francisco to go and move in with her, I came to LA to stay with Freddy Snakeskin. The original idea was to forage for records. While I was here I went to a couple of shows and one of them was a KROQ-FM cabaret. There was one band that was all full on homosexuals and proud of it, which I thought was pretty rad. That stuff was all new then to everybody. They weren't really punk though and neither were the other band I saw that night.
The next night was July 4, 1977. I went to see this new band playing at the Starwood called the Screamers. The place was dark and there was this huge American flag draped behind the stage. It was enormous. There was this really ominous synth drone playing and a lone spotlight on the flag behind the stage. Then this shadowy figure gets up on a ladder and paints a big, black swastika on the stars and striped with spray paint. The Screamers were banned from playing there ever again after that.
Anyway, after spraying the swastika, [vocalist] Tomata [du Plenty] comes out and he's like, "You better shut up and listen!" When they started up, it was the most insane thing. They were synthesizing everything that I liked into one thing. It was krautrock. It was the movie Cabaret and The Cabinet of Dr. Caligari. It was synths and it was punk. It was definitely punk, with this weird "evil doctor with spiky hair" look. The front man was a skilled mime, as was David Bowie. Tomata could just completely alter the whole vibe of the room with just a tiny movement of an eyebrow. It was unbelievable.
That Screamers show changed my life. It was the best feeling to know that there was something in the world I could enjoy, that was cool, and I didn't have to invent this stuff. There were people that were into this stuff that were doing really cool, amazing things with it that I didn't know about until right then. This enlarged my universe. It was my universe. I claimed it: It was my art piece.
After that show I went down to San Francisco and moved in with my girlfriend. I found out a little later that she was apparently having affairs with every cute guy in town, gay or not. I was like, "Well, that's no good." She wanted me to stay there and get a job. I told her I tried to. I tried to sing for some Top 40 band singing Led Zeppelin songs, but nobody would hire me.
While I was there I met Penelope Houston, who had just met up with some guys and started a band called Avengers. I also saw some other cool bands like Crime and the Nuns. I also spotted an advert placed by the Residents in comic books advertising a free catalog of the world's weirdest records. It read something like, "Send a stamped, self-addressed envelope and a dollar to Ralph Records, 444 Grove Street, San Francisco." That was a block away from my girlfriend's place. So I walked over there with my clarinet. I knocked on the door and a sort of hippie-looking guy answers. He had a Louisiana accent.
So I said, "Hi, I'm looking for the Residents." He said, "Well, they're not here but you can come on in if you want to look around." So I went in and looked around. I recognized some of the place from the pictures on the back cover of Fingerprince. I was blown away when we went upstairs to the studio.
We went up into the booth and smoked a joint of the best Colombian weed there was. He then said, "I want to play you something that we've been working on. We've just finished a mix." It was a cover version of "Satisfaction." He played it off the master tape through these huge monitors. I was so stoned and my mind was blown. I was not ready for it. Honestly, it was so good.
I thought these guys were geniuses because of their whole weird marketing scheme and stuff. Totally hilarious. I asked the guy if they needed a clarinet player who didn't know how to play clarinet, and he said they didn't. So I said, "Maybe you could recommend a band I could go see that's gonna be coming to San Francisco. I'm going to be staying two weeks but I don't know what I'm going to be doing after that."
The guy goes, "There's this band coming here in a couple of weeks. They sent us some stuff and they seem real interesting. They're called the De-Evolution band. They're from Ohio and they do this whole thing with a concept and visuals. It's kind of crazy. It's pretty amazing. I'm looking forward to seeing it. They're going to be at the Mabuhay Gardens in a week." That was what became Devo.
I'm like, "Whoa, I'm so there!" He then gave me a record: the gatefold single of "Jocko Homo" and "Mongoloid" with the gatefold sleeve. He also gave me a promo picture. He said they'd sent him two copies for some reason. I gladly took those.
Spreading Germs
I hated San Francisco so much that I moved back to Phoenix. When I got back I tried to join the Consumers. Their bass player had been hit by a car while on his ten-speed [bicycle] and was in hospital. I was like, "I have a bass, so I'll come over and play with you guys." So I went over and played with them. I was terrible. All the songs sounded the same, I was terrible, I couldn't play them right and I couldn't figure them out.
The second time I went over to practice with them, they hid from me in the house. You could hear them trying not to make a noise. I was like, "I get it." I went off thinking, "I'll start my own punk band, darn it!" And it will be really punk. Those guys were really good players – Paul Cutler in particular was an awesome musician. I figured, "I'm terrible, so I'm just going to have to find other people who are terrible and then it'll be the best punk band ever."
I had friends that I'd already been in bad Top 40 bands with, doing covers of the Beatles, the Who, the Stones, Black Sabbath and stuff. You had to have one of these bands or you had to get a real job. Our band was awful but I could sing like the people on the radio and imitate everybody, so we kind of got away with it.
I got these two friends of mine to form a punk band with me. One was a KDIL friend called Dale Smith. His big brother was one of the members of the Steppenwolf touring band at the time. It was one of those scams like the Deep Purple ones where there were no original members. The other guy was called John Vivier. He changed his name to John E. Precious and then Dale Smith changed his name to Dale Be Sorry. I think he was also Bob R. Dog at some point. I had the guy that played drums play guitar and the guy that played guitar play drums.
I told them that I was going to join their band. They didn't give it a second thought. I guess they were just fine with some weird guy they'd never met playing in their band.
I think we made maybe two songs. One was called "Just Like Your Mom" and the other "Bionic Girl." We recorded them the same day on a two-track, reel-to-reel in our living room with two microphones. It sounded great. It was definitely punk. You wouldn't believe these guys didn't know how to play the instruments that they were playing. We were the Liars.
So we started playing gigs and this is when we had this interview when I told this hippie radio guy I was called Don Bolles. Weirdly they didn't play any of our music to accompany this interview, because it was pretty raw. There was no way that was going to get played on this hippie station. It was not radio-friendly, but we started getting gigs with the Consumers.
I played the tape of our two songs to Rob Graves, who I'd met around the time I was in San Francisco. He was in Detroit, so I played the song down the phone. He heard the songs and said, "I'll be right there." He grabbed his blood-red Les Paul, got a plane ticket, headed to Phoenix and moved into our house. We started writing more songs, which allowed us to play more gigs with the Consumers.
Then this other band popped up, the Exterminators. It was Dan Clark, Doug Clark and Cris Kirkwood, later of the Meat Puppets. Cris took Rob Graves's place. They didn't need a bass player or a guitar player, but they needed a drummer. I was like, "I played drums for a few weeks when I was 14 and I destroyed the drum set and mom wouldn't let me get another one." So I tried out for them and I got it. So at that point I was in two of the three punk bands in Phoenix. So I was like, "Yeah, fuck you Consumers!"
It was a pretty cool band. I was frantic back then. I played like a caveman that somebody had just shot up with adrenaline. It was nuts. I didn't know how to play – I was just going for it. Breaking everything. It sounded cool, though. We did shows and we had a scene. 20 people would show up sometimes.
We did an Exterminators song called "I Walked With A Zombie." It was the first thing I ever put on record. When I came to LA, I had already been buying underground stuff from the city along with Ralph Records stuff. I was kind of hooked up with the underground then. What else was there to do? I had plenty of free time. I could figure stuff out even without the internet.
When David Wiley brought the Germs single "Forming" back from LA, I listened to it, and the other side, and thought it was the weirdest thing I'd ever heard. It's like there's sound-on-sound echo on the whole thing. They can't have done that on purpose. There's no distortion on the guitar. It's just crazy. I thought, "This is the least punk thing ever and the best punk thing ever, all at the same time."
The other side of the record was just like sludge. The sound of breaking glass, people yelling – I just couldn't believe that they'd committed this to a record. It was great! The drumming was just simplistic and awful, but kind of compelling. The whole thing was just an anomaly.
David Wiley had a friend who had moved to LA from Phoenix called Debbie. She would report back all the gossip. One of the things she told me was that the Germs were apparently having a hard time keeping a drummer. They were borrowing Nicky from the Weirdos and D.J. Bonebrake from X. Their bands were getting angry with them for playing with the Germs all the time, so that was not gonna last.
I'm like, "Ding, ding, ding! They need a drummer, I'm now a drummer: I will move to Los Angeles and join the Germs!" Debbie got me their numbers. I called Darby Crash and I called Pat Smear. I ended up talking to both of them for about two hours each. Darby would not let me off the phone. He was just going on and on, telling me all of this gossip about people in LA. I didn't know any of them but it sounded like they were the most interesting people in the world.
We talked about music. I asked them whether they liked Eno, John Cage, Faust and weirder punk music. They said, "We've never heard any of that. We like Queen and Yes." Whoa! I thought, "These guys are either the most hilarious or weirdest people that I've ever talked to." I told them that I was going to come and join their band, play drums and that I'm way better than whoever was playing on that single. They said, "Yeah, that's cool." They didn't really give it a second thought. I guess they were just fine with some weird guy from Phoenix they'd never met playing in their band.