Interview: Yasutaka Nakata
Patrick St. Michel speaks to one of Japan's most in-demand producers about his extensive collaborations and solo career
Yasutaka Nakata keeps a busy schedule. He arrives for this interview fresh off a performance at the Ultra Japan music festival, along with stops in Sendai and Kyoto as part of a solo DJ tour snaking through the country. After we chat, he'll run off to a club night at Vision, in Tokyo's always-busy Shibuya neighborhood, before flying off to the other side of the country for more stops on his tour. And this schedule doesn't even take into account the buzzing electro-pop songs he has to create, both for himself and some of the nation's biggest pop acts.
Nakata was born in 1980 and grew up in Kanazawa, a coastal city known for its abundance of ancient temples and shrines. He started creating his own music from a young age, and was guided towards electronic music by the influence of video game music, in particular the combo of heavyweight '90s producer Tetsuya Komuro's Eurobeat-brushed dance-pop and Yellow Magic Orchestra's Technodon album. He moved to Tokyo in the late 1990s to study music at college, and started creating in all sorts of formats: for films, for fledgling pop idols and with fellow Kanazawa resident Toshiko Kojima as the group Capsule. The latter gained a tiny bit of steam for their post-Shibuya-kei numbers, but were mostly a Tokyo concern.
Then, in 2003, Nakata landed a job producing for a pop trio newly relocated to the capital from Hiroshima, named Perfume. After a few years of intriguing electro-pop creations netted low sales, he landed on a winning sound — a buzzing take on the pounding, Auto-Tune-soaked electro of French acts Daft Punk and Digitalism, but with the three women providing the group's vocals. It gave them a robotic quality, but Perfume's music managed to sound achingly human, with Nakata's criss-crossing synth melodies only upping the emotion of songs about first loves and romantic confessions. He helped Perfume shoot up the charts with 2007's "Polyrhythm," a twinkling number highlighted by the titular pattern, an addition he fought the group's label to include in the final version despite them wanting something more straightforward. It sounded like nothing else at a time when J-pop was dominated by ballads and folk-leaning rock, and lead to the group's debut album, 2008's GAME, topping the Oricon album charts — the first techno-pop album to do that since Yellow Magic Orchestra's 1983 full-length Naughty Boys.
Perfume continues to be one of Japan's most popular groups, while all sorts of other artists have recruited Nakata to make tracks for them. He still works with Capsule on more club-ready material, and in 2011 started working with Harajuku model-turned-performer Kyary Pamyu Pamyu, whose playroom jams about wrestling with adulthood turned her into a music star at home while also grabbing attention abroad. Nakata is now Japan's most famous active producer, and his buzzsaw electro has influenced international EDM acts such as Porter Robinson, Madeon and more. He also composed portions of the 2016 Olympic's closing ceremony, spreading his sound to more listeners than ever before.
He's had an accomplished career, but Nakata is well-known for refusing to focus on the past. Still, he's talkative and friendly — if not always specific — about parts of his career, including his recent undertaking of a solo career, which in 2017 has included a song with Charli XCX and Kyary Pamyu Pamyu, and the official theme for this year's Red Bull Music Festival in Tokyo.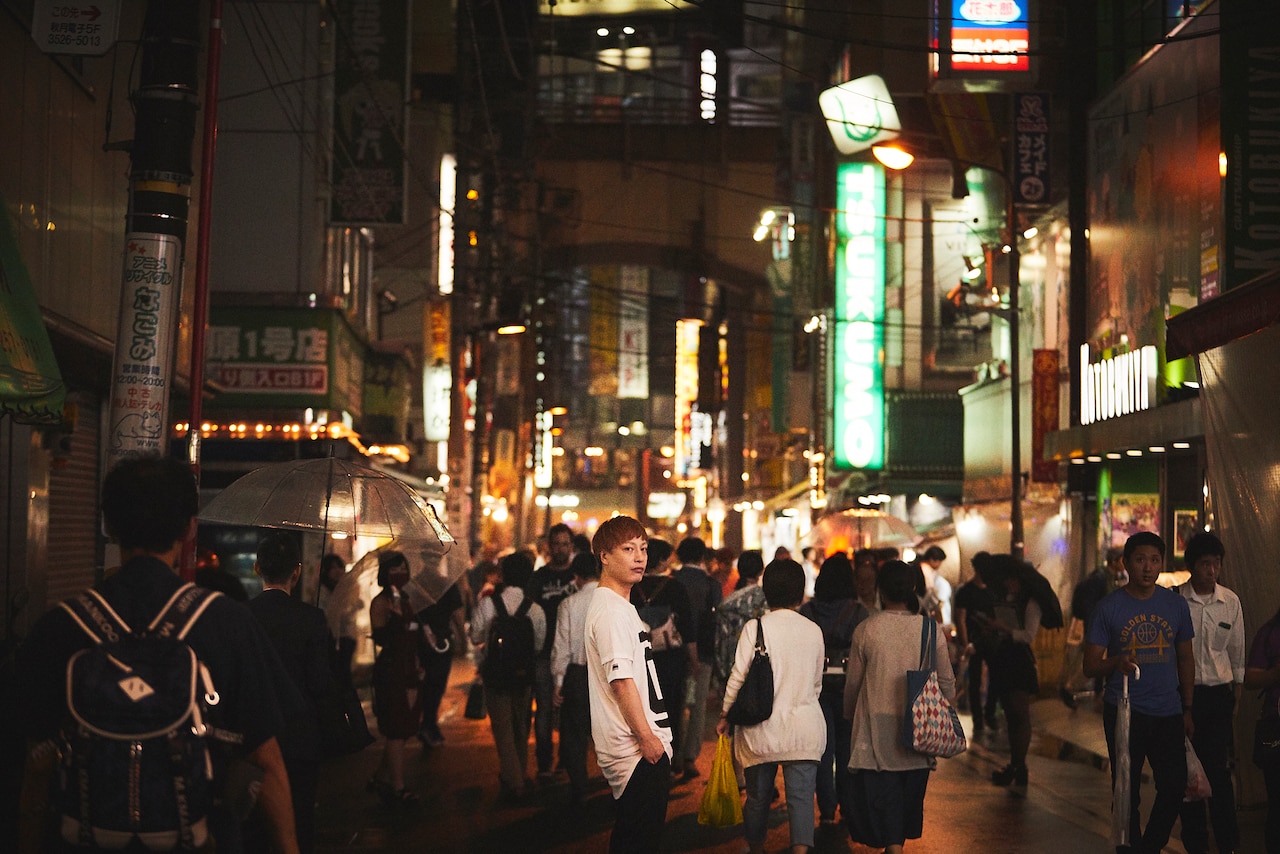 You've been going across the nation on a solo DJ tour. Having done this for nearly 20 years, how does performing feel to you in 2017?
Nothing too much has changed for me. I'm doing the DJ tour because I'm preparing more solo works for the near future, but they aren't too different than what I do when I play a club. But it has been good to see how people react to my new songs, and then be able to adjust them while putting the album together.
How have the reactions to your newer songs been so far?
As you'd expect, on the solo tour the reaction has been mostly positive, but I've also played these songs at separate events, too. It seems to depend on the atmosphere of the event — some people really react to my new music, but at others they just want to hear older works I've done. I play something new, and they seem to not know how to react. So I try to look at the middle, to find what direction to go in.
I'm interested in talking about your recent solo works, but I wanted to start a little further back. What are some of your earliest memories of making music as a child?
I started taking piano lessons from a very young age, and the lessons themselves weren't all that fun. But I really enjoyed just playing the piano on my own. I never really liked listening to other people's music when I was really young. I was always more interested in just creating sounds on my own, whether with the piano or out of assorted items that were just around the house. I would take a tape recorder, and record the sound of hitting a glass bottle or a can. It was my first time experiencing analog recording. But I also became really fascinated by computers and other new technologies that could make music. I would get new synthesizers or other items on the day they came out.
I've tried to be in bands, too. I gave that a shot when I was a teenager, but by that point I already had about five years experience creating my own music. I couldn't find friends or potential members who were at the same musical level as I was at that point. So I just ended up creating on my own. Though come to think of it, it wasn't like I enjoyed collaborating with others on music [laughs]. DJing for me is a better way to express my work, anyway. I tried performing live at venues where you would be more likely to see a traditional band, but it didn't match my style. But as a DJ in a club, I found I could really show off my creativity.
I want to show to the world that there are artists here in Japan that are capable of fully expressing themselves in their music.
Over the years, how has your approach to DJing changed, whether it be what you play or how you interact with the crowd?
I think the key is I don't see myself as an entertainer. I ultimately want to express the feelings and ideas I have, and play music that I'm interested in. I don't think it's cool when a DJ can't express themselves in their performance. That keeps me motivated, to get on stage or behind the booth and get myself out there. But at the same time, there are moments when the music I play doesn't mesh with whoever played before me, and the audience seems to not get it. At least at first. But then you get a moment when it clicks with them, and that a-ha moment is my favorite feeling.
Any specific memories of that happening stick with you?
About ten years ago, electro and electro-house were still the dominant sounds of electronic music. At the time, people tended to dance side-to-side, in a manner better suited for groovier music, but my music was more suitable for something more aggressive, like jumping up and down. I don't think Japanese listeners really got the rhythm of what I was doing. I always thought I was confusing them. But then that shifted, and they finally were moving in time with me, just really going for it. I actually got way too excited when that happened and I stood up on the DJ booth. Today, that's OK, but back then, nobody did that. Probably because they weren't built for a person to stand on. So I broke the DJ booth as a result. [laughs]
Did they charge you for the DJ booth?
We actually all tried to fix it afterwards. I think it turned out OK.
Recently, you've been putting out a lot of solo works, just under the name Yasutaka Nakata. For the most part in the past, you were working with artists such as Perfume or Kyary Pamyu Pamyu, or part of a group such as Capsule. Why have you decided to release more solo works recently?
I see Capsule as somewhat of a solo project, but there is a fixed vocalist [Toshiko Koshijima]. Compared to that, what I'm doing now allows me the freedom to pick whoever I want to sing on the songs. I also have the chance to do more instrumental numbers now. With the other projects that prominently feature vocals, I have to usually think about the radio. But solo, I have more freedom. I also want the audience to listen to my solo work fresh, I want them to see it as something different.
What do you look for in a singer to work with?
When I'm first making something, I don't even know if I want to have a vocalist appear on the song. But if in the process of putting it together, I decide that it would sound good with someone singing over it, I start looking for someone who fits with it. It's all very case by case.
What has changed the most in the music you made in Capsule or produced for other artists that someone could pick up on in your newer works?
The way I make it really hasn't changed all that much. But when I produce a song for someone, there are certain elements that are locked in. I can't choose the time that it needs to be turned in, or what the theme of the song is. I don't have much control. The solo work is much closer to Capsule. Since I'm not being offered these jobs, I have complete control over how it sounds. Or how long it takes to make. I can work on it when I want.
Let's look at a specific song then. How about "Give You More," how does that come together?
The main message I wanted to express is that I am not just part of Japan's entertainment industry, I'm not just an entertainer. I want to show to the world that there are artists here in Japan that are capable of fully expressing themselves in their music, what they love… I think foreign artists are often really proud of their country, or the music coming out of their country. I find many musicians in Japan are not so proud of the country or the music coming out of Japan. But I've always loved the music and sounds I was surrounded by. I wanted to put some of those elements in this song specifically.
What about Japan do you want to show listeners living outside of Japan?
I try not to explain too many specifics about what my music is about. I like the idea of people having their own reactions to what I make. If people hear what I do and think, "Wow, that sounds like Tokyo," that's great.
But I will say, I'm not from Tokyo. I'm from Kanazawa. Before I moved to Tokyo, I thought the life you encounter in Kanazawa was common all across the country. In Kanazawa, you are surrounded by a very traditional Japanese environment. Stores always played traditional music as the background music. I thought this was normal, but coming to Tokyo made me realize it wasn't. But now that I've spent half of my life in Tokyo, it's like I had another life. There are record shops with unique music you can't find somewhere else, or just the fact so many famous DJs come to the city. And I like new technology and new gadgets, along with game music. If I go to Akihabara, I can experience everything. It's really good I've had both experiences in my life, traditional and modern.
Kanazawa is definitely way different than here. When you came to Tokyo to go to university, how did the city influence you?
Tokyo's really geared to specific interests that people have. Two of my favorite neighborhoods are Harajuku and Akihabara, which are quite known for catering to specific sets of people [fashion and electronics fans, respectively]. When I first came, I just loved going to all the record stores and looking at the music. And reading all the handwritten album descriptions they would put up next to the records. You have to physically go there to see what they had written – I loved that. I moved here in the late '90s, and that was a particularly crazy era for Harajuku. The fashion was so free, lots of people would dress however they wanted. Akihabara, meanwhile, everyone was really aggressive about their hobbies. I liked that.
Speaking of Akihabara, I remember a secondhand instruments store I came across there when I first moved out here. Back in Kanazawa, you go to a store and every instrument is treated so nicely and with so much care. But everything was so wild at this store in Tokyo! The staff handled everything so roughly [he stands up and walks to the wall, imitating someone sorting through piles of instruments]. I had to find a really expensive piece of digital recording equipment here, and I had to sort through this pile of instruments like I was digging through a crate of records. I was so shocked. That has really stuck with me.
You did a song earlier this year with Charli XCX and Kyary Pamyu Pamyu called "Crazy Crazy." How did all of that come together?
This one actually came together differently than how I normally make music. Usually when writing a song, I'm less concerned about the meaning of the song and more interested in how the words sound with the music. But the bulk of "Crazy Crazy" is in English. So I sent Charli XCX a message while putting it together, kind of outlining what kind of rhythm and sound I wanted the words to convey. That's like my own mysterious language. [laughs] But then I let Charli make the actual lyrics in English. It helped that she's an accomplished singer/songwriter in her own right. I can trust what lyrics she will come up with, because a singer/songwriter like that is good at turning noise into words.
Is it safe to say that you and Charli XCX worked on this long distance?
Yep, I would send her all of the data, and she would send something back.
Was that the first time you had to get vocals that way?
The only other time was with SMAP. [SMAP were an extremely popular boy band known for their songs and hybrid variety/cooking show. They broke up last year in dramatic fashion – Nakata had produced a handful of songs for them since 2008.]
I should have guessed that one.
[laughs] It's extremely rare.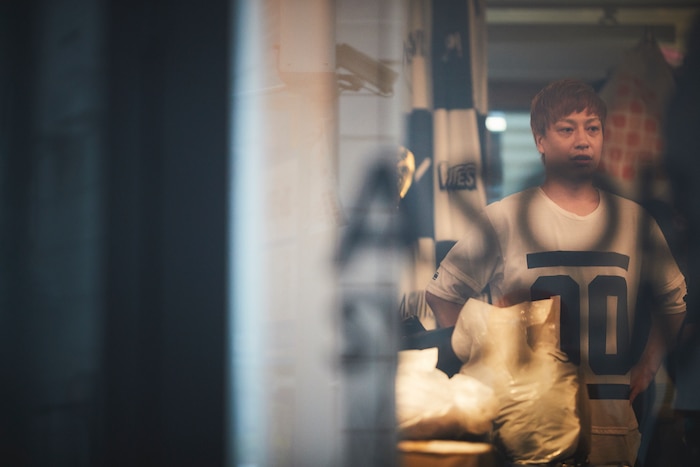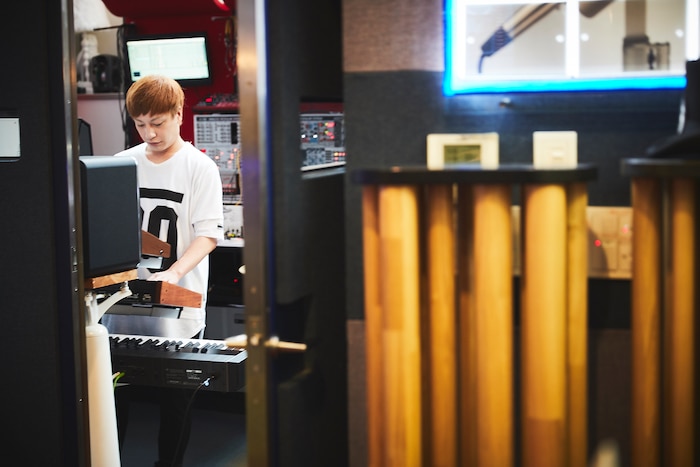 I'm curious to hear more about your current studio. I know you moved to a new studio a couple years back – how does it compare to your older studio?
I actually don't think it is much of an upgrade over my older studio, to be honest. For me, the purpose of a studio is to record vocals in. For that purpose, I think a studio needs to be as compact as possible. Otherwise, the biggest reason I want to have a studio is because I don't have to worry about finishing times. If you reserve a studio, you have a set period of time, and I don't want to worry about that.
If I'm working on a song that doesn't need vocals on it, I've actually started to just make everything on my laptop. Lately, I've been creating music when I'm out and about.
That's a new development, right? You used to do everything from your studio.
Yeah, ten years ago I definitely wasn't doing this. [laughs] The main reason is that I recently got an incredible pair of headphones. Before, I thought listening to music through headphones was just a way to check demo tracks. But now I found a pair that just sound incredible. It makes me actually want to leave my studio and create outside, just to hear how the music sounds on my favorite headphones.
I think a musician's entire career can go in a different direction depending on if you get a chance to use really loud speakers to create at any point in your life.
What headphones are these?
[laughs] Shure SE846. You know, sometimes Afrojack will send me a video message of him saying, "I'm making music right now!" But he'll be in this huge hotel suite, big enough to have a really huge pair of speakers blasting whatever track he's working on. It's funny thinking about the difference in scale between how he's making music and how I'm sitting on a laptop with headphones on creating tracks.
But as long as you get the result you want…
I always used to think headphones just weren't my thing for making music, but at this moment I believe the quality of headphones has never been better in my lifetime.
But back in Kanazawa, the homes in my neighborhood were spaced out quite nicely, so I could be as loud as I wanted when I made music. I think that was a really great influence on me, and how my sound developed. I think a musician's entire career can go in a different direction depending on if you get a chance to use really loud speakers to create at any point in your life. If I grew up in Tokyo, I'd never get the chance to experience showering myself in sound, to get that refreshing feeling music can provide. But it isn't always a good thing, sometimes. If you make music that way, sometimes you end up needing it to always be really loud. So now I try to avoid it, to avoid any bad habits.
You've done a lot of remixes over the course of your career — for Kylie Minogue, for Passion Pit — and you've recently remixed tracks by Steve Aoki and Zedd. I wanted to look at how you approached the remix of that last one, "Stay" featuring Alessia Cara.
Now it's pretty common that if you release new music, you don't just expect your original song to be played at a club or an event as it is. The remixer always needs to adjust it for specific situations. When I listened to "Stay" for the first time, I thought Zedd made it to be remixed for all sorts of situations and genres. I thought he made the song easy to remix because he's a top level DJ who knows how the dance music industry works. I took a middle ground between "Stay's" pop side and dance side, the latter being more in line with what I'm looking at doing in the future.
Zedd is looked at as one of the better, for lack of a better term, EDM DJs in the world. I feel a lot of your recent work has featured elements commonly associated with that music. What do you draw from EDM?
Music genres are like school rules. You can break the rule, but it's better to not be aware of the rule at all. I break these rules all the time, but I am not conscious that I am doing so. I just naturally know where I want to go. I think if you just follow rules completely, you end up in a box. You will never get out from that genre. You get stuck with other artists. I try to not follow existing rules, but rather go my own way.
Let's talk about your J-pop projects. How has your approach to making songs for Perfume and Kyary Pamyu Pamyu changed in the last five years?
Right now, the hardest part of being a producer is having them ask me to create a song that can achieve the same results as things I've done in the past. At the time, like in 2007, nobody expected results from me. So I could go out and try something new, experiment. But now it's really difficult for me to do something I've never done before with these projects.
If there are ten people in the room, and you play them a song and most of them can't agree on it, I believe it's more important to follow the most confident person in the room's opinion. For example, take Perfume's newest song, "If You Wanna." I tried something new on that one. I got a lot of reactions from people saying, "I've never heard something like this before," or "This isn't like what you did in the past." But I also got a message from Porter Robinson saying that this new song is really good. I said, "Yeah, I agree." [laughs] But hearing that, and having two producers agree on it, that's all I need.
But I do have to find a balance. Sometimes I'll do things I've touched on before. But other times, try something new. I try to see reactions from all around and find a balance.
So what are you up to next?
There's a lot I want to do musically. Besides the solo work, I also have a really long list of producer work I need to do in the near future. So for now it's about finding the right timing to do these jobs and then explore my own things musically. If you don't get an audience, nobody will see what you are doing with your own music. So I need to know the right time to release my own songs, and when to focus on produced works.
Releasing music is a really high hurdle for me. When I have to work on something that has to come out, has to go on sale soon, it really interrupts my creative flow. A while back, I used to have my own radio show, and it was great. I would just make new music and play it on the show. I could just create what I wanted and share it when I wanted, it was really relaxing. I just realized I could actually just do that at my DJ events, couldn't I? [laughs]
So what are your goals moving forward? You've accomplished a lot over your career, but now you are doing more under your own name. What do you hope that leads to?
I have done a lot, but I also feel like I haven't done anything yet. With this solo project, I kind of feel like I can be just a single musician this time. I'm treating this like I'm just debuting. I finally have the chance to try this. Right now, I'm trying to think of people who have never heard of my music before. Never heard of me. I don't think it's important what I've done in the past. Besides, I change my style a lot. I'm also hoping to connect with a lot of teenagers, who maybe aren't sure what music they like yet. I'm thinking about them. I want to be an inspiration to them. I want them to think, "Oh wow, making music looks fun." I want them to give it a shot, and that all they need is a laptop. I want to be the inspiration for a new generation.