Give The Drummer Some: Harold Brown
The beating heart of War speaks to J-Zone about the group's infancy, peak and enduring influence
Playing music for its composed content and playing music for its ability to rush us to the dancefloor have long been considered mutually exclusive. But then there's War. One of the most innovative and commercially successful funk bands of the 1970s, War's brand of eclectic Southern California funk and anthemic, catchy odes to brotherhood and unity remain favorites almost a half-century after the band's nucleus solidified in 1969. Driving the groove train that took War to the top of the charts was none other than drummer, Harold "Uncle HB" Brown.
At a time when Billy Cobham had drummers obsessing over his chops and Clyde Stubblefield and Jab'o Starks' James Brown groove was often imitated (but never quite duplicated), Harold Brown chose the road of the meat and potatoes drummer with a twist. Although many had the chops to play Brown's grooves, most lacked the musical sensibilities to explore his rhythmic innovation and still keep the dancefloor packed. In this interview, the Long Beach native discusses discovering his penchant for those unique grooves, War in its infancy and eventual peak and how common pitfalls of the music business fragmented one of funk's most revered, covered and sampled bands.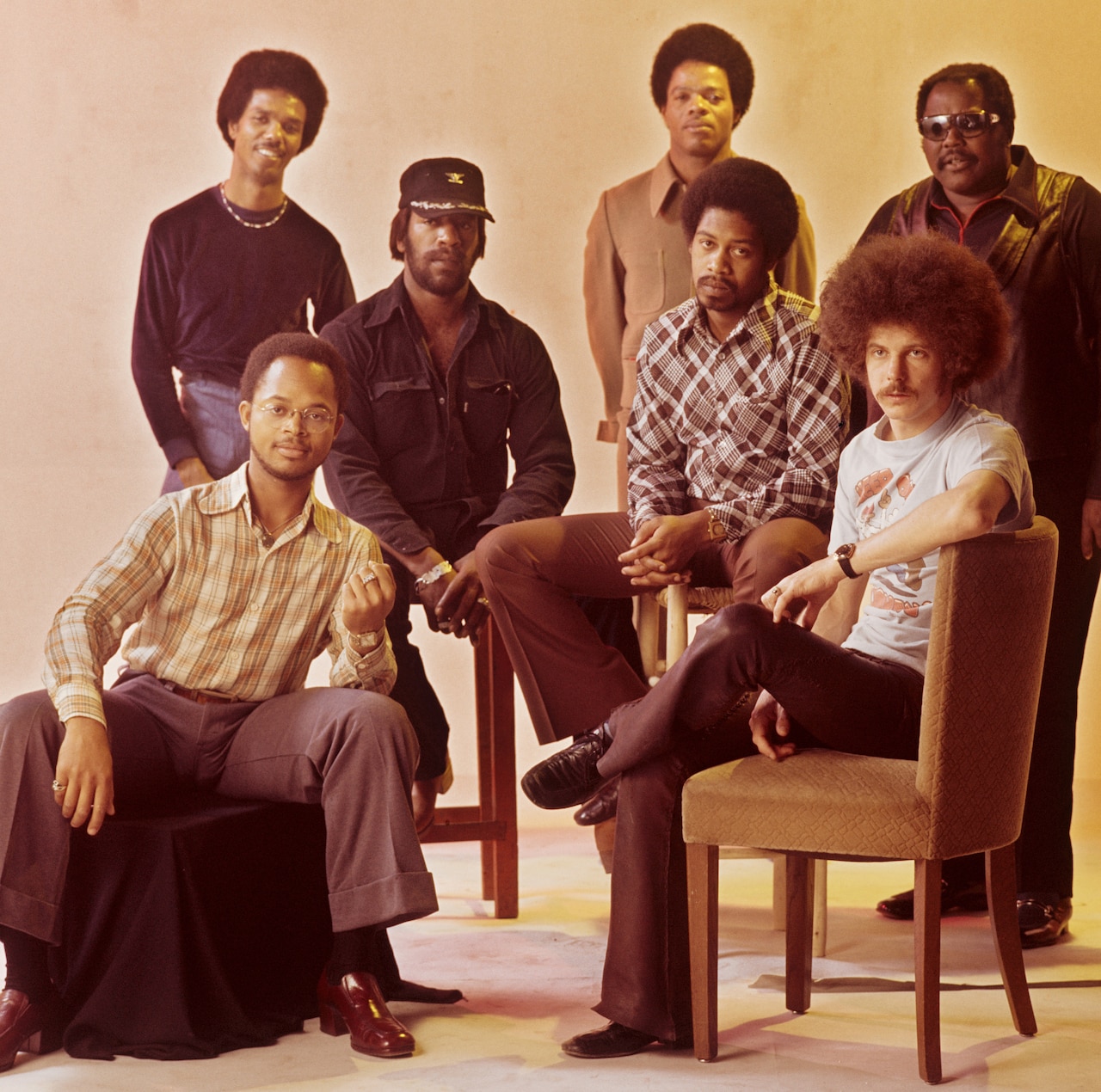 You grew up in Long Beach, California. Was there anything particular in your environment that helped you find your passion for music?
My mother was in a Holiness church on Martin Luther King and Anaheim Avenues; she played piano. All the sisters would beat on their tambourines and that's where I heard my first rhythms. Those rhythms were what the slaves would play with their broomsticks. They would shuffle in a circle; it was called the Eternal Circle. That rhythm came from West Africa [to the Deep South], and that was the rhythm in the churches and it kind of goes through our music 'til this day. This was at the end of the Second World War. Music was all around us: the churches, the bars, the pool halls. The shoeshine stand was at the local record store… It wasn't anything to hear old blues guys rehearsing in some garage.
What inspired you to pursue playing drums?
I used to lay up when I was about seven years old fantasizing that I was the drummer behind the music. In the early 1950s I'd listen to the radio and hear Fats Domino, Big Mama Thornton, Johnny Cash… country & western music and rhythm & blues. I kept dreaming that I was a drummer, then a spirit came to me and said, "Don't you realize if you get up and start doing it for an hour or two instead of fantasizing, you can be that?" So around 1956, [the school music teacher] was demonstrating instruments and asked, "Who wants to learn to play a snare drum?" He had me come up and showed me how to hold a pair of drumsticks and a quarter note. That was the five minutes that changed my life. I went and pawned my violin for a snare drum, a stand and a pair of sticks.
How old were you when you got serious with it?
I was about 14 or 15. I eventually wanted a set of drums, so went and got a job in a car wash and selling newspapers to put a set on layaway in a music store. Once I started playing my set, people would come by our house and try to pay my dad to make me stop practicing. [laughs] I started playing with [some of the future War members] at different clubs like Jefty's cocktail lounge on Avalon and El Segundo.
Old man Jefty would always tell me, "You got to know how to play what's on the jukebox in order to keep the people dancing."
Were you taking lessons or working out of drum books to find your playing style, or was it all self-taught and just playing in public?
The only formal music study I had was playing violin – I understood division of notes. But mostly what I'd do is put a record on the hi-fi and just play with it. Old man Jefty would always tell me, "You got to know how to play what's on the jukebox in order to keep the people dancing." Because if they're not dancing and sweating, people won't buy drinks and the clubs wouldn't make any money. So a lot of my drumming came from playing behind those belly dancers and snake dancers that would come in the clubs.
So your approach to drumming was to keep the people dancing!
Exactly! I got a lot of my rhythms from Tijuana, Mexico, also, because I'd go down there with my mother in the early '60s. I'd see people dancing in the bars and those rhythms were where I got a lot of my patterns.
How did the foundation for the band that would become War form?
In June 1964 I had just graduated from Long Beach Polytechnic High School. I had money saved to go to college, but [a schoolmate] had a body and fender shop and he was about to lose his business. He owed on his lease and owed all his workers. I told him I'd pay off all his debts, and I took over the business and started doing the work myself, making all kinds of money. I didn't want people on my back telling me when to be at work, because then I couldn't pursue being a musician. I had to be my own boss, and it was important to have cashflow and transportation. I got [guitarist] Howard Scott, [keyboardist] Lonnie Jordan and [other musicians] together and we went to the local musician's union to join. We would play on the Sunset Strip, Whiskey A Go-Go… We opened up for the O'Jays, Ike & Tina Turner and the Righteous Brothers.
Our first road trip in May of 1965, we went to El Paso, Texas. The owner of the club was telling us about this singer named Otis Redding that needed a back-up band, and he suggested us. We were supposed to be Otis Redding's band! We would've been the Bar-Kays. But we didn't get the gig because Lonnie was still young and never finished high school, so his mother didn't want him going anywhere. Then Howard and our trumpet player got drafted.
A lot of people don't realize that Señor Soul was one of the bands that morphed into what would be come War. Was that what you were going by then?
We were going by the name the Creators then, around 1964-65. We would take a James Brown, Bobby "Blue" Bland or Booker T. & the MGs song and play the main motif, then in the bridge we would jam and make up shit. That's how we got the name the Creators. I played with Señor Soul for a couple of gigs and maybe did one recording with them. Señor Soul was [saxophonist] Charles Miller's band. Most of the guys in that band were older. But I also used to play drums on other recordings.
Like session work?
Exactly. I'd get jobs just overdubbing stuff. One time in Art Laboe Studios, [producer] Marshall Leib was cutting a song called "Last Night" and the drummer couldn't do the rolls, so I did them. People used to tell me I was getting ripped off because I'd get $25, but it was a trade situation for me. I got $25, but I got experience in the studio. A lot of musicians went into the studio in the '60s and had no experience. It's different than playing live. Less is best.
So how did the final lineup for War come together at the end of the '60s?
Howard came out of the service and was about to get a job as a nurse. I had met [percussionist] Papa Dee Allen around that time. When I met him, he was playing congas and bongos at the same time while he was getting his oil changed at a gas station. He was working with Wayne Henderson and the Jazz Crusaders. I told Howard we should try to form a band one more time and if it didn't work, we'd go our own ways. I was working as a machinist on the nightshift, so we changed the name of the band to Nightshift. I sought out Marshall Leib again and he set me up for a drumming gig with Timi Yuro, but when I got to the studio the band was all, "I need guitar strings, I need bass amps, I need transportation." I met Sonny Charles that day and I knew my band was ready to go, so I called up Howard and we started rehearsing because I knew we'd have gigs coming. [NFL player] Deacon Jones was singing at the time and he became a part of Nightshift. We were a revue: Deacon Jones Revue featuring the Nightshift and Sonny Charles.
In April 1969, Eric Burdon came to come see our show with Steve Gold and Jerry Goldstein, who ended up becoming our producer and manager. I could tell it would be our last weekend of playing [as a revue]; Deacon Jones was off playing golf. It was myself, Howard Scott, Lonnie Jordan, Sylvester "Papa Dee" Allen, Charles Miller and Peter Rosen. We were playing our last song and I see this skinny guy with an afro bigger than mine walking towards the stage saying, "Can I play my harmonica with you?" It was Lee Oskar. He had been homeless and sleeping on Eric Burdon's couch. He came up and we jammed and once were finished people were standing on the tables and clapping. Jerry Goldstein came backstage and wanted to have a meeting. Steve Gold told us, "You guys look like you just came out of a war! Why don't we name you guys 'War'?" This was June of 1969. In November of that year, Peter Rosen was replaced by Morris "B.B." Dickerson on bass. Peter didn't grow up with us playing, but B.B. had that same thing that we had.
Any memories recording Eric Burdon Declares "War" album? The album featured your first hit in "Spill The Wine."
Far Out Productions used an illustration of satellites on top of missiles being shot into outer space. Once the missiles got past the gravity point, they'd release these little sputniks to do research. They wanted to use Eric Burdon as the missile and launch it out there and then release War on our own. The album was released about March, 1970.
With "Spill The Wine," we were in the studio and Charles Miller flung his arms out and knocked a bottle of wine over, and it spilled all in the mixing board. They kicked us out of Studio A and put us in Studio B. I broke into a Latin groove and Eric started coming up with the lyrics to "Spill The Wine."
You were able to tour Europe pretty heavily off that first album. It's also interesting that the last time Jimi Hendrix performed on stage, it was with War, which a lot of people don't know.
True. We were playing at Ronnie Scott's [in London]. The night before Jimi made his transition, he and I were in Soho and we ate chicken tandoori together. The next night we're playing and Jimi comes up and decides he's gonna jam with us. He's standing over my left shoulder and talking in my ear while I was playing a slow shuffle: "Yeah Brown, right there." But he was left-handed, so I could see his fingers moving over my right shoulder. I get chills when I tell that story. That is on YouTube. I got a phone call the next morning and Eric told me he was gone.
When I'm playing drums, I like to look at the people. I look to see if their feet are moving a certain way. My goal is to get them up.
Messages in music were really coming to the forefront of rhythm & blues. Sly and James Brown had messages in their songs around this time, but Eric Burdon and War records like "Gun," "Fidel's Fantasy" and "They Can't Take Away Our Music" really dug deep to address current events and turmoil.
We were still experiencing things. I'll never forget when we came through Arkansas and B.B. had a white girl with him wearing a wig. I love B.B., but he kind of had this bully mentality. We were in a restaurant. I was talking to some guy and I look and see this little old lady coming out the back with a pistol in her pocket, another guy with an axe hammer, another with baseball bat and another with guns. There was a bunch of black guys in there and a white girl with a natural wig and this was outside Little Rock, so they weren't used to that in 1971. I said, "Everybody chill." I reached in my pocket and paid for everybody's food and got us out of there. We were dealing with issues like that.
I want to explore your work as a drummer on these records. You were always one of the more interesting funk drummers because you weren't flashy or overly technical, but a master of uniquely simple grooves. It's like you were totally of the mindset of making a song groove in the most creative way possible and not really into soloing, blazing fills or busy grooves.
When I'm playing drums, I like to look at the people. I look to see if their feet are moving a certain way. My goal is to get them up. It came from playing to the music on the jukeboxes. If you don't make 'em dance, you can't make no money!
I love Billy Cobham. I love Miles Davis's Bitches Brew. The playing on that is brilliant. But when I put on the record, I can't get no groove to it! It was too much. Less is best. I don't like guys that overplay with 50 drums at one time. I can't dance to it and I wouldn't be listening to it driving down the street.
Other drummers may have had the chops to play those War grooves, but they didn't have the musical sensibilities to come up with them. "Slippin' Into Darkness" is a good example of that. How'd you guys come up with that tune?
There was a groove I heard one of my buddies playing and I put my own thing on it and kept practicing it. I kept saying, "Next song we play, that beat is gonna fit." Howard had his foot in a boot and was on medication that made him feel like he was slipping off into darkness. We were onstage at Olympia in Paris and he was singing "slipping into darkness," and I kept making that rhythm work. I was gonna force it in there, I didn't care what the song was. [laughs] It became our first hit.
That's a monster groove.
I found out from Tupac's bass player that Tupac wanted to do that groove. He had the top drummer in New York come in and play it, but he couldn't play it. They had another top drummer try it and he played it, but not like me. Then they tried to program it, but it didn't work and then they got everybody out of there. Then one time back east, Tupac came up to me and shook my hand and gave me a hug.
It has a reggae feel. So does "Why Can't We Be Friends?" with the hi-hats on the upbeats.
That was me trying to emulate reggae. I was listening to Bob Marley before anyone else in the band was. Last time I was with Bob Marley we were in Atlanta. He said, "You play like my band; you street band." The "Get Up, Stand Up" motif came from "Slippin' Into Darkness."
You sounded like no one at the time.
A friend told me, "You've got to learn to be different from everybody else. You've got to come up with your own style so when people hear you, they know that it's you." I was just out of high school and I was at this music conservatory in Los Angeles, and the instructor was one of those famous big band drummers. He played with Lou Donaldson's band. He wanted me to play [the bass drum pedal] traditionally with heel-toe, so I left. I wasn't gonna conform to traditional drumming. I play on my toes. I wasn't gonna change my style.
"Bareback Riding" has that really fast shuffle. "Cisco Kid" and "Low Rider" were major hits that had a rhythmic feel that was far away from the four-on-the-floor, the standard funk groove or the James Brown beat that all dominated rhythm & blues at the time.
I learned how to play clave and I'd play hi-hat and have a clave pedal to my left. For B and C parts and bridges, I'd start playing clave with my left foot. For a long time people thought I had a drum machine up there. [laughs]
What was your drum set-up in the early '70s?
I went and got me a set of drums from the Spiegel catalog. It was a Pearl set. I paid $199 for those drums.
Expensive hit records made from cheap drums!
When I'd go to the studio, guys would laugh at those drums. But if it ain't a hit, it don't mean a thing. I love telling young people I got my first hit off a set of drums I paid $199 for. It don't matter. I see people playing on buckets and a guitar they got out the pawn shop.
The messages of brotherhood and unity were strong on those War records, but it went beyond that. The band drew from so many cultures sonically and rhythmically. The album cover for Galaxy features a Klansman and a young black girl holding hands!
The brotherhood thing was… We're all dependent on each other. Every digit on each hand is important. We have to work together as one hand.
What about the songwriting and recording process? War's material is credited to the whole band, so how did you guys come up with this stuff?
Charles was in the marching band in high school, so he could handle the horn arrangements. We'd lay down tracks in the studio and Charles and Lee would sit there and put all the horns together. We weren't playing to click tracks, we played to the heartbeat.
We came up with this: When you look at our song credits, everyone's name is listed. That was from when we were supposed to be Otis Redding's band and we left El Paso, Texas disappointed. We didn't have money to pay our hotel bill, gas and food. My parents sent us money and after we paid off everything, we bought these Big Boy hamburgers – they were as big as a pancake. We cut them in half and split them up so each of us could eat. We always said if we got a hit record, we would do it the same way.
Something I always wanted to know: The liner notes of the All Day Music album say the song "Nappy Head" was the theme song from a movie called Ghetto Man. I always figured it was a rare blaxploitation movie. It was obviously fictitious.
[laughs] Papa Dee had this whole thing about Ghetto Man. He was like Superman, but he had to deal with issues in the ghetto.
Considering the wide range of influences on War's music and the heavy focus on lyrical content, was it a challenge to deal with the emergence of disco later in the '70s and early '80s? The band was still able to crank out a few favorites in the disco era, though, like "Galaxy" and "You Got The Power."
Disco came in and we started doing 100 BPM. We lost that magic and started going with what was Hollywood and losing our people.
I notice the personnel started changing, too.
A lot of people can't handle success. All the different drugs, you want the adulation, you get this adrenaline rush. So to keep it, you drink or smoke, start doing cocaine or get mental issues. So what happened was, our band started falling apart. B.B. got combative and was battling with our employees, fans. We told him to take care of those issues and come back. It wasn't long after that Charles Miller said, "This isn't War anymore," and he retired. The last song we recorded with all the original members together was "The Seven Tin Soldiers" from the Galaxy album. After that we got Luther Rabb on bass, Pat Rizzo [from Sly & the Family Stone] on sax and [second drummer] Ron Hammond.
Charles Miller was tragically murdered, B.B. Dickerson had left the band and Papa Dee Allen sadly passed away in the '80s. What was the status of War in the '80s, and did you have a personal and professional crossroads to face?
It was June 13th, 1980 when Charles Miller transitioned. He was set up and robbed here in Long Beach. In 1983, I left the group because we had all these attorneys, but the guys in the band wouldn't listen to them. I would read Donald Passman's All You Need To Know About The Music Business and I'd hear "that's how the white man do business" cracks from the band. I got tired of it and semi-retired. Being around drugs, running up and down the freeway. I took the test to study computers. Ron Hammond, Lonnie Jordan, Lee Oskar and Howard Scott were still doing gigs, just the four of them.
But today, the only original member of War still in the band is Lonnie Jordan. The other founding members are in the Low Rider Band.
About 1987, Far Out Productions got us to sign an agreement that we'd be back in the band as War. Then there was another agreement in 1993, to sign the rights to the name War back to Jerry Goldstein. They tried to get me to sign again; I never signed.
In court, the judge brought up the McCarthy law. It's not enough to have trademarked the name – you have to have used it in commerce. I found we'd used the name War in June of 1969 on a concert poster and Far Out Productions didn't exist until that August. But because we didn't present it in time, they ruled against us and we didn't own the name. The 1993 agreement put the nail in the coffin. The name War belonged to Jerry.
It seems so many bands from back in the day are fragmented and touring under different lineups and names, but advertising the musicians is tricky.
I wanted to put the original group back together and name it RAW. [Goldstein] told me if I did that, he'll sue me. I told him, "If I name the group SHIT, you'll sue me!" [laughs] So I named the group SOB, Same Old Band. Someone in Florida advertised us as founding members of War and we ended up in a big lawsuit. I remember when Steve Gold told us to find a name that's small, but everyone will know who we are when they see it. I knew about trademark, so I was shocked nobody trademarked the name Low Rider Band. I trademarked Original Low Rider Band.
There's also a book that just came out about War. It's called Slippin' Out Of Darkness: The Story of War. It's on Amazon.
Almost every drummer I've interviewed for this column has been a part of the emergence of sampling in the late '80s. War is one of the most heavily-sampled bands of all time. Were you compensated for those samples?
By the time we started getting paid for mechanical royalties and samples they had already released our CDs and we couldn't go more than seven years back. But we get paid for them now.
"Heartbeat," "Slippin' Into Darkness," "The World Is A Ghetto," "Sing A Happy Song," "Smile Happy," "Magic Mountain" and countless other War songs were the backbone of a lot of classic hip-hop records and big hits. How did it make you feel? Was there ever a sample usage that really stood out as particularly creative to you?
I'm honored! It's a huge compliment. Shaggy's "It Wasn't Me" was one. We got paid on that. But I like when rappers use "Heartbeat" because it was basically a jam.
Nice & Smooth's "Funky For You."
Exactly!
What's your greatest memory from your time with War?
In 1973-74 I stopped and let a guy cross the street after coming out these bushes – I almost hit him. I was driving my Porsche. He had a War album up under his arm.