The Weird One: Devadip Carlos Santana and Turiya Alice Coltrane's "Illuminations"
Saxon Baird on Santana's strange, spiritual foray into free jazz
The Weird One is an irregular column on RBMA Daily in which a writer takes a look at an outlier in a band's catalogue. Album, single, movie role: This column celebrates the moment when a band gets weird.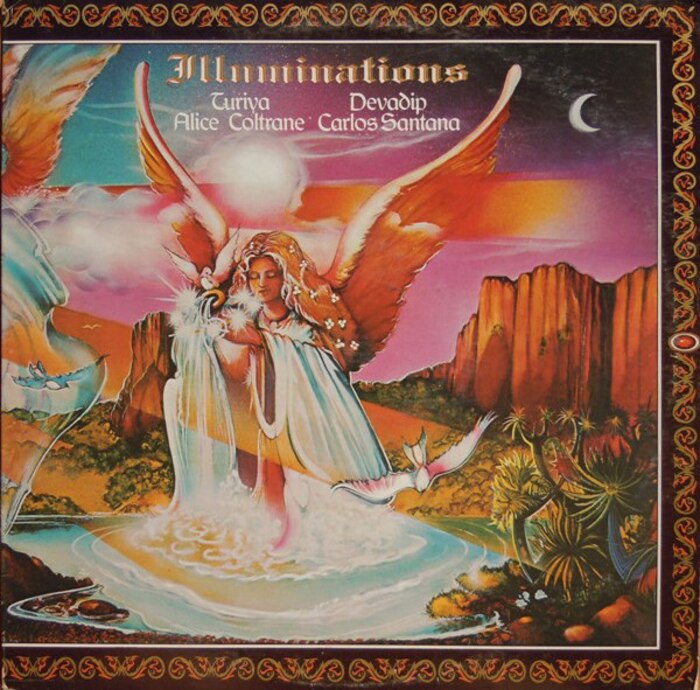 In the fall of 1972, Carlos Santana changed his name to Devadip and became an accepted disciple of celebrated Indian guru Sri Chinmoy. Having met Chinmoy through fellow guitarist John McLaughlin, the spiritual conversion would spark a dramatic shift in the style of Santana's music through the mid-1970s, setting off a brief period of wild experimentation.
Decades later, Santana would reference the period as "career suicide," and it's easy in hindsight to see why. As 1971 came to a close, he had released three albums with his band, finding worldwide fame with hits like their re-work of Tito Puente's "Oye Como Va" and "Evil Ways." Still, Santana was feeling restless within rock's constraints. The band's 1972 LP Caravanserai hinted at new sonic territories, with its heavy dose of largely instrumental offerings featuring forays into jazz fusion and the group's addition of Tom Coster on keyboard. But it wasn't enough, as Santana's interest in other styles he could explore with his six-string continued to grow.
After becoming an accepted follower of Chinmoy, this interest broke wide-open for Santana with a collection of sprawling, experimental records rooted in his newfound spirituality. Chinmoy taught that music was a universal language and a form of meditation. To Santana, music was no longer about making hits, but rather seeking and expressing an otherworldly form of transcendence, or what Chinmoy described as "immortality's message" and "eternity's passage." As Santana explained in an interview from this time, "Without a guru I serve only my own vanity, but with him I can be of service to you and everybody. I am the strings, but he is the musician."
Illuminations is the deepest Santana would ever delve into the world of jazz.
Of the handful of varying styles Santana recorded during this period, none reflects his nomadic musical exploration (or devotion to Chinmoy) better than his 1974 collaborative LP with Alice Coltrane, Illuminations. The two came together very much due to Santana's preoccupation with jazz, but both shared a common vision of expressing their spirituality through music. Coltrane's musical path had been colored by spiritual exploration, first in a Detroit Baptist church, where she played and sang in the choir as a youth. Later, she explored Eastern spirituality and its music with her husband John Coltrane before carving out her own catalog of forward-thinking jazz, sparked by an encounter with another Indian guru, Swami Satchidananda. Santana's own musical path also began in a church, where he played violin, but his path to rock stardom had included a steady gig as a musician at a Tijuana strip club before landing in the San Francisco's Mission District in the late 1960s – ground zero for free love and recreational drug use.
The resulting record is as strange and fascinating as the pairing would suggest, although Illuminations fits better within Coltrane's varied catalogue. By the mid-1970s, Coltrane had already released a number of free-form records that married avant-garde jazz, gospel, blues and devotional Hindu music. For Santana, it's a work that was completely incomparable to anything else he had ever done. His previous studio album, Welcome, was a surprise hard right into jazz fusion, samba and Latin funk, but most of the songs still worked well within those genre's structured forms. None of it hinted at the improvisational release that was to follow.
Illuminations fittingly begins in a way that would indicate something radically different: a meditative aphorism chant by Sri Chinmoy himself. This is followed by the nine minutes of "Angel of Air" and "Angel of Light," featuring Santana playing piercingly, long notes for a slow solo. It's coupled with the strokes of Alice Coltrane's harp and Jules Broussard's saxophone under a moody, overtly romantic string arrangement. The next song, "Bliss: The Eternal Now" offers much the same, but hardly features Santana and introduces flourishes of a pounding piano. The album's titular closer is steeped in fully-orchestrated, classical Indian music, and likewise prominently features Coltrane's harp, with Santana's guitar nowhere to be found (though the album liner notes credit Santana and Tom Coster for the string arrangements).
The album's centerpiece is "Angel of Sunlight." Here, things momentarily pick up speed, and showcase Santana at the outer limits of his musical oeuvre. The nearly 15-minute, feverish free-jazz number is heavily indebted to John Coltrane's late output on Impulse! and is a sonic misfit compared to the other tracks on Illuminations. But if much of the saxophonist's late work felt like a musician in search, Santana and Alice Coltrane here are also musicians journeying in the same style.
"Angel of Sunlight" builds over Santana's guitar, Coltrane's harp and the interplay of congas and tablas. By the third minute, things kick into fifth gear when Jack DeJohnette, a premier jazz drummer who over his career worked with the likes of Keith Jarrett, Sonny Rollins and Miles Davis, comes pounding in. The piece continues to build into a hornet's nest of noisy, improvisational jazz, and everyone gets a turn to solo. Just under the halfway mark, Santana gives way to soprano saxophonist Broussard doing his best to emulate the spirit of John Coltrane. Tom Coster increases the urgency with flourishes of proggy, electric piano before they all come in together during the final third for a wild mess of spiritual cacophony, until Alice Coltrane's harp finally appears like a blanket on a cold night and the storm subsides.
Illuminations is the deepest Santana would ever delve into the world of jazz. Shortly after, at the encouragement of his label and a new manager, Santana returned to a more commercial sound that was almost as jarring of a transition. (He credited listening to FM radio and rock act the Tubes as inspiration for 1976's Amigos.) By 1981, he was no longer a follower of Chinmoy, having grown weary of the rigid, daily meditative practices.
"This shit is not for me," Santana explained years later in a 2000 Rolling Stone profile. "I don't care how enlightening it is."