Making Musical History: Arthur Baker and Electro in 1980s New York
From the DJ History archives: The force behind "Planet Rock" and more on helping to create New York's revolutionary electro sound
Arthur Baker started his musical career as "one of the worst DJs" in his native Boston. Fortunately, it didn't take him long to discover where his real talents lay. Turning his attention away from the turntables, moving to the Big Apple and hunkering down in the studio, he proceeded to embark on a life-long search for the perfect beat.
Including era-defining tracks such as Afrika Bambaataa & The Soulsonic Force's "Planet Rock" and New Order's "Confusion," Baker's work could be heard everywhere in 1980s New York – from Paradise Garage and the Fun House to the boomboxes of the Bronx.
Having established himself as one of the decade's go-to producers, Baker quickly became one of the period's most sought-after remixers, taking on projects for such big-league artists as Bruce Springsteen, the Rolling Stones and Fleetwood Mac. However, his heart was clearly always closer to the street.
In this archival interview, conducted in 1999, Baker talks to Bill Brewster and Frank Broughton about the early days of disco, the birth of freestyle and electro and his unorthodox approach to rocking a party.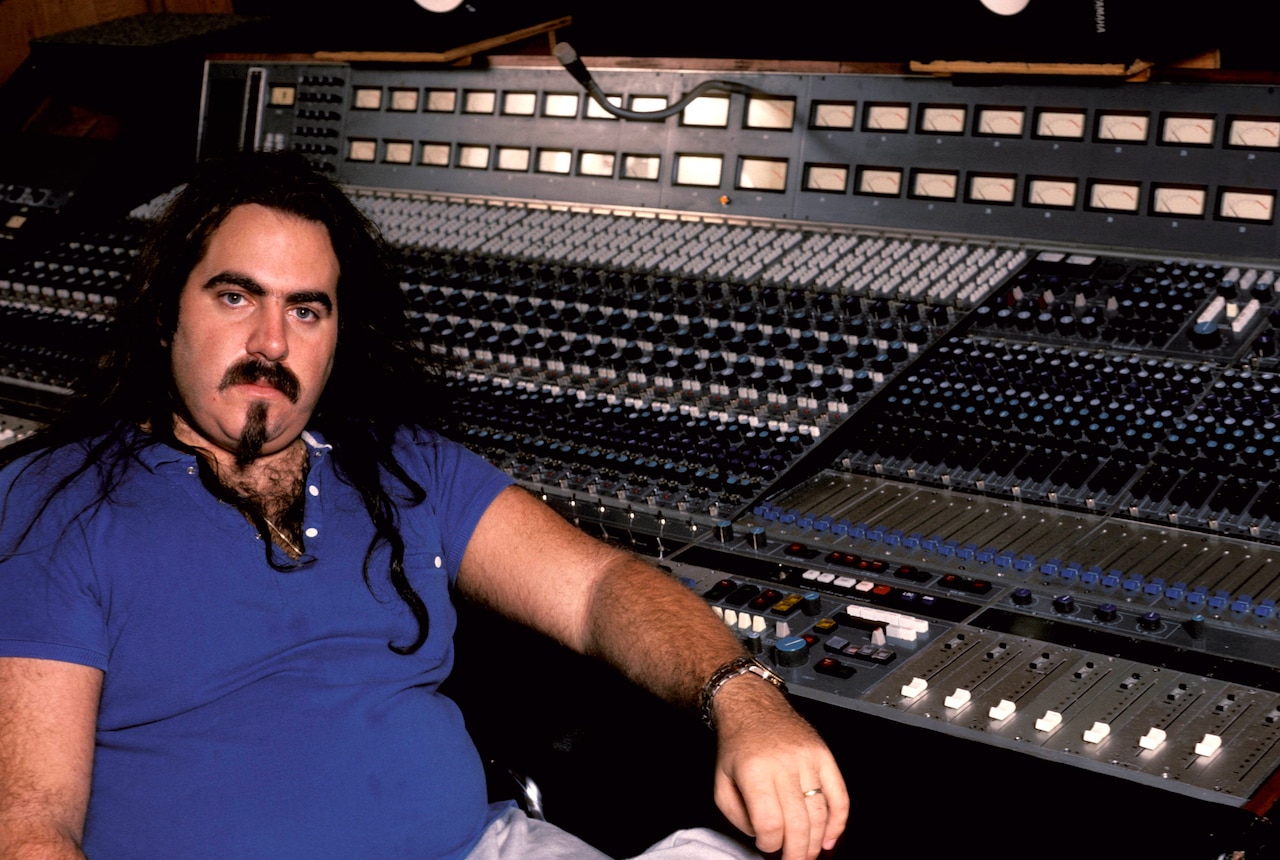 So, this is a history of the DJ?
Yeah.
Well, I was never really a DJ. Actually, I was probably one of the worst disc jockeys ever. No, I was, because if I didn't get a good reaction on a record, I'd just rip it off, break it up and throw it on the dancefloor. And that was before I took drugs.
OK. Well, let's get started.
I was born in Boston on April 22, 1955. I grew up in Boston until I moved to New York in 1981.
Who were the big Boston DJs at the time?
The big five were Danae [Jacovidis], Jim [Stuard], John [Luongo], Cosmo Wyatt and Joey Carvello. I wasn't really a good DJ, but I was getting into record production. The first record I did was "Losing You" by the Hearts Of Stone. I ended up selling it to Disco One in Canada, which was run by this guy Pat Deserio, who also involved with all of those other groups there like Kebekelektrik's "War Dance." I produced it, and John Luongo did a mix and Joey Carvello and Danae had their names on it. That was around 1976.
Then, at that time, I started going to New York a lot, and I went to the first Billboard Disco Convention. This guy Bill Wardlow, who was supposedly the godfather of disco, he ran it. Jane Brinton was there, James Hamilton was there. I used to go to record companies and blag records, even though I wasn't playing anywhere major. The people I got into see were people like David Todd, who became a really good friend. There was this guy Doug Riddick at Atlantic. I met Richie Kaczor because he was involved in the first disco magazine. Luongo did a magazine in Boston called Nightfall, which I started writing for.
Then I co-produced a few records under the name Northend with singer Tony Carbone and DJ/drummer Russell Presto (RIP). The first one was "Kind Of Life," which Mel Cherren signed for West End Records. John Luongo remixed it and added percussionist Jimmy Maelen to it. It was right after the time John mixed "This Time Baby" [by Jackie Moore]. I think Danae went in and helped on the mix. And Larry [Levan] used to play that record. That was probably the first record I made that he played at the Garage.
Around 1977, I did all these Philly-influenced tracks, then Tom Moulton and his brother Jerry came through, because they were both from Boston. I sold the productions to Tom and they were released on Casablanca Records as TJM.
One of them, "I Don't Need No Music," was on the Record World chart. That was when I met Brian [Chin] and Nelson George. I met all those guys through going to the disco conventions. Soon after I got a production deal with Howard Smiley, ex-TK Records VP, who put me together with Joe Bataan to make a disco album for London Records US. The label went bust and Bataan placed his side of the album, which included "Rap-O-Clap-O" with Salsoul.
What made you get into production rather than DJing?
Because I was a shit DJ. And I wanted to make music, I didn't want to play records.
Were you a musician?
No, I just had ideas about what I wanted to do with the music.
But you were obviously influenced by DJs, weren't you?
Yeah, I was a DJ, I just wasn't a good one. I'd rather make music than play it. Put it this way – I knew the power of the DJ. I was friendly with all the good DJs. I'd go and hang out in other clubs when I wasn't playing. I'd sit in the booth with Danae or Jimmy Stuard or John Luongo, who was a genius. He could take two records – the thing that became famous with hip-hop – two 45s. John would extend intros, but he would just do it on the fly. He'd really mix 12" versions out of 45s. He was really quick. He used to play at a club called Rhinoceros, which was a black club. The straight clubs were nothing. It was either the black clubs or the gay clubs. Danae played at Chaps, Jimmy was playing at... It was a number, I forget the name. You'd go to those clubs and watch.
When I went to New York, David Todd would take me to clubs and introduce me to people. I went to Galaxy 21, he took me there, and he had this record playing seemed endless, with all of these repeated horn riffs in it. I was like, "How is he [Walter Gibbons] doing this? He must be so quick." So we went up the booth and it was just one record playing. It was "Ten Per Cent" by Double Exposure, which was the first 12" released. Back then I'd hang out at labels like Scepter, West End. There was a real small group of friendly industry people, so you could talk your way into seeing people.
It's still a fairly unique position you were in, because most producers were either musicians already, or they were DJs who gradually moved into remixing and production.
Yeah, but I had been a DJ.
But even then, going from being a DJ to producing was quite a new idea.
Yeah, it was. John Luongo was a DJ who was doing remixes. Jimmy Burgess was a DJ doing remixes. But, see, they were all big-name DJs, so they were going to get the remixes. I wasn't going to be able to get a remix. No one was going to give me a remix. I had to do it from the other way. I had to make my own records, and that's how I got to be able to remix records – by having hits. After I did "Planet Rock," "I.O.U." and "Walking On Sunshine," that's when I got remixes. Before that, I never remixed a record.
I had to raise the money to make a record. But the first thing I made came out. The second thing I made, Tom Moulton signed.
Where did you learn how to make records?
I was a real student of records. Back then, it wasn't easy. Now, you can take a sampler. Back then, it was all live. All those records were live. For instance, when I did "Happy Days,", which is a record that still gets played, that was all live. We had to work five hours to get that drum sound. It was all live musicians. You know, make what you're able to hear. Everything that people played in clubs was live. It was Philly. I loved Gamble & Huff, so you'd get a musician in and say, "Listen to Earl Young and try and play as good as he does." But I'd write songs. I'd find a keyboard player and go in and write songs together.
On North End, I had these guys Tony Carbone and Russell Presto, who got murdered right after we'd had a couple of records out. He was a drummer. He was a really good DJ, too. If he'd have lived, he would definitely have done big things. So, no one said you couldn't do it. No one gave me money. I had to raise the money to make a record. But the first thing I made came out. The second thing I made, Tom Moulton signed, and it was an album, and even though I only got a credit for arranging and writing it, I produced it. He did some strings on it. Then the North End record "Happy Days" happened and Larry used to play the shit out of "Tee's Happy."
When I moved to New York I met Tee Scott at Better Days, and then I had him mix "Happy Days." I'd really loved the sound coming out of Better Days. There was this other guy, Andre Booth, who was a keyboard player. He used to play live and he produced "This Beat Is Mine." So, I got him to play. He played – him and his guitarist Charlie Street – on "Happy Days." The next record I did was "Jazzy Sensation," which was on Tommy Boy. I moved to New York right after I did "Happy Days."
Was that a spur to you moving there?
That and the fact that my wife at the time was a lawyer, and she got a job in New York. I'd spent a summer there, and after the summer had done "Happy Days." I met Shep [Pettibone], I heard some of his stuff on the radio, so I called him up. "Jazzy Sensation" had already come out by then. But Shep had edited "Funky Sensation" on Kiss, and I really liked what he'd done, so I said, "Why don't you come in and add some of those overdubs on to the rap version?" So, he did that, and I think he did a re-edit. That might have been his first credit on a record, maybe his second. After I did that, when I did "Walking On Sunshine" I brought in Jellybean Benitez. So, I was going to all the clubs and meeting DJs, but whether they added all that much at that point I'm not really sure. I just wanted to have that connection and input.
How did you come to do "Jazzy Sensation"?
I had been writing reviews for Dance Music Report, which was owned by Tom Silverman, and he was starting up a label. The first record he did was "Let's Vote" – this guy Eric Nuri from Boston had done it, and I sent him over to Tom, who put it out. Tom said, "We didn't do well with that, let's do a record." And I was the only producer that Tom knew.
We went into the studio with Andre Booth, Charlie, their bass player and drummer T Funk. It was basically Andre Booth and his rhythm section. We went in and we were either going to do a "Genius Of Love" rap version, or a rap version of "Funky Sensation." But a bunch of people had gone in and done "Genius Of Love," so we did "Jazzy Sensation." And that did really well and sold 30,000 records. So Tom says, "Well, you did pretty well on that one. Do you wanna do another?" Bambaataa was with the Jazzy 5 and he said, "Do another record, but with Bambaataa." I'd been into Kraftwerk, and Bam was into Kraftwerk, so we just had the idea of merging the two Kraftwerk songs together.
How much did those two Kraftwerk songs have to do with what Bambaataa was doing?
I used to hear "Trans-Europe Express" all over the place. In playgrounds, clubs, everywhere. At that time, when I moved to New York, I worked at Cardinal One-Stop. "Kind Of Life" was out, "Happy Days" had just come out. When I had lunch, I'd sit in the park and there'd be guys with the big boomboxes breakdancing. So, I'd hear it all over the place. Then "Numbers" came out. I used to hang out at a record store in Brooklyn called Music Factory, and the guys who later became Rockers Revenge – Donnie [Calvin] and Dwight [Hawkes] – worked there, and they turned me on to things. I came in and heard "Numbers" and they said, "Oh man, it's flying out of the store." So, me and Bam decided to mix the two together.
What you were doing was very much like sampling without a sampler.
Definitely. Yeah.
Was that unique?
Well, people would do cover records. Black music has always had cover records. What I was trying to do was mix in the DJ bits of other records. It was a conscious thing. It was almost like a medley, but not really, because you only used little bits of things. Like for "Walking On Sunshine," I had bits of D-Train. I tried to create what a DJ would do with records.
Were you influenced by the Loft and the Garage? Rockers Revenge sounded like Peech Boys-style records when they came out, and "Walking On Sunshine" was a big Loft and Garage record for Eddy Grant.
Oh, yeah. I tried to make it sound like a Peech Boys record! I'd go to the Garage, and I was able to get into the booth, because I knew people there. You know what the other thing was? Larry loved "Tee's Happy." He used to really love the break in "Tee's Happy," and then we did a song called "It's Right" and "Tee's Right." There was a bass synth line in "Tee's Happy" that he used to call the Pig – "boww-boww-b-boww" – and he used to love that.
He would let me in the booth, and I'd hang out with him. We'd talk music. I was obviously influenced by the Peech Boys record. Everyone was influenced by the Peech Boys record. When those handclaps started whipping around the place... And I heard "Walking On Sunshine" for the first time in the Garage. I mean, you'd go there and he'd always pull out two or three records that would just blow you away. Obviously, the Garage was a major influence. "Walking On Sunshine" was specifically made for the Paradise Garage.
Did it get played there?
Oh shit, yeah, he used to play the fuck out of that. He was playing a lot of my records at that time. Larry was really open. He was playing Imagination. He was playing Level 42. He was playing the Clash. He would play anything, so you knew whatever you did, he'd give it a fair listen. His taste was weird, though. Sometimes, you'd do a record that you'd think he'd love and he'd hate it. Then there'd be this thing that you wouldn't think anything of, and he'd play it. So you couldn't really promote a record to Larry. He'd do this a lot, too: You'd wait for him to play your record, and he wouldn't play it. Then you'd go home and the next day someone like Bobby Shaw would call and say, "He played it three times after you left!" That happened a lot. Like with "Walking" and even "Planet Rock," which he even used to play.
So you would go into the studio and say, "I'm going to make a record for this particular club"?
Well, what I would do is go to a club and then the next day go into the studio all inspired and make a record. Same thing with the Fun House. "I.O.U" was definitely a Fun House record. "Confusion" was a Fun House record. You knew those weren't Larry's kind of records.
How did you come across Jellybean Benitez [of the Fun House]?
"Planet Rock" had come out. Jellybean had a quarter-inch, 15" tape machine. Tom Silverman wanted a 7" edit of "Planet Rock," and he didn't want to pay. So he knew Jellybean had a tape machine, so I think that might have been how I met him. We did the edit of "Planet Rock" at Jellybean's house. When I did "Walking On Sunshine," he came in and helped me mix it a bit. That was at Blank Tapes studio. It was really funny, because his contribution was hitting the reverb button on the explosions on the snare! For a long time, that was his major trick that he got from me.
He may have done one other mix before that, but after that he helped with "I.O.U." and he's on the record for "Confusion," but I don't think he ended up being there when we did the final mix. At that point, Jellybean would play all those records at the Fun House. Actually, Jellybean would play anything Larry would play, plus he could play even more, because he was playing more freestyle and hip-hop things. I don't think "Confusion" got played at the Garage, but it was definitely a Fun House record.
You know the footage of you going to the Fun House with a reel-to-reel tape? What is that?
It's the "Confusion" video.
But you did that anyway?
Oh, we always did. That's where we got the idea. I'd tell them [New Order], "We'll do it, we'll finish it and we'll go to the Fun House, so Jellybean can play it right away." People would bring their test pressings, but Jellybean was one of the first people – Larry had one, too – who had a tape machine. I gave him "Play At Your Own Risk", and that record was number-one at the Fun House six months before it ever came out.
When we went in to do "Planet Rock," we were worried that we'd have problems with Kraftwerk, so we did another melody line. Also on "Planet Rock" I had wanted this D-Train/Strikers-sounding clavinet part on it. So we had these parts on it, and when we went to mix "Planet Rock" Tom said, "Oh, just use the Kraftwerk melody on it." So I said, "Well, listen, there's another record here. This could be a big record." I thought the clav and the other melody were even hipper than "Planet Rock." I had a rough mix of it, and Jellybean was playing the instrumental of it. People would freak out. They'd hear the orchestra hit – "Planet Rock" had been the first with that on, I think – and there'd be this other music. But it was the same beat.
We knew it would be a hit. I knew these singers from a group called the Ambitions – Bobby Howard, Herb Jackson. I got François [Kevorkian] in to do a mix, but we didn't end up using it. He was into his percussion phase. It just didn't work.
How did you originally meet up with Bam?
Through Silverman. That was how I hooked with [John] Robie, too. There used to be a remix service called Disconet, and Robie had had some song on it that Bam liked. I think Bam had had a record on it, too.
Do you remember the first time you heard hip-hop being played?
Oh, yeah. I saw hip-hop the first time Joe Bataan brought me up, 1978 or '77. It was before there had been a record out. He brought me up around 129th Street, because he was from there. And he said, "Check this out! There's these kids talking over records." We were gonna go in and make a record. He said, "Someone's gonna make a million dollars out of this." No, he did, he really did!
We went in and did "Rap-O Clap-O," and Jocelyn [Brown] sang on it. I think that was the first or second record that she sang on. We did a whole album and she did "Sadie," which is credited to Jocelyn Shaw. Her daughter was about five at the time. Her daughter always used to be at the Garage.
Fun House was a really straight club, too, wasn't it? So, it was more accepting of hip-hop, freestyle and the like.
Well, it was a street club. It was the only mixed straight club.
You mean racially mixed?
Yeah. I remember sometimes black kids having a problem getting in, and we'd have to go out and help them get in. It was a Mafia club. Looking back now, Jellybean never struck me as being into the drug thing as much as others. He wasn't as druggy. He did drugs. But he was more motivated by money. He was always a little businessman. Always.
I knew "Planet Rock" was a historic record before we even mixed it. I knew before there was even a rap on it. I brought the tape home and I said to my wife at the time, "We've just made musical history."
He must have been the first DJ to get a solo deal.
Yeah. But he got that because of Madonna. Definitely. Because she was going to sing "Sidewalk Talk," and she only ended up doing backgrounds. He had done Madonna's record. He had done "Holiday." But he was a really great DJ.
What made him good?
He really mixed well. He mixed between records really well. I mean, Larry wasn't a great mixer between records. He'd let a record end and he'd throw another one on. But Jellybean could really mix. And he just picked the right records, like "Slang Teacher."
By Wide Boy Awake?
Yeah. He'd play records like "Was Dog a Doughnut," "The Mexican." He came from a hip-hop mentality, where he'd play things that weren't supposed to be played. But Larry would do that, too. He would play "Rapper's Delight." He played that when it first came out. He played that five times a night. Jellybean had a very commercial sensibility when he made his own records. He didn't make earth-breaking records or mixes.
Can we take you back to Bambaataa? How much was he involved, and how much was he just an inspiration?
More of an inspiration, really. When we did "Planet Rock," he brought Captain Sky's "Super Sporm." He said, "This beat here. Let's use that." So we had that break in "Planet Rock." He definitely had influence. But he didn't know about the studio.
When did you record it?
I think 1981, maybe. I'm not sure. It was probably 1980. We didn't have it that long before it was on record. I remember going to For The Record or one of the record-pool parties at Christmas, I put on the acetate and people went mad. Then it came out a little after that. I know it was a big hit in the summer.
How quick was it to make?
It was pretty quick to make, because we didn't have much money. We'd get downtime, night-time sessions. The guy who owned the studio gave us a deal. Maybe it was three all-night sessions. We did all the music in one session and a bit of the rap, then we did the rap, then we mixed it.
Were you aware it was a historic record?
I knew before we even mixed it. I knew before there was even a rap on it. I went home the night we cut the track and brought the tape home, and I said to my wife at the time, "We've just made musical history." Oh, I knew.
Did you feel that you were documenting or transferring that live hip-hop feel onto record?
I don't think I did that. I think Def Jam did. I missed out a bit on that. When we did "Beat Street," we started having Jazzy Jay doing cuts live. On "Breaker's Revenge," I did all the cuts on that, but I don't think that came out until '83 or '84. After "Planet Rock" came out, everyone was doing that. And me and my co-producer John Robie didn't want to do another one like that.
As a matter of fact, when we did "Looking For The Perfect Beat," which took forever to do, I came up with the concept of looking for the perfect beat and "beat this." It was almost a taunt at Sylvia [Robinson], because there was definitely competition between us and Sugar Hill. It was like a challenge. It was really adventurous. I didn't wanna do a typical rap record.
After that, I didn't wanna do a cover record, which is why "Looking For The Perfect Beat" took so long, and why it was very different. Then "Renegades Of Funk" took a long time too. That was probably the first one we used samples on. We had James Brown and Martin Luther King.
What was your first experience with a sampler?
Well, it was either that one, or another one called... After "Planet Rock" I did "Funky Soul Makossa," which was a cover of "Soul Makossa" with Nairobi and the Awesome Foursome. The first one was the [E-mu] Emulator. The first time I heard that was at Unique [Recording Studios]. They had an Emulator with lots of samples, like the Three Stooges, Tarzan, stupid vocal things.
What was it like?
It was a keyboard. The first sampler I used was the orchestra hit on "Planet Rock." That was a sample from a Fairlight. Then when we did "I.O.U."
So you had access to a Fairlight when you did "Planet Rock"?
Yeah, but all we used was the explosion and the orchestra hit. The Fairlight was a $100,000 waste of space.
When I was really hitting, I don't think any of the records were made in the mix. They were made in the conception.
They just had pre-programmed sounds in them?
Yeah, there was a really hard-to-program sequence. It would take forever. On "Planet Rock" we didn't have an 808 and I wanted to use one, and there was an ad in The Village Voice: "Man with drum machine, $20 a session." I don't even remember the guy's name or anything. So I got him for $20 and said: "Program this." But the first time we ever used an Emulator to really make a difference in a song was on "I.O.U." That was the first time we did that. After that everyone used the Emulator on those stupid voices. For three years, there were the orchestra hits, the 808 and the Emulator. Then, later on, it was the multiple edits.
What was the difference between the rock remixes and dance productions you did?
My dance productions starting 1980 to '81 were all programmed. And all my remixes, until much later, were played live, so it was really different. They'd want you to do what you did, but the technology wasn't really there to do it, you know? There was the technology to put a click track. You'd have to use the snare and the kick from the live track, and you'd have to trigger the click from that.
Chris Lord-Alge was really good at that, because he was a drummer. He'd do a click track. But it was really imprecise, because the drumming was all over the place. So, you'd try to make a click that went all over the place, but that the sequence could follow. For instance, the Emulator had an internal trigger, so at least you could trigger their snare off the Emulator. So Chris did a lot of that. He did "Dancing In The Dark," he did "Swept Away" by Diana Ross. He was the engineer on a lot of that stuff. I think "Dancing In The Dark" might have had a drum machine. That was really tight.
But a lot of my other remixes, like [The Rolling Stones'] "Too Much Blood," which people still play, I'd just change the bassline. Because my theory was always that if you had a really groovy bassline, the drums don't have to be a straight kick, because people dance to the bassline. So when I did "Living In A Box," which was one of my first big remixes here, and also Fine Young Cannibals' "Ever Fallen in Love," I would change the bassline for like a Norman Whitfield bass approach. Then the band would call up, "You didn't make the chord changes; you didn't do this and you didn't do that," And I'd go, "Well, listen to Norman Whitfield. His basslines never change." I remember Lindsay Buckingham [of Fleetwood Mac] calling me back after I did "Family Man," being all upset, and "Big Love."
How I would start is re-doing the bass live. I had this bass player, Brian Rock – he was in this group Mojo Niya, signed to Streetwise – and he would play dubby bass, like on "Too Much Blood" and "Cover Me." Then, I'd have Bashiri Johnson come in and do percussion. Then, if I could, I'd somehow play the kick drum in. Chris usually did pretty well on that. But the technology was not really there to sync it up.
How time-consuming was this? How long did it take to do "Too Much Blood," for example?
The edits would take so long, and I was so coked out of my brain. So, between me being coked up and my engineer being coked up, we'd spend three days on the mix. Take 20 reels – I had 20 reels of "Too Much Blood" – and we'd go into the editing suite and there'd be so much that the [Latin] Rascals would just look at it and say, "What the fuck are you doing to us, man?" It would take weeks. Junior used to edit for me. Juan Cato used to edit for me. Benji Candelario. Cevin Fisher. Victor Simonelli. Lenny Dee. These were all editors that worked at Shakedown.
In general, how do you think the DJs' sensibility affected the way records were made?
Well, I mean, if you're making dance records, you want DJs to play them. A lot of record producers didn't realize that, so they'd have to get DJs to go and remix them. I would get DJs to go in and remix it with me, but I never gave the track to a DJ because I knew what I wanted. I wanted it to be credible with the DJs, so I knew having a DJ's name on it would help. But also because the DJ could also add a little something, and that could make the difference. When I was really hitting, I don't think any of the records were made in the mix. They were made in the conception.
So do you think the DJs affected the conception, then?
Yes, definitely. If I hadn't been a DJ, I wouldn't have known what to listen for.
Were you consciously taking ideas from dub?
No. I was taking ideas from the Garage. I can't say I was into dub. I like dub, but I'm not going to say I was listening to dub. I know François said he did, but he was more international.
Where did you get the ideas for using decay, reverb?
Well, from Norman Whitfield. Rare Earth records. They always had these wild delays. Rock records used to use a lot of delays. [Rare Earth and Temptations'] "I'm Losing You." It wasn't new. I don't think even Jamaicans came up with it. It was on R&B records. Motown records. But Rare Earth records specifically. But it was going to the Garage, I'm not going to deny that. Larry would use delays on the handclaps, everyone would go wild and I'd say, "Hey, sounds good to me!"


This interview was conducted in January 1999 in London. © DJ History