Dreem Teem on the Birth of UK Garage
From the DJ History archives: Timmi Magic and Mikee B share stories of pirate radio stations, sub-bass and Sunday parties
When UK garage rose to prominence in the late 1990s and early 2000s, it was the Dreem Teem that became figureheads for the movement – thanks in no small part to their weekly show on BBC Radio 1.
Before joining forces on pirate radio station London Underground in the mid-1990s, the trio of DJ Spoony, Timmi Magic and Mikee B all had long histories as DJs, soundsystem owners or party promoters in their native London. Through DJing around the capital city, all three had been at the forefront of the nascent UK garage movement as it began to rise around 1996. As the Dreem Teem, the trio pushed the exciting new sound on Kiss 100 and Galaxy FM before joining BBC Radio 1 in January 2000.

As "speed garage" and later 2-step began to dominate British dancefloors, the Dreem Teem headed into the studio. A string of club anthems and on-point remixes followed, including 1997's "The Theme" and much-played reworks of All Saints, Shola Ama and Amira.
In January 2005, Bill Brewster and Frank Broughton headed to the Radio 1 studios in London to interview two members of the trio, Timmi Magic and Mikee B, about the rise of UK garage, their role in helping to popularise the style and the then-emerging styles of grime and dubstep.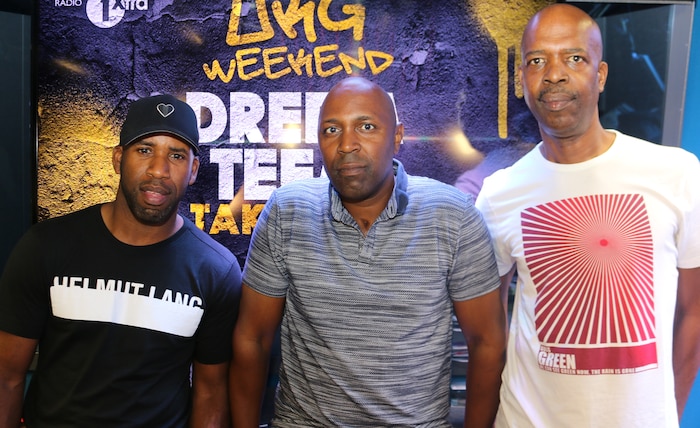 How did your love affair with music begin?
TIMMI MAGIC
I was born and grew up in East London, a place where there were a lot of house parties in the early '80s. That's what got me into music. I was buying records from the age of ten. At these house parties, there were DJs who never played in clubs but they always brought their music. Nobody really cared about who you were, the girls didn't care about you, you were just there to play music.
Later on obviously the house scene started, around 1987, and that's where I really started being interested in mixing and the technical side of DJing. I started off with house, moved on to US garage and most of the British dance scenes around '94 and '95, which is when we met. Me, Spoony and Mikee met on a pirate radio station.
Whereabouts in East London did you grow up?
TIMMI MAGIC
Leyton. There were a lot of influences from there at that time. Linden C is from that area and Derek B [Derek Boland] was from East London, so they were the kind of inspirations. There was a lot of clubs playing '80s soul. Derek B at Bentleys in Canning Town on Sunday nights was the place.
What about you, Mikee – what's your story leading up to meeting Timmi and Spoony?
MIKEE B
I was born in Jamaica in 1957. I came here when I was seven or eight, so fairly young. I grew up in Hackney, Clapton and Stoke Newington. My music career, if you can call it that, started when I was at school. I just found I had an interest in music while I was growing up. When I was ten I started washing cars to get a bit of money. I'd then go to the record shop up the road. There were always big men standing in the corner.
If you were born in 1957, were you old enough to be going to things like Crackers?
MIKEE B
In the West End, yeah? I never really checked it out much. I remember the lunchtime sessions and thought, "Nah, standing with workers in the daytime – rubbish!" I think I did go once. I can't remember if it was the same place. The ceiling was really low, like a little kind of lip going round the edge of the dancefloor.
TIMMEE MAGIC
Were you DJing by then?
MIKEE B
I'm not sure you know. The first DJ thing I done properly was at Turnmills. Basically my early days was standing in a record shop buying a few tunes and doing after-school parties. They'd have a party at school and I was nominated as the only person that could be the DJ, because I had about ten records. Over the night, I'd play each of the records about ten times. I was nominated and it just grew from there.
The first time house music got me going on the DJing side was going to Camden Palace and seeing the unity between football hooligans, blacks and whites, with everyone raving.
I started borrowing records, building a little collection, and remember being a little disappointed at that stage in my life and thinking that the DJs weren't even trying. You'd have a DJ who could mix and scratch, but their actual music content was sparse. I thought, "I have music that would kill them lot." So I decided I needed to get on the road and become a DJ, just to be able to play the music.
TIMMI MAGIC
Hence the soundsystem.
Wait, you had a soundsystem?
MIKEE B
Yeah, I had a soundsystem that we threw together. We were out there during the days.
What was it called?
MIKEE B
Funky Express. We played over West London with all the big systems, and South London too.
What kind of music were you playing?
MIKEE B
Rare groove, soul, lovers rock, Studio One, Treasure Isle, all that kind of music really. The emphasis was more on soul than reggae.
So this would have been the early '80s?
MIKEE B
Yeah, the early '80s. It petered out about '86 or '87 when it went house-y.
What were you calling yourself when you were at the soundsystem?
MIKEE B
At that point the sound was called Funky Express; later, in the house days, it was Top Buzz. It was me, Jason Kaye and Mad P the MC. We went through that [first] stage of hardcore and then it changed from hardcore into like drum & bass.
What were your first experiences of house music? Where did you hear it first?
TIMMI MAGIC
I went to Nicky Holloway's night, the Trip, the first day it opened. I went to one house thing before that. What was it?
MIKEE B
Shoom.
TIMMI MAGIC
Yeah, Shoom. I went to one Shoom night and then a guy said, "There's this new night starting up at the Astoria." By then I was already buying a few tunes and the Trip at the Astoria blew me away. There were fire-eaters, jugglers and party animals. We then started going to Spectrum on a Monday night and the Clink Street parties.
I think the first time it really got me going on the DJing side was going to Camden Palace and seeing the unity between football hooligans, blacks and whites, with everyone raving. That inspired me to say, "Yeah, this is the sort of thing I could do." Like Mikee I was into my rare groove, soul and a bit of reggae. What changed me was more the social thing rather than the music side of it.
Was that where Eddie Richards played?
TIMMI MAGIC
Yeah. "Evil" Eddie Richards and Mr C. I was mesmerized when I watched Mr C play. He was a mixer. I used to go to the club, stand there buzzing and say, "Hold on, how does this geezer get from A to B?" He was young and enthusiastic at the time. He was a lot younger than most of the DJs at the time, like Colin Hudd and all that, who were a lot older. Mr C was only 18 or 19, and I was like, "Yeah, I want to do this."
Around '89 or '90, a big club called Sterns opened up in Worthing. It was run by a guy called Mensa. He took me on as a resident. Me and Mr C used to run the middle floor. Personally I made my name on the South Coast more than I did in London. Certainly until 1994 when I met these guys.
The handbag scene out on the coast kind of crushed it for me. A lot of the handbag DJs would be like, "Aw, we're not really into that deeper house." So I decided to come back into London and get into the pirates.
How did you first hear about house? How did you hear about the Trip and Shoom?
TIMMI MAGIC
An older friend of mine. I was an electrician at the time and he came and worked for my dad. That was it: Word of mouth. We come from Leyton, where there are a lot of black people, but there wasn't many black people going to these raves. I was just an open-minded kid who was a little sick and tired of being turned away from other clubs. I'd get to the door and it'd be, "You're not dressed right – ain't got rips in your jeans."
MIKEE B
And not wearing enough plastic bags!
TIMMI MAGIC
Around that time, '86 and '87, there was house, but it was more the commercial stuff going through the charts – "Jack The Groove" and "Jack Your Body." I wasn't really that interested until I started hearing Armando's "Land Of Confusion" and that Transmat stuff from '87. That's what really moved me.
So you used to know people like the Rhythm Doctor?
TIMMI MAGIC
Yeah. He's a good friend of ours. We used to do Dungeons in Leyton, which was one of the real underground clubs at the time. It really stood out. It would finish at nine [in the morning] and then carry on until midday. Mr C, Linden C and Rhythm Doctor all used to play there.
So the ones that became Feel Real?
TIMMI MAGIC
Yeah, Feel Real. I used to play with those guys on the South Coast. I would have fitted in with that crowd at one time, but I was too busy buzzin' on the South Coast.
So was Trip at Astroria before Crazy Club?
TIMMI MAGIC
Yeah, Crazy Club came after Trip. The Trip was the first thing after Norman Jay's Shake 'N' Fingerpop and it was a major change. I was going in two weeks before, then it was, "Hold on, where's all the rare groove?"
The promoters weren't interested in making money, they were interested in putting on a party. Dance music has lost that whole ethic.
At that time around '88 and '89 you had a major influx of pirate radio stations – Centreforce, Horizon and JFM with Froggy. But none of those were the main house thing. You had Dance FM with Mr C, Kenny Ken and all them boys. There was also Fantasy FM with Krome and Time and Hype and DJ Rap, and Rave FM with Randall and myself.
There were loads of pirate stations that brought the more underground side to house music. Ratpack started out with Trip City. That [station] was the real raw underground side. That's where a lot more black people got into the rave side, when Everton started up at Hardwick House in 1988.
MIKEE B
That's when I was just coming into the scene and out of rare groove.
TIMMI MAGIC
Hardwick House had this lift to get in there. It was so dangerous. You'd go into this warehouse and take a lift to get upstairs. If there had been a fire it would have taken an hour to get everyone out. You went in there and the DJs were people like Shut Up & Dance, who had just started making stuff. You had that more raw, ragga-influenced house and hip-house. You'd hear your acid house stuff mixed in with that. So that was '88 going into '89.
What was the racial composition there? Was it more black?
TIMMI MAGIC
No, it was definitely 50/50. You'd have people like Boy George hanging around in there. You could hide in those clubs. Nobody really cared who you were, you could really get on it and get a rave going on in there. That was 1989. Then in 1990 the massive big raves started kicking in. By that time I was spoilt, because I was an acid house kid and I liked the small environments. I went to one or two big raves, like Sunrise, but it wasn't my thing. I was into the more intimate, moodier clubs.
Did you go to those things at the Four Aces in Dalston?
MIKEE B
You mean Labyrinth? At that Labyrinth, it was so hot in there. I hate the heat and I just thought I'd never go there again. It was just too much.
TIMMI MAGIC
Four Aces had memories of the whole thing before house. It was a reggae club. You could get yourself shot in there. We couldn't be bothered to go to Dalston. By then we were DJing and playing in our own places.
Before it was at Four Aces, Labyrinth used to originally be in Bow. Before they went to Dalston they were in another place called Only for the Headstrong, on the A102 leading towards the Blackwall Tunnel. They played proper acid and deep house. There was loads of décor and things like car tires hanging from the ceiling. The promoters weren't really interested in the money – they were interested in putting on a party. Dance music has lost that whole ethic of putting on a party.
How did you get involved with the pirate radio stations?
TIMMI MAGIC
It was a natural progression. In London there were so many DJs, the best way to get heard was on a pirate. And it's a community – you'd get on with guys and you'd hear other DJs playing records.
I was on pirates from really early on – '88, '89. All of the "name" DJs who were coming up – Kenny Ken, DJ Rap, a lot of the future drum & bass boys – they were on pirates at the time. Mr C was on a pirate, Femi B was on there, Bushwacka was on there. You had to get on to get your point across.
There was not too much presenting. It was all about music. There would be ten guys in the studio. That progressed on. It was only when we started to sign the petition to get Kiss FM back on air, because they said that they were gonna play really underground dance music, that the pirates began to disappear. At the beginning of 1990 all of the pirates went off. There wasn't another one until 1994 when Freek FM, one of the first established pirates, really got into it.
People appreciated mixing. Not just who the DJ was and what they were playing, but how they were playing it.
I was really headstrong in helping. I was the first DJ that went on there and pushed that sound. You had Freek FM and London Underground, which is where we met up.
So what happened in those four years?
TIMMI MAGIC
Nothing. It was really stagnant. There were things going on, but there was nothing that stood out in terms of pirates.
Musically, which way did you go? I remember in the hardcore scene you'd have one room with Tony Trax and Frankie "Shag" Bones playing US garage.
TIMMI MAGIC
Well, Frankie "Shag" Bones is a good friend of mine. Sterns, the club we were talking about earlier, kind of defined it. If you went to Sterns, there would be three floors [of music]. The top floor was what you'd now call drum & bass-type DJs. The middle floor was Mr C. Although he wasn't that soulful, he played quite deep and nowhere near as hard. Then you had people like myself, Frankie "Shag" Bones, Femi B, Rhythm Doctor and DJ Harvey and Justin Berkmann from Ministry [of Sound] also on that middle floor.
Then on the ground floor you'd have Top Buzz, Grooverider, Fabio and all the harder DJs. Carl Cox used to do his three-decks thing. That was where he first started to stand out from the crowd. You'd go, "Is he really using three decks?"
Terry Francis played there as well.
TIMMI MAGIC
Terry was on the middle floor along with DJs like Luke Slater and Aubrey. Terry's a great friend of mine. When he said he was coming to London I was like, "You're taking a risk there, boy." And he came here and he smashed it. I'm glad for him. John "00" Fleming, he was an up-and-coming boy at the time. He was just about getting into the middle floor then, but he obviously went a little bit harder later.
There was a split at the beginning of 1991. You either went hardcore, or you went all US [garage]. I chose the US path. I didn't know Mikee then, but he was on that train.
Was there ever a defining moment when you were forced to choose?
TIMMI MAGIC
No, I think it was nice because people used to move around. You liked Mr C for what he had done – the technical side of DJing was important at the time. People appreciated mixing and they appreciated hearing tunes mixed together. Not just who the DJ was and what they was playing, but how they were playing it. Remember, nobody had become a superstar DJ yet. In 1989, you were either good or you weren't.
The centre floor at Sterns had a good following and there were more girls in there. If you were downstairs you had a bit of Vicks on the back of your neck and you were on one. I moved away from that because I liked to have a shirt that wasn't as sweaty. You had a choice. If you wanted to hang upstairs with the girls, you could, and if you wanted to nut off you were downstairs. If you felt like doing a bit of both, you could.
What kind of music were you playing during this period? Was it from the likes of Emotive Records and Strictly Rhythm?
TIMMI MAGIC
Yeah, the early Strictly releases, things like Underground Solution's "Luv Dancin'" and Emotive releases. I used to mix it up. I was still playing stuff like Da Posse's "Searchin' Hard." I'd still bring a lot of the old '89 stuff into 1990. It was very much the soulful side of it – Victor Simonelli and that kind of vibe.
Then it just moved on. I wouldn't keep my parameters too tight. I would take it up a little. Then you had records like [A Hippie, a Homeboy & A Funki Dredd's] "Total Confusion" and [The Prodigy's] "Charly." When those came in it was like, "What's going on?"
Around about 1989 I used to run a club at the Sir George Robey pub in Finsbury Park. Normally you'd have bands in there, punks, Screaming Lord Sutch or Desmond Dekker. We used to be DJs who'd just play acid or dance music afterwards, so you had a really varied crowd in there. There was a point where the indie sound came into house – Charlatans and the Happy Mondays – so I started buying a few of those and sticking them in there. So it was diverse. It wasn't like, "You should play house," it was, "Just play good music."
The difference between US and UK DJs at the time was what mix was played. The US DJs would play the vocal mix, but we'd play the dub mix pitched up.
When did you feel there was that split? Because there was a point where you could play all sorts of things together.
TIMMI MAGIC
Early 1991. People either wanted it hard or they wanted the other thing.
MIKEE B
At the big raves you'd get everything: Carly Simon, Phil Collins, all sorts.
TIMMI MAGIC
Yeah, just drop it in the middle of a rave because everyone's buzzing. But around that time in 1991 you did get a clear split, where you were either CeCe Peniston or you were the Prodigy. The gulf was too vast. That's when it started to break away.
When did you first hear the music being called "garage" rather than house?
TIMMI MAGIC
US garage. It wasn't really used – it was just "house and garage."
But when did people start saying, "I'm a garage DJ," rather than, "I'm a house DJ"?
TIMMI MAGIC
That was much later on, around 1994. When I got onto Freek FM around then, I still classed myself as a house DJ. I would play DJ Disciple records and that kind of thing. That was still house. We still called it house.
What were the defining moments for you when you felt that you were taking a different route? Were that records that signified that?
TIMMI MAGIC
Oh, you mean the separation from US to UK garage? Right. One of the first tunes that could define it was a version Grant Nelson did [as part of 24Hour Experience] of the "Hard Dub" of Logic's "Blues For You" on Nice 'n' Ripe. It was exactly the same tune, it just had different sounds that were more British in feel – the kind of sounds that you'd expect to hear in jungle and drum & bass.
Even though it was still house-y, it was a lot brighter and a lot heavier on the dancefloor. That for me is the defining tune between something that was still fairly American in sound but more obviously British. There were a lot of British DJs that were still trying to make US garage and it was like, "Come on, give it a little twist!"
The difference between the US and UK DJs at the time was what mix was played. The US DJs would play the vocal mix, but we'd turn the record over and play the dub mix pitched up. We'd just give it a little more pitch.
The other thing that defined it was that in '93 and '94, we couldn't get any work on a Saturday night. Couldn't get a play at Ministry of Sound, so we'd go to Heaven, which had Fabio & Grooverider downstairs and a garage room with Feel Real. I knew all the guys, it was like, "Come on mate, give us a go!" "No!"
So Sunday afternoon was a really important time for those who wanted to go out after Ministry. About nine o'clock, you'd go to the Elephant and Castle pub or the Frog & Nightgown on Old Kent Road. The Frog and Nightgown was probably quite defining. You'd walk in there and there would be Matt "Jam" Lamont, who was one of the resident DJs, and people like Mickey Sims and DJ Dominic. There sound was a lot moodier. It was an older crowd with a few gangsters, loads of birds, a lot of brandy…
MIKEE B
And champagne.
TIMMI MAGIC
It was just different. It was calmer than a Saturday night.
Had they all been to Ministry of Sound?
TIMMI MAGIC
Some had been to Ministry, but some started saying, "Well, we're not going to Ministry, we're going to start going to the Frog & Nightgown." That would start and then go on until about four or five, and then people would leave and go to Kennington Park. This was really cool. I thought, "This is me – I'll have some of this."
I was playing a similar sound. You needed to find a home for that sort of sound. Grant Nelson was one of the first producers to make British-produced garage in a British style. We'd been pitching records up, but with the things he produced, you no longer had to pitch them up so much.
Was he following what you and other DJs were doing?
TIMMI MAGIC
Yeah. He was a DJ following the US scene and obviously thought, "I'm going to have some of this." He was a house man – he'd always loved this music, he just put his own stamp on it. At that time, him and MJ Cole and others started producing and before the 2-step thing you had a good year or two of 4/4, which eventually the magazines started calling "speed garage." Obviously they thought we'd pitched it up.
By this time you started to get clubs like the Arches, which was on a Sunday evening at this place on Southwark Street, just up near London Bridge. If you didn't get there by five in the afternoon you weren't getting in, because everyone started going there.
I think 1995 was the first defining year for promoters to make a difference. They said, "Hold on a minute, we've been booking US DJs for £2,000, let's try and book these [UK] guys who are now getting massive crowds where they're playing." Mikee was doing a rave called Moschino at Bagleys, and loads of other little things started cropping in the middle of 1995. We were still on the pirates – we didn't get together as the Dreem Teem until the end of 1995, beginning of '96.
Which pirates?
TIMMI MAGIC
We were on London Underground and Freek FM, but London Underground was the one, because most of the main DJs were on it – people like Norris "Da Boss" Windross, Ramsey & Fen, Jason Kay, DJ Hermit, Mikee, Spoony and myself and a lot of the earlier DJs who were respected in London.
Would you say London Underground was where the sound coalesced on the radio?
TIMMI MAGIC
Yeah, I'd say that was where it built up on the radio. One day one of the station managers decided to put on an event. That's the only way you're gonna gauge your audience, by putting on an event. The first one was the birthday party in Powerhouse, and I'll tell you what, there were a thousand people who couldn't get in that night.
That just set off alarm bells everywhere. The DJs were inspired and the producers were inspired to make music. That's when you started to get a nice infrastructure of DJs, producers and promoters. Whether some of them were just in it for the money, well, we're not going to go into that.
At the time you had some good organisations: Sun City, La Cosa Nostra, the Arches, the Zoo boys. That's when we started to meet up, just before we got to Kiss FM. And that's when the scene started to expand, when a few of us went to Kiss. Karl "Tuff Enuff" Brown, Matt "Jam" Lamont were brilliant producers at the time [as Tuff Jam]. They inspired a lot of the UK garage DJs and producers with their sound.
What were the early American records you were playing on that scene?
TIMMI MAGIC
Masters At Work and Roger Sanchez stuff was always in there. Their sound wasn't as hard, but Roger had a few tunes out there [that fit].
What about the harder side?
MIKEE B
DJ Disciple, Eddie Perez, a few of the Smack Records productions.
TIMMI MAGIC
We were inspired by what they were doing, but I think they were also inspired by what we were doing. They were over here all the time, and in any scene, as soon as there's suddenly a bit of movement in it and you've been chugging along for a while you kind of get envious.
Around 1996 the magazines started to get interested in it. We did one of the first interviews with a magazine, Mixmag, and they weren't too kind. They were definitely a house-based magazine and they labelled our scene "speed garage," which didn't really help. The core ravers didn't know what they [Mixmag] were talking about and they were putting a label to it.
All these compilations came out on the back of a few tunes that came onto the scene, like Double '99 "Ripgroove" and Tina Moore's "Never Gonna Let You Go," which came out in 1995 but played through the scene just because it had that 2-step bass.
What was the first 2-step record?
TIMMI MAGIC
That Tina Moore record was the first US one. It was the first 2-step track that really got people going. But then you had some British guys called SkyKap, who came with this tune called "Endorphins." These were definitely kids who were coming from jungle and drum & bass. That track had this real roaring bass, 2-step beats and was used to create a bit more atmosphere in the clubs. Then obviously you had an influx of DJs and ravers, because the drum & bass scene was going through a bit of trouble at that time. The garage scene was a safe haven.
Did you notice a point where there were a lot of disillusioned refugees from the drum & bass scene?
TIMMI MAGIC
Oh yes, definitely, though it was probably a little later on. As we got to about '98-'99, you got refugees from everywhere. Obviously the 2-step sound was now kicking in I got involved straight away. "The Theme" [by Dreem Teem] was probably one of the first real breakbeat [garage] tunes with a vocal. I thought a lot of the other 2-step hits had come out of instrumental tracks. I thought, "Nah, I want to put a vocal ballad over it." So I got a guy called Luigi to sing on it. That charted.
Our remix of Amira's "My Desire" was another one where I put a ballad vocal over a 2-step tune. That inspired a lot of people, like Artful Dodger. The first R&B 2-step track would have been the Architects remix of Brandy's "The Boy Is Mine." Their mix just blew the original out of the water.
Whether it charted or not, that was the way things started to go. You had loads of record companies sending out 2-step remixes of R&B tracks. R&B wasn't massive at the time but the remixes were, because there was energy to the music. That was when the garage scene really kicked in. I was never an MC lover. I was always against it – I still came from that old-school mixing thing.
MIKEE B
Unless it was Ckalky White. Remember him? He was a tall and skinny black guy that used to be at all the raves.
TIMMI MAGIC
E-Mix was another one. He used to work with Femi B on the soulful side.
When did the MCs start appearing?
TIMMI MAGIC
Early on. The first MC was a guy who used to host at the Frog & Nightgown. He didn't do any rapping really, just hosting. It was always part of the garage scene, but MCs didn't become as prominent as the music until 2001. That buried the whole thing. You can't dance to an MC – it's got to be the music.
A lot of the promoters and record companies thought that was the way forward, but clubland works first. My mentality is that it's not just about the music – it's about the social activity in the club. That gets people going there. When you go to your first club when you're 16, you want to go where there's more girls than guys. You don't care about the music. If there's girls there, you're gonna go. If you go to a club and there's people beating each other up, even if you like the sound you're not going to go there.
They lost that community, which was people going and hanging out, loads of girls going out and winding up to vocal music. We got the best of that, doing the London thing, then the national thing. Obviously coming to Radio 1 brought it to every nook and cranny in the country. By then you had established artists, singers and performers charting and everything else, which was great for the music.
What did it do for the scene when acts like So Solid Crew got so massive?
TIMMI MAGIC
Well personally, they had a big thing with us.
There was the "UK garage committee," wasn't there?
TIMMI MAGIC
It was silly. We never really got involved with that. What had happened was that we ran a UK garage stage at the Notting Hill Carnival three years in a row. The last year, it was sponsored by Diesel and we tried to open it to the [UK garage] community. We were already on legal radio, so we thought we'd get some of the pirates to come and do day two. You know, give them a chance to get their boys in.
We invited one DJ from each station. So Solid were the biggest thing on their station and they had this one record, [Oxide & Neutrino's] "Bound 4 Da Reload (Casualty)." To me it was like they might as well have been playing David Bowie. It wasn't anything to do with our sound. We said to them on stage, "We don't want that "Bound 4 Da Reload," we're really not on that." We didn't know it was their track. They were like, "What?" It was more like kiddie stuff, going backwards.
A year after that, onstage at Notting Hill Carnival we had 12 acts and Trevor Nelson had two acts. He said, "How can you have 12 acts?" I said, "Because they're all in London." We had Mis-Teeq, Craig David, Elizabeth Troy, Shola Ama. It was like, "This is London for you." That was 2000. Up until that point, you had Ayia Napa [in Cyprus] blowing up.
How did that come about?
TIMMI MAGIC
We went there in '99 with an organisation called Pure Silk. There were a few DJs who went out there, got work and played. We went to Radio 1 the next year and said, "We're going to go out to Ayia Napa like they do Ibiza." We did our Radio 1 show from there. The best thing was the club night. It was the best-ever emotion we'd had for one night.
My hotel was about 300 yards down the road. I'd booked a cab and said to the taxi driver, "We're going down there." He said, "We can't, there are too many people and police." I put the records in the back and told him to drive. As he's driving down, I see the crowd and think, "Wow!"
So he asks, "What are you doing?" I say, "I'm the DJ." He says, "You're the DJ? I have to get an autograph for my daughter. It's amazing out there. There are girls everywhere!" So we got down there and believe it or not there were about 2,000 people outside the club for our show, live on Radio 1, and they're all people I know. So I was like, "Why aren't they letting anyone in?" The cab driver says, "It's packed in there. There are 2,000 people already inside."
So I got in there and poor Mikee's up there on his own because Spoony hadn't turned up yet. He's there with all these girls looking at him – there must have been half the Cypriot community in there, because they listened to our radio show. It was the first time we'd been to a country where the locals are really getting into the music, loving the garage and all that business.
Mikee says, "We're gonna have a night tonight!" Spoony came on and Rankin just said, "We're going live to London, make some noise!" It was a football cheer – like a goal to win a final in the dying seconds. We waited for them to calm down and then dropped the first tune. It was live and it was definitely the peaking point for UK garage. By this time, the rest of the world was like, "Yeah."
We went to Miami in 1998 or something, us three with Fabio & Grooverider and Master Ron, and we're all sitting in the party. We're standing in the corner and you'd think we're irrelevant, but every DJ came up and said, "Big up you guys." We'd set a difference away from everything else. But it wasn't just us – hats off to all the DJs and producers within the scene who built it up.
I think a bit of commercialism around 2001 harmed the scene. So Solid, they were doing something, but I think if they were marketed in a different light they would have survived. And we would have survived. But calling it garage? The grime stuff is so low, MCs chatting about stabbing your face with an axe.
MIKEE B
My mum is harder than your mum.
So you think that grime is a direct descendent of So Solid Crew, rather than UK garage?
TIMMI MAGIC
Yeah. It's totally nothing to do with garage.
What about dubstep?
TIMMI MAGIC
What's dubstep?
Well, it's allegedly another form of grime.
TIMMI MAGIC
I'm way off. I'm 37 years old.
MIKEE B
I'm 47.
TIMMI MAGIC
There you are. Ask my daughter. She's 16. She knows that sort of thing. For you, you've got to stop where you feel your music goes. So since then we went underground for a couple of years. Even though we were on radio, we just needed to define our sound. Now we're floating back with the sort of funky, soulful stuff.
MIKEE B
Everyone just started hating garage, didn't they? "I'm not going there, I'm not going to listen to that."
TIMMI MAGIC
It died within a year, that sound.
It became very commercial very quickly.
TIMMI MAGIC
They took So Solid from pirate radio and before they'd even left they had their deal. They hadn't had to go through the ranks in the clubs. They never really played in clubland. It was just straight onto the charts. Any youngster seeing that thought that was they way to go. The way music is marketed through MTV doesn't give the kids a chance to say they want to go out and earn it through the clubs. All they want is, "Bling bling, loadsa money, nice car."
MIKEE B
No apprenticeship.
TIMMI MAGIC
They've not really built on their sound. We class ourselves as selectors as well as DJs. Mixing was an added bonus. Mikee, before mixing you had to select the records. This guy [points at Mikee B] used to play 18-hour sets. How do you last? What do you play in your 18th hour? It's a lot to take in and that's why a lot of the best DJs are over 30. Your first 15 years as a DJ, you're partying and chasing birds. It's all sex, drugs and rock & roll.
MIKEE B
And bigging up your collection.
TIMMI MAGIC
Then you look back and it's like, "Now we're gonna play some music and educate."
This interview took place in January 2005. © DJ History