Loleatta Holloway: Queen of the Night
From the DJ History archives: The eminent singer talks Bill Brewster through some of her highs and lows in dance music
During her lifetime, few vocalists contributed more to dance music than Loleatta Holloway. Her throaty, R&B-inspired delivery was featured on a string of memorable club hits, including both original disco classics and inescapable house records.
After cutting her teeth in gospel groups while growing up in Chicago, Holloway met producer, manager and future husband Floyd Smith. He signed her to Atlanta soul label Aware and produced her first two albums for the imprint before it went out of business. Her career began to take off when she started working with producer Norman Harris in 1976, recording a string of disco hits for his Salsoul Records offshoot Gold Mind. Through her partnership with Salsoul, Holloway was responsible for such classics as "Hit And Run," "Love Sensation" (produced by Dan Hartman, who she also collaborated with on "Relight My Fire") and "Dreamin'."

Holloway's vocals, some of which had been presented in a cappella form on 12" singles, have been sampled many times over the years, most famously by Black Box for their smash "Ride On Time" (a saga that resulted in Holloway successfully suing the Italian outfit for copyright infringement). She continued to be an active performer and sought-after guest vocalist right up to her death in 2011.
In early 2005, Holloway spoke to journalist and author Bill Brewster about the Salsoul years, working with disco producers such as Tom Moulton and the fall-out from her bitter legal battle with Black Box.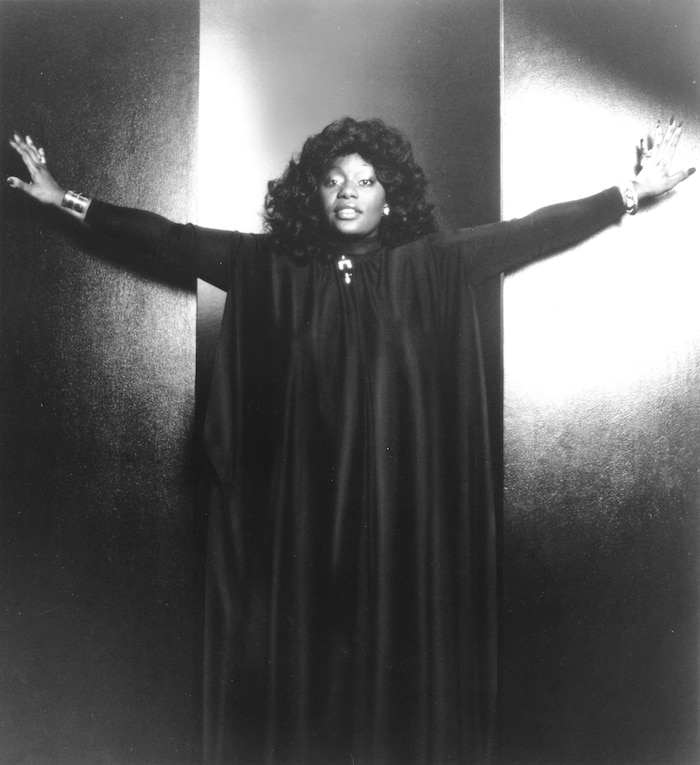 How did you end up signing for Salsoul Records?
I was signed to GRC first, out of Atlanta, Georgia, on the Aware label. The owner of the record company went to jail.
What for?
He was the pornography king. He was the one who did the movie Behind The Green Door. They put him in jail because it was illegal then. Once they got him in jail they made it legal, but they still kept him in jail. We left from there and went to Salsoul.
How did you meet [Salsoul founder] Ken Cayre?
Through my manager and my man, Floyd Smith.
How did you get on with Ken?
I always got on with Kenny. Kenny is fine with me. No matter what I might think about Salsoul, Kenny was more of a friend to Floyd and myself. We were more of a family. Kenny was more of a family member to most of the artists. I might have been one of the only ones, but we often stayed at Kenny's apartment when we came over. Even if we couldn't get a room, we'd come and the doorman would let us in and Kenny would come home and our kids would be all over the house! He was more like a brother to me.
Tell me about your first recordings [for Salsoul]. Am I right in thinking the first one was "Hit And Run"?
"Hit And Run" was the first song I did and I thought it was the worst song I'd ever heard. I didn't want to sing "I'm an old-fashioned country girl," because I hadn't been born in the country. I was from Chicago, so to me it was an insult. But once I heard the groove and the music started playing...
Tell me about working with Norman Harris. He was supposed to be a nice guy.
Yeah, he was a really nice guy. Kenny and he were like brothers.
Who else was playing in the band? Earl Young?
Yeah, Earl Young. There was conflict when I went there to record and my manager Floyd wanted me to sing some ballads, but Norman only wanted me to sing uptempo songs. There was an argument. Norman had never heard me sing. I was just someone that Kenny had brought and I guess Norman thought we were coming to the Philadelphia sound. My manager was like, "No, I want her to sing some ballads, she's a rhythm & blues singer".
I didn't know they were arguing for ages. I was ready to sing this song for hours! And so my manager told me – because I could play a bit – "Loleatta, just play and sing." So I started playing the piano and singing. Earl was in there and he started beating the drums to my song and then he just stopped. And he got up and went to Norman and said, "Listen guys, just stop the bullshit and let's play. This woman can sing!" And that's how it started.
What about those vamps of yours?
Like the ones when he says, "Now let's do the album version"?
Yeah.
At that time, when they gave me a song and the song was so long they didn't know what to do in the vamps, they would say, "Well, let her go herself." So I would always put myself in the situation of the song: "If this was me in this situation, what would I do? What would I say?" So when it started I'd just go straight from the top of my head whatever I felt in the moment. In "Dreamin'," for example, that is the stuff I would've said to another woman.
How did you come to do "Relight My Fire" with Dan Hartman?
One day I did a show at a club called the Fun House and Dan came by there. After the show he said, "I want you to do this song." Originally he was trying to figure out whether he wanted Bette Midler or Patti Labelle to sing it, but after he came by that night he decided he wanted me to sing it. So I said, "Yes!" So they made an agreement that he had to write me a song and that was, "Love Sensation." So we did "Relight My Fire" and then he wrote "Love Sensation."
Dan produced that too, didn't he? Who were the players in the studio for that?
I don't know. I think Dan did most of it himself. He did most of the backgrounds, too. When I went to record it, I did it at his house. Most of it was finished except for maybe some of the backgrounds, but he gave me a rough [mix] of the song a month before so I had chance to know it frontwards and backwards. That was the difference then. So when you went into the studio you really knew the song well. You gotta give me the song in advance to get the best of me, to get the feeling and the meaning.
Dan was a quite hard taskmaster in the studio, wasn't he?
I sang that song 30 times! When I went in there I was as clear as a bell. The first time I did it, it was perfect, I thought. I did it a second time. Then he said, "Your voice is too clear – I want it hard and deep!" So he'd be working in there with me, jamming, and at the end he'd go, "That's great! Let's do another one!" Then at the end where I hold that note, I was so hoarse I didn't know what to do. He said, "Now I want you to hold that note," but I was so hoarse that I couldn't talk.
He said, "What can I do?" I said, "Sometimes I eat Vicks!" So he went and got some Vicks and I had some coffee and I held the note. But he wanted it longer. I was cursing! So I had to wait overnight, go to sleep and get up the next evening just to hold that note. But the song really paid off for somebody!
What was it like working with Tom Moulton on "You Light Up My Life"?
Great. I did the song one time. There was something going on with Norman at the time, because I don't think he wanted me to record with anyone other than himself and Floyd. So it was like a sneak job. We had to sneak in and do the song upstairs in the studio because Norman was trippin' out. We did the song one time and they were like [whispering conspiratorially], "We got it, we got it!" I guess they didn't want any arguments. It was really quick, because it was a simple little song.
What was it like playing in clubs like the Paradise Garage?
Great. You know, there are a couple of clubs in London [that reminded me of the Garage]. One was Heaven and the other wasn't in London, we had to drive to this place, a [coastal] resort?
Southport?
Yes. That reminded me of the Garage because it would be packed and there would be a really good crowd. The crowds I had in London were just as good as the ones in New York. They treated me just as well as an entertainer. They always made me feel that they appreciated me.
I performed so much that people, I guess, would see me a few times. I remember one Christmas, I did four shows one night and when I got to the last club, I couldn't talk. When I got up there, it was six o'clock. They gave me a Santa Claus outfit to put on and when I went up there, not a word came out. Tears started coming out my eyes. Then, all of s sudden, the crowd just started screaming! Next thing I know, my voice started coming back, while the crowd was singing my song for me. It was great – they just lifted me all the way up.
Johnny Dynell always said that anyone who performed well at the Garage had "Loleatta's Blessing."
I called it the "Gay-rage," because that was my home. I could do whatever I wanted when I was there, because that was my home. You know, Larry might have been "the man," but I was the bitch of the house! [laughs]
You also performed at Better Days, right?
Black club, right? Very sophisticated crowd, but a lovely club. I loved that crowd.
Why do you think your music has lasted so well?
Yeah, well, I think it would've been even better if they'd made some videos. They might have places that caught me doing shows, but I would have to hunt down those. I'm talking about a true video. If they had done that it would have been even better, because "Love Sensation" is a song that has been played forever.
Does it annoy you that your voice still gets sampled today, or do you feel proud?
You know, at one time, with the Black Box situation, I thought I was gonna lose my mind. Seriously. I almost had a nervous breakdown. I couldn't talk about it without cryin'. I'd spent so long tryin' to be an entertainer and then here's this big record in London of all places, one of the biggest records, and I'm not even getting a credit for it!
It was like, "How dare they?" Someone's just taken something from you, right in front of your face. For years it destroyed me. It made me a person I don't like, and I'm not a bad person. But in life you get what you got coming. You know, the other day Marky Mark [Wahlberg] was on the TV talking about that record, and he never even mentioned my name. I'm so used to it that it doesn't even phase me anymore. I remember a time that would've hurt me. I've come a long way!

This interview took place in January 2005. (C) DJ History