Norman Jay MBE: These Are The Good Times
From the DJ History archives: The storied London DJ on his early years, KISS FM, the Good Times Soundsystem and accidentally inspiring the rare groove scene
Over the course of a near 40-year career, Norman Jay MBE has been at the forefront of London's club scene. Having started out as a keen dancer and record collector, his rise to prominence began when trips to New York inspired him to team up with his soundsystem-building brother, Joey, in order to put on parties.
The hand-built Good Times Soundsystem made its first appearance at the Notting Hill Carnival in 1980, and with Norman and Joey at the helm it has been a mainstay of the legendary event ever since. The sound quickly became one of the most in-demand rigs in the city, and was later heard powering era-defining events at Shoom and Gilles Peterson's Sunday Sessions at Dingwalls.

By that time, Jay had accidentally spawned a club movement, rare groove, which was named after his celebrated radio show on KISS FM, a pirate station he was involved with from the very beginning. Around the same time, he joined forces with an economics student and wannabe DJ, Judge Jules, to put on a string of notorious warehouse parties around London that pre-dated the acid house revolution. In 2002, Norman was awarded an MBE, Member of the Most Excellent Order of the British Empire, by Queen Elizabeth II for services to music, an honour rarely bestowed on DJs.
In this extensive interview, edited from two separate interviews conducted by Bill Brewster and Frank Broughton in 1999 and 2000, respectively, the collector-turned-selector reflects on his earliest musical memories, trips to New York, being a travelling soul boy and the rise of the Good Times Soundsystem.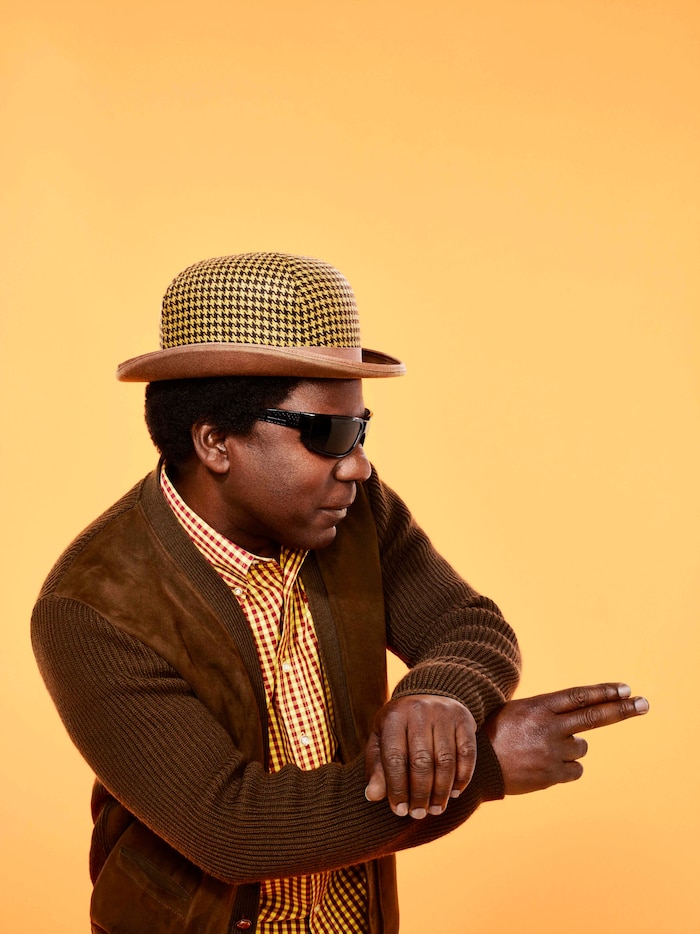 How did your relationship with music begin?
From a very young age, my dad was an avid collector of all sorts of '40s and '50s music – a lot of jazz, but also secular American music. My grandmother had been living in New York since the late '50s and I remember that when she came over to visit, she always brought over top ten R&B singles of the moment to give to my dad.
We were the first people in our area to own a radiogram. My dad would spend hours on that thing, playing records over and over again. By the age of five or six we were tampering around with that radiogram. I'd collect all the singles and pile them up like a jukebox and watch them drop on the automated changer. I was fascinated with the automation. I always used to put the records on and my brother Joey always used to rip the workings apart to see how it worked and then put it back together. That's how he got into building his own soundsystems and I became a DJ.
I started buying records when I was five or six and I had a huge collection of ska records by the time I was ten. I remember buying things like Fontella Bass, "Rescue Me." To get my fix of reggae I used to get the bus from Acton to a record shop called Webster's in Shepherd's Bush market. I'd spend all day in there and only buy one single, because that was all I could afford. A single cost five shillings, 11 pence.
Around my first year in school, 1969, I was gradually being converted to soul, although I didn't really make a distinction between reggae and soul then. It was just black music by black artists. But I converted loads of my white mates to reggae. They'd come round and listen to the radiogram.
As a teenager I was a big Tottenham [Hotspurs] fan and even then I used to travel all over. Football was my all-consuming passion and I was quite a good player as a kid. I wanted to be a professional, but at the back of my mind was always the music thing.
A major turning point for me was when Shaft came out. It revolutionised music and totally changed my perceptions.
I left school really early with no qualifications. I was getting £4 a week at the Evening Standard, which I thought was a lot of money. I heard from a mate of mine that there was a shop in the West End that sold soul and black music. It turned out to be the old HMV in Bond Street. This would have been '71 or '72.
One afternoon I went down there and they had the R&B Top 40 in there and I didn't know any of the records, but the staff would write up little reviews about which ones he thought were good. The British ones were 45p and US ones were 60p, but you had to order them and it took a week. So I ordered some and a week later I came back and he'd got them for me. I asked him if he could get any other stuff and he said he could only get the bigger label stuff, but there was a shop just down the way, Contempo on Hanway Street, that specialises in that.
I went upstairs to the first floor and it was unbelievable. Records everywhere. There were two black guys working in the shop and one of them I knew. That's when I discovered Blues & Soul and Black Music behind the counter. And it was packed. I discovered a whole new world just waiting in the shop. I'd go there every Friday religiously and buy stuff.
A major turning point for me was when Shaft came out. It revolutionised music and totally changed my perceptions. Because you're black you think you know about all of these things before anybody else, but it was an Irish kid in my class who introduced me to it.
One day he came in the playground and said, "Norman, have you heard about this film called Shaft?" He'd already seen it. I'd never heard of it. So I said, "Yeah, course I have." I went 'round his house one weekend and he played Shaft. It was the most unbelievable piece of music I'd ever heard. So I went straight to Contempo to get it. I played that record to death. So I knew that feeling you got when you heard a record that drove you mad. That rush. That feeling. It's like sex.
Shaft was one of the few records I brought back that wasn't reggae that when my dad heard it, he loved it. That's how I got into that blaxploitation thing, because up until that point I hadn't bought an album yet. Around that time I discovered James Brown. I'd never really listened to records [lyrically]. I was never that deep. If the overall sounds excite you, then if you want to go a bit deeper and hear what they're saying, you can do. It's why I like dance records, because they're escapism, fantasy. Dance records are for the moment. You want to dance to them. I always liked funky upbeat records, and then I started to get into the songs.
What kinds of clubs were about when you were first starting to go out as a teenager?
In London we had loads of small clubs. There used to be a chain of clubs called the Bird's Nest, about four or five of them. One in Twickenham, one in West Kensington, one in Waterloo and another one in West Hampstead. This would have been '73 or '74. The West Kensington one used to have a soul night on a Sunday night that I went to. That was a complete revelation to me, because I'd never heard all the music that I'd been buying played loud in a club environment. It blew my mind. It was half empty, but I found what I was looking for.
They looked at me like I was a complete freak. I was called a queer and a faggot. But I loved the fact they called me that.
When I went to my first northern soul gig I was intimidated. When I first went to Wigan Casino, there were three black guys and two of my white friends. Five of us went up in my Mini. The bouncers up there gave us real grief, until they realised we were Londoners. The crowd backed us up, which completely took me aback. They were the friendliest people I've ever met. All my perceptions were shattered in one night. And it was such a fantastic feeling.
What did you think of the music at the Casino?
I didn't know any of it because it was too obscure. It wasn't my perception of what northern soul was. I only knew the last three records of the night. I couldn't really get with the drug thing in there as well. By that time I was just flirting with weed and I couldn't deal with the pills. It wasn't massively overt, but you knew it was there. And when I was in there, people put you into their stereotypes. You're the black guy so you must be the drug dealer. All night long we had guys coming up to us. That was disappointing.
My lot hated it. They couldn't chat up the birds because all they wanted to do was dance all night long. The blokes were just so into their music. Our lot were cockney wide-boys. They were into fashion. That's the thing with London: Music's part of a whole bunch of things. I was up there wearing straight-leg Levi's and it was just when the punk thing was coming in; I had a mohair jumper. They looked at me like I was a complete freak. I was called a queer and a faggot. But I loved the fact that they called me that; it was rubbing them up the wrong way and challenging their perceptions.
Were there any other black kids there?
There was one, he was well-known there as a dancer. And his nickname, inevitably, was Chalkie. Chalkie White. He was famous for his dancing. He came up and spoke. He was really friendly, but my lot were taking the piss out of him because they'd never met a black guy with a northern accent. We must have sounded equally weird.
This lot I hung out with were really wide-boys, but they were out every night. If anything was happening we were there. We were there at the first night when Crackers opened. There were only ten people in the place – it didn't take off until a year later. There was also Sunday nights at the West Hampstead Bird's Nest.
The difference between us and those northern kids is that we were into new things. New music, new sounds, new clothes. We didn't want to look back. Looking back was rock & roll and dinosaurs. We wanted the latest, the hippest, which is why London appeared to be quite faddish.
Did you go to Blackpool Mecca? They played new music there
I didn't go in its heyday, I went just before it closed. '77 we went. Those splits were well documented in Blues & Soul, so I was reading avidly about these things. We watched their petty debates about what was and what wasn't allowed and we were laughing at them!
We used to hitch all over the country, and in general Londoners never hitch anywhere! I needed the adventure. You'd go up there for a football match during the day, kick it up at the game and then in the evening, you'd discover that you had a common bond with the same people you'd been rowing with: Music. I used to go up to these matches in the north and take a holdall with me so I could go to clubs afterwards.
My lot thought I was a mug, but that's how I discovered Reds in Manchester, because I knew of John Grant, Colin Curtis and Ian Levine. I went to Blackpool Mecca, again after a Spurs game, when we were in the [Football League] Second Division. About six of us got in to the Highland Room for nothing and had the time of our lives. I remember hearing Ian Levine, and I liked some of what he played, but he played all the records that I'd left behind in the shop.
They wanted the blackness, without the black. It was great for white kids to like black music, but they didn't want black kids in there.
Around the time I left school, which would have been about '74, the 100 Club started an American R&B night and they got this guy that no one had ever heard of to do it: Greg Edwards. It was the first time we'd seen a black DJ – it was always a white guy. We went in there and there's a black guy playing the music, talking with an American accent and playing black music. It was called Bluesville's House Of Funk.
I didn't realise it at the time, but it was full of the hippest black guys, who I later discovered were gay. There were also transvestites and cool white people and there was no tension. It was the first time I'd seen somewhere properly integrated. There was no violence. It wasn't your local Mecca disco: It was an uptown London after-hours thing. It cost 50p to get in and the queue went 'round the block.
I remember hearing so many funky things that night. It was a million miles from Wigan Casino and the squabbles in Blues & Soul and Black Music. It was closer to what was going on in downtown Brooklyn. It was very influential. The imports would come in on a Thursday afternoon and Greg would be playing them for the first time that night. The next day you'd buy them.
What's your take on the jazz-funk scene that was beginning to develop in that period?
The origins of that were very small, very underground and very black clubs in the West End. You never read about them in Blues & Soul. There was a nucleus of clubs and the really astute people like Chris Hill realised there could be a huge demand for these things. They did it for the right reasons: They wanted to bring this music to a wide audience. But subconsciously, they excluded us. They wanted the blackness, without the black. It was great for white kids to like black music, but they didn't want black kids in there for some reason.
I can remember the earliest things at the Goldmine in Canvey Island. Chris Hill did the first Sunday night and it was almost exclusively black. If you look at photos of Canvey Island circa '74, it's black. Within a few years the clientele had changed. Not many people know that, but I went.
Chris Hill was doing these things all over the country. Just like the northern [soul] network, we had a southern one: the Lacey Lady in Ilford, Southgate Royalty, Scamps in Hemel Hempstead, Sutton Scamps, Bumbles. There would be a club for every night of the week. On this circuit there were no black DJs.
As it turned out, the biggest DJ at Crackers was a Greek, George Power. He had a big black following. He was totally on the button and understood what black kids were about. In the eyes of us inner-city kids, George Power was more important than Chris Hill or Robbie Vincent. They didn't mean anything to us. They weren't as cutting-edge, or as up to the minute as George. But you needed the Chris Hills because they were taking it to the masses.
Over here you were used to going to clubs that were essentially pubs with record players. In the American clubs, they understood that you got the soundsystem right first.
I went to those big events on the all-dayer circuit because they were like the gathering of the clans. I went to the first three or four Caister Weekenders and the first Funky All-Dayer at Reading. Smarties in Manchester. Cleethorpes. Central in Leeds, Angels in Burnley.
You were travelling all over the country but still living in West London. What was the community like?
It was almost 95% black. In those early days it was quite lawless, at times almost bordering on anarchy. As a black youth walking the streets in London, you were used to being constantly harassed by the police's Special Patrol Group.
The "SUS" – Stop and Search – law I assume you're talking about?
Yeah. It was like being in South Africa. You'd just get stopped randomly. The police were arbitrarily overstepping the mark. Notting Hill Carnival in August 1976 was when the angry youth of London just said, "Enough is enough." That was in my neighbourhood. It was people like me the police were attacking.
That was a big turning point. What was carnival like before then?
A very traditional, mum and dad thing for Caribbean expats. A few people behind floats. Very small. You have to remember that it had been running since the '50s. As a teenager you knew all about it, but there was no attraction for young people. First-generation black kids born here didn't relate to it. That wasn't what you were about. If you came from a council estate or some run down bombsite under the Westway, that's not what you were dealing with on a day-to-day basis. You had to face the everyday realities of oppression. If you'd come through discrimination and crime, you're not scared of anything.
Were there not soundsystems at carnival before that?
Not really. It was only in the early '70s when the first generation of kids here began to acquire the means and the resources to build their own soundsystems. There were paid parties going on within the black communities, though, known as "blues." It was an Afro-Caribbean tradition brought to the UK. Black people weren't made to feel welcome in many local pubs or places of entertainment, so it was needed. Racism was there.
At the end of the day it was hard for an immigrant to come here. It didn't matter if you were black, Asian or Irish, that was the climate. But I can honestly say that I never personally suffered that kind of persecution, partly because of my upbringing and the liberal attitudes of my parents, which helped me greatly.
When did the soundsystems begin to become part of a feature of Carnival?
After '76. That when the youth really came down en masse, after the riot. The people running the soundsystems realized that carnival was an excuse for a party, so you might as well set up a sound outside somebody's house. Back then, the area wasn't like it is now, all gentrified. It was all bombed out with sites that had not been built on since the war. It was horrible, but I loved it. With the mean streets, it was just like Brooklyn or the Bronx. I know because I've been.
When was the first time you went to New York?
The summer of 1978. By that time quite a lot of my family, including my dad, were living there. Thanks to Freddie Laker [and his low-cost airline Laker Airways] you could fly for £99 return. I was unemployed for two or three years, doing crap jobs, hustling, so I had to save up, but eventually I had enough money to book that first trip. Later it became a more regular thing. I always used to go in the middle of the summer when it was stifling hot.
Even in my aunt's street, they used to have block parties, where the streets would be blocked off. Up until 1990 my uncle ran one of the biggest calypso clubs in Brooklyn called the Flamingo, an illegal, after-hours place. He also had a huge soundsystem they'd built. All of this was unbeknownst to me and my brother while we were building our own.
My uncle would take the soundsystem out. When I got there in July '79, they were setting up the sound in the street. My uncle set up four decks, right on the pavement outside my aunt's house. "Good Times" was the record of the moment. It was a wicked party. I'd never seen anything like it. Over here you were used to going in to clubs that were essentially pubs with record players and crap Tannoy systems. In the American clubs, they understood that you got the soundsystem right before you even thought about the records. You can play the worst record in the world, but if you are playing it on the best set-up then it will sound a million dollars.
The other thing I noticed was how cheap the records were. They were so cheap that everyone bought two copies. My uncle had two of everything, and because he was in the record pool he got promos too. But he did get rid of a lot of records to allow more space for furniture. I took as much as I could physically carry. That's what motivated me to play records. I thought, "Yeah, these will be good for the soundsystem," because all soundsystems have a record library.
I remember telling my brother Joey about all the gear I'd seen out there – the decks and mixers especially. In the UK we'd traditionally had Garrard decks. You couldn't play "Good Times" like that. I bought a pair of second-hand Consort decks and my brother by that stage was pretty proficient in reconditioning things.
When did your brother start building the soundsystem?
Around 1975. I wasn't really into it then because I was a soul boy. I wasn't into the soundclash culture that surrounded reggae. My brother being a rasta, he was following a longstanding tradition. As we'd got the same interest in music, I would go along and support, but really it wasn't for me. I went to all the big soundclashes of the day.
Were you sitting there thinking, "It would be great if the music was different"?
Always. I'd think, "Wouldn't it be great if I were playing my own music to my sort of people?" When I started getting into it was after that trip to New York in the summer of '79.
Had you already started DJing by this point?
Yeah but not properly. I was a collector rather than a DJ. I bought records fanatically every week. If a mate was having a party it would be, "Get Norman, he's got loads of records." So I couldn't chat up the birds then. I was the lemon stuck playing the records.
When you started getting more interested in using your brother's soundsystem and running that together, did you change the technical set-up a bit?
Yeah, I did a little bit. We changed the name to Good Times, because before that the sound was originally called Great Tribulation, because of the great tribulation Joey went through building it. I think the slight changes in sound came about because of the party I did, like a club, at my mum's house. I was adamant it was going to be a soul party, not a reggae one. My brother was a bit concerned.
What can you remember about that first party?
About 200 people turned up, mainly West End kids. It was like having a West End club in your mum's house! In essence that was the very first "soul blues," because traditionally blues were always reggae. I'd quite openly claim it was the first soul blues. All the local guys turned up and they were like, "What's all this? Where's the reggae?" I said, "There ain't no reggae here tonight. I'm playing the records, and there ain't no reggae." I used to get a lot of grief in the early days.
My brother used to test the whole soundsystem in my mother's house. Once the vibrations brought the whole ceiling crashing down.
It was amazing to see all these West End kids coming 'round to my house and all the local people were saying, "Who the fuck are these guys?" We jammed untold people into my mum's house in Acton. The West End kids loved it, but the reggae boys weren't impressed by the funk and soul I was playing.
A lot of that music you would never hear through a good system back then.
That's true. The reggae fraternity knew that sound was important and that music shouldn't sound shit. That's why the systems dominated, because the music sounded proper. Hearing all my records over the system blew my mind, let alone the audience's.
It was a year later that you first played with the sound at Notting Hill Carnival. What can you remember about that?
Joey didn't really want to go, because we couldn't guarantee the safety of the set-up. It was the post-riot years and we really didn't want to risk everything we'd got. In those days when it was carnival, you started on Friday daytime and ran until Monday or when people went home. It went 'round the clock, especially if you lived in the neighbourhood.
We had a soundsystem that had all the equipment to deliver the sonics of a record that you couldn't hear in clubs, because they were crap. My brother used to test the whole soundsystem in my mother's house. Once the vibrations brought the whole ceiling crashing down. That would have been a death sentence in any other house. My old man should have killed us, but he was alright about it. I mean, he was really seriously pissed off, but he was more concerned that we weren't hurt.
So I was up there on the Friday afternoon, riding my bike around, just seeing what was happening, thinking "Boy, I'd love to play." I remember riding past sounds like Coxsone and Java, who used to play out of a great big converted coach with a wicked soundsystem on the tail lift. There were all these big dreads my dad's age who were running it. They played the wickedest dub reggae, but I used to think, "If only you'd play soul or funk or disco, you'd smash it with a sound like that." And that was my real emotion.
Then I knew. It was like a calling. I just couldn't ignore it any longer. I had to. So I'm riding around on my bike to find any spot we could set up. I remember riding up Cambridge Gardens, outside number 37. It had a low wall and I could just picture putting up a stack of speakers, with the decks on milk crates. I thought, "I've got to go in and see if they'll be up for it."
So I knocked on the door and this punk answered. He said he didn't live there and it was a hostel for the homeless. I said, "I've got a soundsystem and we want to set up outside the house. If we give you some money for electric can we set up?" He said, "Do what you want, man – bring it all in." I think we paid him 50 pence for the whole weekend's electricity and a Watney's Party Seven [beer mini-keg].
I remember riding like the wind back to ours. I thought, "If we don't get this space now and someone else gets it, we'll never get it." In those days, soundsystems would just look around. If they saw somewhere that was nice where they could get current, that's where they would set up. There were a million sounds – it was like the equivalent of bedroom DJ syndrome. Every kid in the neighbourhood dreamt of building his own sound. However small or basic, it was yours and you'd bring it to carnival.
When I got back I said to Joey, "I've got a space to put the sound in the carnival." He said, "No Norman, are you sure?" In the end I persuaded him. We couldn't get no one else to help us because it was such short notice, so me and Joey loaded up the whole kit into the old man's Cortina and did two or three trips. It wasn't a lot then – amps, a couple of speakers.
By the time we'd set up it was night. There were crowds walking up the road starting to gather and there's music everywhere – a cacophony of sound with systems every two feet making noise. You had to see it and experience it to believe it.
I can't remember the first track I played, but I know that I played Loose Joints' "Is It All Over My Face?" fairly early on. I also played a lot of underground disco club tracks from the period and my old funk records. I was playing the kind of tracks that I'd always loved – funky stuff that I'd never heard in clubs because I'd always thought that they wouldn't play. I subsequently learned that they never knew. That's how the whole rare groove thing blew up: I took it for granted that people knew these records and it turned out they didn't.
Did you get a good reaction?
Not really. I started off and the reggae boys were dissing us for playing soul and funk. We were getting a pretty hostile reaction, so a couple of hours after me digging my heels in Joey had to come on and play reggae. He wanted to play anyway – this was his chance to shine. I had to get him into the idea and it was my perseverance that drove us. I desperately wanted this to work.
When I played later there was a few more people, maybe 50, but that was about as good as it got. That night we had to take the system down and take it all back, which meant another three trips in the Cortina. Come six in the morning I was onto Joey saying, "Let's take it back and do it again."
When I got there about eight in the morning, there was some yardie setting up. I went fucking mad. I must have been out of my tree fronting them out, because they'd just taken the spot and wanted to fight me. They were getting physical, but when my brother turned up with his locks, one dread to another dread, they kind of chilling out.
After a lot of arguing this ragga posse decided to just pack up their gear and move on. I stayed there all night long and slept on the wall with the sound, with music on low. A couple of my die-hard mates came down and the punks came out with blankets. We got chatting and I told them it was our first year. They said, "Come back next year bigger, stronger and more organised." So we did, and that was in 1981.
It was around that time that I became quite politicised. I knew what was going on with the whole white scene, I became quite angry and disillusioned and I was determined to challenge it. So I organised a black DJ union. No one had ever undertaken to do anything like that before.
Me and my brother organised a meeting at my mum's house of all the big black soundsystems. I'd heard about Funkadelic and Good Groove Company in East London doing stuff. We didn't know who they were, but we got in contact with them with the idea of forming our own black pirate station. This would have been 1982 or '83, and even on pirates there were no black presenters.
What motivated me to do this was this night going on in Canning Town, Bentley's at the Bridge House. The crowd was exclusively black. Froggy was the DJ. Greg James may have taught him to mix, but where he had the edge was he had a soundsystem. Most black kids could relate to that and that was why, out of all the Mafia DJs, he had the biggest black following. He played the music that the black guys in the East End loved.
Anyway, when I went to Bentley's for the first time I was really impressed by the warm-up guy, Derek Boland. The kid was playing all the records I'd bought over the years and never heard out. And he was only the warm-up! The crowd was firing and then Froggy came on and played the same old soul boy classics. Yawn. At the end of the night I went over to Derek and said I thought his set was wicked. He said. "You're the first person that's ever said anything like that to me. It's really great." We talked about Leroy Burgess, because he'd played Convertion's "Let's Do It." No white DJ ever played that – it was so black and underground.
I went down for the next few weeks and he kept getting thrown off early by Froggy. I said, "Why does he throw you off?" I didn't understand about the politics and all that bollocks. On one Friday Froggy couldn't do it, so Derek did it all night and it fucking rocked. A black DJ playing black music to a black crowd: it was a fucking revelation. Froggy got wind of what happened that night and they sacked Derek. So we boycotted the club.
That's when we organised the meeting. About 20 people came, including Paul "Trouble" Anderson, Jazzie B, Mastermind and Derek Boland. East meets West for the first time. The meeting in our house lasted all day. It realised my worst fears. You couldn't put a group of black guys together with different aspirations. It would never work. We couldn't agree on anything amongst ourselves.
There was one guy sitting in that room called Tosca. He was a bit of a player in the '80s. He whispered to me: "I'm hooked up with someone you know who's going to start a station. I'll come back and tell you about another plot." Anyway, as good as his word, he rang me a couple of days later and said, "One of my mates, Gordon Mac, and someone else you know are starting a pirate station." He wouldn't tell me who the other person was but he did ask me if I'd be interested in getting involved.
Gordon called me about a week later and said he'd heard about the meeting. He also said that he'd been told that Froggy and the Soul Mafia were really pissed off. I think they were scared of what we were doing. He said, "We're going to do a black music policy, over the weekends, with American-style mixes. Have you got any samples of this?" At this time I was getting KISS tapes from New York.
Shep Pettibone's Mastermixes?
Yeah. I said, "This is what we've got to be about." He asked me if I wanted to do a show. I said no, but I did really. I just wanted to make sure other DJs got on – people like Coldcut, Colin Faver and loads of others. I wanted black, white, female, male, gay, straight. A bit utopian, really. What I didn't want was the same white suburban guys playing the same tired jazz-funk records for people in Orpington.
I explained this to Gordon, but I think it got lost on him. Gordon was basically just a pub DJ playing in South London, playing in that black club in Streatham. He didn't want reggae, so I was, "No, I don't want to be involved." My brother told me to do it. He said, "You've got to change it from within."
So this was the beginning of what became KISS FM?
Yeah. At that time most black DJs were playing the hits of the day: Jam & Lewis, Cherrelle, Alexander O'Neal. I came on playing Leroy Burgess, D-Train album tracks and a lot of small label stuff. I was intimidated by the mic so people kept ringing up and asking what the tracks were.
Shortly after, we had a meeting. Because they kept getting their mast nicked, they were running out of money. It was then they let me into who the third partner was: George Power. So George and Gordon were bankrolling it. No one was playing James Brown at this point, so I remember going on and playing "Papa Don't Take No Mess," the 14-minute full-length version.
From the off, I called the show "The Original Rare Groove Show," not consciously or anything, that was just the name I gave it. After about six months George wanted out for one reason or another, so Gordon was looking to buy him out. So Joey and I put £500 in. Gordon repaid most of the money. I took it upon myself to recruit most of the DJs. We wanted to call it KISS but he was scared about copyright. I said, "Let them sue us, we're a pirate!"
You famously got into promoting warehouse parties around the time that KISS went on air in 1985.
Yeah. Punks in the docklands were doing these all-weekend-long parties that were wicked. No security and no violence, but the music was hideous – a mad mix of punk, reggae, rock, rockabilly and all sorts of other stuff thrown in. I wanted to do the same, only with good music. I realised I couldn't do it under the Good Times name, because of the expectations we would've had, so I came up with Shake 'N' Fingerpop.
Jazzie B was astute: Get in with some white dudes and your party won't get busted. It was his party, with Judge Jules fronting it.
The first one I did was in a carpet warehouse in Acton on New Year's Eve 1985. 1,200 people turned up with little advertising. I did half a dozen, all 'round here. I did a huge one in a big empty school on Hampstead Heath. That party was legendary, because it was the first time the hoorays, sloanies and middle class white people turned up. We had three white public schoolboys involved – Ed, Bill and Nick, who became Manasseh.
Derek Boland played on the top floor doing new stuff, Manasseh on the middle floor playing dub reggae and us downstairs playing the hippest black music you've ever heard. Over 2,000 people turned up. The next day it was in the Sunday Times: "All night sex and drugs party!" The legend was born then.
There were a lot of influential people there: fashion editors, journalists. You know, the media. Then I started getting these calls from The Face, Arena, and the NME wanted to interview me. By this time I'd been doing the rare groove show for about a year on a Saturday afternoon, and it was doing so well. It was so hip it made you sick. I'd give coded messages on air about where the next party was. We did them at Dickie Dirts in Camberwell and at Bear Wharf in Southwark.
My mate Femi from Young Disciples used to go to college with [Judge] Jules, because they were both at the London School of Economics. Femi said he had got a good crowd. The main thing was, he was white. His crowd would help the racial mix of the crowd, to make it more socially acceptable to the police
Anyway, I went down to check him out one Friday, and as sure as Femi's word was, he played abysmally. He was crap. But the vibe was really good. He played a mishmash of black records, which I owned and liked, but in a very amateurish sort of way. But his heart was in the right place. I approached him about doing parties and he said he was doing something with Soul II Soul the following week in Kings Cross. Jazzie was astute: get in with some white dudes and your party won't get busted. It was basically Jazzie's party, with Jules fronting it.
That was arguably the first time that the media was interested in clubs, in the UK at least.
Yes, because for the first time it was on the radio. That was the difference. Those records had not been heard on the radio before. You had to go to specialist litle clubs or even smaller black backroom places to hear them before that. Most of the black kids already knew those records [that became the backbone of the rare groove scene in the mid-1980s] – it was white England discovering those records.
I'm not saying that's true in every case, but for most people that's certainly true. All my white friends who were in my peer group, my age group, they knew those records. Those people who went clubbing when I went clubbing, with me, we knew those records. The whole rare groove thing was a misnomer – I just used it as a convenient label, a tag. It was the media that turned it into something. When I was playing all those old records, they were always being mixed with brand new records as well.
Were you a little upset people took just one dimension of it?
No, I didn't care. I was never that precious about it. I used to deliberately wind up the collectors and the soul boys. If I was doing a retro gig, I'd deliberately play something new. I wouldn't play old records all night. I just like roughing it all up. They're all holier than thou about it, so I did take great delight in gently winding them up. I don't take it too seriously.
Hence the name. That's why Good Times is so perfect for us. It's just about having a good time. You don't have to be a brain surgeon or the best-looking, just simply have a good time. You don't even have to know what's playing.
So who else has played on the Good Times Soundsystem over the years?
Just about anyone who's anyone has played on the sound. Judge Jules, Pete Tong, Tim Westwood, all in their formative years, long before they were big. Gilles Peterson, Fabio, Grooverider… everybody. Anyone you care to name who was based in London.
Another thing that not many people know is that Good Times was the soundsystem behind Shoom at the Fitness Centre. We were the resident sound. Danny [Rampling] played on the sound once, loved it, went to my brother and said, "We need it in Shoom."
It was also the soundsystem behind the first big acid house party. Was it Sunrise? Out in the country. I didn't go. It was the soundsystem behind High On Hope at Dingwalls and Gilles' night at the same place, the Sunday Sessions. Joey used to rent it out and the rig was in massive demand. We used to do the KISS nights in there on a Saturday, leave it overnight and Gilles would come in and do Sunday dinnertime. My brother would then come in and do a roots night on Sunday evening. It was the resident sound in Dingwalls for years. It was one of the reasons that Dingwalls was so popular. Nowhere else in London could match the sound.
Any black DJ of note had his own soundsystem back then. Jazzie B had his own sound: Soul II Soul. Trevor Nelson had Madhatters. Paul Anderson had Trouble Funk. Every black DJ in London – Fabio, Grooverider, even Carl Cox – all came from a soundsystem background. There are still quite a lot of soundsystems that play and operate in the traditional way, but you never ever see them. They get a squeeze once a year at carnival, if they're lucky.