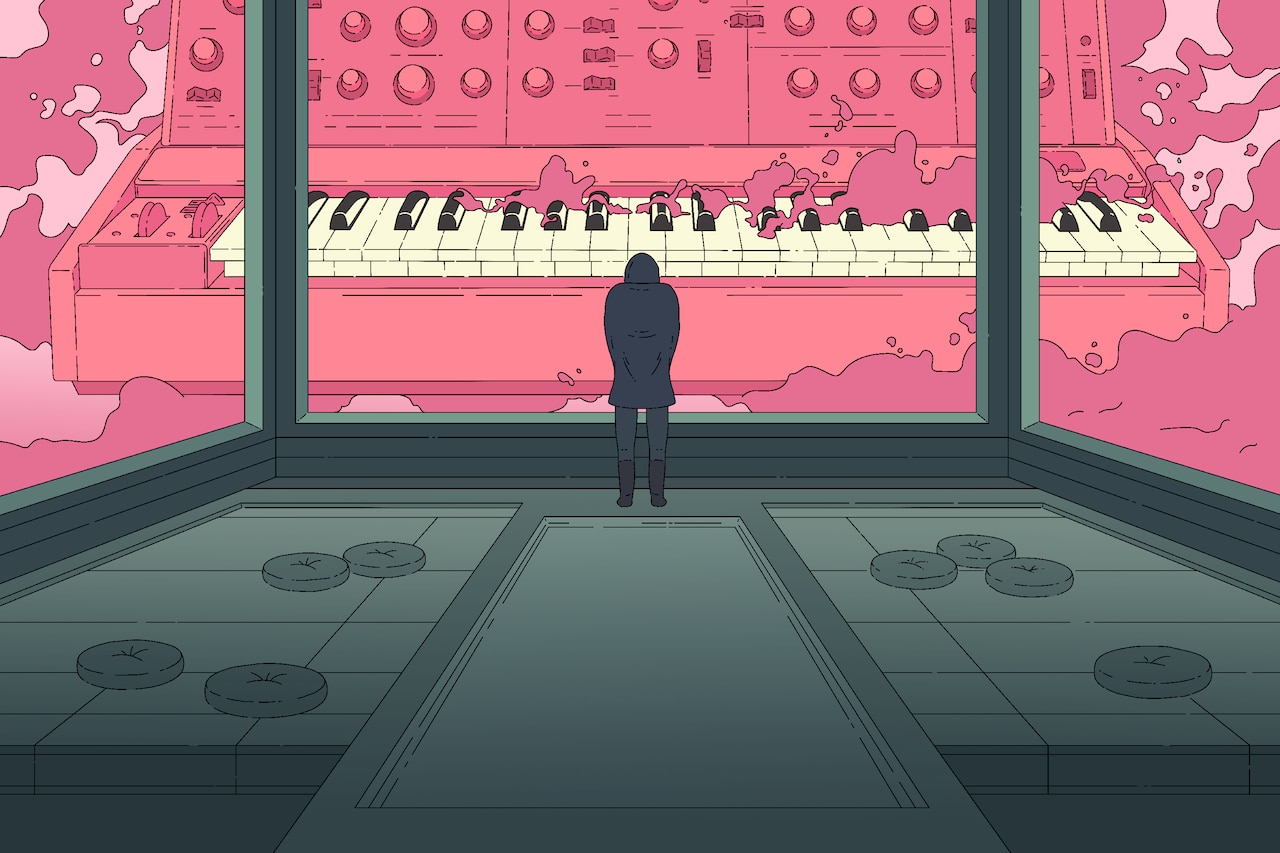 David Van Koevering and the Island of Electronicus
How a traveling salesman took the psychedelic experience across America in the service of selling Moog synthesizers
In the winter of 1971, it cost 75 cents to take the causeway to Tierra Verde, a small barrier island a few miles south of St. Petersburg, Florida. Another three dollars would get you through the door of a wood-paneled, octagonal rotunda for a demonstration, organized by a rhapsodic man, of an instrument that was on the threshold of reshaping the sound of popular music.
Developers had built on Tierra Verde in the previous decade in hopes of establishing a Gulf Coast Vegas, with a string of off-shore casinos and restaurants, but the Kennedy administration nixed the gambling and without that lure the restaurants floundered. The buildings sat vacant in the sea breeze until suddenly, something was happening out on Tierra Verde. A happening was happening. Radio spots for the show promised to "play with your mind, with your body and heighten the horizons of your soul." It was, they said, a "new concept in sound… here to stimulate your feelings, thoughts and your love for your fellow man."
The instrument capable of such revelations was the Minimoog, the new, portable synthesizer from the R.A. Moog Co., who had for the past seven years been pioneering electronic synthesis. The man using it to heighten the horizons of your soul was David Van Koevering – a tall salesman with a Van Dyke beard and horn-rimmed glasses; the man whom Bob Moog once called a cross between Colonel Sanders and P.T. Barnum – part salesman, part evangelist, part amateur historian of sound.
Synthesizers would have remained as tools for elite rock musicians and composers if it had not been for the efforts of Van Koevering.
The distinctive squelch of the Moog synthesizer's low-pass filter had been steadily creeping in from the margins to the center of the American listener's consciousness – early adopters of the bulkier, patch-cord-laden, modular Moog included George Harrison, Keith Emerson and Wendy Carlos. Carlos's Switched-On Bach, a demonstration of the synthesizer's capabilities, spent 150 weeks on the Billboard charts. But Van Koevering called people to the island to tell them of his personal vision for the future. That future was portable, affordable and pervasive. That future was the Minimoog, and Van Koevering was about to drive it, in the back of his Pontiac Bonneville, straight into the center of pop music. As Trevor Pinch and Frank Trocco wrote in their book, Analog Days, "Synthesizers would have remained as tools for elite rock musicians and composers if it had not been for the efforts of Van Koevering."
Once inside the rotunda, you passed under a central skylight, its stained-glass panels catching the last of the evening light, and headed toward the stage against the back wall. Banners saying "LOVE" and "PEACE" hung stage right and left, fractal patterns projected between. When you took your seat – a pillow on the floor at the foot of the stage – you were no longer on Tierra Verde. You were on the Island of Electronicus.
The crowd seated, the lights dimmed. Then, Van Koevering's voice: "Tonight we take you one step closer. All the sounds you've ever heard are like a second. The Moog is an eternity… Tonight we witness the dawn of a new enlightenment… Seclude yourself now and let the music sweep you away and into the dawn."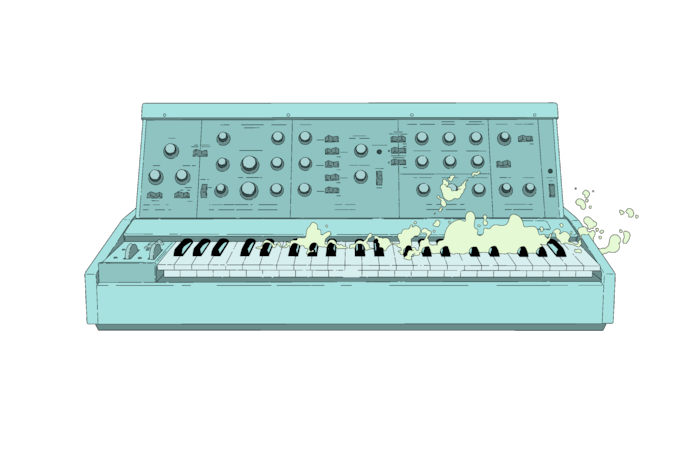 In October 2017, I spent an afternoon with Van Koevering in the basement of his small-town Tennessee home, where he and his wife, Becky, unspooled for me a yarn replete with vaudeville performers, hundreds of thousands of highway miles, a Carnegie Hall epiphany, the early days of a fast-food franchise and his vision for that vacant barrier island.
Where musicians took the Minimoog from there is common knowledge: It's the fount of prog rock, jazz fusion, synth-pop, of funks both P and G. Sun Ra's Minimoog circled the third moon of Jupiter; J Dilla's is in the Smithsonian. But the story of the Minimoog's emergence is as idiosyncratic as its champion, and just as obscure.
Van Koevering's story is one of contradictions. He believed in the soul-stirring power of the Moog synthesizer, but wouldn't shy away from a hard sell. He is a man of deep faith, and also a braggart. "It says 'visionary' on my business card," he told me. I laughed, thinking he was kidding. He wasn't, but he also wasn't lying.
The Van Koeverings' basement contains the artifacts David has collected over the course of a life spent searching for new sounds and sharing the stories of old ones. Wandering the space feels not so much like surveying an overcrowded museum as it does like walking through musical space-time. The rooms are overflowing with instruments and oddities. Turn-of-the-century banjos and mandolins line the walls. Here: a string of tuned rocks. There: a harp from 1720. An early electronic keyboard, built by J.C. Deagan and rebuilt by Van Koevering, stands against one wall, and against the other is the bamboo angklung on which it is based. There are four-in-hand bells, player trumpets and over 1,000 harmonicas, all culminating, in the far room, in a sizeable collection of Moog synthesizers. Van Koevering pauses in front of a Minimoog that once belonged to Stevie Wonder. "You told me when you gave this to me," he says Wonder told him, "that it didn't belong to me. That this belonged to posterity, so I'm giving it back."
"I've had multimillionaires try to buy my collection," he says, but he had no interest in selling. Then, a few years ago Van Koevering suffered a stroke and the medical bills piled up. "I had the stroke and I said, 'Everything's for sale.'"
Standing in the middle of Van Koevering's collection helped clarify what he meant on the Island of Electronicus of the Moog being "an eternity." As Van Koevering elaborated, "There are beautiful patterns in the background [of the synthesizer] that you don't create. You find them. You had to search for it, recognize it. It was like a treasure." He talks about synthesis like a hero's journey: "You already knew it, but you had to go looking for it. How can I get that back? And you find four more sounds on the way. That was the experience… It's never ending. That's the journey. You go there to find something – something you've got in your spirit. It's a spiritual force. Music is a spiritual force. I've been searching all of my life."
If the Moog was a revelation, the moment of epiphany came on January 30th, 1970. Van Koevering was settling into a primo seat at Carnegie Hall. He was there at the invitation of Bob Moog, the founder and namesake of the synthesizer, to see the First Moog Quartet. It was the first presentation of a synthesizer in Carnegie Hall, led by the composer Gershon Kingsley, and Van Koevering and Moog had met only a few hours earlier when Moog had shown up unexpectedly at Van Koevering's job. But now, after dinner with Moog and his extended family, Van Koevering was settling into his seat up front, eager for the concert to begin.
Van Koevering was, at that time, a novelty instrument showman – he did assembly shows, presentations like "The Science of Sound" in which he would demonstrate "noise events" on his PanBotRo (a contraption with an octave each of tuned pans, bottles and rocks). The son of a vaudeville performer, David and his siblings had grown up travelling the country as a musical troupe known as the Swiss Family Bell Ringers and the Musical Evangelists. His father, a regional star in Michigan, was also an alcoholic. Then sound and color in movies brought the coup de grâce to the vaudeville trade, his father got sober and saved at Mel Trotter's Rescue Mission in Grand Rapids, and he turned his attention to his family.
"He'd take me to movies," Van Koevering remembered. "Fred Astaire and Dan Dailey, and tell me what to look for. 'Watch how he walks, how he moves, how he never stands still, never puts his hands in his pockets. When we get home tonight, you're gonna do that.'" The child internalized the lessons and won amateur talent shows across the state of Michigan, playing ukulele behind his back or strumming while playing a harmonica held in his teeth. When he was eight, David came down with a severe case of rheumatic fever and missed a year of school. His father seized that time to teach him as many instruments as possible. By age ten, David could play 14 instruments at performance level.
With vaudeville belly-up and his father sober and saved, the family hit the road, touring the country doing assembly shows and "playing music with a positive message," just as Mel Trotter once had for soldiers during World War One. Van Koevering came of age on the road, attending correspondence school. A prodigy both musically and academically, he finished first in his class.
As an adult, Van Koevering took over the family business. "I never let grass grow beneath my feet," David explained. He worked with a booking agent out of Chicago who got him four shows a day. He drove a Ford Econoline van, outfitted with a kitchenette and stuffed with his various musical contraptions. "I'm racing to get to the next school on time," he says, hoofing from redwood forests to Gulf Stream waters, the cafeterias of suburban Detroit to the auditoriums of west Texas, playing hymns on the four-in-hand bells and teaching intervals on his tuned rocks. On repeat in Econoline's customized tape deck was Wendy Carlos's Switched-On Bach. He was transfixed by the sound of the Moog synthesizer.
As Van Koevering logged miles, played and replayed Switched-On up the Atlantic seaboard, he decided to drop by the Moog factory in Trumansburg, New York, but Moog was out of town. Still hoping to meet, he left word for Moog: "I've got work from Long Island to Albany, and then I'm leaving New York for a year."
A few days later, Van Koevering was setting up his show in a Long Island school auditorium when the principal came in to tell him he had a visitor. It was Bob Moog. He stuck around for the show and, impressed (or at least amused), invited Van Koevering to attend the concert at Carnegie Hall that evening.
Hearing Wendy Carlos on the tape deck was one thing, but listening to Kingsley and the First Moog Quartet – the windswept skitters, the vastness of the sonic territory the synth can create, the pulsing levity of tracks like "Popcorn" – left him trembling in his seat, with Uncle and Aunt Moog to his right and left.
I could tell the Moog future like a prophet.
I asked David what he felt in that moment. He paused. "There's nothing in the world that's ever been like this," he says, eyes welling with tears, even now, almost 50 years removed from that night. "The Hammond organ was great. The Novachord was great. The chord organ, I still respect it. But it wasn't the synthesizer. It was a life-changing experience for me. I've been collecting unusual, meaningful, unique instruments all my life, but when I heard the synthesizer I realized I had never heard anything like that before."
So there he sat, brain rewired, trying to grasp the significance of what he'd just heard and of all that it portended. Moog took him backstage and struck up a conversation with Gershon Kingsley, where it came out that Kingsley thought the performance was merely an indulgence, a demonstration. "It's a studio instrument," he insisted.
"Please stop using that word in my presence," Van Koevering shot back. "It is for performance. I saw it happen tonight."
Van Koevering, remember, was not yet an employee of Moog. He was a travelling performer, just some guy Bob had met that morning. But not for long. Moog caught a ride with Van Koevering back to Trumansburg, and by the time they'd arrived back upstate, deep into the night, they'd ironed out the specs of a synthesizer for Van Koevering.
Kingsley doubted it. Even Moog thought it would be for session musicians, at best. But Van Koevering knew. "I could tell the Moog future like a prophet. I told the world that there would be a Minimoog on every stage that has a keyboard and I went out and demonstrated it. All they needed, he thought, "was a smaller unit that we can sell."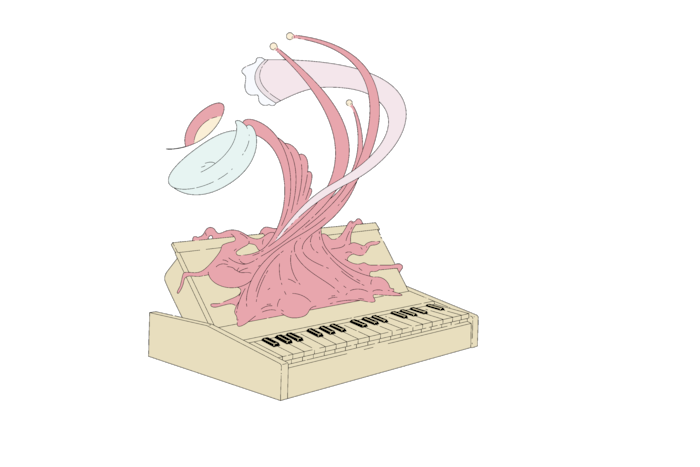 All spring Van Koevering kept in close touch with Moog, sharing thoughts on what this smaller synthesizer should include. But the road was wearing on him — so much time away from his wife and their young children. When the school year ended, he cooled his heels back in Pinellas Pines, Florida, converted the three-car garage into a demonstration space for the System 10 Moog he had and put an ad in the paper inviting people to come see it.
A man name Glen Bell took him up on the offer and came to the house one afternoon for a demonstration. Bell was duly impressed by the Moog and by the extent of his rare instrument collection. He told Van Koevering: "I'm looking for assembly shows that have lasting meaning, and if you have spinning discs on a stone-top table and are playing musical rocks, then I want to talk to you about sponsoring your show."
Bell was so eager to book Van Koevering because he was in the process of taking his fast-food franchise national. Few people outside of the Southwest, where Bell had successfully opened 100 locations over the past decade, knew what a taco was. In Florida, people still called them "tay-cos," and weren't exactly tripping over themselves to find out otherwise. Bell was desperate. But Van Koevering could reach a big, untapped market. Bell would foot the bill for Van Koevering's shows ($3,500 a week) if the schools where he performed would let him hand out coupons for the new Taco Bell in town. The kids would go home informed about musical oddities, and with a coupon for free tacos for the whole family.
The Minimoog was a Hail Mary that no one had much faith in. Except Van Koevering.
These early Taco Bells were open layout — a walk-up window with a breezeway, arches to suggest the Southwest. As an added lure, in the evening Van Koevering would set up his System 10 near the sidewalk. "I had big JBL speakers outdoors, a 300-watt McIntosh amp pumping it. You could hear it three blocks away," he says. What did he play? "All the hits. Lots of Beatles tunes." It was useful, he explains, to play popular songs so that the listener had a frame of reference for what the Moog was doing.
Back in Trumansburg, engineers were at work developing a portable synthesizer, but the company had fallen on hard times. The follow-up "Switched-On" records flopped and with them, the sales of modular synths. "There was a sense of urgency that we might not be able to meet the payroll next week," engineer Jim Scott explained to Pinch and Trocco. Bob Moog was travelling the country, demonstrating the Moog, desperate to drum up business. The engineers kept tinkering, literally pulling parts from the junk pile ("the graveyard," they called it) in the company's attic to assemble prototypes. "If we don't get this thing engineered to the point where it can be produced, we're going to be out of a job anyway," Scott remembered thinking.
The Minimoog was a Hail Mary that no one had much faith in. Except Van Koevering.
While mutually beneficial to Van Koevering and Bell, their play-for-tacos arrangement soon ran afoul of the schools, who worried about the promotional nature of the shows. No bother. The Minimoog was ready to ship and Van Koevering had had a vision. What if he could create for others the moment he had back in Carnegie Hall? What if he could curate an experience that let you hear it in all its glory? What if he could build a space for the Moog to take you to higher realms of consciousness?
When he told Bell about his vision, Bell immediately took his keys from his pocket, unhooked one and handed it to Van Koevering. He knew just the place.
The Island of Electronicus ran from December 1970 to April of 1971, three shows a night Wednesday through Sunday. It was important to Van Koevering that, though they borrowed from the Haight-Ashbury aesthetic, the Island would be a clean psychedelic experience — no booze, no tabs, no tacos. Just Moog.
"It was an emotional experience," Van Koevering explained. "It was overwhelming. Nobody had ever heard anything like that. It was a whole envelopment. It enveloped all your emotions. It wasn't just sitting there listening to music. Everything became involved." Drugs would only muddy it.
Van Koevering believed that the possibility of new sounds brought with it the possibility for new feelings, new experiences, new ways and means of transcendence.
After Van Koevering's opening spiel about heightening your soul, he'd cue ambient noises: the chirp of a cricket, the trill of a bird. "You would get lost in it." Then came the low swell of a note, faint at first, but growing. "A chord comes and comes, and boy, when it's all out, you turn the lights out – it's all you can do to breathe," he recalls.
Part of that power rested in the fact that "you could sit there and make something out of nothing. It was possible to do any sound."
It was, in that way, a spiritual presentation, too. Van Koevering believed that the possibility of new sounds brought with it the possibility for new feelings, new experiences, new ways and means of transcendence. It's like the Sapir-Whorf hypothesis – that our capacity for language to describe a situation influences our understanding of that situation – but applied to music. If sound alters our consciousness, then new sounds have the potential to raise our consciousness.
But in the contradictory nature of Van Koevering's role, the salesman and God both raging inside him, the Island was also "a number's game: if you put 50 people in a room, you can sell several of them over a few-week period." And while the shows were a success, Van Koevering was chasing bigger numbers. So he did what he'd done since he was a child: he bought a brand-new Pontiac Bonneville and hit the road to spread the good news.
"I bought 25, then 50, then 75, then 100, then 25 a month," he says of those Minimoog purchases in the months after the Island. Bob Moog balked at first. "He said: 'Dave, that's one a day. We can't do that.'" Dave responded: "I'll give you a irrevocable line of credit signed by my partner to you guaranteeing that we can fill every invoice."
That partner was a man named Les Trubey, a Florida real estate mogul who also owned the Central Music store in St. Petersburg. Trubey's son, a musician named Doug, vouched for the Moog, and that proved enough. Van Koevering worked outward from Florida. When he arrived in a town, he wouldn't head to the music store: He'd go to a club. Synthesizers weren't sold in stores at that point – no one had tried and besides, they wouldn't know what to do with them if they did. Even though the Minimoog was radically simplified, it still required a hands-on approach and a hard sell. So, Van Koevering reasoned, find the clubs, find the agents, and you'll find the musicians.
He lead as the evangelist, teaching a band's organist how to work the synth. "We'd patch ten new sounds. I would teach the kid that any color was now musical, but turn the knob, keep going 'til you hear the sound you like," and loan out the Minimoog for their gig that night.
"A salesman is an inventor," Van Koevering told me. And on these trips, he invented need. Between sets, he'd go up on stage, take the Minimoog's power source, and head out to the Bonneville. Inside, if all went according to plan, the organist would be confused, the audience (and the club owner) clammering for the Moog. Outside, Van Koevering would leaf through a book or hit another club and, after a time, return to save the set and organist's ass.
But he returned as the salesman. Even at the witching hour – especially at the witching hour – Van Koevering would try to close the sale, going so far as to encourage a young synthesist to ask his girlfriend's mother for a loan, then just so happen to have a loan application with him.
He was driven by his evangelist spirit, fueled by his salesmanship and buoyed by the burgeoning of prog rock. Emerson, Lake & Palmer's "Lucky Man" came out on this first sales trip; requests for the Moog rippled out from the wake of their subsequent tour. And he racked up sales. Once Van Koevering found a customer, he'd drag him into the city's music store as proof of concept, and so he began to set up a network that would reach 175 dealers nationwide, eventually topping 600 worldwide.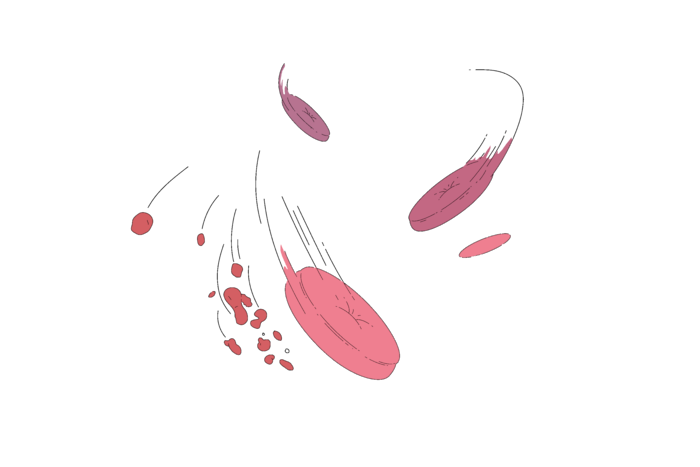 But the company was still in the red. Investor Bill Waytena acquired the Moog Co. that fall for a song and a willingness to take on its quarter-million-dollar debt load. Waytena offered Van Koevering a vice-president position in the company, as the head of sales and marketing. He balked at first, wanting to stay on the road, his natural habitat. Waytena let him know it was this or the highway (without that trunkful of Moogs) and so Van Koevering accepted, moved the family to New York and got off the road, at least for a time.
Over the hours I happily spent listening to Van Koevering relay the story of the early years of the Minimoog, he kept circling back to the Carnegie Hall epiphany. It was the ballast for the whole story. It might seem easy to dismiss his high-flown transcendental talk as a salesman's rap or a preacher's zeal, and in some ways it is. But I found it was also sincere. The emotion with which he conveyed it, the tears in his eyes, fifty years later – it moved me. It was still so alive in him. He could conjure it up, or time-travel back, and be there fully in the throes of the synthesizer's power, feeling the certainty that this instrument would take us all somewhere new. What do you say to someone in the midst of feeling all of that? Eventually, I must have mumbled something about the profundity of it all.
"All I did was prove it," he responded.

Editors' Note: David Van Koevering passed away on January 30th, 2018, at his home in Tennessee. You can read more about Van Koevering's life and musical journey in a remembrance by his family published via Moog .
Header image © Benedikt Rugar