Making a Difference: Run-D.M.C. and Guru of Gang Starr in Conversation
From the DJ History archives: The pioneering hip-hop heroes from Queens sit down with the Gang Starr MC
In 1993, Frank Broughton met with some of the most legendary figures in East Coast hip-hop: Keith "Guru" Elam of Brooklyn's Gang Starr and Joseph "Run" Simmons, Darryl "DMC" McDaniels and Jason "Jam Master Jay" Mizell of the pioneering Queens-based trio Run-D.M.C.

In light of the untimely deaths of Jam Master Jay, in 2002, and Guru, in 2010, their brief but candid conversation offers a valuable glimpse of a bygone era in rap – a time in which artists were as dedicated to preserving and respecting the genre's roots as they were to defining its future.
In this interview, the four men discuss the making of Guru's now-foundational solo debut Jazzmatazz, Vol 1. and Run-D.M.C.'s sixth album Down With The King. They also consider the changing role of the producer and DJ, what it means to be truly old school and why being able to make a comeback is something to thank God for.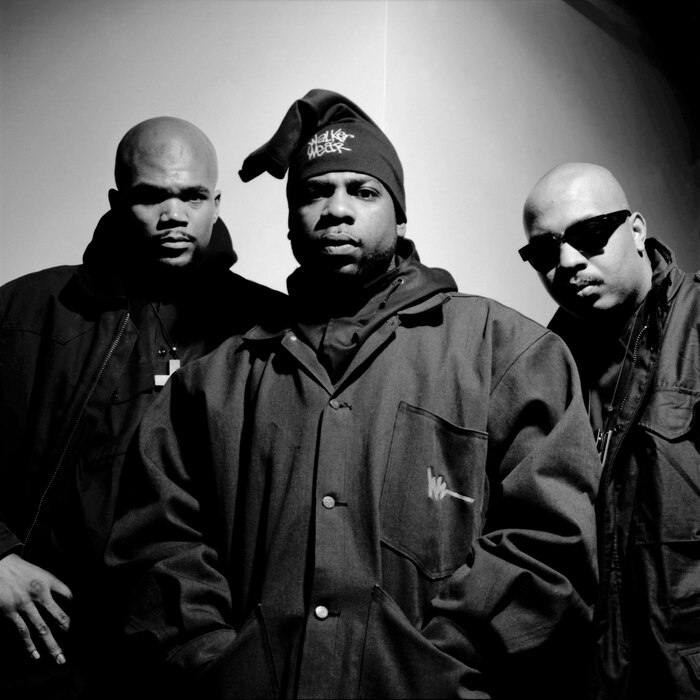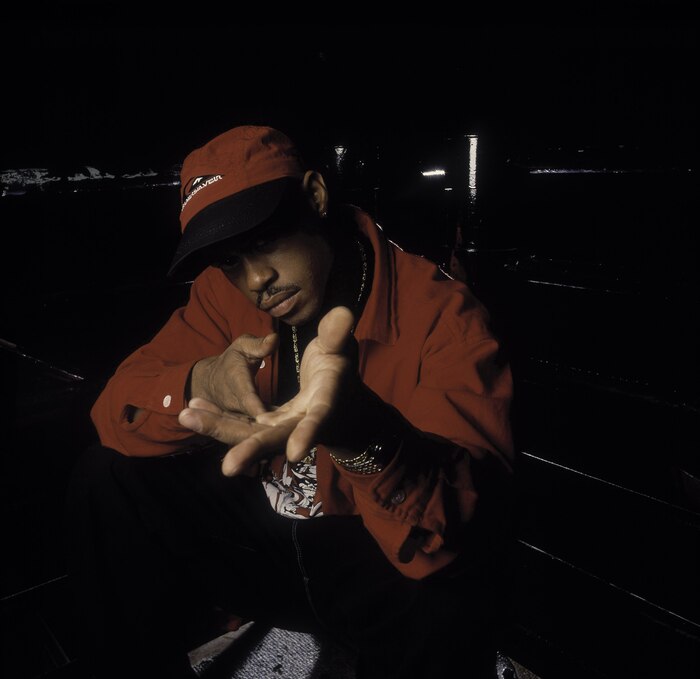 Guru
I just did an album with these jazz artists, these three old cats from records that we've sampled from and three of the new cats. I did Roy Ayers, Donald Byrd, Lonnie Liston Smith, and then I got Branford Marsalis; this saxophonist from London, Courtney Pine; and this guy Ronnie Jordan, from London, who plays guitar. It's a fusion of hip-hop and jazz. I did all the production. My beats are regular hip-hop beats, but I didn't sample nothing. They played and I just rhymed. It's called Jazzmatazz. I did that, because we were one of the first groups to use jazz in rap. Plus, my pops, my uncle and all of them, they love jazz. So that was like a tribute, but it ain't like I'm a "jazz rapper." People want to label you.
Darryl "DMC" McDaniels
Like they labeled us "rock rappers."
Guru
It's a blessing to be able to do music for a living. That's a lesson right there, in itself.
What were you doing before?
Guru
Working as a case worker for foster kids, hustling and running around, frustrated.
Darryl "DMC" McDaniels
It's cool when you get to do something that you like, too.
Guru
Some of these chumps be taking it for granted, though.
Have you guys met before?
Guru
I remember, I met y'all in London, with A Tribe Called Quest. I was like, "Damn!" When I first heard your shit, that was one of the things that inspired me to work.
Darryl "DMC" McDaniels
But you've been rhyming a long time.
Guru
But it inspired me to really take it seriously.
Darryl "DMC" McDaniels
Go for deals and–
Guru
I was a freshman in college at the time when you was going, "After 12th grade, I went straight to college." I was right there. I was like, "Oh shit!"
DARRYL "DMC" MCDANIELS
We went to college, like three semesters, two semesters, and that's when "Sucker M.C.'s" came out. We got a gig in North Carolina, we flew down there. When we came back home, we got more gigs in Florida, down south, and we had to take a leave of absence. So, we've been absent ever since.
You're never too old to go back and finish.
DARRYL "DMC" MCDANIELS
You're never too old to go back.
Can you see yourself sitting at the back of a lecture hall?
DARRYL "DMC" MCDANIELS
I can. Sometimes, you know, I get the urge. I want to go back now.
Guru
In the back row?
DARRYL "DMC" MCDANIELS
No, I only went to college because I passed the entrance exam. My man across the room – guy I used to go to school with – said, "Yo, what you gonna pick?" He said business management, so we picked that. I went to St Johns because it was right in Queens. I didn't even know I was gonna be a rapper. Run – he was the rapper – because he used to rap with Kurtis Blow, and he used to bring the tapes home.
I was going to Rice High School up in Harlem, 124th and Lenox, and I used to see Cold Crush out there, giving flyers, and they had tapes going around for like $8 or $12. I would buy the tapes, bring them back home. "Yo, check this out, listen to this." And boom-bam! Then, I just started writing rhymes in English class, and I had a book of rhymes.
Russell [Simmons, Run's brother] told Run, "Yo, I'll let you make records, but you got to get out of high school first." So when we graduated, he said, "Yo D, the name of the record is 'It's Like That,' the second record be 'Sucker M.C.'s.' Go home and write rhymes about, you know, the world." So, I went home and we put it together. And boom!
Guru
That was it.
DARRYL "DMC" MCDANIELS
It hit. I remember when I first heard it on KISS. I was sitting at home: "They're gonna play your record today." I'm like, "Yeah right." It was about 8.30. "It's Like That" came on: "Yeah! Huh-huh-huh?"
Guru
That's dope. I remember when I heard that, too.
DARRYL "DMC" MCDANIELS
Then, "Sucker M.C.'s" dropped, that's when everybody just went crazy for Run-D.M.C. And at the time, we didn't have no album cover, but we was getting a lot of props because of that record.
Guru
"I'm driving a Caddy, you're fixing a Ford." That one too, "Rock Box" was dope... all of 'em.
DARRYL "DMC" MCDANIELS
"Rock Box" got us on MTV, though. I remember we made two versions. Russell and them had put guitar on it later, so when me and Run heard it we was mad, because we just wanted the beat and the rhyme and a little echo. But then it dropped. What sold me on it was my man Yogi that lived up the block from me – he just came, and he's giving me all these praises about "Rock Box," and I'm looking at him like, "You like it?"
Guru
It was something different that nobody ever did.
DARRYL "DMC" MCDANIELS
That helped us. We did a rock tune on this new album, with Rage Against The Machine, but it ain't like we're gonna try and make "Rock Box" over and over, you know.
Guru
So, who did you all work with on the new album?
DARRYL "DMC" MCDANIELS
Pete Rock did two, EPMD did one, Q-Tip did one, Specialist [Clifton Dillon], who does Mad Cobra and Shabba, he did one, Jermaine Dupri did one, Diamond D did one.
Guru
You got all the fat producers on your album. I can't wait to hear it all, man.
Nowadays everyone thinks they're an MC. Was it the same back then?
DARRYL "DMC" MCDANIELS
Not as much. Back in the day, you had your choice of a select group of people that was really rapping, that was really good at it, that had turntables and were DJs. And in the house parties, they would grab the mic. That's how I caught on, because Jay, he had his little crew from 2 Fifth Street [in Queens], and they called themselves Two-Fifth Down. They was the ones from the neighborhood who would bring the turntables to the park, bring out the crates of records and DJ. I was reluctant, I wouldn't get on the mic at first. Run used to go into the park and kick his rhyme, because they knew him, and I would DJ for him.
Guru
How do you feel about the rappers that come out now? They're successful, but they don't know much about the old school, about the history, the art form.
Darryl "DMC" McDaniels
I think a lot of rappers should really try to learn their history.

[Run enters.]
Guru
DMC was talking about when you used to be rocking a mic in the park, and he used to be DJing for you.
Joseph "Run" Simmons
Who, D? At Doug's block, Soup, you was good.
Darryl "DMC" McDaniels
Tell them about Davy D and Max – he had all the beats like Bambaataa, and Jay had his crew, Two-Fifth Down, and then everybody knew DJ Run, so Run had to get on the mic. Run was like the professional in the neighborhood. Everybody else was just nervous and learning, so Run would come and bust his rhyme. It took a long time before I would get on the mic with him. I would DJ for him, or sit in the park holding my beer. I didn't really start rapping with him until he came and said, "Yo D, we got a record – go write rhymes."
Before you guys, rappers were more like stars, with the flashy costumes.
Joseph "Run" Simmons
They were trying to be like Rick James.
Darryl "DMC" McDaniels
That was like Fearless Four, and Flash – even Cold Crush got into it after a while, wearing all that stuff. But before that, when they was just going around on their tapes, it was like a mystery to you.
Joseph "Run" Simmons
What happened was they got confused, because they started going on tour with Rick James, and they saw how much the crowd would respond to them dressed in all that.
Guru
We were talking about who you were working with on the album, so how was it working with the different producers?
Joseph "Run" Simmons
I was kind of dazed. I'm always dazing through this whole career of mine, but you know, it was cool, going from person to person. I was nervous trying to gather this together. I didn't want to be like Prince or something, because he feel he gotta do it all his self. I felt like, "Yeah, maybe this is what God wants me to do. Just cool out Joe, put your input in, but let these guys do what they do."
I go to EPMD, and at the end of the night I want the record to be dope. I work with Q-Tip, I'm hanging out with Phife [Dawg], went to the movies with Q-Tip, we were hanging out for about a week. It was cool man, I just wanted to go into the studio and come out with things that I knew were dynamic. I'm a man that deals with dynamics. I like things to drive.
I feel like that's the best hip-hop, that's the old school. People take "old school" as meaning a rapper that's from back in the day. No, "old school" is a style of rap. You can have a new rapper that's old school. You could have somebody that just came out, 15 years old, and listened to some Cold Crush tapes, and that's old school.
Guru
How about Diamond? Diamond is cool.
Joseph "Run" Simmons
Diamond is cool. He didn't put too much production input into it, he just gave us the beat. Other people was trying to pull the best of Run-D.M.C. out. He didn't, really.
Guru
He just let you do your thing. Diamond is old school.
Joseph "Run" Simmons
He's real old school. So, working with him was a lot of fun. EPMD… Hank Shocklee was a pusher, a hard worker.
Guru
He seems real intense.
Joseph "Run" Simmons
Jermaine Dupri is a little genius. He knows what he knows. And working with the Specialist, that does Mad Cobra and Shabba, they knew what they wanted.

[Jam Master Jay enters.]
Guru
We was hanging with Jay at a club in Brooklyn, Rendezvous, the night they had a crazy shoot-out. Let me ask you this: How do you feel if somebody say to you, "Ah, you're making a comeback?"
Joseph "Run" Simmons
My personal opinion about the word "comeback" is that it don't bother me, man. For some people over in Nebraska, somewhere funny, they ain't seen me in a while. You leave somewhere and you're not hitting that market. You come back! I'm back and I'm hitting again, so the word comeback doesn't bother me.
Darryl "DMC" McDaniels
I like the people that go, "You're still down, you're still together. Run-D.M.C. coming again!" I met Madonna the other day… I was like, "We got a new album out." She was like, "Where's my copy?" It's all about coming again and not giving up.
Guru
What about all these so-called new styles that came out? It seems like everybody started doing it. The groups I like doing it are Das EFX, Treach and Fu-Schnickens. But then after that, a whole bunch of groups just started coming out with the rolling the tongue and that. And those are styles that have been done before. Biz [Markie] used to do it, when he was just telling stories, and Slick Rick, and all of them.
Joseph "Run" Simmons
Cold Crush was doing it, too.
Guru
Little 14-year-old kids come up to me, battling me in the street, "Yo, you can't do the triple tongue-twister, Guru, I'll burn you." And I'm like, "Yo, money, here's the address, put your stuff on tape. If it sounds good on tape, then that's how you know." But how do you feel about that whole thing?
Joseph "Run" Simmons
About tongue-twisting? It's def, sometimes. It's corny too, man, all I hear is "rhymin-a-riggedy-rock-the-shop..." Don't give me that. Come to me and give me something that's real dope.
Darryl "DMC" McDaniels
Substance.
Guru
After you came out, other groups came out using rock. They tried to rhyme the way both of y'all rhyme, the whole thing. Like when Chuck [D] came out, a lot of groups came out trying to rhyme like Chuck–
Joseph "Run" Simmons
And be Afrocentric and all that.
Jam Master Jay
But that's positive. I think what they was talking about was cool.
Joseph "Run" Simmons
But some of them it was corny – black this, black that. If you don't feel it... It's good for that awareness, but if you do it and it's wack, it's just wack anyway.
Jam Master Jay
When you start talking about what they talking about, I think all that's positive, because when we was coming up in the late '70s, there was nobody talking about black nothing.
Darryl "DMC" McDaniels
It was disco and John Travolta.
Guru
You were talking about God earlier. How important is religion in y'all lives?
Joseph "Run" Simmons
It's the most important thing. It's the number-one thing in our whole life. God made the world, he made everything, he made us who we are. And the best thing about Run-D.M.C. from the start – when me and Jay and D was coming together – was God. He took us to the top. He looked over us, he made us be larger than everything and everybody.
We praying all the time. It's bringing us back into this thing stronger. The thing with God is, this is our whole life. Another person would just think "Oh, by chance." Things don't happen by chance. You get a blessing, and we just got blessed. So, everything to us is God. And I think I'm speaking for the whole group.
Darryl "DMC" McDaniels
Since day one.
Joseph "Run" Simmons
When we started we was, "We gotta watch our day, watch your day Jay," and we just go out of our way to help a brother, or just know that God's looking at us.
Jam Master Jay
Just checking your day. You wake up in the morning, you do something positive, you will receive a blessing. It comes back to you, know what I'm saying? If you wake up in the morning and you're thinking negative, you think, "Man, I'm gonna go get with the niggas and shoot these mothers," or "I'ma rob up motherfuckers." Word, you gonna wind up getting shot and killed.
Joseph "Run" Simmons
That comes back to you.
Jam Master Jay
In that same life. You wake up in the morning and say, "I'm gonna do something positive. I'ma do something good today. I'ma make a difference." That's faith.
Joseph "Run" Simmons
We stand up on faith, because people didn't think Run-D.M.C. had a chance to come back, but we knew that it was up to God, so now we hitting again and people that was fronting before–
Guru
"Only G-O-D could be a king to me, if the G-O-D be in me, then a king I be."
Joseph "Run" Simmons
Exactly correct.
Guru
I want to talk more about the old school. Like, when did you all start wearing the sneakers with no laces?
Joseph "Run" Simmons
All through high school, we'd wear one red and one green, or one Puma and one Adidas, you brought the girls out, coming out with no shoestrings in your shoes and no lenses in your glasses and a big velour [hat]. Oh, Jay was the man in high school. That was the move right there. That was fly.
Jam Master Jay
Hip-hop has a lot to do with fashion. Before Run-D.M.C. started, we would go look at Cold Crush, Kool Moe Dee, Kurtis Blow. I mean, we really looked up to these kids. When we go see them onstage, they dressed a whole other way. They was dealing with a whole other lifestyle. They was on some rock & roll tip.
Darryl "DMC" McDaniels
P-Funk...
Jam Master Jay
Just out like George Clinton or something.
Darryl "DMC" McDaniels
Rick James...
Jam Master Jay
They was dressin' and beatin' and buggin'.
Guru
Fat as...
Jam Master Jay
I was so much of a true b-boy, there's no way in the world I could do that. So when we got our chance, we just dressed the way we dressed in Hollis. To get fly, to us, was just to put on a fresh pair of Adidas – funky, crazy, fresh out the box, no dirt on them. I never understand how D kept his sneakers so clean. And you got on the freshly-dipped gear, that could be a pair of Lees, and a fresh alpaca to match the Adidas, and a velour or a Panama [hat], with the ribbon that's matching your sneakers.
Joseph "Run" Simmons
That's that pimp shit.
Jam Master Jay
But the pimps ain't rockin the Lees, the pimps ain't rockin the jeans, so it was... We put that feeling to the public, to let people know that hip-hop is not just about the music, it's about the style.
Guru
That's right – the lifestyle.
Jam Master Jay
The culture and the lifestyle. I used to be amazed to just look at real artists, the way they drew on the trains. Some kids was crazy dope, a train would go by, there'd be a gun, and somebody getting shot, with their name tagged up.
Guru
Sneaking into a train yard to do that, just so somebody could notice it, that's fly.
Jam Master Jay
It's hectic.
Guru
When you get your tracks together, do you get your titles first? How do you get your concepts for your album? How do you go about it?
Joseph "Run" Simmons
It's hard to say how we made our tracks. We made them and we made the vocals at the same time. It was a mixture.
Jam Master Jay
D would go "Boom-bap, ka-boom-boom bap," and then we just had to make you do that. Play that again, D.
Darryl "DMC" McDaniels
Just sit down and play it. Just play it with the drum machine.
Guru
That's coming back a little, because people are tired of just looping a breakbeat.
Jam Master Jay
Q-Tip did that.
Guru
A lot of them now.
Joseph "Run" Simmons
I'm tired of having to pay these people [for samples].
Guru
All this stuff with sampling, what do you think about all of that? You got people's albums coming out late, because they gotta clear all the samples.
Joseph "Run" Simmons
Truthfully, I love the way this sampling stuff sounds, but I wish that the whole thing flips back in a way.
Darryl "DMC" McDaniels
I think it is going away.
Joseph "Run" Simmons
It needs to go away because it's buggin', it's wack now. Sometimes it's cool, especially the way Pete Rock does it, sounds so def. He'll muffle the bass a bit, and it sounds different.
Guru
Dr. Dre played a lot of them.
Joseph "Run" Simmons
He knows what he wants to sample, but he'll say, "Maybe I can make this bassline sound like something."
Jam Master Jay
Just like Teddy Riley. He used different records, but he'll play them and he'll change them a little bit.
Guru
So, you think more of that'll start coming back, since people are trying to sue and all of that? The people who are against the sampling, they don't understand that rap music did start with turntables. Now, it's a billion-dollar industry. But it did start with catching a beat, and then the machines came out to make it so you could do more.
Jam Master Jay
I think rapping evolved from us not wanting to hear disco. That was big here on the East Coast.
Joseph "Run" Simmons
One thing I like is, rap is straight from the ghetto. And God loves to work way down in the dirt. He doesn't deal in no high industry. That's why Dr. Dre's video is so cool.
Guru
There ain't no people dancing or nothing in it.
Joseph "Run" Simmons
You come in and his mother screams, "Snoopy," and you know his name was Snoopy when he was a kid. That's what I think is dope about rap. The only thing that I like that makes rap really dope is the ghetto aspect – that it's from the street. It's that whole thing what rap stands for.

This interview was conducted in October 1993. © DJ History