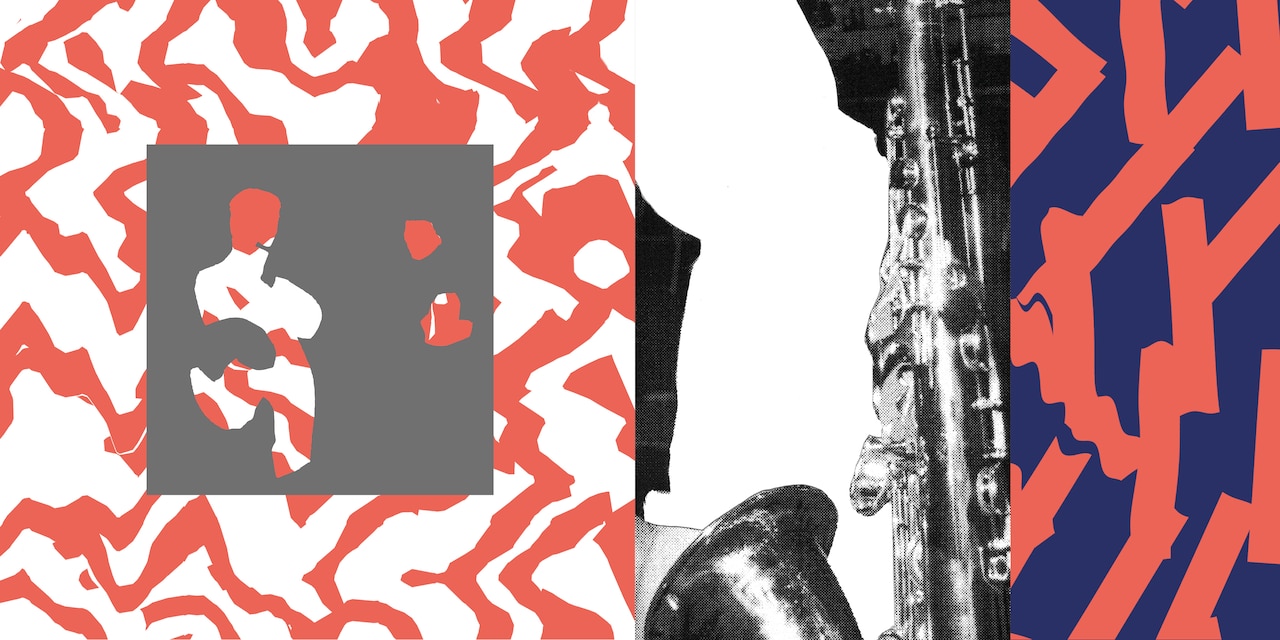 The New School of UK Jazz
Meet the street-up educators and straight-up music lovers that have helped bring up London's latest generation of exploratory, incendiary performers
Theon Cross is doing as much dancing as you can when you're onstage and playing tuba. He's in the flow, responding to the yells and whistles from the crowd and moving to the tough, shimmering melodies that Nubya Garcia is powering through her saxophone. She's rocking forwards in white trainers, all soul fire and boundless energy, while Benjamin K. Appiah spins out the beats on drums.
It's just another killer moment at the launch of We Out Here, a compilation that brings together a new wave of London's ultra-sophisticated, heavily danceable jazz musicians. Cross, Garcia and the other artists who play at the two-night event have serious technical skill, but that's not the main thing: It's the joyful way they're collectively adding new styles and ideas into the idiom.
"We've encouraged that, or we've turned a blind eye to it," explains Gary Crosby, founder of key educators Tomorrow's Warriors. "The generations before, we were constrained by the greatness of our heroes. Sort of frightened, actually. You think of Charlie Parker and what he achieved, and you're gonna try and better that? You're wasting your time."
"This new generation just want to express themselves, and they're allowed to do it because they've done the other stuff. They've reached a level, a technical competence. They could go out and scream and make a bag of noise. I still know they've done the training."
You learn from the elders and you learn on the street.
Drawing a picture of the educators behind this new flowering of London's diaspora-driven music is complex. Alongside the formal training offered by universities Trinity and Guildhall, there's the tutelage and performance opportunities offered by pioneers like Tomorrow's Warriors, Kinetika Bloco and the Abram Wilson Foundation. There are grassroots jams like West London's long-running Jazz:Refreshed, South London's STEEZ or the multifaceted Brainchild Festival. And crucially, there are survivor venues like the Total Refreshment Centre or the local pubs used by Good Evening Arts, where emerging bands can be assured of those key elements to artistic growth: on-point sound and listeners who respond to a good tune even if they've never heard it before.
Over the last two decades, street-up educators and straight-up music lovers have built something that didn't exist before: a grassroots infrastructure that supports, nurtures and promotes new musicians, as if Venezuela's El Sistema were reimagined as a London story.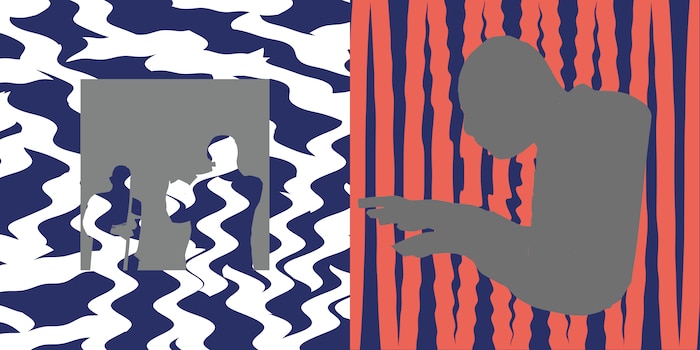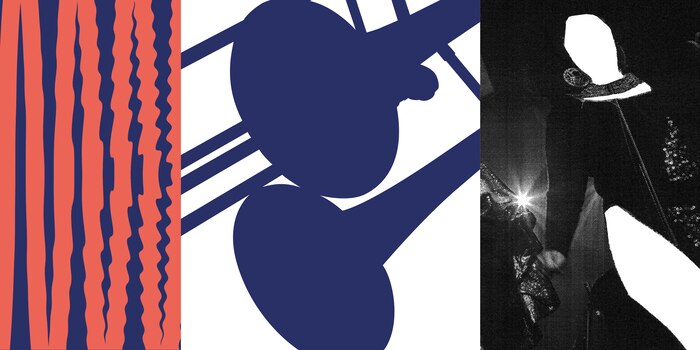 One of the most prominent of these groups is Tomorrow's Warriors, who, in addition to a number of other activities, run high-level music workshops and live events, with a special focus on the African diaspora and girls. If you want to know who passed through their doors, it might just be easier to ask who didn't: The list is long and comprehensive.
The nonprofit educational organization was started in 1991 by double bassist Gary Crosby and grew out of the ashes of the Jazz Warriors, a shifting and influential ensemble of players who released one album, 1987's Out Of Many, One People. "We've been trying to straddle the two camps. You learn from the elders and you learn on the street," says Crosby, leaning back in his chair in their file-stacked Harrow headquarters. "We're on the street, but our ears are really in the music college. Without the college your music gets forgotten about, because it's just entertainment for a group of people this year."
Crosby was instrumental in refreshing the Jazz Warriors lineup with young musicians and continued to do so once the band split, with Sunday jam sessions at Jazz Café in Islington. The jams moved around, and in 2009 were offered a residency at the Southbank Centre. Previously they'd only worked with one band at a time, but being placed in one of the UK's foremost cultural centres created a paradigm shift. Four hours of music workshops every Saturday expanded to 24 hours of free weekly sessions, working with over 100 young people. "You're really starting to see the fruits of all that work back in the day," says Warriors CEO Janine Irons.
"It takes a village," says Crosby. "When I told one of the old guys what I was doing – it might have been [South African bass player] Ernest Mothle – he said, 'Think of it as though you're being asked to get water for the whole village.' I mean, what a beautiful statement."
Crosby sits in a long line of global jazz educators: Art Blakey actively encouraged young musicians, while Cannonball Adderley was a teacher by profession and, in the late 1960s, began adding an extra day to his college tours "in order to give lectures and hold workshops on 'an experience in black music' in conjunction with black studies and music programs." Over in Chicago, Muhal Richard Abrams co-founded the Association for the Advancement of Creative Musicians (AACM), where players and composers could bring works in progress and have them edited, tested and reshaped by sympathetic improvisers.
It's clear how Gary Crosby's musical life feeds into Tomorrow's Warriors. But Janine Irons' teenage musical experiences have had an effect, too – at least the idea that young Londoners should have access to the highest quality teaching. "I was destined to be a concert pianist, but funk music got in the way. Actually, boys and funk music," she laughs. "I had a scholarship for music teachers. My dad used to come off shift and drive me up the M40 to a massive house. The whole of the upstairs was a concert hall with a stage and two grand pianos. My teacher worked with top-level people and you had to be really pure, nails cut down to the quick, no jewellery. She'd make me practice a single note over and over again. I remember everything she taught me – it's engrained, embedded."
Trumpeter and visual artist Sheila Maurice-Grey, 26, is sitting on a speaker in a corridor upstairs at the Total Refreshment Centre. It's a labyrinthine and beautifully ramshackle warehouse venue just off the Kingsland Road in Dalston, full of studios, rehearsal rooms and intriguing characters.
She attended Charles Edward Brookes, a 600-roll state secondary school between Brixton and Camberwell blessed with an inspirational head of music by the name of Mat Fox, who founded another influential outfit called Kinetika Bloco.
"You don't go to Kinetika to learn how to read music," says Maurice-Grey with a grin. "You go to Kinetika for the energy." They're a performance group that offer a London take on Brazil's Carnival "blocos," where young musicians, drummers, steel-pan players and costumed dancers meet year-round to play, practice and develop their own music.
"Mat Fox was one of the most important influencers, because without him I would have stopped playing music," says Maurice-Grey. "Seeing little black girls playing trumpet was normal to me. It wasn't unusual."
"You can't underestimate Mat Fox's importance," reinforces Janine Irons. "He was very important in terms of getting young black girls playing instruments. In a lot of the schools there was this assumption that black kids would want turntables or beat-making, all of that. When Gary and I were looking for a school for our daughter, we'd ask, 'What about music?' and they'd say 'Yes, we've got a great steel-pan group.' Um, yeah, and?"
It's important for people to understand that you're not just playing music for music. That music came out of a struggle.
Fox died in 2014 but left a powerful legacy. Maurice-Grey is just one of many of the current crop of South London jazz musicians who passed through Kinetika's doors. She's gone full circle and is now a music leader herself, running the group's Bloco Lates, where musicians like Nubya Garcia and Theon Cross run master classes and hang out with the next, next generation. "I'm trying to make the music and the journey relatable," she says. "I guess for me growing up, I did see the older generation, but it wasn't as easily accessible. So, I'm basically trying to create that space."
Organisations like Kinetika and Tomorrow's Warriors – with whom Maurice-Grey is also involved – offer something you can't get at mainstream music college. "It's not just learning the facts of music. Halfway through a session Gary [Crosby] would be like 'Right, let's talk about the history.'"
"Jazz is influenced by so many different cultures, but it's rooted from blues and slavery and the civil rights movement. A lot of people shy away from talking about it, feel awkward, which I don't understand. It's part of history. It's important for people to understand that you're not just playing music for music. That music came out of a struggle. It has an importance to what's happening in society."
This self-started, grassroots education is especially impressive given the economic reality of life in Britain in 2018. 91% of schools in the UK face real-terms budget cuts of around £205,000 per school, while music and the arts are being further squeezed out of the curriculum because of distorting accountability measures, with research claiming that music could "become extinct" in UK secondary schools.
Back in the 1960s, reminisces Gary Crosby, school kids in London got free instruments and lessons from the progressive and long-defunct Inner London Education Authority. "Everyone I knew played an instrument at school in London," he says. "You rented an instrument, but no one ever paid. You just got it and disappeared with it and got free lessons.
"These days people from upper working-class and middle-class backgrounds are more willing to use the systems that the working class use, especially if it's free to get training for their kids," he says. "As time goes on these groups of people from the council estates or the privately-owned homes are having to work together, and they're finding that they get on. They grow together. That's the key. If you get people young enough to work together, then those prejudices and fears that our generation had melt away, because they are not actually true."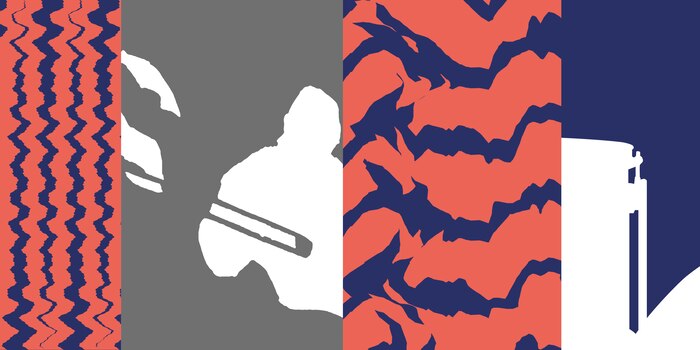 81-year-old Jackie is not your average teacher. In fact, he's not officially a teacher at all. Variously a coal miner, magician, bookseller, autodidactic encyclopedia of jazz knowledge and teetotal barfly, he runs the door for the Wednesday Jazz events at the Spice of Life pub in Soho, London. More importantly for the development of the new wave of South London jazz musicians, he made it his business to dispense home-compiled cassette tapes and VHS recordings of jazz greats.
Back in December, drummer Moses Boyd posted a picture of Jackie on Instagram. "This man is one of the deepest archivers/resources in British jazz," he wrote. "He's been archiving gigs since the '50s and has been supplying me and countless young musicians with info, stories and music for years. I ran into him talking shoppers out of their purchases and telling them what they should buy instead. I had to capture him and spread the legend of Jackie."
Today, Jackie is at the Spice of Life, dapper in a blue blazer and a white beard. He's an exceptionally idiosyncratic character in an area of London historically famous for dives, hidden doorways and a higher-than-average percentage of characters. He doesn't sleep much. Today he was up at 5 AM, making a compilation tape of Sarah Vaughan live performances. His dispensation methods are intuitive. "It's when they play certain tunes by certain people. I say, 'You know this tune?' and they've never heard of it. I feel sorry for them."
Jackie dips into his inside pocket and pulls out a wand. He turns a pebble into a sachet of sugar and pulls out a handful of tiny sections of lead piping he's bent in two to make impromptu catapults. He starts aiming elastic bands at potential targets around the pub before another Soho gentleman, a trumpeter who ran jazz nights at Eel Pie Island, peels over and they start trading stories, which culminates with an argument about whether or not Louis Armstrong was any good when he played the 100 Club on nearby Oxford Street. "Louis Armstrong stopped playing jazz in 1937," says Jackie with a grin, and that, it seems, is that.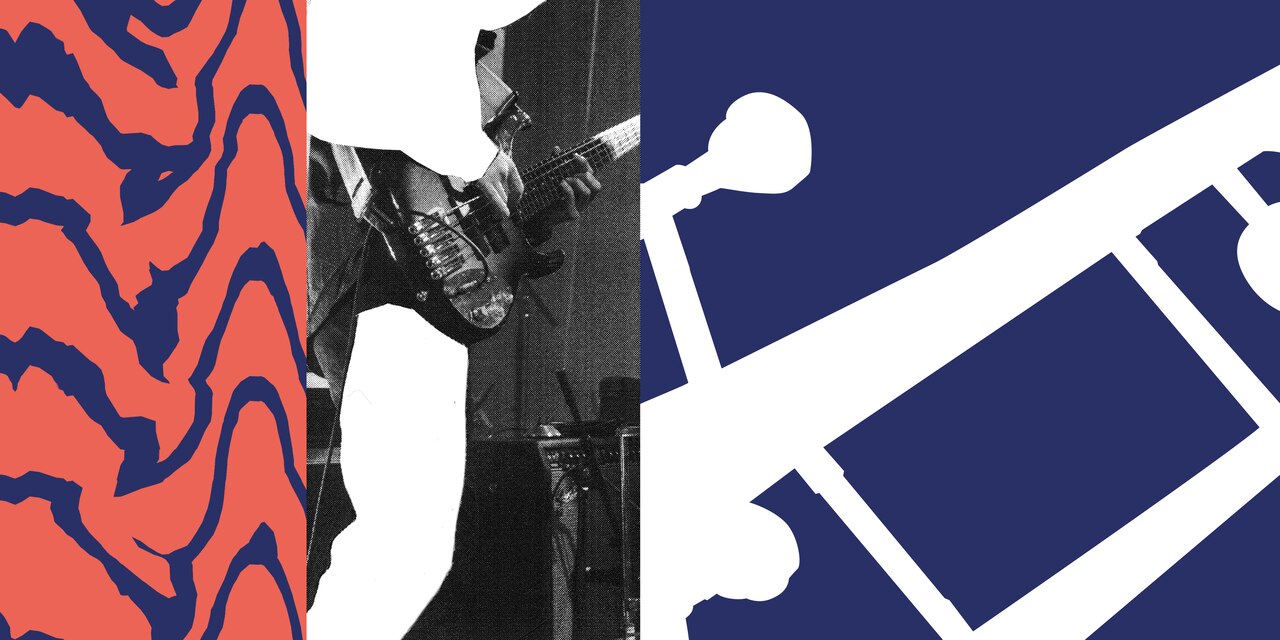 Sheila Maurice-Grey's vibe-fuelled Afrobeat ensemble Kokoroko are taking their positions on stage for their performance at the We Out Here launch.
The women – "Empresses!" says emphatic master of ceremonies Gordon Wedderburn – are all on brass: Cassie Kinoshi on alto sax, Maurice-Grey on trumpet and Richie Seivwright on trombone. It's a testament to the educators that so many of the women in this uprising of talent are players, not vocalists, although it's clear from the heavenly harmonies that slide into the end of the deeply satisfying "Abusey Junction" that these players can sing, too.
"Initially it was about getting the black kids, then more widely about getting young people involved, then girls," says Tomorrow's Warriors' Janine Irons. "It was always one [girl] at a time, and always a vocalist. When we got the Southbank, girls saw it was a nice, creative, communal space, safe for them as musicians."
The first band to come out of the Female Collective were Nérija, who just signed to Domino. Maurice-Grey's Kokoroko came next – although in typically communal style, three of Nérija are in Kokoroko and the rest are in other people's bands. Now, a new grouping of ten young women are meeting weekly at the Southbank, in a bespoke glass box built into the landing of the fourth floor between the stairs and a sweeping view of the River Thames.
There's a small geographic detail that helps explain the prevalence of South London musicians at Tomorrow's Warriors' Southbank sessions – and consequently, this fire-hot upsurge of music and culture. The Southbank Centre is a warm and inviting cultural centre, built by a post-war government in 1951 for the enjoyment of the people. It's a short, direct walk from Waterloo station, and if you catch a train from any of the southeast neighbourhoods that feature prominently in this story – Lewisham, New Cross, Catford – you'll end up at Waterloo, making it a safe and easy place to reach for any South London teen, regardless of cultural and economic capital.
For at least the last three decades, producers and beat-makers generally held the power to move things forward. They were the creative force, they reflected the times, they morphed and evolved and created new genres. It's a false dichotomy to talk about musicians overtaking beats, but maybe there's something in the idea that at least some of the people reflecting current times in a new way are holding brass instruments and drumsticks before their drum machines – and many of them are women. London's hardcore continuum has taken a sidestep, and it's sounding great.
Slam the Poet and Cecil B. Demented are sitting in Chef's Treat, opposite the McDonalds marked into grime history by the Square's "Lewisham MacDeez." It's a fantastically old-school caff, not a cafe, where waiters in waistcoats bring jacket potatoes and omelettes to market traders, mums with toddlers and elderly couples on Zimmer frames. They took over the running of influential STEEZ alongside Sarah El-Grew and Ozzy Martin-Peer when originator Luke Newman stepped back for a while, but the night is currently on hiatus and they're exploring their own projects: Slam's running the monthly freestyle night Spread The Jam, and Cecil's working on a tape titled Debtford that he describes as "trap-punk."
"STEEZ wasn't a night to go to," says Slam the Poet, 24. "It was a night to be a part of." The story is familiar to anyone tuned in to the early days of scenes that go from informal brilliance to influential cornerstone: "It went from about 30 or 40 of us in the Honor Oak Pub to hundreds of people," says 25-year-old Cecil. "They used to have a fight club downstairs. It added to the energy in a weird way. It was this very high-intensity, positive energy at STEEZ – and the night before they'd be cleaning up blood downstairs."
I think the reason the jazz element has been picked up is because that's where the musicians had the backing.
The list of people who took part in their free monthly jams includes heavy-hitters ranging from Nubya Garcia, Oscar Jerome and Moses Boyd to Vels Trio, Poppy Ajudha, Emma-Jean Thackray and Jake Long, as well as upcoming names like super-heavy guitar monsters Triforce and darkly ambient trio Cesca. "I suppose if you're trying to think in grades of education, you have very formal in terms of [music college] Trinity, then slightly less formal in terms of Tomorrow's Warriors," explains Slam the Poet. "The stuff I learned at STEEZ was wholly informal, to the extent that I couldn't tell you what I'd learnt until three months after the fact. I learnt more doing two hours of jam sessions than I'd learn in a month on my own."
"It's hard 'cos STEEZ wasn't specifically one genre," says Cecil, acknowledging a suited gentleman across the room. "It's not like dubstep when we were teenagers, where all you'd listen to was Skream, Youngsta. I think the reason the jazz element has been picked up is because that's where the musicians had the backing." Or, in other words, an infrastructure, built player by player and session by session by our educators.
The second wave are just around the corner. Right under Moses Boyd, Theon Cross and Nubya Garcia stands a generation that promise to take the baton and evolve the form, just like grime picked up from garage. "Each lot that come through are better," says Janine Irons. "They're getting better earlier. They're inspiring more young people. We're getting this explosion now."
Specifically, from Tomorrow's Warriors, there's the Female Collective; a self-explanatory outfit called String Thing; and a standout new player in the shape of teenage trumpeter Ife Ogunjobi. "He's the new leader, he's the new Moses [Boyd]," says Gary Crosby. "He's a young kid from down South London and he's got it all." Writer Tej Adeleye, meanwhile, points to the vocalists who'll be coming through next year, including phenomenal singer Cherise Adams-Burnett.
What Janine Irons says of Tomorrow's Warriors is true of all the good people who put their time and energy into creating space for other talented folk – the teachers, promoters and musicians who abide by the universally beneficial law of "each one teach one." "It's like family," she says. "We say 'once a warrior, always a warrior.' You cannot leave. It's an attitude, it's a spirit. There's a specialness, you know, and an energy."

Special thanks to Sisanda Ntingsha, Emma-Jean Thackray and Aleksandra Topczewska.
Header image © Johannes Ammler / Nayan Graf Quartier