The Silence of Googoosh, Iran's Pop Icon
Perwana Nazif speaks to the renowned vocalist, who stopped performing for two decades after the Islamic Revolution in Iran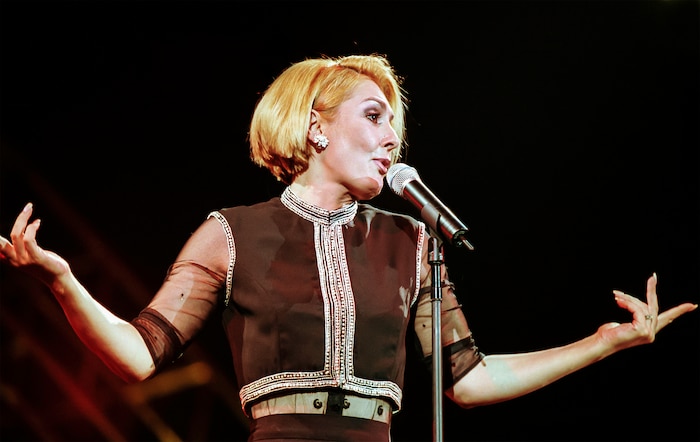 "May I say it in Farsi?" asks Googoosh.
The significance weighing on this simple question would not be lost on those familiar with the 68-year-old icon of Iranian music. After being effectively silenced by her country's government for more than two decades, the request to speak in her native tongue is more than a little heartbreaking. Yet it's a moving reminder of the singer's important role as a voice representing Iran, various diasporas and their succeeding generations.
A pop star and revolutionary defined by her unconventional style, Googoosh was at the height of her fame in the 1960s and '70s both locally and internationally, releasing songs in multiple languages while appearing with the likes of Ray Charles and Tina Turner. This rise was abruptly put on hold – indirectly and perpetually freezing her at a single moment of stardom – with the Islamic Revolution in Iran in 1979. Toppling the Pahlavi dynasty, who were huge fans of Googoosh and had her perform at the prince's birthday in 1977, the Islamic Republic came into power, with it bringing a ban on pop music and public singing by women. Boldly preferring to remain silent rather than abandon her home country, Googoosh wouldn't perform again for 21 years.
Despite this, those in Iran and elsewhere continued to absorb her music through bootleg recordings and pirated cassettes. For many listeners, she represented Iran as it was before the hardline revolution took place. Her silence essentially fixed her in time and elevated her into something of a deity, or abstraction of times past, a representation of a liberated era. And as she continues to perform, in larger venues than ever – she will soon become the first Iranian woman to perform at the Hollywood Bowl – the hardships and experience of her exile remain evident.
"I was my father's partner as an acrobat," says Googoosh, reflecting on her beginnings in the entertainment industry. Born Faegheh Atashin to Azerbaijini parents in Tehran, she started acting onstage as early as three years old. "My father was an acrobat and an actor. Through my father I was introduced to the performing arts and theater. When I first started, there were no TVs or movie theaters, per se." After doing impressions of other singers, and receiving encouragement from her father and his performer friends, she became a singer and started acting in movies at the age of seven.
With her family's industry background and the extensive resulting network, Googoosh was able to smoothly transition from child star to adult diva, often compared to Edith Piaf and Barbra Streisand by Western media when attempting to describe the impressive vocal range and dazzling aura in songs such as the energetic "Makhloogh" and the slower "Hejrat." A mix between upbeat pop chansons and more emotional, heart-wrenching ballads, Googoosh's music is best described as dramatic without any sense of theatricality, and it was in part this ability to imbue songs with natural emotion that won over various audiences.
"She was actually a messenger in Iran and all the countries around Iran," says Hossein Omoumi, a scholar of classical Persian music and professor of Persian Performing Arts of music at the University of California, Irvine, of Googoosh's immense popularity in Iran, its neighboring countries and beyond. Googoosh's fiercely independent and brave spirit – both as a unique musician and as a woman dominating the music industry – was not lost in translation for many of these countries and their respective homesick peoples, which left others outside of the region curious and subsequently equally enthralled by the singer's words and performances.
Despite its general classification as pop, Googoosh's music has been revered by many, ranging from scholars and critics like Omoumi to classical singers such as the Mohammad-Reza Shajarian, who received the distinguished title of "Usted," given to masters of Persian traditional music in the greater Middle East.
"Shajarian – very famous, the best classical singer of Iran – told me [that] when he went to Uzbekistan, they asked him about Googoosh. He was there to sing the poems of Hafez and Saadi [Shirazi], poems of classical poetry, and they ask, 'How is Googoosh doing?' This is very important. Very important in Afghanistan, in Pakistan, all the countries around Iran."
Omoumi attributes one of the major reasons for this overwhelming amount of respect and praise for Googoosh to her precise pronunciation of Persian poetic words, incorporating elements of classical music in her pop songs. "She was really the best. Her voice, her pronunciation of the words – which is very important in classical Persian music. Classical Persian music is created to recite the poem [and] the basic structure of classical Persian music is based on the poetry."
"She was very different, with different styles, and she was always beautiful. It's not just her beauty – her charm was great, [with] movements not exaggerated and harmonized with the music. Natural."
Omoumi touches here on another important aspect of Googoosh's mass appeal: her authenticity. Rather than adhere to existing standards of the entertainment industry and Iranian music culture, particularly what was expected of women, she paved her own way. She was both representative of Iranian music culture, through this great respect for classical poetry and the Persian language, while also rejecting certain notions of it, reflected in things like her more Westernized hairstyle and looks.
But Googoosh's rise to fame came during the Pahlavi ruling, which had instituted the Kashf-e hijab, banning all Islamic veils and promoting a Western style of dress. While this law was relaxed during Googoosh's rise, it continued to impose restrictions on women by forcing a way of dress, either implicitly or explicitly. Rather than exclusively adhering to Western aesthetics that were championed by the dynasty, or traditional expectations of Iranian women entertainers, Googoosh instead – much like her music – presented something of a mix that was distinctly and undeniably her own.
"In the late '60s, early '70s, I had a contract with Barkley in France, and I recorded some French songs," she says. "[After] two years, I went to Italy and had a contract with RCA in Italy. I made an LP in Italian and a Spanish LP. I also made a single in English with them. After that, when I cut off all my hair, my style of dress changed, my style of performing changed [in] the early '70s."
As a woman singer in that era, not only was I not accepted, but I was also punished for it.
The haircut Googoosh mentions was dubbed the "Googooshy," and it inspired a wave of Iranian women to adopt a similar, short-cut style, not unlike the buzz around Twiggy's eyelashes or Jean Seberg's cut in Breathless. What was so significant about her style, however, was not just its Westernized presentation, associated with an Orientalist ethos of the Occidental as the more "modernized" society, but her embracing of both masculine and feminine characteristics. Googoosh's shoulder-baring dresses and miniskirts, paired along with a traditionally masculine hairstyle, created a sexually liberated and ambiguous image of the singer. This sense of freedom allowed for more mass appeal, and freedom to explore taboo topics such as female desire and hardship in her songs.
"I basically owe the Iranian singers of popular music before me for breaking away from tradition. I learned from them, I followed their paths, and went past those boundaries to create a more modern pop style," she says. "For example, Vigen broke traditions by playing guitar on stage as he was singing Western-style music. He inspired me a lot."
Laws against women singing in public were eventually relaxed in Iran, but this freedom was still not extended to Googoosh. She was, however, eventually granted a passport by the government after her decades-long silence, and in 2001 she embarked on an international tour, and began making new albums. Audiences greeted her in turn with open arms, willing to embrace fond memories of their and their parents' and their parents' parents' country. "This is really important, to be accepted by three generations," says Hossein Omoumi. Her cross-generational appeal is precisely because of what Googoosh's music represented: both a celebration of and rebellion against Iranian culture, of what it was and what has become of it. Googoosh is synonymous with an Iran many remember, or have at least heard of – an Iran many hope returns, and to which they themselves can return to, just as Googoosh did.
"The hardships of this work are a lot, especially in the culture and country I was living in," she says. "I was in a country that restricted and controlled women – had the arms and legs of women tied up. Our women did not have freedom of action in their lives. Society was very traditional when it came to women's lives."
Audibly emotional, with her voice breaking, Googoosh continues to explain the difficulties during her imposed silence, difficulties that are still present today in Iran. "The majority of my hardships happened after the revolution. As a woman singer in that era, not only was I not accepted, but I was also punished for it. I was put in jail. I was prohibited from working as a singer. I was prohibited from leaving the country for 21 years. The hardest part for me was that I could not be on stage."
Despite a hesitation to be associated with anything overtly political, Googoosh continues to remain a figure of resistance. The independence she exuded as an Iranian woman in the entertainment industry continues to persist to this day in songs like "Behesht," released in 2014 in support of equal rights for the LGBTQ community in Iran. However, perhaps it is best to examine her influence outside the political sphere altogether, and instead understand her influence as coming from a liberating place of love, as she prefers.
"I am not a political person. I don't think. My work is not political. It's just my songs, my voice. It's about love. It's about life. It's about people."

Translation by Roz Naimi and Kamran Aliallah.