José Padilla, Ibiza's Undisputed King of Chill-Out
From the DJ History archives: The Balearic DJ on the island's freewheeling early days, building a scene from scratch and how Café del Mar became a global brand
It is impossible to talk about Ibiza's musical history without mentioning José Padilla. Arriving on the island in the mid-1970s to work as a DJ, he became a true master of the ambient art form, captivating successive generations of clubbers with his epic and emotive sundown DJ sets.

Here, he talks to Bill Brewster about a life in music, from his early days working at tourist bars to establishing his own mixtape empire and making an unassuming beachside bar synonymous with the blissed-out Balearic experience.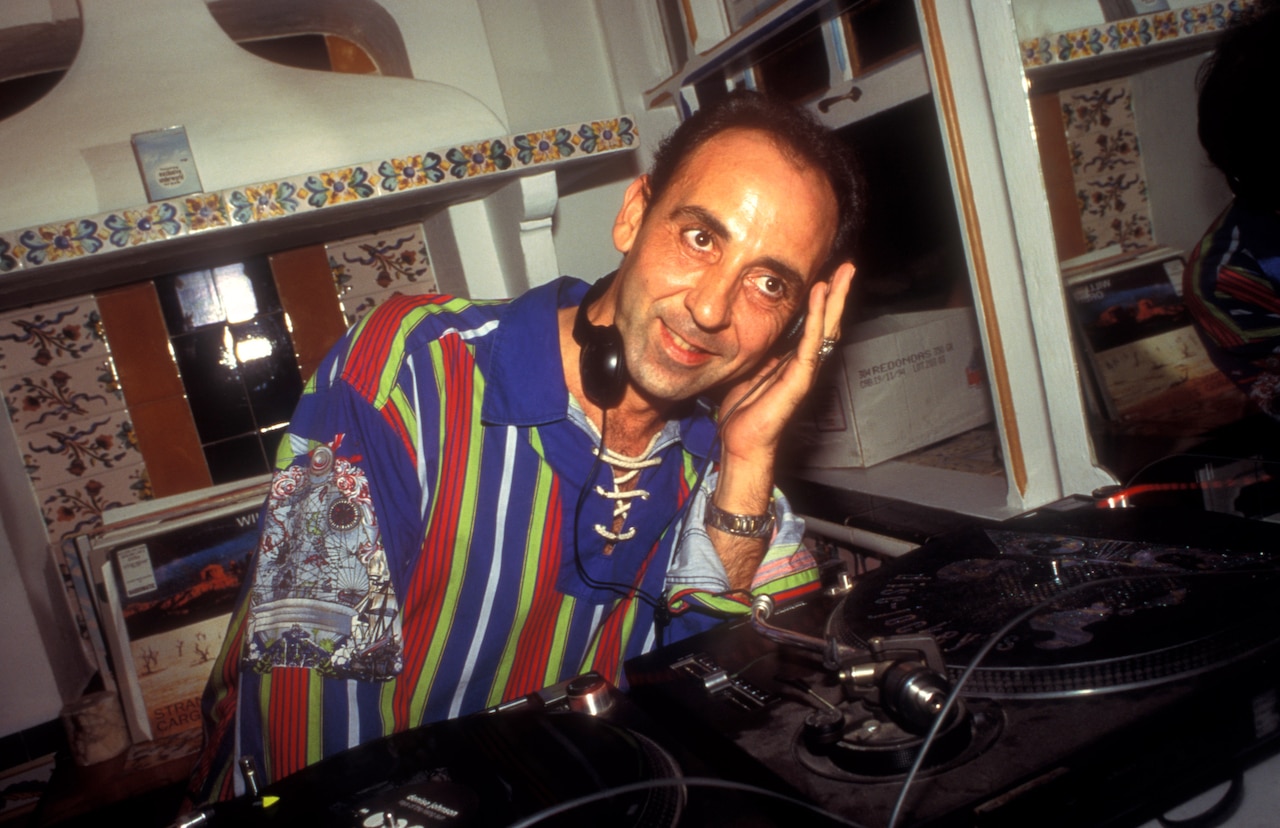 When were you born and where?
I was born in 1955 in Girona, which is the next town to Barcelona in Catalonia. I grew up in between France and Barcelona. My childhood was in the south of France, Perpignan. My father was a farmer – he used to take care of farms.
How did you get into music?
Well, my family were from the south of Spain, so my home was always a very musical place. My older brother was a teddy boy. He was into rock, the Twist and all that. I always had a deck in my home with 7"s from Elvis and Johnny Hallyday…
Did you start collecting records when you were young?
I bought my first record when I was 13 with my own wages. I was living in Barcelona then. Collecting properly, I was 16 or 17. I was more into rock and symphonic rock. I was a big fan of Genesis, Manfred Mann, German rock, Klaus Schulze, Rolling Stones, Black Sabbath. When I was about 20 I had to sell my records, because I was in deep trouble. I had about 100.
The first time I saw a DJ in action, that's what I wanted to do.
How did you get into DJing?
The first time I saw a DJ in action, that's what I wanted to do. I was about 16. It was in Lloret de Mar [on the Costa Brava]. I was DJing for nothing, really. I was a friend of the main DJ, so he was letting me play a few tracks when he went to the toilet or when he was tired. In those days, a DJ played all night long… My first wages as a DJ, I was 19, something like that. It was £15 a week – 3,000 pesetas, I always remember. It was good for a 19-year-old guy.
When did you go to Ibiza?
It was 1976 and I was 21. It's a long story. When you're that age… I was fighting with my family, so I was escaping from [them]. I didn't want to do the job they wanted me to do… the usual teenage thing. I ended up there and I'm still there.
Did you go with the intention of DJing?
I wanted to DJ, but in those days you couldn't make a living from DJing in Spain. So, I did all kinds of work. I worked as a waiter, I worked in construction, all sorts of different jobs. My first job as a DJ in Ibiza was in a hotel called Bergantin. It was a very little box, with a little room. I was playing Barry White, ABBA, Julio Iglesias and all that shit. But, you know, it was decent wages. This was about 1976. Then I had the chance to play in Es Paradis, which was the main club in San Antonio, an open-air place. In those days, they tested different DJs, so you had to go and prove yourself. I went there, proved myself and got the job.
Was it the sort of job that, once you got it, you played all night every night?
Every night from 10 PM until six in the morning.
When did you start working there?
1978 or '79.
What sort of clientele did it have?
It was cosmopolitan, but there were also the freaky hippie types, you know. It was open-air. It was a different vibe. Different people, different drugs. It was more relaxed, put it that way.
What sort of music did you play?
Well, considering I didn't have much choice of records and the disco stuff was really difficult to get hold of it, stuff like Salsoul Orchestra and Chic. I played from rock and reggae to James Brown. I played everything I could. Sometimes I had to repeat records two or three times in a night. We played stuff that had a vibe. In those days, you could make people dance with Pink Floyd. I remember having the dancefloor full with a track from Ultravox called "Vienna," or funky stuff like Timmy Thomas.
Where did you get your records from?
Wherever I could. There was a very good record store called Flip Music [run by] a French guy, in Ibiza Town. He was the first guy to bring stuff from abroad.
In Ibiza at that time, which were the good clubs?
At the beginning of the '80s it was Pacha and Ku. There were two Cesars – there was a Cesar, who was in Pacha, who was the only guy in Spain who could fly to New York, because they had the money and power to do it; then there was another Cesar, a black guy from New York, who was playing in Ku. Then there was Glory's, which doesn't exist now, and in Glory's there was Jean-Claude from Belgium. Amnesia was a rock place… It was nothing.
What did you do after Es Paradis? You were there two years?
Three. Then I went to a new club called Manhattan, which this guy built with a lot of money. They called it a macro-discotheque. It was very fashionable, big, three floors, elevators, swimming pool inside, cinema and all that bullshit. I went there for money, but it was a big mistake.
Why a mistake?
Because I went for the money. Es Paradis was beautiful during those years, you know? After two years [Manhattan] was on fire, so I lost the job. So, then I worked in all the discotheques in San Antonio – Playboy, Nitos, Extasis. Then I did a couple of things in Ibiza Town, played a couple of times in Ku and in Pacha, but only as a guest, I was never resident. Then I opened my own bar on the other side, the Es Vedra side, in Cala Vadella. It was called Museo, because it was a museum. It was a lot of work, I put a lot of energy there and I [could] play my music [there]. We had paintings and sculptures from artists all over the island. It started in 1986.
Do you remember any specific records you played when you were playing in Es Paradis?
Yes. Fischer-Z, Supertramp. John Miles "Music" was the last track of every night. "Honky Tonk Woman," Harold Melvin & the Blue Notes, Pink Floyd's "Money"...
But that's a bastard to dance to, it's in a weird time signature!
They loved it!
Really?
Yeah. It was a different crowd, it was more acid and joints. I used to put all the lights out and make it fucking black. No music. For a minute. "Fuck you!" I used to do that. "Now you wait!" Then they used to start to whistle and scream. Then I start with, I don't know, anything. David Bowie. That's the problem now, they don't have any patience, they don't have imagination.
What other things did you do when you were playing there?
It was really creative. We didn't have CDs, we didn't have MiniDisc, we didn't have DAT. We had two cassette decks and two decks, so I used to put in the cassette decks some birds or some waves or some screaming, you know, sound effects. It was beautiful.
What nationality were the people who came there?
Spanish, Dutch, Scandinavian, a few English and Americans, Germans.
How did it differ in Pacha?
Oh, it was a really trendy, hippie jet-set.
What were guys like Cesar, from New York, playing?
He was the first guy playing quality stuff. He was kind of like a [Larry] Levan, that kind of stuff.
Is he around still?
No, he's dead, he was a heroin addict. He was a skinny guy, tall, with one bad leg. I think he died in Barcelona. He was in his 30s then.
So, tell me, what had you been playing up until that point? Had you been playing the chill-out stuff you were known for, stuff like Penguin Cafe Orchestra?
I tell you what, the first time I heard Penguin Cafe Orchestra was in Glory's in the '80s. It was this guy from Valencia, called Paco, who played it. It was the beginning of ecstasy, only a few people were taking it, it was the first time I saw people doing the dancing [mimics acid house dancing] with that track. I thought, "What is this?"
Which tune was it?
"Music For A Found Harmonium." I used to play that in a club called Nightlife, and every time I played it, the owner came up to me and said, "I'm gonna break your fucking penguin record," because it had penguins on the cover, "Next time you play it, I break it," because everyone left the floor every time I played it. I loved it. [I was] trying to break it in San Antonio.
I'm assuming they weren't taking ecstasy in your club?
No, a lot of alcohol.
When was the first time you saw ecstasy?
The late '80s.
Did you see Alfredo in Amnesia?
Yes. It was at the beginning of the first acid tracks.
What sort of music was he playing?
He played all over, from Tamla Motown to rock to whatever.
Now you can specialize in Detroit techno or deep house or whatever, but then you had to play with what you had.
Why do you think DJs in Ibiza have always played this wide mix of music?
Well, I think it was because we were brought up like that, but also because there was not much choice. Now you can specialize in Detroit techno or deep house or whatever, but then you had to play with what you had. We had to play so many hours, we had to play different tracks to make the session happen. I think that's where it's coming from, really. It's not because in Ibiza we like to play like that. We had to play Talk Talk, we had to play Belgian beat, we had to play rock, we had to play reggae, because we had to fill the space of so many hours. That's my thinking.
Did you DJ on the mainland as well?
I DJed as a guest. I played in Barcelona at a place called Golden Box, which doesn't exist any more. I played in Madrid, but that [place] doesn't exist any more, either, and I played in Galicia.
Did you play the same records and get the same reaction?
No, I had to get my more dancey records.
Why did you play differently?
It was a different attitude, different environment.
Do you think that the fact there are lots of tourists and foreign workers [in Ibiza] affects how music is played or perceived there?
Well, yes.
How did that affect things, say, in the late '80s?
Well, there were no English DJs, there was just one American in Ku, and that was it. All the DJs were locals. Of course, English people used to bring records. You'd say, "Oh, next time you come bring me a few tunes." So, of course we got influenced by them. We knew some English groups because of records being brought over.
Trevor Fung said he would bring records over and sell them to the DJs.
Yeah. I bought a few records from Trevor, yes. But that was late in the '80s.
So how did your bar go? You could play Penguin Cafe Orchestra without getting threatened with the sack.
Yes! Then I could play anything I wanted. I was playing more experimental, more jazzy, more quality, bossa nova, blah, blah. It was my baby.
Was it like Café Del Mar, lots of people outside?
Yes. It was a very nice environment, a big garden, 500 square meters, sculptures, trees, fountain. It held 400-500. But it went wrong. We were three partners. One of them shot himself inside the bar. That was it, then. Heavy shit. We did very well in the summer, then he wanted to open in the winter, but there is nobody there in Cala Vadella, only the drunk people. We didn't make any money. I said, "Look, what are we doing opening in the winter?" He was a manic depressive and he shot himself. I tried to keep it going for another year, but when you've got the blood spots in your bar… And he left me with all the bills.
How did the Café Del Mar thing come about?
After that, I went into San Antonio. The club that was Nitos, they changed to Nightlife, but I started to play there, but I was really burned. They paid me good money, but I couldn't handle it. I was drinking every night, so I stopped and started to sell tapes on the hippie market. I was doing my own tapes, at home, reggae, soul, whatever – different styles. I made 20 or 30 of them with nice cover from a painter friend of mine. The first day I went, I sold all of them. Next day, I did double. "Fuck!" I bought another tape machine. Then I spoke to Alfredo, Pippi, Cesar de Molero. I said, "Look, I got this business in the market, if you make me a master [tape], I'll give you a percentage or pay you for the master." Every week, I'd go to them and say, "Here's your money." I still have all the masters.
Really?
So, I came home with £3,000! I was sitting on my sofa, with eight machines – boom, boom [mimics pressing record buttons] – when I was tired, my girlfriend would take over. This was 1989. Then people started to copy me. They'd actually buy the tapes from me and make copies of my tapes! It's a big market. That year, there were about ten of them. Then the police started to come. I did that for two years. Then the Café Del Mar guys, who I knew, because I used to live behind [the venue], they said, "Look, if you want to DJ here…"
Who were the owners of Café del Mar?
Pepe, Ramon and Carlos. I started to DJ there, I started to sell tapes. I was selling 100 tapes a day. The wages were like £500 a month. I was working six days a week. I thought, "I have to do this legally." I came to London and offered it to all the big companies, so I forgot about it for a few years and I saw a friend from Logic… He said, "I've got these friends from React, and they're interested." That's how I did it. The first one came out in 1992, I think. When I started to do the CDs, I came here for the winter, living in London for three years and two years in Nottingham, and DJing around the country.
They sold a lot, didn't they?
The first one sold 8,000, the second one 30,000… the fifth one sold half a million. The Best Of Café Del Mar did over a million. We've done between three and four million worldwide now, but I've been in a court case with React for four years over the trademark for the name.
What's it been like watching Ibiza change over the years?
I don't know. Actually, I'm moving from Ibiza. Ibiza, to me, doesn't mean anything anymore. It's for young kids. I've been there 30 years nearly. It's a very unreal place. Go, go, go, party, party. Commercial. There's not too many places you can hang out. It's too fast. Maybe it's because I'm older or because I've changed. Everything is so business-oriented now, there is no spirit or goodwill. It's a big industry. It's a big factory. That's the fucking reality. There are still good DJs there and still some great sets. That doesn't mean it's crap, but that's the way I feel.
In a way, it's the fault of Spanish businessmen being greedy, isn't it?
Yes. Every year there is a big guy, this year it's Timo Maas. He's a brilliant DJ, but it's not me. I prefer to play in Precious Hall in Sapporo, proper fucking club, underground, brilliant soundsystem, 400-500 beautiful people, play for eight or nine hours, that's where I want to go. I want to have fun and in Ibiza I cannot have fun. Too much chemicals. I think it affects a lot the spirit of the music.
What are the great memories you have of Ibiza, the great nights?
When I was doing a party called Moondance. I was doing Moondance in Pacha and then in Space. I took Tony Humphries there, John Digweed, Sasha. I took Ministry, Renaissance, Golden, Back to Basics. One of the best ever was Andy Weatherall in Space and there were 200 people only in there. I was so fuckin' pissed off, because he played so amazing.

This interview was conducted in March 2005. © DJhistory.com