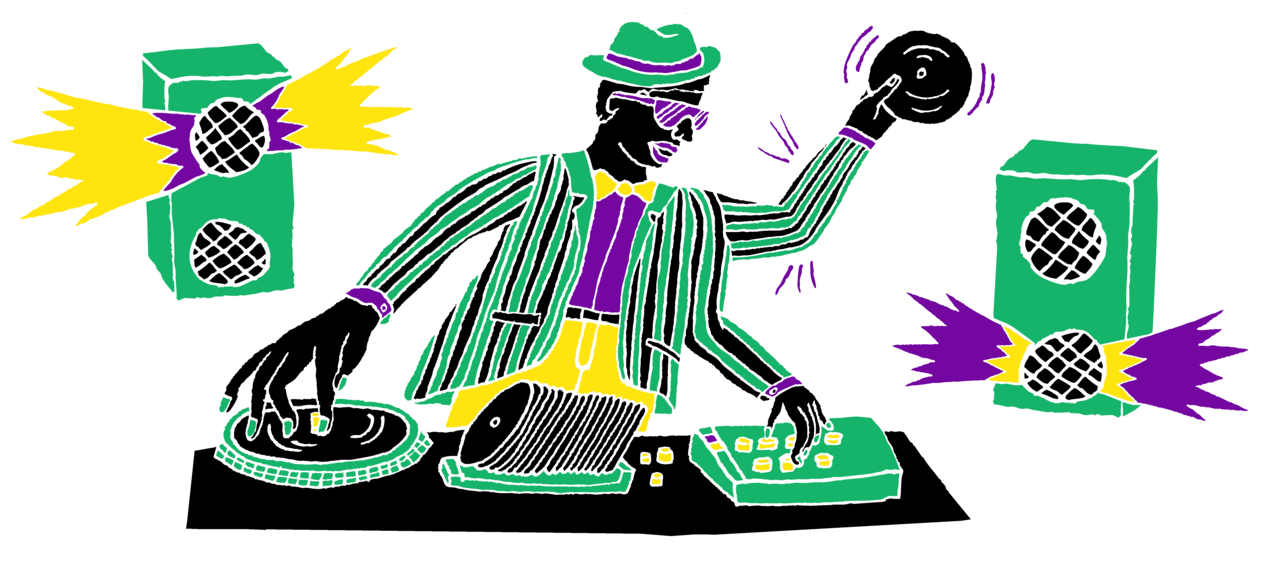 Slick Leo, the Godfather of DJ Culture in New Orleans
In search of the incendiary DJ who ruled the city's dancefloors and airwaves in the 1980s
It's seafood Tuesday at Caesar's on the West Bank of New Orleans, and it is cold and blustery and, believe it or not, hailing outside. A bummer of an East Coast winter night, perhaps – but for a January in Louisiana, damn near apocalyptic. The next few days will see the city covered with a thin patina of frost, enough to induce power outages, shuttered schools, panicked city-wide travel warnings and an intense-sounding "boil-water advisory." Which means the folks who have left their homes to party tonight with Captain Charles and Papa Smurf must be the hardcore of the hardcore.
The club's a quarter full at best, but there are half-pints of cognac for sale and a plastic tub of Trustex condoms in the bathroom, and the floor stays covered with packs of line-dancers falling easily into synchronized formations. In here, it's all ages: A memorable scene breaks out when a 60-something fellow in a fedora grinds up on a 20-something woman with platinum hair, and, in the process, to great cheers, drops his cane. "It's warm inside!" Papa Smurf shouts into the microphone and out to the audience listening on KMEZ-FM. "Don't be afraid – don't be afraid to do it – don't be afraid to come get that seafood!"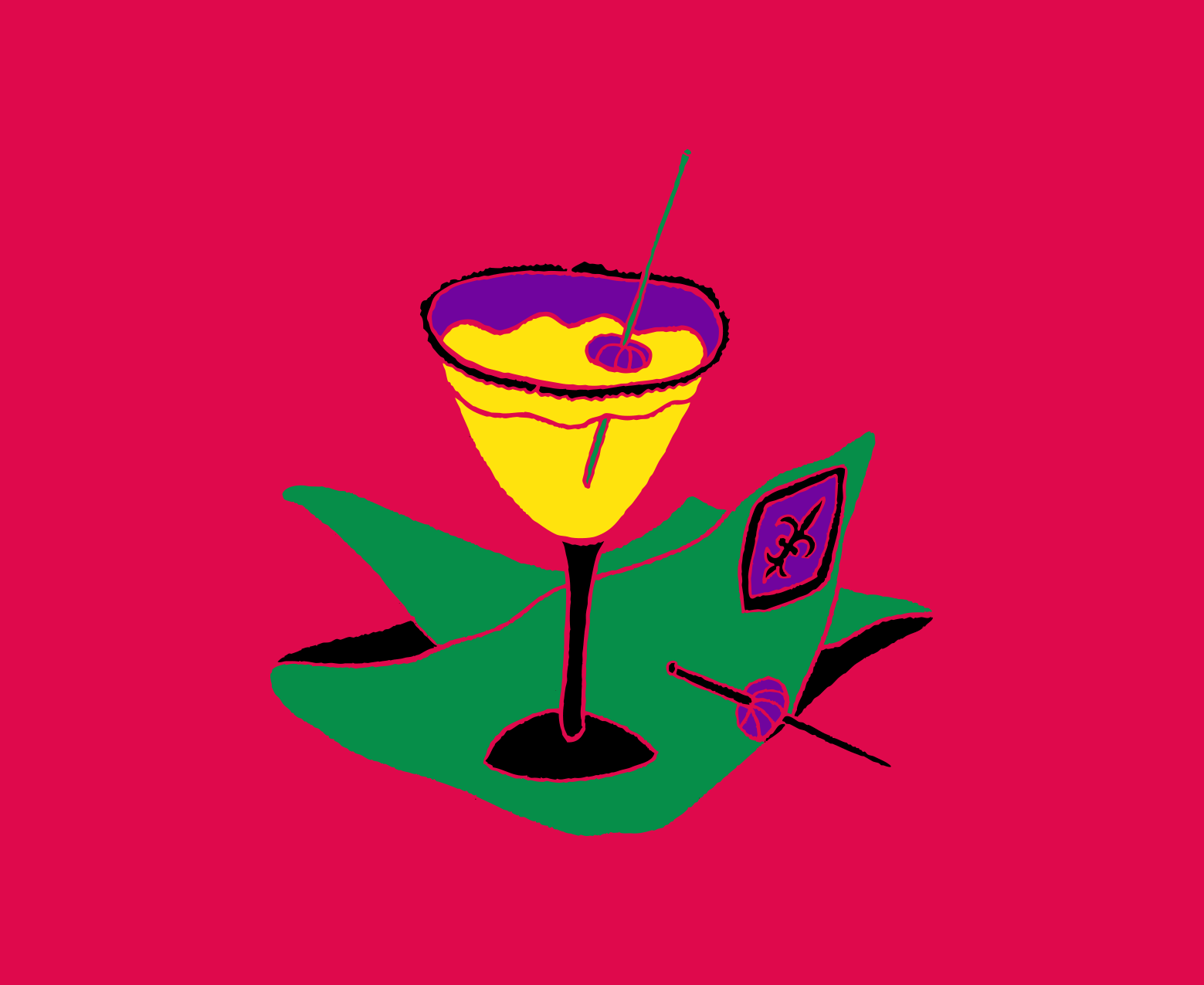 Image © Serafine Frey
I'm here with DJ Soul Sister, a New Orleans vanguard who spins vinyl-only sets of '70s funk, disco and R&B. Captain and Papa are her pals, but this isn't quite her scene. Eyeing the line-dancers, she tells me, "They got clubs where they practice this shit for hours. In the country!" Still, with early Michael Jackson on, she happily skips onto the floor from time to time. We'd started our evening at a quiet bar on the other side of the Mississippi River, but after a few viscous King Cake martinis we decided to grab our drinks to-go and actually hear some music while we talk about it.
I'm here to ask about the godfather of New Orleans DJ culture. I'm here to ask about Slick Leo.
He was elusive. He was a ghost. Where's Slick Leo? No one knew.
If you were partying in this city in the '80s, then you know that Leo's nights at the Famous Theatre Disco were the hottest, most mind-blowing tickets in town. Aired as "Live From The Famous," both in real time on the radio station WAIL 105 FM and on tape as a Soul Train-style TV show on Channel 6, the gig cemented Leo's unimpeachable style. It was simple, really: Leo played stuff no one else played, and he played it better than anyone else did.
"It was his originality," says the local DJ John Wick. "Put it this way: The Famous was an R&B club. He got away with playing the Romantics, Yes, Madness, Cyndi Lauper, even Yaz. If it had a funky beat he would drop it and, like, no one would think twice about who made it – they knew if Leo was playing it, it had to be the shit."
Most groundbreaking was Leo's early embrace of the then-burgeoning genre of hip-hop and his later embrace of Washington, D.C.'s deeply regional go-go, both of which would go on to reform in bounce. Cash Money's Mannie Fresh – the man who defined the sound of New Orleans' international expansion in the late '90s – credits Leo as one of his earliest, biggest influences. "Every kid that loved music, it was the same thing," Fresh says. "Get your tape recorder, get ready to tape the Slick Leo show. I always say: Slick Leo my hero."
Over the drums and the horns at Caesar's, Soul Sister breaks it down. "There's a narrative of the legacy of New Orleans music, whether it's jazz, funk, R&B, whatever. That story pretty much ends in the '70s. Then all of a sudden everyone's talking about [the '90s and] bounce music! So you have a whole decade of New Orleans music that's unaccounted for. To me, personally, that decade belongs to Slick Leo."
But Leo, once an elemental figure, has become obscured. That's in part because DJ culture doesn't fit neatly into New Orleans' understanding of itself as a live music town, and in part because no one was holding on to his records. While some bootleg recordings of "Live From The Famous" do exist, the mixes he elegantly assembled were ephemeral gems. And while Soul Sister was too young to attend the parties at the Famous, she remembers her dad waking her up one bleary night at 1 AM, just to watch the televised magic. Years later she'd try and track down episodes of the TV show, only to learn that the Famous had burned down in late '80s and that the show's archives had gone up in flames with it.
But there's another reason why fewer and fewer know his name: Leo, in the years following his '80s heyday, willingly disappeared. He would retire from DJing and would come and go from the city where he made his name. He once ruled the scene, but then he transitioned into a soft kind of reclusivity. "I used to search for him," Soul Sister says. "He was elusive. He was a ghost. Where's Slick Leo? No one knew."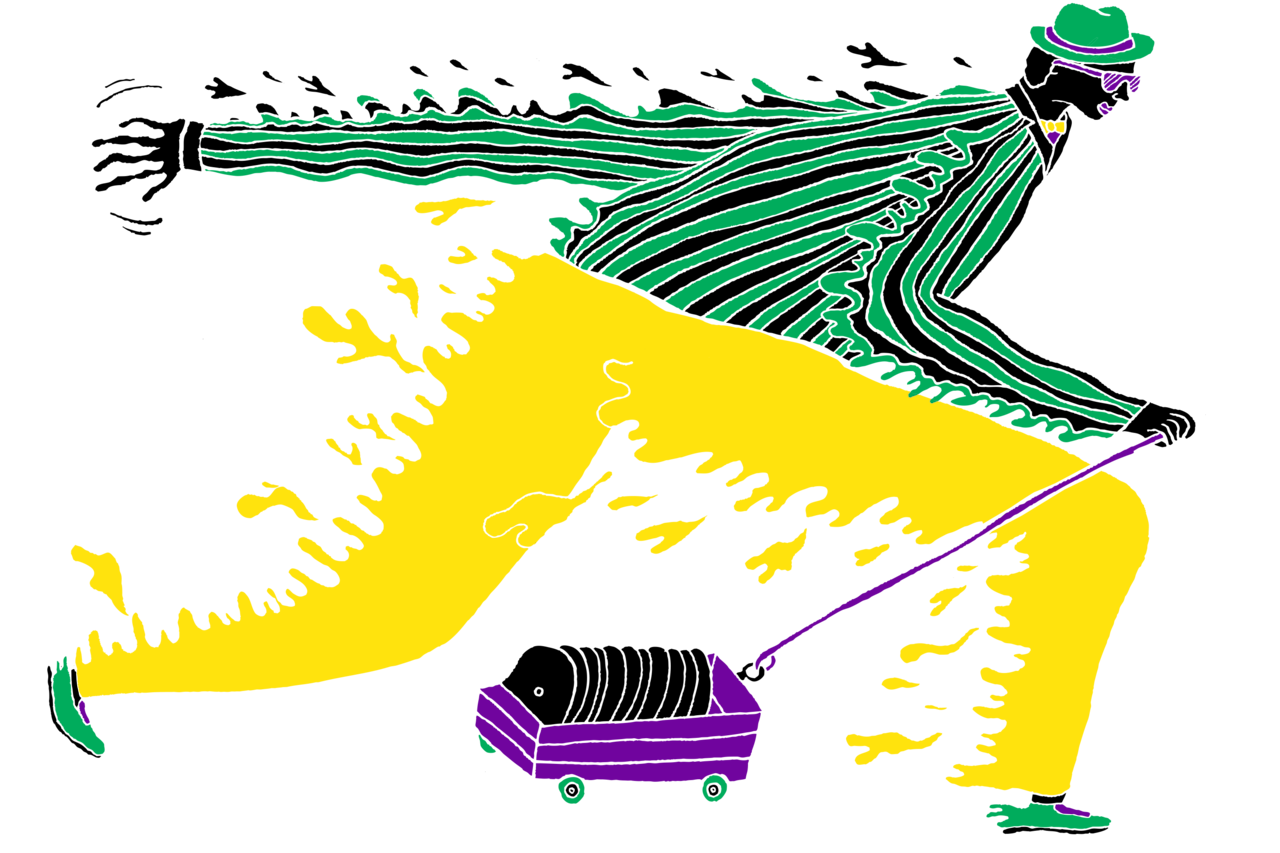 LeBron Joseph is the host of a popular daily TV show, News With a Twist. But a few decades back Joseph was LBJ, one of the hottest DJs in town. And just like pretty much every other DJ here, he loves Leo. "This is '78, '79," Joseph says, giving me the history. "This white guy by the name of Barry Richards, a program director, decides to program a hip-hop station. This was the precursor to Hot 97 and all that. They jumped the gun. Kurtis Blow, Whodini on the FM band – a full station geared to urban." That station was WAIL 105 FM.
Joseph was first introduced to Leo on WAIL with Richards operating as a colorful hypeman: he called himself the Reazar. Joseph drops into an impersonation, with a smoky, croaky-voiced shout from another realm: "'I'm the Reazar!' And fucking Leo is on there, mixing and shit, and Barry's talking shit, 'Ohhhh, that's Slick Leo, we're Live at the Famous!' Hottest shit in the world." According to Richards, who now makes his living as an independent promoter in LA "pimping records" for Lil Uzi Vert and Post Malone, the name came from a DC-area term: "That used to mean 'big black Johnson.'"
At his peak Leo was also DJing parties in the Superdome. Like, where the Saints play.
Over the years, Soul Sister has heard all kinds of stories about the Famous. One late night, a man claiming to be a former bartender at the club told her something truly nuts: "According to this guy they used to pump nitrate through the air filters!" (Says the internet, "amyl nitrate… sometimes called 'poppers'… are sometimes abused.") Both she and Joseph compare the Famous to New Orleans' own Studio 54. But Joseph was old enough to actually attend himself: "You could barely get into that motherfucka! And Slick Leo was there dropping the bomb."
Joseph would go from fan to friend. In the late '80s he toured Louisiana with Leo, "up and down the river parishes, playing schools, ILA halls, American Legions. We're on the road, dude! And in these small towns, it's like the Jackson Five is coming." At his peak Leo was also DJing parties in the Superdome. Like, where the Saints play.
Of what makes Leo legendary, Joseph acknowledges how good Leo's hands were, how insane his parties were. But most of all, Joseph says, "It's his ears, man. Yeah, he could scratch like nobody else, but Leo had an uncanny ability to hear a hit. The first time I heard Public Enemy, Leo was playing it. I was like, 'What the fuck is that noise?' But he heard it right off. Holy shit. Damn. That is brilliant. He would not allow radio [programmers] determine what the hits were gonna be for the dancefloor."
Mannie Fresh would recall Grandmaster Flash coming down to New Orleans and playing with Leo. "If you a hip-hop head, you thought Flash was a big deal. And he was. But they'd battle. And it was a lot of times when Slick Leo came out victorious!"
Any time you bring Leo up with the older folks, Soul Sister says, everyone says the same thing: "He was the only one."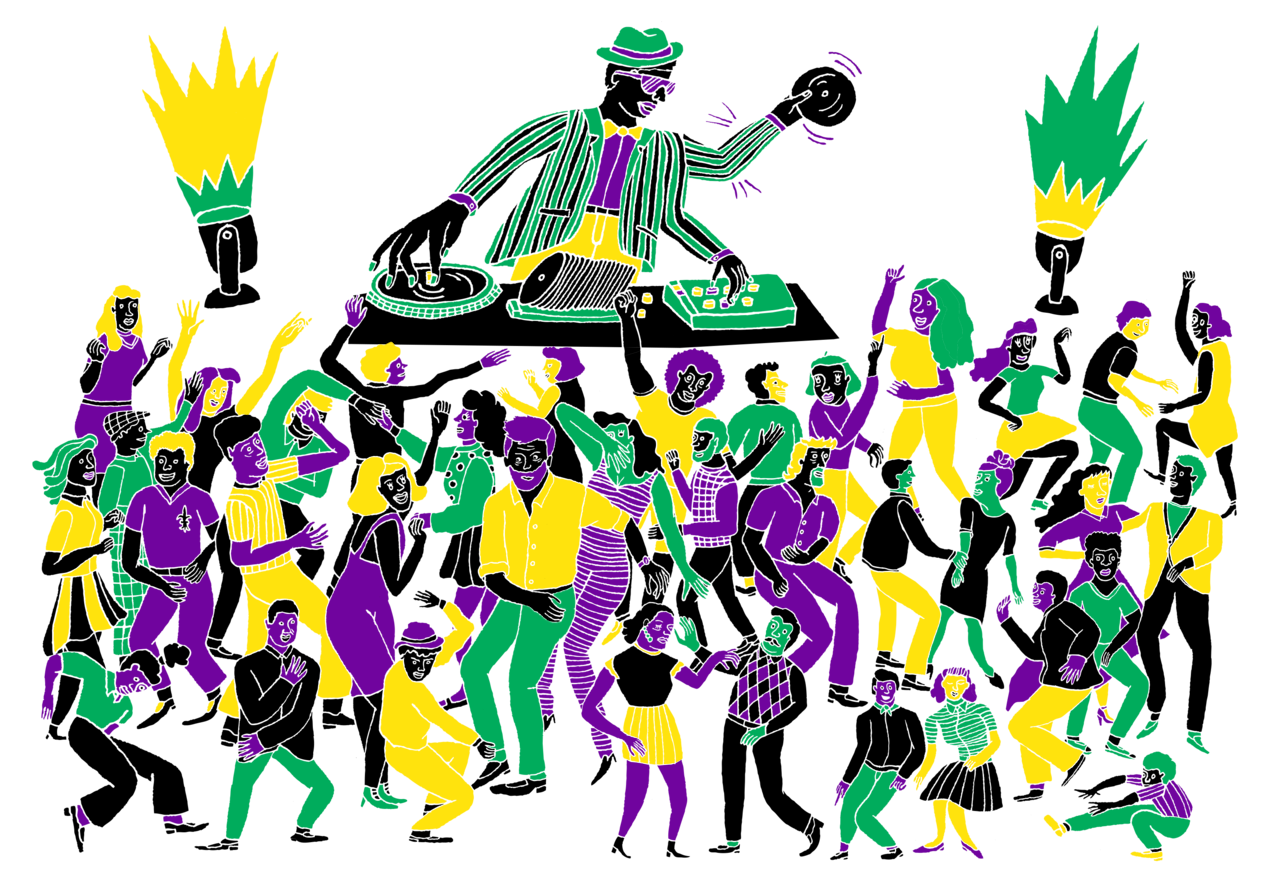 The night before, at Caesar's, I told Papa Smurf I was worried Leo was disappearing on me. Before I got to New Orleans my communications with Leo had been good, if a bit choppy. Suddenly I couldn't find him. Papa laughed and told me, "That sounds like Leo!" The next morning I call and call. And, finally, by the late afternoon, I get a call back. It's Leo. "I'm out front the McDonalds on Franklin and St. Claude," he says. "I'm the black dude."
At the stated corner I see the man. He's dressed for the temperature in a leather coat weathered almost to white and not one but two winter hats (he's layered a big black cap with flaps over a gray beanie). His sunglasses are dark, his Nikes are white and fresh and his earlobes glint. He's still fly.
He leads me across the street to the New Orleans Healing Center, a small complex of new age and thrift shops with a generous bathroom policy for the city's itinerant population. We sit and talk. Leo's voice is calm and cool and quite a bit raspy. He'd make an excellent unreliable narrator for a heist movie. He tells me the story of Slick Leo, from his point of view.
He was born Leo Coakley in Fredericksburg, Virginia, outside of D.C. (He'd return there regularly throughout his life, hence the fluency in go-go.) He was raised in the central New Orleans neighborhood of Treme – like a lot of locals, he pronounces it "tree me." He got his stage name from his mother, who'd shout at him, after one or another of his early shenanigans, "Leo! You slick son-of-a-bitch!"
"I wasn't no bad kid," he says. "Just musically inclined. I used to cut class and stay in the music room. I played trumpet, sousaphone, piccolo, slide trombone, organ, piano, contrabass." There was that time he boosted her Ex-Lax. "I thought it was candy. I was on the toilet. She knew who took it then."
By 16 he had a work permit to play horns with gigging bands till two in the morning at clubs throughout the city. At the same time his older brothers, enlisted in Vietnam, would ship back cheap retail goods like high-level Sansui speakers. "They'd never be home, so they spoiled me with all this," Leo says. "And by the time they did come home, I was making money with it."
Leo quickly realized that being a solo act paid better than being one of the brass guys. And besides, he'd fallen in love with turntables. Before he had the options of the proper Technics 1200s, Leo was replete with tech hacks. For a bit, he regales me with tales of tricking out his Fisher turntables with corn-on-the-cob holders, ice cream sticks, bits of trash bags, felt from moving-van blankets and loose change.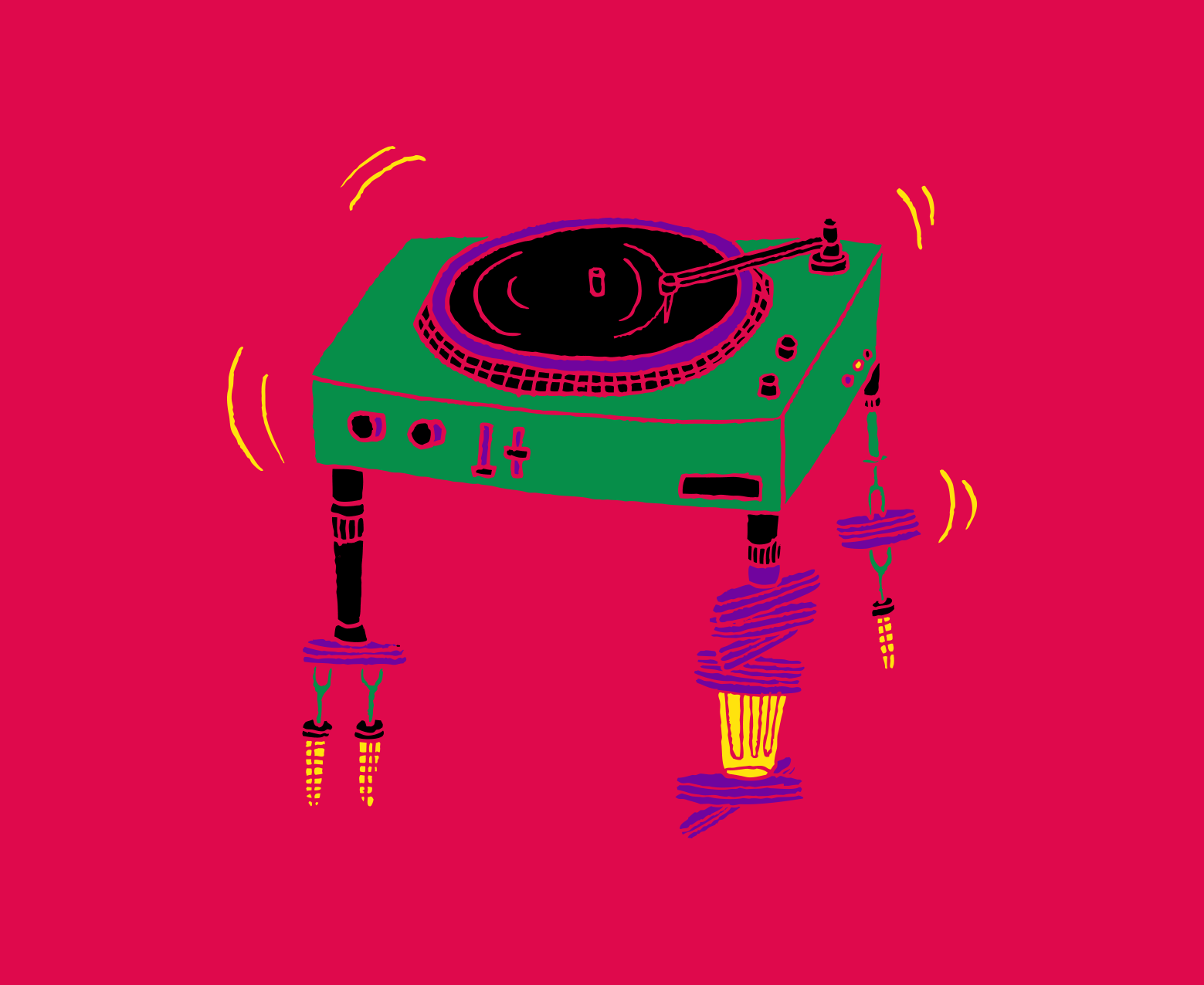 Image © Serafine Frey
By the early '80s he was touring Michigan, New York and Canada as DJ Slick Leo. He was sponsored by cigarette and beer brands; he'd get cases and cases of free smokes and beers. Around then, infused with cash, he also developed his wardrobe. "The pinstriped double-breasted suits with the spats and the beaver hats," Leo recalls, in a bit of a reverie. "The Polo caps and the gator shoes and the suspenders. The bow ties, the Rolexes, the cufflinks."
He landed stints with radio stations throughout town. But nothing clicked like it did when he got with Barry Richards at WAIL. "I got kicked off every other station," Leo cracks. "Barry's the only one that gave me the freedom to do this." Their bond was strong but strange. "Barry, he'd say, 'Leo, we're live on the air! Leo, we're not playing that, that's explicit! I used to do it all live: if I let one of those records curse, I'm in a lot of trouble. And I used to lock myself in the office and ask for a raise on air. I'd tell people to call in. I was real militant."
Would it work?
"Most of the time."
Of "Live From The Famous," Leo says, "It was exactly like a Soul Train. And we had all the special guests. George Clinton, Chuck Brown and the Soul Searchers, Prince, Michael Jackson – everybody came to this club. And I'd have two or three records, here, here" – he mimes a record in each hand and a record under each armpit – "and I had one in my mouth and in every limb. I'd flip 'em, put a Heineken on it, put a record on it, put another Heineken on it, drink that one. I'd do tricks. Me and Danny D, a guy from New York, we used to handcuff each other and put the blindfolds on and go behind the backs and all around the tables." He pauses, thinking back. "I played straight down your jugular vein."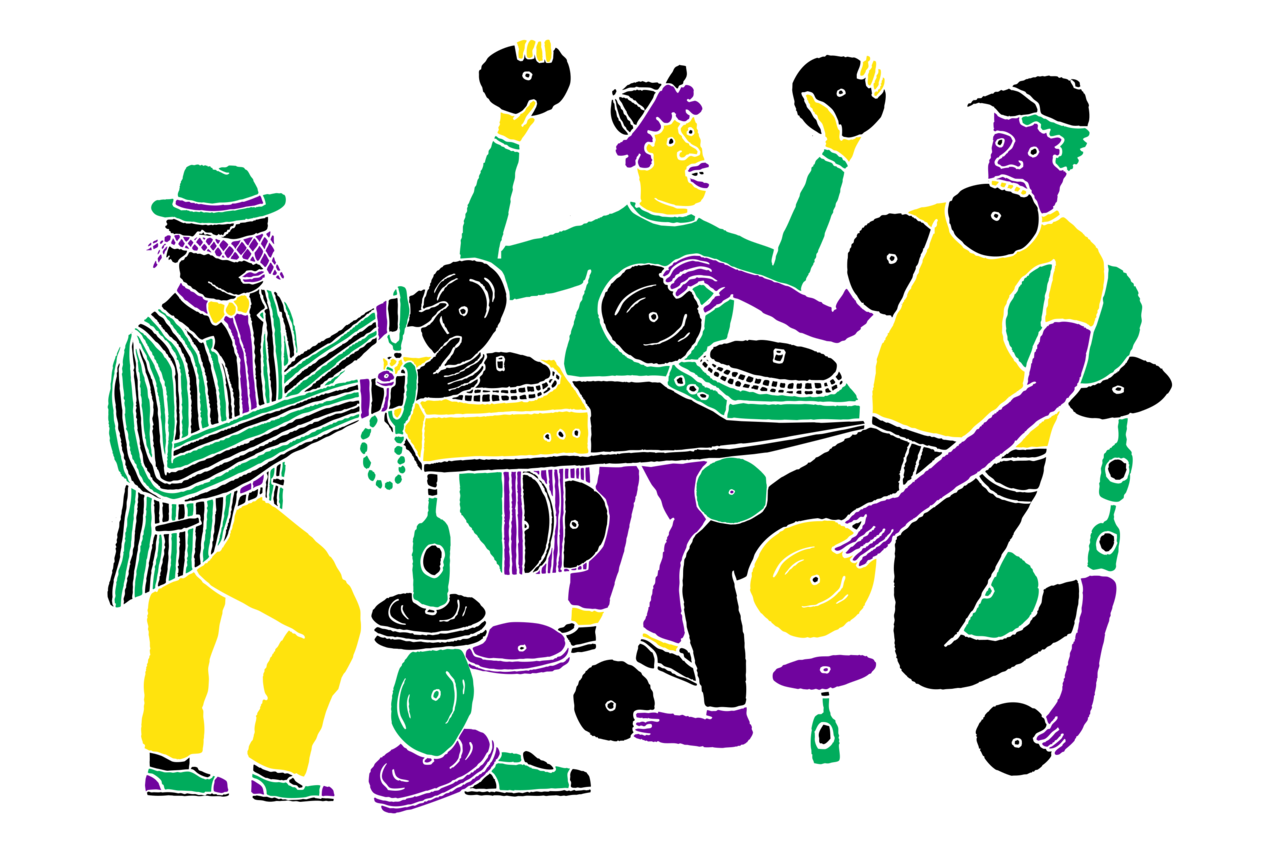 When the Famous died out by the mid-'80s, Leo moved forward. For the rest of the decade he played residencies at whatever clubs the city deemed the hottest at that particular time, but by the '90s the gigs had all but dried up. Cash Money and No Limit were rounding into their dominance. The sound of the city had moved on. Leo was once the flashiest man in the room. But he was never a big talker; he always let his hands do the work. In a way, he was happy enough to fade away.
Presumably unbeknownst to many, Leo is a certified swimming coach and Red Cross water safety instructor. He still competes in the Sharkmaster 30-and-over group in the 100 fly and the 1500 meter freestyle. "I'm also certified for oxygen administration and automated defibrillation," he points out. "Clear, clear, all that." He put in 22 years as an employee of the City of New Orleans Recreation Department. "You think I can live off music on my own?" he says, with a crooked grin. "I got a pension. Next year, I get full retirement and all my benefits."
For the last few decades his music legacy was maintained only by those who remembered. More than anyone, that was Mannie Fresh. Leo came up with Mannie's father, DJ Sabu. "He had snake dancers!" Leo says. "Broads that stripped with snakes! And he would wear all kinds of capes. He was a superstar. I mean, he was just pressing buttons — but he talked a lot of shit. And Mannie, that little 'tikky-tikky-tikky' — that little cheap synthesizer sound that Cash Money had? He got that from his father. But I taught Mannie how to mix."
And to this day, "Mannie takes care of me. 'Mannie, I'm in Miami.' 'I got a car coming to get you.'"
In 2012, Leo was honored with a proclamation from the Urban Legends of Broadcasting. "They gave me a great big old party," he says. "And I'm saying to myself, 'Well, with this kind of love, I'm gonna announce my comeback!'"
He took a few more years getting his chops back. Now he plays one-off nights all over town. He shouts out all the friends that urged him on and helped him along in the process, locally-beloved DJs who are happy to shout back about the influence he had on them: John Wick, DJ Chicken, DJ K-Nice, Mad Dog, Frank Nitti… He could go on. It's not like they brought back "Live From The Famous." But you can once again catch Slick Leo spinning live in New Orleans.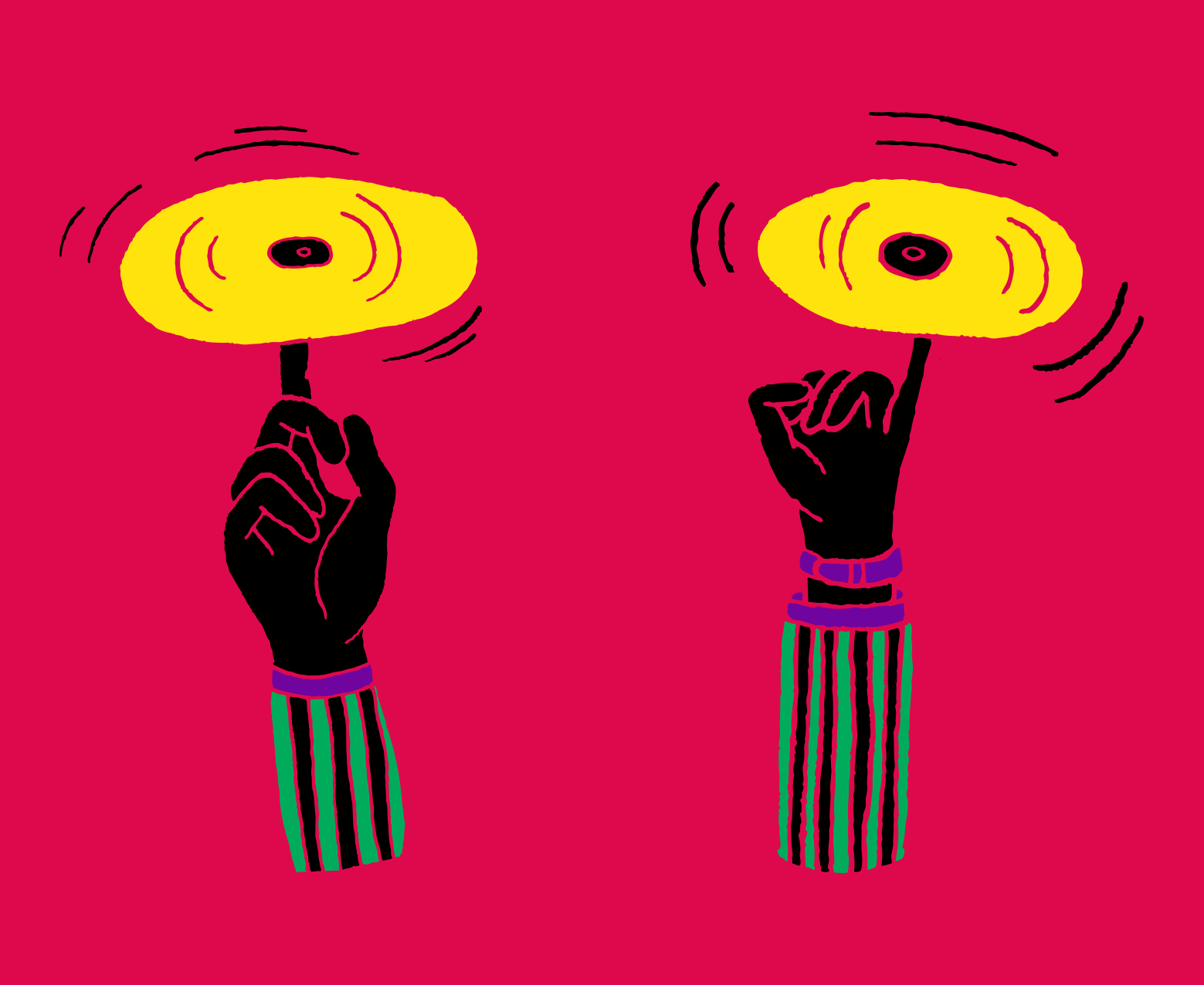 Image © Serafine Frey
After a lifetime of revering Leo, DJ Soul Sister finally met him in an appropriately dramatic way. It was 2014 and Leo was freshly out and about. He'd heard of her and her fandom and had decided to seek her out, right in the middle of Mardi Gras. "I'm with the Krewe of King James Super Bad Sex Machine Strollers," she explains, "and that year I was the queen of the parade that it marches in. So I'm on the float and I'm looking and throwing stuff and it's Leo!" He was down below, waving up at her. "And he's like, 'Hello Soul Sister!' I almost fell off the float. I almost had a heart attack."
They met, took a selfie and kept in touch. Now they're real close. Soul Sister comes out to see him spin all the time. Sometimes she'll be one of the only ones in the room. And he still blows her mind. "Here's the two turntables and he goes and does something, like, sideways? And I'm like, 'Whaaaaaaat?!' I've never seen anything like this. It's just like, slashing and slaying. He's slashing and slaying! I'm trying his tricks. I'm learning now from him directly."
In turns, Leo is both ebullient about his abilities and eager to play it all down. "I got funk, Latin, soul, hip-hop, trip-hop, acid, jazz-hop, house – I can play all those," he says. And then, almost in the same breath, "But I'm an older cat – I'm supposed to know everything. Anything that a disc jockey does in New Orleans, they gonna give me the rap for it." He's trying to shrug it off. "Beats are beats, keys are keys. As long as you stay off the vocals and let them horns do their thing and don't go into the bridge and come up with some drum and bass breaks" – he slaps his hands together – "it's cool."
Header image © Serafine Frey