Remembering Dorothy Ashby, the Detroit Pioneer Who Introduced the Harp to Jazz
Harpists Brandee Younger and Zeena Parkins discuss the seminal Afro-Harping album on its 50th anniversary
Dorothy Ashby has been hailed as one of "the most unjustly under-loved jazz greats of the 1950s," and her rarely noted, lasting impression on modern jazz is a testament to that statement. The Detroit-born harpist and composer realized that the harp's worth was well beyond its use as a background piece, and established the instrument as a prominent element in jazz compositions. In her deft hands, the harp evoked the bebop energy to challenge any reed, brass or percussion piece. As an African-American woman in a male-dominated genre, the prolific artist overcame considerable obstacles to release 11 solo albums, including her most important, the 1968 release Afro-Harping. To commemorate the 50th anniversary of the record, two of today's leading jazz harpists, Brandee Younger and Zeena Parkins, joined Vivian Host on Red Bull Radio's Peak Time to discuss Ashby's harp work, her impact on the genre of jazz and their own music.

Tune in to Peak Time weekdays at 12 PM EST on Red Bull Radio.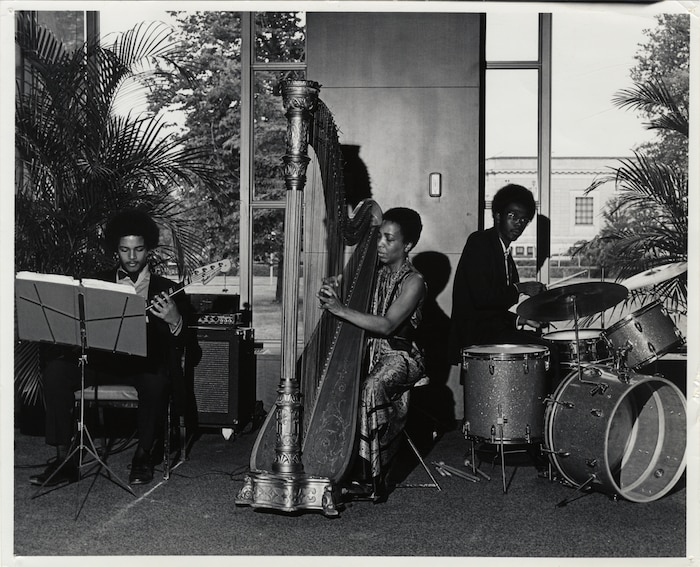 Brandee Younger
Dorothy Ashby was born in Detroit and her father was a jazz guitarist. So she had jazz musicians coming over to the house all the time and she would play piano as back-up for them. She also went to Cass Technical High School, which has produced all of these stars from all realms of music.
Everybody. Actually, Cass Tech has the longest standing harp program in a secondary school.
Is that where Dorothy Ashby first found the harp?
I believe so, as do many harpists from Detroit. They got their first taste of harp in a class called Harp & Choir.
I was reading a lot about various people who play the harp – Alice Coltrane, Zeena Parkins, etc… It seems like a lot of harpists started on another instrument, often piano. What is the connection there?
It used to be required to have three years of concentrated piano before moving to harp, because it actually works in the same way. The harp is like the white keys of the piano. So, if you can play piano and understand the music part of it then moving to harp is much easier.
To be able to sound a little like guitar, a little like a piano and like a harp, to combine these different sounds to create your own was really, really innovative.
When did you discover Dorothy Ashby's work?
Early on. A few years after I started playing, I came across her on the cover of Harp Column magazine. I literally noticed the black dot amongst all these other faces. There weren't too many black harpists around. I saw that and said, "Who is that?" Prior to that, I had heard her music, but didn't know who it was; for example, [Stevie Wonder's] "If It's Magic." I always knew that that was harp, but I never knew who was playing it.
As someone who knows a lot about playing harp, what can you tell me about Dorothy Ashby's style?
Well, you mentioned that her father was a guitarist and if you listen to her playing, especially in the early recordings that were really straight ahead, you can hear that her voicings were very guitar-like. You might even think in spots that you're listening to a guitar because of her comping style and the combination of notes that she put together. She really was able to combine the percussive elements along with the very traditional harpy things – to be able to sound a little like guitar, a little like a piano and like a harp, to combine these different sounds to create your own was really, really innovative.
She died so young. We didn't really get to see what she would've done later on, but she ended up working with Stevie Wonder and Dionne Warwick and she was a huge influence on Alice Coltrane as well.
There are so many people she worked with and influenced. Her first records were with the great Frank Wess on flute; he actually helped her get her first record deal. He said "When I put the deal together, I said let her play what she wants, because she plays the harp and they have those pedals." She worked with Gary Bartz and Richard Evans, who recently passed a couple of years ago. Richard Evans actually hooked her up with the record deal on Cadet Records and helped produce the really more progressive sounding records that she did.
Though she passed young, if you listen to her later albums, you can really hear how she was really progressing. When you listen to the traditional first record and then you listen to "Wax and Wane," and then The Rubaiyat of Dorothy Ashby, where she's playing the koto and singing, you can hear a difference.
Afro-Harping was released in 1968. That was a period marked by explosions of black consciousness and the Black Power movement and a general interest in intersecting issues of race and pride and politics. That was something that was important to Dorothy in this part of her career.
Absolutely. I think that that title is no mistake. Of course on the record, all of the songs do have some kind of Afro-Latin grooves to them, but on a personal level she was very passionate about race relations, for sure.
It sounds like Dorothy Ashby was such a strong woman, not only her voice, but musically as well.
Absolutely, and one of the things that Gary Bartz said is that she was this really, really small [person] – but her playing was really, really big. She had a theater company in Detroit with her husband called the Ashby Players and a lot of the topics of these plays were really taboo for the time. There was one play, I think it was maybe called Three, Six, Nine, and it was about welfare, it was about abortion… and this was in the late '50s-ish. Those are topics we're still talking about today in 2018. I can just imagine how radical that was back then.
I know that you've studied these greats – Dorothy Ashby, Alice Coltrane – and you've played their music, but in terms of your own work you're really known for having an innovative style and being able to reinterpret the classics in a new and fresh way. What sorts of things are you interested in right now in terms of harp playing?
I have my band, which has grown from three to four to five to sometimes six, and now I'm really thinking about ways to scale back. Solo shows, doing a lot of my own compositions that were composed for the band, scaling them down into solo harp versions to see what they could become. That's really what I've been doing, at home of course – not out in public yet.
Where does your inspiration come from?
It's definitely other types of music. Growing up and going through college and going through grad school I knew I didn't want an orchestral career, and I was trying to just figure out, "How can I play something that appeals to me in the same way that turning on Hot 97 when I'm in the car does?" For me it was really just trying to mix all of these styles together and see what comes out.
I think that's why you've been able to work with John Legend and Common and all these people, because you have that understanding of popular music or rap and R&B that maybe somebody else who is playing just strictly classical doesn't really get. What is the great thing about the harp as an instrument?
I definitely stole this answer from someone, but it applies – it's literally the fact that you're creating sound, you're not blowing through anything to create sound, you're not hitting a key for a hammer to hit a string, but it's the direct contact that you're making with the string to create the sound. It's really – I'm sure there's a word for that – not personal, exactly, but there's no wall in between you and the sound that you're producing. It's physical. And there are, of course, different sounds that you can produce that are different from what we're used to hearing. It's special – sometimes you might think it's a piano, sometimes you might think it's a guitar, sometimes you might think it's a percussion instrument.
You recently learned the [Dorothy Ashby] piece "Concierto de Aranjuez."
I did. It's such a beautiful piece. This was Dorothy's last record. It was released in 1984 and she passed in '86, so I always think about what her state of mind was when learning and recording this piece. It's the adagio to the guitar concerto, and I knew Dorothy had this nine-minute long recording… so beautiful and sort of gut-wrenching. This piece was written by Joaquin Rodrigo, an incredible composer.
This whole record [is] solo harp. To start with the very traditional jazz combo quartet and then to grow into these larger, super soulful, super funky covers of pop tunes and also covers of jazz standards and then into the more innovative realm of The Rubaiyat and then to scale down to solo harp… Stripping away everything. We can hear the possibilities of the harp as a solo instrument, playing these kinds of tunes in this style. This particular piece is a classical composition that she decided to condense for solo instrument. Also, this is for guitar and orchestra. She took on an undertaking in conceiving this record.
Zeena Parkins
It's the 50th anniversary of Afro-Harping this year. We've been talking a lot about how much Dorothy Ashby did to innovate harp playing and really push the boundaries of what that meant in the '50s and '60s and '70s. What can you tell me about her style or what she means to you as a harp player?
First of all, Dorothy Ashby absolutely was the very, very first harpist that I was totally mind-blown by – she is such an extraordinary harpist, and she was putting the harp in a completely new arena. It took so much courage to do that. But not only did she bring the harp into this modern world of a different genre than it was normally in, more into the realm of jazz, but she had such an incredible feel. I think it's her feel and her touch that is so remarkable, even by today's standards with so many more harpists playing jazz. She is just an extraordinarily beautiful harpist.
It was just kind of extraordinary to me how many different things she was able to do and with a very strong style and presence to them.
Absolutely. I mean, she's really one of a kind. There she was at the forefront, she was a total trailblazer. Who were her role models? You have to ask yourself that. How did she figure it out? But she totally did. She just was a total force in the world, figuring out something that no one else had.
You've done so much work over the years expanding not only the harp, but the many other instruments you play, into new directions. Whether that's making electronic music with Björk and Ikue Mori, in your many projects with Fred Frith and all sorts of other people in the downtown New York experimental scene, with artists from all different styles. What originally grabbed you about the harp as an instrument?
Maybe it would be good to say why I play harp and then I can answer that question. I grew up in Detroit and went to this extraordinary high school called Cass Technical High School, which is a little bit like New York Performing Arts School and a vocational school rolled into one, so it had the whole spectrum. You auditioned to get in. I auditioned as a piano player because I was a classical pianist. Their idea in the music department [at Cass] was to give the poor, lonely pianist – alone in their practice room, and obviously socially by themselves all the time – an opportunity to play with other people. Their idea was to assign all pianists to an orchestral instrument. Actually, that is how I came to the harp. I was assigned a room in this eight-story building in downtown Detroit. In the very back of the building, a windowless room, I opened the door and there were eight concert grand harps in that room. That's pretty mind-blowing, and there was a woman named Velma Fraude who was going to train you to play harp if you decided to stay in that room.
That is the kind of miraculous way I came to the harp. I didn't choose it – it found me, you could say. Once I sat behind the harp, I knew instantly that was my instrument.
Brandee Younger mentioned that Dorothy Ashby also went to Cass Tech and how many people have gone there.
Yes. Velma Fraude taught Dorothy Ashby and Alice Coltrane, so it's a pretty illustrious… I mean, besides the fact that the music department was totally extraordinary. Geri Allen was there – Regina Carter was there. It has a huge list of phenomenal musicians that passed through the music department.
This idea that the harp could go into new areas and not just be in classical compositions, a religious context or jazz, but really go further than that – was that already baked into you learning the harp and learning how to play it?
No. First of all, I'm not sure I'd put jazz in the same category as classical or religious, because already those two famous women who were using the harp in a jazz context, that was groundbreaking. The work that Dorothy Ashby did and Alice Coltrane did was already yanking the harp away from a traditional idea of how to use the harp, and that was extremely first wave, pulling it away from the classical tradition. It is so important and so radical. I didn't know about Dorothy and Alice before I went to high school. But at Cass, obviously, because they were part of that lineage, I discovered them.
When I started harp, I was a pretty serious classical pianist and very involved in classical music tradition and I knew right away that I didn't want to be a classical harpist. The only problem is I didn't know what I was going to do with the harp when I first started training. There were no real role models for something other than this jazz tradition that Dorothy and Alice were in, and those were obviously two very different approaches.
There were no role models, so I dove into serious work on the harp in high school with this phenomenal teacher, Velma Fraude, but playing the repertoire that she was having us play... I didn't know how I was gonna do it, but I knew [what I did] was going to be something different. I just didn't have enough information at that time yet to know what.
When did you figure out what you wanted to do with the harp?
It didn't happen until I went to college. When high school was over, I actually didn't have an instrument, so I went back to full-time pianist for several years before I ended coming back to the harp.
When I went to Bard College and studied music there I began to hear very different kind of music than I had been used to hearing, so I got exposed. I think one of the lightbulbs that went off was when I heard the prepared piano concerto of John Cage, because that was already was like, "Oh, you can do something to a classical instrument and make it sound like something else. There are so many possibilities." That was like a kind of a-ha moment for me even though it wasn't directly on the harp.
Then I heard incredible musicians like Fred Frith and Keith Rowe who were doing tabletop guitar and using objects to play their instruments and really inventing new ways to play, and in all this I was like, "This is what I need to do on the harp."
What sorts of things have you done with the harp? What are some of the techniques that you've developed to change it?
Well, when I moved to New York, I instantly got involved in improvising and playing in various groups (at that time I finally did have my own harp). Harp is a soft instrument and I found myself playing with a lot of instruments that were quite a bit louder, and this proved to be a problem because basically you could not really hear my instrument. I could play as loud as I could possibly play and it would never be loud enough.
The first thing I did was try to use pickups on the instrument – you know, to amplify the acoustic harp sound – and I was very disappointed with the kind of quality of the sounds from the pickups. Pick-ups are much better now than they were then but the richness of the sound of the acoustic harp was reduced to something quite tinny at the high end.
That's when I worked with fellow colleague Tom Cora, a cellist and composer, and his friend Julian Jackson, and we decided to make an electric harp. There weren't really electric harps around in those days. You can now go buy an electric harp or an acoustic harp that has pick-ups in it but in those days you could not.
We built this triangle with strings on it just as an experiment to see if the idea would work. It did work and I was very excited. All of a sudden I now had this electric instrument, which I put a whammy bar on. It was fully electric. It didn't have a sounding board. It was like you could compare an acoustic guitar with electric guitar. This was an electric solid-body instrument and then I started experimenting with all kinds of different pedals.
I was especially fond of ring modulators and then distortion and delays and sampling. Whatever was available I wanted to try it and test it out in various combinations. Then, alongside those experiments and that development, I also was continuing to work on the acoustic harp but not worrying about amplifying the harp. Just experimenting with unusual ways to play the instrument so it became two streams of activities.
I know that you play many different instruments. Do you feel a difference at this point? Are they all on an even playing field to you or is the harp something special that sticks out to you?
I have played a lot of instruments obviously: piano, accordion, electronics, standalone electronic synthesizer, samplers. At this point, I would tend not to play any of those other instruments besides harp, except in the studio. Right now I'm just really focusing on harp and my harps and the various inventions that I make from harps as my primary instrument.
What are some things that are on your mind as far as where you want to go next?
Well, one thing that's very important and kind of obvious is continuing to write music for harp in various situations. I have a new band project called Green Dome. We're releasing a record early next year on my label called Case Study. I'll just be playing acoustic harp – not processed, just straight on.
I'm working on a new set of duo pieces, for acoustic harp only and percussion. Again, this all pushes the idea of what just the acoustic harp can do, like just what you can imagine doing with just your fingers and the instrument.
Then I have a solo project in which I'm doing acoustic harp but with electronic processors. This is the first time I've built these, kind of, self-developed electronic processing – so not from guitar pedals but patches made in Max MSP. This creates a really different kind of palette still using the acoustic harp as the basic sound, but then with this very unusual kind of processing.
My newest project that is really pushing the boundaries of what a harp is: I'm working right now with technologist Paul Geluso, who is at Harvestworks in New York City, and we're going to build a prototype of a harp where the strings are not actually on the instrument but they're on the speakers. The harp frame – the instrument that will be built that I actually touch, will be this frame with rods on it that will trigger sine waves and square waves that will then pass through speakers that have strings on them that are not, you know, that are far away, like in a room but surrounding room, so there are probably 20 speakers with strings on them that will resonate but without me actually touching them directly.
Wow, that sounds so exciting. I think people who come to your show kind of know that you're a boundary pusher and you're doing these different things, but do you still encounter people that are shocked by you playing harp?
It's hard to believe, especially because now there are so many younger harpists that are thinking about the harp in a more expansive way, but of course you still find those people that say, "I never knew you could do that on the harp" or "I've never heard the harp that way." So yeah, it's kind of amazing that I still encounter people like that. But you know, that's good, because then they hear something they've never heard before and it's great actually.