The Story of Sole Tech's "Chuck Chuck," the Remix that Redefined Detroit Techno in the 1990s
Hobey Echlin digs up the backstory of a track that dominated the city's clubs, radio, TV shows, backyard BBQs and strip bars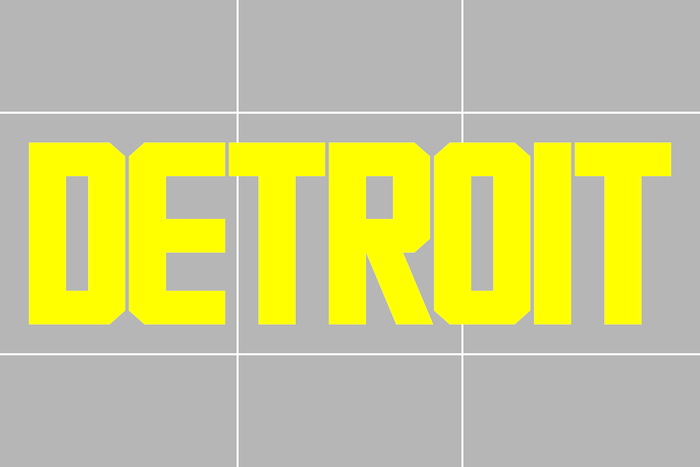 Detroit electronic music in the early '90s was a fascinating, frustrating, brilliant and often conflicted hotbed of unbridled output. Detroit techno had come into its own as a groundbreaking export, an increasingly refined but still free-flowing spigot of creativity led by the usual suspects: the Derrick/Juan/Kevin/Eddie's of the late '80s, followed by the Carl/Kenny/Richie's – and Underground Resistance, of course – of the early '90s, flying to Europe every weekend but met with relative indifference at home.
Back in Detroit, local tastes for what would be termed "techno" were much more pragmatic, with DJs favoring minimal tracks that were too four-on-the-floor to be electro, too fast to be house and too raw to be the more worldly techno. These were tracks made for local DJs and audiences accustomed to pitched-up Kraftwerk, electro and Miami Bass played at backyard barbecues, clubs, strip bars and house parties. The mobile party crews that techno's architects grew out of, such as Charivari or Deep Space Radio, had given way to a more proletarian definition of techno: raw but resonant, minimal but soulful. Anonymous tracks showed up on limited vinyl pressings at record shops made to serve local DJs, who themselves were beginning to rise to prominence, helming on-air mix shows broadcasting live from clubs on the city's rap stations. On any given weekend night, the city's urban radio stations, after early evening playlists of the Outkast, R. Kelly and Scarface singles of the time, would let DJs like Gary Chandler rule the night playing live in clubs, mixing a thick, kinetic blur of bass tracks, classic electro and booty chants, with locally-produced "techno" tracks that held it all together.
Chief among these was "Sole Waves," a track by Sole Tech on Detrechno Records that took on a life of its own when a 12" of remixes appeared in 1994. These included the "Claperation Mix" of "Sole Waves," with the track's funhouse-mirror synth bassline now augmented with an earworm of a syncopated monosyllabic lyric: "chuck… chuck chuck chuck chuck." It was this remix of the original "Sole Waves" that would become forever known as "Chuck Chuck."
People didn't know or care what the name of the track was – they'd just come in looking for "Chuck Chuck."
Mike Himes owned Record Time, the retail ground zero for Detroit-made records in the early and mid-'90s, selling tens of thousands of records by local artists from the Direct Beat, Twilight 76 and Assault Rifle labels – as well as the Detrechno Sole Tech EP and subsequent "Sole Waves" remix record. "People didn't know or care what the name of the track was – they'd just come in looking for 'Chuck Chuck,'" Himes recalls. "We must have sold over a thousand vinyl copies of that EP." At that time, Record Time employed a number of eventual Detroit legends, Mike Huckaby, Wil Web ("Mr. Bill"), Rick Wade and Scott Grooves among them. Grooves, who would grow to prominence as a house producer with a Daft Punk remix of his P-Funk sampling "Mothership Connection" (even though Daft Punk don't do remixes), was the rumored producer behind Detrechno. He has never acknowledged it, but, says Himes, "It was kind of an open secret."
Pre-Logic, and with Pro Tools in its infancy, Detroit producers at the time would often put tracks together at more conventional recording studios, working with experienced, if unexpected, engineers. Such was the case with "Sole Waves," which was likely recorded at the Disc with Scott Sumner, an engineer whose credits included Anita Baker and George Clinton. (Other seminal tracks of the era had similarly veiled origins: The riff-raunchy "X²" by Electric Soul on the Direct Beat label has long been rumored to be the product of a Juan Atkins and "Mad" Mike Banks collaboration.) Musically, "Sole Waves" had a kinetic rhythmic complexity and a mouth-breather analog bass. It was equal parts Kraftwerk and "Flashlight."
Brian Gillespie had been working at Record Time since '92, but had never seen anything like the citywide appeal of "Sole Waves." "You can understand from a Detroit DJ point of view the impact it had when it crossed over from hood DJs to being on The New Dance Show," he says, referring to the influential local TV show that had championed A Number Of Names' "Sharevari" years before, and which also championed "Sole Waves."
Mind you, this was before the track became "Chuck Chuck." That only happened with the "Claperation Mix," with its perfectly hooky "chuck… chuck chuck chuck chuck" that took the track to a whole new level. Remembers Gillespie, "WJLB – the city's largest urban station – would have it on the weekend live mix show." The track was a staple everywhere from strip bars and barbecues to DJ sets by electro purists Aux 88.
"Chuck Chuck" was instrumental in defining the richer Detroit sound.
Gillespie points out, not without a little pride, that the track's real impact was in giving Detroit DJs a mixing tool to find their own sound and mixing style. "The greatest Detroit records released from 1993-1997 have that raw sound," he says. "You can go back and watch New Dance Showvideos and listen to the mixes back then – all the DJs, Jesse the Body, Leon Purse, Outcold, Wax Taxin' Dre, Dangerous, Gary Chandler, Fingers, 12 Tech Mob, Godfather, DJ Dick and Claude Young on 96.3 – this was their version of techno." As DJ Wax Taxin' Dre told me in 1996, "We're trying to make this music sound good and not just tacky," and "Chuck Chuck" was instrumental in defining the richer Detroit sound.
Gillespie, who would go on to found the Twilight 76 label, join Todd Osborn in Starski & Clutch and now manages Detroit sludge anomaly Marshall Applewhite, sees "Chuck Chuck" as the missing link in a historiography of the early '90s genre that he calls "major hood raw techno." He lists "In Synch" by Fade 2 Black, Drexciya's "Bubble Metropolis" and "Molecular Enhancement," on through Dan Bell's DBX alias, Robert Hood's "Minimal Nation," UR's "Galaxy 2 Galaxy," Dopplereffekt's "Dataphysix Engineering" and finally Juan Atkins' and Orlando Voorn's 1995 "Game One" as kindred spirits. "It was all just this raw, deep techno that gave the DJs the ability to play this bass music at the clubs and on the radio."
"Chuck Chuck" became a mix show staple that would distinguish the Detroit sound from the raunchier uptempo minimalism of Miami Bass and similar sounds out of Baltimore and Chicago. It also foreshadowed ghettotech, a term coined by the late, great producer Dave "Disco D" Shayman and myself in 1998 to distinguish the electro-infused booty sound and mixing style, which came to embody the Detroit taste for raw futuristic sounds á la Aux 88 and the even more raw Midwestern dance sound of Chicago's DJ Funk. "Chuck Chuck" was both, with its perfectly syncopated "chuck" and womp-womp bass over straight 808 drums. In fact, the song became so simultaneously ubiquitous and anonymous that it wound up as uncredited background music in the 1995 film Dangerous Minds, with Himes recalling that it led to a mid-five figure financial settlement for the anonymous producer. Within two years, Sole Tech would further embrace their local hero status, releasing "The Jit Anthem" around the same time DJ Godfather released his "Get Yo Jit On," a nod to the "Jits" ("Jitterbugs") and "Ikas" that typified the Detroit club-goer of the time: Impeccably dressed, but all about that 140-plus BPM ghettotech beat.
There's a bittersweet irony that an uncredited side hustle by a now prominent house producer would come to play such a pivotal, integral, albeit footnoted role in techno history. As Himes, who famously dubbed Derrick May's Rhythim Is Rhythim classic "Strings of Life" "the 'Stairway to Heaven' of techno," notes, "To the average Detroiter, techno in the '90s wasn't Derrick May or Carl Craig – that was on a more international and even kind of suburban scale," he says. "The real sound of Detroit was 'Chuck Chuck.'"