Stacey "Hotwaxx" Hale: The Godmother of House Music
The Motor City's trailblazing DJ and producer gives a primer on her life as a gear nerd, music geek and Detroit treasure
Stacey "Hotwaxx" Hale learned a valuable lesson at a young age: that she could record songs from the radio and her older brothers' LPs and combine them into one continuous mix, and play it for people to dance to, as a way to avoid socializing. "When I discovered I could entertain by just playing music without having to talk," she says, "that's when I knew it was my calling."
It's almost unbelievable that the Godmother of House Music originally predicated her entire career on being shy. Hale would go on to become one of the first women to learn how to mix vinyl records – transition from one to the next, at that time on two turntables, via a technique called beatmatching – by asking Detroit icon Ken Collier to teach her in the late '70s. Shortly thereafter she'd beat 600 DJs and rappers in 1985's Motor City Mix competition, DJ on the formative if short-lived Detroit television program New Dance Show and supply radio mixes for era-defining on-air tastemakers like the Electrifying Mojo and Duane "In The Mix" Bradley.
These days, Hale teaches classes at DJ and production school Spin Inc. and music camp Girls Rock Detroit, hosts several regular radio shows and holds the associate music director position in Motor City poet Jessica Care Moore's orchestral and vocal group Black Women Rock! (which includes bassists in Beyoncé's band and the B-52's, vocalists for the likes of Moby and Moodymann and more). As Red Bull Radio heads to Detroit for a week of live broadcasting leading up to Movement Festival, Hale – herself a Red Bull Radio host, of the monthly show Generations – gave us a primer on her story as a gear nerd, music geek and Detroit treasure.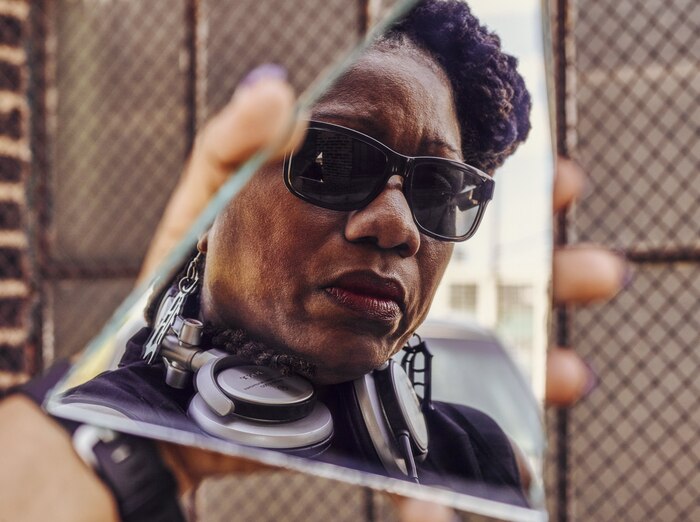 What kind of music did your parents listen to?
All during the '60s and the '70s music was always played in my home. I would sing old jazz cuts by Dakota Staton. Our family would gather on the weekends and play cards and drink booze and smoke cigarettes, eat food. The kids would always run off and do whatever, but when it came time they wanted to be entertained, and I would be the entertainment. They would pick me up, put me on the buffet and I'd sing [Count Basie's "The Late Late Show"]: "Gee it's cozy in the park tonight / When you cuddle up and hold me tight / Stars above, they seem to know."
How old were you around this time?
Five, six, seven, something like that. As I got older I started to have shows in the neighborhood. I'd get all the kids together and we'd make up these routines, and we'd have these shows and we'd perform in the basement, charge our parents a quarter to get in. I was the director. I been doing that all my life. I didn't realize that until I got way older.
Tell me about your brothers, because I know they had a big part in exposing you to music-making equipment.
My oldest brother was a component junkie, and he would get reel-to-reels, turntables. He had a wall of records, just albums everywhere and a turntable and speakers and more speakers and cassette players that would take up the entire wall. He wouldn't let me touch it. But I enjoyed listening to it and I remember all the music. I still have a lot of his records.
What kind of records did he listen to?
He was a jazz connoisseur, so he listened to some Miles Davis, some Buddy Miles too. There was George Duke, Return to Forever, Bob James, Jean-Luc Ponty, things like that. Fusion is what we call it. Fusion, which is almost a pre-birth of techno, but it was written music. It was actually written music by classical musicians that were playing riffs, and they wouldn't be a four-on-the-floor, they would be a different count – maybe a 5/4 or derivatives of that.
I'm talking about stuff that was happening then which wasn't necessarily mainstream. Probably everyone there was more or less listening to Motown or the Rolling Stones or the Beatles. We're talking about in the '60s now, so all this stuff was what would be considered mainstream or CHR radio or CKLW. At the time there was only AM radio that played black music. By the time black radio came over to FM I was an adult, or a teenager.
I didn't do it to be the first woman doing it, I did it 'cause it was inside of me.
When did you transition from having these basement parties where you would put on shows for your family and friends to actually having basement parties where you were the DJ instead of a live performer?
At age 12 is when my second oldest brother went to Vietnam and he was able to buy a component set there – a turntable, a receiver and two speakers. He knew I liked music so he shipped it back to me. I saved up my money and bought my other brother's reel-to-reel. At age 16 I had these basement parties – now the adults were gone, I feel like I'm grown. I remember guys asking, "How you come don't ever have any silence or pause between the records?" I said, "'Cause I don't want to ever hear any silence. This has to be continuous."
I had never heard a mix before in my life. I had no idea anything about that at the time. So at 17 or 18, I walked into a club called the Chessmate and I heard Ken Collier, Duane Bradley, Morris Mitchell and Renato White, they were a group called True Disco, and they were in there mixing. I went "Oh my God, what is that?"
When you saw what Ken Collier was doing, and you told him that you wanted to be his "head girl," did you find immediate acceptance as the first female DJ who mixed, or did you find some resistance to that?
He encouraged me. I remember asking him, was there a woman out there laying it down like he does, and he told me no. I told him, "I want to be her." Because she didn't exist. Plus, I really loved what I was doing. I didn't do it to be the first woman doing it, I did it 'cause it was inside of me. I was fortunate enough to get a job very early DJing at Club Hollywood. It was an after-hours club, and I would play from 12 until six in the morning to about 800 girls. Some guys would come, but it was primarily a female club.
What kind of music would you play?
It was 12"s. I'd play "This Time Baby" by Jackie Moore, all the cuts by Shalamar. Diana Ross, Chic. "Ring My Bell," I remember playing that and my cousin, she thought I had lost my mind, 'cause that just wasn't usual. "What do you mean, ring my bell?" I would run out and ring the bell and run off through the people. I was entertaining. I'd run back and mix it in.
Is there something you remember about Ken Collier, either that he taught you or about the way he was that not many people might know?
The sound of his voice is so strong in my head because he was hilarious, he was a comic. The way that he would address people, his sound and his mannerisms. We'd call it "Ken-isms" right now, because he did it so much that at any time any of us that knew him could break out and start to imitate him. He was a very loving guy. The majority of everyone that you know in Detroit that is a legend now, if you weren't touched by the hand of Ken you wished that you were. He was definitely our Larry Levan here in Detroit.
What was that like for you to hear Duane Bradley and Ken Collier do this kind of mixing not in the clubs, but actually on the radio, on WJLB?
It was the happiest day of my life, 'cause I would have to go to Chicago to hear a mix on the radio. I couldn't wait to get to Kalamazoo to pick up the signal. We had to leave to hear music mixed on the radio. It's why Kevin [Saunderson] and them [Juan Atkins and Derrick May] invented the pirate stations. Techno wouldn't be in regular rotation on the radio, or any form of any kind of dance music, so those cats got together and created pop-up radio stations on the weekend. It was illegal as all hell. It would pop in and then they would have to move, for the next one to go somewhere else. It was always a fight to listen to it.
When you went to New York was there anything that you took back to Detroit that you would apply in your own DJ sets?
I was blessed to have friends that lived in Jersey and New York. They were a bit older than me and knew that I was in love with the music, so that's how I got to see Tee Scott, Larry Levan and Tony Humphries. They took me the first time. The second time when I come back they said, "Here's my car. See you later." Tee Scott is who taught me how to sample. He got a guitar pedal, and he plugged a guitar pedal up to something and [would be] hitting that guitar pedal to make the sample. It was all vinyl, so I did go and find a little piece of equipment that you could program maybe four bars, or a sound, and you could hit it with a drumstick and make samples.
What was it like DJing [TV show] The Scene?
I was actually engineering at Xerox when I played The Scene. I only did three or four of them, and that was fine. First of all, it didn't pay, but I didn't care. I'd get off work at Xerox, they'd give me a company car and sometimes I would be in the field and I would come. I'd have to take off my corporate clothes and put on my… whatever I should look like. They had a makeup artist. I'll never forget because they broke my face out. By the fourth one they told me that I had to bring my turntables, and that's when I had to say "No, thank you." I wasn't going to ride around with my turntables in my car for somebody to steal them.
One of the shows that I was on, Bobby Brown performed. And the only reason I remember that, 'cause Bobby ain't have no ass. I'm going, "What the hell?" Looking at his butt going, "What?" Just flat. Ain't that crazy? Just stuff you remember. Being broke out from the makeup and Bobby Brown ain't have no butt. I couldn't tell you a song I played or nothing.
What were some of your favorite clubs to play at?
I loved Cheeks 'cause that's where I created the thing called "Sneak-A-Mix," and these people didn't know I was mixing. I was playing for an audience that was after work and they were doctors, judges, lawyers. Kind of snotty, you know? They weren't my late night underground. So I would mix and make a record change and I would make it so smooth that they didn't know the record changed. There would be about five songs go by before they'd say "Wait a minute!" You know they was too cool for that shit. Once they realized that I would put on a slow song for them, but I really got a kick out of that.
Tell me about playing at the Motor City Mix competition in 1985.
Ironically, when I did that I had this kind of a bad attitude about it because they had mixing DJs and rappers. How was I going to compete against a rapper? But it wasn't for me to judge that. I submitted two cassettes for me and my friend Elton Weathers 'cause I couldn't get him to do the mix, and they both made it. They called us to do the semifinals to make sure it was us. We were at the Masonic Temple and made it past that. They went through 600 pieces of cassettes and narrowed it down to 20. Then they narrowed the 20 down to three DJs and three rappers.
I thought I had to scratch because I thought a performing DJ should scratch – even though that simply was not my thing. But I scratched in the beginning just to show I knew how to do it. I just played the songs and mixed. Don Was was the producer of it and he told me, "You are no longer a DJ. You are a performer. I need you to act accordingly." That's why I got all dolled up with this hair and this sparkle and had my girlfriends fix me up.
I told myself, "Play the jam," whatever the jam is for the people, so I played Captain Rapp's "Bad Times (I Can't Stand It)," It was a combination of the way I looked, the flash coming off my outfit, and because I threw all that house music in there. I know they didn't know what it was. I played Martin Circus, Madonna and Jellybean Benitez's "Sidewalk Talk." That's when I played [Jesse Saunders'] "On and On," that was the stuff that was underground.
After I finished my set, it was cold backstage and they had brought me the wrong pantyhose, so I didn't have on nothing on my legs, and these white high-heeled shoes… I was miserable. I'm just like, "Can't this night be over with?" 'Cause I already knew a rapper was going to win for real. And then they called my name off. I probably still ain't got over it to this day.
While I was playing at Cheeks I would get up, I would mix a song, I would sit down, I would do math, I'd get up.
I want to bring it up more to the present. When did you become more involved with community education?
At age 30 I wanted to teach trigonometry, algebra and higher math, because I decided to go back to school and realized why I should know math. I know that a person, a teenager wouldn't understand why they had to know this stuff. I went back to school at 25 to study engineering at Lawrence Tech. I went to school full-time while I was DJing. While I was playing at Cheeks I would get up, I would mix a song, I would sit down, I would do math, I'd get up.
I was working at Sears. I was working at the service center in the television department, and I would go to the school they had provided for that to learn how to fix things and stuff like that. They kept laying me off and that's when I said, "OK, go on back to school." I think when the technology changed with DJing is kind of where I became a little more bitten by the bug.
When CDJs came out?
When controllers came out, because that was more mobile. I was teaching at STEM programs for public schools. Just after-school programs. I did for the Boys & Girls Club, Century 21 and some other company. I'd write up the lesson plans because they would make everything be really strict. It helped me fine-tune exactly what I do and for what age groups and helped me be real easy with it today. Because the plan I created works, and so I was able to take it to Spin Inc.
Do you see in these kids especially the same kind of hunger that you had when you were younger learning how to do this?
I've had some phenomenal students that are really doing very, very well right now. And the reason why is not a DJ thing – it's just because life makes things so much different where they take things for granted. The fact that you can download a DJ program on your phone and scratch it with your finger and you can play at your cousin's party. The respect factor from teenagers is very different from what I had as a teenager with me doing it. Because I had to learn it from a different perspective.
What is your role at Girls Rock Detroit?
They're teaching girls self-esteem; the average age being 12 or 13, and you as a woman understand how you felt when you were that age. It's like, "What's happening to my body? I still want to play with a doll, but I want to be cool, and I look like this." And my success with everyone, for their mothers to tell me, "What did I do to their daughters to make them come out of their shell?" Two or three of them go on where they're actually DJing! They got their parents to buy them controllers, they're playing for their schools. I see little parties they do.
[The campers] song-write, play drums, guitar, bass – all the different instruments. They decided to add DJing as one of the things to do, so I had an opportunity to create that. [At the final performance] the bands have five minutes to play, which is more than enough time. They just learned a song and they've never played an instrument. The coaches do a fantastic job of getting them together. But as DJs coming up there, we've got 20 minutes! We've got more time than everybody.
Speaking of live bands, how did your band Nyumba Muziki form?
Because of Black Women Rock! Jessica [Care Moore] had me come in to be the DJ for the band. I play something on everybody's song and try to create anything to enhance it. I also open up the show – I play an hour or 30 minutes before the show starts, and I'll play the intermission.
What exactly is the format of the show?
The format is the dedication for Betty Davis, who's Miles Davis' wife. It was Jessica Care Moore's mission to make sure that people recognize black women that have been in the industry doing this for a long time. These musicians are kick-ass musicians. For me to see somebody like a Divinity Roxx or Nik West – being able to do records with them, there's nothing like it.
Primarily the musicians live in the Detroit area. There's Lauren Johnson, the drummer. The bass player, Tracy Wormworth, who is actually from Detroit, she's actually the bass player for the B-52s. Divinity Roxx, who was Beyoncé's bass player, played the bass for us. We've had various keyboard players. This woman we had out at San Francisco, she was just phenomenal. We still haven't locked down the best one here in Detroit. Kat Dyson is the master of that, getting the right musicians in at the right time. Sometimes we have to rewrite parts, sometimes we add parts. We have a string section, violin, cello. We have a horn section. Many of these parts aren't written into the songs that the artists bring us, and that's where Kat Dyson comes in and write in, "Be in this key, give me a 7th." I have helped write some intros and stuff.