When Detroit Techno Came to the UK
Kirk Degiorgio, the host of Red Bull Radio's Sound Obsession, reflects on the incendiary impact of the early UK gigs by key Detroit techno artists in this personal essay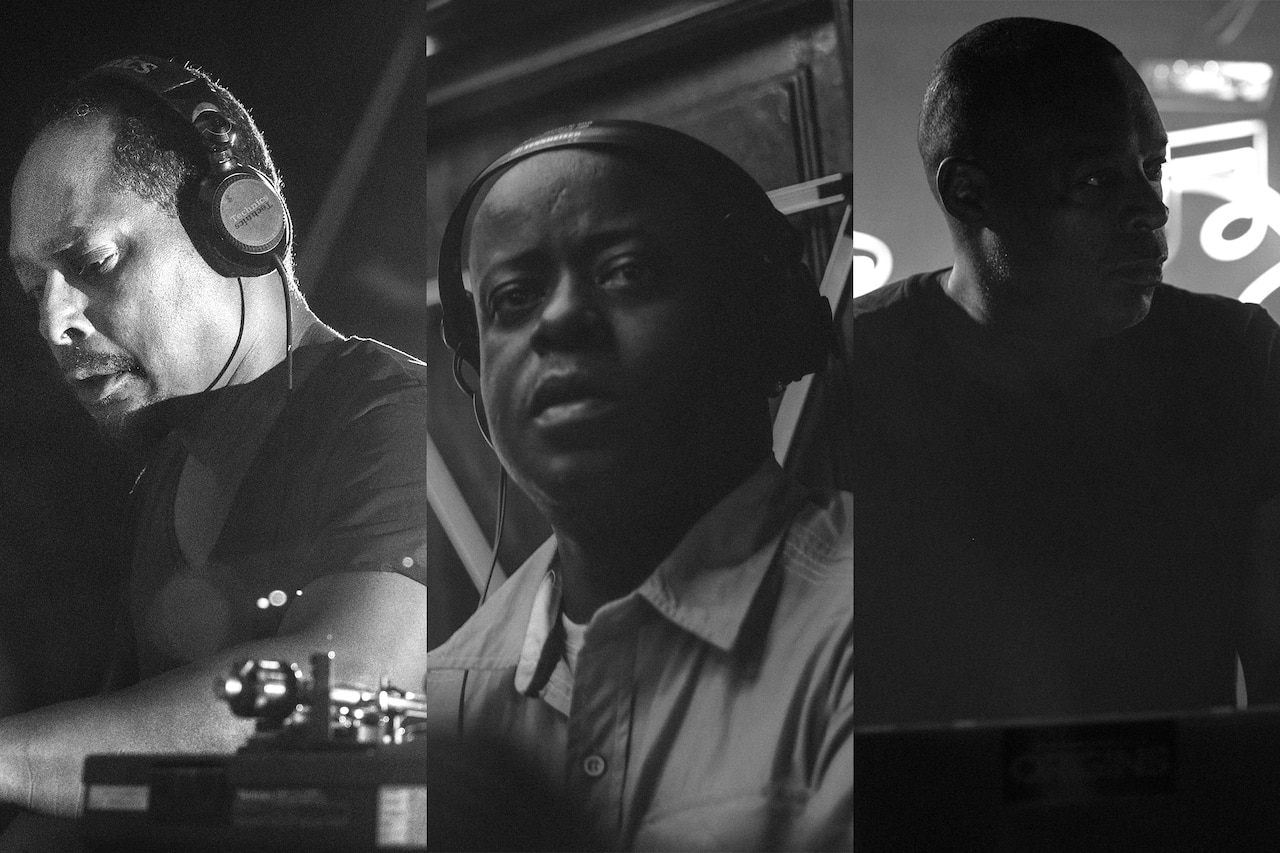 As a 15-year-old electro fan in 1983, my first exposure to a production by one of Detroit's "Belleville Three" was an import 12" on the US label Fantasy, by a band named Cybotron. The track, "Clear," was a reasonably big hit, especially when it was included on the UK compilation Crucial Electro a few months later, alongside some of the best electro of the period. But at the time, I was completely unaware of the song's Detroit origins. The 12" version was remixed by a New York DJ, Jose "Animal" Diaz, and I didn't know of any other mix having been released until I stumbled across a rare first pressing of the Cybotron LP Enter. To my delight, this had the original, more raw Detroit mix, before it was replaced on ensuing editions with the more polished, popular version.
I was also unaware of the two preceding independent 7" releases by Cybotron on the Deep Space label – "Alleys Of Your Mind" b/w "Cosmic Rainbow" and "Cosmic Cars" b/w "The Line." It's doubtful either of these small-run releases made it far outside Detroit, yet fortunately somebody with sharp ears at Fantasy had heard the potential of "Clear," and these early gems were included on the Enter album. Still, none of these releases mentioned the tracks' city of origin. To my ears, they were obviously different from the majority of New York electro coming out during this period. The darker, more European new wave sound of Enter – including electric guitar and synth-pop vocals – hinted at something very different, and the follow-up single "Techno City" plus the album only further confused many electro fans of the time.
"Techno City" was included on Volume 4 of the popular Street Sounds Electro compilation series, where its dystopian theme and melancholy vocals contrasted markedly with the rap-oriented electro of Run-D.M.C., Pumpkin & the Profile All-Stars and others. A year later, Cybotron were back with another gem: 1985's "R-9" was a slice of hard-hitting electro, with a menacing spoken-word vocal and echo-laden industrial shrieks and shouts. The follow-up single to "R-9," a Euro-sounding synth-pop track called "Eden," just added to the confusion and mystique.
The visits to Detroit by European journalists and fans are well-documented. Less-known are the details of the first visits to the UK by the likes of May, Saunderson and others in this first wave.
This knotty history is worth mentioning in order to highlight just how much of an enigma Cybotron actually were. I had written to electro labels such as Tommy Boy and Cutting Records, which, like the majority of quality electro purveyors at the time, were independent New York labels, but being on a major label out of California made Cybotron even more of a curiosity. There was scarce info beyond the names Juan Atkins, Jon 5 and 3070 credited on the album, and still no mention of Detroit on any of the subsequent releases.
Juan Atkins of Cybotron, however, had certainly not gone anywhere. Unbeknownst to the majority of UK electro fans, he had created a new label and a new artist moniker: Metroplex and Model 500. (Only the most eagle-eyed trainspotter would have noticed the credits on the 1985 hand-drawn debut Metroplex release "No UFO's" b/w "Future" as listing a Marcellus Atkins and engineer "Juan," and connected them to Juan Atkins of Cybotron.) The 1985 Model 500 follow-up "Night Drive (Thru Babylon)" b/w "Time, Space, Transmat" finally credits Juan Atkins in full, but these early Metroplex classics received very little attention in the UK upon initial release. UK electro fans such as myself, who would have jumped on anything connected with the mysterious Cybotron, were unaware of them. Both releases also listed Detroit, Michigan addresses, finally denoting the city of origin of Atkins' productions.
A year later, Atkins appeared on the newly formed independent Transmat label. The first Transmat release, XRay's "Let's Go," again did not get much attention in the UK, if any. It wasn't licensed by any UK or European labels, but whether it was due to local success in Detroit and the early house scene in Chicago – or Atkins' previous relationship with Fantasy Records - it ended up remixed and released on the California label a year later. Whereas the Transmat original simply credited "Mayday" alongside Juan and Aaron Atkins as producers, the remix fully names Derrick May – the second of the Belleville Three I'd ever come across.
I was an obsessive house music collector at this time, but being based in London I do not recall either the original Transmat release or the Fantasy remix being popular. Retrospectively, though, I credit the original EP with containing the very first example of what for me represents "Detroit techno." The uncredited track which finishes Side 2 – after the Dubmix of "Let's Go" – is the first example of a four-to-the-floor rhythm with the sci-fi, synth-based aesthetic that forms the very essence of the genre. The track doesn't even have a name, and is not mentioned on the label credits.
This is all pre-history to our particular story, though, of when these mysterious men, who previously existed for me solely in label credits, finally came through to the UK in the flesh. It was a year after these early releases by Atkins and May. Just as "Clear" came along to the country on the wave of a separate, mostly New York-based electro scene, Detroit techno's UK breakthrough came along on the wave of house music from Chicago.
1986 was the year Chicago house first hit the UK. It was popular across the nation but became particularly adopted in its earliest days in the North and Midlands, as London was in the midst of a hip-hop-driven rare groove scene. Farley "Jackmaster" Funk and others enjoyed commercial success, and UK label heads were all focussed on the "new" house sound of Chicago. By 1987, the house scene had also impacted London and became immensely popular amongst a hedonistic group of clubbers. The release of Phuture's 303-driven "Acid Tracks," and an avalanche of similar acid house tracks, also gave the Chicago scene significant PR momentum.
Former Northern Soul DJ and journalist Neil Rushton was one of the earliest UK-based fans of the house music scene. In 2000, he told Bill Brewster that "After I'd done the Northern Soul thing, I'd actually gone back to work as a newspaper reporter. But as the house explosion started to filter through, I was drawn more and more towards buying records every week." Together with Dave Barker, Rushton formed the Kool Kat label and started licensing Chicago house releases for the UK market. However, facing stiff competition from the likes of Jack Trax and majors such as London Records, Rushton chose to follow his love of Detroit – a mecca for Northern Soul fans – and became more focussed on the imports coming out of the Motor City via labels like Atkins' Metroplex, May's Transmat and Kevin Saunderson's KMS. Rushton recalled to Brewster, "I rang up the number listed on one of the Transmat releases – 'Nude Photo' I think – just before 'Strings Of Life' came through. I rang up Derrick, asked about releasing records and it all started from there really."
May came over to stay at Rushton's in late 1987 and together they agreed to licensing deals, with May also recommending Saunderson productions (as Reese & Santonio) such as "The Sound." This was the key link that led to proper exposure for Detroit producers in the UK. The relationship laid the groundwork for Rushton to approach Virgin Records with the genre-defining compilation Techno! The New Dance Sound Of Detroit, which was released on its 10 Records subsidiary. The compilation and its accompanying press campaign by Virgin led journalists such as John McCready to visit the Detroit producers in their home environment. May, being the most forthcoming of the Belleville Three, was often the main voice. A familiar narrative built up, based around Detroit's dystopian environment, and Alvin Toffler's The Third Wave manifesto was often quoted as the inspiration.
The visits to Detroit by European journalists and fans, such as myself and other budding UK producers like the late Matt Cogger, Mark Archer of Altern8, DJ Frankie Foncett, Lee "Insync" and many others are well-documented. But what is less-known are the details of the first visits to the UK by the likes of May, Saunderson and others in this first wave.
The most commercially successful producer from the Detroit techno scene was undoubtedly Kevin Saunderson, who had huge hits like "Big Fun" and "Good Life" under the name Inner City. A now legendary 1989 gig at the Town & Country Club venue in London's Kentish Town also saw May's Rhythim Is Rhythim as support, with May DJing. I was there, wearing my newly acquired Transmat logo t-shirt. During Inner City's set I felt a muscular hand grip my shoulder and turn me around. I was faced by a young-looking black guy who inquired, in a strong American accent, "Where'd you get that t-shirt, man? It's a motherfucking bootleg!" Whilst I tried to explain how I bought it legitimately from Black Market Records in Soho, he bent double laughing: "I'm just fucking with you. I'm Derrick May – that's my label."
Derrick May's DJing style had never been witnessed in the UK before. It was fast. Ridiculously fast.
I did the usual fanboy stuff, which he largely ignored. (I quickly learned Detroit producers have a keen aversion to fanboy praise and blowing smoke up the ass.) But when I mentioned I was due to go on a record-hunting trip to Chicago in a few weeks, he gave me his business card and told me to hire a car and visit him in Detroit, where he'd hook me up with some spots to find rare records.
He then rushed off, as he was DJing in one of the intervals. What followed stood out more than the live performances of Inner City or Rhythim Is Rhythim (featuring a young Carl Craig running a drum machine and adding synth textures). May's DJing style had never been witnessed in the UK before. It was fast. Ridiculously fast. A good 10-15 BPM faster than UK house DJs were playing at that time. The mixing seemed secondary to the impact of attitude. May would keep a mix for only a few beats or a bar or two before slamming in the next track. They were more like edits – akin to a hip-hop turntablist, but with none of the theatrics or scratching. The crowd did not know what to make of it, myself included. May mixed up his own edits of "Nude Photo" and "Wiggin" with test pressings of as-yet-unreleased Transmat releases by Jay Denham and James Pennington, contemporary European rave tracks with early breakbeats, Chicago house and, most interesting to me, tracks by Liaisons Dangereuses.
If the UK crowd didn't know what to make of May's high-impact DJing, Carl Craig – on his first UK visit – was getting his own culture shock, courtesy of his UK hosts Mark Moore of S-Express and singer Sarah Gregory. As Craig recently told Skiddle magazine, "The first club that I went to in the UK was actually the night before we did the first set. It totally freaked me out. We had nothing like that in Detroit. It was a party called Kinky Gerlinky. All the men were wearing dresses."
Mark Moore remembers the night well, and took the opportunity to reminisce recently: "I met Carl when Derrick came over to play as Rhythim Is Rhythim, supporting Inner City at the Town & Country Club. He told me Carl was coming over early and that I should meet him and look after him, so I said I would take him clubbing. I took him to the opening night of Kinky Gerlinky, which is now known as a legendary alternative 'freaky' drag night. It was Carl's first time in London and he was just 19. He hid in one of the corners of the club watching in amazement and partial terror. At the end of the night I asked him what he thought and he said, 'Oh, man! That was just crazy!' We became great friends after that."
Moore had first been introduced to the Detroit techno sound by A&R man Darren Mohammed, who was working at MCA Records at the time: "He was crazy about the Chicago house sound and, via that, the Detroit sound. Also coming were Leslie Lawrence and Kid Batchelor from the band Bang The Party, who had some releases with Neil Rushton's Kool Kat label. We were all obsessed with all things Chicago and Detroit at this point, and there was a great tightknit scene from 1986 onwards gravitating around Pyramid at Heaven, and then later on in various warehouse parties and, of course, places like Shoom at the Fitness Centre, Southwark Street and RIP at Clink Street.
"Darren has his own group Adrenalin M.O.D., and he said they were getting Derrick May to come to London to work on a track of theirs. That took place at Addis Adaba Studios on the Harrow Road, northwest London – literally five minutes walk away from where I was living… By this time in 1988 I had unexpectedly become a pop star with S-Express. I'd just got back from promoting in Europe and Darren called to say he was coming round from the studio with Derrick. Derrick saw all the records in my living room, littering most of the floor and stacked up in huge piles. He just raced past me and immediately started digging through the records. It was hilarious!
"So me and Derrick hit it off straightaway. He would come and stay at mine when I moved to a larger apartment in Maida Vale, and later he'd bring all the guys round like Juan Atkins, and ask if his mate Kenny Larkin could stay at mine for a while. So, as Derrick says, my home became a London haven for the Detroit guys during these earliest visits."
I also visited Moore's Maida Vale apartment during the period, invited along by Matt Cogger, who had returned to the UK after working for Transmat in Detroit for a year. I remember that in just one afternoon there were many industry people coming and going. It really did seem like a hub of a very exciting, tightknit creative scene building a bridge between the UK and the Detroit producers.
Kevin Saunderson had the vision, and whilst Inner City's success may have been short-lived, it provided the blueprint for building a chart and album act out of an underground house track.
Another West London house and techno fan was journalist Tony Farsides. At that time he was working at Black Market Records, which, alongside Jazzy M's Vinyl Zone store and Reckless Records in Soho, was the central hub for house and techno collectors at this time.
Tony remembers, "I think the compilation Techno: The New Dance Sound of Detroit, which came out in the spring of 1988, was really the UK doing what it does best in terms of taking contemporary black American music and showing it the understanding and respect it deserves. Treating it in a way that would have been impossible in the US itself. The article in The Face which accompanied its release by John McCready was wonderful and cemented the whole Detroit mythology which fuelled the next wave of techno nerds. There was also this amazing launch party at Legends in the West End where they all came over and DJed, and I think it was Blake Baxter who did a PA. Acid house was peaking, so the place was drenched in dry ice and there was this amazing meeting of cultures.
"Jive Records and its publishing wing Zomba Music were very forward-thinking and signed up a lot of those first-wave American techno guys in 1988, including Kevin Saunderson. It would sign them and then bring them over to stay in the UK and work out of the Jive studios in Willesden, and that was where I interviewed Kevin Saunderson for the pirate station KISS FM. Inner City's 'Big Fun' was a huge club hit by then, and when I met him he was doing an acid house remix for a female UK rap duo called the Wee Papa Girl Rappers. I was such a fan I took my KMS import copy of 'Big Fun' for him to sign. He was super nice, very confident. I remember him dressed in shorts and t-shirt, very athletic-looking, explaining the plot for Inner City's career, which then unfolded just as he'd explained. He had the vision, and whilst Inner City's success may have been short-lived, it definitely provided the blueprint from that point on for building a chart and album act out of an underground house track. The other young American producer working out of the studio at the same time was Teddy Riley. It's mad to think back that you had these two visionary young guys who would change dance and R&B being hot-housed in the UK that summer, and in Willesden High Street of all places.
"By 1989 I was working at Black Market Records, and the owner Rene Gelston put on a Black Market Juice Bar in the summer and got Derrick May to DJ. He came on at about 4 AM in the morning and the whole aristocracy of the UK house scene was there. It was the most physical DJ performance I've ever seen. Very kinetic, almost violent; the way he was moving around as he worked the records. Just this explosion of sound and movement. Everyone just stood there gawping. It was so utterly beyond what anyone here could even imagine doing. The finale was him cutting up two copies of 'Strings Of Life' and blowing up the soundsystem. It was like Hendrix or something, and amazing to witness."
As Farsides attests, alongside the incredible releases coming out of Detroit it was May's DJ sets that were most making an impact. Renowned UK DJ Eddie Richards was one of the first to bring over US DJs to perform at various rave events during this period, and thanks to Eddie's connections with a club called the Barn, situated in the backwater Essex town of Braintree, the pioneering venue witnessed one of the earliest UK sets by May in 1990. I was there, too – and despite Derrick telling me to ignore his mixing, as "I'm not even really trying tonight" – it was another night that quickly became the stuff of legend. The set resurfaced online recently (mistakenly dated to 1989), and it's the same fast-tempo mix of unreleased Transmat edits, forthcoming releases, UK rave and Chicago house.
The Braintree Barn regularly hosted house and techno nights with Eddie Richards, Mr C., DJ Ju and others. Locals Liam Howlett and the Prodigy were often there soaking up the influences before they embarked on their careers. I played a warm-up set myself, thanks to a home-mix tape I had sent DJ Ju. DJ Ju recalls that "On the night Derrick played I remember we had a full house, even though few who were there actually knew who he was. I played first, followed by Mr. C and then Derrick. It was all a bit surreal and manic, as Derrick really threw himself into the set. I remember him saying it was important to radically change tempo and even stop things dead in the middle of the set to 'wake them up.'"
Other early Derrick May shows in the UK still evoke fond memories. I became close friends with Derrick during this time, and alongside Matt Cogger, we would accompany Derrick to many of these shows. My favourite memories are of a venue in London's Shaftsbury Avenue, where an over-enthusiastic MC was talking all over Derrick's first track. He turned off the music and yelled, "This ain't no motherfuckin' reggae party, man!" Later the same night, Matt Cogger managed to gain access to the lighting rig, and flipped a master switch which turned on every single light in the building.
My other favourite May night was the famed Lost party in a South London venue underneath some railways arches. Promoters Steve Bicknell and Sheree Rashit had been putting on techno parties in the early '90s – bringing over Jeff Mills, Robert Hood, Claude Young and other Detroit DJs for their first UK sets. It was a sweltering night in London, and Derrick was wearing a pair of skintight shorts. (Matt Cogger and I just shook our heads when we saw him.) As often at Lost, there were two rooms: a main techno room, and an alternative room playing more eclectic material, with DJs such as Mixmaster Morris and later myself as resident.
During Derrick's set the power cut off a couple of times. Derrick persevered, but it got to the point where the vibe kept being lost. After a quick word with Steve Bicknell, Derrick shouted to everyone to follow him to the alternative room. There he was in his tight shorts, record boxes in hand, leading everyone like a techno Pied Piper into the other room. The response to his first record was incredible – but the music quickly cut out again. The crowd collectively groaned. "Ha! Gotcha!" he shouted. He had simply turned the fader down.
That first UK gig was one of the more important ones for me personally, as I realised you had to show diversity.
Whilst the effusive character of May ensures he steals the spotlight in most recollections of early UK visits by Detroit producers, there were of course a wealth of other DJs and artists who made their way to Europe in those early days. In London in 1990, I was working part-time in the used record store Reckless Records when a guy with an American accent came up to the counter and asked me if we had any Eddie "Flashin" Fowlkes records in stock. Never one to pass up the chance to talk about my love for the new techno sounds coming from Detroit, I confirmed we had a copy of "Goodbye Kiss" on Metroplex, and at home I had a personal copy of the very rare follow-up EP In The Mix. Suitably impressed, the guy extended his arm over the counter for a handshake and announced, "Eddie Fowlkes, how ya doin'?"
I took Eddie across the street to Black Market Records and introduced him to Ashley Beedle and other staff members. Eddie was a character of a similar mould to May – he had lots of stories of wild Detroit – and seemed genuinely invigorated by our knowledge of his releases.
The Lost events were also responsible for bringing many of the Detroit DJs over for the first time from 1991 onwards. Later on, the End venue in London would bring artists such as Aux 88 for their first taste of the UK, as Aux 88 member Keith Tucker recalls: "My first trip to the UK was for a DJ set at the End with Carl Craig. It was a bit intimidating, as I wasn't sure if I should play what everyone else was playing. I chose to play what I always played – a mishmash of all styles; techno, electro and house. I played just before Carl – this was about 1996/1997. I wasn't sure how the UK would react to the Aux 88 electro, so I started with some vintage techno from KMS and mixed an electro track from Aux 88 every other record to change up the pace. It went over well and got my confidence up as the crowd cheered, and I went on to play a great set. I think that first UK gig was one of the more important ones for me personally, as I realised you had to show diversity."
The collective of artists and DJs that centred around Mike Banks' Underground Resistance label also made it over to the UK earlier than perhaps expected. This was due to the short-lived success of the Members Of The House outfit, which threatened to hit big in 1991 with the soulful house tracks "These Are My People" and "Reach Out For The Love." A UK license and significant promotion and airplay for "These Are My People" led to a single 1991 tour, which Hassan Watkins of Members Of The House fondly related to Ashley Zlatopolsky: "When we got overseas, what blew my mind was the thousands of people who knew our record. They sung every word. Here [in Detroit], nobody knew our words." Quentin Mcrae also remembered sensing something was happening in the UK: "We were at the newsstand and there was a Blues & Soul magazine with Vanessa Williams on the cover. I opened up the magazine and in the middle was this big huge picture of us. I was like, 'Wow! Blues & Soul magazine is kind of big.' I didn't think we were big."
Watkins summed it up with a sentiment that applies to the majority of the way these Detroit artists felt when they first came over to the UK: "Our popularity shined brighter overseas."