A Southside Shakedown
Harley Brown surveys the history and peak of Chicago's Latin juke scene through the eyes of the Ghetto Division collective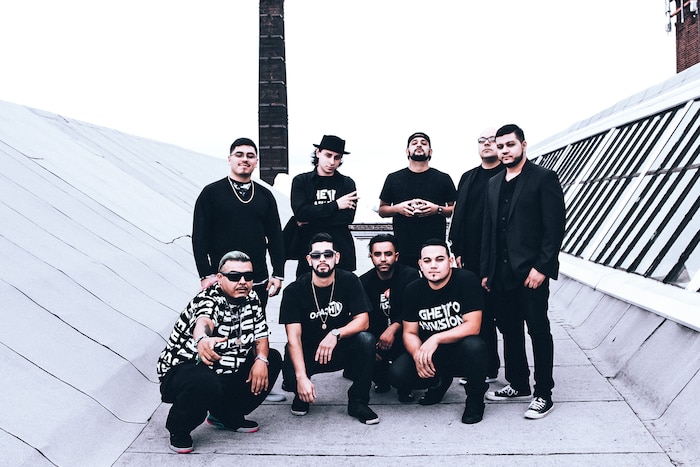 Just over a decade ago, a new scene came together in Chicago's South Side and Pilsen neighborhoods. First and second-generation immigrants from Mexico synthesized myriad influences – their parents' Latin house, funk and jazz records; ghetto-house and ghettotech; and new club sonics from Baltimore and Newark – into Latin juke. With its high-octane blends of bass drops, frenetic 808 programming and chopped-up vocals, this fresh spin on one of Chicago's musical legacies appealed to a new generation of clubgoers weary of the canonization of classic house cuts, along with tastemakers and big-tent talent like Diplo, DJ Funk and Cajmere.
From 2007 to 2011, the Latin juke scene involved members of Ghettoteknitianz, the 160 BPM-plus crew that morphed into footwork architects Teklife, and collectives by the names of Hit 'Em Up, Juke Violator Squad and Ghetto Division, the last of which arguably achieved the most visibility during the movement's peak. The first example of Latin juke was produced in 2006 by former turntablist Maddjazz, AKA Jorge Ortega, who came to Chicago from Guadalajara, Mexico in the '80s. "Spanish Juke" begins with juke's signature skittish hi-hats and synthesized toms, persistent handclaps and a booming kick before opening up into a soulful vibrato vocal, sampled from his parents' collection.
Latin juke producer Lorenzo Vektor grew up between the Chicago neighborhoods of Cicero, Little Village and Pilsen, a largely Mexican-American community where most of the Latin juke DJs, including Ortega, had their formative musical experiences. The neighborhood originated as a hub for Eastern European migrants, but immigrants from Mexico began moving in starting in the 1960s, becoming its majority by 1970. "It's multi-generational," Vektor says, referring both to the area's gang legacy and to familial networks that supported so many aspiring producers and musicians. The majority of the scene's artists shared similar upbringings in these areas: "There's a lot of history there, which is why it's so important [to the genesis of Latin juke]."
Ortega and Vektor teamed up as the Trappist Monks to release a couple of tracks that were among the first to be considered Latin juke. In them, they sampled "this group called Los Angeles Negros, which is basically 'the Black Angels,'" says Ortega. "They're from Colombia or somewhere in South America; not Mexico, though." (The group is from Chile.) "They had a very soulful, psychedelic sound, not like traditional Mexican or Spanish music."
Carlos Rodriguez, AKA Charlie Glitch, first got schooled in music by his parents. His father, a DJ who went by the name Carlito's Way, immersed him in his vast collection of salsa, merengue and jazz LPs. Rodriguez's cousin Roberto Herrera, who goes by the DJ name Rob Threezy, moved from the Jalisco region of Mexico with his parents around the age of 11 or 12, and likewise began learning from his uncle. Ghetto Division affiliate MoonDoctoR recalls his father, Latin house producer Tony Mundaca, also exposing him to music at a young age.
Juke music is an excuse to get loose, go crazy – because that's the energy of the music.
"My pops was really close with Frankie Knuckles," says MoonDoctoR over the phone from his current home in Texas. "Frankie showed my dad a lot of ropes. He was in the booth with Frankie at the Warehouse and the Power Plant, and was one of the sales guys at Importes, Etc."
In the predominantly Latinx nearby neighborhood of Cicero, Aaron Salgado, AKA DJ Pillsbury – one of the first Latinx members of Ghettotekz, along with producers Remi 303 and PROQ – watched his uncles DJ house parties on Taylor Street on the West Side. By age 12 he was using their equipment at weddings, quinceañeras and other events; he'd even bring his CDs to play at his middle and high school dances. "Everybody would look at me like, 'Who are you? I'm not letting you DJ,'" he recalls.
A few years older than Salgado, Remisworldd, formerly known as Remi 303, moved in next door at age 13, and the two immediately bonded over Italian DJ Benny Benassi's electro-house stomper "Satisfaction," spending hours in his basement with Fruity Loops and Virtual DJ. Like most high schoolers, when they weren't hanging at one of their parents' houses, they were at the mall. At Ford City, in the southwest part of Chicago, they bought mixtapes from DJ AO, who played dedicated juke nights at popular clubs. With a couple of DJ Rashad anthems, juke pioneer DJ Clent's flip of Kelis' "Milkshake" and a track or two by DJ Nate, the CD inspired them to release their own music on MySpace.
"At this point we don't know who Rashad is, we don't know who Spinn is, but we like the music," Remisworldd adds. "We were making 30-second tracks because we thought that's how it should be. Little did we know that it's a mixtape, and it's actually probably a four-minute track." Though their earliest attempts aren't available online, DJ Pillsbury and Remisworldd's Retrocity EP from 2009, which flipped Super Mario samples into new shapes and reworked Young Dro's "My Girl Gotta Girlfriend" into a juke jam, gives an idea of what their first mixes sounded like.
Besides mixtapes and dedicated nights at clubs, juke pumped through the airwaves on late-night radio shows. Dance Mania recording artist and longtime Power 92 host DJ Nehpets (along with his former station peer Boolumaster, whom PROQ cites as an influence, reached some listeners who would go on and become producers. His juke remixes of tracks like 2007's viral dance move "Cupid Shuffle" or Kelly Rowlands's "Motivation," from 2008, were incredibly popular.
PROQ, real name Priscilla Tañón, heard juke remixes on the radio before experiencing them at middle-school house parties. "Being a teenager, your hormones are raging," she says. "Juke music is an excuse to get loose, go crazy – because that's the energy of the music." Heard at these parties were DJ Spinn's classic "Bounce N Break Yo Back" from 2007's Juke City, Volume 1 compilation, "Move Back 'Cause I'm About to Snap" and 2008's "Ay Yo Yo!!," both by DJ Rashad and DJ Chi Boogie, a pivotal figure in the Latin juke scene who passed away in 2016.
As anyone who left handprints on sweaty subterranean walls can attest, these parties could get out of control. "Girls be juking so hard, that if you're wearing blue pants, it's going to come out on the white walls," says Carlos Rodriguez. One of the nights everyone remembers, Club Crib, run by local house DJ CZR, was held in a basement that held no more than 50 people. In 2009, after playing Chicago's iconic Metro venue with former Major Lazer member Switch, Diplo was looking for an afterparty. "He texted me, 'Yo, what's up? What are you guys doing?'" remembers Herrera, who has released a handful of singles and EPs on Mad Decent. "We're like 18, 19. There's only so much we can do in Chicago." They invited Diplo to Club Crib, and he took over the decks for 20 minutes: "It was complete, utter chaos."
If they weren't at these DIY spaces, the DJs who formed Ghetto Division congregated at a now-defunct record store on South Pulaski Boulevard called Hot Jams, which was owned by Steve "Pinkmachine" Gomez and was where Ortega's former battle DJ competitor Rampage, real name Eddie Regalado, clerked when he wasn't selling mixtapes alongside Clent at River Oaks Mall. Herrera passed by it every day on the way to school and was eventually drawn in, while Rodriguez's father would take his son record shopping there. There was also a label affiliated with the store, Hot Jams Records. Ghetto Division was initially launched as its sublabel focusing on booty house and juke before eclipsing it in release output and notoriety.
In addition to the retail space in the front, there was a studio upstairs with a futon, a kitchen with a shower in the basement and a back room where Gomez threw parties, charging a dollar or two for admission or implementing a donation-only fee. In 2008 Regalado had his birthday there, a night Vektor remembers as one of the makeshift venue's wildest. "We used old bookcases for records," he says. "Some girl started climbing one of the bookcases, twerking as she climbed the wall. The freaking thing started falling and everyone rushed and pushed it back up."
Slightly older than the rest of the crew, Vektor taught some Ghetto Division members production basics in Hot Jams' back room: syncopated kicks, the use of toms and hi-hats, pre-production essentials like EQing, compressing, limiting and stereo imaging. Gomez, a DJ himself who traded more in techno, electro and new wave, encouraged the music nerds who hung out at his store to learn. "He was like, 'You guys can throw events here, you can make music here,'" says Rodriguez. "He allowed us to have a place to create."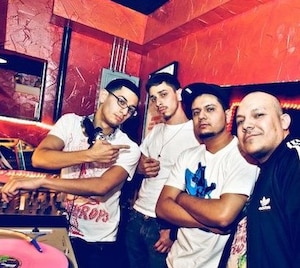 It was here that the Ghetto Division members began opening up the parameters of what they considered Latin juke. Regalado, who avidly perused then-relevant blogs like Nightshifter, Club Bass and Wine, Mad Decent's website and forums like baltimoreclub.wordpress.com, introduced the Hot Jams crew to Baltimore and Jersey club and would go on to bring Newark's Brick Bandits to spin at South Side house parties. He also incorporated blog-house's indie dance remixes into his sets, which appealed to some nerdy high schoolers who had heard Adonis and "Follow Me" one too many times. "He was really hip to a lot of new music," says Ortega. "I've always been a fan of different kinds of music, and I get bored really easily."
As more ingredients were added to the melting pot of Ghetto Division's influences, it started to show in their music. Take Charlie Glitch's "Stringles" from the group's self-titled EP from 2009, which syncopates the pianos from Derrick May's foundational "Strings Of Life" with a Bmore bounce and air-raid sirens; or Rob Threezy's fittingly titled The Change-Up EP on forward-thinking imprint Nightshifters, which surges between rave, dubstep, breakbeats and Baltimore club – sometimes within the span of a single song.
"Our sound was pretty much the Chicago club sound," adds Herrera, "and the older cats were kind of not with it. They were like, 'This is house. You guys are from Chicago, you shouldn't be making it.'" Most Latin juke producers are reluctant to name any detractors, but quick to point out who has given them support, like ghetto-house OG Gant-Man. DJ Funk has shared the stage with Charlie Glitch. DJ Godfather was essential in spreading this new vanguard, releasing on his Juke Trax imprint innovators like DJ Clent, DJ Deeon and Spinn and Rashad – who were themselves instrumental in supporting Latin juke. Even some of the house heads have come around; Cajmere, now more commonly known as Green Velvet, frequently works with Herrera.
In 2008, Gomez, supposedly frustrated with the continual police shutdowns of Hot Jams parties, discontinued them. In search of a new venue, Ghetto Division threw events at Wicker Park's Debonair Social Club and now-closed Crocodile Bar & Lounge. Initially there was some resistance towards Ghetto Division: Herrera says some promoters were hesitant to book them because they assumed South Side DJs and producers would "bring drama and fights and all that," based on the association of the West and South Sides with minority neighborhoods and gang violence. Vektor adds, "As a Hispanic male, I used to hate going to Pilsen because of the gangs. There was a different gang every three to four blocks, and they were all pretty hardcore."
In 2009, a month or so after Diplo crashed Club Crib, he played Smartbar with Charlie Glitch, Rampage and DJ Rob 3 (Rob Threezy's Mad Decent moniker) opening the bill. "For a while, he was really trying to fuck with us," says Regalado; indeed, the next year Diplo invited Ghetto Division to take over a stage at Chicago's inaugural Mad Decent Block Party. Then several things happened at once: Local promoter Mica Alaniz started working with Rodriguez and Ghetto Division in a promotional and managerial capacity, and founder of Smartbar and the Metro Joe Shanahan decided to pursue a larger-scale event with the crew after seeing how well they had done at his dance music-focused venue. They decided to call the events series Southside Shakedown.
"[Charlie Glitch] was getting quite a bit of attention and the music was great," says Shanahan, citing how organized both Rodriguez and Alaniz had been during the planning meetings with Metro talent buyer Chris Baronner. "[Alaniz] was kind of like their promoter, manager, cheerleader. We talked about how to promote it, we talked about how to keep it safe, we talked about the all-ages versus an 18-and-over – and we did do this 18-and-over," with the first 250 attendees admitted for free.
After the inaugural Southside Shakedown in September of 2009 sold out the 1,100-capacity venue, Shanahan scheduled a second night in November, headlined by Fade to Mind founder Kingdom, then still on A-Trak's Fool's Gold imprint and living in New York City. To keep from aggravating gang tensions at these events, Rodriguez developed a guerrilla marketing technique: When putting up event posters around different neighborhoods, he'd use the same logo, but with different colors for each gang. "If I was by the Kings, I'd make the logo black and gold," he says. "If I was by the GDs, I'd make it black and blue."
The third and final Southside Shakedown took place on Ghetto Division's third anniversary in February of 2010, featuring Jersey club trailblazers Brick Bandits, DJ Tameil and Tim Dolla. Though Shanahan emphasizes that the point of these events was that the music transcended any possible antagonism between those in attendance – hence the unification effort implicit in hosting a South Side party on the North Side – local gang issues and ensuing police activity (based on the Chicago PD's controversial gang member database) were connected to the last event.
By this point, Ghetto Division as a collective had also begun to disperse, with each of the members being pulled in different musical directions – Rob Threezy started producing techno, while DJ Rampage and Maddjazz focused on house music – and touring separately in Europe and elsewhere. "We were trying to network with people overseas, and [on the] East Coast," says Regalado. "Some guys in the Bay Area booked us a lot. Just trying to do gigs here and there after those parties. We were trying to do the Metro again, and they were like, 'Oh no. It was just too loud last time.'"
Last year Ghetto Division celebrated their 10th anniversary at Thalia Hall, a performance space and community center in Pilsen, as part of the neighborhood's self-titled annual music and culture festival. "We pretty much brought back all the old tracks we used to play from back in the club days," says Herrera. "The same people that went to our parties at the Metro and all our friends were there, just a little older – just some girls have kids now and families. They're still there supporting us, but wow, a lot's changed."