Hip-Hop Engineer Kesha Lee's Career-Defining Sessions
The Alabama native charts her journey to becoming Atlanta's most in-demand engineer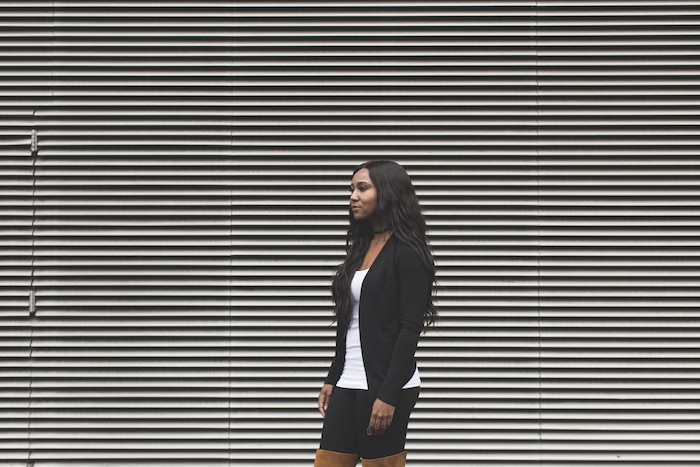 Just five years after learning the basics of audio engineering at Atlanta Institute of Music, Kesha Lee was recording some of hip-hop's brightest and boundary-pushing young stars. Lee's big break was when local trap god Gucci Mane added her to the small stable of engineers at his studio. While still in school, Lee would record Gucci, along with the impressive number of artists he discovered, like Migos and Young Thug. In 2014, after graduation, mixtape mavens DJ Drama and Don Cannon hired Lee as an in-house engineer for Means Street Studios, where primary task was to record their oddball Generation Now signee, Lil Uzi Vert, and breakout hits like "Money Longer." But as Uzi's universe and influence grew, so did Lee's. Last summer, Billboard's Hot 100 chart featured five songs she recorded, including Playboi Carti's "Magnolia," Migos' "Bad and Boujee," and, of course, Uzi's "XO Tour Llif3."
In this edited excerpt of her Fireside Chat with Christina Lee on Red Bull Radio, Kesha Lee shares the stories behind the tracks that paved the way for her to become one of hip-hop's most in-demand engineers.
When did you know you wanted to become a sound engineer?
What made me first want to become an engineer was working at the radio station, 98.7 KISS FM. I would do radio drops for them and we would record on Adobe. [The person] I was working for really thought I was good at it and told me I should look into engineering, so that's what sparked my interest.
I went to Atlanta Institute of Music. The program taught us a bunch of different fields within audio, like soldering cables, live sound recording, making beats. I took more to recording at that time because my dad previously was trying to show me how to work Pro Tools and how to record. He really pushed me just to expand my learning within music, whether it was learning how to play the piano, or record, or anything like that.
I definitely felt like engineering could be my career when I moved to Atlanta and I just saw how many studios there were. There's a studio everywhere, especially in the city. I moved from Birmingham, Alabama. Back home it's very simple and slow-paced. There's more city life here, and a lot of people that want to be artists and be in the music industry.
Young Scooter – I Wonder
You worked with Seth Firkins on this track. What was it like working with him?
This was probably one of my first songs working with him. We recorded the song at Gucci's studio. They had three studios. There was one that we mainly used and then there was one that we really didn't use a lot because producers would work out of that room, but we were using that room. It was just a bunch of people in there and Scooter wanted to call in and do his intro, and he was calling from jail at the time, so I just held the phone up to the mic and then he recorded his intro.
I have a lot of memories working with Seth. We were pretty close. He let me have access to his house because his set-up was there and he said if I ever wanted to practice or record or do anything, that I was able to do. I didn't have a laptop [but] I did have a desktop that I would sometimes carry to my internships. I know that sounds crazy, but I try to always stay productive. It [helped going to Seth's] because he had all the plug-ins. When I'm there, if he was there, he would just give me stuff to practice, like, "Do the tempo manually." Because we use this software called Mixed In Key to get the tempo and the key, and sometimes studios don't have it, so sometimes you have to do it by hand.
I would practice doing that really fast, or practice mixing on some of his sessions. He would always do a 'Save As,' so there would always be an original and I could go in and try to practice with that and play around with plug-ins. A lot of my memories with him is just really working and learning.
Gucci Mane feat. Young Thug – Guwop Home
How did you start working with Gucci Mane?
I was interning at Music Box, which is Akon's studio, trying to find work. I came about working at Gucci's studio just by sitting in on his sessions. I knew that he was looking to get a building to record out of because he records so much. It just made sense for him to get his own studio. Once it got up and running, his engineer called me and asked me if I wanted to work for him.
What is the environment like in Gucci's studio?
At that time the first floor had a lounge and then one studio room. Then the upstairs had two studios and the back office was just like a big couch and a desk. That's where I would sleep and whenever he was ready to work, whether it was four in the morning or 2 PM, he would just call my name and we'll go. The vibe was just really a working environment. When they wanted to chill, there was always someone else that was ready to work. For me, it was constantly working back to back. If he didn't want to record, Scooter would be there, Migos, Young Thug, Aka would come through sometimes, Young Dolph, and then, of course, all their friends.
[When] we recorded this song... I think Gucci had just got out, so I guess that inspired him to go in and talk about him being home. I thought it was so dope that everything circled back around for me to work with it 'cause [Gucci] will always say, "Who made you?" Every session, he wants to know and I'm like, "You did."
He's the reason why I feel like I am where I am because I had the chance to record so many people so early on, and I had to hurry up and figure my workflow out. He just gave me such a dope résumé so early on, so for him to just come back years later and see that I've progressed and be proud of me, that means a lot to me.
Migos feat. Lil Uzi Vert – Bad and Boujee
Lil Uzi Vert has said you're his go-to engineer. What is different about that working relationship?
I like working with Uzi because his flow. He would change it up a lot, just the stuff that he was coming up with. The sessions were so chill. If I had any ideas, he didn't mind if I tried them and he was open to that.
One day I was in a session with Uzi and he had brought up [Bad and Boujee] and I'm like, "I didn't record that song," and he was like, "You did, Kesha." He remembered it all... He knows stuff from when he was in first grade and I'm like, "I can't even recall anything from that part of it."
Was there anything memorable about the recording of "XO Tour Llif3?"
I do remember him recording it 'cause of the line "All my friends are dead." It definitely got stuck in my head and then the hook was super catchy. I think he really liked this song [to the point] where he really wanted to go back in and change how he said something or make it a little better. So there are a bunch of versions of that song but we ended up going with the original, before he changed it, because everybody liked that one.
Young Thug feat. Future – Relationship
You were recording Young Thug before you started working with Gucci. What were those sessions like?
He is probably the fastest person as far as workflow. He doesn't want a lot of room to punch in. He probably wants the end of a word and then you punch him in, so you have to be very fast and he's very particular on placement of vocals. He wants stuff nudged and with him, you really don't have time to be creative. Or, he may not even like it, so I don't even try to do drops or anything on his songs.
Playboi Carti - Magnolia
At one point several songs you worked on, including "Magnolia," were on the charts at the same time. What did that feel like?
Actually Pi'erre Bourne recorded "Magnolia" and then they just gave me the session to mix it. I'm right outside of the A room mixing and Carti was so excited about this song. He told me to come in, listen to it. He was like, "I want you to fix it up." Then after that he gave me the session and I went in on it a little bit more.
So at the time it was "XO Tour Llif3" #12, "Magnolia" #29, "Bad and Boujee" #38, "Relationship" #83, and "Woke Up Like This" #94. Everyone's songs were on at that point in time. I was like "Oh my gosh, that's so dope, I didn't know."
Keke Palmer & Quavo – Wind Up
What is different about working with singers like Keke Palmer versus rappers?
I love working with singers because to me, working in Pro Tools is like video games. So, I guess working with a singer is a different level and I just love seeing how much we can get done while we're working.
The first time I worked with Keke was with Bangladesh at his studio. They were working a lot together. The sessions were very dope because it was very structured, and she had a lot of people come through, so it was a really good vibe. She's a very vibrant, well-spoken person so it was just cool. Plus she's super talented – she can really, really sing, so it was fun working with her.
In just five years, you've made a serious name for yourself working with greats like Pharrell. How have all these experiences changed your approach to engineering?
I definitely think I've evolved in the sense of my workflow. It never is the same and I'm learning to adapt and become even more organized. I just love to just figure out what's the best and most organized and efficient way to do something, and I think it's dope that my job allows me to do that because my job is never the same.
With the other opportunities I have going on, I've evolved in terms of time management, scheduling, being on time and just being really organized.
What advice do you have for people trying to get into sound engineering?
If you love it, just keep going. If you keep working, you're definitely gonna get to where you want, and if you love it, opportunities are gonna come and you'll make yourself available for it.