Loop History: The Showboys "Drag Rap," AKA Triggerman
How a forgotten New York record became a foundational building block for Southern rap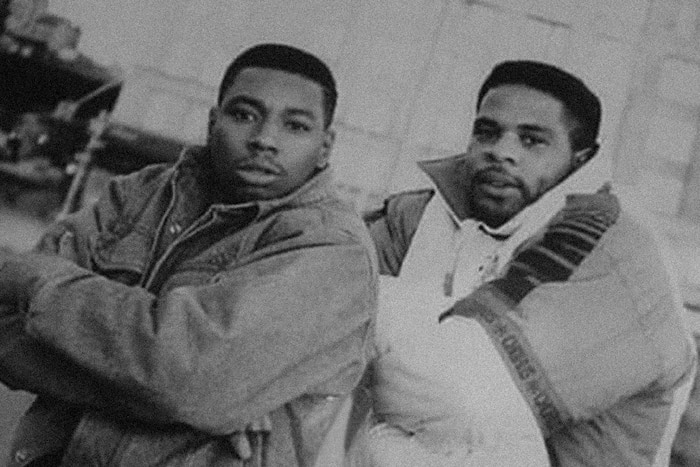 The story of one of the most influential records in Southern rap history doesn't start in Miami, Houston, Memphis, New Orleans or even Atlanta. It starts in the front seat of a Jeep parked on a side street in the heart of a notorious hip-hop hotbed: Hollis, Queens.
It's 1986, and Hollis – home to Russell Simmons, Run-D.M.C and a young LL Cool J – has put hip-hop on the map. Two teenage friends from around the way, Orville Hall and Phillip Price, who go by the Showboys, have already scored radio play with their first commercial release through Profile Records, "Cold Fronting" b/w "Ten Laws Of Rap." But they're hungry for a hit, and hard at work on a third single that will hopefully help them shine outside of the massive shadow cast by the growing global reach of friends and label-mates Run-D.M.C. Doug E. Fresh & the Get Fresh Crew had just struck gold with "The Show," and the Showboys took note.
"We were listening to other records, seeing the vibe at the time," says Price, AKA Phil Dog, AKA Phil D. "And the vibe was story raps."
"When somebody came out with something hot, it would encourage you to make something better," adds Hall, who performed under the name Can Can. "We were thinking, 'What the fuck could we find to do a story [rap about]?'"
"I was walking out of the house and I heard Dragnet on TV," Hall says of the eureka moment behind what would become the Showboys' enduring hit. (Dragnet was a classic detective show from the 1950s – and later a movie starring Dan Aykroyd and Tom Hanks – with a distinctive theme song.) "When I heard Dragnet, I actually [started] doing the beatbox to 'The Show.' We got into the Jeep and Phil starts banging on the Jeep, because the Jeep was a hollow top, and that shit was just so crazy."
20 minutes later, the Showboys' "Drag Rap" was done. The song is a classic story rap that lifts both its sonic and structural cues directly from Dragnet. Built like a procedural TV show – the intro promises that "MCs' names have been changed to protect the innocent" – and clocking in at over six minutes, "Drag Rap" weaves the tale of a heated turf war between two ruthless Queens gangsters, "Bugs" Can Can and Phil D, AKA "Triggerman." In a unique twist, the song forgoes a hook in favor of a commercial break that drew upon two of the hottest ads at the time – Wendy's iconic "Where's the beef?" campaign and a whistle used to sell Irish Spring soap.
"If you listen to it, that's what it is: an episode," says Hall of the song. "It's a television show with a commercial break in the middle."
For Hall and Price, picking the Wendy's catchphrase was a no-brainer, but the call to incorporate the whistle came from a famous friend. "When we finished it, we brought it to Jam Master Jay," Hall continues. "He was the one that said, 'Yo, y'all should put that Irish Spring whistle on there.' So, God bless the dead, our good friend Jay had a little piece of input on ['Drag Rap']."
The Showboys recorded the demo with their personal engineer, former Parliament keyboardist Brian Perkins, who they called "Killer B." Profile loved it and gave the guys $2,500 to lay it down in Manhattan's Greene Street Recording studios. When it was done, the label placed the song on Mr. Magic's 1986 compilation Rap Attack. Magic was the hottest DJ in the game at the time, and his co-sign was a very big deal.
"Mr. Magic premiered it to the world," Hall says, echoing Magic's famous "World Premiere, Premiere, Premiere" catchphrase. "It rocked New York, I think maybe, for a month? Two months?"
"If that," Price adds.
"And then it was gone," says Hall. "We thought we were on our way, and then all of a sudden, the record disappeared. Nothing from the label, nothing from the shows. Nothing. Just gone."
As Hall puts it, the Showboys went "back to our old ways, wilding out in Hollis, smoking and drinking 40s and doing everything everybody else did in the neighborhood." Meanwhile, down South "Drag Rap" had taken on a life of its own under a new name: Triggerman.
Both crunk and trap music can trace roots back to the Memphis sound, making Triggerman the seed to both.
There are records that changed the course of hip-hop history – Blondie's "Rapture," Run-D.M.C.'s "Walk This Way," N.W.A.'s "Straight Outta Compton" and Geto Boy's "Mind Playing Tricks On Me" are just a few that come to mind of many, many more. These were songs that expanded hip-hop's reach branch by branch, opening up new sounds and cultivating new fans, until some 45 years after it was born in the Bronx the genre is the biggest commercial and cultural force in modern music. Then there are records, like the Honey Drippers' "Impeach the President" and James Brown's "Funky Drummer" and "Funky President (People It's Bad)," that have consistently seeded hip-hop's soil, ensuring that the music and the culture remains on fertile ground with every new flip. Triggerman is both.
According to WhoSampled, "Drag Rap" has been used in over 160 songs through the years. Ask anyone who knows anything about Southern rap and they'll tell you that's an undercount – by a lot. Despite bricking out in New York, the song took root in the South as a quintessential hip-hop break, as vital as any soul record tucked away in Kanye's or DJ Premier's or RZA's or whoever's crates. And while both Memphis and New Orleans can rightfully lay claim to the record, current consensus credits Memphis DJ Spanish Fly for breaking the song in the deep south. Fresh out of high school and with an ear hungry for hard-hitting 808s, Fly pulled the record out of a local bin, not because he knew anything about the Showboys or the song, but because he respected the label that put it out.
"I'd pick up almost anything on Profile or Jive and at least listen to [it]," Fly told Phil Hebblethwaite's The Stool Pigeon blog in 2012. In "Drag Rap," Fly liked what he heard. "When it got to the part where the 808 came in, I was like, 'Wowwwww!'"
Fly started putting it on his mixtapes and finding ways to "sneak it in" to his own productions like "Smokin' Onion." As Fly's profile rose and his tapes spread, so did the song. In Memphis, fans latched onto the lyrics' intricate gangster narrative, and the song became the soundtrack to the city's signature "gangsta walk," a line dance-meets-mosh pit mash-up that created a spiraling tangle of footwork and people that often turned violent – so much so that Triggerman was often banned at many venues and schools. (Today's "jooking" is a highly-evolved offshoot of that era's gangsta walk.) It wasn't long before Triggerman became synonymous with the budding Memphis sound, a legacy that's still alive and well today, from the unflinchingly hard edge and often overlooked storytelling abilities of the scene's most famous MCs (8Ball & MJG, Project Pat, Yo Gotti and, more recently, Young Dolph) to the consistently dark undertone churning through its beats. Both crunk and trap music can trace roots back to the Memphis sound, making Triggerman the seed to both.
In New Orleans, the song took a separate, parallel path. While it's unclear exactly how the city found the record (though it very well could have been through Spanish Fly tapes traveling downriver during Mardi Gras), once it did it never let go. Instead of responding to the subject matter, however, in the Big Easy the fans responded to the beat. MC T. Tucker and DJ Irv lifted the syncopated 808 pattern that comes in on Triggerman from 1:53 to 2:16 for their formative proto-bounce hit "Where Dey At?" in 1992. DJ Jimi hit the Billboard charts with his remixed version "Where They At?" some months later, and the rest was bounce history. While Memphis gangsta-walked and got buck to the Triggerman beat, New Orleans did its own signature dance: a pre-twerk twerk dubbed "the pussy pop." Put another way, where Memphis fought to the record, New Orleans partied. And the city hasn't stopped since. To this day, the Triggerman beat is an essential ingredient in New Orleans bounce, so much so that Drake recently used it on his bounce love letter and international hit "Nice For What."
Hall calls Triggerman bounce music's "roux," in reference to the secret blend of spices that pull a gumbo together and give it its distinct flavor. In her book God Save the Queen Diva!, Big Freedia puts it even more directly: "If it has the Triggerman beat, it's Bounce!"
In addition to being a formative record for so many Southern artists and producers, one of the keys to Triggerman's enduring legacy is its versatility. From the hard kick that drives it forward and the syncopated 808 pattern that carries the verses, to the snare roll after the commercial break and all of its various vocal accents ("Yes!," "Alright!"), Triggerman is a sprawling grab bag of interesting sounds that gives producers plenty to work with.
As Price puts it, "That record's about 34 fucking tracks." But the signature xylophone flourish that initially caught Spanish Fly's ear came about as a fluke.
"Triggerman originally was going to be hard kick and 808 all the way through," says Hall. "When we got to the studio, they had an 808. Me and Phil had known about the 808, but we hadn't worked with one yet, [so] when we got there we said, 'Yo, we want to work with this 808.'"
"The hard kick was from the [Oberheim] DMX," remembers Price. "The 808 we used for the rest of the percussion."
"We put the bass drum down, then the snare, the cowbell, the hi-hat," says Hall. "Then, we got to when we sort of had a pattern laid down and we were fucking around with the keyboard, that's when we came up with the [xylophone sound] and Brian Perkins started doing that over the top."
"We call that 'the bones,'" says Price.
There was only one problem: the 34-track beat they'd built kept crashing the LinnDrum. "The LinnDrum was the machine that stored everything," says Price, "[But] the LinnDrum could only hold so much data… and it was too much of a file for the LinnDrum to hold."
"All the music had to load into the LinnDrum, then you continue to add your sounds," says Hall. "We're sitting in the other room and we can hear it play while it's loading the sounds. All of a sudden, it crashed."
"Everything dropped out except for the 808, because the 808 was a separate machine," says Price.
"When we heard it, we were like, 'Oh shit!'" says Hall. "We ran into the room, that shit was so hot. That was the very first time we heard that 808 rocking like that, but we were smart enough to know, 'Shit, that sounds incredible.'"
As it turns out, it was the rhythm of the bones that was throwing everything off. According to Price, "the syncopation of it was what was bugging out the LinnDrum, because it wasn't a true 4/4, so you couldn't sync it up." There was only one thing to do: get Brian Perkins to get busy. "Back then, there wasn't nothing digital. Everything was analog and you [recorded] to two-inch reel. Punching in [meant] taking the reel off, slicing, cutting, taping, a whole fucking process that takes so much longer than just starting over and trying to catch it."
"Brian was so nice, he could do it," says Hall. "After we got all of the sound in, he went back and played [the bones] live by hand for six minutes with no mistakes. That's why to this day, when you hear a lot of people loop that, it doesn't loop right because there's a human feel to it."
That human feel felt right from jump. "Once we heard that, that's when we decided to crash the record with the hard kick first on the intro, hard kick on the descriptions of the two villains, and then 808 on the verse," Hall continues. "Then back to the hard kick, then back to the 808 on the verse, then into the commercial with the beatbox under it and the whistling, and the 'Where's the beef?' Then back to the hard kick on the narration, the set-up, the big climactic exit, and then into the 'Yes Hollis, Queens' and the 808 drop."
"When that 808 drops on that 'Yes Hollis, Queens' in Memphis," Hall continues, "We can't even get through the show."
We were like, "That's our record, but that shit ain't named 'Triggerman.'"
It took nearly three years after its original release before the Showboys finally got wind of "Drag Rap"'s reach.
"Back then, there was no Soundscan," says Hall. "If your record wasn't rocking in New York, you didn't think the shit was rocking anywhere."
"Chuck D was the first one to show us that our record had life," says Price. "He used to show us the back of magazines [from around the world], saying, 'Look, y'all, I'm number two over here in London. I'm number four here.' And we're like, 'What? Really?'"
"And Jam Master Jay's roadie, Smith, was traveling the world," says Hall. "He would come back to Hollis and [say], 'Yo, we was in New Orleans,' or, 'We were somewhere down south [and] they played y'all record and motherfuckers were going crazy.'" But it wasn't until an unexpected call came in to Hall's brother's barbershop sometime around 1989-1990 that the song's real impact began to sink in.
"[Hall's brother] calls Or and he said to him, 'Yo, I've got a surprise for you,'" says Price. The guys thought the brother wanted to give Hall some new rims for his new Saab, so they cruised by the shop to see what's up. "He told us, 'Yo, some promoter called y'all for a show.'"
"No, he said, 'A promoter called for a show, but he said he's looking for the guys that made 'Triggerman,'" says Hall. "The funny thing is, me and Phil said almost at the same time, 'On what record?' The last record we put out was '86 [and] somebody's calling up for a show in damn near '90. He said, 'Yo, they said 'Triggerman.' We said, 'Well, we ain't make no fucking record called 'Triggerman.'"
"Then he said, 'Well, listen to this.' He called the promoter's number and a voicemail came on and it had 'Drag Rap' on it. So we were like, 'That's our record, but that shit ain't named 'Triggerman.'"
Except, of course, in Memphis it was.
When the promoter called back, he had Memphis DJ and radio personality Stan Bell on the line. For years, Bell had been playing Triggerman at a set time everyday on air, so much so that Memphis listeners could set their watches to it, and the city was hungry for a Showboys show. The only trouble was that they'd had a hell of a time finding the group. With that obstacle cleared, there was only one thing left to do – give the people what they want.
The result was "A Triggerman Weekend" at Memphis nightclub Studio G. Despite being out of the game for years, Hall and Price quickly got their show together. They had some custom leather jackets made, and fed into the hype with a clever radio promotion leading up to the show that featured Hall and Price calling into the station in character as "Bugs Can Can" and "Phil D, Triggerman." Both gangsters were holed up in their respective hideouts plotting and scheming, and Triggerman Weekend would bring an ultimate onstage showdown.
The promoters flew the guys down to Memphis for the weekend, but even still, they weren't quite aware just how big the record was until they got off the plane.
"There's people waiting in the fucking airport with signs," says Hall. "We were sort of amazed."
The guys jumped in the back of the limos waiting outside and went on the hunt for some Olde English and some food. When they finally stop in a restaurant, the waitress took one look at their Yankees hats and custom eight-ball jackets and knows they're not local.
Hall remembers, "The waitress said to us, 'What are y'all doing down here?' 'Oh, we came to do a show.' 'Who are y'all?' 'Showboys.'"
"She said, 'What?' and she wailed off from the table. She called her daughter, and her daughter called her friends and probably within 15 minutes the whole restaurant's packed with kids."
Needless to say, the show was a hit, and it didn't take long before the Showboys were back for more. "Memphis became like our second home," says Hall. "We ended up doing about 24 shows in 10 days. We were doing the school during the day, doing the prom at night, then doing the club."
After seeing the record's impact in Memphis, the Showboys decided to take a road trip through the deep south and see where else Triggerman might be ringing off for themselves. First they went to Memphis, then to Houston, and then they rolled into New Orleans.
"It was the first time either one of us had been to New Orleans," Hall says. "Now imagine two guys that didn't think their record was doing shit a couple of months ago, and now we're riding into New Orleans and as we're coming across that bridge, DJ Wild Wayne was on the radio. We didn't know nobody in New Orleans, and ever single record as we're riding into New Orleans is Triggerman. Every record, back to back. Me and Trig was like, 'What the fuck is going on?'
"We decided, 'Fuck it, let's just go find the radio station,'" Hall continues. "As soon as we touched down in downtown, we just started asking around: 'Yo, where's the radio station?" We ended up going straight to the radio station and walking in and saying, 'Hi, we're the Showboys, Bugs and Triggerman.' [Wild Wayne] lost his mind and put us right on air."
It's a blessing to know that we have contributed to hip-hop on this level.
The business side of one of the most influential records in Southern rap history tells another story entirely.
"To this day, Profile is telling us that Triggerman sold 14,000 copies physically, in its entirety," says Hall. "It's not even the tip of the iceberg. One of the things that keeps me up at night is we don't know how much Triggerman sold. I really would like to know. Like Peaches, a record store in New Orleans, said, 'I probably did a half million of those by myself.'"
And then there are the samples. "We made the record in '86 [for a] $2,500 advance and keep the rest," says Hall. "T.I. and Lil Wayne used it for 'Ball,' which was a huge record, and our split on that should have been at least 50 [percent] and they hit us with, 'Oh, that money's recoup.' 30 years [later] and they pull out a recoup card."
With Cardi B's "Bickenhead" and Drake's "Nice For What" just two of the latest records to lean on elements of "Drag Rap" to heat up the charts, and plenty more to come certainly in the works, the guys remain optimistic that there might be some ultimate reconciliation between the song's enormous impact and its paltry balance sheet to date.
"Me and Phil are both very spiritual, and both very God-fearing men, so we know there's a bigger picture for us with this record, but these labels are just terrible," says Hall. "For years, I don't think it really bothered us. We never looked at it like we needed Triggerman to have a great life. But as you get older, accomplishments mean something. It means more to me now. We really put in our work, did something great."
"It's a blessing to know that we have contributed to hip-hop on this level," he continues. "[But] how many records did Triggerman really sell? How many people have really sampled Triggerman? Everybody knows about it, but we just don't know. Even just for our legacy, I think that would be something phenomenal to just fucking know."
Regardless of what Triggerman's sales numbers say, though, one thing's for sure – its cultural value is priceless.