An Analog Guy In A Digital World
Grammy Award-winning producer and engineer Russell Elevado discusses mixing for the likes of D'Angelo and Erykah Badu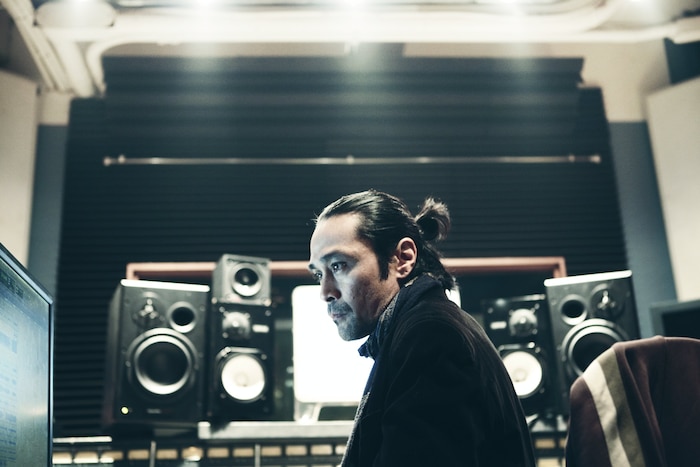 You might have to look at the small print to find Russell Elevado's name, but rest assured he's there, with contributions to some of the most innovative soul records of the '90s and '00s. As an engineer, producer and mixer for the likes of Alicia Keys, D'Angelo, the Roots, Common, Saul Williams and Erykah Badu, Elevado has won a reputation for recreating the classic sounds of the '60s and '70s in a modern setting.
In this excerpt from his Fireside Chat with Hanna Bächer on Red Bull Radio, Elevado shares stories from behind the boards of the tracks that played a formative role in his career.
Erykah Badu – "Green Eyes"
I'm especially proud of having worked on this because sonically I think it really stands up to a lot of things out there, and to me it's a timeless song – ten years later I think it still sounds really fresh and innovative and I hope in years to come people will think of it as a classic. It came out at a time when neo-soul was in it's sort of new beginnings. So it was really fresh and had a lot of players from D'Angelo's album Voodoo. We were all in the same studio, it was a big community of like-minded people going for the same thing. and it's sort of a song that goes into three parts. When they asked me to mix it, they wanted to go into different eras of music sonically. So the first part would be more like a 1940s sort of sound, and then the second part goes into more of an early '60s sort of jazz sound.
The last part is meant to be like your contemporary sound right now, which would be heavy bass or heavy drums. It took me about three and a half days to mix the song and then they wanted to add another small part, so I had to revisit the song and had to remix it again, which took another three days to mix. So in total, the song took almost seven days to complete and I think it's one of my best mix moments.
Some of the musicians involved were one of the best bass players in the world, Pino Palladino, and Questlove on drums. Roy Hargrove is doing the horn section and arrangement and we did it at Electric Lady Studios, which was Jimi Hendrix's studio, so we had the Jimi Hendrix spirit in all of us.
Roy Hargrove Presents The RH Factor – "I'll Stay"
After we did the D'Angelo album together, Voodoo, and after also all the Erykah sessions for Mama's Gun, [Roy] approached me and said, "Hey man, I'm trying to do this album. I want to go for that same sound but we're going to do it in a sort of a jazzy, funky way, and I want you to be involved." I was really excited about actually getting the opportunity to work with Roy because I was a huge fan, and I just think his horn arrangements are amazing. I think Roy is like the Miles Davis of our time and in this particular cut he brought in his friends: D'Angelo on lead vocals, Pino on the bass, Questlove on the drums and of course Roy's beautiful horn.
So Questlove and I have started to develop a sort of musical bond, because you know, once you give a drummer a great sound they are your friend for life. So once we started working together with D'Angelo and Erykah, he eventually contacted me to mix some stuff for the Roots, which I was really excited about because I've been a fan of the Roots since before I got involved with them. This song is very special, because it's one of their most known songs and sonically, when I hear it in clubs – and you know I hear it quite often, actually – it just sounds huge whatever speakers you listen to it on.
This is off of Like Water For Chocolate. Which is also another special album, because J Dilla was involved quite a bit with the album. And this was all during the same time, it was just after Voodoo. It was a time when everybody was all on the same page. We were all in different rooms all in the same studio at Electric Lady, and so we would just share music and it was just a really incredible time. This is another sort of two-part song, and it's very Afrobeat based. Again, it was the same lineup: Roy Hargrove, Pino Palladino, Questlove.
Saul Williams – "Om Nia Merican"
Rick Rubin contacted me out of the blue and asked me to do this project with this then-obscur, poet Saul Williams. He saw him performing his poetry at this little place in LA and approached him and said, "I would like to produce an album with you of your poetry done to music." And it was quite an intense album, because Saul is a true poet and can be a bit abstract.
This one features Chad Smith from the Red Hot Chili Peppers, with a sample from Rage Against the Machine. Zach de la Rocha would also stop by the sessions and quickly became friends with Saul Williams, so we had half of the Chili Peppers in the session with Rage Against the Machine and Saul, who is just a brilliant, brilliant lyricist. I don't get a chance to do that much rock, though it's been a huge influence on me, so this is one of the few times that I could really stretch out and do my rock thing with some really heavy guitars and heavy drums.
D'Angelo – "Untitled (How Does It Feel)"
The Voodoo album is I'd say probably one of the most important albums of my life. It really changed me as a person and of course really affected my career. We spent three years on that album at Electric Lady, with all the same players I have mentioned. I know this is his commercial hit but I'm really proud of the mix, because everywhere I hear it, it just sounds incredible. Voodoo is very special to me and I know it's very special to a lot of people.
A lot of my influences are embedded in this song, from Pink Floyd to Jimi Hendrix totThe Beatles to Stevie Wonder to Marvin Gaye to De La Soul. A lot of my influences are in this, whether it's obvious or abstract, from the backwards guitars to the different processing I did to the drums and the vocal layers that I spent hours on. Charlie Hunter was playing guitar and bass at the same time, which is quite a feat and D'Angelo's vocals are just unbelievable. The whole outro to me is like angels singing, and for me it's sort of the crux of the whole album and maybe a little insight into where he was going to progress after Voodoo.