The Weird One: "Hey Music Lover (The Glass Cut)"
The Philip Glass remix of an S'Express cover of Sly & the Family Stone that crashed the British charts
The Weird One is an irregular column on RBMA Daily in which a writer takes a look at an outlier in an artist's catalogue. Album, single, movie role: This column celebrates the moment when a musician gets weird.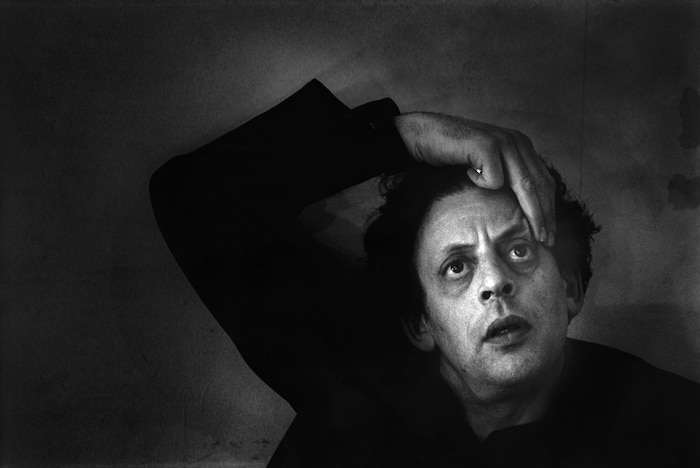 In 1988, the British electronic abstractionist Mark Moore of S'Express scored a No. 1 hit in the UK with "Theme From S'Express." It was the first single from the group's Original Soundtrack and it made Moore a mainstream star, bringing the energy and ecstasy of electronic music to the top of the charts. That same year, the American composer Philip Glass was coming off the premiere of his opera adaptation of The Making of the Representative for Planet 8, as well as a series of symphonic and chamber works. Moore was a house expert; Glass had already cemented his place in the canon of modern composition. On the surface, they were an unlikely pair. But the two still met, and went to a rave together. And as raves tended to do, it erased any differences.
The musical result of that night out was a remix of S'Express's third single, "Hey Music Lover," that's a surreal artifact of acid house. The original is garish and pulsating, an addictive ode to dancefloor release, whereas "The Glass Cut" came out as a wheezing, rhythmically lopsided deconstruction, with just enough wriggle remaining to stay plausibly funky. And if the way the remix came about was simple enough, the outcome was anything but, making for one of the strangest – and certainly the squelchiest – release in Glass's esteemed catalog.
Moore cut his teeth as a DJ at the likes of the Mud Club and Pyramid, but he left once S'Express took off. He had first heard Sly & the Family Stone as a teenager, and after signing to Capitol Records in the US an employee there played him a video of the band performing "Hey Music Lover." (The song appeared as a part of "Dance To The Medley" on their debut LP, Dance To The Music, but it was in a live setting that it really stomped.)
"It was just like, 'Oh my God. I want to do a cover of this,'" Moore says. "Which of course was a bit sacrilegious, because there's no way you can top the original. Impossible. But I just thought I'd put my own slant on it."
Moore had good reason to think the song's emotional spark would be especially welcome in the UK during the Second Summer of Love. Some of the original lyrics – "L-O-V-E all across the nation / What a G-double-O-D vibration" – seemed prescient. Beyond that, what Sly & the Family Stone represented symbolically was significant. Acid house had entered the bloodstream of British society both musically and culturally; the mixed-gender and multi-racial identity of Sly & the Family Stone, not to mention their psychedelic, kaleidoscopic energy, transmitted a sense of the similar social possibilities that exploded in 1960s America. "Everyone felt that we were going to change the world, we were going to conquer it all," says Moore.
He insisted on joining us. So we all went to the rave.
Moore produced his version of the track alongside Mark McGuire at Beethoven Street Studios in West London. (There was a pre-fame teaboy there named Seal, who Moore briefly considered putting on the record.) They utilized an Atari with Cubase, a Roland SH-101, Juno 106 and 303, which throbbed throughout the mix, and Moore slotted in a sample from one of his favorite films, The Stepford Wives. He also switched out a key lyric: Sly Stone shouting that "playing guitar is my bag" became the thoroughly 1988ified "playing records is my bag." The record label quickly pushed forward with releasing and promoting it as a single.
"Hey Music Lover" became enough of a hit that S'Express performed it on Top of the Pops, in a memorable appearance. There's a little toy piano used to mimic the synth playback, while Moore cavorts on stage brandishing an unplugged 303 like a guitar. "We were gonna make it as obvious as possible that it was miming," Moore says. "Top of the Pops kind of hated us."
Remixes were a foregone conclusion, but the contributors were not. When those conversations did come up, Moore's extensive personal connections proved serendipitous: "I had a journalist friend who interviewed Philip Glass and they became friendly. I was always a big Philip Glass fan.
"I plucked up the courage to ask him if he would do a remix," he remembers. "It was weird, because we started hanging out, and he was curious about what and how he thought my music related to his music.
"It was definitely influential even if it's not directly influential… [I said] 'Even if your tracks don't have beats per se, they are related to beats – silently, the rhythms.' And he was like, 'Ah, so interesting.' I told him all about the club scene, the rave scene, the electronic music scene, and he's like, 'I'd like to come to a rave with you.'"
According to Moore, "I remember driving up there. We're just like, 'We better tell him… Philip, we just wanna explain to you – we hope you don't get upset or anything – but we're going to take drugs. We're gonna take some ecstasy…' And he was going, 'Oh, you young people think you're the only people who've done that sort of thing.' And he insisted on joining us. So we all went to the rave."
Imagine: a then 52-year-old Philip Glass, titan of American composition, on a pill, waiting in line for the bathroom at a crowded rave while percussive house music throbs around him, strobe lights flash in his face and someone asks him where he's from and what he's on.
"We had a great time and he was fantastic," says Moore. "What I've got to say about Philip is he's a really cool dude. He could just go somewhere and hang out and just enjoy and be mellow… He just goes with the flow. He's brilliant."
Across the Atlantic, work on the remix began. One crucial contributor sitting next to Glass was Kurt Munkacsi, a former rock & roll musician from Queens who had taken a keen interest in recording technology, and ended up working with La Monte Young building soundsystems. The avant-garde was entering the acid house.
Through Young, Munkacsi had met everybody on the New York scene, eventually connecting with Glass. From the early days, they collaborated extensively, which might surprise listeners who know Glass's name but not Munkacsi's: "We were actually musical equals, or partners," says Munkacsi. "He wrote the music. Unfortunately, I have no talent for writing music. So he always wrote every note of the music, but I was responsible for the way it sounded."
Munkacsi was, in a way, more prepared to do the remix than Glass was. "I always kept listening to pop music and everything through my whole life," he says. "I always kind of straddled both worlds. I was very much in the avant-garde, but at the same time, I also stayed current with everything that was going on musically."
The production process of the remix was straightforward, with Glass creating the track based off of a distinct composition that incorporated elements of the original after-the-fact. "Philip wrote a three-minute piece of music, and it was a combination of percussion and notes without any sound assigned to them," says Munkacsi. "Some melody, some chords and stuff – typical musical lines playing typical Glass eighth-note rhythms, and a bassline and percussion parts. Again, there were no sounds assigned to any of the percussion parts – it was just notes representing rhythms."
Every note of that mix is written out on a piece of paper, and Philip probably has the score in his house.
They took the S'Express track, and cut it up using an Akai S900 and E-mu Emulator. "We created an electronic Mellotron using Mark Moore's mix," says Munkacsi. "We used the S'Express cut-up mix to play the rhythms that Philip had wrote. That's why if you listen to it, you'll hear 'Hey music lover, Hey music lover.' Those were the notes that Philip had written, and we just assigned that phrase/phrases to match the notes he had written. Then we took the actual tonalities he had written, the musical lines, and we put our typical Glass sounds into those, and put those on top of the rhythms that he had written that were being played, essentially, by Mark Moore's track."
Working with electronics wasn't necessarily Glass's strong suit. Suzanne Ciani once gave him synth lessons: "He was hopeless," she says. "Absolutely hopeless." Munkacsi concurs, saying "I hate to tell you this: Philip doesn't really know anything about electronics, quite frankly. It was myself and Michael Riesman who did all that stuff. We were the gearheads. Philip is anything but a gearhead. Philip has a piano and a piece of music paper and a pencil, basically."
It's that facility with a paper and pencil, though, and the reliance on traditional notation, that means there is one incredible relic from the recording of this remix: a fully-notated Philip Glass composition of an acid house track, however abstract. "Every note of that S'Express mix is written out on a piece of paper, and Philip probably has the score in his house," says Munkacsi. "Philip composed it. He didn't assign sounds to it, but he composed it."
Even someone as renowned as Glass still had to submit to requests for revisions, though. "I must admit, when we got the first version back, I actually said that we should try again," remembers Moore. "What was released was the second version. I think the first one was too S'Express and not enough Philip Glass."
There were additional remixes by Shep Pettibone, William Orbit and Daniel Miller – Moore handled the "G-OO-D Vibration Mix" himself. But Glass's remix stands out. "I've always looked on the Philip Glass mix as a high point," says Moore. "I think some people were a little bit disappointed 'cause they were expecting Philip to do a dance mix, and I'm like, 'I can't ask Philip Glass to do a banging techno mix.' You know what I mean? That's not what he does."
Glass never released a remix even remotely like this again. When he did take another plunge into the electronic deep end, releasing an orchestral version of Aphex Twin's "Icct Hedral," there was no similar shock of structure, no smiley face plastered across the sequences.
At the time, enlisting such a remixer – as separate from the scene as he was – didn't give Moore pause. It's only due to the passage of time that he's been able to look back on the decision, and recognize what a surprise it must have been, even if the final results were undeniably impactful. "I could see now it's not something that a top ten band did, really," he says. "But it made complete sense to me."