93 Ways to Hear Alison Moyet's Laugh
Marke B. on how the Yazoo singer's laugh traveled a million dancefloor miles over 36 years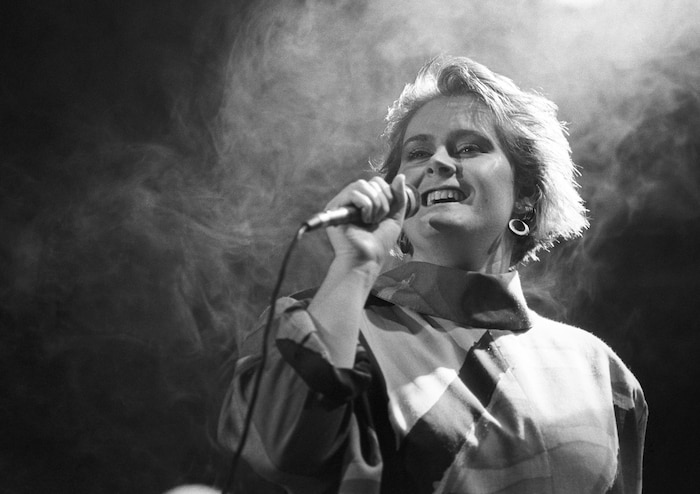 It's as ubiquitous in the world of vocal samples as James Brown's grunts, Aretha Franklin's "oohs" and NASA astronauts' orbital transmissions. It rivals anything plundered from Loleatta Holloway, Nina Simone or First Choice for its instant familiarity. Alison Moyet's indelible laugh at the beginning of Yazoo's 1982 track "Situation" has been repurposed by dozens of artists, including Derrick May, Snoop Dogg, Wagon Christ and Roni Size, and has appeared in everything from gospel house and gabber techno to reggaeton and '90s retro-exotica. It was the herald of a cross-over moment from post-disco to techno, dominated the rave era and even rode to the top of international pop charts with "Macarena" by Los Del Rio and Samantha Fox's "I Wanna Have Some Fun."
On late '80s and early '90s dancefloors, Moyet's laugh was inescapable: Mixes of Deee-Lite's "What Is Love," C+C Music Factory's "Gonna Make You Sweat," S'Express's "Theme From S'Express," Mr. Lee's "Pump That Body" and more dipped into its burbling fountain. "I feel like I've heard That Laugh – that liquid trickle of girlish delight – in hundreds of tracks," music critic Simon Reynolds wrote. "Its only rivals as a Stock Sample Cliche would be Malcolm McLaren's echo-chamber hillbilly whoop at the start of 'Buffalo Gals' and [British actor Geoffrey Sumners' 1958 sound effects record introduction] 'This is a journey into sound' as used by Coldcut, Marc Acardipane, and 15,000 other producers."
Whosampled currently lists 93 known instances of "Situation" being sampled. 84 of those samples are of Moyet's laugh, but even the tracks that sample the song minus the laugh, like the New York Band's 1996 merengue "Soltera," MC Crown's 1990 hip-house "Situation" or Heidi Montag's 2009 plastic pop "Body Language," probably wouldn't exist if "That Laugh" hadn't led the way for synth-pop to cross over to US dancefloors.
The laugh itself is a kind of sample: Moyet, reportedly startled by a reverb effect on her microphone during the recording session, broke out into a giggle. She and her Yazoo bandmate, Vince Clarke, and producers Daniel Miller and Eric Radcliffe decided to keep it. They placed it at the beginning, perhaps to set the tone. In the context of the song, which addresses a monstrous lover and whose chorus is "Move out, don't mess around / Move out, you bring me down," the laugh rings out as resilient, fierce and a little mocking – in other words: over it. That's that, she stamps like a haughty flamenco singer, grinding her former paramour into dust. It sounds a bit eerie, too, a spectral echo down a dark hallway, as the lyrics touch on a metaphysical dimension, with "I remember only for an hour / Move right through me can you feel the power / I don't know what's going on / It scares me but it won't be long."
Moyet's laugh is also a convivial gesture. Right away, it helps get your guard down, something most dance music aims for, with its aesthetic of release and connection, breaking down the wall between music and dancer. "Laughter in song can signal a number of things," critic Adam Bradley wrote in 2017's The Poetry of Pop, "joyful exuberance or the staging of such; off-the-cuff reaction or the staging of such; a response to something hysterical, or just plain hysterics." Bradley goes on to quote fellow critic Ben Ratliff's thoughts: "Laughing into tracks represents a momentary authority – one passed from the musician to the listener and shared by both. Laughter is a denial of artiness." In terms of famous laughs in pop, Moyet's sounds as playful and self-effacing as Janis Joplin's in "Mercedez Benz" or Joni Mitchell's in "Big Yellow Taxi," though definitely not as off the rails as Ozzy Osbourne's in "Crazy Train" or Vincent Price's in "Thriller."
From 1987 to 1994, the laugh was appropriated by proponents of every new dance genre: hip-house, new beat, jungle, downtempo and Eurodance.
As for Moyet's own biography, the laugh can be heard as champagne gurgling from a just-popped bottle – the 20-year-old self-described "nothing from Basildon," already a veteran of several punk bands, was about to become one of Britain's biggest pop stars, carrying on a successful 35-year career after Yazoo dissolved in 1983. "I had the arrogance of successful youth," she recalled in an interview, "in that anything we did would be good."
"Situation" was originally recorded by Moyet and Clarke on the fly as a B-side to "Only You," which unexpectedly zipped up the 1982 UK charts at a time when synthesizer-based music was starting to appeal to pop audiences as an alternative (or at least a complement) to guitar rock. Catchy synth-pop tunes like Gary Numan's "Cars," Human League's "Don't You Want Me" and "Just Can't Get Enough" by Clarke's first band Depeche Mode had been breakout hits, dispelling some of the avant-gardist atmosphere of electronic music, which froze out much of the general public. Yet it was still a man's domain: Until Moyet's bluesy, bravura voice injected Clarke's programming skills with soul, the only previous such pairing most could remember was Donna Summer and Giorgio Moroder's "I Feel Love," from five years earlier.
That electronic-soul crossover helped "Situation" become a huge underground dance club hit in the United States, especially on the pre-house, downtown New York scene. Yazoo's label, Mute, licensed "Situation" stateside to Sire Records, which brought in remixer Francois Kevorkian, then on a spectacular run of post-disco 12" versions, including Dinosaur L's "Go Bang" and D-Train's "You're The One For Me." Miller, Mute's founder, said in an interview, "The concept of remix at that time was totally alien to us. We thought, 'We don't want anybody fucking with our music.' We said, 'Try it out and we'll see if we like it.' Vince hated it... But for whatever reason we said, 'OK, put it out,' and of course it became massive."
Clarke said, "I didn't like it at all, because I felt it was getting away from what we'd originally recorded – which, it turns out, that's what remixes are. I didn't know that at the time." Kevorkian's mix became an emblem of the introduction of then mostly white, straight UK synth-pop artists to the racially and sexually mixed undergound of the United States, made possible through Moyet's genre-crossing voice. That connection helped usher in hundreds of US 12" dance versions of UK releases, which brought the sound across the Atlantic. Yazoo were booked to play at Paradise Garage. "That was when I started to appreciate that maybe dance music was a good thing to do in America," Clarke said.
With the laugh suddenly established as a signifier of synth-pop sounds being welcomed into American soul territories, it was instantly pinched, included in a frenetic 1982 bootleg DJ cut-up mix called "Big Apple Productions" by the mysterious Ser & Duff, who some believe was an early alias of New York City megamix masters the Latin Rascals. (Two years later, the B-side of Kevorkian's remix, "State Farm," showed up on what was possibly the first house megamix, "I Like Percussion" by Jack N. Madness on Z 28 Records, later released by Chicago's Trax label.)
European sounds weren't complete strangers to US dancefloors, however. Detroit in particular was building a whole black subculture around "progressive" music that mixed together Italo, electro, Hi-NRG, new wave and "urban funk" like Prince and other post-disco movements, pioneered by DJ brothers Greg and Ken Collier and radio DJ the Electrifying Mojo. Mojo often played Yazoo, along with Yellow Magic Orchestra, New Order and other synth-pop pioneers on his Midnight Funk Association, as did local new wave station WLBS.
The Moyet laugh may be just memorable enough to be recognizable, but simple enough to not completely hijack the song.
Mojo and the Collier brothers became inspirations and mentors to a cluster of young men eager to push progressive music into spacier, more computer-generated realms. These were the originators of Detroit techno, whose home studio experiments were more influenced by Mute than Motown. They included Derrick May, whose Rhythim is Rhythim alias released "Nude Photo" in 1987, considered a landmark techno record even before the word "techno" was coined. The track, which launched May's Transmat label, samples Moyet's laugh liberally – although in this context, it shoots out like an intergalactic-pornographic tease, a nostalgia-soaked object of affection and/or a derisive ex, poring over May's private files. In any case, "Nude Photo" pushed the Moyet sample into the next phase of dance music. Now, her infinitely interpretable chuckle became the lingua franca of a new global underground style – wholly electronic, sample-based and full of commercial possibilities.
From 1987 to 1994, the laugh was appropriated by proponents of every new dance genre: hip-house, new beat, jungle, downtempo and Eurodance, whether pop dance masterpieces by Deee-Lite, S'Express and C+C Music Factory or sample-collage house tracks like Westbam's "Disco Deutschland" and Simon Harris's "Bass (How Low Can You Go)." Ultramagnetic MCs sprinkled it over three separate remixes. Pop singer Samantha Fox's producers Full Force cashed in on its familiarity with American hit "I Wanna Have Some Fun" in 1988. (A year later, Fox returned the favor, and brought the laugh with her, by appearing on Full Force's "All I Wanna Do.") The giggle became overly persistent, its lack of context eventually so diluted that it become the signature sound for a strange microgenre of Dutch-produced, Mexican-themed jock jams – including Latin Party's "Quisiera Tequila" and Interstate 69's "Tequila."
The giggle got its greatest and most ridiculous exposure in 1996, however, when two guys from Miami known as the Bayside Boys remixed Spanish duo Los Del Rio's novelty dance hit "Macarena," adding in the laugh and some electronic elements to an English-language version, creating a global mega-hit that sat at the top of the Billboard pop charts for 16 weeks and was the second biggest-selling single of the '90s. The song celebrates a girl whose boyfriend joins the army, so she cheats on him with two of his friends and dreams of going shopping. Moyet's laugh could be directed either at that situation or with it, standing in for Magdalena, the song's carefree protagonist. Or Moyet could be laughing all the way to the bank with her "Macarena" sample-clearance royalties.
At that point, the laugh was so ubiquitous that Nate Patrin, music writer and author of forthcoming book Bring That Beat Back: How Sampling Built Hip-Hop, compares it to the Wilhelm Scream, the stock sound effect of a man screaming that had been used in almost 400 films and is so familiar to audiences that it barely registers. "Versatility and simplicity helps" samples remain popular through several decades, Patrin says. "The Moyet laugh may be just memorable enough to be recognizable, but simple enough to not completely hijack the song. With other vocal samples, sometimes they're just another component of an already popular source for beats. If you're going to sample Clyde Stubblefield's drums on a James Brown track, why not sample James Brown shouting while you're at it?"
Patrin goes on to delineate other types of popular vocal samples. "I like the punchline effect, which started around Buchanan and Goodman's 1956 single 'Flying Saucer' and used lines from popular rock songs to complete a news story. That's been used to great effect on the Beastie Boys' Paul's Boutique, 3 Feet High and Rising by De La Soul, KMD's Mr. Hood and Slum Village's 'I Don't Know.' Sometimes it's just a good way of adding a human voice that doesn't necessarily need to hold any verbal or linguistic meaning, like the 'Hey!' from Art of Noise's 'Close (To The Edit)' that's also shown up everywhere. And in some ways, vocal samples are more recognizably referential than instrumental samples (which were traditionally often kept obscure), so even if a listener might not immediately register the reference points of a previously unheard song, they might recognize a spoken phrase dropped in from a movie or TV show. Samples can even provide some weird world-building, which MF Doom and Madlib are pretty fond of – the latter pretty much integrated the spoken-word records of Melvin van Peebles into his Quasimoto records to carry on that same specific vibe in his own way."
Moyet's laugh may have traveled a million dancefloor miles over 36 years. Most recently, it was sampled in BrAque's 2015 moody techno collage "Dîners en Ville" and has been heard to float over sets from the likes of Black Madonna, Booka Shade and Honey Dijon, but Moyet still owns it. During the performance of "Situation" during Yazoo's 2008 reunion tour, she leans fully into it, sounding indeed a bit like Price in "Thriller," but also like a cosmic Mama Bear, welcoming the ecstatic audience to the party. "Somebody had better move out and move on," is the implication, "Because we're not going anywhere."