The Relationship Between Berlin Club Culture and Contemporary Art
Musician and visual artist Robert Lippok reflects on the historic connections and differences between two of the city's thriving scenes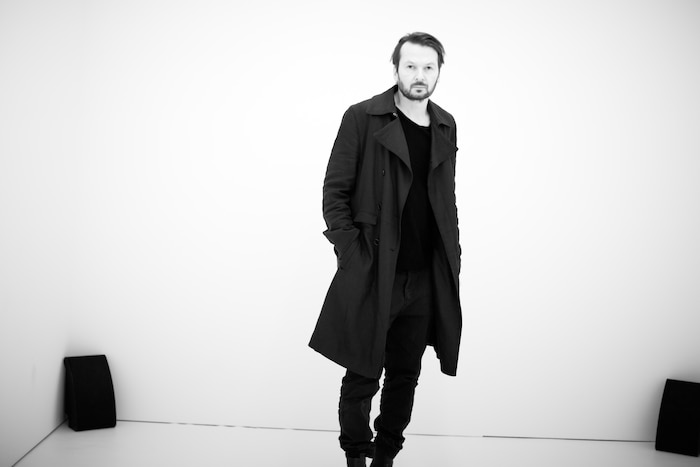 After the fall of the Berlin Wall in November 1989, the city became a magnetic attraction for many artists, musicians, DJs and designers. An abundance of uninhabited space that just seemed to be waiting to be occupied offered room for creative expression. Social outlaws, artists and musicians alike shared a common longing for rampant hedonism in a quasi-illicit, almost post-apocalyptic space. In the early '90s, clubs and galleries alike were shooting up like mushrooms, especially in Berlin's Mitte district. But how did the relationship between art and clubs really develop in the reunified city? What role did clubs play in art, and what role did art play in the development of clubs?
Robert Lippok is a musician, visual artist, stage designer and producer. He was born in 1966 in East Berlin and has been living there ever since. In the '80s, he started his music career together with his brother Ronald in the now-renowned band Ornament & Verbrechen, and in 1995 the two formed To Rococo Rot alongside Stefan Schneider, only announcing the group's dissolution in 2015. In May 2018, Lippok released a solo album, Applied Autonomy, on the Raster label, an imprint of Raster-Noton, whose founders Olaf Bender and Carsten Nicolai, AKA Alva Noto, have always maintained a strong connection to the world of fine art.
Not only has Lippok been an active participant in and influence on Berlin's electronic scene since the 1990s, he is also one of the few artists who have managed to naturally move between different cultural spaces such as clubs, international music festivals, theaters, museums and art galleries. In this interview, Lippok talks about the chaotic beginnings of the city's overlapping scenes, how DJs came to be revered, unusual artistic intersections and the question of why the art world needed the club scene more than the other way around.
Applied Autonomy by Robert Lippok
You were making music together with your brother as Ornament & Verbrechen during the 1980s, so you were already well connected in East Berlin's creative scene even before the fall of the Wall.
However, we were not allowed to run any clubs in the GDR. Therefore everything took place in the underground. Pretty much everything of that sort was illegal. I went to West Berlin for the first time in January 1989 – I had applied for a holiday visa, which had taken three years to be authorized – and found myself in Schöneberg. Since the mid-80s, I've been interested in Chicago house and acid. The UFO 2 in Großgörschenstraße was my very first techno experience. Turbine Rosenheim was the acid mecca at the time. That January was my entry into the club scene, so to speak. In November, the Wall came down and then the explosion came – as if the fall of the Wall had been made for techno, almost like a cause and effect. A short time later it started with Tresor, Elektro…
How would you describe the crowd in the clubs during that time? How mixed was it back then?
In the early days of punk there were still hippies and many others around. '89-'90, the scenes were already starting to separate, also because the clubs ran a more specific musical program. In Tresor there was only techno. This was different to the mid-'80s in West Berlin. At that time you could still hear breakbeats, new wave and hip-hop all in one place.
Galleries suddenly wanted to be clubs. The DJ was the new deconstruction artist.
Where else did you see connections between the art and club scenes at the time?
Connections already existed in the 1920s with the Surrealists. Martin Kippenberger took over the management of the SO36 in 1978. It has always been very interwoven. What was different with the club scene was its vitality. It became a mass phenomenon, like a Cambrian explosion. In a relatively short time, many genres were born, many clubs emerged, many temporary trends occurred. There were clubs that existed only for a few days or weeks at a time – this attracted many people from the art scene as well. Gordon Monahan started the Glowing Pickle in Brunnenstraße. The artists collective Botschaft e.V made Friseur, and they had a political approach early on. The Friseur was a club with attached bar. There was more house than techno. But there were also discussions and lectures on topics such as immigration. The connection between art and clubs was there pretty much right from the start.
What happened, however, was that the art was a little overrun. This momentum of the clubs was tremendous. Like the tiki bars in the 1950s, clubs were seen as a kind of exoticism for the art scene. They wanted to elevate themselves using the clubs. Galleries suddenly wanted to be clubs. The DJ was the new deconstruction artist. Suddenly, all artists wanted to be DJs themselves or, like Rainald Goetz, carry the suitcases of famous DJs. That was a phenomenon.
Was the DJ perceived as an artist?
As a second-rate artist. First of all, because the DJ used the music of other artists. Until Jeff Mills, who created new pieces out of old ones, so as the sampling started DJs became new cult figures. This turn to the club scene by cultural institutions was also a bit amusing. Later, disco balls and stroboscopes were exhibited in galleries, which were then sold for 20,000 marks.
How did it work without a mobile phone and internet? If a new club opens every day, then you'd have to know about it from somewhere.
I did not even have a telephone at the time. You just went out a lot and this way you knew what was going on. Then you went to Elektro and suddenly there was a hole in the wall and if you went through, you were suddenly in a Brazilian club. They served the first caipirinhas of the city and we sat there on banana boxes. Hedonism was very present among clubbers and artists. At some point, Monday became the most popular day to go out.
One was very free when it came to artistic work in public spaces. Mutoid Waste Company, a group of English artists, procured tanks from the surrounding area and used them to erect a triumphal arch on Potsdamer Platz. Nobody asked for permission. But nobody came who would have forbidden that, either. The years '89 to '91 were an exciting time due to that, because Berlin was virtually lawless. Especially since the GDR police did not know how to implement the laws from the West. They didn't know how to handle things. This made so much possible.
I was told that at the time in Berlin Mitte there was exactly one patrolman, who everyone knew, and he walked Linienstraße daily.
Until then, Berlin consisted of two very different systems, separated only by a fine line. When the line dissolved, of course, totally strange constructions arose.
They noticed that the hot shit happened in the clubs. It was a kind of blood transfer from one direction to the other.
Today a SWAT team is sent if you party too loud.
This also happens when you talk on the streets in the evening in Mitte. It happened to me just recently with [journalist] Ulrich Gutmair.
At that time, the Friseur worked well as a place in-between gallery and club. Pure clubs like the Bunker or Tresor also held performances. The Kunstwerke [KW] have been around since the mid-'90s – they founded the club Pogo. Then again, there were clubs where it was not clear if this was an art project or a club: Panasonic on Invalidenstraße by Mo Loschelder and Daniel Pflumm, for example. Mo's art professor had been Daniel Richter. He had come to Berlin early, started to DJ and together with Daniel and Klaus Kotai founded the label Elektro Music Department. The emblem of Panasonic was an artistic work by Daniel Pflumm. They had a good connection to the Finnish minimal scene with Mika Vainio, who in turn named his electronics project after the club Panasonic. That was closely interwoven.
How do you explain the great appeal of the club scene?
It was a kind of vampirism. At the time, there was not so much impetus from within the art scene itself. But they noticed that the hot shit happened in the clubs. It was a kind of blood transfer from one direction to the other. That was, however, a relatively one-sided process. Those phenomena were also happening in the theater world. Stagings such as those from Baktruppen from Norway put DJs on stage, who mixed the soundtrack to the play live. Also, aesthetically, theaters wanted to look like clubs. Everyone wanted to snuggle up there. The subsidized art scene had plunged into a scene that has never had any money, organized everything on their own and financed it privately. The same applies to the theater world. The Berlin club scene was never financially supported by the city, even though today it is Berlin's figurehead. As Jean Baudrillard once said, "No culture can stand its promotion." Maybe it was better that way.
The art world is hierarchical, while club culture is a rhizome with many inputs and paths of development
Although electronic music has evolved over time, and today also takes place in art contexts.
Correct. The artist Tobias Rehberger has exhibited lounge-like floors taken from clubs in galleries. As he continued with his aesthetic concepts, it also had repercussions on the club scene itself. He has created great spaces. The New York artist collective Art Club 2000 designed the WMF at Hackescher Markt. Clubs suddenly became the avant-garde spots for interior design. Carsten Nicolai and Ryoji Ikeda have further developed their digital, selective minimalism in sound and image and shaped it into their very own aesthetics. [Warren] Fischer and [Casey] Spooner [of Fischerspooner] had a studio in KW by the end of the '90s. There was kind of a turning point together with the late WMF when electroclash started [with artists like] Peaches, who came to Berlin and released her first album on Kitty-Yo. Suddenly, there was a new impulse that was more performative, that tackled feminist topics and helped the queer scene out of its niche. This had a radiant power beyond genre borders. Looking back, I think what Peaches did was revolutionary, from all angles. The way she performed, the artwork, the music, the technologies she used – those were all devices no one wanted to work with at the time because they were so shitty.
You are also active as a visual artist yourself. I would like to discuss one of your pieces: "Listening Post 1," which was exhibited in 2015 at the Lentos Art Museum in Linz. The structure itself is already reminiscent of a club dancefloor.
That was an actual dancefloor. A floor to dance on. I have been working a lot for dance theater since the beginning of the '90s. With "Listening Post 1" I wanted to create a situation in which visitors of the museum had the opportunity to walk around in this environment with four speakers and a subwoofer. It was a four-channel installation. People were encouraged – or at least not forbidden – to move to the music. And that's how it happened. The room became a kind of club in the daylight on the Danube River. I have always been fascinated by the space sound generates. This is of course only possible with volume, unless you work with very high frequencies. In Linz I tried to be as loud as possible. For the supervisors in the museum, that was of course an ordeal.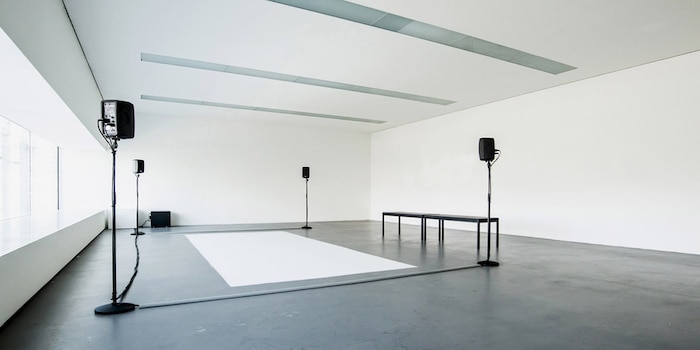 As someone who has insights into both the world of visual artists and the world of music, where do you see elementary differences?
First of all, it depends on how you want to shape your career. If you want to be internationally successful, as a musician you have to try to play at big festivals. In club culture, however, this has always been easier than in the art scene. The art world is hierarchical, while club culture is a rhizome with many inputs and paths of development. In the art world, if you do not know certain curators or have not exhibited in certain museums – you cannot do anything about it. Carsten Nicolai once said: "If I have a successful exhibition, six artists will not talk to me anymore. When I release a successful album, six musicians will want to work with me." This is simply worded, but shows the difference of the scenes very clearly. The music is always about collaboration. You always want to know what and how the other person does something. You want to work together. You invite musicians to collaborate. It is much more connecting.