Key Tracks: George Kranz – "Din Daa Daa"
Jason King on how a Berlin drummer created an oddball 1980s record that became a surprise global hit, indispensable voguing anthem and perpetual sample source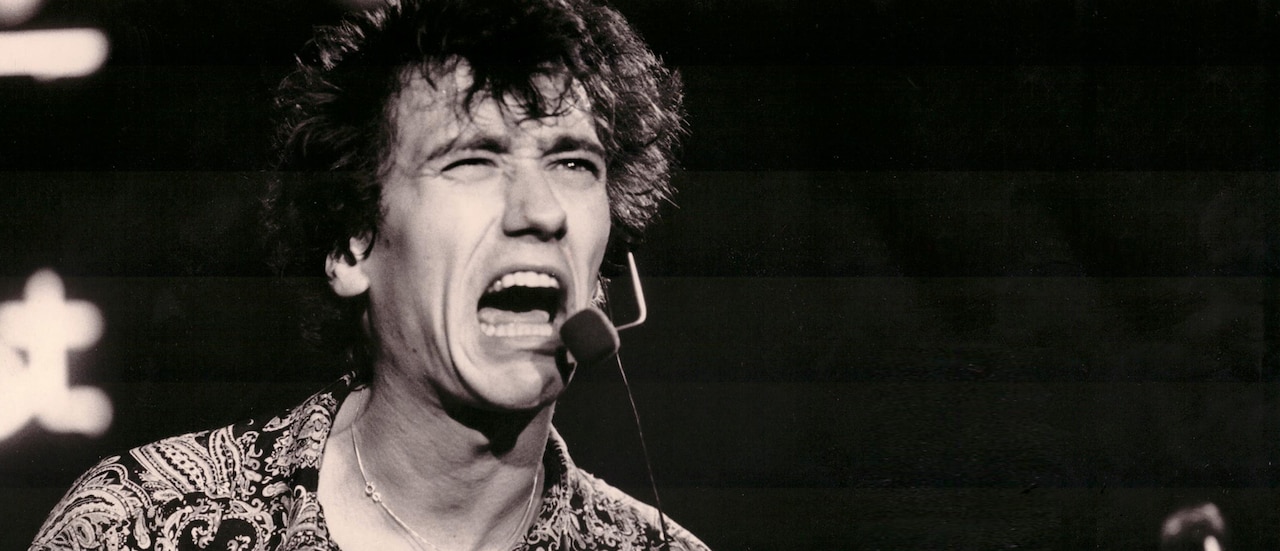 Flashback to December 1984, when I was a pre-teen in Western Canada, on a determined mission to have my mother take me to hip-hop breakdance film Breakin' 2: Electric Boogaloo. A Golan-Globus produced sequel to their popular film Breakin', released earlier that same year, Breakin' 2 follows street dance pop and lockers Ozone, Turbo and Kelly as they dance to raise money to save their local recreation center from a heartless real estate developer who wants to raze it and build a profitable shopping mall. Cartoonish and day-glo, Breakin' 2 was never going to be Academy Award fodder. But it boasted a toe-tapping soundtrack, full of cheerful electro-funk jams like Firefox's "Radiotron" and Ollie & Jerry's winning "Electric Boogaloo." Breakin' 2 was also most likely the first feature film to license Berlin drummer George Kranz's "Din Daa Daa": In the climactic sequence, multicultural dancers bust a move to the breakers' anthem in front of the recreation center, soulfully bringing the community together and raising the requisite funds to put a crimp in the developer's nefarious plans.
A funky, minimalist mix of onomatopoeic beatboxing, shimmering synth programming, '80s-boogie bass and hard-swing drums, "Din Daa Daa" sounds like nothing else before it, and nothing else since. Its oddball singularity is no small feat, given that the 1980s served up head-scratching European pop kitsch like no other decade. (Examples abound, like "Oh Yeah" by Swiss group Yello, "Rock Me Amadeus" by Austria's Falco and "Tarzan Boy" by Italian band Baltimora.) "Din Daa Daa" made its official debut in the summer of 1983, more than a year prior to the official release of Breakin' 2. First distributed on music publisher Peter Schimmelpfennig's independent Pool Records, a small West Berlin-based label where Kranz was making side cash producing for hire, the track was originally titled "Trommeltanz," a German compound that roughly translates as "drum dance." Making "Din Daa Daa" wasn't expensive: In an interview, Kranz told me that the recording cost 5,000 Deutsche Marks, then the equivalent of approximately $1,800 USD. Nobody, including Kranz, expected it to be a runaway hit.
But France's Disques Chris' Music purchased 25,000 singles, and reportedly sold out its stock in less than a week. "Din Daa Daa" rose to #3 on the French club charts and it went to #28 on the German charts, where it spent twelve weeks from February to May 1984. Island Records subsidiary 4th and Broadway picked up the single for international distribution, and while "Din Daa Daa" never became a crossover pop hit in the US, it did reach #61 on the Hot Black Singles chart (as it was then called), and spent two weeks at #1 on the Billboard Hot Dance Club Play chart (where it knocked off Danish group Laid Back's similarly kooky "White Horse"). Intrepid DJs like Afrika Bambaataa and Ron Hardy reportedly incorporated "Din Daa Daa" into their eclectic sets, helping popularize the song in hip underground nightlife scenes. "Din Daa Daa" became the fifth most successful US dance club single of 1984, topped only by "White Horse," Prince's "When Doves Cry," Sheila E.'s "The Glamorous Life" and the Pointer Sisters' "I Need You/Automatic/Jump."
"Din Daa Daa" has become pop music as a kind of recombinant, mutant kitsch.
Limber-jointed B-boys became early adopters of the street dance tune, and "Din Daa Daa" soon emerged as an indispensable voguing anthem in black and Latino gay and trans ballroom circles, during roughly the same era that's the focus of Ryan Murphy's US television series Pose. Three and a half decades later, "Din Daa Daa" remains a staple in LGBTQ black and brown diaspora club music, alongside beloved gems as far ranging as MFSB's "Love Is The Message," Cheryl Lynn's "Got to Be Real" and Masters at Work's "The Ha Dance." "Din Daa Daa" has been covered, sampled and interpolated numerous times over the decades, by artists like Kirk Franklin's The Nu Nation Project, Lil' Kim, Ying Yang Twins featuring Pitbull and Flo Rida. Search YouTube and you'll find no shortage of audacious breakdancers and bombastic hip-hop crews from New York to Tokyo rocking to Kranz's Berlin classic. Given its many guises and forms, and its shapeshifting perpetuity, "Din Daa Daa" has become pop music as a kind of recombinant, mutant kitsch.
Born in Berlin in December 1956, George Kranz was an early fan of acts like Elvis, and genres like country music; he came by those transcontinental influences by way of American Forces Network radio. Prior to his solo success, Kranz was consuming a musical diet that included the Police, Peter Gabriel, Michael Jackson, Rupert Hine, Talking Heads and Earth, Wind & Fire – he even recruited EWF's Phenix Horns to cameo on his 1983 solo debut album My Rhythm. I interviewed Kranz in 2012, and asked him about his immediate inspiration for "Din Daa Daa"'s baffling lyrics. He mentioned his mid-'70s affinity for French progressive rock band Magma, a band that "invented their own language. Nobody would understand a word, but it all meant something."
By his early to mid-20s, Kranz was working as a session drummer in Berlin, playing with various bands including new wave act Zeitgeist, and touring with children's troupe Grips Theater. Kranz talked about traveling to India to briefly study tabla and practice taal vocalizations – the rhythmic, percussive use of the voice in tandem with drummed tabla rhythms.
During live shows, Kranz performed a drum solo; as other instruments fell out, he'd launch into an idiosyncratic taal-inspired Sprechstimme, what he then called the "drum dance." Like a mix of blurted-out "beatboxing" and aggressive jazz scat, Kranz's rhythmic vocalizing would gain in intensity, and he'd furiously engage in a call and response with his own percussive rhythms performed on the drums. That antiphonal back and forth between drums and voice would ultimately become "Din Daa Daa"'s central feature: Kranz's percussive vocalizing uncannily transforms the human body into a kind of talking drum.
Kranz's "drum dance" perked up ears: One early evening in 1983, Tangerine Dream's Christophe Franke saw Kranz performing his solo and asked him backstage to professionally record it. The two men made their way to Franke's Polygon Studios in Berlin, home to classic Tangerine Dream recordings. Kranz, who is credited as the track's sole writer and as co-producer along with Franke, recorded the heavy backbeat in a stone-walled live room; the drum sound was so voluminous, he recalls, that he had to physically tape down earphones to his head so they would not fall off. After analog tape looping the musical phrase "Din Daa Daa," Franke and Kranz added ad-libs, including Kranz's bizarre tongue-roll; the blurted baritone syllable "Ba," deployed as if it were a sample; and Kranz's now-iconic "eins, zwei, drei" count-off. Likely playing a Prophet 5 synthesizer, Franke recorded the track's glossy synth stabs, as well as the banshee-like vocal harmonies that emerge later in the track. After an early failed attempt at tracking synth bass, Franke and Kranz brought in a live bassist to perform the blues boogie line, giving the groove a palpable human resonance. (It sounds musically similar to the bassline from Norman Gimbel and Charles Fox's disco-era Wonder Woman TV theme song).
Campy to the hilt, "Din Daa Daa" could have easily been written off as kitsch. But the song endures, in no small part because of its dramatic arrangement. On the original 1983 track, Kranz's rhythmic exhortations grow increasingly complex, forceful and energetic, and the full rhythm track doesn't arrive until just about halfway into the four-minute song, almost like an early precursor to the suspenseful post-chorus drop in 21st century main room house and EDM. "Din Daa Daa"'s high-energy drama makes plenty of sense given that what we hear on the 1983 record originally started as a crowd-pleasing live musical solo interlude in German theater. Kranz's lifelong commitment to theatrical performance – he claims to still be active in the Hansa District's Grips Theater – suggests that it's important to contextualize "Din Daa Daa" in the rich history of Berlin's avant-garde, expressive performance art and live theater scenes.
Today, if you were trying to do a song like "Din Daa Daa," you wouldn't get it out."
Kranz sources Din Daa's musical eccentricity to the aesthetic freedom that infused the Berlin new wave scenes of the early 1980s. In our interview, he referred to peer artists like Nena and Falco in the following way: "We were all the same generation… We had the same thoughts more or less about politics and lifestyle and having fun and doing music and producing music, and we had the same producers. It was really happening at the time: There were big festivals with only German bands that had never been there before; previously you always had a British or American headliner. I landed right in the middle of all of that."
"Din Daa Daa" reminds us of the extent to which Berlin in 1983 was ripe with musical and sonic possibilities. But the recording is also part of the continuing story of how German electronic music – from the mid-'70s Giorgio Moroder/Donna Summer innovations to the work of Frank Farian's Boney M, Kraftwerk, Snap! and diverse others – became part of the enduring soundtrack of black, brown and queer dancefloor exuberance. In particular, "Din Daa Daa" is still widely known as a classic "battle" record in ballroom and voguing scenes (two or more contestants compete for scores and prizes, each trying to out-dance or symbolically "slay" the other through improvised choreography.) "Din Daa Daa"'s musicality lends itself to competitive choreography: its percussive attacks and accents, as well as its flamboyant synth stabs, enable dancers the freedom to fabulously strike poses or aggressively drop to the floor. In 1999, gender-bending drag recording artist Kevin Aviance landed a Billboard dance club hit with his cover of "Din Daa Daa," renewing the song's relevance to successive generations of non-normative nightlife denizens. Even today, Kranz's underground club classic remains an exuberantly funky, ultra-theatrical ode to fierceness and over-the-top drama.
Though it got its start in early 1980s Berlin, "Din Daa Daa" became a ubiquitous, planetary dance classic, and you don't have to go far to hear the track's influence on generations of soulful house heads and Latin freestylers (including studio projects like Masters at Work's the Bucketheads and Nuyorican Soul), British ravers and trance fans, Detroit techno and acid house fiends, hip-hop and reggaeton heads and many others. George Kranz landed no significant international chart hits after "Din Daa Daa," but he too has endured, continuing to live in Berlin and actively compose music, even collaborating on stage with the Roots, who famously covered his tune as a hidden track on 2004's The Tipping Point.
I asked Kranz why "Din Daa Daa" seems to perpetually renew itself: "New generations bring a new feeling to it every time. Almost every seven years it seems, there's a new buzz about it, something very original about it and that's what people feel. It's not made up, it's not plastic. There was no producer telling me in the studio, 'You can't do that.' Today, if you were trying to do a song like 'Din Daa Daa,' you wouldn't get it out." Exploring freedom from stylistic rules at a historically fraught time in which Berlin was divided and highly policed, Kranz's transcendent record remains a testament to pop at its most liberated.