The Big Ass Amazingly Awesome Homosexual Sheep
How a giant sheep-shaped soundsystem queered Burning Man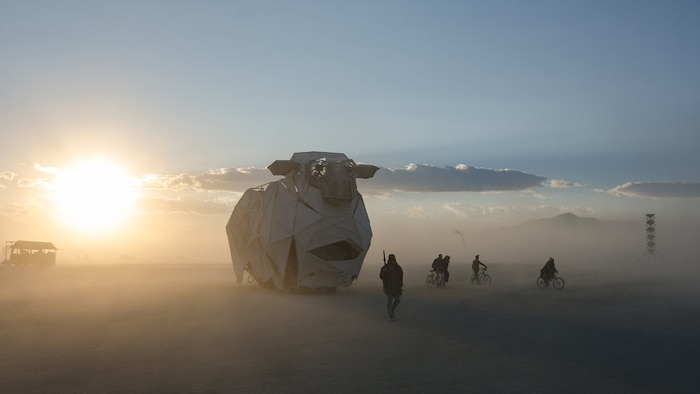 Burning Man attendees can expect to encounter all manner of strange phenomena, from a titanic glowing pyramid and an imperious temple made of tinder sticks to fire-snorting robot dinosaurs, a mobile neon Mayan warrior sculpture and a real-life Thunderdome. The annual, weeklong cultural festival, held on a stretch of northwestern Nevada's Black Rock Desert nicknamed "the playa," has epitomized a certain hallucinogenic, communal, radical DIY spirit since it began as a gathering of friends on San Francisco's Ocean Beach in 1986. And as Burning Man has ballooned in size and popularity over the years – 70,000 currently make the trek every Labor Day weekend – visitors can also now expect a Black Rock City Airport for charter planes, big name DJs, luxury helicopter transport and tech company board-member bonding retreats.
This evolution doesn't mean Burning Man's inventive, neo-hippie charm has completely evaporated. Gamely trundling through the alkali-dusted phantasmagoria since 2013 is BAAAHS, the Big Ass Amazingly Awesome Homosexual Sheep. The mobile soundsystem is a giant sheep on wheels, with laser beams shooting from its eyes and mirrorball testicles. People enter it through the rear: climbing up a ladder piercing the sheep's anus and slipping down a hot-pink slide to the sheep's interior, which contains winding intestines, several fun-fur-covered organs and a glittering heart. On top of the sheep – which is actually a re-designed school bus covered in geodesic, illuminating mesh panels – is a platform from which DJs broadcast a mix of queer dancefloor classics, campy gay rarities, uplifting house and deeper techno tracks.
BAAAHS is part mutant vehicle, part penetrable sculpture, part sociopolitical statement and part queer disco.
"BAAAHS is part mutant vehicle, part penetrable sculpture, part sociopolitical statement and part queer disco," says Aaron Wessels, one of the original 13 "shepherds" that built the art car/mobile soundystem, the biggest queer-centric one Burning Man has ever seen. "We wanted to drive an awareness of our queer presence on the playa, as well as create more community around queer art."
Every year on the playa, dozens of colorful art cars roam to and from hundreds of theme camps and soundsystems. The process to get the plans for these officially accepted by the Burning Man organization can require a certain finesse with applications and a creative philosphical intent. BAAAHS' original shepherds were an experienced crew, drawn from established gay San Francisco-based Burning Man camps like Comfort and Joy as well as underground queer nightlife, including promoters and DJs from the Honey Soundsystem and Hard French parties. Their original application focused on the schematic elements of the project: A mobile soundsystem, a BAAAHS base station that included a two-story barn that would anchor the group's camp, picket fences, a meadow and an interactive "heavy petting" zoo featuring animal cut-outs (and probably some fur-suited humans, too).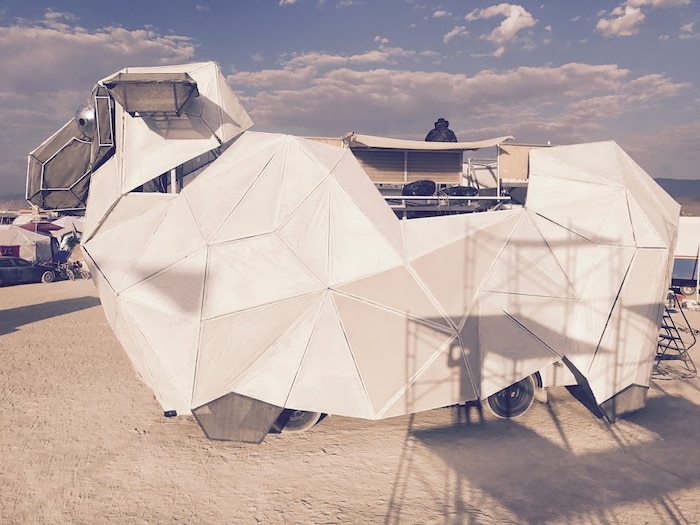 But there was a canny, wolfish intent beneath the ovine whimsy: an effort to re-establish queer connections in a Burning Man experience that seemed to be tilting more towards conformity. "There was obviously a gay presence on the playa," says Xian Williams, the originator of the BAAAHS idea. "But it had become concentrated into a very specific gayborhood," a small oasis carved out of a site that stretched seven square miles. "We wanted to find a way to break out of that and offer people something outside this experience that seemed to be shrinking." Jerrod Littlejohn, who designed the sheep's outer cladding, puts it more succinctly: "I wanted to go out exploring, but I didn't want to have to hike five miles back to camp to find cute boys. With BAAAHS, we could bring the disco with us, and act as a beacon for other queer people and their friends. People loved following the sheep."
BAAAHS's debut came at a turning point in Burning Man's musical history. In the 1990s, Burning Man's population embraced the slippery electronica genre, in particular the multicultural exotica being released by labels like OM and Six Degrees. It also helped inspire a resurgence of interest in brass-and-accordion-driven Balkan and other Old World styles conducive to signature Burning Man activities like erotic belly-dancing and wild fire-twirling. But music almost always took a back seat in the experience. Burning Man is extremely sensitive to being labeled as a rave, despite its hedonistic carnival atmosphere. ("Burning Man is not a rave and has not had a rave camp since 1996," the official Burning Man event FAQs state. "While our ranks include many individuals from the electronic music community, they are not the majority. Burning Man is an experiment in temporary community, and one that is radically all-inclusive. Yes, this includes ravers," it adds begrudgingly.)
This began to change in the late 2000s, when DJs like Bassnectar and An-Ten-Nae popularized an aggressive form of dubstep, which spread like a dust devil throughout the camps and, by 2012, had become, to many, a tiresome cliché. "It was just everywhere. I can't even begin to tell you. It's what Burning Man was known for then," Mark O'Brien, one of BAAAHS' original DJs, said. The connection with a global musical movement like dubstep, however, propelled Burning Man's visibility, and piqued the interest of techno record labels and festival circuit DJs who were looking for some of the playa's countercultural cachet. As dubstep's popularity plummeted, huge camps like Robot Heart, Mayan Warrior and Pink Mammoth foregrounded a more underground sound. High-profile DJs like Maceo Plex, Rebolledo, Lee Burridge, Thugfucker and the Visionquest and Crosstown Rebels label rosters were headlining soundsystems along with Diplo and Skrillex. The trippy, minimal "Playa tech" genre emerged, with its own classics like the Pachanga Boys' "Time." Burning Man, despite its best efforts, was turning into a music festival.
I told the others, "Hey, I've got this really stupid idea to build a giant gay sheep on wheels." And they were like, "That's a terrible idea. We have to do it."
BAAAHS was a part of this, representing a worldwide underground queer dance music renaissance that was sparked in the late 2000s by San Francisco's Honey Soundsystem, LA's A Club Called Rhonda and London's Horse Meat Disco. The soundsystem showcased DJs and producers from the movement, giving them exposure to Burning Man's huge audience while ensuring they were among their community. It also tapped into a deep nostalgia for gay dancefloors' flamboyant swagger, unleashing diva voices like Sylvester and Grace Jones into the starry desert nights. "From the very beginning, BAAAHS was all about queer people building something together, and it was very much a part of what was going on elsewhere on the global scene," shepherd John Cordaro says.
The inspiration for BAAAHS came when Williams was attending the festival two years earlier. "I was sitting in a camp when the wind started gusting, and it blew a little cut-out cardboard sheep past me. I grabbed it, and on the one side it said 'OMG' and on the other side it said 'In the ass yeah!' I had considered doing a big project for a while, and thought, 'Well, this might work.' Then I told the others, 'Hey, I've got this really stupid idea to build a giant gay sheep on wheels.' And they were like, 'That's a terrible idea. We have to do it.'"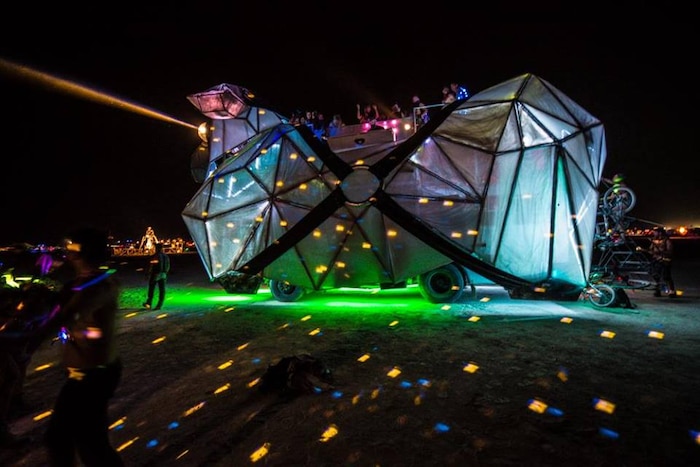 As luck would have it, Williams was walking to his San Francisco home in January of 2013 and spotted an old school bus parked on Treat Street. "I realized how perfect it seemed, and slipped a note under the door. A short time later, I got a call. The bus was owned by an touring indie band, and they were willing to sell. It was totally outfitted for a music act. There was an upright piano bolted inside. So the bus itself came with its own interesting history."
A Kickstarter campaign was launched, and Wessels took on the task of corralling a family of BAAAHS volunteers. The shepherds soon included Williams' husband Joey Matiz, Honey Soundsystem founder Jacob Sperber, Gays Hate Techno collective founder Matt Fisher, Polyglamorous party DJs and promoters O'Brien, Cordaro and John Major, designer Tally Duke Floyd and others. Sperber painted the bus white, and it was rechristened the "Wool Bus."
But despite everyone's enthusiasm, when it came to actually building the sheep itself, the shepherds realized they faced a deficit of manual skills like welding, construction and auto mechanics. Littlejohn, a production designer who was the probably the most experienced in the area, realized another potential for the project. "It transformed into a skills-share type of thing, where we could teach each other things that many queer people don't often get exposure to," he said. "We were having these work sessions where everyone was wearing daisy dukes and learning how to operate heavy machinery." The majority of the sheep's skin, head and platform, which are sent separately from the bus itself to the playa for reconstruction, were built at NIMBY, a maker space in Oakland that hosts a variety of other Burning Man projects. "It was great to be surrounded by supportive people," O'Brien said of NIMBY. "If the sheep head became too heavy to lift, we'd borrow people from other projects. It helped extend the communal vibe of Burning Man into the 'default world.'"
You don't have to have a stereotypically good body or identify with any particular gender or community to get on BAAAHS.
The soundsystem itself, originally installed by Major and currently looked over by newer recruit Kelly Naughton, consists of several stacks of QSC subs, mids and horns controlled by a PA2 app run via the sheep's custom WiFi hotspot, which can be expanded when the sheep is parked to form a dancefloor. But operating a soundsystem in a hellishly hot, windstorm-prone, lysergic-soaked environment is a challenge. "We've had people dancing on the CDJs, popping champagne over the mixer, everything you can imagine," O'Brien said. "It's just part of the BAAAHS experience, like when someone told us, 'I just took a hit of acid, so I probably shouldn't operate this chainsaw.' Which was a very good call."
Last year, BAAAHS expanded into a village, encompassing a collection of camps including Sheep Thrills and Steppenhoof Theatre (offering square dance lessons). This year will include three other mutant vehicles: This Lil Piggy (a bacon-themed bakery), VooDooRabbit, from BAAAHS' New York City contingent, and the 16-foot, LED-encased Pyramid Scheme. The BAAAHS experience continues in the default world as well. The crew throws renegade raves throughout San Francisco on Pearl, a stripped-down version of the sheep. The sheep has been featured at Palm Springs Pride. And, dressed in a leather harness and cap, BAAAHS anchored a dance area at the world's largest fetish festival, the Folsom Street Fair.
To the BAAAHS crew, there's a symbolic dimension to everything about the sheep, right down to its dazzling testicles. "The idea for the disco ball nuts came from original shepherd Todd Cooper, and they eventually came to signify all our fallen brothers and sisters who died during the AIDS epidemic," Wessels says. "Each time we bolt the disco balls into place on the playa, a sea of mirrored lights reminds us of the souls of our fallen family, who if they could be here with us, would be. The sacred nature of music and discos is so significant, in this project and in so many aspects of queer life, that we knew this had to be represented in a beautiful and thoughtful way, as a memorial and also a glimmer of hope for what's to come."
To others, BAAAHS represents a return to the radical inclusivity and communal possibility of the playa, merely by being one of the first art cars that consistently welcomes strangers aboard. "One of our core tenets was building something that everyone could be a part of," Williams says. "There was this feeling before that art cars were a guy thing that only let pretty women on." O'Brien adds, "People have told us they were so grateful that this was one of the first art car that let them on. You don't have to have a stereotypically good body or identify with any particular gender or community to get on BAAAHS. All you have to do is slide through a sheep's butt."