Fuzzy Jones: The Original Dubplate Intro Man
Jesse Serwer uncovers the story of the Jamaican phenomenon whose dubplate diatribes could kill any soundsystem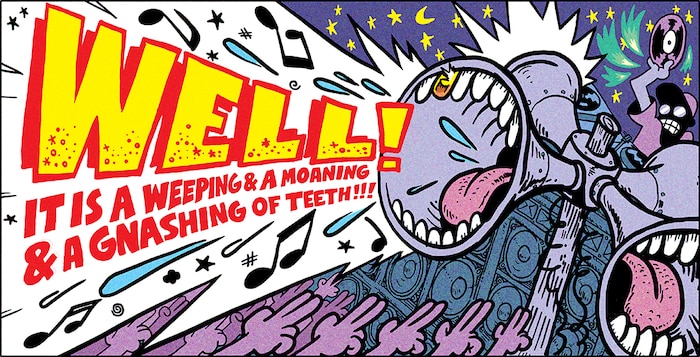 "Mercy," Kanye West's GOOD Music single featuring Pusha T, 2 Chainz and Big Sean, was a bold introduction to the rapper/producer's musical family circa 2012. Yet amongst all of the starpower on that single, which topped the Billboard rap chart for nine weeks before appearing on the compilation album Cruel Summer, it was the cryptic, Jamaican-accented invocation of Matthew 13:42 at the start of the track that captured many listeners' imagination:

Well! It is a weeping and a moaning and a gnashing of teeth! It is a weeping and a moaning and a gnashing of teeth! Caw when time it comes to my sound, which is the champion sound… Believe!
The sample on "Mercy" was widely, and accurately, credited to "Dust A Sound Boy," an early '90s dancehall hit by Jamaican vocalist Super Beagle. But the piercing voice captured on the track isn't the smooth-toned Super Beagle. The committee of producers behind "Mercy" – which in addition to Kanye consisted of Mike Dean, the Twilite Tone, Mike Will Made-It, Hudson Mohawke and Lifted – actually sampled from two different song intros, both recorded by one Fuzzy Jones. ("Believe!," the "Mercy" intro's final emphatic line, came from Reggie Stepper's "Cu-Oonuh," another song recorded on producer Winston Riley's Stalag rhythm, the same exact instrumental bed as "Dust A Sound Boy.")
From the mid-1980s until his death in a 1998 auto accident, Fuzzy Jones carved a unique space for himself within Jamaican music as a song intro specialist, setting up soundsystem dubplates and hardcore dancehall cuts with esoteric rants like the ones that start "Dust A Sound Boy" and "Cu-Oonuh." Good music can be made great, and great music sublime, by role players who surround a featured performance with just the right spice and seasoning: Flavor Flav's ad-libs on early Public Enemy albums spring to mind, as do Diddy's pep talks to the Notorious B.I.G. Fuzzy Jones's manic dancehall monologues, typically ten to 20 seconds in length, provided a similar service for any singer or deejay fortunate enough to have him open one of their tracks.
"Nobody could come up with an intro for a song like Fuzzy Jones," says music consultant and LargeUp contributing editor Sherman Escoffery, a cousin of Winston Riley's who worked for the producer at Techniques Records during the days of "Dust A Sound Boy" and "Cu-Oonuh." "Before Fuzzy, you had people doing intros to songs. But Fuzzy Jones took it to a whole different level. He brought a whole new, unique sound."
It sounded like he was predicting imminent destruction to anyone who was challenging the sound that he was backing.
What might sound to the uninitiated like the untethered ramblings of a madman actually has deep roots in Jamaica's soundsystem culture and, more specifically, the soundclash. A soundclash is war, an existential battle discussed in terms of life and death. Successful sounds don't defeat rivals in a clash – they kill them. Patrons rarely remark on the winner at the moment of victory. Instead, they are more likely to declare of the loser: Sound dead. Certain competitors have taken this metaphor further, using coffins as props, and it's not unusual to pepper soundclash presentations with traditional funeral dirges. Fuzzy Jones's intros were perhaps the ultimate expression of this high-stakes drama: Dire prophecies which on one level offered commentary relevant to a soundclash, and on another could be heard as warnings of impending, real-life doom.
"The way he spoke was almost like a town crier or a seer," Escoffery says, noting Jones' soaring pitch. "It sounded like he was predicting imminent destruction to anyone who was challenging the sound that he was backing."
Jones's canvas was the dubplate. These custom recordings, in which reggae and dancehall artists recite lyrics praising a particular soundsystem, typically to the tune of one of their popular singles, are the currency of the soundclash world. Dubplates, also known as "specials," establish a soundsystem's credentials by flaunting their connections to popular artists. And, when deployed strategically in a clash, they are a tool of power and intimidation, psychically cutting down the competition in the eyes of the crowd.
"The thing with a soundclash is, if somebody plays one style, you can't go and do something in the same exact style," Escoffery explains. "You have to shape the narrative, to carry the crowd where you want. If the other [sound] came with a violent song, you might want to play a love song, or an educational song or something spiritual. As the selector, you usually have to be that person to narrate to the people before you give them the song. Fuzzy Jones came and filled that space perfectly, in terms of introducing the song and shifting the tone anywhere you wanted."
Jones wasn't the first person to sell his services as an intro man to soundsystems looking to ratchet their dubplates up a notch. People like Joe Lickshot and Jackie Knockshot, AKA the High Plains Drifter, were already known for a cappella sound effects emulating the sound of ricocheting gun fire. But where Lickshot and Knockshot offered clients a single gimmick, Jones provided seemingly endless variety.
"He had a way of coming up with a new intro for every single song, [that] served its purpose," Escoffery says. "The intro within itself was so great it stood apart even from the song."
Little biographical information is known about Jones, and even the details surrounding his death outside of Kingston in 1998 are subject to conflicting reports. It's generally agreed, though, that he was returning to the city from the countryside, when he was in some form of vehicular accident.
Soundsystems were willing to pay extra for a dubplate with an intro from Jones because it virtually guaranteed success when they played it in a soundclash.
What we do know – thanks to a message board post from a relative identifying herself as Christine Salmon – is that Jones was born Alty Salmon in Warsop, a tiny village in the parish of Trelawny, near the edge of Jamaica's remote, treacherous Cockpit Country. According to Salmon's note, Jones' father was a pastor, which would help explain some of the gravitas and religious tones he brought to his intros.
Like many Jamaican entertainers, Alty Salmon took his pseudonym from cowboy films, which found exceedingly enthusiastic audiences in Jamaica. The outlaw culture portrayed in Hollywood and spaghetti westerns has informed Jamaican popular music since the days of ska. The rise of dancehall in the late 1970s and early 1980s introduced a new generation of anti-hero entertainers who styled themselves after fictional and real-life badmen like Josey Wales and Johnny Ringo. Others took their names from the film genre's stars, like Clint Eastwood and Lee Van Cleef (of The Good, the Bad and the Ugly fame). Alty Salmon looked to a more obscure and less fearsome character for inspiration. As portrayed by actor Al St. John in '30s and '40s Westerns like Moonlight on the Range and Stagecoach Outlaws, Fuzzy Jones was a comical figure with a scruffy beard and bugged-out eyes. The name suited Salmon. Engineer Delroy "Phatta" Pottinger, who recorded many of Jones's dubplate sessions, recalls him as a sunny, effervescent presence: "He was a person who was always laughing, a very joyful and jovial person to be around."
By the mid-1980s, Salmon was residing in Waterhouse, a working-class Kingston community that was home to both dub pioneer King Tubby and his former protégé, Lloyd "King Jammy" James, who had started his own hugely influential label, studio and soundsystem a few years prior. Jones's arrival on the Kingston studio scene coincided with several major shifts within dancehall and soundsystem culture, not the least of which was the rise of digital production ushered in by King Jammy on Wayne Smith's 1984 single "Under Mi Sleng Teng." These factors would all contribute to Jones's rise, and his unique space within dancehall and music history.
For decades, Jamaican soundsystems had entertained crowds with the aid of live deejays: MCs who recited lyrics and toasted over records played by selectors. Rory Gilligan changed all that when he joined Winston "Wee Pow" Powell's Stone Love Movements in the early 1980s, and began hyping crowds with his selection of exclusive dubplates.
By the late '80s, the most popular deejays from the soundsystem circuit – like Super Cat or Shabba Ranks – were traveling overseas and performing at major stage shows. A wave of immigration from Jamaica to New York would pull many, including Shabba and Super Cat, permanently away. At the same time, there was also a proliferation of smaller, budget soundsystems, called "discos," which didn't have the wherewithal to hire crews of deejays but were hungry to make their mark. And so the dubplate market, a uniquely Jamaican cottage industry which for decades has supplied steady income to any reggae or dancehall singer with a familiar hit to their credit, was born to fill these needs. Silverhawk, a soundsystem run by musician and producer Wycliffe "Steely" Johnson, of Steely & Clevie fame, further elevated the significance and quality of dubplates. By the early 1990s, it was exclusively playing dubplates at all of its engagements, providing a truly one-of-a-kind listening experience.
We would be there at nine o'clock, sometimes ten, and we'd go for a whole day, and Fuzzy might do 100 intros.
Dubplates and soundclash culture also began impacting the consumer music market in Jamaica. "Put Your Hands on the Key" by Echo Minott, on King Jammy's Sleng Teng riddim, was a gamechanger in this regard. "Echo Minott actually recorded 'Put Your Hands on the Key' as a dubplate for King Jammy's, the sound, and King Jammy's released that song commercially, and it did fairly well," Escoffery recalls. "The brilliance of King Jammy's was that he actually recorded a song praising himself and his sound, and other soundsystems were playing that song."
In a 2012 interview with Escoffery, Super Beagle recalled meeting Fuzzy Jones at Jammy's in the late 1980s. At the time, Jones was trying to make it as a deejay himself. But the studio had other plans for him: "It was an uphill battle [to become a deejay] because the pace got so hot when artists like Terror Fabulous and Buju Banton bust on the scene. But [Fuzzy] had this voice. We were doing dubplates to send abroad. He sent off an intro that everybody liked, so he was invited to do an intro for other deejays. It so happened that, due to his popularity, he was solely used for his intros."
In 1987, the late Philip Linton, owner of Arrows Sound System, opened a compact recording studio at 57C Windward Road in Kingston. Arrows became Jamaica's first "dub studio," catering almost exclusively to soundsystem operators looking to quickly cut dubplates direct to acetate. It soon became Jones's second home.
"We would be there at nine o'clock, sometimes ten, and we'd go for a whole day, and Fuzzy might do 100 intros," says Pottinger, who was both a selector for Arrows Sound System and the studio's engineer. "He might end up with $5,000 Jamaican. At the time, he could live off it easily. Him just ride a bicycle up to the studio and do intro[s] and most weekends he would go to the countryside. A soundsystem man would invite them, and give them money."
Work made simple today by digital tools carried real pressure in the days of analog studios, and the dubplate business was no different. "Cutting dubplates wasn't like now where you can come and splice back in," Pottinger says. "It was being cut straight onto 10" acetate. You have to be very spontaneous and precise with what you were doing, and [Fuzzy] was spontaneous and witty."
Soundsystems were willing to pay extra for a dubplate with an intro from Jones because it virtually guaranteed success when they played it in a soundclash. "His intros were so good that the sound you were killing [was] usually dead by the end of the intro," Super Beagle says today. "The song don't even start playing, and the place buss already. Because it sound like something ah go happen. You haffi listen to this man because he's warning you. It [got] your attention quite naturally or instinctively. And him used to say some serious tings."
As his impact grew, producers hired him to bring the aura of the clash to their commercial releases. In 1987, King Tubby released an entire album, King Tubbys Presents Sound Clash Dubplate Style, which featured Jones introducing "sound killing" tunes by top Jamaican singers like Sugar Minott, Gregory Isaacs and Johnny Osbourne. Jones' intros could often be very funny as well, a facet displayed on tracks like Pad Anthony's "Charge Dem," in which he played judge, jury and defendant in a mock trial for an offending sound boy and sound girl. "That was a breakthrough album at the time," Pottinger says. King Jammy answered with a soundclash LP of his own featuring Fuzzy Jones, entitled Electrocutioner Phase 1: Sound Wars, in 1989. In 1992, Jones provided intros for the self-titled album by New York's Bobby Konders and Massive Sound (later known as Massive B), released in the US by Polygram Records.
For Winston Riley, who established the Techniques label and record shop on Kingston's Chancery Lane in the late 1960s, "Stalag 17" was the gift that kept on giving. Originally released as an instrumental single by keyboardist Ansell Collins in 1973, it was repurposed by Riley as a rhythm track for some of dancehall's most essential hits, including General Echo's "Arleen" (1979) and Tenor Saw's "Ring the Alarm" (1984).
In the early '90s, Riley decided to dust off Stalag with a new generation of artists, among them Super Beagle. An early version of "Dust A Sound Boy" voiced by Beagle in 1991 did not yet feature Fuzzy Jones. It was Riley's young son, Kurt, now an accomplished producer in his own right, who added the intro from Fuzzy Jones sometime thereafter, Beagle says. Reggie Stepper's "Cu-Oonuh" followed on the riddim, attaining hit status in 1993, with an assist from Fuzzy Jones.
Meanwhile, hip-hop producers in Brooklyn and jungle DJs in London were discovering the power of a Fuzzy Jones intro. The first rap record to sample Jones' voice, "Sound Bwoy Bureill," from Smif N Wessun's 1995 debut Da Shinin', opens with a monologue pulled from Clement Irie's "Ku Yu Sound Boy." Dancehall-inspired hip-hop tracks were plentiful in the '90s, but most simply placed Jamaican-accented vocals over familiar breakbeats. "Sound Bwoy Bureill" took a more creative approach, consciously evoking the theater of the soundclash with its Fuzzy Jones sample and an ominous bassline. The track, like the rest of Da Shinin', was produced by Bushwick, Brooklyn brothers Ewart and Walter Dewgarde, AKA DJ Evil Dee and Mr. Walt, collectively known as Da Beatminerz. "Me and my brother are Caribbean, so we made music from our influences," says Evil Dee, whose parents hail from Belize. "That was a record in my DJ collection, in my reggae crates. I always liked the talking on the front. So we decided to use that, and [Smif N Wessun's] Tek and Steele named it 'Sound Bwoy Bureill.'"
Of course, once Kanye West samples your music, you can bet many others will follow. Since the release of "Mercy" in 2012, pieces of the "Cu-Oonuh" intro have appeared on tracks including Lil Wayne and Drake's "Believe Me" and Logic's "Wassup" featuring Big Sean. Kanye, assisted by Mike Dean and Boogz Da Beast, recently sampled a different Jones intro on "White Label" from Nas's Nasir.
According to the message board post from Christine Salmon, which was addressed to West, Jones and his family have never received royalties from samples. This is hardly surprising. In those days in Jamaica, vocalists were almost always paid on the spot for their time by producers, without contracts being exchanged. As an intro man, Jones would only occasionally receive credit on 45 labels and album sleeves.
In 2014, an album of '90s-era recordings credited to Fuzzy Jones and Sons appeared online. While the album, titled Classic Reggae, found Jones introing tracks by vocalists like Cornel Campbell and Tabby Diamond, others featured his singing – a window into what might have been had he not become the Intro Man. While not terrible, there is nothing particularly memorable or distinctive about these cuts. The intro was truly Fuzzy Jones' medium, and it still is: It seems no accident that, as on "Mercy" and "Sound Bwoy Bureill," samples of his voice are most powerful – and ominous – when they are used to command the listeners' attention at the start of a track.