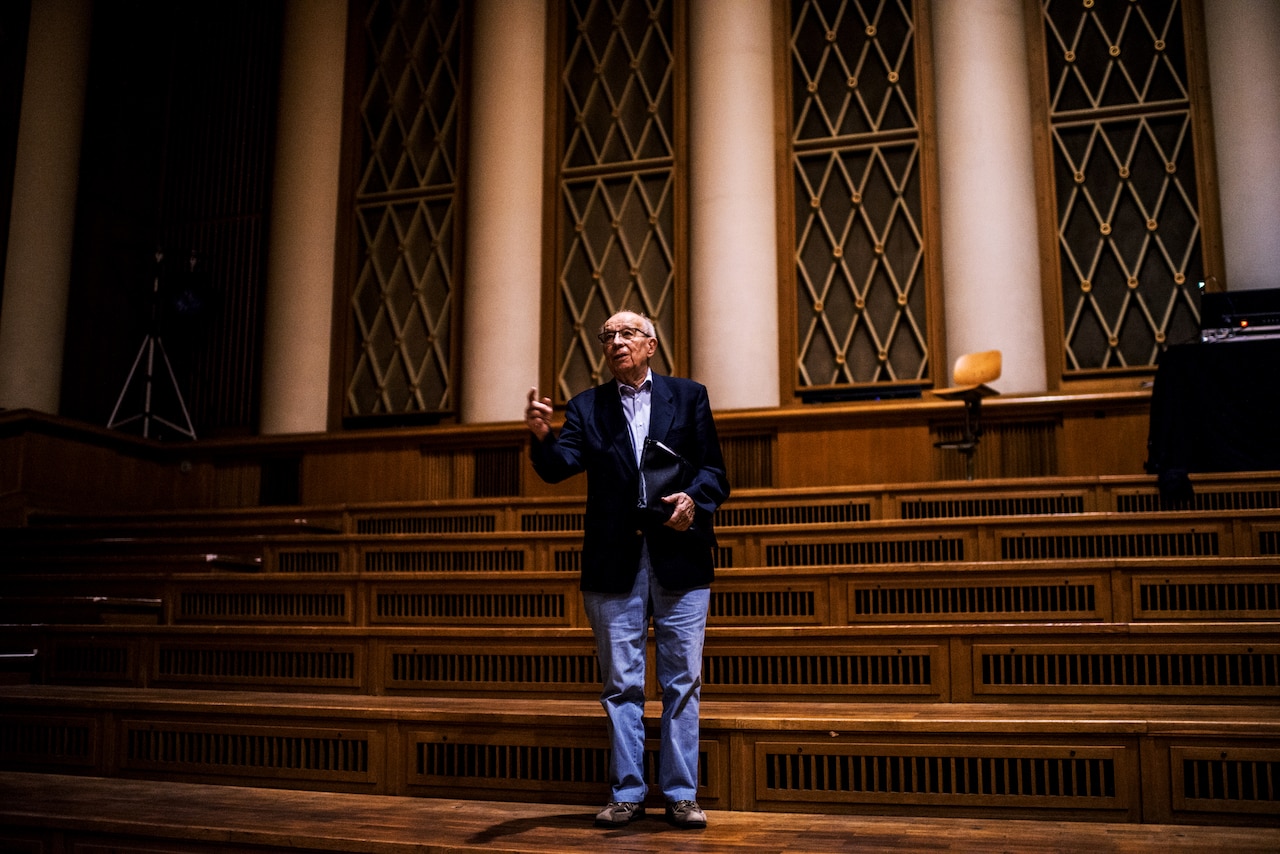 A Tour of Funkhaus Berlin with the Former Head of Sound Technology
Audio expert Gerhard Steinke shares stories of half a century at Berlin's historic recording studio complex
When you walk through the hallways and recording studios of Funkhaus Berlin with Gerhard Steinke, it's clear that he's spent most of his working life here as Head of Sound Technology. He is one of the last ambassadors of a time when Funkhaus was the most sophisticated and state-of-the-art studio complex on the planet, and he has boundless affection for the space. Steinke may be 91 years old, but is far from a man living in the past – he's slim and alert, funny with a bright smile.
Part of the original team when Funkhaus was built, Steinke has been working at Funkhaus way before the Iron Curtain divided East from West. Besides his time at Deutsche Post's Radio and Television Research Centre (later Deutsche Telekom), Steinke has held a job at Funkhaus Berlin since 1956, assisting musicians with their recordings. "The musicians taught me how to listen to music," he recalls.
This former plywood factory on Nalepastraße, in the East Berlin district Oberschöneweide, was rebuilt into a radio house in 1951. In 1956 the new building Block B, designed by architect Franz Ehrlich, was built. This is where the recording studios are and concerts take place today. Many artists from the West discovered Funkhaus only after the Wall came down in 1989. Musicians as varied as Sting, Cecilia Bartoli, A-ha, the Black Eyed Peas and Daniel Barenboim have recorded in the mighty halls, every one of them praising the building's unique sound. "Musicians often say: There is nothing comparable to this in the world," Steinke explains, and you sense pride in his voice.
Born in 1927 in Dresden, Steinke had to serve in the Wehrmacht. In 1945, he was taken prisoner in Wolfsburg, in the Western part of Germany. As the area was ruled by the Americans, it didn't take long for him to start playing the piano for them. Having learned the instrument at the age of eight, he had developed a taste for swing as a young man. But in Nazi Germany, swing was forbidden, considered to be an "un-German" music. Today, Steinke is still amused about the German lack of funkiness. "In Germany," he laughs, "people will always clap on the one, but you have to clap on the two. That's the swing."
In 1945, Steinke returned to his hometown, Dresden. The city lay in ruins. The Soviets were in charge. The socialist East German government had decided that for the time being, only the children of workers and farmers were allowed to study. Steinke's father was an engineer, so even though he came from a family of farmers, it didn't make a difference. "I complained," he says, "but in the end the Soviet commander of the city, Major Klushnikov, told me: 'You will not be able to study right now. But you are still so young, Mr. Steinke! Don't worry and have a cigarette with me.' My goodness. I said, 'I don't smoke!'"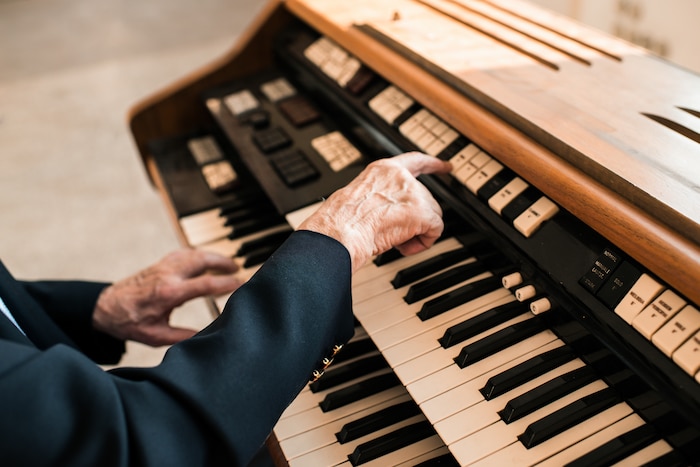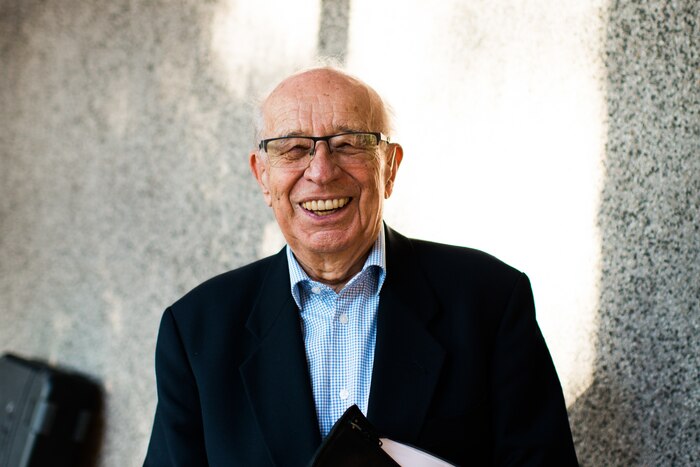 As he had always wanted to study either telecommunications engineering or aeronautics, Steinke visited the Dresden radio station of Mitteldeutscher Rundfunk, just to have a look. "Just having a look at the station is not possible," he was told. "But you can work here as audio engineer." So he did. From then on, he hardly left the place. When the radio programme ended in the late evening, he often couldn't go home anyway, because it was too dangerous. At night, gangs of robbers were ruling the ruins of Dresden. So he stayed.
Funkhaus is a unique place, a "jewel," in Steinke's terms, that needs to be supported by public funding.
As we hop from one studio to another at Funkhaus, Steinke points out details, casually dropping technical information and anecdotes. Saal 1 is the largest and most famous recording studio of Funkhaus. Though music is still being recorded here today, it has lately been used mostly for electronic and experimental music concerts. We enter Saal 1 to find a band rehearsing. In order not to disturb them, Steinke silently points to the ceiling: a construction of stage lights and huge speakers. He raises his brows. Every single additional item, even a little hole drilled into the wall and left unsealed, causes unwanted sound reflections, and thus diminishes the quality of recordings, Steinke complains. Even though he has to use hearing aids these days, he says "It doesn't matter. You can hear it, too. It's obvious."
Steinke is glad that investments by the building's new owner, Uwe Fabich, have saved Funkhaus from further deterioration. But he also knows it's not enough. The owners need the rent from pop events in order to cover the vast fixed costs. Still, Steinke is concerned that the high price for renting Saal 1 as a studio and the technical changes in the room will keep people from using it as a recording space in the future. He has already received negative feedback from some engineers who don't want to return for further recordings, he says.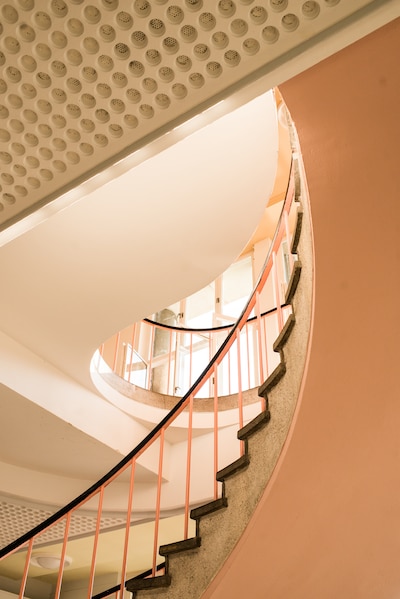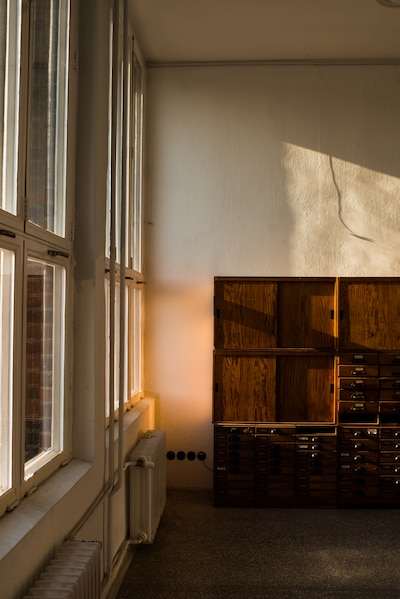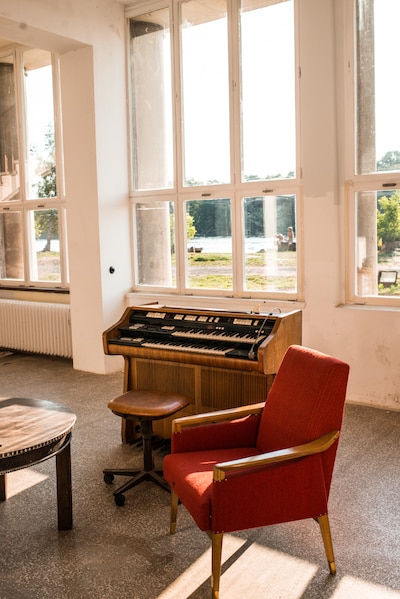 But Steinke's real anger is directed towards the German government. In 2009, the German parliament had to decide whether the maintenance of culture should be declared a fundamental task of the state, but this change of the constitution did not pass. In Steinke's opinion, the government should, for example, step in to finance a new air conditioning system for Funkhaus, which will cost around 20 or 30 million Euros. The government, Steinke believes, should take responsibility for its country's culture. And Funkhaus is a unique place, a "jewel," in Steinke's terms, that needs to be supported by public funding.
We move on to Saal 2 as Steinke explains the different characteristics of the studios. In Saal 1, which was designed to record classical orchestras, the reverberation time was designed to be more than two seconds, so the sound of the instruments has time to dissolve and reconnect. In Saal 2, which is smaller, after a while the reverberation time was reduced to one second, because all classical musicians wanted to play in Saal 1 anyway, and pop producers needed a drier-sounding space.
Whenever Steinke is visiting Funkhaus, he carries a small hygrometer in his bag. He takes it out. Humidity should be above 60% for ideal recording conditions, but the display shows only a bit over 40%. He sighs. Still, he is very happy that the studios have residents like composer Nils Frahm, who has installed a huge mixing desk into the former listening room of one of the smaller studios, which we visit next. Steinke glances into the room. Then he says, "I had a lot of luck in my life."
After his time as sound engineer in Dresden, Steinke was finally allowed to study electrical engineering and acoustics. In 1953, he became Laboratory Head at Deutsche Post's Radio and Television Research Centre in Berlin-Adlershof. "I was in charge of a studio for problems at the interface between electronics and music," Steinke says. "A studio like that had already been founded in 1928 to research the connections between art, music and technology." Due to the increasing conflict between East and West and the start of the Cold War, it was soon decided that East Germans had to leave the old radio studios at Masurenallee in the Western part of Berlin, where all radio programmes aired in the city used to be created until the founding of the GDR.
Steinke's boss, Vice Minister Gerhard Probst, was responsible for postal services and telecommunication. He decided the GDR should build its own modern recording studios. His boss, Steinke says, was smart enough to understand that a unique window of opportunity had just opened up, when they could build a studio complex from scratch while using all the existing knowledge of the time. "We all had experiences with bad recording studios. But until it left Masurenallee, the East German broadcasting agency could not afford to build one," he explains. Probst himself became chief engineer, Lothar Keibs was the chief acoustician for the construction and Gisela Herzog did all the acoustic calculation and planning for the recording studios, while Franz Ehrlich was asked to build the complex now referred to as Block B.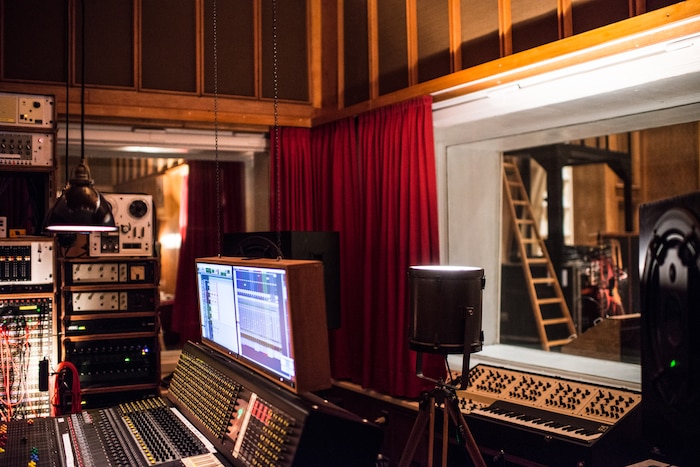 "In every studio there was a control room and a listening room. That was our best idea," Steinke says. We are now standing in one of the smaller studios, and he's explaining the construction principles. Ceilings hang suspended from rafts, independent from the walls. The walls themselves are suspended from the floor and from the outer ceilings, so every recording space is isolated from its surroundings. "Gisela Herzog is a genius!" Steinke exclaims. "I was just a partner to the acousticians and the architect, because I came from acoustics. So I expressed our demands to the building. But it was Gisela who had the ideas of how to translate that into the construction and into the choice of materials and surfaces of the respective studios. In every studio she installed coffered ceilings, best suited to disperse sound. That accounts for a more natural listening experience. Musicians don't like the impression of playing in a dead room."
Architect Franz Ehrlich applied the principle of functionality to Funkhaus, in the tradition of the Bauhaus. "He always asked: 'What for, why?' Ehrlich said: 'Tell me, what's necessary.' He was very pragmatic," Steinke recalls.
Ehrlich had been a student at the Bauhaus in Dessau, where he worked as an architect and graphic designer. But because he was a communist and joined a resistance group, he was arrested and imprisoned by the Nazi regime. He was transferred to the Buchenwald concentration camp, close to Weimar, in 1937. As he was an architect and designer, he was ordered to design the letters for the entrance gate of the camp. The result was the infamous gate with the cynical motto "Jedem das Seine" ("To Each His Own"), done in a functional Bauhaus style, which can be seen as an act of subtle resistance – Bauhaus architects were prosecuted and the architecture style was forbidden, considered "un-German" by the Nazis. The motto was intended to demonstrate the power of the SS to intimidate, torture and kill as they pleased.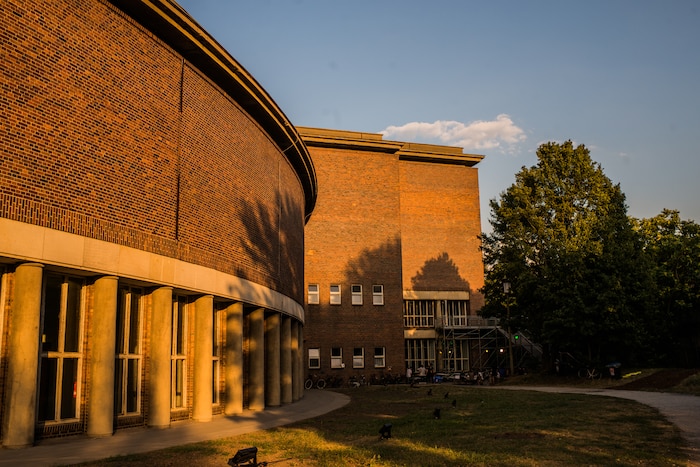 Funkhaus's "new" building Block B was finished in 1956. It is very functional indeed, but also served the purpose of representing the GDR's intended grandeur. The entrance hall is huge, the floor covered with red marble from Thuringia. Ehrlich also managed to subvert the monumentality of the Stalinist era with little designer jokes. In the studio for chamber music, for example, he applied the fleur-de-lis, emblem of the French royal House of Bourbon, to the wood covering one of the walls. "Ehrlich said, 'You have to appreciate the art of other countries,'" Steinke smiles.
Musicians don't like the impression of playing in a dead room.
"In this hall," Steinke points out to a corner, "there had been a small room for equipment. This is where a sound engineer hid our Subharchord in 1996." The Subharchord is a unique East German development, a hybrid synthesizer that had been built under Steinke's supervision shortly before Bob Moog developed modular synthesizers. In the 1950s, Steinke's boss Gerhard Probst sent him to Cologne and radio stations in other countries to evaluate the then-new studios for electronic music. "We all fell for it," Steinke recalls. "We had to produce electronic sounds, too! That's what composers needed! Probst wanted to provide composers with tools to use electronic sounds. So we decided to rebuild the Trautonium, invented by Friedrich Trautwein and Oskar Sala in 1930."
As early as 1948, the conductor Hermann Scherchen had advised Steinke to familiarize himself with the Trautonium. "Oskar Sala was a genius, but a tinkerer, not an engineer," Steinke explains. "So we developed the Subharchord. We had Germanium transistors, printed circuits. One of our team, Ernst Schreiber, said we needed to stabilize sound generation over many octaves. Schreiber was able to divide a note down to its 29th part. That was the first special and patented feature of the Subharchord. Then I met composer Josef Anton Riedl, who asked me whether I had heard of the new MEL filter. That was the second feature. And the third one was that I had decided early to use a keyboard for the instrument. The Trautonium was based on a wired string, and only violin players could play that, I thought. Just a few weeks ago, I heard a Japanese composer, Tomomi Adachi, at Akademie der Künste. He has worked with the Subharchord for two years, and now he is playing it like a piano. I have never experienced such virtuosity and artistic perfection in the last 50 years since the instrument has been existing. That was fantastic. He also can even repair it."
Three Subharchords still exist, but sooner or later it will be hard to fix them, because you cannot replace the special circuits with Germanium transistors. In 1970, the development of the Subharchord came to an end due to musical/political reasons. Soviet leader Nikita Khrushchev had given a speech in which he attacked avant-garde music, which he deemed cacophonous. Instead, composers and musicians should produce folk music that people would understand. Populists are always eager to condemn elitist noise and human curiosity, it seems.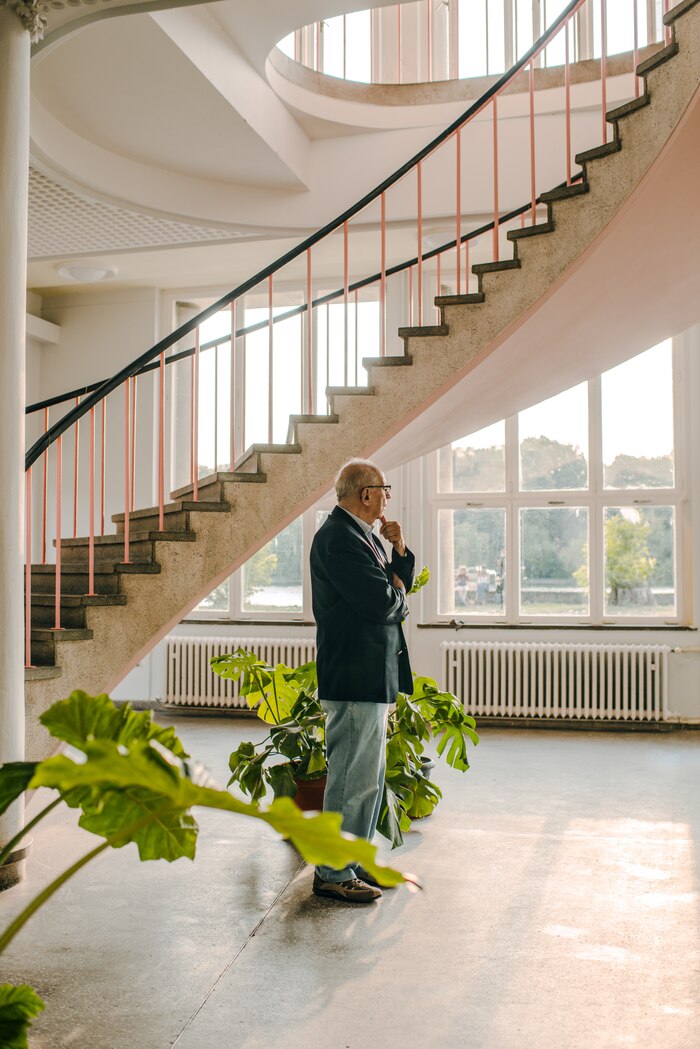 Khrushchev's speech was translated and printed in Neues Deutschland, the leading newspaper in the GDR. At that time, Steinke was just about to move his laboratory from Adlershof to Funkhaus. The day when it was finally going to happen, the director of Funkhaus said that there wasn't enough space for him – the room assigned to Steinke's lab had instead been given to the library of the trade union, for obvious political reasons. "They decided to finish the series, sell the six Subharchords and stop further development. One went to Dresden, three went to Czechoslovakia, one to Norway. One was put into one of the studios for radio plays at Funkhaus."
In 1996, Funkhaus was passed over from one German broadcaster to another, and eventually was opened by the owners, the five governments of the East German states and Berlin. As nobody took care of the building anymore, a lot of equipment was stolen that year. "It was our own stupidity, the stupidity of administrations," Steinke says. But the Funkhaus-Subharchord was not found damaged, and was soon placed into one of the radio play studios again. Most sound engineers and musicians used its special formant and MEL filter applications. That instrument is now exhibited at the Berlin Museum of Technology.
We have just arrived at Saal 4, which had been designed to host recordings of "modern entertainment music," as it was called then. Gisela Herzog had installed a few booths where, for example, drums could be recorded without disturbing more subtle instruments. Close to Saal 4, we enter the two complexes that were built for radio-play productions. There, one room is covered with ordinary bricks and is opening towards a radio play staircase. This feature had already been invented in 1928, and served to imitate the sound of people walking up and down a stair case in a radio drama – you could record the sound of marble, wood, marble with carpet, wood with carpet and more. "Sting said, 'It's a waste for radio dramas – let's record pop and modern experimental music here,'" Steinke recalls.
In the radio play studios, there are rooms with different sonic characteristics: Living room, conference room, dead room. Steinke mentions that people spent a lot of time in this huge complex. "Work was going on for 24 hours at the Funkhaus. Some couples have had their first moments here, because people didn't go home." In one of the hallway bars, he adds, beer and cognac had been served for a while, "But that slowed down the production process, so it had to stop," he laughs. Then he takes a Knackfrosch, a metal toy which makes a short, hard, metallic noise, out of his bag and demonstrates that in its current condition – carpet missing, window uncovered, door open – the dead room is not entirely dead. But to his satisfaction, he adds that 0.1 seconds – almost the reverberation time of an open field – still could be reached.
As we leave the premises, Steinke checks out at the entrance to say goodbye. He will surely return to Funkhaus, where he's already spent so many years. But for now he has to hurry up, drive home and prepare supper for his wife.
Header image © Kasia Zacharko