Three Decades of Berlin Club Flyers
Revel in the evolving designs of afterhours Berlin, as compiled in "Flyer Soziotope"
A key element that fuelled the cultural explosion within post-reunification Berlin was the glut of readily inhabitable spaces. What may have been a neighborhood bakery three months prior could now be the spot for an afterhours rave, but abandoned in another three months time. Information that was easy to circulate, but not so blatant as to be detectable to the authorities, was required in order to parse this landscape.
At the turn of the '90s, Germany's strong punk community provided the tools and know-how to facilitate this: a nimble, DIY approach to design and distribution was the bedrock of advances in aesthetic creativity that dovetailed with techno's soaring popularity throughout its first wave and beyond.
One of those punks, Mike Riemel, happened to be a keen cultural anthropologist and a hoarder, too. His collection, alongside works published in Berlin's FLYER handbook, was compiled in 2005's Flyer Soziotope, with over 3,000 original pieces of art and design from 25 years of global club culture featured and dissected. Riemel shared a Berlin-specific spread with us here, plus some contemporary additions.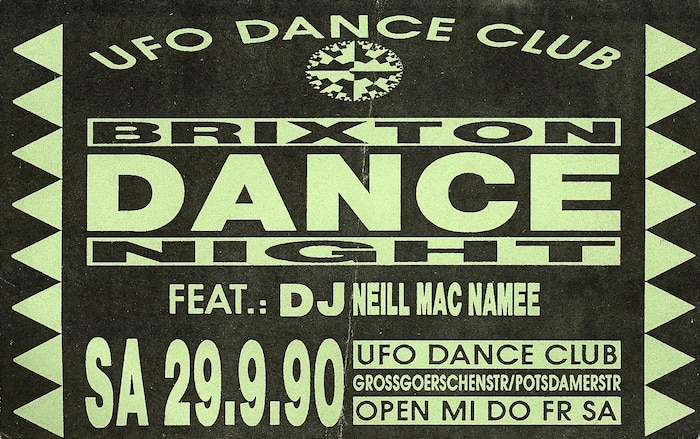 This was from the very early '90s. One of the residents in UFO was DJ Tanith, and he was pretty much the first one to merge acid house with EBM, new beat and other Belgian dance tracks to create to something new. This made UFO one of the oldest venues that basically broke techno into Berlin. I believe the Brixton Dance Night was actually a series of events happening with different DJs being imported from all over: Americans, to appeal to the stationed GIs; from the southern countryside of Germany; and England, which perhaps explains the name, as Brixton has an enviable soundsystem culture. I don't think any dub or reggae found its way into this night, however.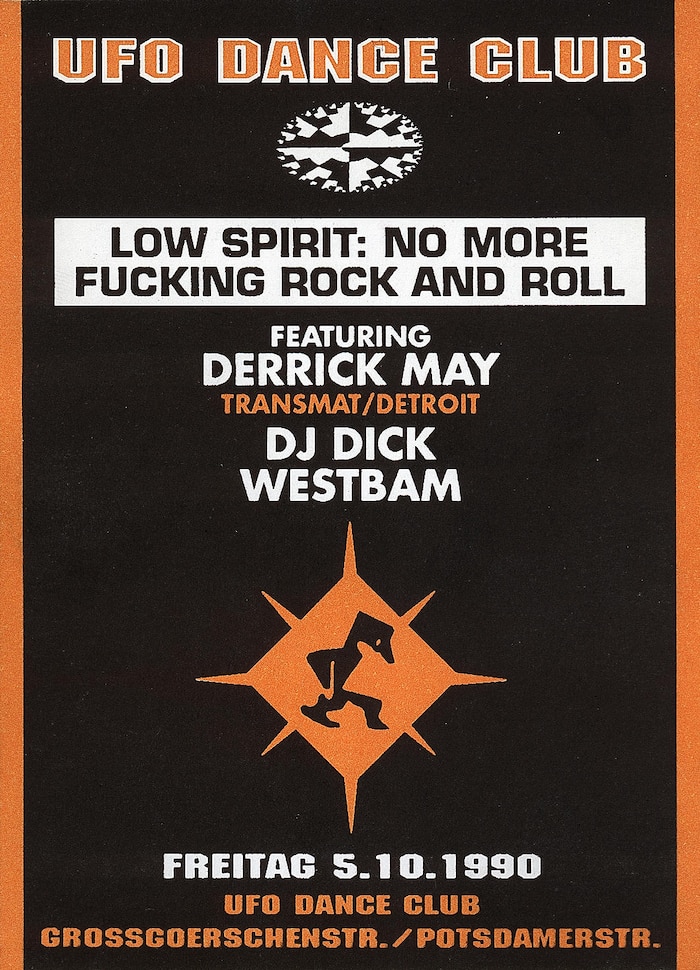 Low Spirit was a very special label. DJ Dick and Westbam were the main DJs, they owned Mayday, sold records, brought artists like Derrick May over at huge expense; their professionalism and productions were really ahead for this time period. And "No More Fucking Rock And Roll" – that was the spirit. This was the same time Nirvana broke grunge into the venues, so people contested that. It was a generational change, an explosion of styles and possibilities to follow, with the Cold War over and Berlin not a money-driven society at that stage. It was like, "What the fuck. How much better can it get?"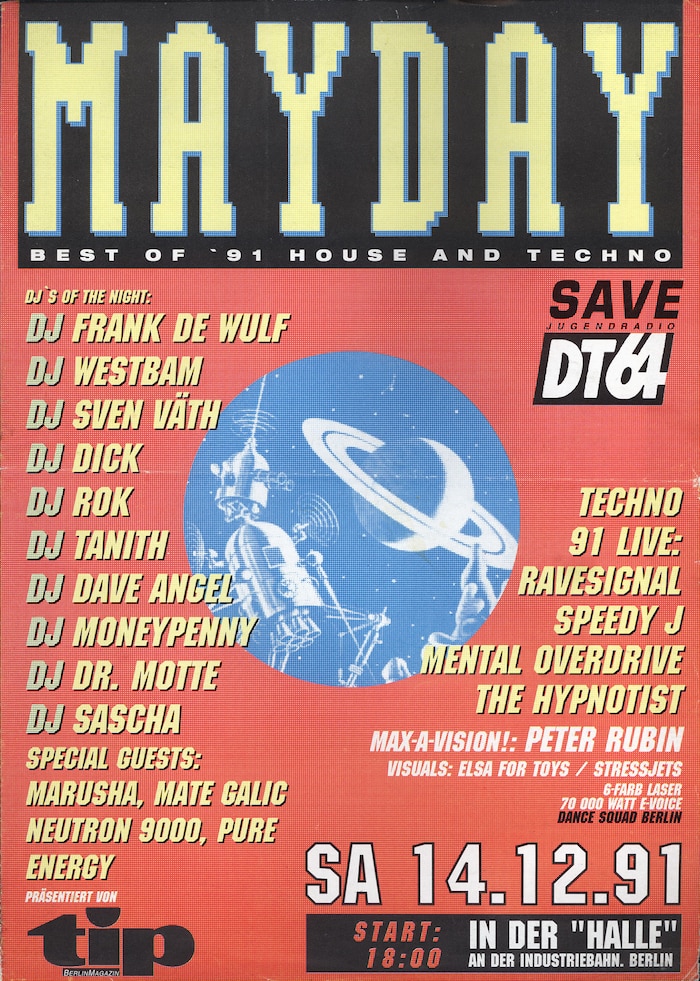 By the end of '91, everything was developing quickly. In the '80s, when West Berlin was the place for squatters, if you had an interest in fringe culture, you would know about Oranienstraße: Trash, SO36 and some other core venues were there. After the Wall came down, the city saw a massive overload of locations. It became dazzling.
Whether you came to Berlin in '91, '93, '95 or '97, you would go to a record store, and see there's about 200 different flyers lying around. 190 of those venues neither you nor the people working in the store would have heard of. Random people would come in and drop these little pieces of potential information toward illegal spaces that exist maybe for three month, tops. It would be beautiful to come as an outsider and just follow the signs.
Rather than a mere intention to get someplace at a certain time, the real flyer-as-art movement was enabled by two coincidental forces: one, the explosion of techno and electronic music; the other was the availability of copy machines, home computers and graphic design programs.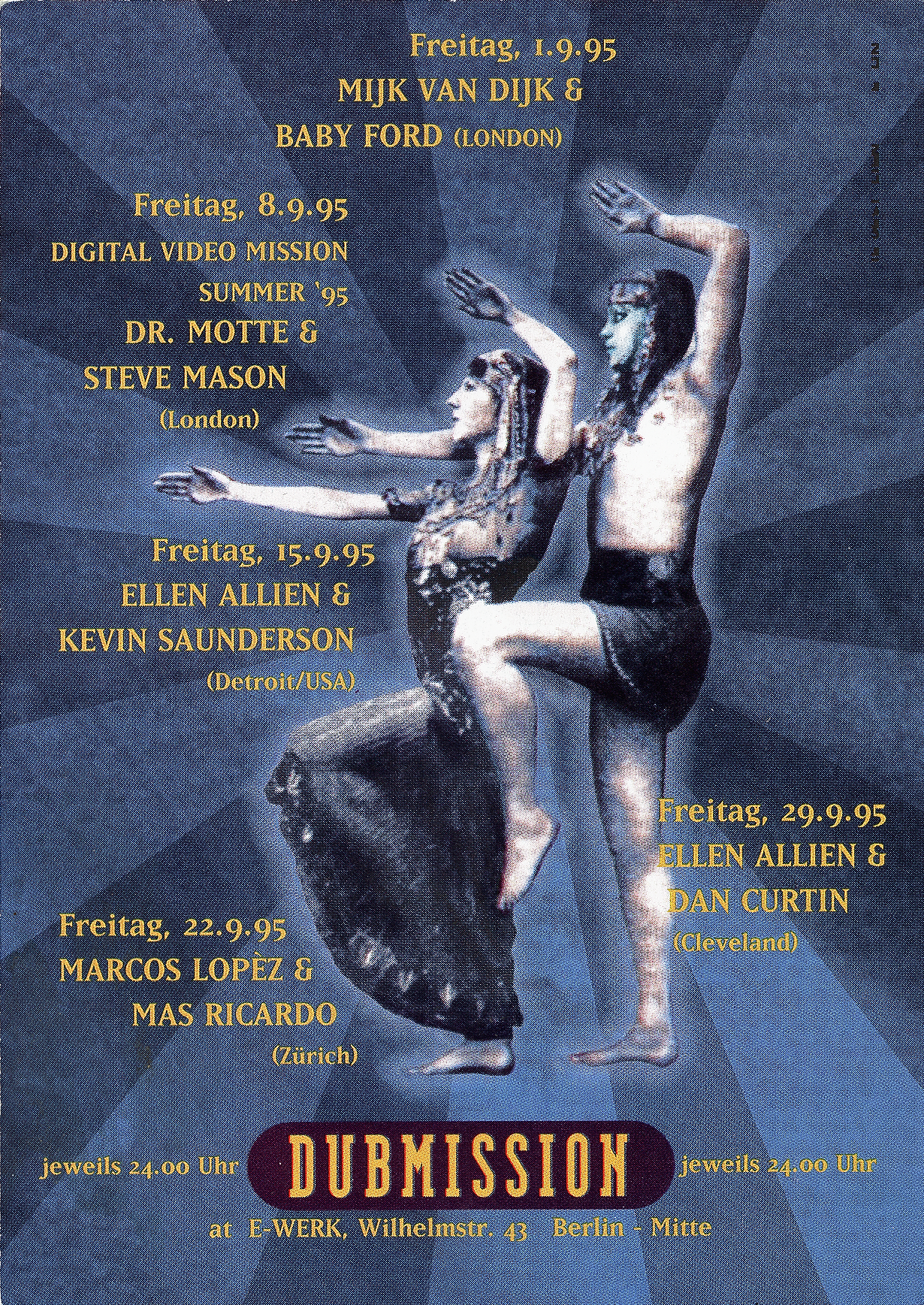 Dubmission was a moving club. It was on the forefront of trance-techno. Not full Goa trance, but they would host some, like Marcos Lopèz from Zurich, who certainly pushed the psychedelic sound. Space and time travel was a recurring theme for them, and you note a little bit of Ibiza's hippie qualities in the mystic design here too. In the mid-'90s, the scene was becoming more international: Dan Curtin, Kevin Saunderson and Baby Ford all featured here within a month. Dubmission was one of the big events that would court this mantra of "come battle a Berlin DJ," given the clout the city held at the time.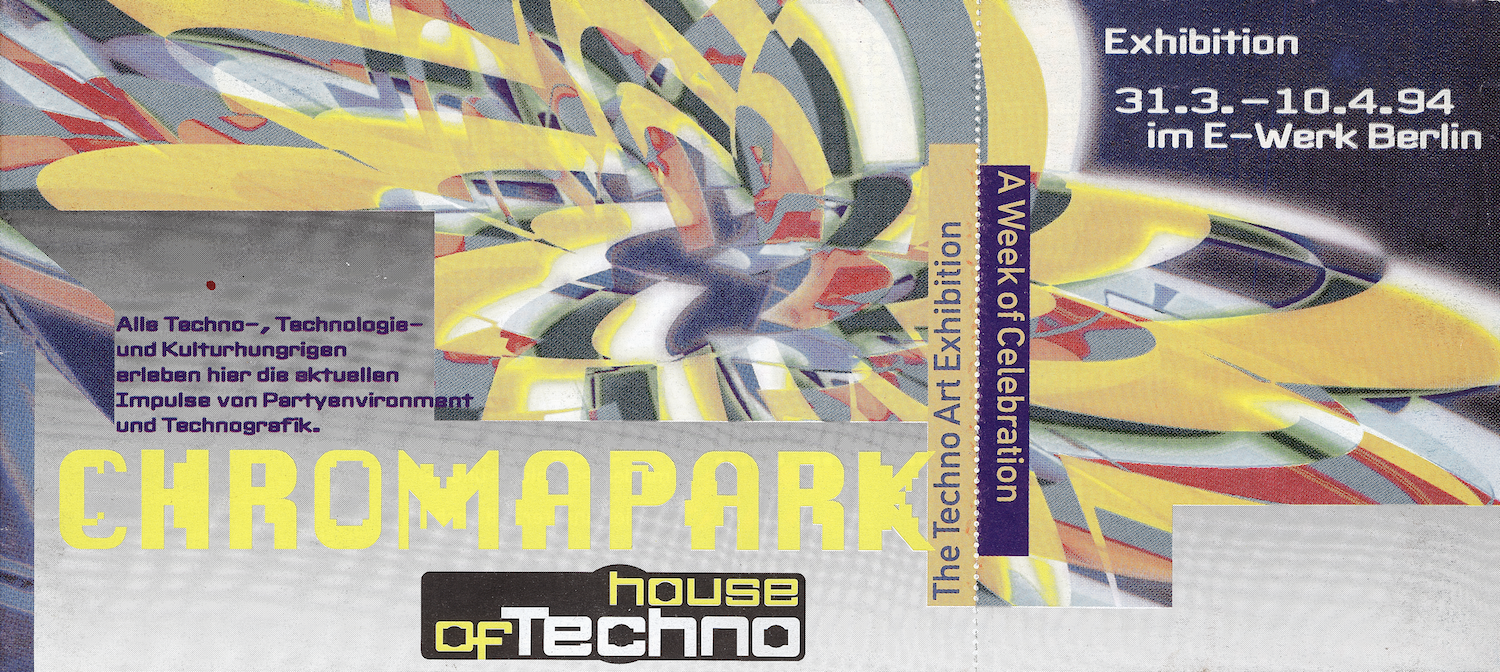 Chromapark was the first exhibition that really brought together music and fashion culture with space design, interior design, graphic design, VJs, installations, everything. I remember stepping across this flyer in southern Germany and freaking out. I couldn't believe that this was happening! Techno was only four or five years old at this point, but they had four or 5,000 photos projected on the walls. It was a weird but fantastic retrospective of a culture that had really only just started.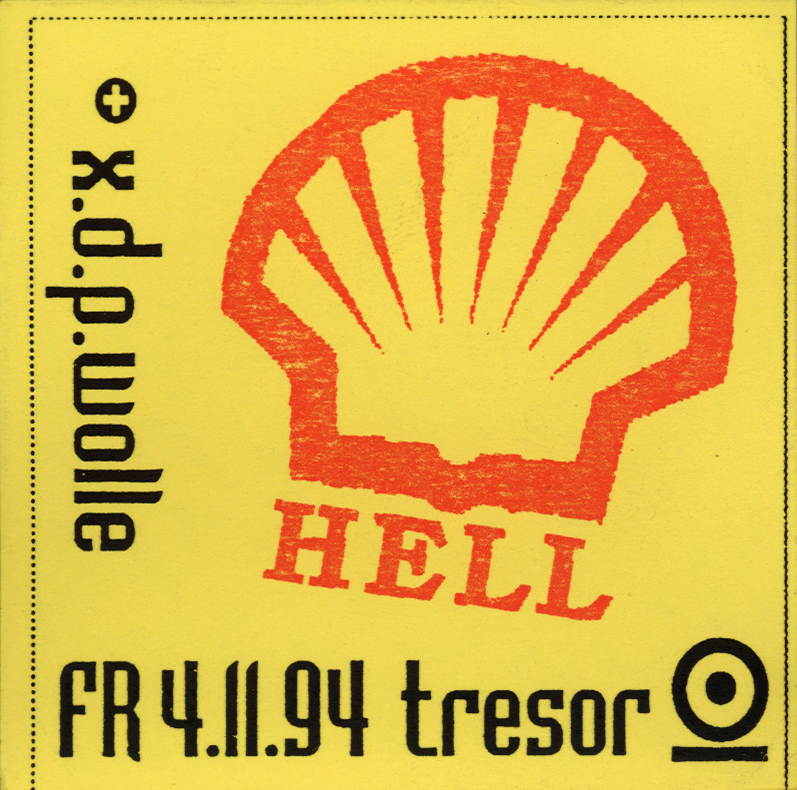 This one is a mini-flyer – mini as in tiny, like three or four centimeters. The visual association you might feel with a tab of acid is probably not an unintended one! It's a return to copy art, but with a red colour on yellow paper. There was probably one copy machine in Berlin that could do that: It wasn't common in '94 to have a four-colour offset. Wolle XDP designed this one himself. I remember him saying he had to do a flyer with one hour left, and the idea to combine DJ Hell with the Shell logo struck. If you look at the flyers of that time there would be all kind of brands present. Marlboro and Camel ran their own events; techno was plastered as a marketing tool all over television, too. So a reaction to that arrived sure enough. Clubs and flyer magazines kept getting in trouble from brand lawyers. It was kind of their game.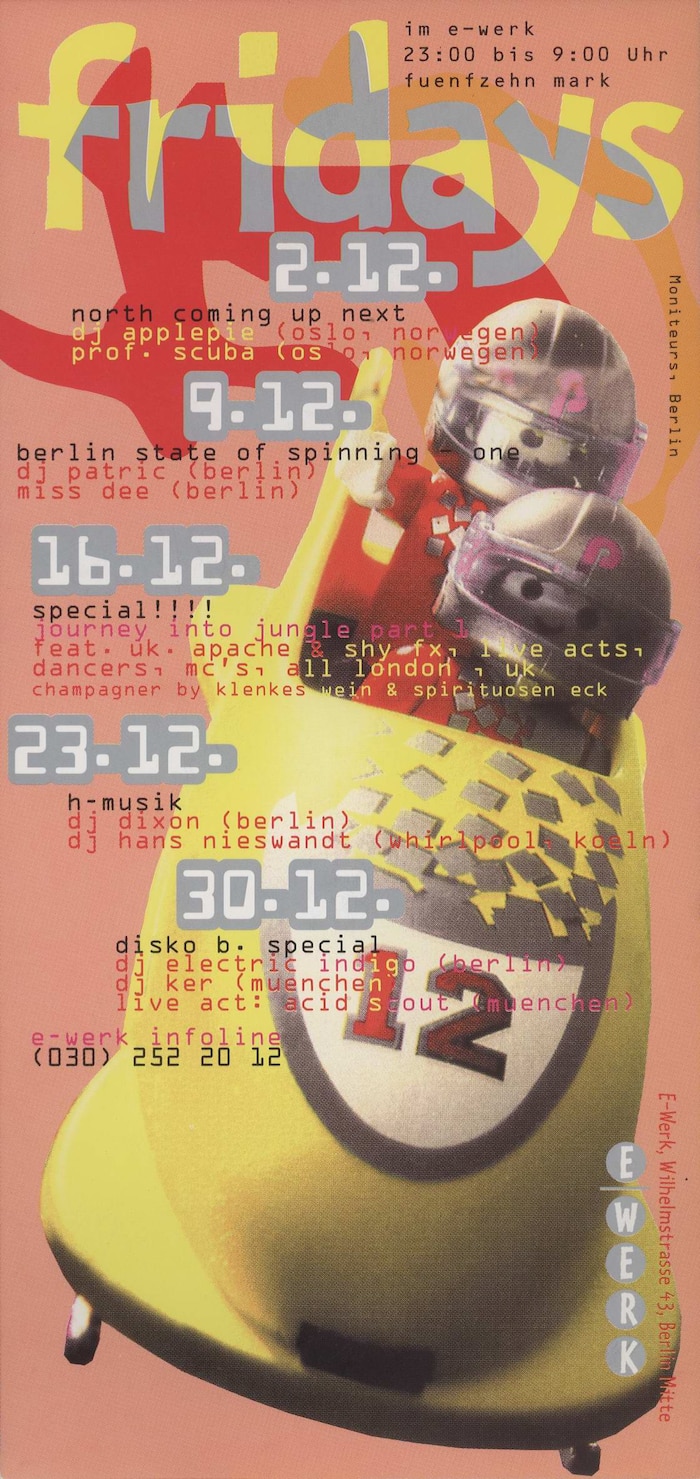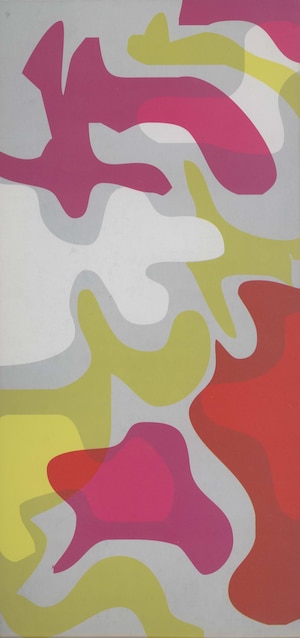 The E-Werk series had just a camo print on the back with no other info, which I found pretty nice as an idea. By '97 or '98, clubs were reflecting what was felt during a Love Parade that saw 1.4 million people on the streets... It was time for the beginning of an underground within the underground.
So you began to see waves of minimalism in music and design, chances to break away from what had got overexposed. People couldn't dig some of the music at first without the usual rave signals given off. You can see here a "Journey Into Jungle" with Shy FX and Apache. Jungle took a while to catch on, well after '92; the scene was tiny for years. Germans had the impression breakbeats were not like UK bass music, but more Euro-trashy. Breakbeats could mean Scooter!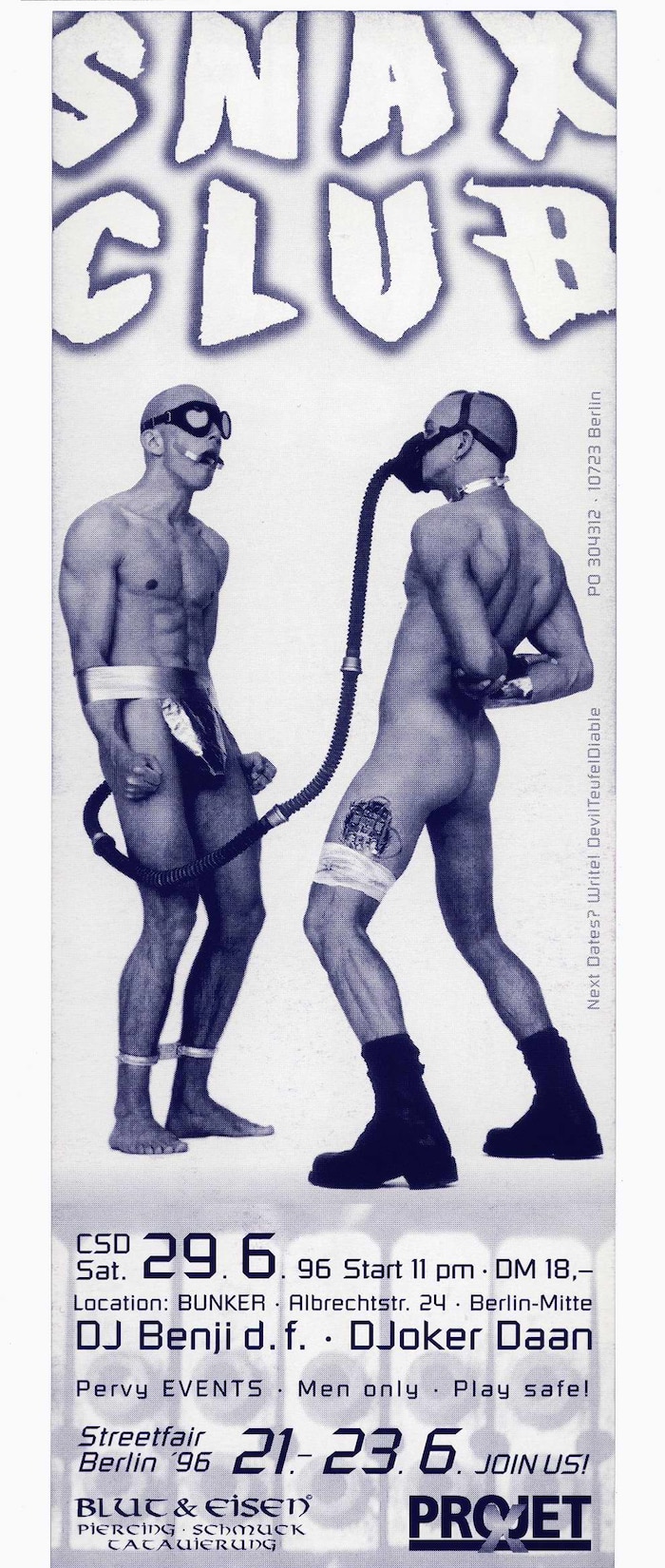 Snax Club is the root of Berghain. One of the owners, Norbert [Thormann], is an excellent photographer, so basically every bit of photography you see on Snax's Berghain flyers is his. The subject matter is rather hardcore for average citizens, of course. Snax was considered to be the hardest gay event in Europe: Friday evening the door would open, the queue of 2,000 gay guys would go in, and Monday around noon they would slowly go out again. There was no change in between. People flew in from around the world to join this lifestyle.
This combination is interesting because Benji DF is one of the best house DJs in Berlin, yet DJoker Daan is one of the most radical, with strong punk roots. He was one of the residents of Electric Ballroom at SO36. For 20 years, each Tuesday morning at 6 AM there would be 500 people totally going off on hard techno. Truthfully, I was kind of scared of DJoker Daan. Every time he played I was like, "I think it's time for me to go."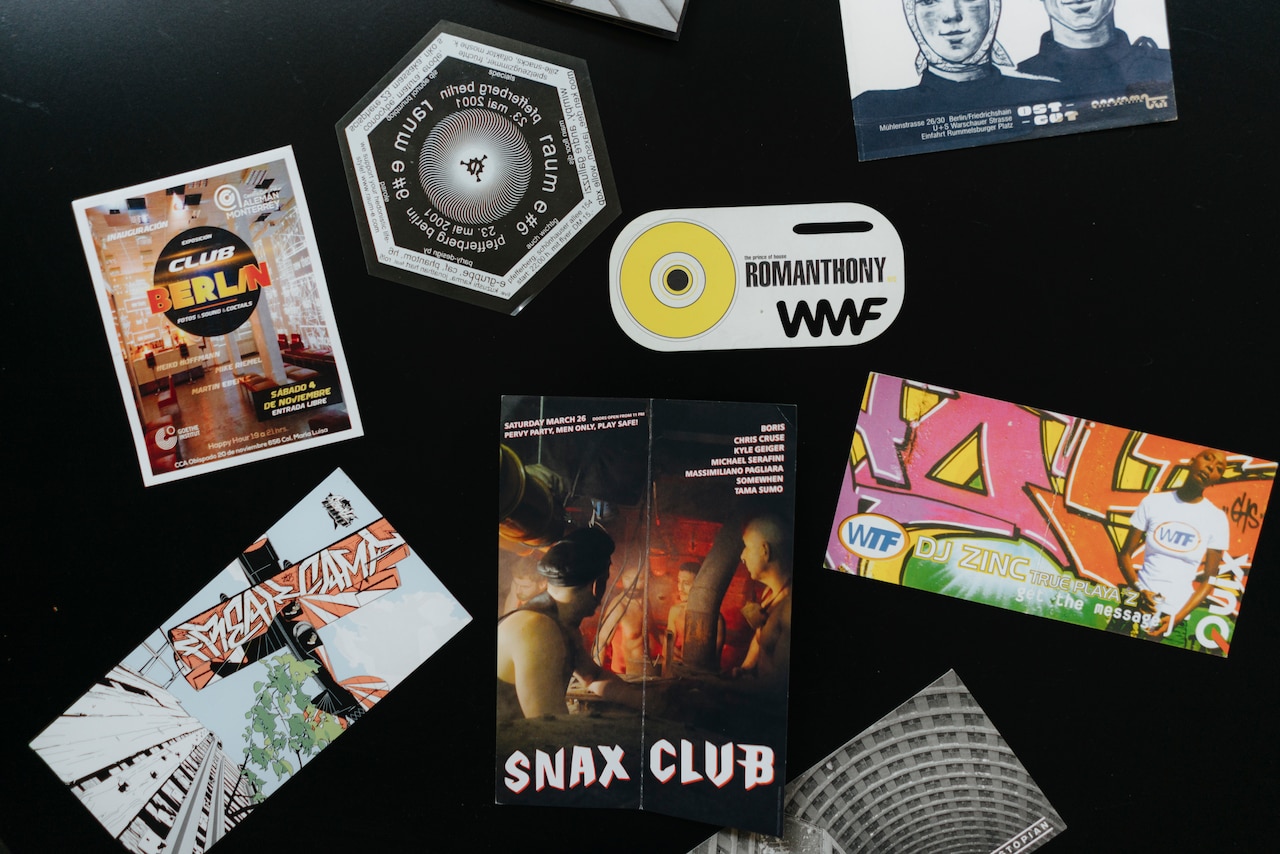 There are some examples here that represent the new styles that arrived toward the new century. This one for Romanthony in '96 shows a time how clubs used their improved finances to produce stencils, utilize foil and multiple colours, and generally get more creative with the physical aspect of flyer design. WMF was an important club that moved around, making it into nine different locations, I believe. It was open to all sorts: grime, house, nu-disco, drum & bass – see also DJ Zinc at WTF, also in the same time period.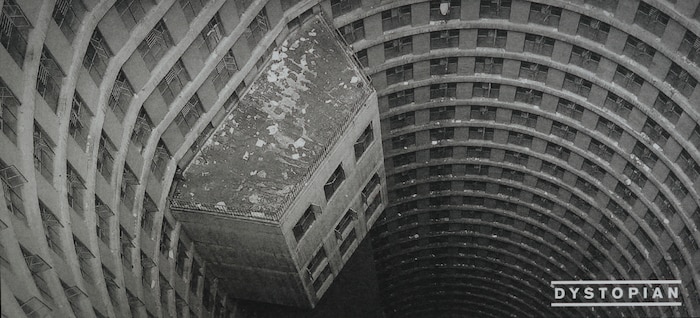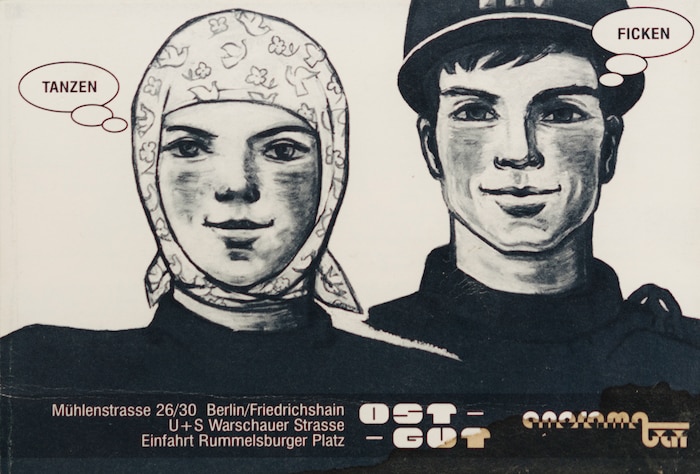 Dystopian has been one of the stronger series in recent years. Rødhäd began at Golden Gate, still one of the great afterhours clubs in Berlin, right as this overall dystopian element within techno returned to prominence in the '00s. The label caught that wave. I enjoy the combination of imagery, perspective and style. They always use interesting architecture in black and white. It just works for me.
A problem with displaying my collection of flyers in exhibitions is they are almost always laid out on tables behind glass, so you see the front first and foremost. When Ostgut transitioned into Berghain, they began making the most of the fold-out format to talk about the artists on display, and the musical concept of the night. I think Ostgut originally had no space for editorializing, so a few pages extras became the Berghain norm. Still, I love the "Tanzen" / "Ficken" cover here. Simple and effective!