All in the Familia
How Chicago's Latinx music scene creates community across cultures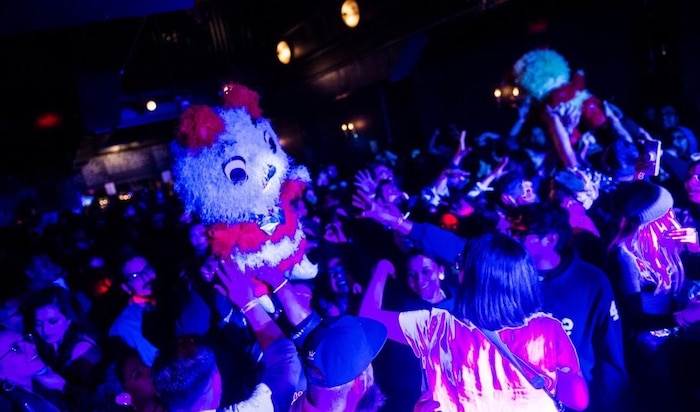 In a city where your sense of safety can waver block by block, and where redlining has woven insular communities into the greater fabric, everyday life is governed by invisible borders. Chicago's vibrant Latinx music community is traversing those boundaries to establish connections between artists from different cultures and backgrounds, creating a culture that truly reflects the richness and diversity of the diaspora.
"In Spanish, we have this thing, de aquí de allá, which means from here and from there," says Guillermo Duarte, whose monthly party draws long lines in search of free paletas and hot cumbia. "We all share a certain kind of identity here at ¡Pachanga!, and I think that's something we are really proud of; it brings a lot of different communities together, whether you're Puerto Rican, whether you're Mexican or from Honduras."
Bringing to light the complex diversity behind Latin culture has likewise always been important to David Chavez, an El Salvadorian event planner who DJs international dance music – Son Cubano, Colombian cumbia, African dance, even some Balkan beats – under the name Sound Culture. He's a co-founder of Future Rootz, a local collective of Latinx DJs brought together by a shared interest in the larger global bass scene.
"It's about exposing culture to a broader audience," Chavez says. "It's about creating bridges of access for people to connect with our cultures. And to figure out who we are as Latinxs in the city."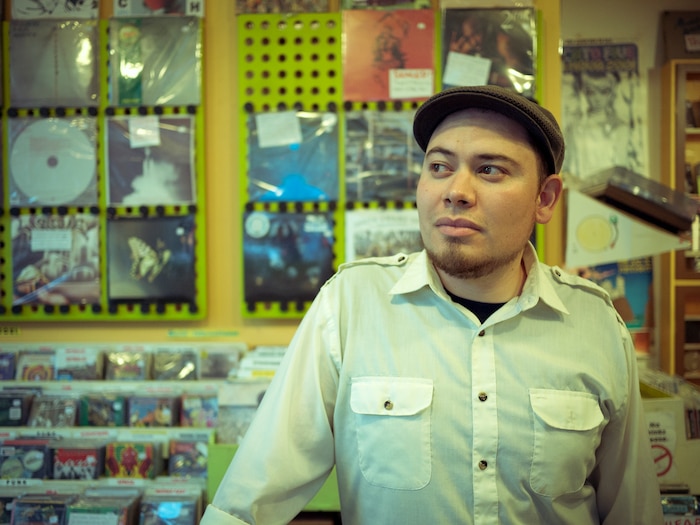 A topographical map of Chicago only tells part of the story of these communities. When you overlay demographic information over the city, more detail appears, much like when forensic investigators shine UV light on evidence. Around the turn of the 20th century, migrants streamed north to Chicago via railroad in search of a better life. African-Americans looking for freedom from Jim Crow settled between train tracks on the South Side of town, while Mexicans – fleeing the violence of the Mexican Revolution, and promised shelter and thirty cents an hour for agricultural work through the Bracero Program – settled in areas like Pilsen and Logan Square. Beginning in the 1940s, Puerto Ricans began flowing into the city via New York, setting up businesses along the Paseo Boricua in Humboldt Park. All over the city, smaller ethnic enclaves developed.
Chicago's modern population is divided into rough thirds, hovering around 32% white, 30% black and 29% Latinx. While the census data available classifies Hispanic or Latino and Black or African-American as two discrete categories, it's important to note that many members of these musical communities – such as Future Rootz co-founder and ÉSSO producer AfroQbano, who wears his heritage proudly in his moniker – belong to both groups.
[Latinx folks] don't feel obligated to put their cultural roots front and center so much anymore, because it's part of who they are. It's part of their DNA.
Chicago Reader senior writer Steve Bogira has referred to Latinx Chicagoans as a "buffer group, living in community areas with whites or with blacks, and sometimes with both." Surveys show that while white residents prioritize living in racially homogenous neighborhoods more than other groups, they are more likely to consider moving to an area with Latinx residents than a community that is mostly black. That means Latinx neighborhoods face combined pressure from both economic disadvantage and the threat of displacement, as they're priced out of their historical neighborhoods by real estate development and a reversal of white flight.
Growing up on the border of Logan Square and Hermosa in the '80s, Armando Pérez, the multi-disciplinary guitarist and vocalist for ÉSSO Afrojam Funkbeat, remembers being surrounded by a palette of cultures. Around two-thirds of Chicago's Latinx population has Mexican heritage, but they share their neighborhoods with families from around the globe. "I had best friends that were like, Asian, Indian, Polish, Puerto Rican, Mexicans like myself, and we had some white and African-American, and it was just a mix of all types of kids," he says. "I actually remember going to a class that was bilingual." Pérez also recalls being surrounded by music, from six older brothers and sisters who bumped B-96 and Z-95 on clock radios; kept the walls throbbing with house and techno; and packed mixtapes with new wave, hip-hop, Spanish pop and the sentimental musica romantic.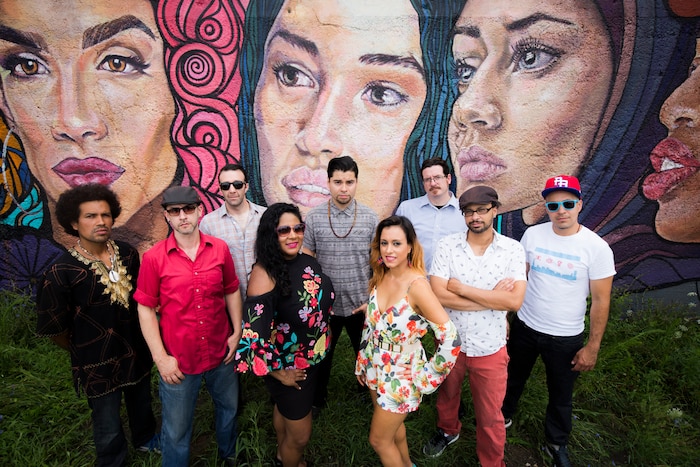 Growing up in Logan Square during the same era, David Chavez of Future Rootz remembers basement parties and house parties, DJs on the radio and trading mixes with friends. "Growing up in the heyday of house music and DJs on the radio, I never wanted to shred the guitar," he jokes. These varying influences define what the Future Rootz collective refers to as LatiNxt, a completely new sound where musicians combine their personal cultural perspective and individual music taste to create something completely new.
"There's a band in Chicago called Dolor Folktrónico," says Sandra Treviño, a Future Rootz co-founder who spins under the name DJ Angelfuk. She's referring to the the super-group formed by masked production duo Los MaraFackas and Lester Rey, the proudly Puerto-Rican neo-soul artist behind the nomadic and inclusive Pum Pum parties.
"Each of the individuals is influenced by music that has nothing to do with each other, from Norteño music, to reggaeton, to rock," Treviño continues. "They're individual, but they put all this together from their own perspectives. It's Chicago because they're from Chicago, but it also has their own cultural perspective, which is what I love."
"You have a lot of Latinx folks doing just straight R&B or straight rock," fellow Future Rootz member Chavez points out. "They don't feel obligated to put their cultural roots front and center so much anymore, because it's part of who they are, and it's part of their voice. It's part of their DNA."
Part of the mission of Future Rootz is to make sure those voices have a chance to be heard. When Navy Pier decided to launch a new lakefront festival in the summer of 2018, the collective helped curate a roots-oriented mix of live bands and DJs, drawing from both Latin America and Chicago's homegrown community to showcase their LatiNxt concept.
"It a way of helping to expose a lot of the artists that we like, and also helping to put on stage and expose a new era of our Latinx community," Chavez explains. Pachanga's Daniel Martinez and Guillermo Duarte came on to curate the artists' market, using their vendor contacts from the tianguis they host at East Room each month, and learning from the members of Future Rootz in the process.
"David Chavez, AfroQbano, Sandra Treviño, they're the OGs who set the tone and inspire and pioneer a lot of the events in Chicago, and they're DJs who we often ask for advice, who we often ask for direction," Duarte says. Collectives like CumbiaSazo! and (((Sonorama))) also help set the stage for today's youngest generation of party promoters.
Together with allies, these Chicago musicians are working together to create a truly egalitarian playing field for all, built from the ground up. "It's really important to have not only different cultures, but men and women in the same band, because I feel like it's incomplete if it's not," ÉSSO's Pérez says. "I feel like it can be one-dimensional if you don't have different viewpoints, different experiences and different people sharing that space."
"We try to push female representation on all platforms, because it's still lacking," says Treviño. Along with Stephanie Manriquez, who DJs eclectic vinyl cuts under the name Fanita Banana, she spins female-fronted Latin Alternative on local radio stations like Lumpen Radio while bringing a more faceted perspective to Future Rootz endeavors.
"I think Future Rootz, as a collective, each of the members have something to put into it,"Manriquez says. "We're trying to stay together in order to have a bigger impact. Sometimes, as a minority, I think we need to gather ourselves to be stronger."
Strength in numbers is also familiar concept to the other Chicago Latinx artists who have found their audience in the QTPOC scene, like TRQPITECA, a steadily-booked DJ duo who also produce lush, tropical-inspired undergrounds. Another one of Chicago's longest-running queer parties, FKA, boasts diverse leadership including performer Irregular Girl and DJ [X]P.
[X]P's also behind the monthly party DURO at Berlin, where he combines Latin and club sounds to drive a late, sweaty party in a blacked-out club that smolders til 4 AM. Glitter kink designer Gnat has stepped in to help create a femme-and-fetish-forward atmosphere, sometimes hosting a preceding cocktail hour called Bebidas with Bae. Performers from collectives like Las Topo Chicas and The Chanels (Las Chanéls: BABŸ, DARKDYNAZTY and Mané) perform on stages littered with crumpled dollars and rose petals while queer Latinxs in every shade of foundation cheer them on.
Creating a sacred space where your culture and individuality is appreciated is something that's second nature to Treviño, who dove into broadcast journalism when she noticed a complete lack of rock en español coverage in English-language media. "If the outlet doesn't exist, create it," she encourages. "If you're not getting covered, create your own TV show so you can cover yourself. Put yourself out there."
She pauses, then adds three final words. "Don't give up."