The Nuyorican Poets Cafe, a DIY Hip-Hop Incubator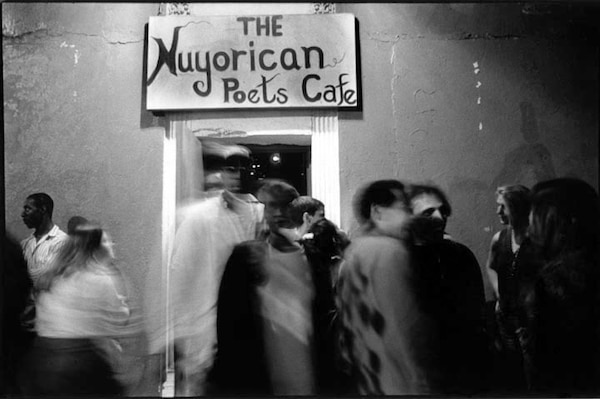 How the New York City venue became an epicenter of underground hip-hop and slam poetry in the '90s
On the night of Halloween 1989, Bob Holman brought slam poetry to the newly reopened Nuyorican Poets Cafe. An intimate 120-person venue on Manhattan's Lower East Side, the Nuyorican had been shuttered for much of the '80s due to the fallout from "crack, AIDS and gentrification," says Holman. The revamped style of poetry performance – which encouraged audience participation as poets competed against each other – kick-started the Nuyorican's transformation into a sandbox environment that attracted a wave of revered writers and artists raised under the influence of hip-hop: Paul Beatty, Reg E. Gaines, Tracie Morris, Mos Def, Talib Kweli and Erykah Badu all came to use the open mic spot to figure out their artistic voices. At the apex of the movement was Saul Williams, whom Holman remembers as the "flashpoint" for a '90s spoken word scene that mixed hip-hop vernacular and attitude with poetical delivery.
"If you want a quantum perspective on why the Nuyorican scene happened like this," reflects Williams, "this is the beginning of real gangsta rap on the radio. All the thought-provoking and wordplay rappers were being called 'underground,' so people were looking to be stimulated through hip-hop and not just have their gangsta identities confirmed. And those people were all showing up at poetry readings: 'Ah, this is where the lyricists are!'"
Thematically, the content of the poetry was as conscious and abstract and forward-thinking as the hip-hop music.
The roots of the Nuyorican Poets Cafe go back to 1973, when the Puerto Rican-born poet Miguel Algarin began to host gatherings for playwrights and poets in his East Village apartment. The spirit of the Nuyorican, says Holman, was about "the real grassroots poetics springing out of the Nuyorican street poets tradition." He mentions Jorge Brandon, one of the founding fathers of the Nuyorican poetry movement, as embodying this bohemian spirit: "He read in Spanish in a sing-songy, chanty style while stood next to his shopping cart filled with sign-painting equipment and wearing a tin hard-hat that had 'El Coco Que Habla' [the talking coconut] painted on it."
After briefly taking up residence inside an Irish bar on East 6th Street – "You'd order a beer from the bartender, he'd go to the bodega next door, buy one and bring it back," says Holman – the Nuyorican Poets Cafe organized as a nonprofit and purchased a rundown tenement building for $7,800 on East 3rd Street between Avenues B and C in 1981. (The wooden bar from the former location was ceremonially carried down the block and installed inside the new venue.) According to Daniel Gallant, the Nuyorican's present executive director, the low price was due to a restrictive covenant placed on the building by New York City which mandated it could only be used for "nonprofit artistic purposes."
Raising funds for necessary renovations on the property took most of the '80s. During this time, Holman, a poet himself who had been hanging out at the Nuyorican since the '70s, says he "collaborated to the bone" with Algarin to fix the place up. He was rewarded with a co-director position upon the Nuyorican's relaunch, while Algarin eventually became a lifetime board member.
While readying the Nuyorican for its reopening, Holman was considering programming options. During that time he discovered a slam poetry night at the Green Mill Lounge in Chicago that had been run by the poet Marc Smith since 1987. In slam, Holman saw the same sort of spirit and verve that was present in the Nuyorican street poets custom, and he suspected this brasher format could reinvigorate New York's poetry scene. "No longer do you go to a poetry reading – who wants to do that? – you go to a poetry slam," he recalls. "You'd hear one poet after another and you get audience participation with the judging and it's all a mock Olympics, but it's putting poetry into the world in a different way in a bar on the Lower East Side in the context of the Nuyorican spoken word traditions."
Holman's hunch paid off. The Nuyorican's new slam nights, originally called Slam Open, attracted a fresh generation of poets who'd grown up with hip-hop culture. Paul Beatty, who's now a Man Booker Prize-winning author, helped define the new direction. "He was our first grand slam champion and his poetry is infused with hip-hop," says Holman. "The audience at the Nuyorican had their ears tuned to poetry but could hear in Paul's voice this extraordinary mix with hip-hop." Also key to the development were the poets Reg E. Gaines and Maggie Estep, who'd recite hip-hop-styled duets together, along with a couple of upcoming poets named Willie Perdomo and Tracie Morris, both of whom came to the Nuyorican in 1991.
Perdomo remembers the venue as "this cool, underground joint where it didn't even have a sign." The spot housed a diverse crowd – "multicultural, multi-gender, multi-everything really" – but hip-hop linked the performers. "You had a lot of young black and Latinx poets writing poetry that echoed the Native Tongues movement," he says, referring to the late '80s and early '90s collective of socially conscientious hip-hop artists led by De La Soul, Jungle Brothers and A Tribe Called Quest and closely linked to New York groups like Brand Nubian and KMD. "Thematically, the content of the poetry was as conscious and abstract and forward-thinking as the hip-hop music." As a snapshot of the times, Perdomo's "N-----Reecan Blues," which is hooked around various characters casting doubt on Perdomo's racial makeup, sounds like a bedfellow to KMD's 1991 album Mr. Hood, on which songs like "Who Me?" employ sampled dialogue about a Lil Sambo caricature to comment on racist stereotypes.
It was about encouraging individual voices and not just cult of personality or a popular voice.
In a similar fashion, hearing Tracie Morris recite her 1992 poem "Project Princess" in a fleet-tongued, scat-style flow brings to mind the early '90s jazz-rap vibe of Digable Planets. Morris was hipped to the Nuyorican by Amiri Baraka's daughter, Lisa Jones, who encouraged her to read poetry there. "At the time there weren't many women who were doing poetry that was hip-hop oriented," Morris says, adding that before appearing at the Nuyorican she'd been reading poetry with a group of "black bohemian performance artists who were hanging out on the Lower East Side." Against a commercial hip-hop scene increasingly focused on packaging a gangsta rap template to the masses, Morris says the spoken word circuit came with "an expectation to innovate" due to "audiences that would not run away from something considered avant-garde or straight-up weird. It was about encouraging individual voices and not just cult of personality or a popular voice."
While Holman's slam nights were a breath of fresh air to New York's young poets and MCs, a promoter named Rocky LaMontagne was soon to cement the Nuyorican's relationship with the hip-hop generation. While working the door at the Village Gate jazz club, LaMontagne had also started a night there called Be-Bop that paired MCs with a live band. He'd settled on the format after seeing Lisa Lisa and Cult Jam's band grooving on stage with the rapper D-Nice from Boogie Down Productions. When the Village Gate shuttered in early 1994, LaMontagne took a video tape of Be-Bop to the Nuyorican and boldly guaranteed he could get 200 people to turn up on a Monday. LaMontagne wound up being offered a Wednesday. A friend introduced LaMontagne to the bass player Calvin Gaines, whose brother was the poet Reg E. Gaines. Calvin Gaines told LaMontagne "this poetry thing is gonna be big," so LaMontagne added it to the open mic night he had been given the go-ahead to start. He rebranded it as All That. He also reached out to Bobbito Garcia – whose Columbia University radio show with Stretch Armstrong was known for airing demos and independent singles from upcoming artists – to host. LaMontagne figured Garcia's "celebrity and knowledge would really bring it all together" and keep the performers in check from a position of respect.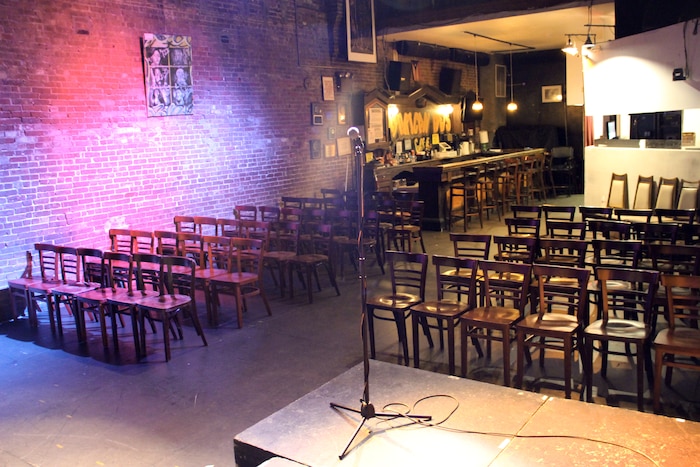 At All That, aspiring MCs and poets would pay the $5 cover charge and be allowed to perform one verse. Recalling the set-up on the night, the rapper Wordsworth says, "You'd walk up to the front of the stage and there was a DJ on the right side with a list you could put your name on, and they had a live band pretty much on set too."
In 1995, LaMontagne added a second night called Words that was cast as an environment to debut new material. He wanted to showcase underground hip-hop artists like Mos Def, Company Flow and Siah and Yeshua DapoED, whose music was unlikely to be given airplay on Hot 97. Being surrounded by a crowd of creative peers was part of the appeal of LaMontagne's nights. "They were people like yourself developing and gaining exposure and experience through their craft," recalls Queen Herawin, an MC with both the Juggaknots and the all-woman crew Gypcees. "The audience was truly dope, receptive, patient and respectful of the craft."
By the time Holman had left the Nuyorican in 1996 to help found the Bowery Arts & Science nonprofit arts organization, LaMontagne's open mic nights had become the venue's calling card for the city's hip-hop scene. MF Doom announced his return to the hip-hop world there in 1998 after his old group, KMD, disbanded following the death of his brother, Subroc, while crossing the Long Island Expressway. "It's a poetry cafe so it's really set up with candles on tables," recalls Doom, who rapped from behind a stocking as his now-trademark metal face mask wasn't yet ready. "The Nuyorican shit was real intimate, real lyrical, like the stage must have been shorter than a table so you see the reactions of the people, kinda joke around with them."
Saul Williams remembers Eminem visiting All That in 1998 and performing "Just The Two Of Us" off a cassette backing track to the amazement of the MCs in the audience. "Then he went to Lyricist Lounge and in a month he signed to Dr. Dre," Williams recalls. "It was a quick trajectory – but there was a splash and a buzz in New York before he signed." Also performing at the Nuyorican as a rite of passage was a singer-songwriter named Erykah Badu, who appeared there before the release of her 1996 debut "On & On" helped define the neo-soul movement. "She gets on stage, she's in full Badu, got a head-wrap on and you're expecting spoken word," says Cryptic One, a rapper and producer from the Atoms Family clique that included Cannibal Ox among its ranks. "Instead she performed 'On & On' and the place was floored."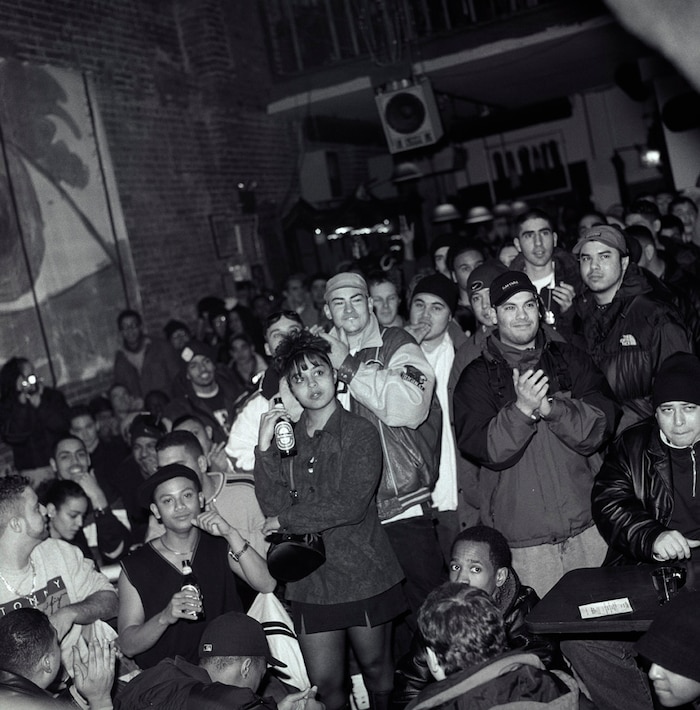 Beyond standout performances, the Nuyorican became a place to make connections and become inspired. Apani B Fly, a New York City MC who's worked with MF Doom and Talib Kweli, says handing her demo to the host Bobbito, who also ran the Fondle 'Em record label along with his college radio show, prompted "the jump from being another MC at the open mic to an artist that made records." After meeting High Priest, a rapper and producer from the progressive Antipop Consortium group, at the Nuyorican, she debuted as a guest on his 1997 track "Disorientation." The song also featured Beans, another avant-garde-leaning MC from Antipop, who recalls, "A lot of people I met who laid the foundations for where we are now came out of that scene: I met Mos Def [at the Nuyorican], Talib Kweli, Mike Ladd, Saul Williams, El-P. A lot of the formative underground hip-hop heads came out of this poetry scene."
Through the mid-to late '90s, established artists would pass through the Nuyorican, too. Pharoahe Monch, whose group Organized Konfusion was signed to the major label Priority, was looked up to by many underground rappers on account of the way his lyrics embraced highly technical rhyme schemes and complex flows, even if his music at the time wasn't a commercial hit. Visiting the Nuyorican kept Monch's creative instincts sharp. "It was super progressive and I was pretty much a sponge," he says, recalling witnessing MCs expressing new ideologies and word patterns. "I was trying to absorb all of that creativeness."
During the peak years of 1995 and 1996, LaMontagne says All That and Words (which each took place once a month) would pack in 300 people. One evening, an A&R from Epic Records tried to catch a Mos Def performance but was told the venue was full. Recalling the incident, LaMontagne remembers the A&R telling him, "If I can't see Mos Def I may not be able to sign him." LaMontagne responded: "The reason you can't get in is because it's so packed because Mos Def is here, so if you don't sign him you're stupid!"
As the Nuyorican became crammed to over-capacity, a secondary DIY scene sprouted up outside the venue, with rappers rhyming and freestyling in cipher sessions. Often going on until three in the morning, a cipher could attract crowds of over 40 people and, according to Cryptic One, were prone to spilling out into the street: "Car's coming – move over!"
The rapper Canibus remembers a cipher with "a vicious group of MCs called the Plague, maybe close to three dozen MCs, including Pumpkinhead." Also present were Wu-Tang Clan affiliate Killah Priest, Cella Dwellas and Onyx. "Man, the entire population of MCs used to orbit around the Cafe."
The supportive vibe inside the Nuyorican carried over to these ciphers, which Queen Herawin says were "in some ways freer, more raw and interactive," with MCs no longer constrained by a show format. Breeze Brewin, also from the Juggaknots, says ciphers offered immediate feedback: "You got to hear how you sound next to people you really respected, with an opportunity to earn their respect."
The essence of the ciphers outside the Nuyorican were about camaraderie and celebrating a love of rhyming. Canibus calls them "our version of social media," existing away from the commercial scene and offering a gatekeeper-free way to network. "We enjoyed building with one another more than the hip-hop generation now enjoys battling. The tearing down? I don't know how exciting that was in comparison to going back to your yard knowing you met up with some new MCs and you were gonna see them there next week."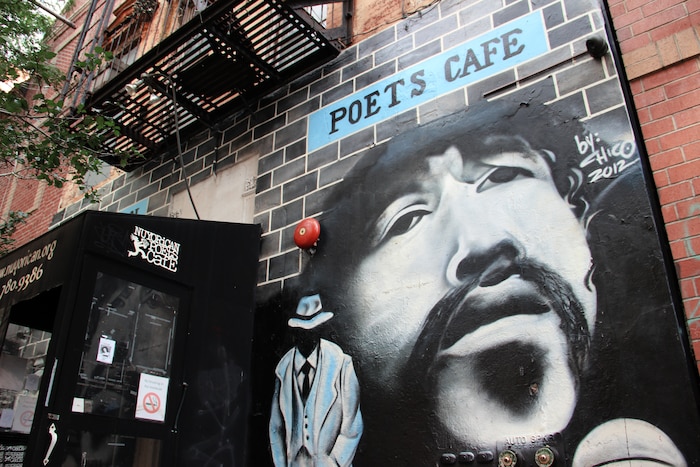 Eventually, one figure emerged who seemed to synthesize the entire Nuyorican Poets Cafe scene: Saul Williams. An actor, poet and MC who had moved back to New York City from Atlanta in 1994, Williams experienced his first poetry reading in a Manhattan restaurant that fall, before attending open mics at the Brooklyn Moon Cafe. Williams also remembers going to underground sessions Mos Def used to host in the basement of his mother's store in downtown Brooklyn, where on one occasion Maseo from De La Soul DJed to a group of 20 people that included Talib Kweli, Dead Prez and six members of the Wu-Tang Clan. Blessed with a theatrical voice, Williams cultivated an oratorical style that delivered sci-fi and mystical references in a booming fashion.
At the Brooklyn Moon, the poet-turned-actor muMs da Schemer told Williams about the Nuyorican's slams, and mentioned how Paul Beatty scored a book deal after winning the first slam. Along with the poet Jessica Care Moore, Williams trekked to the Nuyorican on a Wednesday in March of 1996, where Holman encouraged him to compete in a slam night he was hosting.
The way Williams recalls it, what happened next was a whirlwind career ascendency. He won the first slam he attended, came back that Friday to take the semifinals, and won that year's grand slam in April of 1996. In the audience was a reporter from the New York Times, the documentary maker Paul Devlin and the filmmaker Marc Levin. Williams awoke to his poetry being on the front of the Times. Before long, he was being trailed to the national slam in Portland, Oregon for Devlin's SlamNation documentary, and starring in Levin's film Slam, which won a Grand Jury Prize at Sundance in February 1998. "The idea of slam goes from underground to worldwide and I guess I become a figurehead," Williams says. "But the fact of the matter is, those three slams I did initially, and the three slams I had to do at the nationals, is all I ever slammed."
Williams became the poster boy for the slam poetry movement – but ultimately he stopped going by the Nuyorican Poets Cafe when he moved to Los Angeles towards the end of 1998 to sign a record deal with Rick Rubin. Other poets and MCs from the era tell a similar story about drifting away from the Nuyorican at the tail end of the '90s. Some moved on to bigger venues. Cryptic One cites the Lyricist Lounge nights, which would often attract more of a record industry crowd, as the next step: "I don't want to say commercial, but there was more money invested in it, the crowds were bigger and it didn't have the same DIY vibe. You felt like those people were kinda already polished – it wasn't this raw, first-time-on-stage guy killing it." On the slam side, Morris noticed a commercial mentality creeping into the scene, with poets focused on scoring record deals. She even came across slam ghostwriters. "It's like hip-hop," she says. "You're supposed to be able to write your own stuff and be judged on the merits of that. We built a community together, but it wasn't about commercial success."
Today, the Nuyorican Poets Cafe is still running out of its East 3rd Street location. Incredibly, the All That and Words nights continue 25 years later – although LaMontagne stepped away from them in 2007 when he moved to Arizona. (They're now organized and hosted by WiseGuy and Gaston, whom LaMontagne remembers being present at his early shows.) But for a generation of poets and MCs, the Nuyorican will always be most fondly associated with the way it became an outlet for alternative and experimental voices during the '90s. Its conviction in the power of words over commerce is its legacy, which can be seen in projects like Saul Williams's upcoming, crowd-funded Neptune Frost musical (about a futuristic African hacker), and the way El-P and Mos Def have become cult figures by sticking to an uncompromising attitude towards making music. Echoing Williams's belief that the Nuyorican's ultimate role was as an antidote to the mainstream, MF Doom looks back on the era through the lens of a hip-hop purist: "People got used to seeing more glamorized and shiny [rappers]. That's when it really started to be over-glamorized and [got a] real corporate kinda structure to it. So this was just taking it back to rhyming on the corner – grab a mic."
Header image © Courtesy of Nuyorican Poets Cafe