Still Runnin-N-Gunnin: The Rebirth of Memphis Rap Legend Tommy Wright III
In the 1990s, Tommy Wright III stood at the vanguard of his city's dark and brooding rap scene. After years in the wilderness, his legacy is finally being truly appreciated and his career is undergoing a hard-earned resurgence
Tommy Wright III is wearing white and eating barbecue. On the table in front of him lies a pile of crumpled napkins, each sacrificed so that his T-shirt – which reads "FLY" in shiny silver letters – and his pre-distressed denim shorts remain pristine. Though it's sweltering hot, and the air is thick with humidity and Mississippi River mosquitos, his perm is impeccable.
Wright is now 42 and white hairs are creeping into his thin beard, but for gangster rap fans of a certain stripe, his legend is more potent than ever. Among the many young Memphis rappers of the 1990s, Wright cut an especially gifted, ambitious and prolific figure. Between 1991 and 2001, he recorded five solo tapes and CDs, two more with the group Ten Wanted Men, and produced a number of albums and EPs for his own Street Smart Records, including Riverside Click's Runnin In Da Wind, Niggaz of Destruction's self-titled debut and the soundtrack for an as-yet-unreleased documentary, Behind Closed Doors.
Then it all fell apart.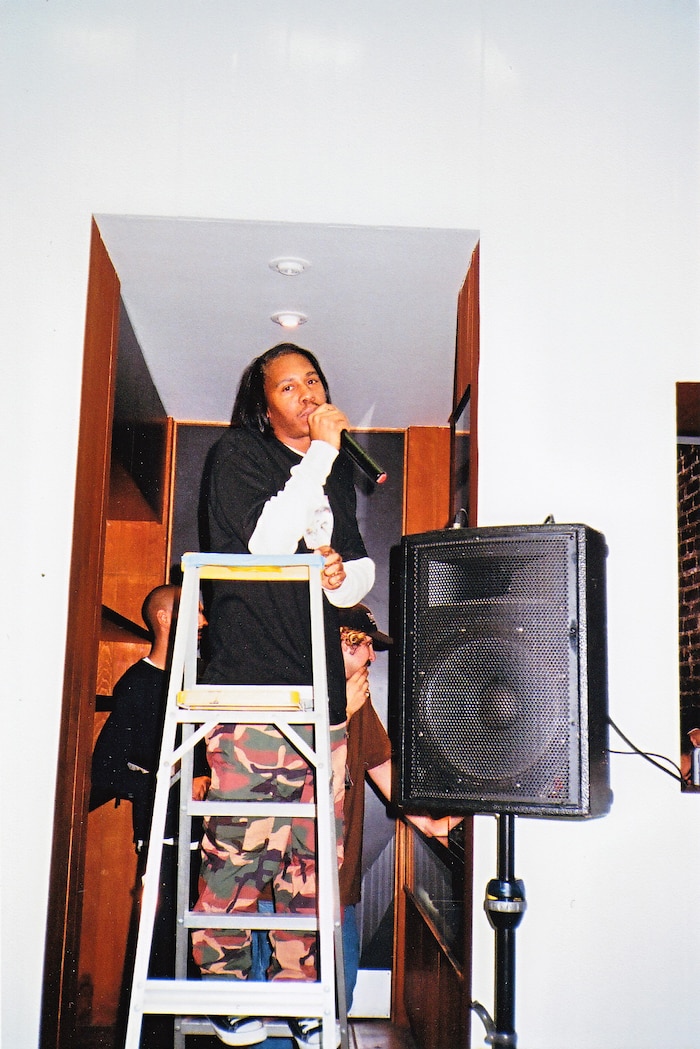 On May 6, 1976, Erma Lewis-Ivie and Tommy Wright Jr. welcomed their only child into the world. Lewis-Ivie was a postal worker and Wright was employed by Southern Metal and Plastic. Both are deaf, yet have always been musical – or, more specifically, rhythmic. "They sang in sign language and sort of performed in the church choir," explains Wright, battling a sore throat with a mug of hot water fortified with honey and lemon. "It's a deaf church, the preacher's deaf, the choir's deaf, [but] they still do songs – they just do it in sign language."
For the young Tommy Wright III, signing in unison in a deaf Baptist church wasn't enough. While his contemporaries drank in the Delta's rich musical heritage, he developed a truly unquenchable thirst. As a child, he says, he was always "chasing music." Then he found Disco Hound.
The mid-to late 1980s was a period of musical transition in Memphis. Adults – who owned, frequented and DJed at the city's clubs – were in thrall to electro, but all the kids were obsessed with rap. Describing the scene, local favorite DJ Spanish Fly told RBMA's Noz that the older generation weren't "gettin' buck in there. They dancing to Dominatrix, they dancing to [Strafe's] 'Set It Off,' [Newcleus's] 'Jam on It….' They ain't dancing to [Scarface]. They didn't want to hear that shit, because you gonna get cut off the radio talking about 'pushing rocks on the block,' or 'suck a motherfucker's dick' and all that shit."
That all changed when Spanish Fly – along with local DJs Soni D, Ray the Jay and Disco Hound – drew up a blueprint for Memphis rap filled with blunt-force 808 bass, lyrics about drug dealing and samples of the Showboys' classic "Drag Rap."
"Disco Hound – luckily for me – was my neighbor. I really didn't know [what] he did. I just knew that he would dress up and ride a limo all the time... He lived right across the street from me for years and he would let me tag along," recalls Wright, who was in middle school at the time. "Whenever they'd have a big star coming into town, Disco Hound would let me in the club without anybody knowing… [I was] able to check out things when Memphis was really, really hot… when Memphis was becoming its own, at a time where a lot of things were on the rise, when we were building our identity. I was right there to see a whole lot of it."
We're making tapes just to be bumping in the hood, just to impress our friends, and we didn't even know we was creating a whole era.
As the decade turned, the kids who'd done laps on the polished-wood floors of the Crystal Palace roller rink – and who smoked, drank, and brawled in its parking lot – became full-grown clubgoers, musicians and hoodlums. Wright's cohort, raised on gritty, out-of-state rap and widely bootlegged Spanish Fly cassettes, began synthesizing their influences into music that more accurately reflected their own lives. Theirs was a generation plagued by an outrageous murder rate, widespread poverty, an underfunded school system, a corrupt police force, rampant drug addiction and widespread unemployment. There were gangsters on the street, gangsters with Memphis Police Department badges, gangsters in the club dancing to SMK's "Da Gangsta Walk."
Inspired by the early stirrings of the Memphis rap scene, the young Wright got to work, making music under short-lived aliases MC Robot, MC Electronic and the Independent Rapper. Though 1991's Memphis Massacre is widely believed to be his earliest effort, he'd recorded a tape a year or so earlier. Titled Still Not Quite Human, its cover featured a black-and-white silhouette of Wright being arrested. As for the music, nothing remains to be described here.
"It was one or two of the songs from Memphis Massacre and quite a few songs that have gotten away from me, that I don't have access to," Wright says, his voice heavy with nostalgia and regret. "They're lost in time."
When Wright decided to record his official debut, he broke the bank. Literally.
"I just went ahead and took a piggy bank full of nickels, dimes, quarters and pennies to [local producers] Lyrical Dope and Herbert Young," he says. "They laughed at me when I cracked it open, but I told them I was serious and I needed to do some songs… I distributed Memphis Massacre by way of taking a backpack to school and selling them [there]."
For Wright, who recorded the album's eight songs in a single day, Memphis Massacre was a kind of rap bar mitzvah. Although he was still a boy, he projected a rugged maturity. At 15 years old, he was living in public housing in Riverside – a neighborhood walking-distance from the Mississippi – and it was there that he began to have his first adult feelings and experiences.
"I got in a lot of trouble over there. That's where I saw a whole lot of problems and where I really learned the streets," he says. "That's where my first crushes were, that's when I first had a love for fast cars and rims, [where I] lost family members, and I guess that's when my mom felt it was a time for a change. That's when we headed on over to Four Corners."
Four Corners isn't far from Riverside, but the move separated Wright from his rowdy cousins and old friends. An angular slice of the Whitehaven neighborhood – nicknamed "Blackhaven," for obvious reasons – Four Corners is loosely demarcated by Tulane Drive to the west, Lakeview Road cutting diagonally into the northwest, with Twinkletown Road to the north, Shelby Drive to the south and the area's main thoroughfare, Elvis Presley Boulevard, to the east. It was there that he found a new clique: Ten Wanted Men.
"It almost seems that things like that fall in place," Wright says. "I met most of my rap group members real young. I met them in strange places, like the skating rink, [or] in the hood, in the projects. I gave most of my group members their names… At the time, I still didn't take myself serious as a rapper. I was always recruiting talent, I was always trying to grab guys who grabbed the mic at a local party, or who was rapping in the cafeteria – that's where I got most of the guys in Ten Wanted Men from… I put together a dream team from being in the streets and telling those guys, 'I think we can do this.'"
These were commonplace pre-internet tactics, particularly in Memphis, where a young DJ/producer with tolerant parents and a lo-fi home studio could act as the linchpin for a whole crew of neighborhood kids. Orange Mound had DJ Squeeky, North Memphis had DJ Paul and, in the verdant backwoods of Whitehaven, where single-story clapboard homes and brick ranch-style houses overlook cracked pavements from grassy hills, Wright had a bedroom packed with aspiring rappers. The key members of the numerically fluid and gender-plural Ten Wanted Men – including C-9, Princess Loko, Mac T-Dog, Project Pimp, Lil Ramsey and Womack Da Omen – formed the foundation of his fledgling Street Smart Records.
The two Wanted Women, Princess Loko and Womack Da Omen's older sister, La Chat, brought something extra to the crew, their voices acting as razor-sharp stilettoes in an arsenal otherwise filled with heavy, male artillery. "I felt they were just as good as the guys," Wright says. "That's big to me – I never really thought about it being special. I just looked at it as 'They're dope.'"
Kids in North and South Memphis were surrounded by violence, and in turn they set about making ashen, ghoulish music that sounded like a city spiraling out of control.
Is the cover of 1994's Runnin-N-Gunnin a real mugshot? "When I got arrested, it was for, like, a gun," Wright explains. "I can almost remember that outfit and that shirt. We were caught in a round-up when I had that spray-painted shirt on. I didn't stay in jail long, but the charges definitely started piling up on me from that point on."
The album's title is appropriate, then. In 1994, Wright was 18 years old, still in high school, a father-to-be and, like a true desperado, walking the streets with a pistol tucked in his waistband. He wasn't the only Memphian living by the motto "I'd rather be caught with it than caught without it." In 1993, 198 people were killed in Memphis. The city's per-capita murder rate outstripped even the notoriously trigger-happy Los Angeles. In 1994 and 1995, Memphis ranked number one in the US for burglaries per 100,000 people and second for rapes, vying with Detroit, Washington, D.C., New Orleans and Baltimore for the dubious title of most dangerous city in the United States.
Against this backdrop, the city's rap scene was growing into a self-contained, fruitful ecosystem. Kids in North and South Memphis were surrounded by violence, and in turn they set about making ashen, ghoulish music that sounded like a city spiraling out of control. Underground acts DJ Squeeky, Skinny Pimp and Three 6 Mafia were joining Gangsta Pat, Al Kapone, Tela and 8Ball & MJG as bonafide local celebrities; car stereo shops like Car Toyz and Mr Z's (immortalized in a Spanish Fly song of the same name) were selling cassettes quicker than they could restock them; small labels and bedroom studios were popping up all over.
"The Memphis scene in the mid-'90s was the beginning of a whole lot of stuff," Wright recollects. "We're on top of the world, but really don't even know it – all we're listening to is Memphis, we're not even hardly listening to anything else. You got stores, you got stereo shops, we're all making underground tapes."
Wright seems to have had contradictory feelings about his work at this point. He was dedicated to his craft and sought to package his music as professionally as possible – his commitment to cover art and tracklists was particularly rare among his peers – but he had no thoughts of creating a legacy. Without national press, and with few cassettes leaving the Tennessee-Arkansas-Mississippi tri-state area, the Memphis rap industry was an intensely local affair, from the creation and distribution of tapes to their listenership and rampant bootlegging. Generally sold wholesale to stereo shops for $3 to $5, these homegrown recordings provided some financial reward, but their value as art took a long time to be recognized.
"There wasn't no CD's – we wasn't even thinking about vinyl. It was straight-up, man… making tapes with other people's music sometimes, then getting to the point where we were making our own music, and making tapes with just our group members… giving them beats, going to get copies, taking those to the store, and almost making a living off of it…" Wright recalls. "You got little tape shops supplying other tape shops in other little towns, and they're catching on to Memphis… We're making a huge impact, and we have no clue. We're making tapes just to be bumping in the hood, just to impress our friends, and we didn't even know we was creating a whole era. Every hood was doing it."
Wright's 1996 magnum opus, On the Run, marked his transition from cassette to CD, and the beginning of an ill-fated relationship with the Memphis-based independent distributor Select-O-Hits. The project was originally conceived as The Tommy Wright Show, a collaboration between Wright and Playa Fly, whose recent departure from Three 6 Mafia had been openly acrimonious. (On his incendiary "Triple Bitch Mafia," among other provocations, Fly mocked DJ Paul's deformed arm, calling him a "cripple," and said that Gangsta Boo's "facial features favored hell.") Wright felt that, if anyone could rein in the unbridled Fly, it was him.
"One day, he pulled up in my front yard. I heard a car door slam. I looked out the window and there was real big station wagon – I remember it like it was yesterday – and all of a sudden, the back door opens and there goes Fly. I was like, 'Oh, damn. He's here.' I was a fan! I took off, opened the door, and we didn't play around. We knew that we could help each other, so we instantly went to work."
Wright and Fly quickly became friends. When they weren't in the studio, they spent their time playing spot dates around Memphis and Mississippi. On a particularly memorable journey to Tupelo, a friend drove them the 100-plus miles in a station wagon she had taken from her mother without permission. Because they could only fit their speakers in the backseat, the two rappers rode in the trunk, holding the tailgate closed for the entire journey. It was during one of these trips that the two men met Super Sigg.
"Super Sigg was a big boss down in Mississippi," Wright says. "He would have me and Fly come and do shows all the time. I was kind of getting to the point where I didn't want to be on tapes no more, and CDs were about to pop off. I wanted to go ahead and start kinda talking to labels. Super Sigg approached us and asked us to sign with him."
Wright didn't find Sigg's repeated offers attractive. Sigg was a club owner – a Mississippi club owner at that – and Wright believed he and Fly were capable of securing a more lucrative deal elsewhere. Fly disagreed. Fly signed with Super Sigg, Wright with Select-O-Hits, with whom he released six albums, including On the Run, Genesis (a two-CD greatest hits collection), the Behind Closed Doors soundtrack and his final solo effort, Feel Me Before They Kill Me.
Instead of sharing responsibility for On the Run, Fly contributed two songs ("Royalty" and "Angry Souls") and two guest verses. In 1999, after three albums with Super Sigg, Fly was arrested for possession of narcotics and jailed for seven years.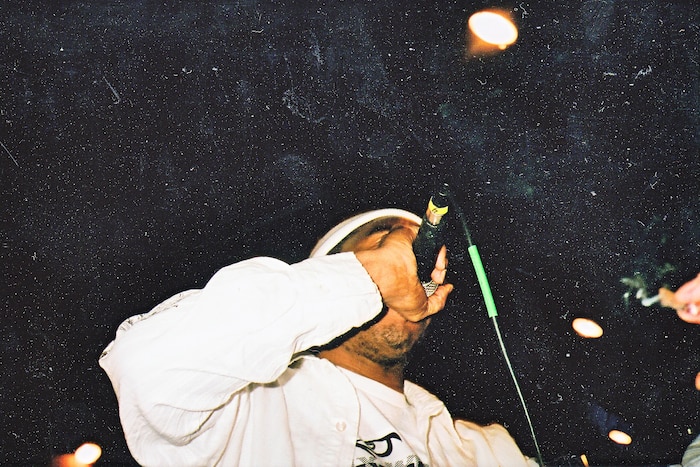 What I think will be an innocuous question prompts a painful moment of self-reflection for Wright.
"Feel Me… [recorded in 1998], was your solo last album, right?" I ask.
"I hate to say that's the last real Tommy Wright project, but it is – everything after that was remixing, recycling and remastering," he says, slowly and deliberately. "I really hate to acknowledge that [was] when I gave the fans the last real studio album from me. It almost doesn't even feel like it because I kept staying active, and I guess I shouldn't be that hard on myself… One thing about it, I always kinda looked at myself as a producer and looked at myself as a CEO, but just hearing that, it's kinda bittersweet."
Of the many reasons that I am seated across the table from Wright, one in particular stands out: He recorded a full and robust discography at a very young age. Feel Me Before They Kill Me, his fifth and final solo album, was recorded at 21 years old – the same age that Snoop Dogg, Mobb Deep and 8Ball & MJG were when they released their classic albums Doggystyle, The Infamous and Comin' Out Hard.
Wright's problems began soon after.
"Select-O-Hits…" he begins, pausing for thought, "Our relationship deteriorated over the years, after I'd released five or six projects [with them.] It could've been a whole lot better. It really could've been a whole lot bigger. They missed out. We could have taken the world by storm together, but I don't think they had the vision I had."
Wright's vision was a Street Smart Records headquarters, complete with offices and a professional studio. He had leased a warehouse space in southeast Memphis, hired electricians, altered the floor plan and purchased new recording equipment. "I'd never had real drum sets before," he remembers.
Right down to the refrigerators he bought for the break room, this was Wright's bid to stand shoulder to shoulder with the successful Three 6 Mafia-affiliated label Hypnotize Minds. But, for an artist without a national profile, the related expenses were massive. With Select-O-Hits allegedly withholding his earnings from their distribution contract, Wright soon found himself overextended and unable to afford it.
Unknown to Wright, his music had become a signifier for a certain DIY, don't-give-a-fuck rebelliousness.
He became entangled in a prolonged, expensive and ultimately unsuccessful court battle for the property. He was also trying to parent three young children and put the finishing touches on Behind Closed Doors, a planned joint release comprising a street documentary DVD and soundtrack CD.
The soundtrack, featuring PS-13, Indo-G and Mr Tinimaine, was released in 2001, but the movie, for which Wright still has hours of footage, was never edited into a complete feature. (A trailer of sorts – which includes flashes of La Chat, Playa Fly and a man putting a snake's head in his mouth – was uploaded to YouTube almost seven years ago by Wright.) Of the albums said to be "Comin' 2001 from Street Smart" in the booklet for the Manson Family's album Heltah Skeltah, none were released.
"Next thing I know I'm wrapped up in a court battle for my studio – and I was losing," says Wright. "Eventually, I lost the building and the studio right along with it. So, I started back hustling. I went back to what I know. I had to put food on the table. That's when I was in and out of jail all the time."
During his roughly four years in prison, Wright says that he was "left for dead" by people he had previously trusted. Instead of using his money to pay for lawyers, they wiped out his bank accounts, leaving him destitute. In 2005, immediately after being paroled, he returned to music, remastering 1993's Ashes II Ashes, Dust II Dust and reissuing it with Select-O-Hits. But with only a high-school diploma and no work experience outside of music, he again found himself pimping and selling drugs. Wright was desperate, and his life became gothically cruel.
"Things was still hard then, now that I think about it. I still had street walkers, I still had street workers," Wright recalls, without relish. "I got as much [as I could] done with Ashes II Ashes until my utilities got cut off. I was living at 4010 Rhodes Avenues, right across the street from where I lost my whole studio. I had to take that house because I had nowhere else to go. I had to live in that house and stare at the same property I lost my studio at. I stayed in there, got that album done, [and] thought that it would help me and bring me back, but Select-O-Hits was still keeping shady books. I ended up in the dark, lighting candles, going down to Tops Bar-B-Q just to use the bathroom, and then run back up there, still trying to supply the little crackheads in the area.
"I left that house and it became hard to make it. It was hard to do music like that, and that started a bounce-back period. In '09 and '10 is when I started getting serious about my music and taking all my rights back. I moved back to South Memphis and started fighting for my family. My kids were in a bad situation, my visitation rights were getting stepped on, my parents were in bad situations – it became about family."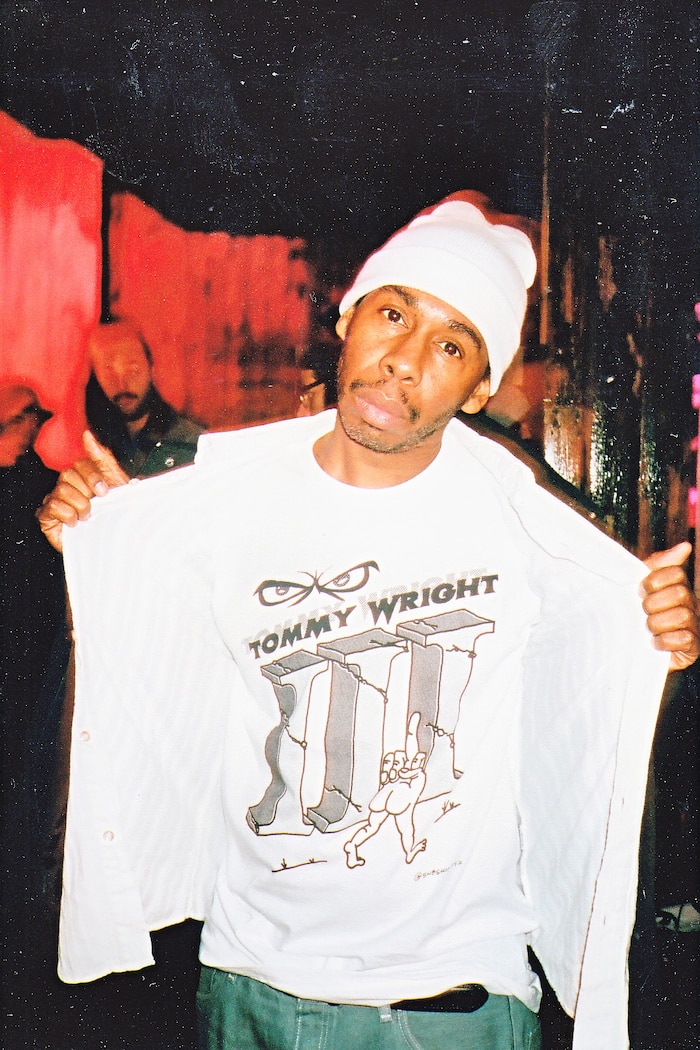 During the day, the emptiness of South Memphis is some kind of beautiful. The area's soil is naturally rich, and where once sat plantations filled with lolling white cotton boles, there is now an abundance of green grass and dense foliage – the latter sometimes reclaiming the area's abandoned homes. These buildings – boarded up and stripped of precious copper – have been left to rot in a climate that devours untreated wood. If a wrecking ball doesn't get there first, nature will happily demolish what's left.
Where did the former residents of South Memphis go? East Memphis, mainly, although there are undoubtedly some who left the city altogether. Why did they go? Because they were evicted. A Clinton-era program, Homeownership Opportunities for People Everywhere (HOPE VI), was used by Robert Lipscomb, the city's then-head of housing and community development, to remake wide swaths of Memphis. In true Clintonian fashion, the HOPE VI program had an outwardly laudable goal – new housing for the poor – but deeply capitalist roots. Largely managed by private developers, the scheme earmarked city housing projects, which were heavily concentrated in South Memphis, for replacement with mixed-income housing. (Preston Lauterbach's article "Memphis Burning" for Places Journal goes deeper in on this subject.)
The first to go was Cleaborn Homes in 1994. LeMoyne Gardens followed in 1998, Hurt Village was demolished in 2002, and Walter J. Simmons was vacated the same year (and mercifully demolished in 2016). Lauderdale Courts came down in 2003; Fowler Homes, Lamar Terrace, Oates Manor, Cypresswood, Horn Lake, Ford Road, Hawkins Mill, Dixie Homes and Graves Manor were razed between 2004 and 2007. The demolition of Foote Homes, the last holdout, began in June 2017.
Born of segregation, the projects had become staggeringly violent and fallen into a state of grave disrepair. But they were also complex, decades-old communities – places where people knew their neighbors, their grocer, the guy behind the counter at the liquor store, the drug dealers and the first-responders who arrived at the scenes of fires and shootings. Moreover, in an otherwise sprawling metropolitan area, the projects were no more than 10 or 15 minutes from jobs, schools, hospitals and social services. Now, displaced by cookie-cutter, mixed-income townhouses, which contain significantly fewer units than the old projects, countless black Memphians have been shunted to the fringes of their own city.
This tumbledown place is Wright's territory. He knows which rappers lived in which clapboard homes perched upon which hills, which demolished projects sat beside which potholed streets and which soul food restaurant Martin Luther King Jr. frequented (the Four Way, on Mississippi Boulevard). But this intimacy was, in part, earned during a decade of low-level crime, intermittent jail time and dire poverty. There was nowhere else for him to go, so he stayed.
At home in South Memphis, Wright was just another ex-con struggling to deal with the demands of life on the outside. On the internet, however, he was a cult hero whose cassettes were changing hands for outrageous sums. Sequestered in his neighborhood, paying little attention to the wider world, it took years for word of this growing status to reach him.
In 2011, the skateboard company Shake Junt released a video called "Chicken Bone Nowison." In the years preceding its release, the company had scored its promotional clips with the drawled refrain from Wright's 1994 track "Killa By Nature"("Chicken Bone, now it's on"). It's a genuine earworm, and in an organic, dedicated community like Shake Junt's, that's a powerful thing. Of the groups responsible for Wright's return to underground prominence, skateboarders have been at the forefront. Unknown to Wright, his music had become a signifier for a certain DIY, don't-give-a-fuck rebelliousness – and unknown to practically everyone else, "Killa By Nature" isn't entirely his song. In fact, it almost wasn't a song at all.
"That song was made for a [high school] talent show," admits Wright. "[It] was definitely not supposed to be on Runnin-N-Gunnin; it was just [my classmate] Dewon, AKA Chicken Bone, coming over to my house and saying, 'I need a song for the talent show.' He spit that hook one time, I told him 'Stop,' sampled it… I made that beat on the drum machine, no keyboard – and Chicken Bone got on that mic… one-take type stuff. I didn't even tell him 'Start over,' and I'm a start-over type of dude. We took that to school and, oh my God, when I say it was pandemonium… it was chaos."
The reception was so rapturous that Wright III decided to put the song on Runnin-N-Gunnin – not to steal credit from his classmate, but because he considered himself a producer first and foremost, and was proud of his work.
So, what happened to the mysterious Chicken Bone? "He does music, keeps it to himself," Wright says, "but I think I can bring him back."
Wright was unaware of the popularity generated by the Shake Junt videos until May 2011, when after a decade in the wilderness he finally caught wind of the frenzy surrounding his work. A phone call from Diplo's Mad Decent label led to him headlining its weekly party in Philadelphia – a situation so improbable that Noz, then writing for The Fader, jokingly wrote, "Is there some sort of secret cabal of Philly-based hipster revivalists who gangsta walk ironically? Or [a] heretofore unheard of community of M-Town transplants – a Little Memphis, perhaps – on the outskirts of Philly?"
The Mad Decent concert – Wright's first outside his circumscribed sliver of the South – alerted him to the possibilities of the internet. He had a fanbase; a real, live international audience, eager for CDs, cassettes, posters or any updates from a figure previously shrouded in mystery. Wright began selling music (and occasional sundries, including a hospital wristband, a purse and a brown paper bag from prison) on eBay, posting on a public Facebook account and uploading cellphone videos to YouTube.
There's an intriguing cinema verité quality to Wright's videos. No matter the gravity of the situation, viewers typically join him in uncensored and intimate moments of his daily life. A sampling:
In Tommy Wright, III – BUT IT AINT NONE, the rapper, standing in what appears to be a friend's kitchen, complains about others' snack-free pantries. As something fries on the stovetop, he complains, "You're getting my mouth all ready for somethin' that ain't there."
Tommy Wright, lll in the Hospital with grandad Grand Mason War Vet Howard Petty (R.I.P.) finds the protagonists speaking with a nurse about complications from Petty's diabetes. We never see Howard Petty, just a white man in turquoise scrubs talking to them.
Tommy Wright hides from the Cops with the Help of Junebug & Some Old Players at the Juke Joint features the rambling narratives of daytime drinkers. Wright, wearing a Barack Obama T-shirt, chats with the eponymous Junebug, who glugs directly from a Seagram's gin bottle as El Debarge and Faith Evans' "Lay With You" plays in the background.
In Tommy Wright Attends C-9 Da Fastest Funeral pt 2 the mourners are black, their clothing is black and the casket is black, but the roses piled upon it are white. As the pastor says, "With the confident hope of our Lord and savior," Wright's shaky camera pans up to a robin's egg sky with a single, lazing cloud.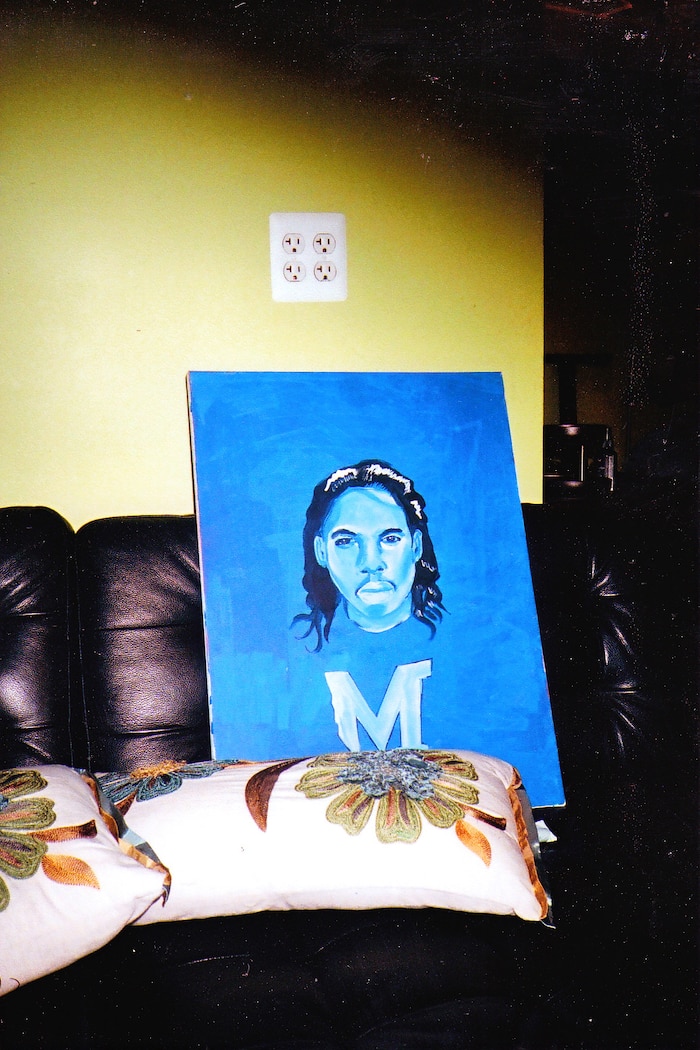 Despite signs at the Stax Museum of American Soul Music clearly stating its no-photography policy, I decide to Instagram Isaac Hayes' gold-plated Cadillac. When I look over my shoulder to check for security guards, I instead find Wright asking a woman to take a photo of him standing in front of a wall of Stax album covers.
When we leave, he says that he wants a wall like that, made of his own albums.
But Isaac Hayes, the Bar-Kays, Booker T & The MG's, and Rufus and Carla Thomas are recognized Memphis legends. Wright is not. Memphis has Graceland, the Stax museum, Beale Street (billed as "The Official Home of the Blues"), the Blues Hall of Fame, the Memphis Rock 'n' Soul Museum and the fabled Sun Studio. There is, however, no civic acknowledgment of the city's rap culture. In fact, it's nearly impossible to purchase or hear Memphis rap in Memphis. Stores typically stock a handful of CDs and records (usually Three 6 Mafia-adjacent, and never cassettes), and the city's rap radio station, K97, almost exclusively plays out-of-town hits. A vibrant and vital black culture, fueled by raw creativity and ambition, sprang to life here, and no one seems to care.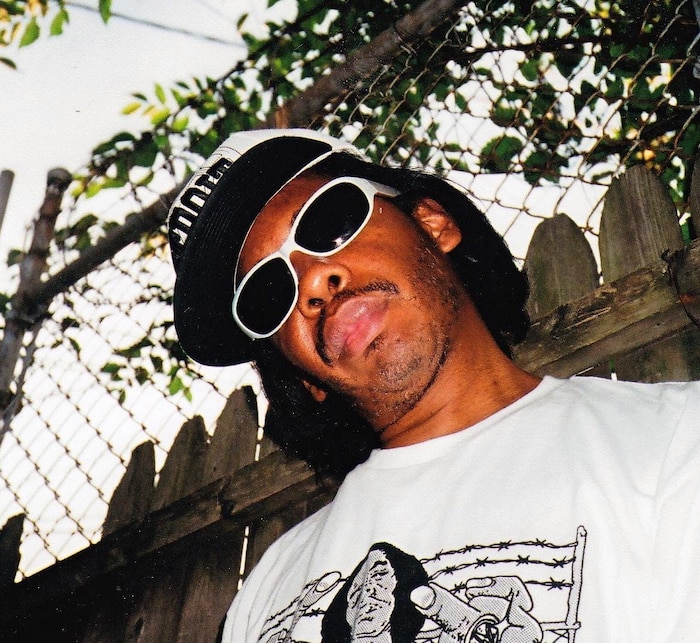 It's late April, 2018, and Wright isn't returning my calls or texts. Red Bull, unable to reach him with an offer for a show at Coney Island, have asked for help in getting the message through. I do it. Or, at least, I try to. Finally, after a couple weeks, I get a call.
He wasn't avoiding me, he says – he's just been released after a weekend in jail. (I don't press him about the other 11 or so days of silence.) He's read my texts and wants my advice: Should he take the New York gig, and renege on a handshake deal for a less prestigious show in New Orleans?
I'm surprised by the question – I've never presented myself as an expert on anything, least of all show booking, good business practices or morality – but I dutifully tell him yes, absolutely, 100%, without a doubt, he should do the show in New York. I try to allay his guilt by explaining that, because he's in his 40s, because he has children to feed and because he's toiled in anonymity for so long, he is justified in seizing every opportunity that comes his way.
Now those opportunities abound. At the time of writing, Wright has also played shows in Los Angeles, Philadelphia, Atlanta, Louisville and Austin. Meanwhile, in conjunction with an exhibition of photographs by Alexis Gross, for whom Wright is something of a muse, the Los Angeles streetwear brand Undefeated released a capsule range of T-shirts featuring his image. The company even put him on a billboard, from which he loomed large over La Brea Avenue for a week.
In spite of his newfound fame, Wright has never pretended that he's the only Memphis rapper worthy of reappraisal. His chestnut brown eyes still light up when asked about artists like Gangsta Blac, MC Spade and Shawty Pimp, who remain overlooked to this day. He's trying to show his peers that people care about their music, that they're not failures, and that the lucrative, enthusiastic audiences they once craved aren't in South Memphis, but in far-flung corners of the globe, just a couple clicks away.
Header image © Alexis Gross