Creation Rebel: Adrian Sherwood on Dub, Post-Punk and Lee "Scratch" Perry
From the DJ History archive: the On-U-Sound maestro talks about changing the musical agenda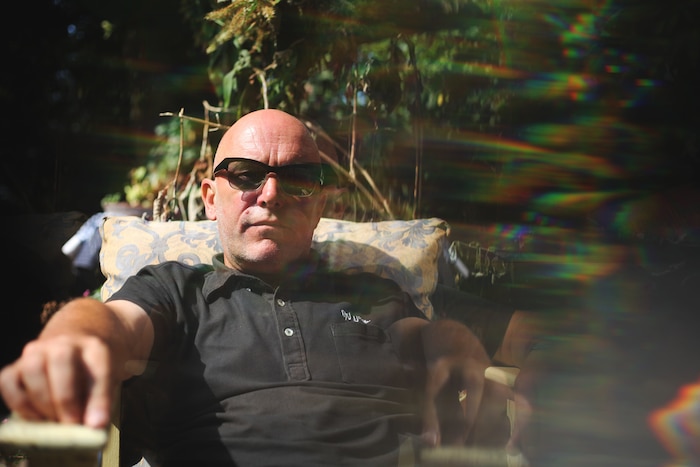 Few producers can claim to have produced quite so much revolutionary, groundbreaking music as Adrian Sherwood. Since the turn of the 1980s, the British producer has worked with a breathtakingly diverse range of artists, serving up singles and albums that apply dub reggae techniques to everything from post-punk rock, electro, industrial music, synth-pop, jazz and soul.
Sherwood got his start in the music industry as a teenager, first as a part-time DJ at a social club in his hometown of High Wycombe and then later as a distributor of reggae singles. He launched and closed a number of labels of his own during the late 1970s, before establishing the production house and imprint that would make him famous: On-U-Sound.
Sherwood had already turned his hand to production, creating his first dub album as Creation Rebel in 1977, but it was On-U-Sound and its associated sub-labels that offered him an opportunity to develop his own sound. Although he did work with reggae legends such as Prince Far I, it was joining forces with open-minded post-punk era artists such as Mark Stewart, the Fall, Maximum Joy, the Slits, London Underground and Bim Sherman that earned Sherwood a reputation as a producer on the rise.
In the years that followed, Sherwood divided his time between On-U-Sound's in-house projects – collectives such as Tackhead, Dub Syndicate and Playgroup – and high profile jobs for the likes of Ministry, Cabaret Voltaire, Nine Inch Nails, Depeche Mode, Simply Red and one of his early dub heroes, Lee 'Scratch' Perry. In recent years he's worked extensively with Tectonic co-founder Pinch, both on studio material and live performances.

In 2011, Sherwood sat down with Bill Brewster to talk at length about his teenage years, his early experiences in reggae and the development of his distinctive production sound during the formative stages of the On-U-Sound story.
How did you get into music?
The first record I heard that I liked was "Walking to New Orleans" by Fats Domino when I was about seven or something. I think you start getting into music when you're about 12 or something, don't you? At my school everyone got into T Rex. I liked T Rex, Mungo Jerry and odd pop things like that, and obviously we all liked the Motown stuff and the soul and funk stuff. The school I went to had lots of Pakistani, Indian and West Indian kids.
When I was 12, I had a mate who was from St Vincent. We used to hang around his house and play his family's singles, which were reggae and calypso but mainly reggae. Bit by bit I really got into the reggae, but I also got into funk. We used to go over to Dunstable, to the California Ballrooms, and underneath that there was the Devil's Den, which is where they used to have all the funk and stuff playing. After that we used to stay at my mate's family's house in Luton. There it was pure reggae. This was a bit later now, maybe '73 or '74, I think. We were waking up to John Holt's 1000 Volts of Holt playing!
So you must have been into those crossover records like "Monkey Spanner" and "Double Barrel"?
Well, I was DJing at school for fun at lunchtimes in the science lab to raise money for the old people's Christmas fund. We were using box record players at the end of the room. It was really crap but good fun and that's how we started. Eventually we'd stand outside our local club, which was called the Newlands Club or the Twilight in High Wycombe, which is actually where David Rodigan did his first DJ gig. We'd go down there and the DJs were Judge Kilroy and Chalky White. They were from the Hillingdon area and my friend ran Interspin, which was at all the schools in the area and he also had this club. He was Jamaican. He was like a father figure to me, a guy called Joe Farquharson.
In that club, Judge Kilroy and Chalky White were playing slamming dance music of the time, the stuff from the States, interspersed with ska, rocksteady, bluebeat and modern reggae, but not much of it. The main emphasis was on the black American stuff. It would be Adriano Celentano's "The Language Of Love," into "Lottery Spin" by Zap Pow and then loads of funk, two or three ska tunes you could shuffle to, maybe a few tunes for a smooch and then back on to the funk. That's how it used to run in them days. They were good DJs and eventually we got to DJ there in the afternoons and then in the evenings. That's how I started with my love for the music.
Were you collecting then, too?
I was an idiot. I used to go from High Wycombe very early on a Saturday and get to Record Corner in Bedford Hill, Balham for 9:30 AM. This is from being 15 or 16. They used to import soul. It was more of a soul shop than a reggae one, but I bought reggae in their imports. I bought "Rastaman Chant" by the Wailers on a black Tuff Gong import. I used to go there and to Shepherd's Bush market to Caesar's. I'd end up in Harlesden, where I got free copies [of records] off the Palmers, because I had previously worked for them at Soundville. I'd go from there back to High Wycombe and drop a few of the new tunes on that afternoon, Saturday afternoon. I'd be back there by 1:30 PM.
How did you get involved in the music industry?
It was due to Joe [Farquharson] who owned the Newlands Club. In the afternoons we used to have Emperor Rosko, Johnnie Walker, Dave Lee Travis, Noel Edmonds and Judge Dredd all doing PAs at our thing for the kids. I started doing that in 1971 when I was 13 or 14. The opening thing Joe put on there was his mate Johnny Nash. The first ever act. That was roadblock, about 2,000 people turned up. The club could only hold about 600 legally but they managed to get 1,000 in. It was only a little place. I had some mad nights down there.
Joe had worked for the Palmers in the 1960s at Club 67 and obviously they had the Apollo and they were doing promotions. They had people like Ellis Breary, who Gregory [Isaacs] wrote that "Thief A Man" tune about. He did his first tour. Joe had worked for them selling the records. Pama Records gave me a job when I was 15 or 16, before I had a driving license; they'd just started the label back up in 1974. They'd released "Tonight's The Night" by Claudette Miller and re-released "Wet Dream" by Max Romeo on their own Ocean label.
I was travelling up and down the north of England, promoting it, dropping off the tunes to DJs. Carl [Palmer] gave me my train fares. This was in my summer holidays! You know, they're lovely the Palmer brothers – Harry and Jeffrey and Carl. I then worked in his record shop. I passed my driving test and got my license two months after my 17th birthday, which was March or April 1975. I started working for Carl in Soundville.
This is not the one that Andy Sojka and co were involved in, is it?
That was on the other side of the road. It was called All Ears. Arawak was upstairs. Up the road there came Hawkeye later. I know the whole of Great Britain by reggae shops that aren't there anymore [laughs]. That's how I learnt the whole country. Anyway, we had the shop and Fitzroy Sterling had been running it. He owned Body Music. I took it over. I was only 17 but I did really well. I got the turnover up.
I'd worked for him previously. I went to Wigan Casino and met Russ Winstanley, who had his little shop in Wigan. I got loads of rare Pama Records out of the cupboard for him. We sold them to him for £1 each, but he was probably selling them for £40, because Pama released quite a lot of Northern Soul like "You Turn Out The Light." That's what I was doing.
I was living my life as nervous wreck. It took me until I was about 25 before I was debt free from my early music life experiences.
After that I got the job in the shop. During that year Newlands collapsed and Joe said, "Why don't we start a little distribution company and call it J&A?" Carl Palmer rented us a room above Jetstar and we were there for several months. While we were there we started distributing all the little reggae labels. This was just before Mojo opened up down the road. That was the start of my career in the business.
Why only the north?
In those days everyone had their own little patch. Larry Lawrence from Ethnic Fight had a van; most people had their own little van. And it wasn't worth their while going to Granby Street in Liverpool if they only had one tune to sell three copies to Junior who owned that shop. Or driving to Moss Side in Manchester. I had a bunch [of labels] on board and eventually I had Trojan, Virgin and loads of others, specifically for the north. Then we started importing from Jamaica.
So initially it was domestic releases?
Well we had our own label Carib Gems. J&A only lasted from 1975 to 1977. Pete Stroud (Doctor Pablo) and me started Hitrun together. We worked on such small profit margins. Virgin were giving us 7% discount on dealers. So if you had one bad debt, like a really late payment by HMV, you were screwed. I finished J&A with a debt of £3,500 secured against my stepfather and mum's house, which was only worth 15 grand at the time. It was big money in those days. I was only 19. I was living my life as nervous wreck. I took those debts with me into Hitrun and then on to On-U-Sound. It took me until I was about 25 before I was debt free from my early music life experiences.
Tell me about Emperor Rosko.
Well the link with Emperor Rosko – Mike Pasternak, his name was – came because they had an office in the West End. They were such pissheads. All around the top of the office they had empty Bacardi bottles and there was girl working there who had a string vest on and no bra. I was only like 14 [when I visited], so I was like, "Wow, this is mental!" This is my memory, I don't want to cast aspersions on Rosko!
He was fantastic. He was the first person playing reggae properly on Friday Roundtable [on BBC Radio 1]. He was wonderful, like a Wolfman Jack impersonator, but he did the gigs with me. I think it was '71 or '72, the first gig… I've got the book of all my bookings from that time at the Newlands Club and it's got all stuff like my earnings: £2.50.
I think it was '72 when we did Rosko. We were playing off our crap system and then he suddenly kicked in with 20k of Orange. He built it like a reggae soundsystem. But he came on in this fur coat looking like something out of Sesame Street, pissed and just killing it. He loved his soul and he loved his reggae. Yeah, he was the man. But then Rosko used to work for Pama. Joe knew all these people from his Pama days and putting events on in the '60s. So when he had the Newlands Club he started calling these people. We had Winston Groovy, we had Nicky Thomas, BB King, Ben E King, all playing at the Newlands. It was mad.
With Carib Gems, you were just licensing stuff from Jamaica, right?
What happened was, we knew Chips Richards 'cos just as soon as I got my license I spent four or five months working for Lincoln, Webster Shrowder and Chips Richards, who are complete characters. I don't know if you know any of them, but they're proper characters. They'd been involved with Trojan Records. They started this thing called Vulcan and I was driving this massive truck. I don't even think I had a proper license to drive it. It was like a huge Mercedes 406D truck full of stock and it wasn't even that popular what we were releasing. There were some good titles, like the Mystic Revelation of Rastafari triple-album, Grounation. I was there for a few months. They were sponsored, I think, by Polygram, and after that Chips was at a loose end so we started Carib Gems with Chips, Joe Farquharson and a couple of other people. I was a junior member. I had about 18% in the label or something. I've still got the articles of memorandum upstairs.
I selected the first ever Prince Far I album, which was Psalms For I. Chips wanted to release an album called Blood Claat Dub, some crap created album, but he gave me the benefit of the doubt to release that album, which in turn came to making [Prince Far I's] Message From The King, which we put together as well. Plus the second Twinkle Brothers album Do Your Own Thing and the first Michael Rose tune "Observe Life." We released some really good tunes and I selected all of those things.
So you were basically the A&R?
Part of the A&R team. I was choosing lots with Chips, but Chips had also started Sky Note in tandem with Sonia Pottinger. So as well as Carbib Gems, we were distributing we Sky Note and High Note through J&A. Plus we had Grove Music as well because Mikey and Sounds were mates of mine. They all helped me because I was really young. I just loved it and they knew I loved it. We also imported from Jamaica. That only lasted two years and after that we started Hitrun. That was where I did my first production, which I started in '77 just for fun.
What was it?
Dub From Creation, which I credited to Creation Rebel after the Burning Spear song. I pretended it was a band and it eventually evolved into one.
How did you put it together?
I had a friend in High Wycombe called Clinton Jack. He was a calypso bass player so I hummed the basslines to him. I met Fish Clark, who was drumming for Far I – the previous year he'd illegally overstayed in England after the tour and he was staying in Birmingham. I got him down and he did the drumming. I had Crucial Tony who was the cousin of Clifton Bigger Morrison who started Jazz Jamaica. So I had Clifton, Tony, Fish and my friend Dr Pablo who had started the label with me. He played a bit of melodica. We made the whole album in a few days really.
How did they react to working with someone so young?
Well they were all 19 – we were all 19! We were all teenagers. And then Chips introduced me to Dennis Bovell, who's become a lifelong friend of mine. Dennis engineered it for me. I kept saying, "More delay, more reverb. More, more, more!" He kept laughing and saying, "Shut the fuck up!" It was a really silly album but people still like it.
I wanted to ask you about punk. You worked with a lot of the interesting people that came out of punk and I'm wondering if the music itself had any impact on you at all?
The interesting thing about punk is our links to that are quite funny. Pete [Stroud] and me, we had a local mate in High Wycombe who ran the non-black things called Ron Watts. Ron became our partner as well. At the same time we started Carib Gems we had a record shop called Sidewalk on Rucklidge Road in Harlesden. At the back we had Carib Gems and J&A, all in the same building as Ron. He promoted Uxbridge, the Nags Head in High Wycombe and Tuesday nights at the 100 Club.
Ron had a band called Brewers Droop. Mark Knopfler was his guitarist. We used to throw things at Mark 'cos we thought he was an idiot.
So Pete would finish work – this is in the '76 period – go home and drive Ron around, because he was a bit of a pisshead. Ron had a band called Brewers Droop – he was the lead singer! Mark Knopfler was his little guitarist. We used to throw things at him 'cos we thought he was an idiot. That was Ron's band but Ron promoted all the Sex Pistols gigs. Pete would dive him every Tuesday, stay for the whole evening and bring him home. Pete loved it, but it wasn't my cup of tea. Thursday nights at the 100 Club was reggae night, which was Ron and Nando, a little Jewish couple.
Maybe it was the attitude that might have appealed to you, because you worked with a lot of the interesting characters: Ari Up, Mark Stewart and Jah Wobble being three examples.
Well the story on that is linked, because when we started doing the gigs in about '77 we made Creation Rebel into a band to promote my record and Prince Far I was fronting it. The Slits were coming to our gigs, as well as Generation X and the Clash and the Pistols. Rotten and all that lot all used to come to our shows. We were doing live dub and they loved it.
Wasn't John Lydon involved in Frontline, Virgin's reggae offshoot?
I know the ins and outs of all that as well. I could go on about it for hours. Virgin started marketing reggae well like Island, putting it on the main label. Previously reggae had been treated so badly. It was always for sale at a budget price in cheap racks and looked like it was second-rate music. Chris Blackwell, to his eternal credit, started marketing reggae like rock music and so it got respect. So Virgin did the same thing. They put out Dread In A Babylon by U Roy and the Mighty Diamonds' Right Time album on the main Virgin label. They sold about 100,000 of U Roy's Jah Son Of Africa, though it didn't' cross over into the mainstream here.
They thought, "Hang on a minute, this is easy money." And then a company called Caroline Exports [owned by Richard Branson] went to Jamaica and signed everything. They sent Lydon out, because he expressed an interest – there's all those famous photos of Lydon and Big Youth together – and started the Frontline label. The only problem was about a year later all the African nations put a ban on the importation of luxury items, like fridges, TVs and… records. So suddenly their market was screwed. And that was the thing that eventually broke the back of Virgin's reggae – the lack of income from exports.
How did On U Sound come about?
Hitrun had finished and I was in a lot of debt that was owed against my mum's house. I was in panic really. I had a few tapes left over. By this time I was squatting in a house in Battersea with Ari Up and Neneh Cherry and my friend Junior Williams, who ended up becoming the father of Ari's twins. I did a bit of recording of what became the first New Age Steppers album.
In 1980 I'd met Pete Holdsworth and the London Underground. I'd also started an agency, because the same year I'd started another label with Chris Garland and the Mothmen, who later became Simply Red, called 4D Rhythms. All of of these people were from that same period: Elliot Rashman and all that lot.
So I started On U with another debt, but the original idea was that it was going to be like a production company. But I had Pete Holdsworth, who I later started Pressure Sounds with many years later, and his band London Underground. I had Lizard and Crucial Tony from Creation Rebel, Martin Harrison who'd been involved with This Heat and Dennis Brady who'd worked with Chris Garland and came from Cheltenham. That's how it started. But it didn't work.
Anyone who thinks labels make you loads of money is an absolute nutcase.
Pretty soon after Lizard got put in jail. Some money got stolen from the company; all sorts of things were happening. It was anarchic. By that time I'd met Kishi Yamamoto, who was my girlfriend, and she was going do all the imagery. I was burdened with all the debts from Hitrun and by this time I owed the studio £8,000. So Kishi and me ended up running the label for the next few years. The first years were very hard because I initially had a deal with Rough Trade to do the first album but Geoff Travis didn't want to do the second one, which threw me back into the lion's den. So I ended up making loads of albums that were really crap for like no money for Cherry Red Records. They were interesting. So I was robbing Peter to pay Paul.
You did a couple of things with Bruce Smith from Pop Group on Cherry Red, didn't you?
Yeah, I'd met them all with the Slits. I had Bruce Smith and John Waddington from the Pop Group. Anyway, as soon as I could get to the point of releasing records again, I put some money into making experimental stuff for myself like the African Headcharge stuff the first Mark Stewart album, so I could start releasing stuff on my own label again.
So those albums were tactical?
It wasn't tactics. It was like taking £1500 and sticking it in a hole in the wall. I'd have the bank phoning me, I'd have a VAT arrears from the previous six months. I was teetering. For years I was a nervous wreck. I didn't start turning anything around until I was about 25. It was that mad.
What changed things? On U Sound did make an impact.
I did start making an impact. I started getting people phoning up asking me to do some jobs. So in 1983 I had Daniel Miller ask me to do one of my first remixes: Depeche Mode's "People Are People." I got £1500 quid for that and that was a fortune in those days for me and I used that as down payment on a little house in East Ham.
That enabled me and Kishi to move from Wapping. That coincided with Kishi getting pregnant with our daughter Denise, who's now 26. That period it was one thing after another. The sales started going up and I kept getting offered jobs. So I'd do a job to pay for the label. Anyone that thinks labels make you loads of money is an absolute nutcase. Well, they can make money but you have to get out quickly, which I can't because I don't know how to do anything else. If the label starts doing well, you have to take on more staff and then you maintain the success and you take on more staff. If you then have a bad period, you lose huge amounts of money and if you make one or two bad moves you're out of business.
Late 1982 was when I got myself out of the hole. I'd paid off the debts apart from the studios, which I owed money to. For about five years I'd virtually sleep in them. I'd get up on the Monday, go to bed Tuesday, get up on the Wednesday, go to bed on the Thursday and so on. I really concentrated on the studio for a few years and not really did many gigs.
I then did a record with Steve Beresford and Akabu called "Watch Yourself." My friend Neil Cooper who had ROIR cassettes in New York played it to Tom Silverman at Tommy Boy. Tom had already heard about me and heard some of the tunes I'd made. He said he'd like to release it on Tommy Boy's new label Bodyrock and asked me to come over and work on it. So I went to New York and when I was in New York I met Keith LeBlanc. I Invited Keith to come over and do a tune and him and me did a tune together in England. He came on his own first. Next time I went over for the New Music Summit in 1984 and I met Skip McDonald and Doug Wimbish from Wood, Brass and Steel.
I didn't see any point in following. One thing I learned early on was that you've got to have your own sound.
We decided to team up and try and do our own label, World Records, which we did with John Loder at Southern. John looked after Crass and that was where we'd be in the same studio. There would be loads of people in there – Bjork's first band, Minor Threat, Subhumans, Crass and all that lot. It was an amazing studio in a garden in Wood Green. It was great. We did that Mark Stewart album, Learning To Cut With Cowardice, in there in 1982. I'm really proud of that album to this day. We did Mark Stewart and the Maffia first and that evolved into Tackhead. Before that we'd done Fats Comet and these other funny little tunes.
A lot of the releases on On U Sound bore no resemblance to a lot of the reggae out there at the time. Was it a conscious decision to go in that direction?
I didn't see any point in following. The one thing I learned early on was that you've got to have your own sound. Prince Far I and all the great producers I liked all had their own sound. You know, you could easily identify Keith Hudson's productions and Lee Perry's were very easy to spot. So what I thought I would do is get my own sound.
I'd been heavily influenced by working with Mark Stewart and I'd also worked with the Fall, who were completely into anti-production. No effects, all dry. I'd studied the production of Link Wray and all those odd balances in sound. I even heard the first Jesus and Mary Chain record that Geoff Travis was trying to get me to mix and I said, "Mate, don't do anything to that, it's brilliant." It was amazing, but it sounded out of balance, with the drums really tiny and the guitars all up front.
So you learn about space and sound, working every night in the studio. A lot of the things Mark introduced me to, like tape saturation and overloading, I applied to certain other productions. I was working with Kishi in the studio, working out delays and approaches to sound and she was a great musician. I was studying tape editing and stuff like that. I didn't want my records to sound like they came from Jamaica. I decided to go the opposite way.
One thing that I think typifies your approach is an interest in noise rather than melody. Do you think that's a fair description?
I'm a bit tone deaf, so I went more noisy than melodic!
I know you're joking but it's significant, because it predates a lot of what happened post-acid house, which was very much about noise as hooks.
I think I was lucky. I had access to loads of studio time. I took the risk. I at least had the guts to go massively into debt and try things. I worked with some brilliant people. I did things with Judy Nylon, we tried things with the London Underground that were Public Imagine Limited-ish. It's not just me – other people were interested in similar things. There was a collision of people who were into the basslines and slowing down the beats, and I was there with the authentic reggae crew. I was lucky enough to have worked with Bim Sherman and Prince Far I, which gave me the credibility. It was a collision of how things happened.
Did you get a good reception in the West Indian community?
To be honest I wasn't really making records for anyone but myself. Some people in that community loved On-U-Sound and others like the David Rodigans of this world didn't. He once said to me, "What on earth are you doing to reggae?" That was when I did the Creation Rebel album Starship Africa. I respect Dave enormously – he's got a love for reggae and he's a brilliant bloke, but people like him are the champions of "no change" to some degree. You end up in the realms of nostalgia, which is the death knell for anything. Now we look at reggae and and it's not Jamaica that's keeping it alive. A lot of things that have moved on, like dubstep and jungle, and various new roots movements in England and other places in the world.
Do you see parallels between what you were doing and what subsequently happened with dubstep and drum and bass?
Completely.
A lot of the things you were doing are very similar to dubstep.
I've got great respect for the dubstep community, the good ones, and I give respect back. I'm aware that a lot of them have got some of my tunes in their collection. A lot of the stuff on On-U-Sound still sound really good. You can play tunes of ours from 30 years ago because they're in a specialist area that we love.
What's interesting about On-U is the breadth of music that you did on it. I's not just reggae or dub, it crosses loads of boundaries, as does your production career generally.
I've done folk music with Ian King, right through to jazz with Harry Beckett, to industrial and funk, but I've always applied the same tonal approach. It's about keeping it uncluttered and using the same mixing techniques as I have with everything else.
What was it like working with Lee 'Scratch' Perry?
Fantastic. I always make an effort to make sure he sounds really good. He knows I don't just rush to do any old thing. Lee's fantastic to work with because even at 75 he's got great ideas. You're always gonna get something off the wall with him and he often goes off into the realms of spiritual stuff. Now he doesn't drink, smoke or eat meat, he's into a conscious tip. He's a brilliant person to have in the studio because he believes he's in a space where magic can be created and that spreads to everyone around.

This interview was conducted in March 2011. © DJhistory.com